Updated on January 3, 2022
While traditional solid wood crown molding is expensive, there are some great alternatives to crown molding that can take your home to the next level. Whether you are remodeling for personal enjoyment or you want to increase the value of your home before placing it on the market, achieving the look of having crown molding doesn't have to break the bank!
There are plenty of ways you can make your home look like a million bucks while keeping your budget modest. You may even have pieces lying around your garage that you can incorporate into the look.
You can certainly find crown molding that is affordable, but the options on the lower end of the price spectrum are typically fairly narrow and don't have as much detail and variety as you would find in the more high-end area of your local home remodeling store.
Luckily there are a handful of things you can do to get the look of expensive crown molding right in your own home!
Why Choose Crown Molding?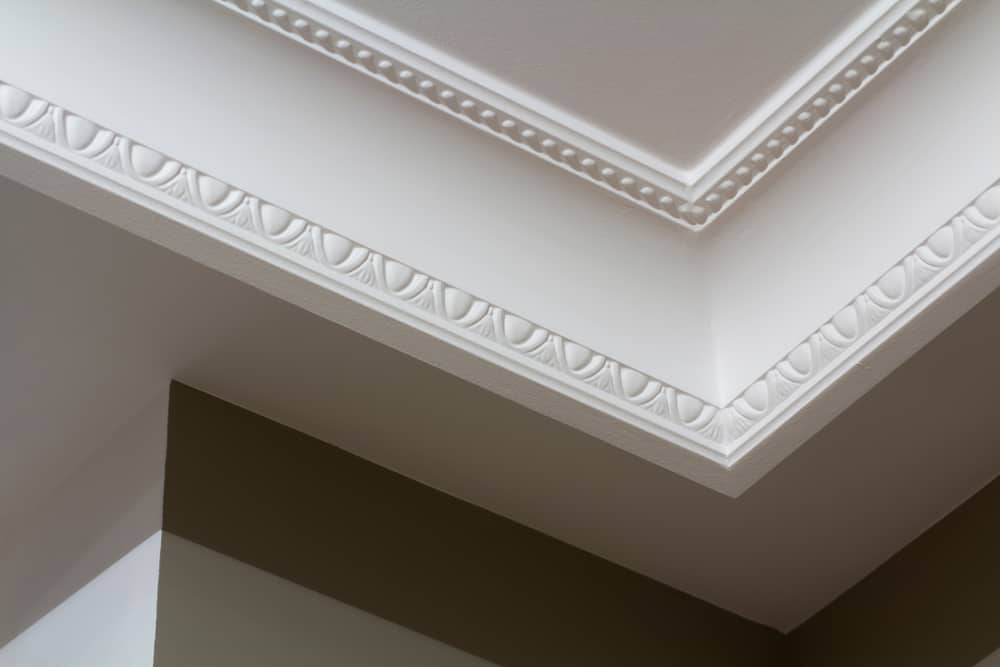 Adding an elegant touch to your home, crown molding is a beautiful way to improve the look of your home's interior without needing to do too much work. Installation of crown molding is quick and easy, making it the perfect afternoon project. If you want to impress your family when they come over for Sunday night dinner, taking some time out of the day on Saturday to upgrade your space is sure to please.
Crown molding used to represent a very specific look and style but that isn't the case anymore. While you can certainly use crown molding in a more elegant setting, you can also install a sleek modern crown molding that doesn't involve many details or intricacies.
Crown molding gives a clean finish where your walls and ceiling meet and can be used to cover up mistakes that happened when painting the ceiling. If you want to add an element of design to your space without taking away from the overall look of the room, crown molding is a simple element that can easily be added.
Ways to Get The Look in Your Home
When it comes to revamping your space, adding a coat of paint to the trim and installing crown molding can really make your home look like you put a ton of time and money into it. Luckily there are many things you can do to get the look of solid wood crown molding without spending an arm and a leg.
You can certainly DIY your crown molding or you can purchase more affordable types of crown molding. Anything you install yourself will be cheaper than hiring someone to help you out.
1. Foam Crown Molding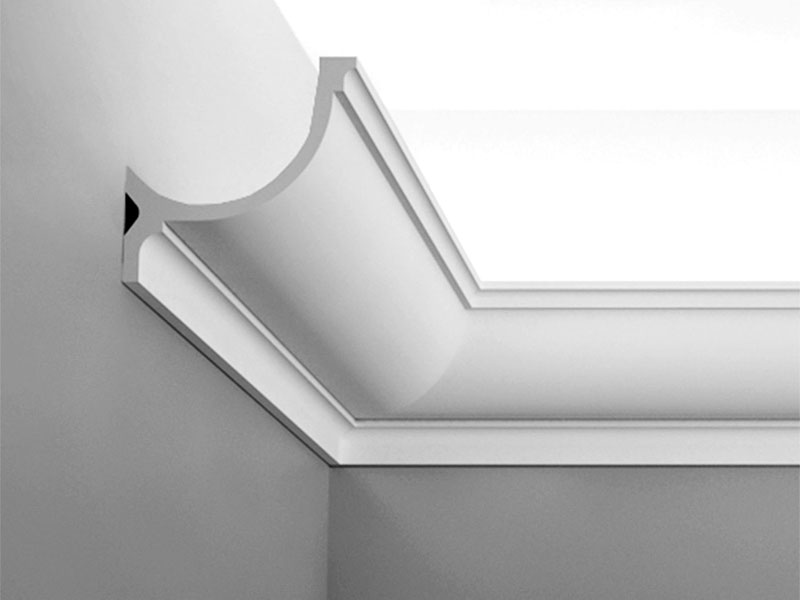 If one of your concerns is that solid wood is heavy and you aren't confident that you can physically handle the installation, foam crown molding is an excellent alternative that is lightweight, easy to install, and very affordable. Foam crown molding can be installed in a few different ways, all of which are fairly simple.
The first way you can install it is with a nail gun. Keep in mind that a lot of foam molding does have gaps on the back so you may not be able to put the nails just anywhere. Nail placement should be in a spot where the back comes in contact with the wall.
After nailing your molding up, you can use some caulk or spackle to fill in the holes, covering the nails. Once that dries, lightly sand with very fine grit sandpaper and paint with any color you'd like.
Another installation method would be to use glue. Using glue is a great alternative for people that aren't comfortable using a nail gun or a hammer. Simply add a bit of glue to the back of the molding and stick it to the wall. Be sure to hold it in place according to directions on the packaging so you don't have to go through the installation process again.
Some styles of foam crown molding have a peel and stick adhesive on the back of the molding, making your dining room upgrade as easy as putting stickers on your walls. This method is so easy that children would be able to handle the project.
Simply cut your pieces to the length you want, peel off the backing, and carefully line up the molding so that it sits at the very top of the wall. If you want something that is affordable and extremely easy, peel and stick crown molding is the way to go.
2. MDF Crown Molding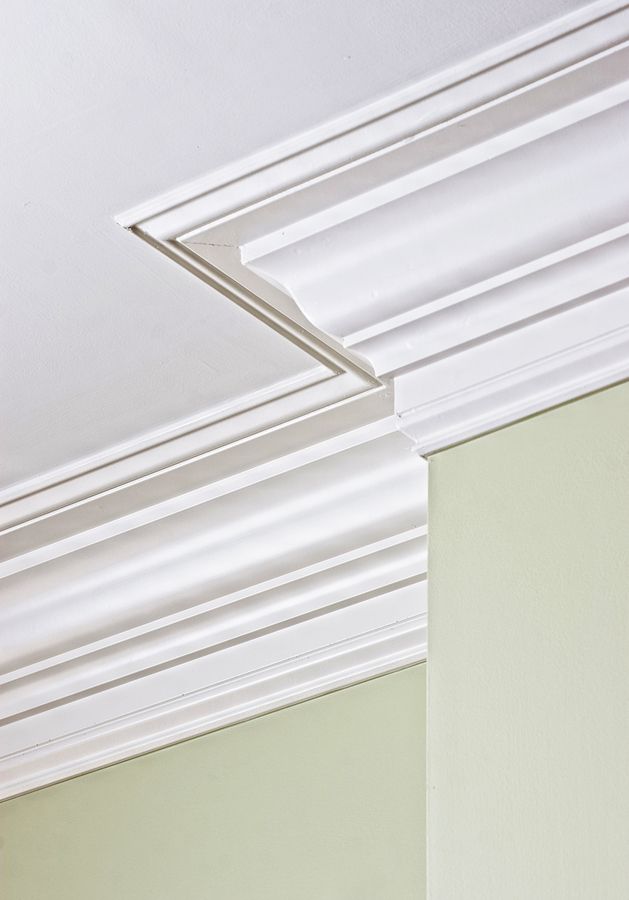 Medium-density fiberboard is a fantastic alternative to solid wood in many cases. You can find MDF tables, desks, chairs, and even crown molding. Since MDF is made from wood, it can be sanded, painted, and stained just like solid wood molding can be.
Installation of medium density fiberboard is the same as installing solid wood molding. The only difference is that the MDF is way more lightweight. If you want to install this type of crown molding, you'll have a stylish room without spending a ton of money.
Installation is super easy:
First, you want to gather your supplies. You will need:

Medium-density fiberboard crown molding
A saw
Nail gun with finishing nails OR finishing nails and a hammer
Spackle and spatula
Fine grit sandpaper
Microfiber towel
Paint

Before you can install your crown molding, it's important that you measure the room carefully and cut your pieces to the proper lengths.
After your boards are cut, have someone help you place the first piece.
While holding the board steady, nail it in place with your nail gun or hammer and nails. You should nail each end and then a couple more nails along the length of the board.
Continue around the room until you get back to where you started.
Next, you'll take your spatula and spackle and fill the holes that were made from the nails. You want to be sure to hide each hole and nail.
Let the spackle dry, then follow up with the fine-grit sandpaper to smooth everything out.
Wipe away the remaining dust with a microfiber towel and paint your molding to whatever color you desire. Usually, crown molding is painted to match the walls, but it can also match the ceiling or you can go with a totally different color to accent other areas of the room.
3. Salvaged Crown Molding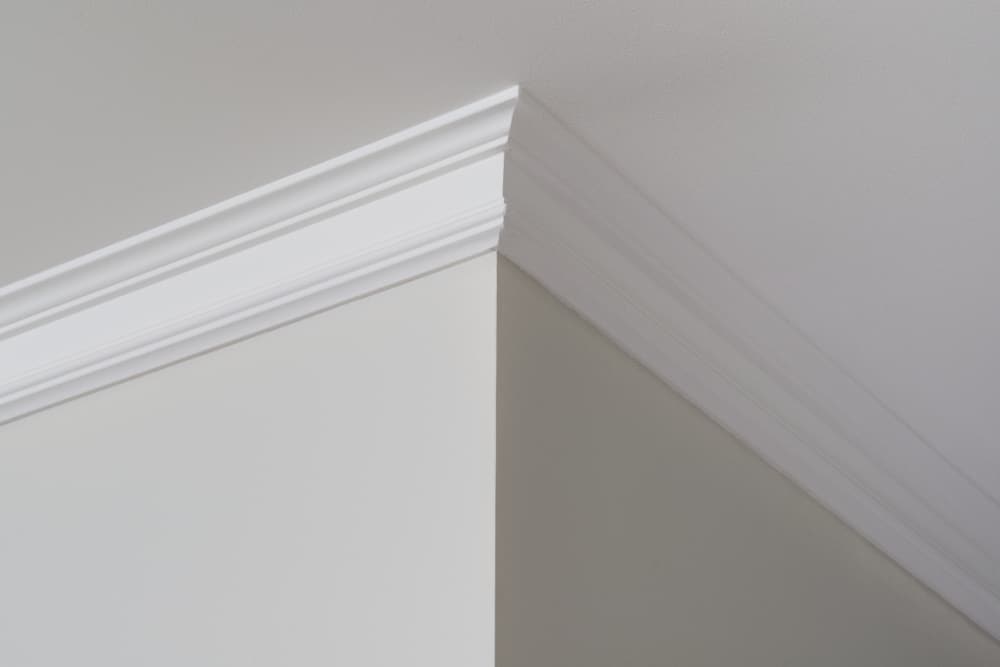 Another affordable way to get the crown molding of your dream in your home is to look around for used molding. You can check Facebook Marketplace, Craigslist, or your local newspaper to see if anyone has old building materials they are looking to get rid of.
If you are lucky enough to come across crown molding from an older home that is still in great condition, you'll be able to add a piece of another family's history to your space. Used crown molding is a great alternative to buying brand new because it is usually more affordable, you can find unique pieces that you can't find at your local home improvement store, and it adds to the character of your home.
DIY Crown Molding on a Budget
Working with a lower budget for your dining room remodel doesn't mean you have to sacrifice style! There are plenty of easy ways you can mimic the look of crown molding, from a built-up crown to a simple optical illusion that involves thin pieces of decorative molding and some paint.
No matter what your budget and skill level, there are several easy ways you can get this look, too.
4. Built-Up Crown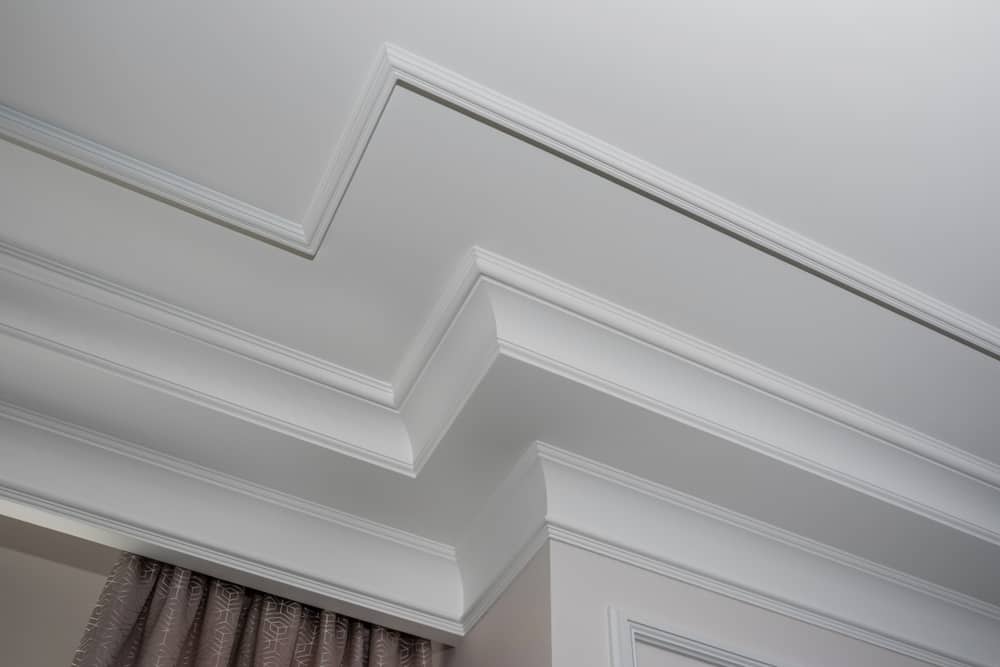 A built-up crown is a crown molding that is comprised of several pieces rather than one solid piece of carved wood. This method is much lower on cost since the trim pieces are fairly inexpensive.
It is also a great way to go because you can create a custom look that nobody else is going to have. Whether you go with a simple look or a more intricate design, a built-up crown is an easy DIY project.
Before you start putting anything up on your walls, you should decide what look you are going for and gather your materials. The basic materials you will need:
Various pieces of trim/chair rail that you will arrange to look like crown molding
Nail gun or a hammer and finishing nails
Wood filler
Caulk
Fine grit sandpaper
Primer
Paint
Once you have figured out the look you're going for and have gathered your supplies, it's time to get started!
First, cut all of your pieces so they are the length you need.
Start with the piece that is going to be closest to the wall. With the help of a friend, partner, or relative attach the base piece to the wall. If the first piece is not going to be flush with the ceiling, be sure to measure all the way around the room and mark where the pieces need to be so that you don't end up with uneven molding around the room.
After the first piece is up, add the next piece.
Repeat the same process with any subsequent pieces.
Once all of the pieces are up and you are pleased with the arrangement, use your wood filler to fill any holes and cover the nails. Let it dry then sand the spots where the wood filler is to smooth everything out.
Next, take your caulk and fill in any gaps between the pieces of wood. When done correctly, it will look like you have a single piece of molding.
Prime and paint your new crown molding.
5. Faux Crown Molding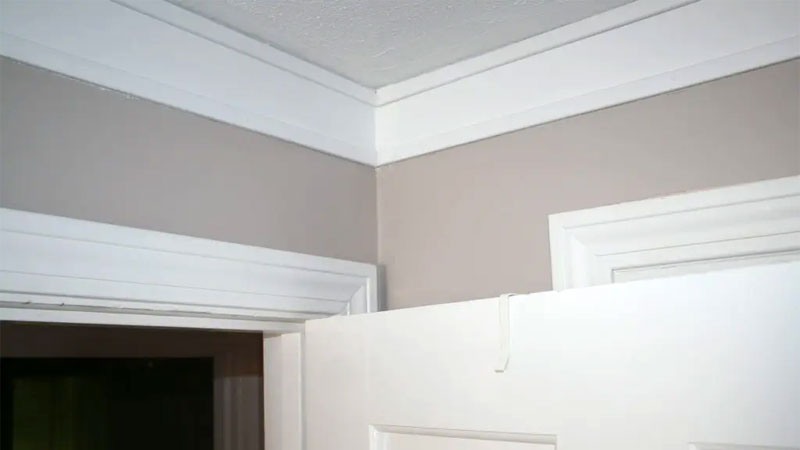 Another way you can get the look of crown molding is with some decorative molding, nails, a hammer, and some paint. This is an easy project that won't take you very long at all. In fact, this would be an easy task to take on in an afternoon. You'll have an upgraded dining room, kitchen, or living room before you know it!
This is a very easy look to achieve:
First, evaluate the room you are installing the molding in. If the room is larger, you can get away with a thicker 'molding'. If the room is small, go with a more toned-down look so as not to overwhelm the space.
Pick your decorative trim. You can choose something simple or something with some more intricate design elements. This is entirely up to your own personal preferences, as you are decorating your home.
Nail the top piece of trim where the wall and ceiling meet. You can use nails and a hammer or you can use a nail gun.
Next, go around the room and attach the bottom piece a couple of inches below the first one.
Fill in any nail holes that you want to hide and lightly sand the spackled spots after they dry.
Apply your primer and paint to your new 'crown molding'.
Other Alternatives
If you decide that you don't feel like going through the trouble of making your own crown molding or you just want to see some other options for a border before you make any choices, here are a few great options you can go with instead.
6. Simple Trim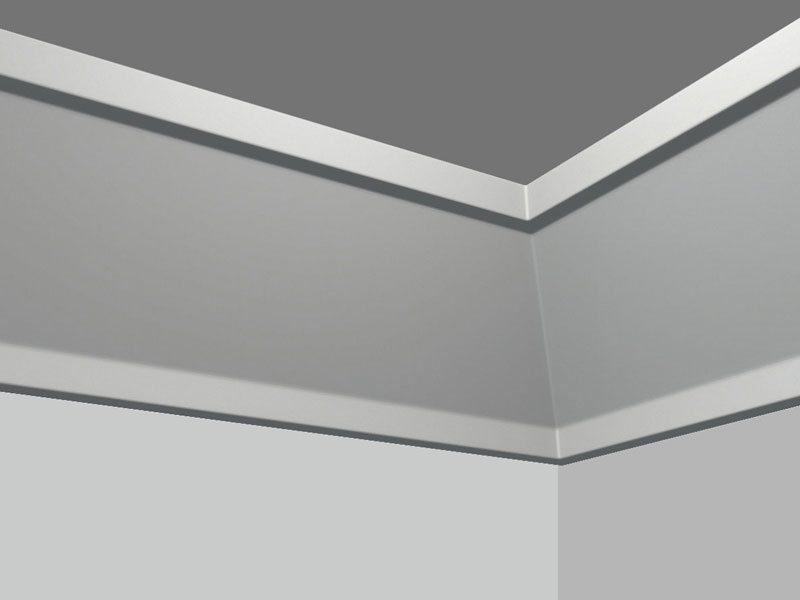 For people on a budget and for those that prefer a less fussy look, going with a simple trim around the perimeter of the room is a nice way to frame your space without needing too much time and work.
This is a good alternative for people that don't have a lot of free time on their hands or that aren't particularly creative. Once you install the trim, you can paint it to match the walls, the ceiling, or pick an accent color to make your simple decorative border pop.
7. Wallpaper Border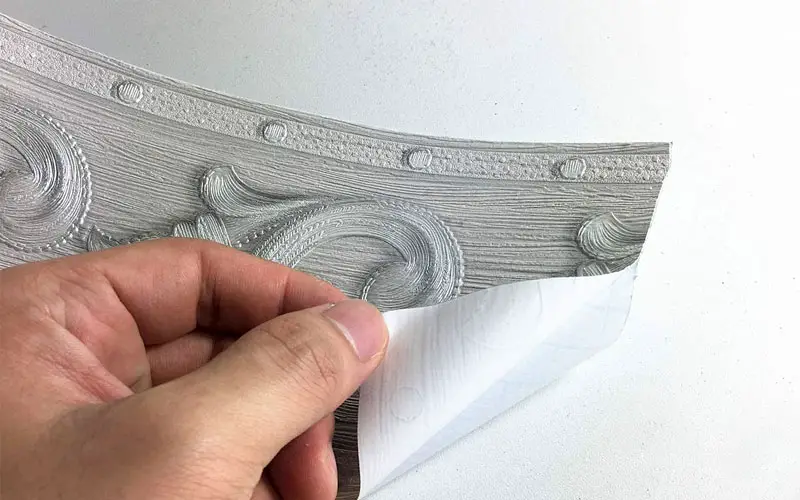 Do you want a more decorative look that has more detail than crown molding? If so, a wallpaper border would be a fine alternative for your home!
Wallpaper is a great option for people that like things that are a little out of the ordinary and for those that live in homes that they aren't allowed to make permanent changes to. If you have a rental agreement that says you can't put any holes in the walls, then crown molding would not be the best choice for you.
There are a few choices for a wallpaper border:
Classic Wallpaper: You can always go with the classic that either need paste to apply it or the kind that you wet and then stick to the wall. Both of these options are super easy to deal with, although the wet and stick do require fewer supplies for application.
Peel and Stick: A modern innovation, peel and stick wallpaper is really convenient because you just peel off the protective backing and stick the wallpaper to the wall like you would a sticker. Many of the peel and stick options are easy to remove when the time comes to move out of your rental.
Vinyl: Vinyl wall decals are very popular right now because they stick to your walls with no adhesive. They work similarly to how window clings work. You simply remove them from the packaging and apply firm but gentle pressure as you apply it to your walls. Two of the biggest perks of the vinyl border are that they require no adhesive and they come off very easily. Since no adhesive is involved, you don't have to worry about damaging the wall or peeling off any paint.
8. Stencil Art

Feeling a bit creative and want to revamp your living space? Creating a border around the room with a stencil is a great alternative to using crown molding. You can either purchase a stencil online or from a local art supply store or you can make one yourself!
If you opt to make one yourself, make sure that you make the design easy to use over and over again without an obvious line where the stencil starts and stops. You want to make sure that the transition from segment to segment is nice and smooth so your border looks like it flows around the room.
Stenciled designs are a great way to add flair to your space without the concern of messing up the design like with freehand painting. Freehand painting is definitely a great idea if you have the skillset but for most people, stenciling would be a much easier alternative.
9. Freehand Designs
If you are artistically inclined and feel confident in your abilities as a painter, painting your own custom border around the perimeter of the room can really take your space to the next level. This is a task best suited for skilled painters, although with a simple design, anyone can add a personal touch to their home.
Choosing your design is probably going to be the hardest part. You can go with a repeating pattern, a freehand landscape style painting, or a floral look similar to wallpaper.
To make the design really tie into the room, you can incorporate design elements from your furniture and artwork, as well as pulling colors from around the room.
Picking Your Pieces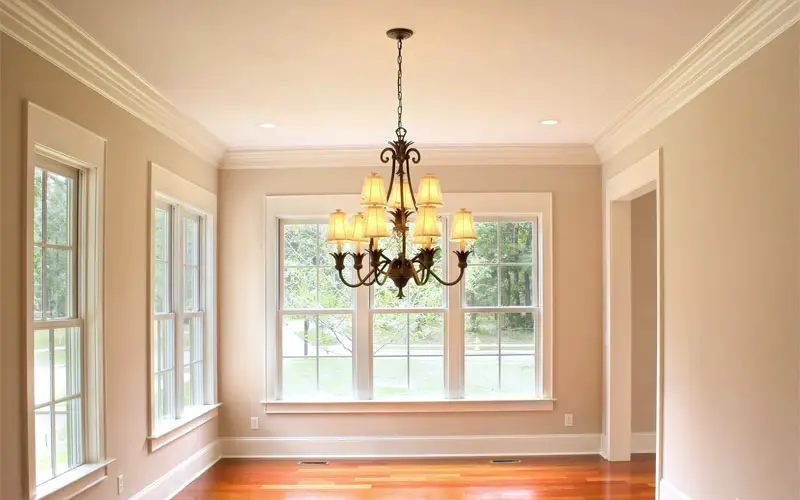 Before you dive in and start buying wood, wallpaper, or paint, there are some things to take into account prior to committing to your project.
Restrictions
The first thing to do before tackling any remodeling or redecorating is to evaluate what you're allowed to do in your space. If you own your home, you are welcome to redecorate however you see fit.
If you live in a rental, there could be some limitations as far as what you can do in the home. Some landlords don't care if you do some minor cosmetic upgrades that will improve the value of the home, such as painting, replacing light fixtures, or hardware on doors and drawers.
Others will allow you to make changes as long as you return the home back to the condition it was in when you bought it. Unfortunately, some renters aren't as lucky and are not allowed to make any changes.
Style
Once you figure out what you can and can't do in your home, it's time do decide what look you are going for. If you are able to install crown molding, figure out which option you are going to go with.
Foam, peel and stick, and MDF are ideal for people that want a more straightforward project. If you are up for a challenge or you just want a more custom look, a built-up crown would be a good choice.
For those that opted for wallpaper, stenciled, or freehand borders, figure out what would look best with the existing color scheme and the furniture in your space.
Room Size
This is a big one that not everyone thinks about initially. How big is the room that you're redecorating? If it is a large room, you can get away with a wider and chunkier piece of trim. If the room is small, a piece that is too big could be overwhelming for your space.
While these are some simple guidelines, there are no rules when it comes to deciding on the right size trim for your space so pick the pieces that you want to see in your space. The most important thing is that you are pleased with the results.
Skill Level
When designing your room and choosing what pieces you want to incorporate, make sure to take your capabilities into account. Not everyone is crafty and can handle making a build-up crown.
If you aren't sure if you can accomplish one of the DIY projects, you may want to opt for one of the premade pieces of molding. Foam, peel and stick, and MDF crown molding are ideal for people with limited skills, limited time, or just for people that prefer an easier alternative than a full DIY project.
The alternatives are also great because they are lightweight and easy to install for people that have weight restrictions due to various conditions, such as arthritis.
Finishing Touches
Once your crown molding is installed, you can choose some finishing details to bring the room together. Most people choose to paint their crown molding.
You can choose to match the walls, the ceiling, the rest of the trim, or to use an accent color to make the molding pop. If you don't want to paint your molding, you can either leave it the way it already is or you can stain it.
FAQs
Here are some frequently asked questions about crown molding.
What materials can crown molding be made from?
Crown molding comes in a variety of materials! You can get the traditional solid wood in oak, walnut, cherry, and many other types of wood or you can get more affordable and lightweight alternatives.
Some of the alternatives to solid wood are foam and MDF. When shopping for your crown molding, keep in mind that you don't have to get the kind that is already painted white. There are unfinished options so you can give it the look that you want rather than being stuck with the white base.
Do I have to paint my crown molding?
One of the best things about installing crown molding and personalizing your space is that you can make it look however you want. Crown molding does not have to be painted if you prefer not to!
You can get molding that is already painted, allowing you to install it and walk away. You can also get unfinished wood which can either be left as is, sealed, or stained.
It is a smart idea to have the molding tie in with other elements in the room so that it doesn't look out of place. One of the best ways to do this is to paint or stain it to match the rest of the trim and woodwork in the room.
Whatever look you are going for, the sky is the limit with crown molding.
Is it easier to install traditional molding or one of the alternatives?
Traditional crown molding is easier to install in some ways but harder in others. One of the advantages of going with a solid crown molding is that you just have to attach it to the walls and follow up with stain or paint.
The downside is that solid wood is typically much heavier than the alternative options you can choose from. If you are installing foam or peel and stick crown molding, both of those are easier than installing traditional solid wood trim.
Going with a DIY project is going to have challenges and increased difficulty because it's not as simple as slapping something on the wall.
The homemade alternatives require more pieces and a more complicated installation but due to how lightweight the pieces are, it can be an easier choice for someone that has arthritis or other physical limitations.
Conclusion
When it comes to revamping your space, adding crown molding is a great way to switch things up and pull your room together. Traditional solid wood molding can be expensive, but there are several alternatives to crown molding that will allow you to transform your space without breaking the bank.
From foam molding or MDF to DIY options such as build-up crowns and faux crown molding, there are several ways you can take your space from simple to elegant in an afternoon. You can even add a wallpaper border, a stencil border, or freehand a beautiful design around the room.
Whether you want to revamp your living room, kitchen, dining room, or bedroom, crown molding is a great way to refresh your space. Unfortunately, traditional solid wood trim is heavy and hard to install alone. Luckily, it isn't the only option!
We hope our guide has been a help in steering you towards a new home project! The rest is up to you! Pick one of the great methods we've outlined and take a crack at upgrading your home.