Updated on October 7, 2022
Have you considered how best to arrange your furniture for your living room dining room combo? Utilizing the full potential of your available space and providing a convenient, ideal layout should be the priority for you.
If you have a small living room/dining room the best way to arrange it can be to use an open floor plan and place the furniture back-to-back.
While those with a larger living room/dining room might find their best solution to be to create a multi-room floor plan and consider creating separate areas to converse in, dine-in, and lounge about in. So, whether you have an idea in mind or not, here are a few thoughts to keep in mind.
Take Measurements
As is often said, it's important to take measurements before doing anything. Use your measuring tool of choice to acquire the dimensions of the room and the furniture in it.
Floor Plan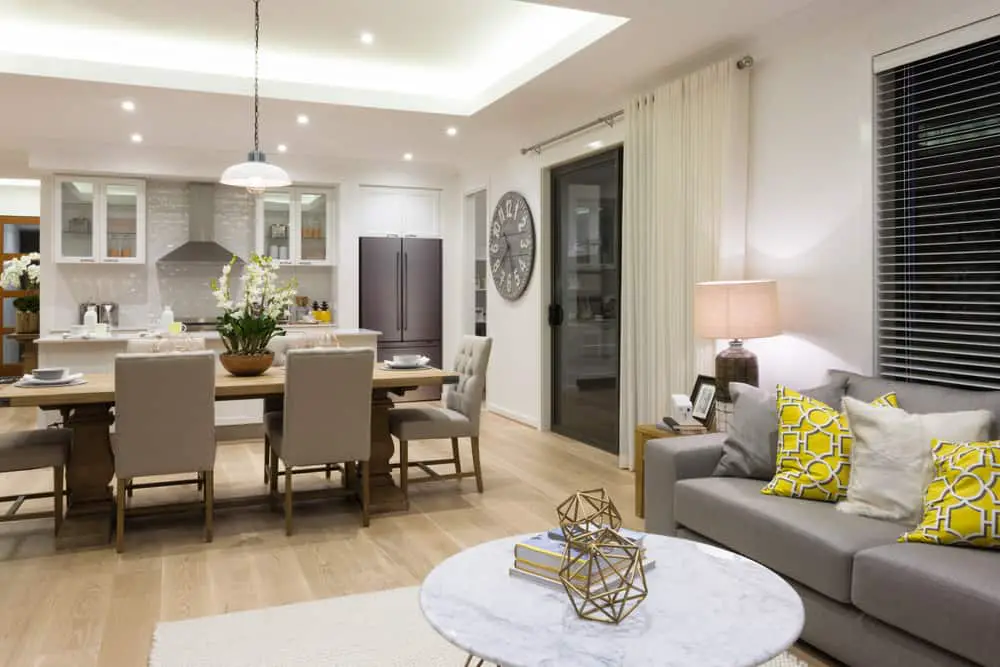 Open Floor Plan
For many, the easiest solution is to create an open space for their living room/dining room combo.
One way you can accomplish this is to simply push your couch against the wall, adjacent to your television, and have the dining room table off to the side. If you need or prefer a walking path that doesn't obscure the television, keep the couch a foot or two from the wall and never be inconvenienced by foot traffic again.
No dining room table, no problem. Consider buying some dinner stands and using your couch or chair to eat from as well. While not for everyone, it's still a great idea to question if you really need the extra furniture.
Multi-room Floor Plan
If you prefer a degree of separation from where you eat and lounge about to stream your favorite movies and tv shows, you should consider dividing the room.
This can easily be accomplished by using existing furniture, buying a curtain, or investing in a divider.
Suggestions:
Arrange your tall furniture to create a natural division in the combined room
Use your couch as a wall to separate the space
String up some beads or hang some plants
Television Placement
For many, the living room is centered around the television and, if applicable, the fireplace. The first thing to consider is whether or not you want the tv mounted on the wall or if it's fine on its stand and placed on a shelf, etc.
Keep viewing angles and traffic flow in mind when deciding on the best spot in the room.
Fireplace
Depending on where you live, you might have a fireplace and be wondering the best way to arrange your furniture to highlight that fact.
Keep in mind that accidents happen and it's best to arrange your furniture accordingly.
Furniture Shape and Size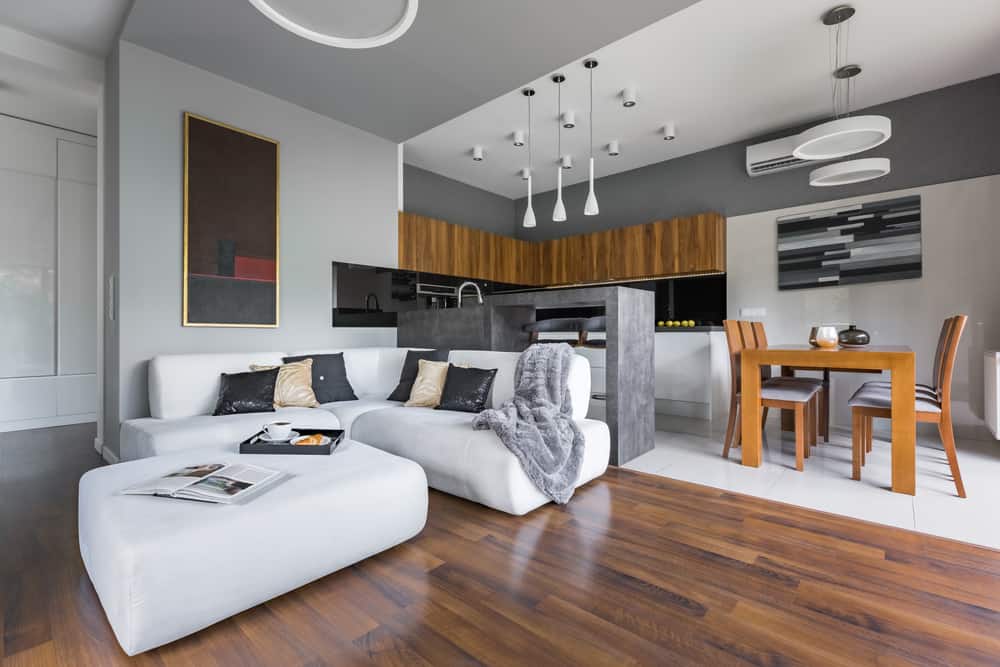 How you arrange your furniture will depend greatly on its size and shape.
Furniture Shape
Given people's abilities to recognize patterns and proportions, the shape of the furniture can have an impact on how the room is perceived.
Tip:
Tables with rounded edges or corners help preserve the flow of the room
Furniture Size
Aside from the obvious fact that it needs to fit in the room and still allow for traversal of the room, the size of your furniture, in relation to the room and its content, can help create various effects.
This is especially true of chandeliers and tables or chairs of varying heights.
Back-to-Back
If you're one for the open floor design, then consider arranging your living room and dining room furniture so that they're back-to-back of each other. This is a simple method that's easy to accomplish.
Remember to keep at least two feet from the couch and the closest dining room table chair. This will allow for traffic throughout the combined room.
Keep it Casual
Another popular method is to use the multi-space floor plan and create a space for conversation that's apart from the dining room and tv area of the living room. This is a great way to encourage communication and prevent distraction.
Rustic Designs
Farmer Life
For some, there's nothing like getting back to farm-to-table. The best way to do that in the city is to embrace the traditional setup of the farmhouse living room and dining room. This works well if you have hardwood floors and a rectangular kitchen table to set near your cupboard and a cast-iron skillet hanging on the wall.
Enjoy the farm-fresh eggs and fresh-squeezed juice with a furniture arrangement that matches.
Modern Designs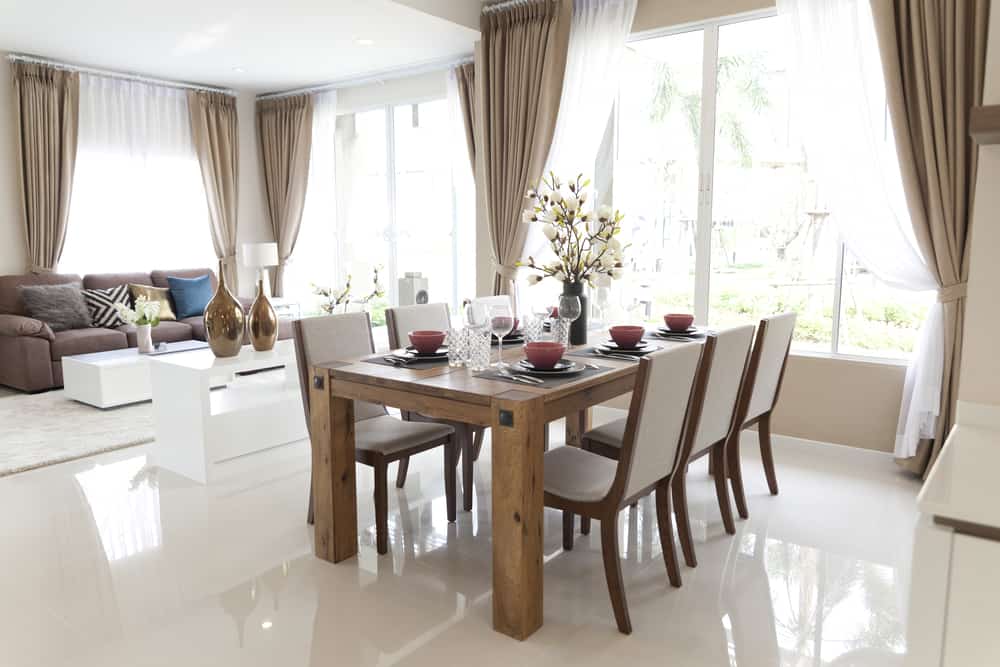 With the increase in sky-rise apartments and smaller apartments and houses, living space has become scarce for many in their homes. This has created several modern approaches to arranging furniture for maximizing space usage.
Parisian
This method was designed for compact living room/dining rooms and utilizes built-in wall storage and a nook to help prevent clutter and optimize the surface area of the room.
Delineate
Use a combination of short and tall furniture throughout your living room/dining room to delineate the space. This is a technique that works well if you have a fireplace in your living room.
The contrast between the height of the furniture helps to mark the boundaries of the room for the viewer.
What's Best for You
Deciding how best to arrange your furniture can be a drawn-out process that takes days to choose. Consider what your desired setup is for your living room/dining room and the amount of available space you have, and then scour the internet to figure out the best way to implement it.
While moving furniture isn't very technical, there's no need to move it multiple times because of poor planning.
Creating a space to both dine together as family/friends and also enjoy the comforts of cozening up on the couch and watching your favorite show or the crackle of the fire can be a real challenge. Take the time to consider your wants and needs before committing to anything. As they say, work smarter not harder.