Updated on October 1, 2022
Whether you are building from scratch or remodeling an existing bathroom, it's important to do some research on the various bathroom faucet brands so you can find the best fixtures for your space.
No matter what your budget and style may be, with so many companies around that offer great deals on beautiful faucets, you are sure to get a fixture that fits into your space seamlessly.
A Brief History of Indoor Plumbing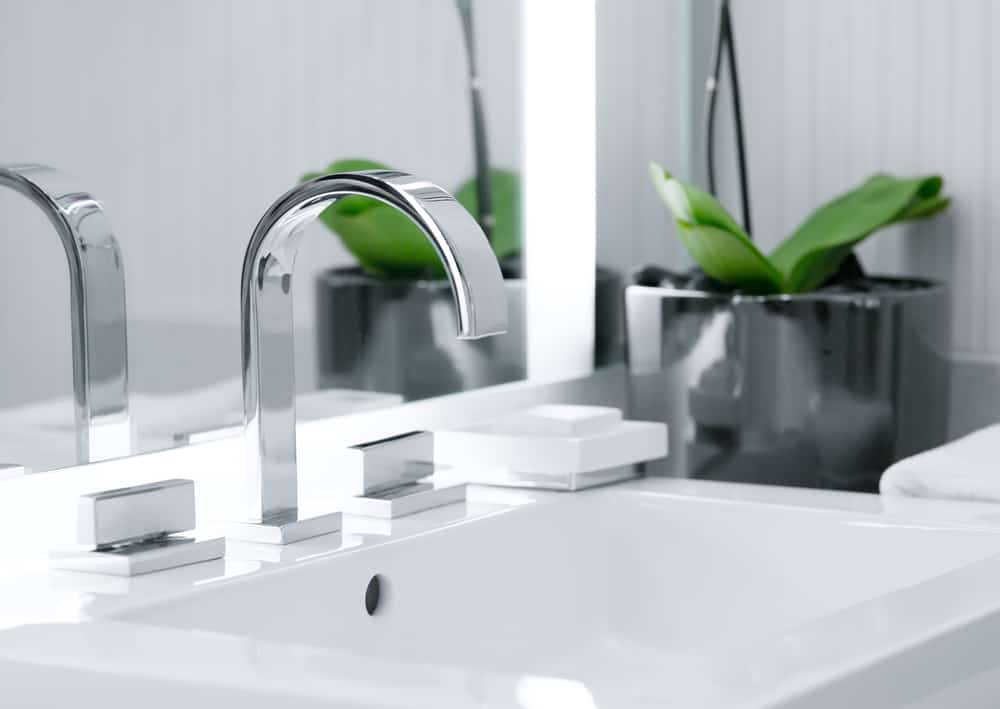 Faucets certainly have come a long way since the days of the Roman bathhouses. Starting as two separate spouts, there was no way to ensure you could wash your hands directly under the faucets without risking a burn from the hot side.
After a particularly uncomfortable hand washing experience, Al Moen decided enough was enough and decided it was time to find a way to have a single spout where hot and cold could mix. Mr. Moen's design journey lasted from 1937 through the mid-1940s when he finally constructed a single faucet that actually worked.
Al Moen wasn't the only person that saw the flaws in the earlier faucet systems. Landis Perry took the single spout design and took it a step further by adding a mechanism that was able to regulate the water chamber. The ball valve was a fantastic innovation that was only improved by Wolverine Brass when they decided to create a ceramic disk to help with even more temperature control.
In the years beyond those initial leaps in indoor plumbing, faucets have continued getting fancier and gaining functions. Now you can find faucets with filtration systems, touch-sensitive faucets that turn on with just a tap, and even motion-activated ones that are perfect for use in the kitchen. With so many recent innovations, it's safe to say that the world of indoor plumbing is only going to get better.
Best Bathroom Faucet Brands
The indoor plumbing industry is extremely vast. There are more than 30 companies that make fixtures to go in your kitchen, bathroom, and anywhere else you may need plumbing in your home, office, or workshop.
Since there are so many companies around, it's safe to say that the perfect faucet for your bathroom is out there somewhere. Whether you have more eclectic taste and like more out of the box designs, you like a modern and contemporary style, or you like that shabby farmhouse look, there is bound to be something for everyone.
On your journey to find the best fixture to go in your bathroom, you're going to come across tons of companies, many that you've probably not heard of. Knowing which company makes premium products is complicated so we've put together a comprehensive list to make it easier for you to find a faucet.
Let's take a closer look at the top 24 companies (in alphabetical order) that make all sorts of fixtures, from kitchen faucets and dishwashers to bathroom faucets and toilets.
1. American Standard
For nearly 150 years, American Standard has been producing high-quality home plumbing fixtures for both your kitchen and your bathroom. With such a longstanding business, they have had plenty of time to perfect their technique, ensuring their fixtures are top-notch and that you have more than enough finishes and styles to choose from.
While many competitors with similar styles and reputation have beautiful products that are out of reach for many consumers, American Standard combines quality and affordability to give you fantastic products that you can afford.
Whether your budget is small or large, they have a beautiful piece of hardware that will look great in your space without costing an arm and a leg.
They offer a wide range of styles, from contemporary fixtures with clean lines to softer, more rustic designs. If you want to find the perfect faucet, American Standard can take your bathroom to the next level with just a quick replacement of the old fixture.
2. Danze by Gerber
For more than 2 decades, Danze has been one of the top dogs in the plumbing industry. From kitchens to bathrooms, they make beautiful and practical pieces to fit any space. With several styles and finishes available, Danze is sure to please.
Not only are their pieces stylish, but they are also super durable. Each faucet they produce is lead-free and contains durable ceramic disc valves.
You never have to worry about you or your kids accidentally being burnt by water that is too hot, either. The anti-scald protection will keep you and your loved ones safe.
3. Delta

Delta is one of the oldest modern faucet manufacturers, and there are several reasons they are still relevant, even after nearly 70 years of production. Founded in the early 1950s, founder Alex Monnogian reimagined the single-handled washerless faucet and brought a new and fresh design to the forefront of the market.
In under 10 years, Delta Faucets reached and surpassed annual sales of one million dollars. In modern times, that's pretty impressive but for the 1950s, it was revolutionary.
Still, in business, Delta Faucet is one of the best companies around. Chances are, you have either lived in a home with one of their products or you have used a sink, bathtub, or shower that featured one of their impressive fixtures. As one of the best bathroom faucet brands, their products are found in homes and businesses all over the world.
4. Fontaine
Are you looking for a new faucet for your bathroom sink but want something different than the usual chrome or brushed nickel? Fontaine is here to take care of your needs!
This modern company is known for the wide variety of finishes they have available for their faucets and other fixtures. Sure, they have the common ones but they also have oil rubbed bronze and several others that you can choose from.
In addition to the variety of finishes available, they also have several styles as well. They have traditional and contemporary and they also have antique and ultra-modern varieties as well.
While Fontaine isn't a long-standing industry leader, this up and coming company has managed to make a name for itself and not waver from its spot as one of the best bathroom faucet brands. Their products are some of the best around, due to the level of style and durability that Fontaine has crafted and developed over the years.
5. Fresca
If you're looking for a unique, modern faucet for your bathroom, Fresca's inventory would be a great place to start your shopping journey. They have everything a lover of contemporary style would want – innovative designs, quality construction, and a wide variety of options.
Their trendy pieces come in a pretty wide range of metal finishes, including the classics such as chrome, stainless steel, and brushed nickel.
6. Glacier Bay
As a Home Depot owned company, Glacier Bay is helping to set the bar for what great bathroom and kitchen fixtures are.
Home Depot holds its companies to a higher standard so you know that if they are backing a brand, it's bound to be a great one that out-performs its competition. Not only does Glacier Bay make premium quality faucets, but they also make toilets, sinks, and vanities.
One of the best things about Glacier Bay is that its products look like a million buck but they are super affordable, allowing people of all income levels and project budgets to have a beautiful bathroom without needing to break the bank.
7. Grohe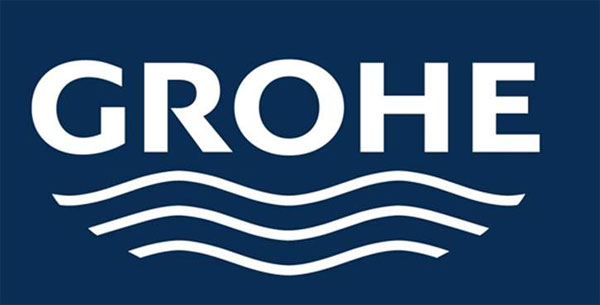 Grohe's origins started in 1911 as a ferric hardware factory where its workers made sanitary fittings. When Friedrich Grohe took over the factory in 1936, he decided they would transition from making several pretty good products to focusing strictly on bathroom faucets.
Utilizing German engineering and top-quality materials, Grohe is now one of the best bathroom faucet brands around.
In the years since Grohe took over the company, they have expanded their business to include bathtub and shower fixtures as well. If you're looking for a faucet for your sink or tub or you want a unique shower head, you'll love the options that are available that you can use to customize your bathroom.
If you want a relaxing, spa-like feel in your own home, Grohe is the way to go.
8. Hansgrohe
Another company that utilizes German engineering processes, Hansgrohe has been making reliable bathroom fixtures since 1901. Hansgrohe's biggest philosophy is that the bathroom is more than just space for you to get cleaned up; the bathroom is an important part of your living space and where you go to feel good about yourself.
Whether you spend your me-time in the bathroom making yourself up by focusing on your hair and makeup or you prefer to soak in the tub or stand under a waterfall showerhead, Hansgrohe knows that the bathroom is a place where you go to rejuvenate yourself.
9. Kingston Brass
If you're looking for a super-stylish yet practical faucet for your bathroom, Kingston Brass is here for you. They combine classic style with artistic touches to give you working and aesthetically pleasing pieces for your space.
The main focuses of Kingston are functionality above everything else with style as a close second. When it comes to finding a faucet that features translucent glass and vitreous china, a product from Kingston Brass is sure to impress.
10. Kohler

As one of the most well-known companies in the industry, Kohler makes some of the best kitchen and bath products around. This is another one of those companies that you see in most homes and other buildings that have plumbing running through them.
Founded in 1873, John Michael Kohler decided that it was time to jump into the bath business. Their first bathtub was an enamel-coated cast-iron horse trough. From there, they continued to develop and grow in skills, widening their toilet, faucet, and shower door lines after purchasing the Sterling Faucet Company in 1984.
They certainly have come a long way since they first applied enamel to cast iron in the late 1800s.
11. Kraus
If you find yourself torn between wanting something more urban and wanting a minimalistic piece, Kraus is a great choice. They have combined the two to give you a modern and stylish fixture for your home.
When you take a look through the faucets they have available, you'll be amazed that they have such unique and stylish pieces that come at such affordable prices.
When you make the decision to upgrade your bathroom and transform it into the spa you deserve, Kraus will be here to give you just what you are looking for.
12. Moen

Moen is definitely one of the best companies around when it comes to quality bathroom fixtures. While their specialty is faucets for both kitchen and bathroom sinks as well as bathtubs, they also make amazing showerheads.
They are another company that has its products in many of the kitchens and bathrooms across the world, meaning you have more than likely used one of their fixtures. You may even have one of them in your own home already!
13. Peerless
Do you love the idea of saving water but are unsure of how to go about reducing your family's water consumption? Peerless is a newer company that specializes in budget-friendly faucets that are stylish as well as great for conserving water.
They even gained the title 2014 WaterSense Partner of The Year due to their conservation methods. Their faucets have water-saving measures in place to ensure you get enough for what you need without being wasteful.
14. Pegasus
If you are a fan of traditional styles but you need modern functionality, a Pegasus faucet would be a great fit for your home. This is a company that prides itself on improving on existing designs, giving the classic pieces that you've grown to love a modern twist.
In addition to updating older styles, they also develop new designs as well. Pegasus would be a great choice for you if you want a modernized and updated faucet that has the look of an antique.
15. Pfister

For more than a century, Pfister has been producing some of the best faucets around. They started with the garden faucet in 1910 and they've only moved up from there. After the development of the Crown Jewel faucet in 1950, housewives and home cooks alike have fallen for Pfister.
Their products are not only highly functional, but they are also very stylish. If you want to bump up the look of your bathroom and make it a focal point in your home, adding a faucet from Pfister would be a great step towards the home spa of your dreams.
16. Premier
When you're shopping for a sturdy, stylish faucet for your bathroom but you don't want to stray too far from tradition, Premier is an excellent choice.
Their fixtures can be found in both commercial and residential bathrooms across the country, giving a touch of style to the space without being too out there. Premier has been around for more than 20 years and they will be around a good while longer since they know what they are doing.
17. Rohl

For nearly 40 years, Rohl has been combining modern technology with classic French design to provide its customers with the best performance you can get from an elegant and sophisticated piece of bathroom equipment.
If you are used to pretty pieces not performing up to your expectations, a faucet from Rohl will be a breath of fresh air. These beautiful faucets are very durable and sure to last a long time.
18. Schon
Another Home Depot owned brand, Schon is one of the best faucet companies on the market. Their products are easy to install yourself without needing to hire a plumber, they are affordable, and they are super sleek and stylish, perfect for your home spa.
Their wide range of fixtures come in several styles, materials, and finishes, ensuring you'll be able to find a piece that fits in perfectly in your bathroom. If you want a fixture that combines elegance with modern style, check out one of the many Schon Faucets Home Depot has available.
19. Speakman
Another great company that cares about the environment is Speakman. A number of their products would be a great contender if you want to limit your family's water consumption.
One of their most notable products is the Speakman Reaction, which is a water-saving head that reduces the amount of water used without sacrificing the feeling of a powerful spray. As the creator of the very first adjustable shower head, Speakman is one of the industry leaders when it comes to bathroom fixtures.
The luxurious bathroom of your dreams is definitely within reach since they offer beautiful products at an affordable price.
20. Symmons
If you love the clean, angular look that modern architecture brings to the table, Symmons would be a great brand to look into when choosing fixtures for your dream bathroom.
Whether your bathroom is newly constructed or you are remodeling, it's important to go with something that is easy to install if you are planning on doing a majority of the work yourself. Their premium line of bathroom faucets are sleek and clean looking and will look great with a wide variety of decor styles.
21. Vigo
A newer company, just over a decade old, Vigo is a New York-based kitchen and bathroom fixture company that makes modern pieces that add elegance to your home. In addition to the beauty of the fixtures, all of their products meet WaterSense program standards as well as IAPMO standards.
Even though their products do have a lower flow rate than many similar products on the market, you won't be missing out on the pressurized spray you're used to. Whether you are using one of their showerheads or faucets, you'll be able to get properly washed up while saving water.
22.Water Creation
From vintage to modern, Water Creation does it all. Their premium bathroom fixtures are sure to please no matter what your style is.
Some of their fixtures feature the soft, curvy lines so many people love about the vintage style while other pieces in their collection are more angular and geometric, as you would expect from a modern faucet.
23. Whitehaus
In order to transform your bathroom into a personal spa, you need pieces that are visually pleasing as well as highly functional. If you love the curvy copper fixtures and ornate elegance that you'd see in an old-world bathhouse Whitehaus has the perfect pieces for your home.
They incorporate luxurious and unique details into their fixtures to transform the mood of your bathroom.
24. Zurn
Zurn is another company that takes pride in keeping their faucets in line with water consumption recommendations. They have even gone above and beyond industry standards and have created a line of faucets with an array of flow rates, adding to their eco-friendly approach to plumbing.
While Zurn does a great job of reducing water usage, they also shine in the style department. The faucets they have available are very aesthetically pleasing and would look great in a modern or contemporary bathroom.
Conclusion
Whether you are upgrading your master bathroom, constructing a home from the ground up, or replacing a problematic faucet, hopefully, our list of the most popular bathroom faucet companies will be helpful in guiding you towards the right fixture for your bathroom.
With so many bathroom faucet brands out there, you should have no problem finding the perfect faucet for your sink.