Updated on January 3, 2022
If you love the idea of adding bright flowers to an outdoor space but want a creative way to display them, a bicycle planter is a fun alternative to the usual hanging planters you see around town and in yards. Antique and vintage bicycles are a great find at the flea market, but what can you do with them once you bring them home?
Transforming any bike, new or old, into a bicycle planter is an easier process than you think! With a little bit of time, paint, and patience you'll have a beautiful piece of functional garden art for your yard. To hold the flowers, you can use decorative baskets, buckets, or any other container you may want to upcycle.
Cute Bicycle Planters
If you're looking for some inspiration for your DIY project, take a look at these beautiful bicycle planters. Hopefully one or two of them will help you on your creative journey!
1. Spotted Beauty
This gorgeous bicycle planter is fun and creative, perfect for any outdoor space. The base color of green with the white polka dotted accents are a beautiful combination and make any plants in either of the baskets really pop.
If you decide to go with a style similar to this, you can try out different color combinations as well as painting the baskets differently than the rest of the bike.
2. Lots of Baskets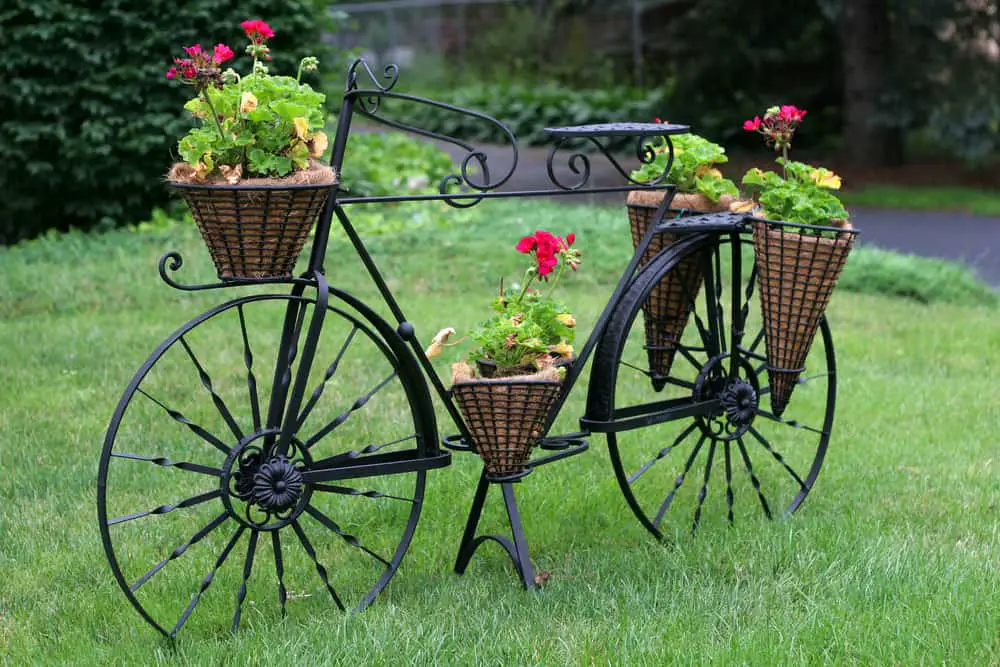 This black wrought iron bicycle planter features tons of decorative details, from twisted spokes on the bike to flowing swirls for the handles and in other areas. It also has plenty of space to display your favorite flowers, with four separate iron baskets.
This would be fun to DIY if you have access to an old wrought iron fence or patio rails.
3. As Easy as it Gets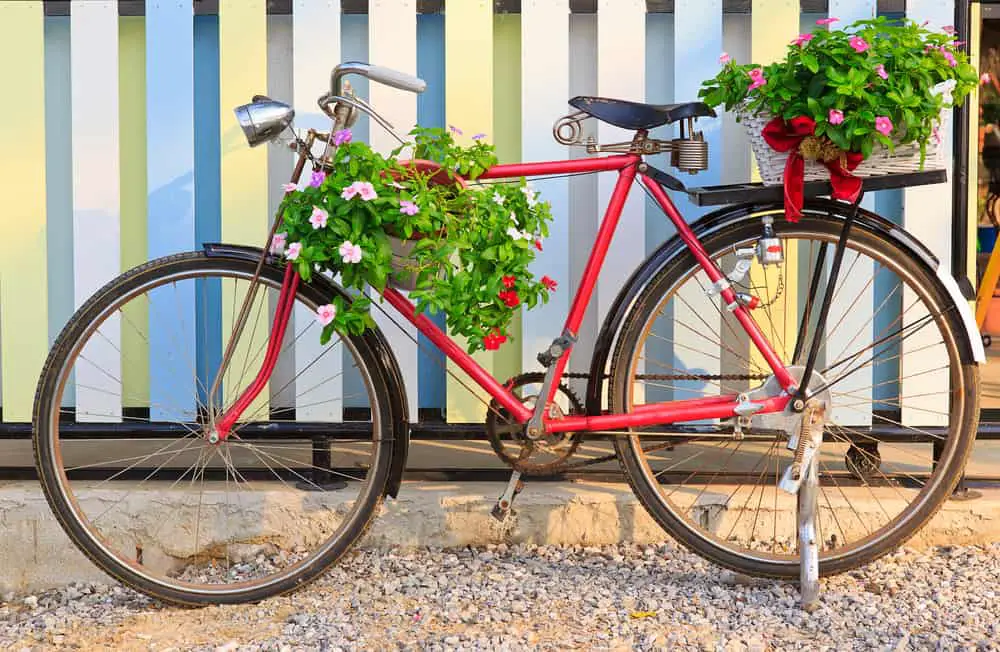 You don't have to be the craftiest person to transform an old bike into an intriguing piece of functional art for your yard. While the bicycle planter has been gaining popularity in recent years, it still may be something that one of your friends hasn't seen before.
If you want something fun and kooky to add to your entertaining space, you can simply stand up your bike and attach baskets for your flowers. Paint it if you want to, but leaving it in its original condition gives it some character and sets it apart from most of the bicycle planters you see.
4. Multiple Bikes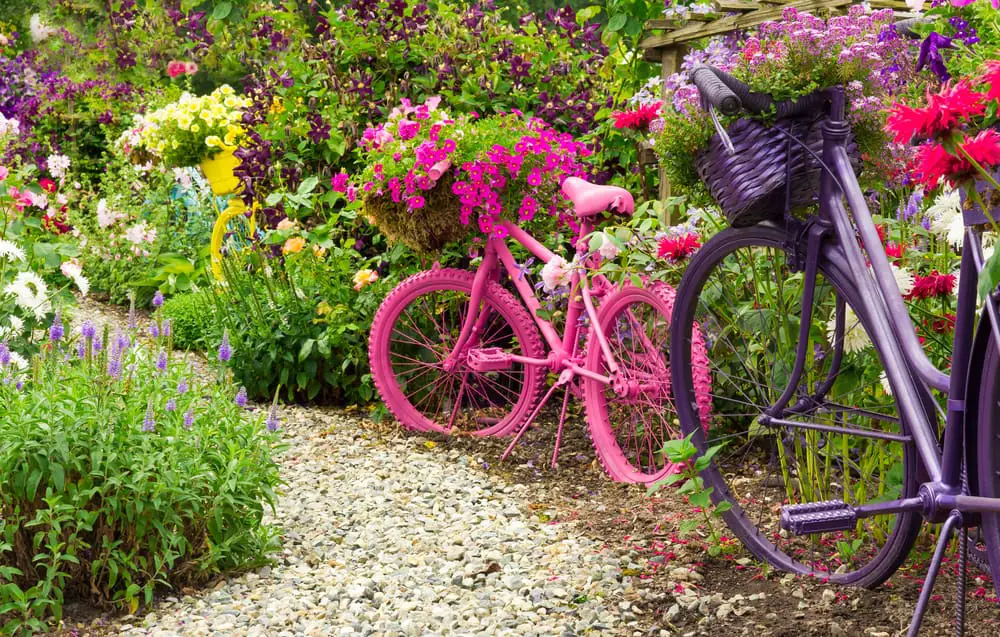 Do you have a pile of bikes in your backyard that your kids or grandkids have outgrown over the years? If you can't bring yourself to part with them but also don't want them cluttering your yard or garage, you can paint them while adding flowers in a basket.
You can use them to line a path through your yard or attach them to your fence. This would be a beautiful feature that has a lot of sentimental value.
To turn this into a family art project, you can have everyone paint an old bike they have outgrown, which allows each kid and family member to put their own spin on the design. As a family project, you can further personalize the whole thing, which would make it a perfect gift for the grandparents of the family.
5. Something a Bit Different…
If you want to try something unique and out of the box, you can use just one wheel and the surrounding frame as a standalone planter. Add a basket or box to the top and you'll have a unique item to use in your garden or outdoor seating area.
The single wheel would also be a creative base for a small table as well. This is a fantastic project that enables you to make two or more fun pieces of decor from one bike.
6. Wall Art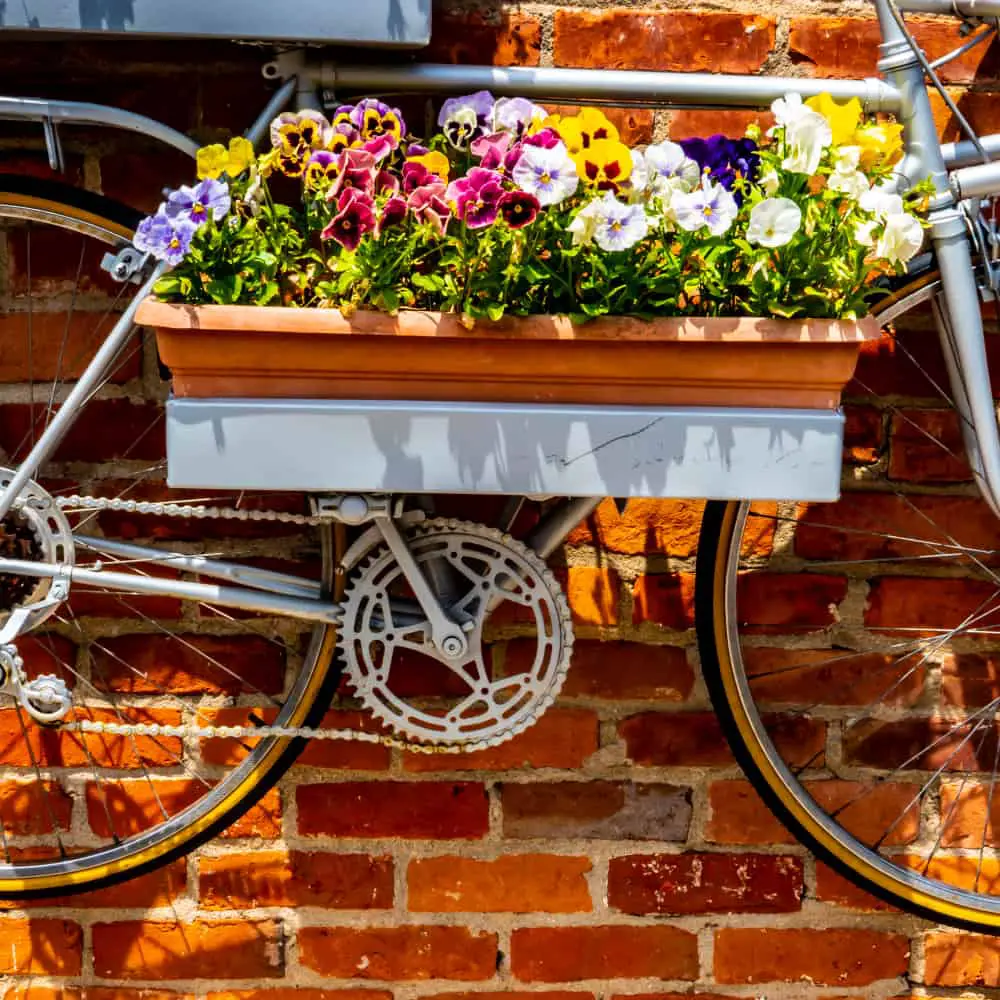 Putting a twist on the traditional garden fixture, mounting a bicycle planter to your wall (or fence) would be a cool way to add some beautiful flowers to a space that doesn't have the room for a garden.
This idea works great whether you live in a bigger city with little to no yard or you prefer using baskets and flower pots. To achieve this look, attach your bike to the wall, add a flower box or baskets, and plant your favorite flowers!
7. Farm Gate Decor
Taking a relaxing and leisurely ride through the countryside is a great way to spend the weekends. If you live on a farm and want to bring a smile to the faces of those passing your property, you can display a bicycle planter on the fence or gate to your property.
Whether you choose to use an antique bike you found at a garage sale or flea market, or you decide to use your kid's old bikes is entirely up to you. Either way, this whimsical art piece is going to be fun for people to see. They may even tell their friends and family about it!
8. Monochromatic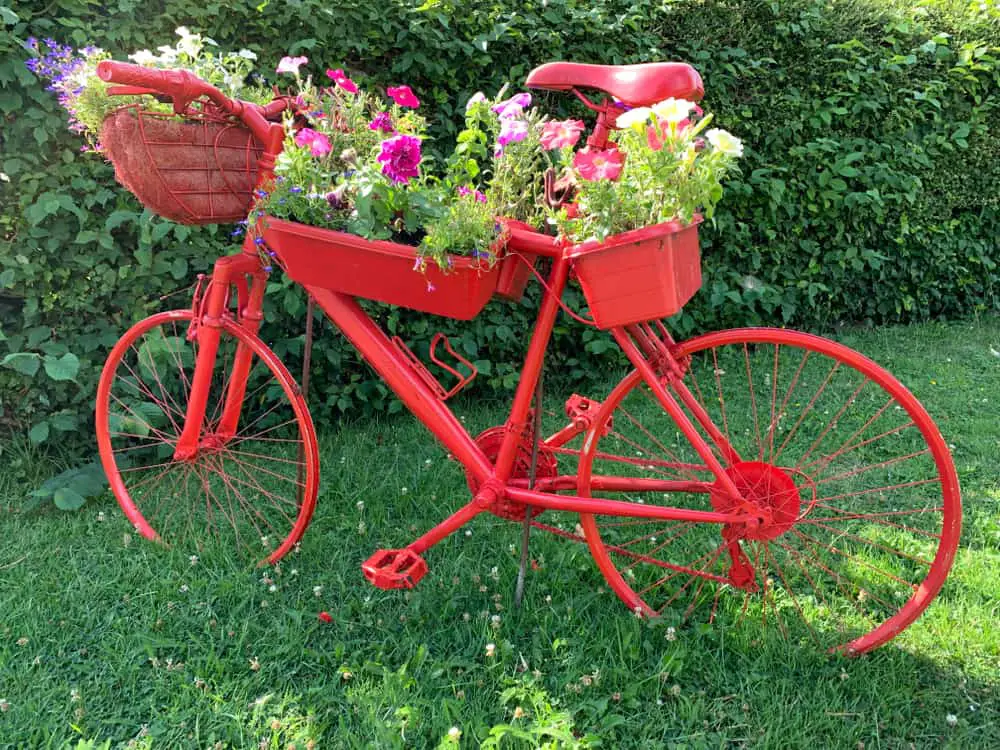 Adding a few baskets to an old bike and painting the whole thing your favorite color is an easy way to make a bicycle planter all of your guests will ask about!
The monochromatic look makes the planter pop and stands out against your yard or house, especially if you choose to go with a vibrant contrasting color that doesn't blend in with its surroundings.
9. Black and Silver
If you are a crafty person and want to take an old bike to the next level, put a little bit of time and elbow grease into it, taking it from trash to treasure.
This bike is painted silver, with the seat and handlebars in black. Adding a basket to the handlebars and behind the seat gives two spaces to plant your favorite flowers.
If you want an idea for a Mother's Day gift for your mom, aunt, or grandma, making a planter out of your old bike would be a special and personal way to show you care.
10. Antique Transformation
This vintage bike, in the wrong hands, would have ended up in a landfill. Luckily it ended up with the right person and it was given a second chance at life. To achieve this style and look yourself, take a look at flea markets and junkyards to find an old antique bike that is intact but obviously has wear.
If it has a lot of rust and peeling paint, this just gives it more character. Once you find the right bike for the project at hand, remove the seat and replace it with a flower pot. Alternatively, a basket, box, or any other container that catches your eye will work.
How to Make a Bicycle Planter
To add a touch of whimsy to your outdoor space, you can make planters out of a variety of discarded items you wouldn't normally consider. One of the things you can use to make a really cool and unique piece for your yard is a bicycle planter. You may even have many of the supplies laying around your house or garage!
It all starts with a bike. Before you can begin this project, you need to acquire a bicycle. An antique one is going to have the most character, while a newer style that your kid or grandkid has outgrown will have the most sentimental value.
Beyond the bike, you will need containers for the planters themselves, paint in your favorite color, and something you can use to secure the baskets to the bike. Once you have collected your supplies, it's time to get started!
Clean the bike and sand any rust or blemishes you don't want to show through the paint.
Wipe it down and paint. You can use spray paint, outdoor house paint, or acrylic paint. Be sure to read the instructions to see if you need to use a primer before painting. Feel free to get creative. Paint spots, stripes, hearts, or just leave it solid.
Paint your plant holders. You can use the color as the rest of the bike or you can use another color.
After everything is dry, attach your plant holders.
Add dirt and flowers or seeds to the baskets and your project is complete!
Where to Put a Bicycle Planter
One of the coolest things about a bicycle planter is that you can put them anywhere! They're a great addition to your front or backyard.
You can mount them on a fence if you want to have a cool piece of art but don't have a lot of space to work with. They can even be placed in town as a cool art fixture, bringing some brightness and color to the streets of your city.
Conclusion
When it comes to making a piece of art for your yard or garden, there are a ton of options out there. Wreaths, arches, and trellises are beautiful but they are super common. A bicycle planter is a fun and unique piece you can put in your yard or that you can make as a gift for a loved one for their birthday, Mother's Day, or another special occasion.
Hopefully, our guide has given you some inspiration and ideas that you can take and apply to your next garden art project.