Updated on January 3, 2022
When you are designing a bathroom, you want to make a space that is calming. You want a room that is more than just functional. Your bathroom should be a space you can relax in. We know that you want your bathroom to look great and match your personality.
Choosing a color can be tough, but we want to show you just how versatile brown can be for a bathroom. Whether it is in the form of beautiful hardwood or classy tile, brown can work for many different styles. The best part is that brown blends well with so many different colors. Whether it is white and brown, a blend with beige, or a combination with blues and greens, brown will work to give you what you want.
Below, we have gathered more than 30 different bathroom ideas that use brown. They range from traditional to contemporary, offering up a wide variety of ideas for your next bathroom.
Brown Bathroom Design Ideas
Don't forget to pin these ideas and follow us on Pinterest @homeawakening
1. Hardwood Beach Farmhouse Style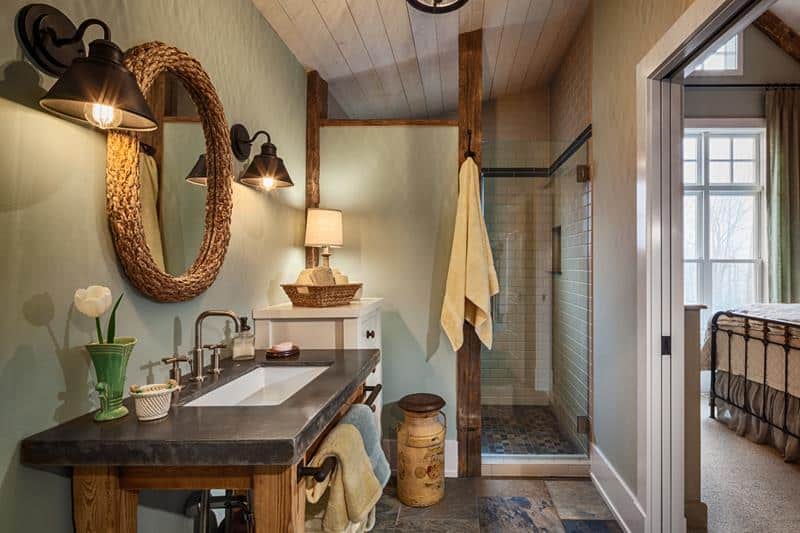 This beautiful bathroom uses great hardwood for the sink area and around the shower. They give the perfect amount of natural brown for this charming country look.
2. Sandy Beach Style

Like something from the shore, this light brown room brings to memory a sandy beach ready to relax on. It is open and light with a carefree style.
3. Classy Light Brown Bathroom
The light brown used in this room bring it a classy look. When combined with the great tile floor and white sink, you have a traditional design that is timeless.
4. Mediterranean Style Brown Bathroom
Like something from a European villa, this bathroom uses darker hardwood for the sink cabinets to blend with the beams overhead. With the elegant stone tile, this is a great blend.
5. Classy Hardwood Contrast

The dark hardwood cabinets around this sink work to create a wonderful contrast with the light walls and marble in the shower.
6. Contemporary and Clean Look
Artistic Designs for Living, Tineke Triggs
This room take a contemporary, almost Asian style, and makes it work well. The lighter hardwood combines well with the marble style his and her sinks.
7. Classic European Brown Design
The hardwood blends well with the beige here to create a great European style. The room is has a sense of durability and class.
8. Beautiful Brown Wall and Cabinets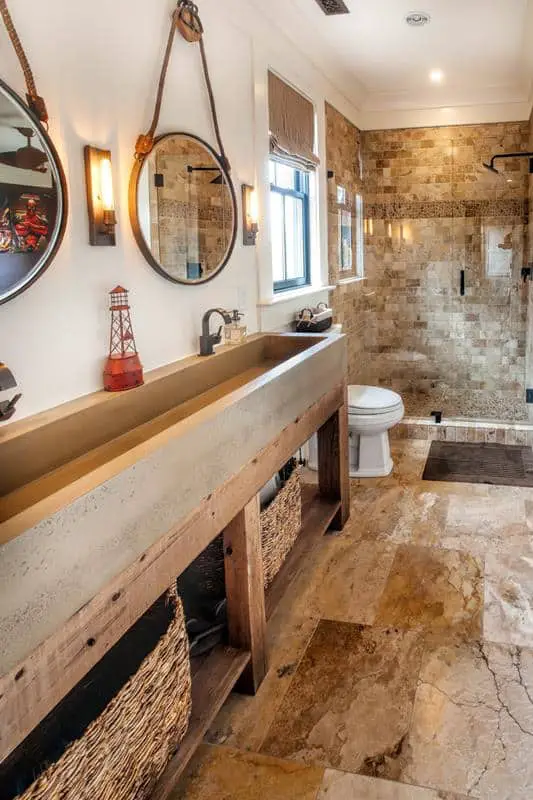 This bathroom has a wonderful and unique sink style that blends perfectly with the beige and brown tiles used all around. This space truly makes you think of an upscale beach style.
9. Beautiful Brown Tile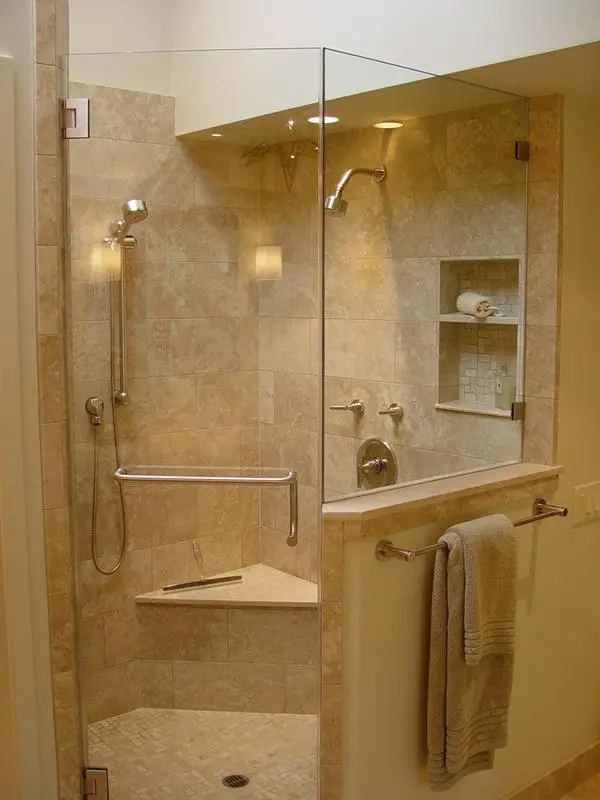 The lighter browns used throught this walk-in shower used multiple tones to create a great style. This is really a luxury space, and the color scheme is very calming.
10. Beautiful Beige and Brown Blend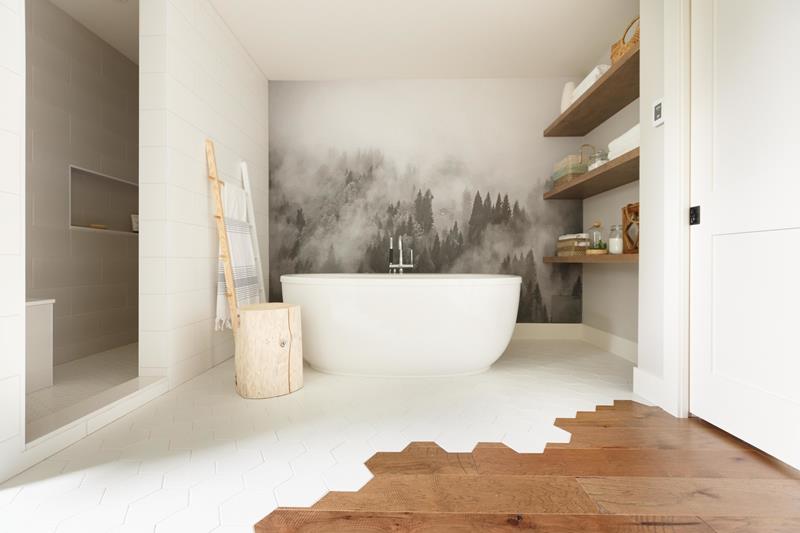 What a truly unique design for a bathroom. This is a contemporary design, blending lighter, gray and white tones, with an amazing hardwood design.
11. Rustic Brown and Brick Blend
Shannon Callaghan Interior Design
With a great stacked stone style all around, the dark hardwood is the perfect complement to this space. With an open design and a walk-in sauna, you have all you need here.
12. Light Brown Rustic Style
The stone design, the elegant cabinets. Everything here works together to bring a rustic luxury style to the bathroom.
13. Transitional Brown Hardwood Blend
This transitional space creates a wonderful look. With the darker hardwood on the outside of the shower and a lighter style inside, this bathroom feels warm and welcoming.
14. Beautiful Brown and Beige Combination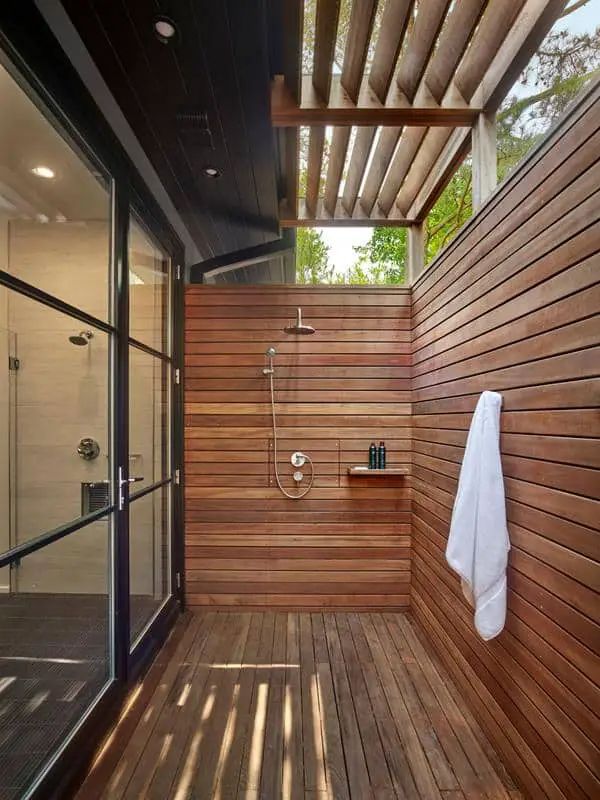 Extending from the indoors to create an amazing outdoor shower experience, you will love this feeling. This shower has a beautiful hardwood design that gives you style and privacy.
15. Wonderful Brown Tile Design
The multi-toned brown tile used through this bathroom makes a warm and elegant space. The smaller tiles in the shower work to bring texture to the space.
See Also: 20+ Bathrooms with Subway Tile
16. Brown Hardwood Cabinets and Beige Blend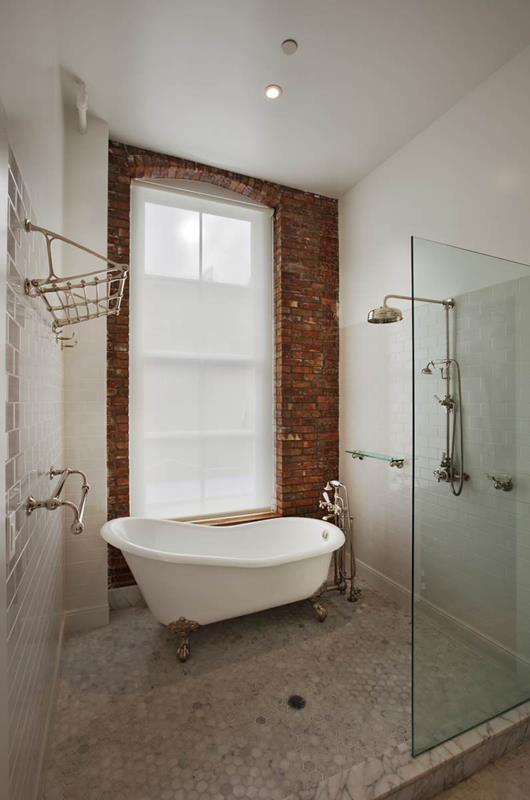 A lighter floor blended with darker a darker brick design that runs to the ceiling creates a wonderful contrast. This area is a combination shower and bath, ready for your relaxation time.
17. Light Brown Tile Shower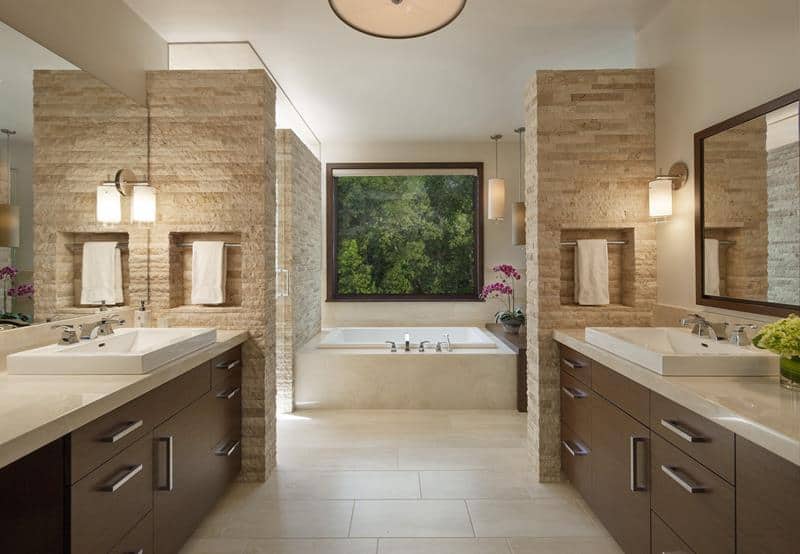 This symmetrical bathroom uses wonderful hardwood to balance with the lighter style bricks. The space leads gallantly to the relaxing bathtub area.
18. Trendy Brown Wooden Highlights
Combined with the stacked stone luxury of this bathroom, the darker brown hardwood brings the elegance full force. You will love the combinations in this space.
19. Contemporary Brown Combinations
With a great contemporary look at work, especially with the hardwood comb design on the wall, this bathroom is open and stylish. You can sense the calming environment here.
20. Brown Tile and Stone Ideas
The dark brown stone style tiles used in this bathroom bring in a modern sophistication to the space. The space is uncluttered and easy to move around.
21. Brown Cabinet Style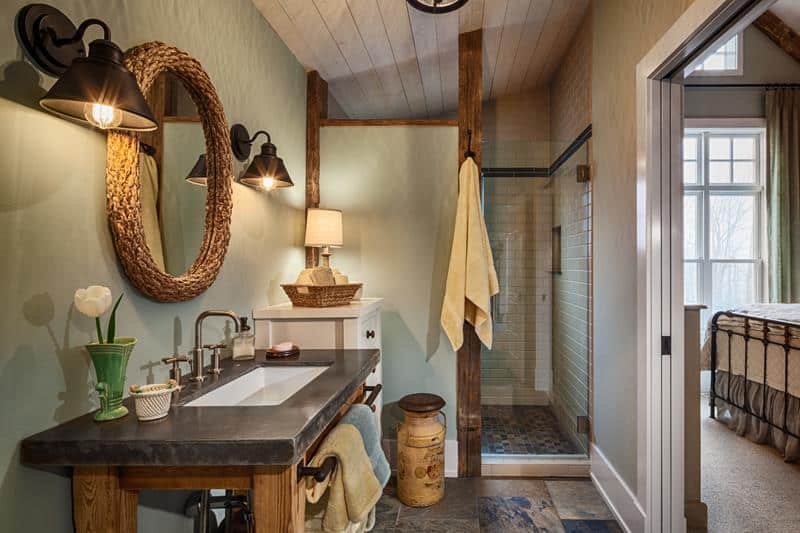 This bathroom offers you a blend of a country style and a beach theme, and it is amazing. With beautiful shades of brown from the wood and decor, you will find this space calming and relaxing.
22. Beautiful Contemporary Hardwood Shower
Welcome to contemporary design and luxury. With beautiful hardwood working with the waterfall shower and great decor, you will love using this space.
23. Trendy Brown Mosaic Tile
There is nothing wrong with a little flair and that is exactly what this brown, copper-toned, tile does. This space shines in luxury.
24. Beautiful Brown Tile Shower Design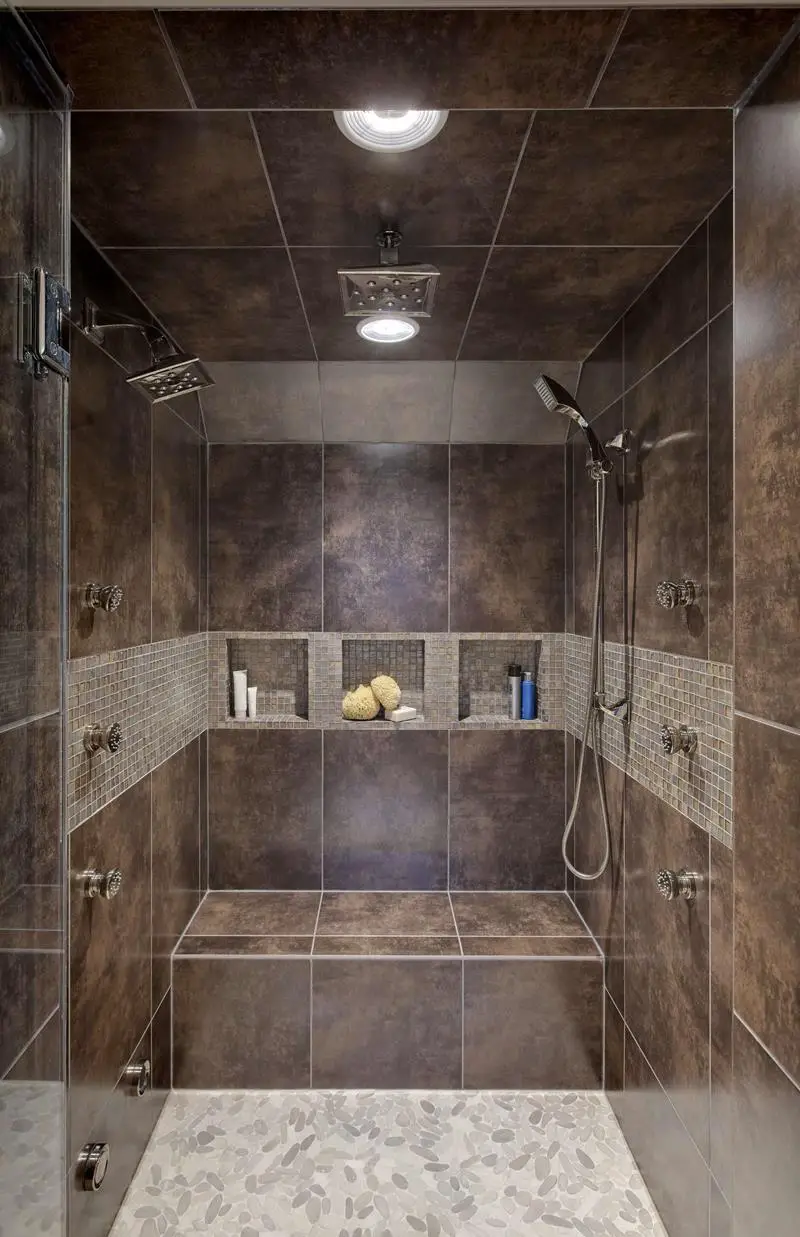 There is nothing complicated about this shower, but the design and tile choice make it look like a luxurious space. The tones combine to bring a wonderful, charming design.
25. Luxury Hardwood and Beige
Tracery Professional Builders, Inc.
The hardwood cabinets here are luxurious and they contrast wonderfully with the light sandstone style throughout the bathroom.
26. Brown Brick and Hardwood Rustic
Lands End Development – Designers and Builders
There is no better combination for a rustic style space than brick and durable hardwood. This bathroom is handsome and stylish.
27. Brown Earthy Stone Design
Sometimes you want to make your spaces stand out, and this unique stone slab certainly does that. The room has an earthy design that works well in this contemporary space.
28. Dark Brown Bathtub Design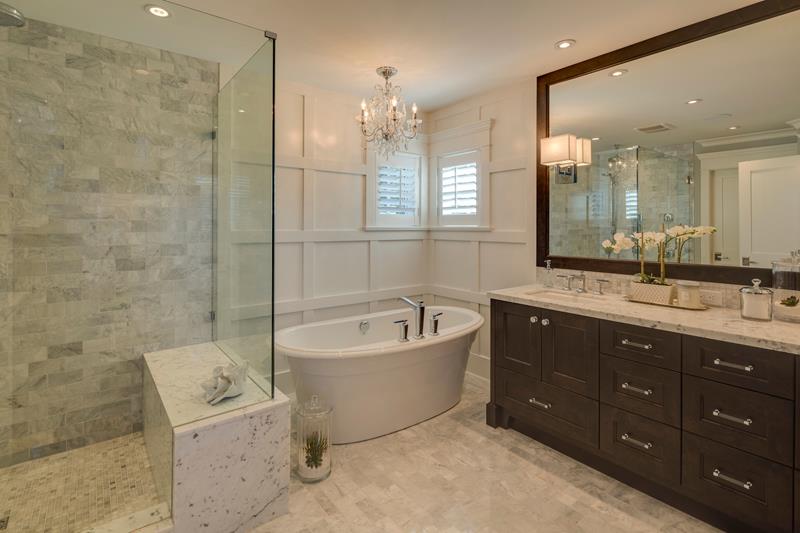 The light styles used all around this bathroom are wonderfully contrasted with the darker hardwood of the sink space and mirror outline. This room is truly luxurious, giving you a great space to unwind after a long day.
29. Trendy and Sleek Brown Designs
Transitional and contemporary, this bathroom uses a great tile design for the floor and shower to combine with the darker brown in the room.
30. Modern Brown Hardwood Perfection
With plenty of natural light shining in, this bathroom uses hardwood around the sink area. With the added lights throughout the space, this room will look great night and day.
Don't Miss: 20+ of the Best Bathroom Color Scheme Ideas