Updated on October 7, 2022
Purple is the color of royalty, but you need to know what colors go with purple to really make your room pop. Depending on your stylistic preferences, you can choose neutral colors or bright colors to pair with purple. Read on to learn about the 10 best colors that go with purple interiors.
Neutral Colors
You can pair neutral colors with purple. Neutral colors will allow the purple to stand out. Here are the 5 best neutral colors to pair with a purple interior:
1. White
White is a color that pairs beautifully with purple interiors. White and purple create a pretty and relaxing feel within the interior.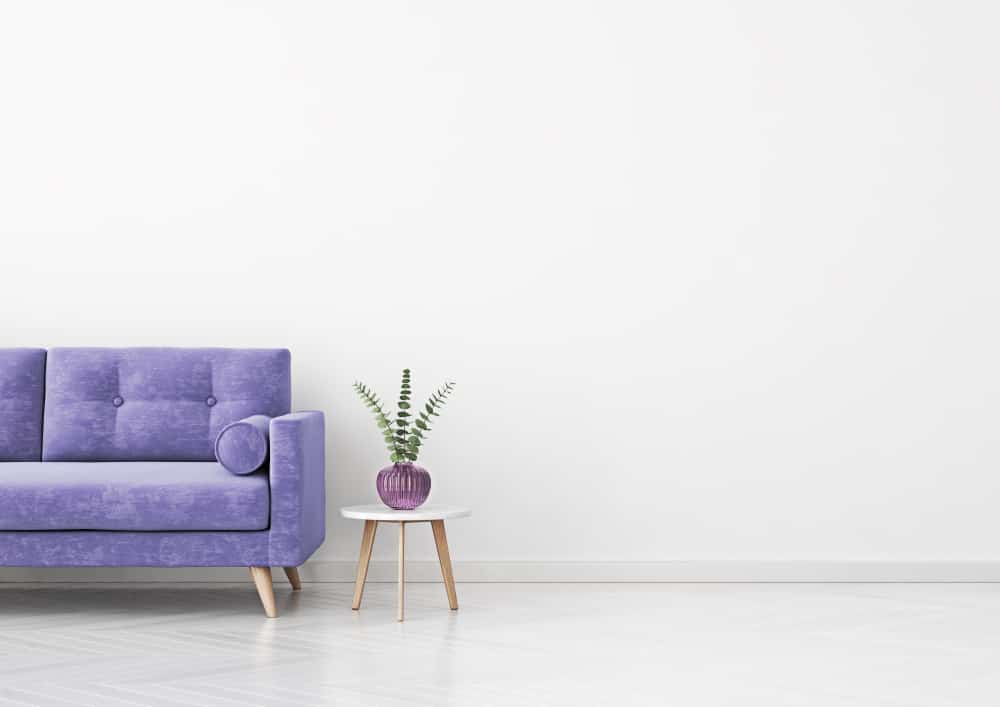 Your kitchen may be one room that will benefit from a purple and white design. Paint the walls, cabinets, and appliances white. Use silver handles and dark brown countertops. Then, add a purple backsplash for a statement-making wall. Insert a purple table and chairs as well.
Another room that would look beautiful with this color combination is the bathroom. Paint the walls purple and use white appliances and trimming. For the shower curtain, choose a curtain with white, purple, and black designs to tie the colors together.
2. Black
Purple and black is another great color combination for purple interiors. Purple and black will cause a much more dramatic and intense look. It may be best to paint larger rooms black and purple or to choose a lighter shade of purple.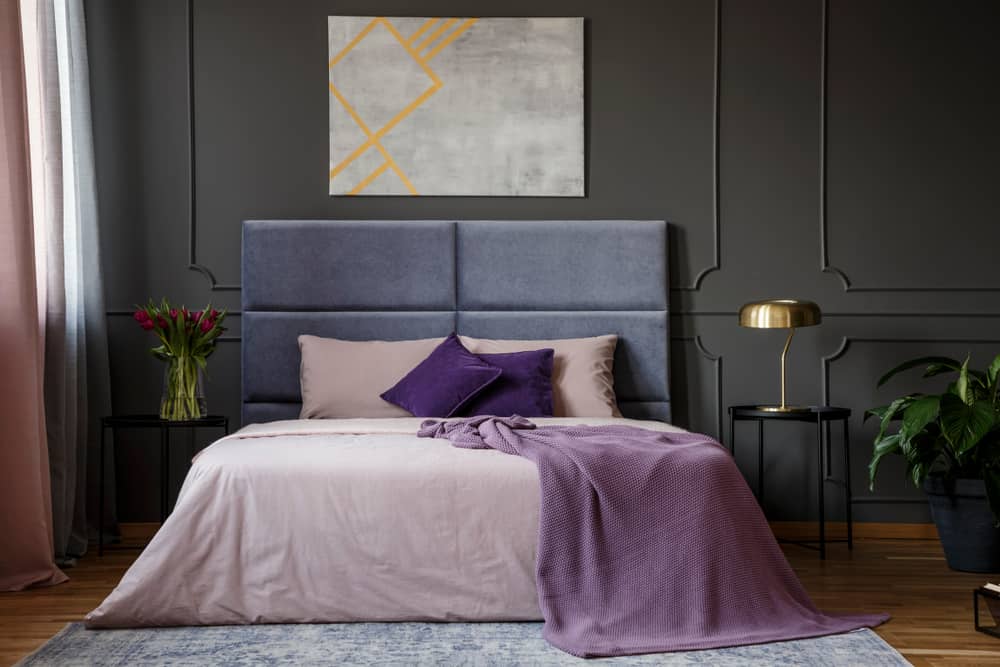 This color scheme would look beautiful in your bedroom. For this look, purchase a black bed frame and furniture and paint the walls light purple. On the bed, use light purple sheets and a dark purple comforter with black accents.
A family room will also look warm and modern with a purple and black design. Paint the walls with various shades of purple and asymmetrical designs. Then, add black furniture and seating areas. On the couch or chairs, add purple pillows with silver accents.
3. Grey
You may want to pair your purple interior with grey accents for a more modern and soft look. When using grey, you will want to use a darker shade of purple so that the colors do not wash each other out. If you use white or black paint too, you can use a light purple with grey, though.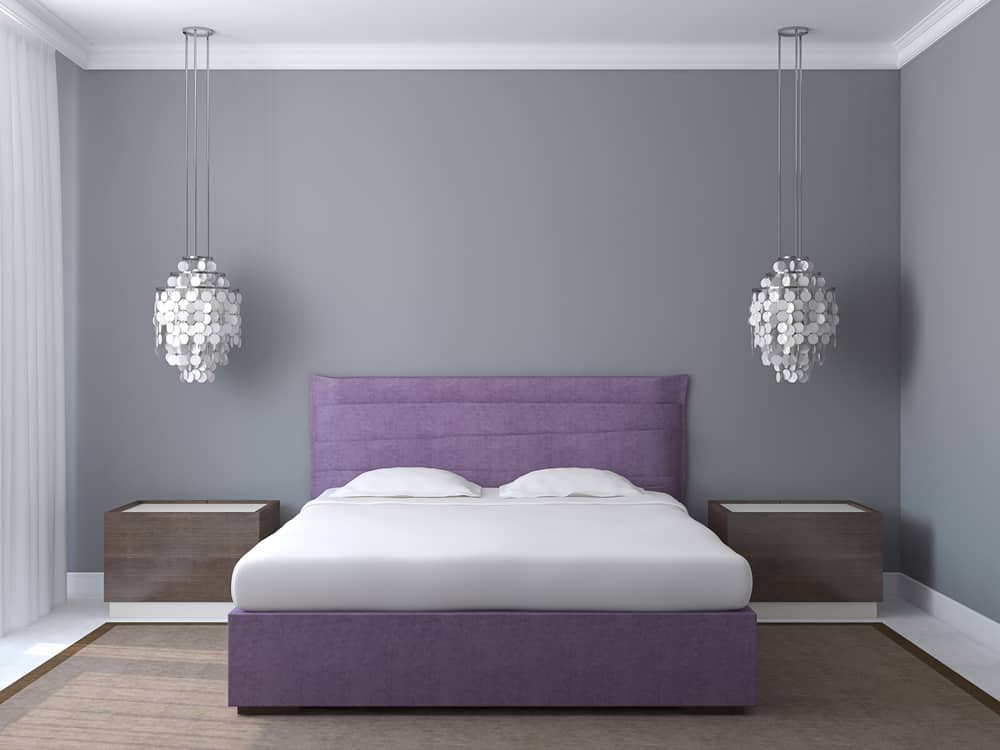 A purple and grey color scheme will bring whimsy to your kitchen. Paint the cabinets lilac with a textured finish, the walls light grey, and trimmings around the cabinets black. Add elements of silver on the appliances and black on the lights to add more dimension.
Your foyer can be elevated with purple and grey as well. Cover the walls with a grey wallpaper with purple accents. Add purple seating and a black table. On the table, you may want to add silver or grey decorations to further tie the color scheme together.
4. Tan
For a more earthy vibe, you can pair your purple interior with tans. If you are using tans, you will want to use multiple shades of purple.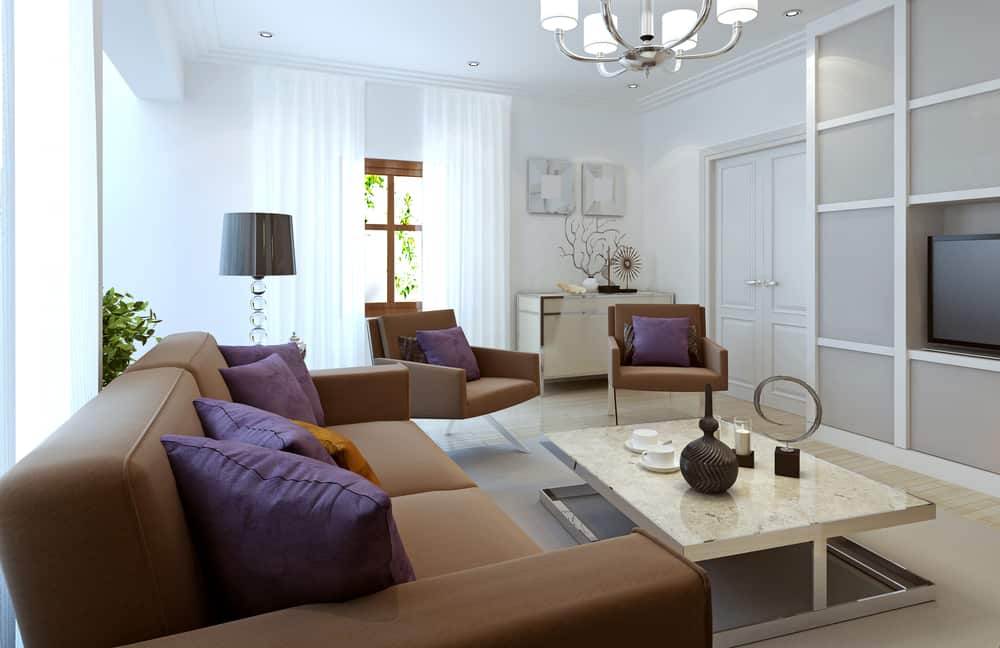 You can decorate your living room in purple and tan colors. Paint the walls lilac and add asymmetrical paintings with multiple shades of purple and cream. Add tan or cream seating throughout the room and add purple pillows. In the center of the room, place a dark brown table.
Another room to decorate with purples and tans is your bedroom. This color scheme will create beautiful and mellow vibes making unwinding at night easy. Paint the walls lilac and add cream or tan furniture. On the bed, place a dark purple comforter with cream and black accents.
5. Brown
Pairing your purple interior with the color brown is another way to create earthy and mellow vibes. Depending on the desired shade of purple, the room can either be mysteriously intoxicating or light and warm.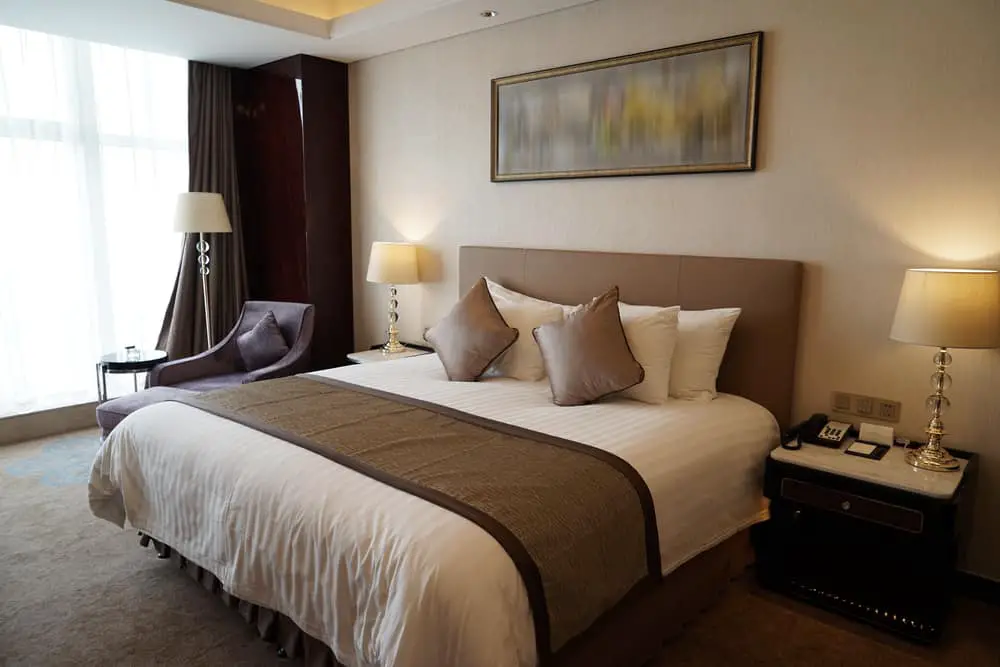 You can use a purple and brown color scheme in your dining room. Paint the walls with a lovely lilac color. Add chunky, dark brown furniture. On the walls, add dark brown and silver accents. For a more personal touch, you can place lilac-colored candles on the table.
This color scheme will also look beautiful in bigger bathrooms. Paint the walls purple and add dark brown wood paneling. Additionally, add dark brown frames around the mirror to make it pop off the wall. Finally, use silver accents on the appliances and decorations.
Bright Colors
Purple is often paired with neutral colors because of its strength, but you can pair purple with bright colors too. The key is knowing how to strategically place shades.
1. Yellow
Being opposite on the  color wheel, yellow and purple accentuates one another. This color scheme may seem like a loud choice at first, but if you pair secondary or tertiary colors, the room will pop.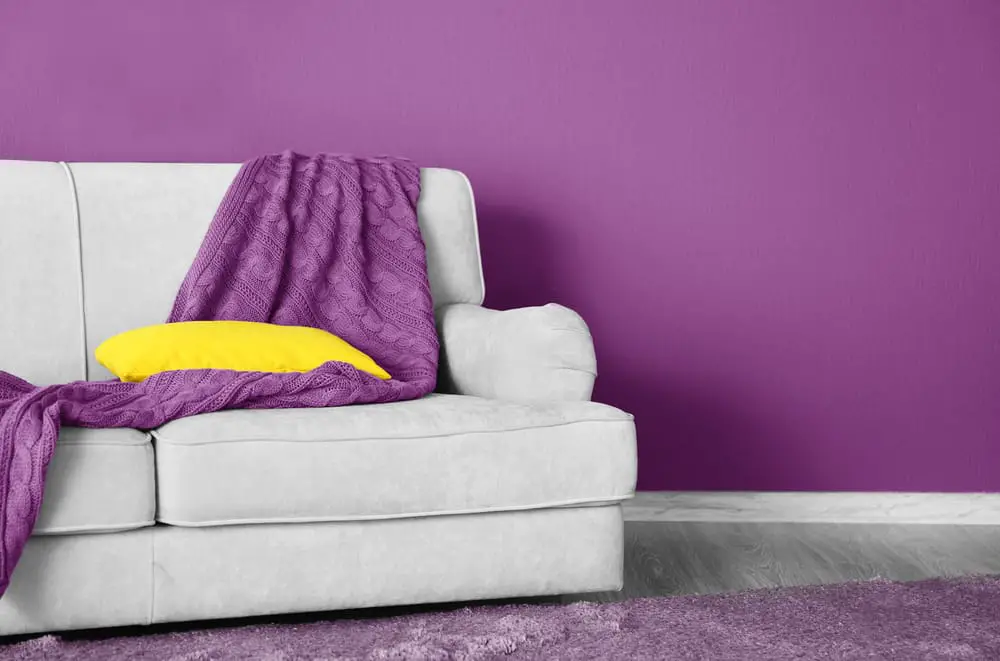 A purple and yellow color scheme looks fun and inviting in a bedroom. Paint the walls lilac with white trimmings. Paint your bed frame and furniture black and buy a white comforter with yellow accents and patterns. Add yellow and purple accents throughout.
You can also use purple and yellow in your kitchen. With white walls and countertops, paint the cabinets dark purple. Add silver accents on the cabinets and appliances. Then, place yellow hand towels, vases, and other decorations throughout the kitchen.
2. Turquoise
Purple and turquoise can add a bit of fun and spunk to any bedroom. Since these colors are not paired together often, they will make the interior unique and visually exciting.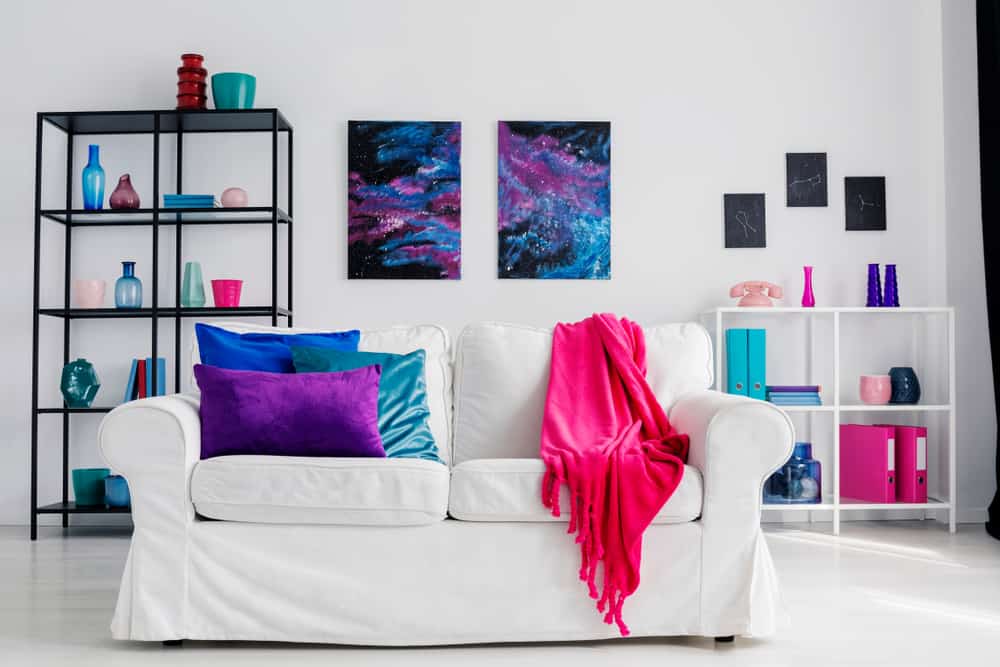 Purple and turquoise will look great in your living room. Paint the walls white and hang purple, blue, and black decorations. Place a statement-making purple seating area, like a couch, in the center of the room. On the seating area, place turquoise pillows and blankets.
You can also decorate your foyer in a purple and turquoise color scheme. Paint the walls white. Then, select matching dark purple chairs and tables. On the tables, paint asymmetrical white and turquoise patterns. Place turquoise pillows on the chairs.
3. Pink
For a more girly look, pair your purple interior with pink. These colors can look great in children's rooms or adults' rooms.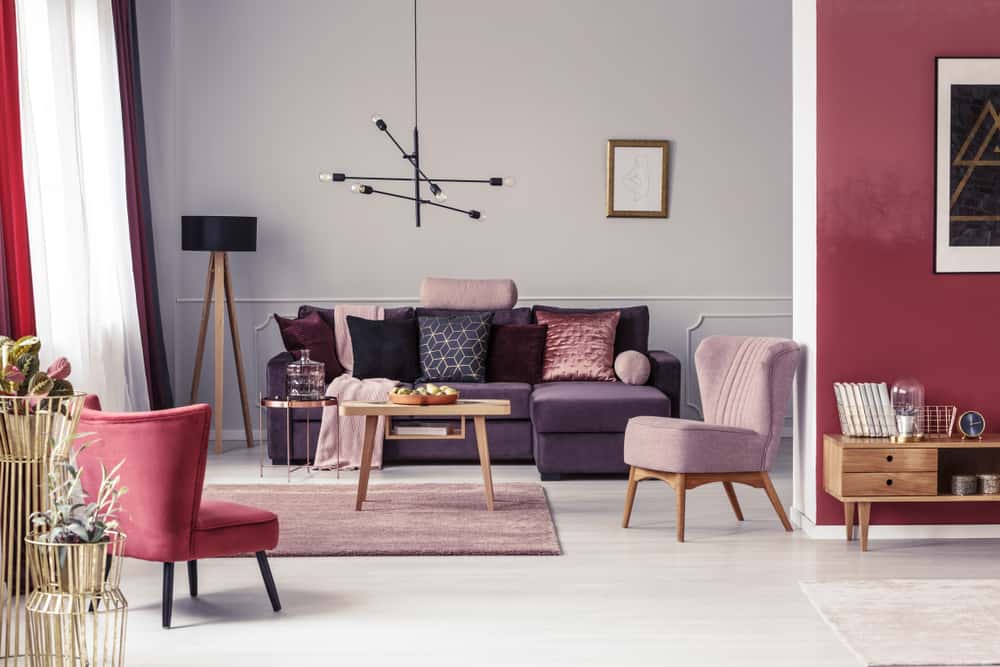 The pink and purple color scheme is a great choice for a whimsical and girly bedroom. You can paint either light pink or light purple walls and add one statement-wall with a mixture of both colors. Paint furniture and the bedframe black and purchase a white comforter with pink and purple patterns.
You can also paint your bathroom pink and purple. Paint the countertops and appliances white with silver and black accents. Then, paint the walls either purple or pink and use a purple and pink patterned shower curtain to tie the colors together.
4. Green
You can pair purple with a light green or sage color for a more mellow yet colorful look. This color scheme is more colorful than the neutral pairings, but it is more mellow than some of the other bright color options.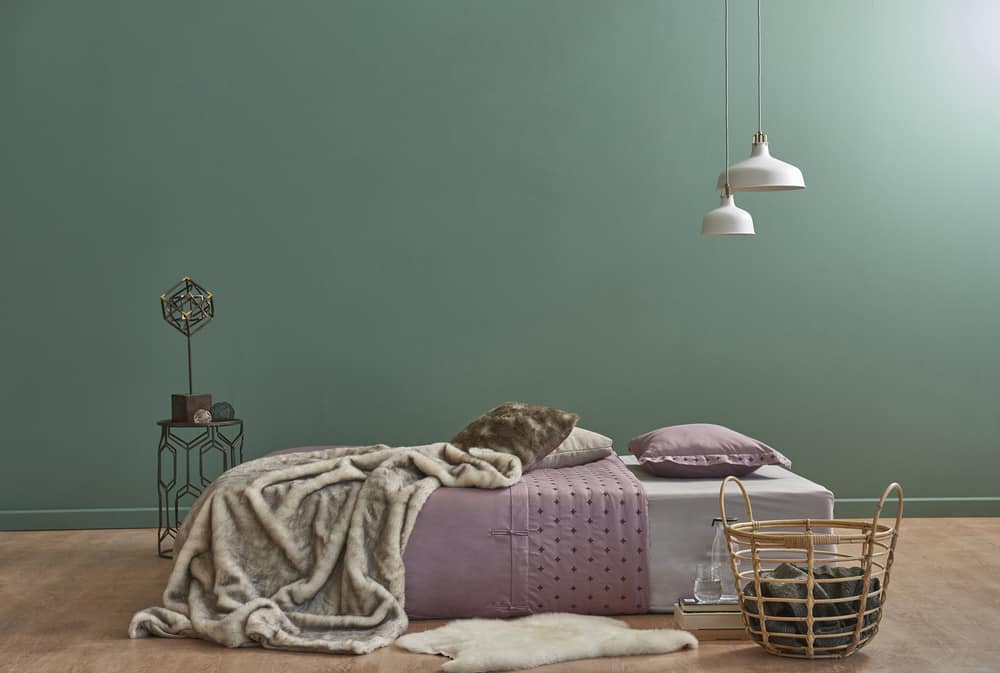 You can paint your dining room purple and sage, creating a cozy feel to the room. Paint the walls purple and add sage accents throughout. Place a dark brown or black dining set in the room. Decorate the room with houseplants for texture and color.
A living room may also benefit from this color scheme. Paint the walls sage or light green and the trimmings white. Place a statement-making purple couch in the center of the room. Add a brown coffee table with purple decorations and place houseplants throughout the room.
5. Navy
Another more colorful, yet mellow option is pairing your purple interior with navy blue. Navy blue should be paired with light purple because you want some differences among the shades.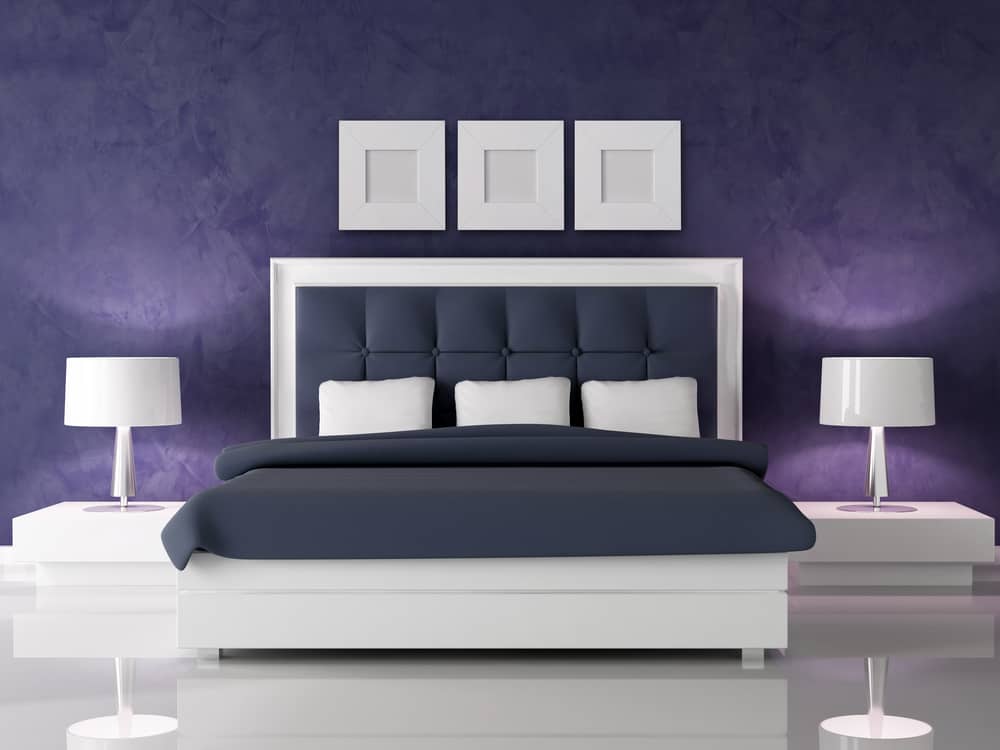 You can decorate your foyer with purple and navy. Paint the walls with a light purple or lilac color. Then, add dark brown furniture. In the seating area, place navy blue cushions and add lilac and navy decorations to the table.
Additionally, the living room will look spectacular with a purple and navy color scheme. Paint the walls light purple and the furniture dark brown. Select a navy blue couch or seating area to contrast the purple wall. Add pink, purple, navy, and white decorations throughout.
Conclusion
It is important to know which colors go with purple interiors so that the rooms and colors pop.
For a more neutral look, you can pair purple interiors with white, black, grey, tan, or brown. For a more colorful and vibrant design, pair your purple interior with yellow, turquoise, pink, green, or navy.
No matter what color you decide on, make sure to match shades and add small touches of additional colors so that the room doesn't look two-dimensional.