Updated on December 28, 2022
Are you wondering how much it cost to remodel a small bathroom? Depending on your zip code, design plans, and bathroom type, a bathroom renovation can cost anywhere from a few hundred dollars on up to tens of thousands of dollars.
The national average renovation cost for a small bathroom is $6,500 but can range anywhere from $1500 for a low-end DIY project on up to more than $30,000 for a full master bath remodel with all the bells and whistles.
See Also: Average Cost to Remodel a Kitchen
Why Should You Remodel Your Bathroom?
Given the national average of bathroom remodel costs, you might be wondering if a bathroom renovation is for you. Aside from enjoying the splendors of a new shower and a revitalized space, a remodeled bathroom has the added benefit of increasing the value of the home.
Just like kitchen remodels, bathroom remodel projects are a great investment and often have their own review categories in home magazines.
Bathroom Remodel Cost Breakdown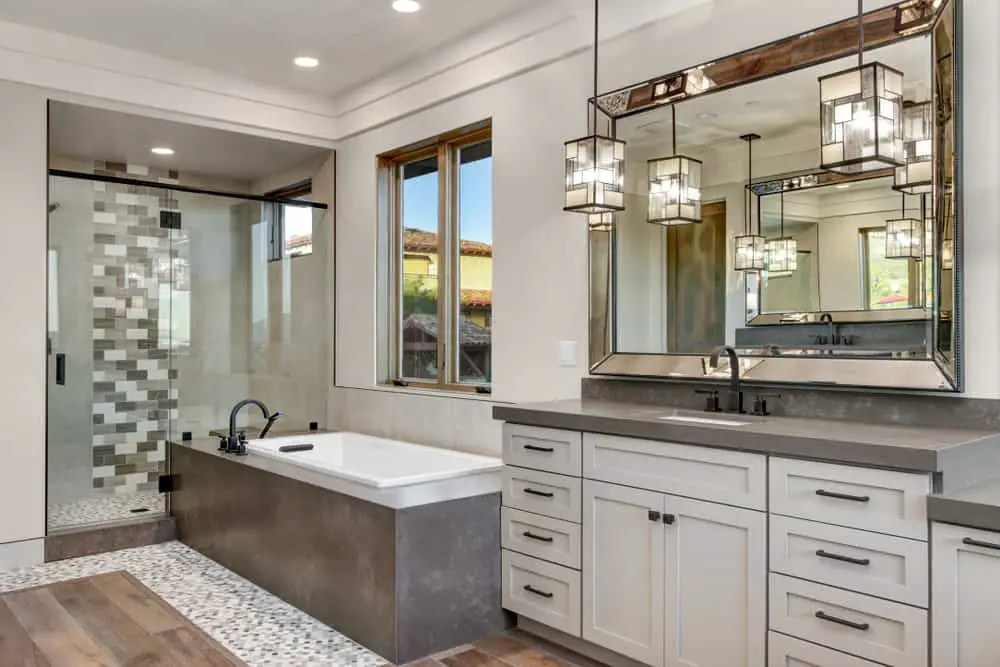 Renovating a bathroom isn't cheap, according to many studies, the average cost for a bathroom remodel is around $6,500, but the price can range from $1,600-$30,000+.
Prevent any uncertainty in the cost and plan everything you want done ahead of time, this includes the materials used and how you want the job done.
Materials and Labor Per Square Foot
Bathroom remodeling costs anywhere from $75-$250+ per square foot, the cost varies whether it's a DIY project or if you're hiring a few bathroom remodeling pros. Expect to spend a lot if you're doing a high-end master bathroom remodel.
For a decent remodel, you're probably going to spend around 100 per square foot.
Cabinets
Depending on whether you're replacing everything in the bathroom, you might need to shop around for some cabinets for your bathroom.
They do sell prefabricated sink and cabinet combos.
Countertops
If you're tearing out the old sink to replace it, you're probably in the market for some new countertops as well. The average cost for bathroom countertops is around $275, but they can range from around $100-$1,000+.
Once you get into marble and natural stone countertops, the price goes up quickly.
Bathtub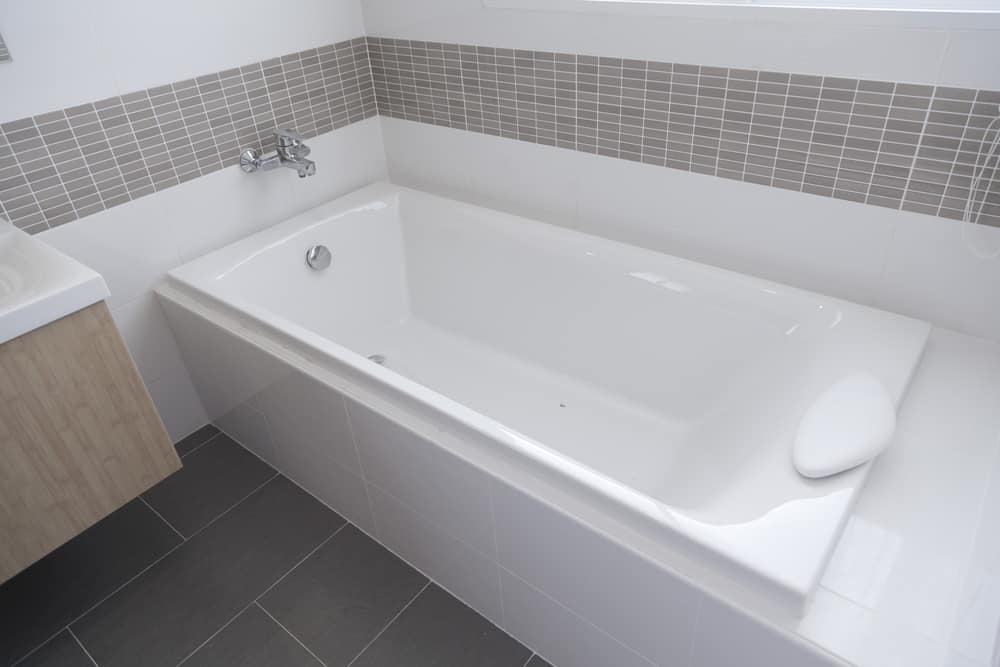 Depending on the style of your bathroom and shower, you might need to buy some type of bathtub. The average price for a new tub is $500, but they can cost anywhere from $350-$1000+.
Consider whether you want a separate shower and bathtub or a combo, it'll really depend on available space and your budget.
Floors
Knowing how many square feet of space you have to lay down flooring for is a big part of the remodel. The cost of flooring varies depending on the material, but you can expect to spend $60-$150 on flooring for the average bathroom.
Linoleum
Definitely, the cheapest option when it comes to new floors, linoleum is a great choice for a low-budget small bathroom remodel.
The average cost per square foot for linoleum is $0.62. Linoleum comes in a variety of colors and patterns, so it goes well with almost any kind of interior design plan you may have in mind.
A great way to easily remove the old linoleum is to use a heat gun, on a low setting, to melt the adhesive and allow for easy peeling. You'll want to keep the heat a few inches away from the linoleum.
Tile
Although it's a hassle to clean the grout, tiled floors look nice and they holds up well when compared to other flooring options. There are several different types of tile to choose from.
A great cheap tile option is subway tile, it costs around $3.00 per square foot.
Make sure to double-check your measurements. There's no need to increase your bathroom renovation cost because of human error.
Light Fixtures
If you're putting in all this effort on a remodel, you probably want some better lighting so you can actually see the difference between the old bathroom and the new one.
The average cost for light fixtures in the bathroom is $75, but can be anywhere from $50-$300+. Decide what style of fixtures you want and the desired lighting for your bathroom.
Who doesn't want a crystal chandelier in their bathroom?
Pipes
The pipes needed for your bathroom renovation are actually fairly cheap. You can expect to spend anywhere from $40-$200 to replace everything.
The majority of the plumbing being replaced is waste pipes, which is PVC pipe. The water lines are copper and they'll cost a little more, but the price is still going to be low compared to all of the other materials you have to buy.
Showers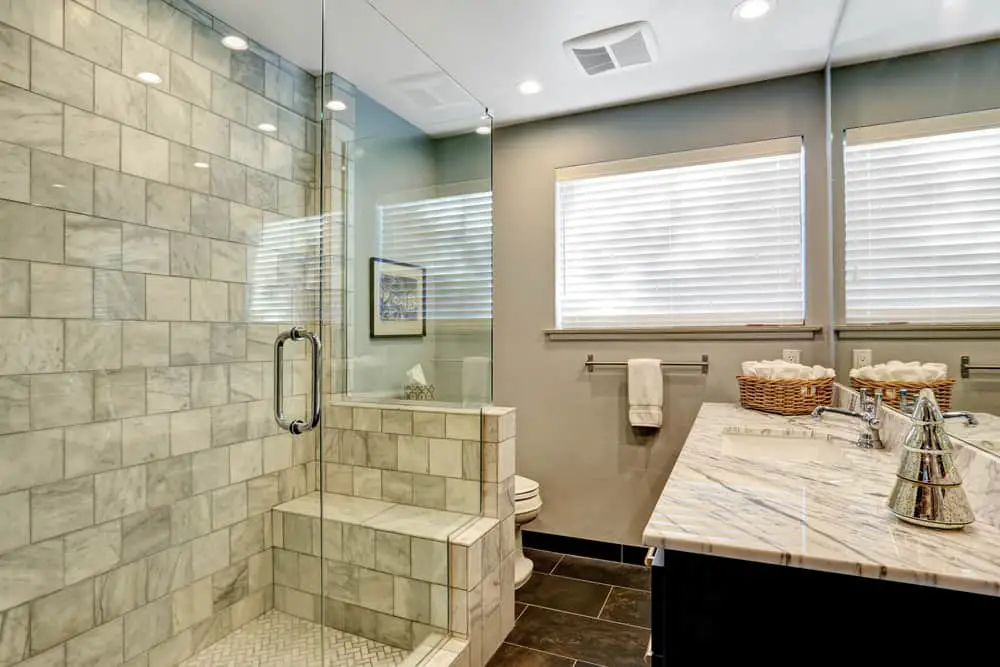 There are several different types and styles of showers that can work for anyone's budget. Most showers are high-efficiency nowadays and perform a lot better than older models, you might want to upgrade if yours is outdated and not working well.
If you're renovating a half bathroom, you won't need to worry about replacing the shower.
Walk-in Shower
If you don't like dealing with a tub, then it's hard to beat a walk-in shower. Usually, they're in their own separate room or separated from the rest of the bathroom with a shower enclosure.
While not for everyone, walk-in showers can make for a nice change.
Sinks
The price of a bathroom sink can range from $100-$250 or more . There are a variety of options and styles to choose from, consider your choices carefully because installing a new one is a process.
Changing the angle and shape of the fixtures in your bathroom make a striking visual change to the space and how it's perceived.
Toilet Sink
A toilet sink is, as the name implies, a sink that rests atop your toilet, often sold as a unit, but it can be retrofitted onto one as well. This is an old concept that's been revitalized because it's a great way to reduce water consumption and works well in a limited space.
These are quite the popular choice for people that want to reduce the amount of water that they waste in a given day.
Look into any tax incentives that might be offered for this high-efficiency sink.
Toilet
If you're remodeling the bathroom, you're probably replacing the toilet as well. The cost of a new toilet is around $230, but can range from $100-$500, even more if you start getting into the golden toilets and the ones that talk to you or play music.
There are a lot of different toilet options out there, feel like a king or queen when you sit atop your porcelain throne.
The amount of money you can save on your water bill will eventually make the toilet pay for itself.
Walls and Ceiling
You're probably wanting to paint the walls and ceiling as well when you renovate the bathroom. The cost of paint will set you back about $50-$75.
If you're spending all this time and money to remodel your bathroom, then add some color to the walls and a fresh coat of white paint to the ceiling.
For those interested in livening things up, consider painting the ceiling a different color.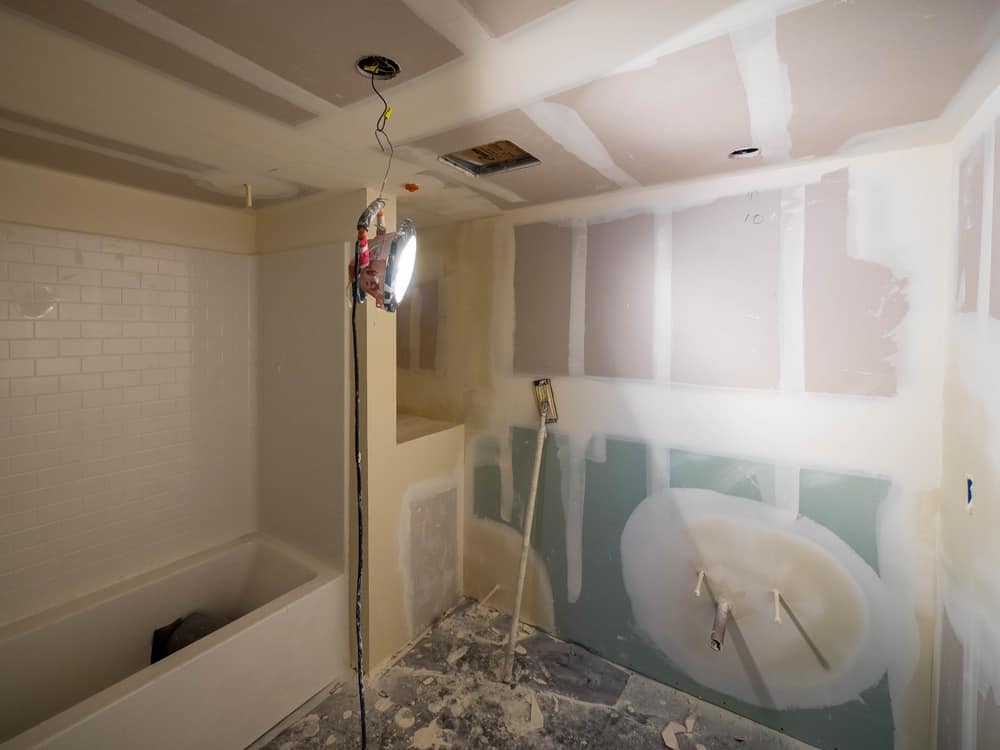 The plumbing costs for a bathroom remodel is one of the greatest expenses, so get what you want. Remember to install new gaskets and seals when replacing the sink, toilet, and shower.
See Also: 8 Pocket Door Alternatives for a Bathroom
Partial Remodel
A partial remodel is almost the same process for a full or half bath.
A full bath will have the sink, toilet, and flooring replaced when renovated, whereas a half bath only has the sink and toilet replaced.
Full Remodel
Full remodels vary whether it's a full-sized bathroom or a half-sized bathroom.
A full-sized bathroom has the sink, toilet, flooring, and shower/tub replaced. A powder room, also called a half-sized bathroom, will have the sink, toilet, and flooring replaced.
Low-end Bathroom Remodel
A low-end bathroom remodel has an average cost of $1500. Depending on your bathroom size, such as half bath or full bath and the type, such as a master bath or guest bathroom, you could be spending up to $3000.
A low-end bathroom remodel entails replacing the sink and toilet, and possibly the flooring if you're doing a full remodel on your half bath.
Half Bath
For those of you lucky enough to have more than one bathroom, you might have a half bathroom, otherwise known as a powder room, as well.
Remodeling a half bath is the cheapest bathroom remodel you can do, it involves only replacing the sink, toilet, and floors, assuming you're remodeling the whole thing.
You can also replace your old light fixtures with some new ones and paint the walls and ceiling.
Mid-range Bathroom Remodel
The average cost for a mid-range bathroom renovation is $6,500. There are several ways to do a mid-level remodel, depending on whether it's a guest bathroom or a full one.
Master Bathroom
The ability to renovate the master bath is a lot easier with a decent budget, both a partial or full renovation gets expensive fast.
A partial renovation involves buying a new sink, vanity top, flooring, toilet, and shower. This can run you upwards of $15,000 to have installed by a professional.
High-end Bathroom Remodel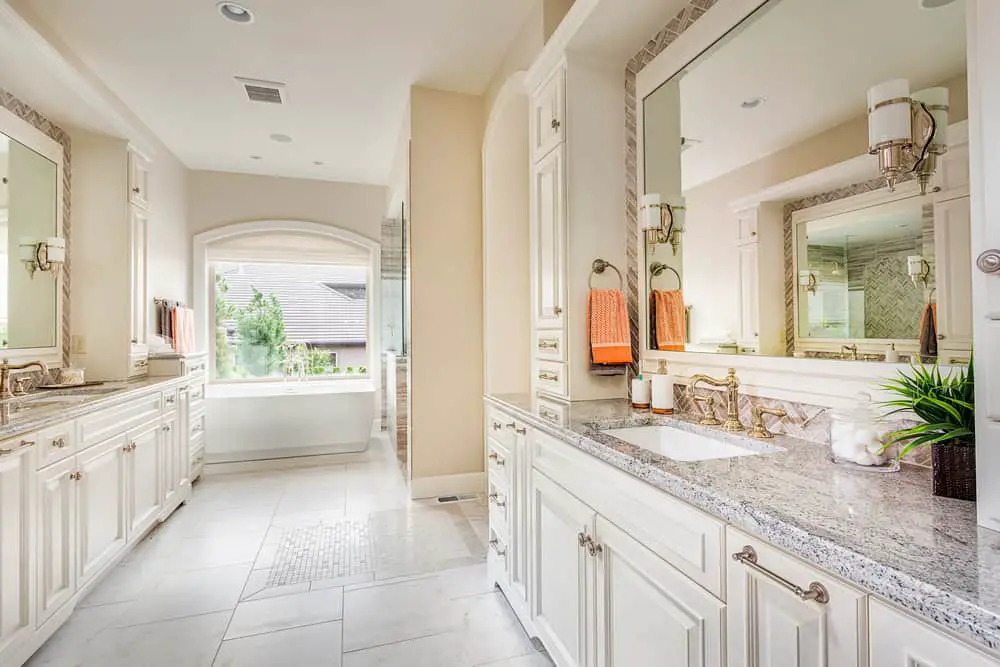 Bathroom remodeling costs for a high-end remodel average at . If you're renovating some master baths, you might be looking at a higher price for the bathroom remodeling.
These are the type of remodels that really make you feel it in the old wallet or purse strings.
Master Bathroom
Master baths are always expensive to renovate, a full remodel entails, a new sink, toilet, shower/tub, light fixtures, flooring, and countertops. If you have the price range for it, do a full master bath remodel.
Two new sinks and vanity tops
New flooring, possibly tile
A new separate bathtub and shower
Upgrade the light fixtures
Paint the walls and ceilings
Once you are set on a direction for your small bathroom remodel, make sure to determine how many square feet of space you have in your bathroom.
Take Bathroom Measurements
It's kind of hard to get estimates for project costs without knowing how many square feet of space you have to work with within your bathroom.
The average bathroom size is around 40 square feet, an 8×5 foot room. Check to see what size your bathroom is to get an accurate estimate for your budget.
Remember to measure twice and mark off any areas with a pencil for later use. This will help you save a lot of time and money.
Plan Your Budget
When undertaking any home project, it's important to price everything and shop around for the best deals — check out Home Depot and other home improvement retailers.
The cost to remodel a small bathroom isn't set in stone, so consult a cost guide to determine what the average cost is for your zip code.
If you're hiring a bathroom remodeling contractor, make sure to get estimates and check out a few hiring guides, they're full of expert advice.
Don't get carried away and allow yourself to bite off more than you can chew by starting a project you can't finish.
Tools You'll Need
If you plan on tackling the project yourself to cut down on renovation costs or to learn something new, you'll need to gather some tools first.
Tape Measure
Pencil, pen, or marker
Gloves
Eye goggles
Hammer or nail gun
Nails
Floor scraper
Pliers
Pipe wrench
Screwdriver (flat head and Philips)or a drill
PVC cement
Heat gun (optional)
Slim pry bay
Having these tools on hand should serve you well for the project, but you might always need something else. Getting yourself set up for projects saves you a lot of time in the long run.
How to Save Money on a Small Bathroom Remodel
Renovating a bathroom is expensive, thankfully, there are numerous ways to save money on your renovation cost.
Buy Flooring Wholesale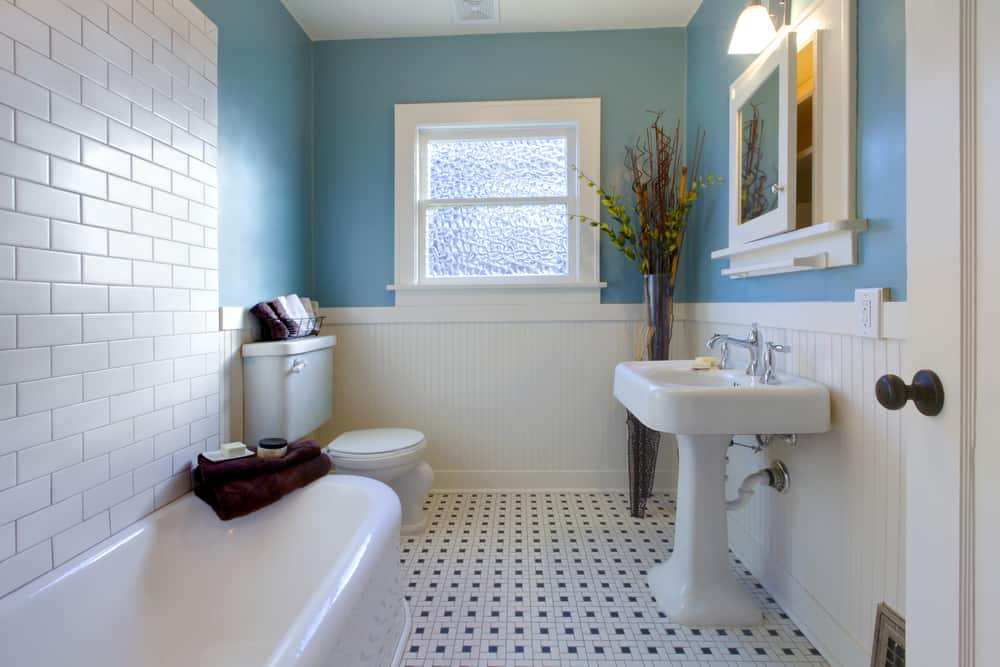 Although you can find great deals at stores like Home Depot, and get expert advice in the process, your best option for saving money on the flooring you use might be to buy it from a wholesaler.
The cost per square foot of floor tile can add up quickly, so if you're determined to use tile, don't forget to shop around for the best deal available. There's no sense in overpaying for the same product you can get elsewhere.
Remodel the Bathroom Yourself
If you want to save some money on bathroom renovations and remain with your limited budget, then remodel the entire bathroom yourself.
Even if you want a high-end bathroom remodel, you can still do-it-yourself. The advantage of a small bathroom is the fact that it has less space to have to work on.
Bathroom remodeling isn't hard, it can just be a dirty job that a lot of people don't want to do. Consider checking out a DIY demo video to help yourself get started on your home improvement projects.
Use Fixed Price Services
Labor costs aren't cheap for a general contractor, but bathroom remodeling pros will know the price for materials and labor. Shop around for a bathroom remodel contractor that offers a fixed price for their bid on the project.
Avoid any surprise bathroom remodel costs during your project and have an agreed-upon price. If it works out well, consider them for future home projects.
Bathroom Renovation Costs Summary
A bathroom remodel isn't cheap, especially if it's a master bath, but it's a great way to freshen up, pun intended, the most used room in the home.
You're at least going to spend $1500 on remodeling costs, so budget accordingly. Remember to budget to spend up to 30% above your project costs.
If you're the owner of a home, make sure to save the receipts for everything and look into writing it off on your taxes. There are many tax incentives offered to encourage people to buy and use high-efficiency appliances and plumbing.
Hire a Professional to Remodel the Bathroom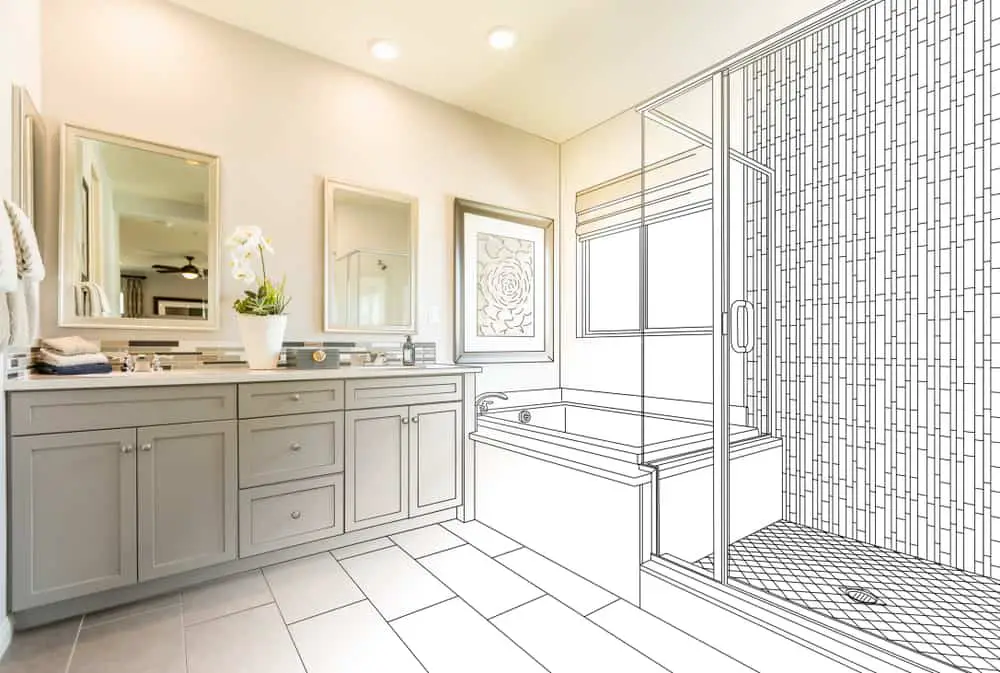 If you're uneasy about doing the job yourself, then you might want to hire a professional bathroom remodel contractor to get it done right.
There are countless pros near you, just check online to get estimates and find one that comes close to matching your price.
What to Lookout For When Searching For a Contractor
Be wary of any contractors that keep changing their estimates on you. Once you've decided on the materials and plan for your remodel, they should know the cost.
Unforeseen events can occur, but make sure they aren't trying to bleed you dry.
Getting Started
Remodeling your entire bathroom can be a cumbersome process. Create your layout for the bathroom and start converting the space into something new.
Tear out the Old Bathroom Parts
Depending on what all you're renovating, you have a lot of old material to remove.
Start by removing the old sink and toilet, this will allow you full access to the flooring.
Once the sink and toilet are removed, you can remove the trim around the bottom of the walls using a slim pry bar.
Next, remove the old flooring, use a heat gun and floor scraper if it's linoleum.
Remove the shower/tub if needed.
Remove the old fixtures to replace with new ones, swap them out so you can see what you're doing.
Begin Installing Everything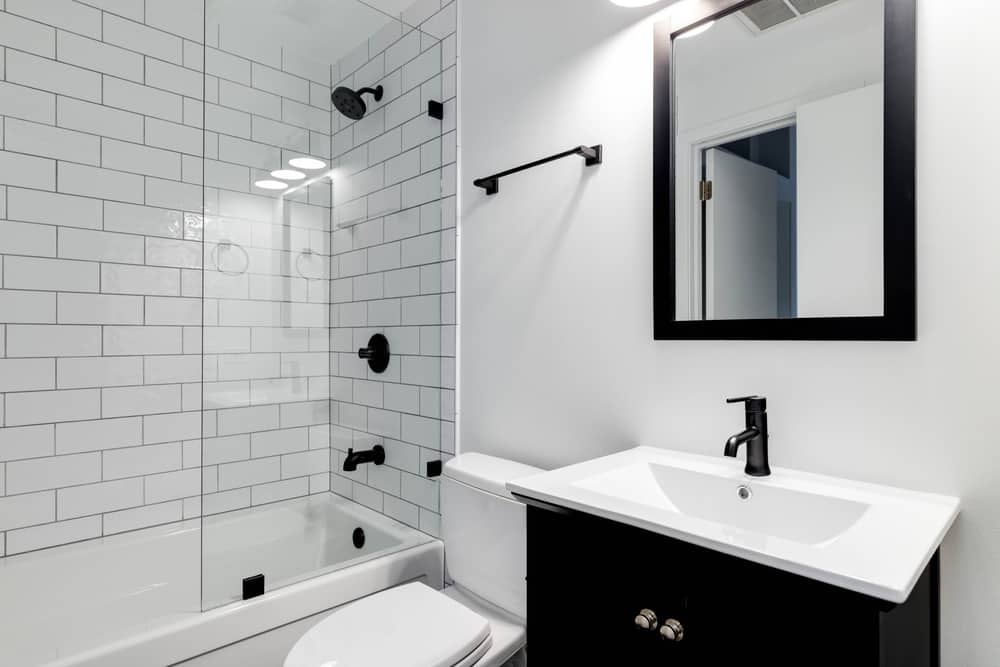 After all of the old flooring, light fixtures, etc. are removed, you can begin installing everything.
First, install any new drains, pipes, etc. that need to be installed when the flooring hasn't been.
Next, install the new flooring into the bathroom, the process will differ with the flooring used.
Then, install the shower/tub into the bathroom.
Now, install the sink and countertop, if applicable.
Install the toilet.
Check all the seals, gaskets, drain lines, and supply lines to ensure they were installed properly.
Test all of you work, turn on the faucets in the sink and shower to check for leaks. Also, ensure the toilet flushes and fills properly.
Cleaning up Afterwards
The clean-up is just as important as the actual work. Going through after your bathroom renovations and cleaning up is also another way to check that everything is in working order and as it should be.
Just like when you make a mistake while you're writing or speaking and don't catch it because you know what you meant to write or say, you might not notice that you didn't perform the task, such as tightening a slip nut, as much as you intended.
After that big investment, ensure that your new bathroom looks as sleek and shiny as it should.
Catalog the Work Done
A very important step in any home project is to document all of the work done with a written and photographic record.
The written record doesn't need to be anything extensive, but it should make a note of what was upgraded and replaced, such as flooring, light fixtures, countertops, etc.
Your visual record should include photos taken before and after the renovation. Make sure you get the best lighting and angle possible when taking your photos, they need to highlight the work done to the bathroom.
If you're spending thousands of dollars on home projects, you probably want to keep multiple records of it.
Taxes
There are a lot of ways to save money on taxes when you file, home improvement is one of those ways. The government offers all kinds of incentives to encourage people to adopt more environmentally friendly homes, appliances, light fixtures, toilets, and showers, to name but a few.
Take advantage of their offers and upgrade your house at the same time, it's a win-win. Although you might not see a real return on your investment for years to come, unless you plan on selling, it's a worthwhile endeavor.
Tips
Always double-check your work, leaks can quickly become a costly endeavor.
Keep your receipts on everything you buy.
If anything has a warranty, read it carefully and understand what it covers and what it doesn't.
Perform routine maintenance, a few hundred dollars is cheaper than a new bathroom.
Don't be afraid to ask for help or advice, we all had to learn what we know somehow.
Take before and after photos to showcase the work done, great for a realtor if you plan on selling the house.
Everyone has to start somewhere when it comes to knowledge, follow these simple tips to help stay on track when you're completing any home projects. There's a lot involved to maintain a home as an owner, stay informed and ahead of any possible home disasters by practicing vigilance.
Home improvement projects aren't cheap and material costs for a remodel can quickly exceed your budget. Before you get started with any bathroom remodels, check out a cost guide, maybe some DIY demo videos, or look at some hiring guides online or in a magazine while waiting to checkout.