Updated on October 1, 2022
Have you wondered how to decorate a girl's bedroom? Whether you're an expecting parent or are moving and want to surprise your daughter with a newly decorated room, the options are limitless.
For those of you that are soon-to-be parents, you should consider decorating your daughter's bedroom with the typical pink theme or even an ocean theme. If she likes to read or is creative then consider decorating her room with a reading nook or a creative station.
Getting Started
Coming up with the décor of the room, while staring at a blank canvas, can seem like an impossible task.
Pick Out Your Colors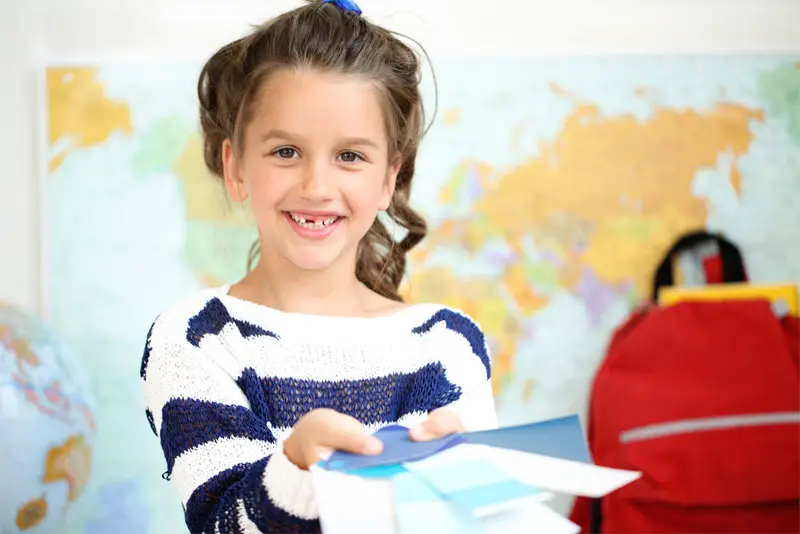 When decorating a girl's room, it's important to pick out the color palette for the room. This includes the colors for any paint, wallpaper, sheets, rugs, or even glitter.
Knowing the intended color palette can help in deciding the theme, and vice-versa.
Furniture
Decide whether you're going to buy new furniture or, assuming you have any, use what you have.
A must-have for a girl's room is storage space, ensure that she has shelves and drawers to store all of her artwork, books, toys, etc.
Aside from storage space, consider buying a hanging chair and possibly a bed canopy.
Visualize Your Ideas
Embrace the 21st century.
There are a number of programs, both free and with purchase, that can allow you to simulate the desired décor of a room. All you have to do is enter the dimensions of the room and then you can select your color palette and begin adding furniture and décor to the virtual room.
Room Decoration Ideas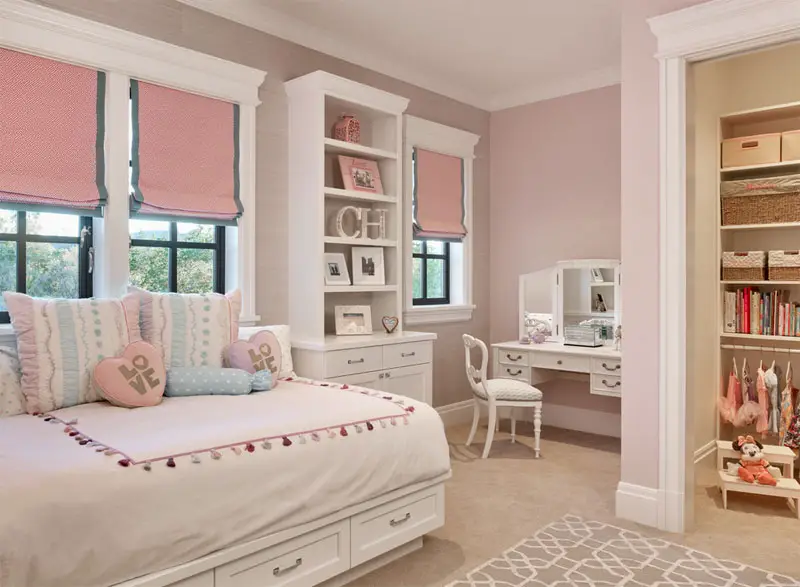 The possibilities for decorating a girl's room are endless. Here are several wonderful decorating ideas to help get you started on your quest.
Booktopia
If she likes to read a lot, why not create a reading bedroom for her?
All that's needed are some shelves for her books, possibly a canopy to hang in a corner, a throw rug, and some cushions or a chair for her to lounge upon to read. Creating a nook for her to read in will provide hours of enjoyment.
Creation Station
With their imaginations constantly running wild, what kid wouldn't love to have a bedroom decorated with creativity in mind?
You can use a small, playful desk with plenty of storage space for arts and crafts, and, for creativity on the go some roll storage carts.
Out of This World
If you have a space aficionado on your hands, then you might want to make your bedroom decorations out of this world.
All you need is some paint, possibly glow-in-the-dark paint, or wallpaper for the stars and planets and some of those plastic stars you stick up on the ceiling and she'll be able to travel light years with her imagination.
Pretty in Pink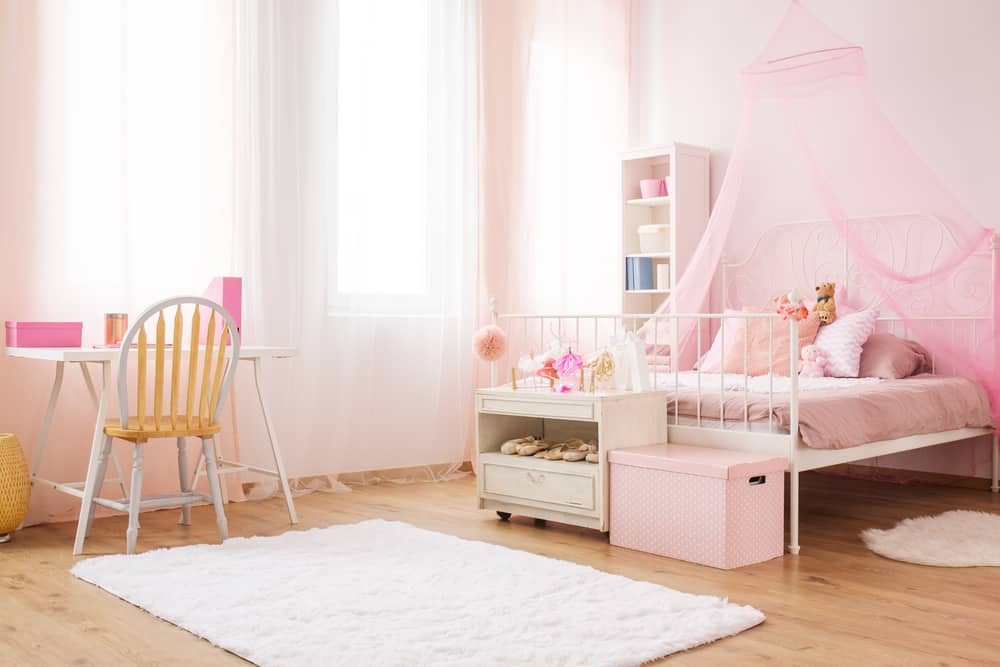 Many girls love pink and would be thrilled at the thought of having a pink-themed bedroom of their own.
You could use a combination of pink walls/wallpaper, sheets, and chairs to pink carpet, someone probably makes it.
The Room is But a Stage
Paying homage to Shakespeare with a little twist, make the bedroom a stage as well as the world.
Using either a stand and curtain or canopy, you can easily turn a corner of the bedroom into a stage that she can rehearse from for hours or use as a runway when sporting her unique outfits.
Under the Sea
Does she love the ocean? Then you should consider doing an ocean-themed room. With some wallpaper and/or a few coats of paint, she can be swimming with dolphins and mermaids from the comfort of her home.
You could even consider adding a blue canopy to mimic the ocean or a yellow or a red bed canopy to represent the sun. There are several combinations to choose from.
Wall of Wonder
If your child is especially creative and loves to showcase it, then turn their room into her personal art gallery. This will provide enjoyment not only for you and the family but for her as well.
Talk about getting in on the ground floor, the Louvre will be calling you any day now.
How to Choose
Getting started on something like interior decorating can be very hard, especially if you're clueless about the subject, let alone how to apply it to a girl's bedroom.
Assuming this isn't a surprise that's being planned out, or even if it is, brainstorm fun and creative ideas that she'd be interested in. Although some themes are a constant regardless of her age, it's important to remember she won't be five forever.
Decorating a girl's bedroom can be a challenging task for some. The most important thing to keep in mind when decorating a girl's bedroom is that you need to have fun with it, after all, that's what decorating the room and being a kid is all about. If you're still unsure of what direction to take, do more research.