Updated on August 5, 2022
Imagine being able to make delicious fluffy waffles at home any time you want. All you need is a waffle maker and a good recipe! But aren't decent quality waffle makers expensive to buy? Adding one of these great appliances to your home actually isn't as large of an investment as you may think!
With several styles of waffle makers on the market, it's easier than ever to get them crispy on the outside and fluffy on the inside waffle of your dreams. Whether you are looking for a waffle iron that allows you to make thick Belgium waffles or you just need a cheap thin waffle maker, there is a waffle iron out there for you.
Related: How to Make Waffles Just Like Waffle House
Things to Consider
When you're planning on investing in a new kitchen appliance, it's a good idea to do some research before you pull the trigger and make a purchase. There are some things to consider when choosing your new waffle maker.
Price
Before you start looking at waffle makers and fall in love with one that's out of your price range, it's important to figure out what your budget is.
The good news is, every style of waffle maker has a model in every budget. The more you pay, the more bells and whistles there are, but a basic machine can make some fantastic waffles.
What is Your Ideal Waffle?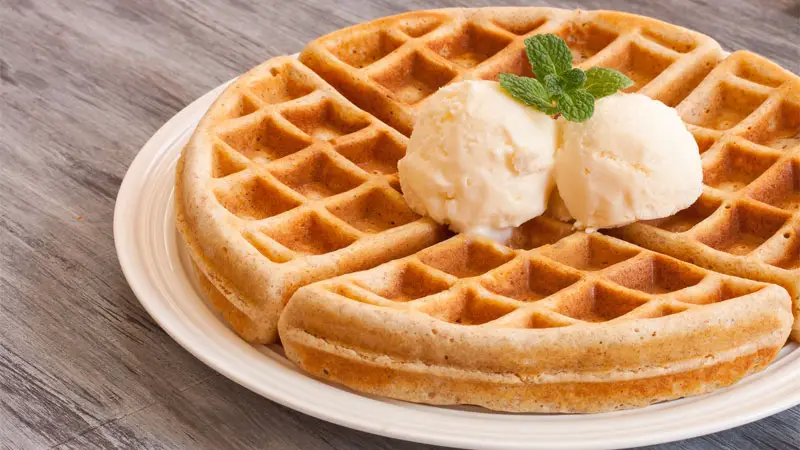 This is a very important question to ask yourself. When you think of waffles, what makes your mouth water? Do you like a thin square waffle or a thick round one? Do you want to be able to make waffle sticks for your kids?
Any style of waffle you prefer, you can make at home super easily with the right appliance.
Special Features
With so many waffle makers on the market, you have a plethora of special features that can make your waffle making a breeze. If you're a messy cook, you can find waffle irons with no-spill channels.
Some have an indicator that lights up and make sounds when they're heated up and when the waffle is done. Some come with a tray that you can put underneath the whole thing to catch spills and drips. There are even waffle makers that easily flip to ensure even cooking.
Once you figure out what features you want, you'll be one step closer to having a waffle maker right in your own home.
Types of Waffle Makers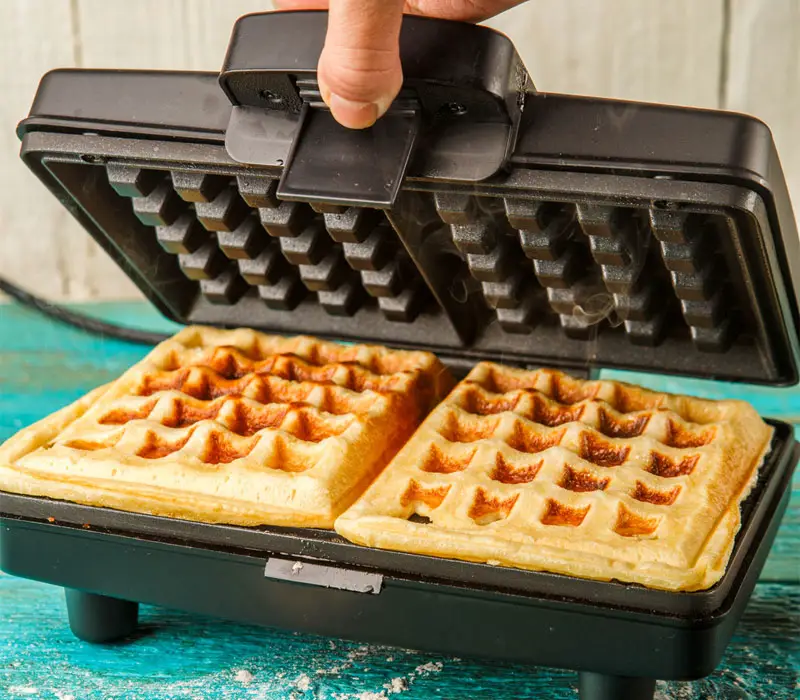 There are so many different styles of waffles you're able to make at home. You can make classic thinner waffles, thick Belgian waffles, round waffles, square waffles, or waffle sticks. There are even devices you can use to make waffle bowls.
No matter which style of waffle you prefer, there's waffle maker to fit your budget.
Thin Waffles
If you like classic thin waffles, check out these waffle makers.
DASH Mini Maker
If you're looking for a waffle maker that can make small round waffles, this is a great option. It's perfect if you want to make small waffles for your kids or you just want a couple of little waffles that are Eggo sized. The best part? It's super affordable!
Chef'sChoice 840 WafflePro
This product from Chef'sChoice makes beautiful thin Scandinavian style waffles. The heart shape design is super cute, you'll definitely love the decorative design. See the current price here.
Breville BWM520XL No-Mess Waffle Maker
This waffle iron is great for the messy home cook. It has a moat around the entire waffle to catch any drips and spills. It is on the higher side as far as cost, but it has the spill catcher and it also beeps when it's hot and when your waffle is ready.
Related: Black+Decker 3-in-1 Waffle Maker Review
Thick Waffles
Thick Belgian-style waffles are delicious with their crispy outsides and fluffy insides.
See Also: How to Clean an All-Clad Waffle Maker
Oster Belgian Waffle Maker
This waffle maker is great for families that want to churn out waffle after waffle. It makes thick, fluffy waffles quickly and easily and fits into most budgets.
Hamilton Beach Flip Belgian Waffle Maker with Removable Plates
This model from Hamilton Beach is a fantastic choice for messy cooks because it has a tray underneath the whole iron to catch any spills and drips. It's a mid-range price and has great features for the money.
Cuisinart WAF-300 Belgian Waffle Maker with Pancake Plates
The Cuisinart WAF-300 has removable plates for easy cleaning and it can make pancakes, too. It has a higher price tag but it's a great product and worth the money.
Related: Cuisinart Classic Waffle Maker Review
Waffle Dippers
If you want dippable waffles for yourself or your kids, these waffle stick makers are great!
Babycakes Waffle Stick Maker
Babycakes products are known for being great for families with kids, from their Donut Maker to their Cake Pop Baker, and even this great Waffle Stick Maker. This affordable product makes four individual waffle sticks that kids love.
Hamilton Beach Belgian Waffle Maker
If you're looking for a waffle maker that makes easily dippable waffles, this is the one for you. It's reasonably priced and the waffles are easy to tear into sticks, perfect for kids that want to dip their waffles.
As you can see, pricing really depends on the type of waffle maker you need. Overall, though, most waffle makers are extremely affordable. You can get them as cheap as a few dollars!