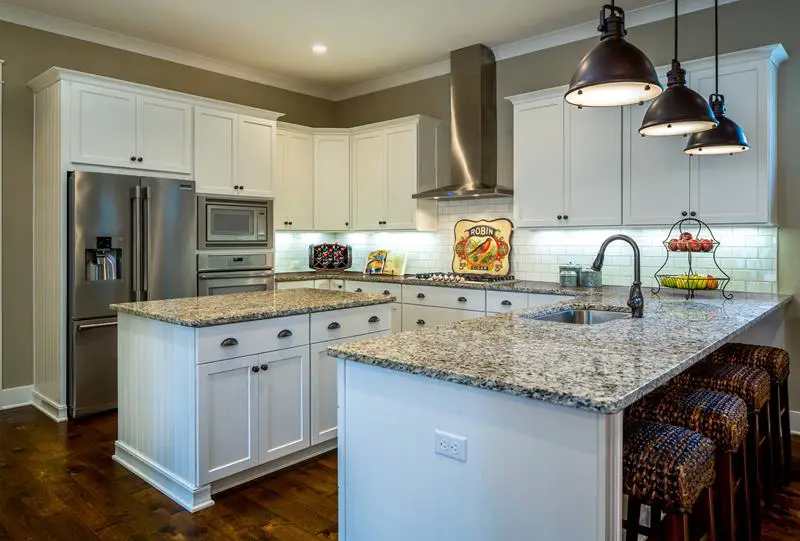 Kitchen peninsulas really don't get enough credit because they can truly transform your whole area. While kitchen islands are great, sometimes you don't have room for one. That's typically where we see kitchen peninsulas come in.
Some kitchen peninsulas are part of an L-shaped kitchen or one that wraps around three sides. Often, they separate the kitchen from the dining room area. They give you the same functionality as a center island – more counter room, extra dining space, and some even feature the range.
Below, we've gathered more than 30 kitchens with peninsulas for you to browse through. You will see that they work with kitchens of all sizes, sometimes together with center islands and sometimes not. Go ahead and figure out what will work best for your kitchen space.
1. Spacious Open Floor Plan

We love how this whole peninsula area seamlessly connects the kitchen to other areas of the house. It gives you plenty of function and space for dining.
2. Cozy and Functional
This comfortable kitchen has all the added counter space it needs thanks to this peninsula. This area is complete.
3. Plenty of Eating Space
4. Rustic Industrial Design
This industrial kitchen takes a rustic look, and the peninsula here lets you pull right up to have a drink or enjoy a meal.
5. Comfortable Hardwood Style
Peninsulas don't have to be large counters that take up a ton of space. This one is small, giving you exactly the right amount of counter space.
6. Beautiful Architecture
We love the overall architecture of this kitchen space. The hardwood cabinets work perfectly. The peninsula and the added counter on the wall expand the space you have to use.
7. Rustic Cabin Design
There is so much to love about this kitchen, but we really love the black and white marble countertops here. This peninsula gives you all the counter space you need
8. Tropical Senses
We love the welcoming tropical feeling of this kitchen, and this peninsula is the centerpiece. It gives a natural border to the space and matches the whole room wonderfully.
9. Bold Hardwood Designs
This curved peninsula looks wonderful. With a hardwood structure, it blends well with the whole area and gives you a great place to pull up and have a meal.
10. Light and Elegant Style
11. Simple and Easy Addition
We love when kitchens don't become complicated. This peninsula gives you added function and somewhere to enjoy a meal.
12. Wonderful Counter Extension
This kitchen has a modern sense of style and doesn't overwhelm. The peninsula is simple, giving you extra counter space while looking fantastic.
13. Plenty of Added Space
We'll take this kitchen and it's wonderfully large peninsula. You have a wide space for cooking and dining.
14. Wonderful Contrasts
15. Highly Functional Space
This peninsulas is the perfect boundary between the kitchen and dining spaces, not to mention it looks wonderful. We love the tropical style of this space.
16. Cooking and Dining Space
We love the two levels of this peninsula. The lower portion has the range and cooking space and the upper level gives you plenty of cooking space.

See Also: 15+ Ideas for Kitchens with Black Appliances (Photo Gallery)
17. A Traditional Design
This kitchen is wonderful. It is enclosed, creating its own little cooking dream space. With the two levels to the counters, you have room for dining as well.
18. Works With the Island
Everything in this kitchen is perfectly spaced out thanks to the abundance of counter space. With this center island and peninsula, you can accomplish all your cooking goals.
19. Weathered Style
The cabinets in this kitchen contrast each other so well and we love the weathered style of the black ones. The peninsula is unobtrusive, perfectly blending with the whole space.
20. Simple Separation
This cozy kitchen has everything you need to create and enjoy great meals. The peninsula marks the kitchen border and gives you the added space you need.
21. Wonderfully Functional
Sometimes you don't need a bunch of extra space and just a little peninsula like this one will do.
22. Elegant Designs
23. Light and Welcoming
Thanks to this peninsula, the sink is in a great spot so that you can have plenty of counter space without feeling crowded.
24. Extra Dining Space
When you have a center island and a great peninsula like this one, you know you'll never run out of space in your kitchen.
25. Wonderful Modern Design
Imagine this kitchen without this added peninsula. We know, we couldn't do it either. It works so well here, giving you dining and cooking space.
26. L-Shaped Perfection
It's not that you always need extra counter space, but it comes in handy when you do need it. You can pull up a stool here and enjoy a drink or meal.
27. Modern Industrial Style
We love how the range in this kitchen is part of the peninsula. It is a great look. We also love the shelf space in the peninsula.
28. Hardwood and Dark Countertops
This whole space has a handsome style, with the darker countertops working perfectly with the hardwood cabinets.
29. Modern With Earth Tones
By having the peninsula contrast with the rest of the kitchen, a wonderful boundary is created. We love the look here – a contemporary yet classic blend.
30. A Bucolic Charm
This whole kitchen gives a calm farm vibe, but makes it modern. Pull up a chair to the peninsula and eat the wonderful meals you will make in this kitchen.
31. Modern Meets Traditional
The traditional style of this kitchen has a modern feel and we love how much counter space there is. This peninsula makes the whole kitchen great.
32. A Light Ocean Feeling
It's a simple peninsula, rounded and stylish, giving you all the space you need in this kitchen.

Don't Miss: 35+ Kitchens with Vaulted Ceilings (Photo Gallery)