Updated on January 3, 2022
Guys, we know how much you love your man caves. Ladies, we know you might love them, too. Especially if you create a ladies cave. Regardless, man caves can be a great place for anyone to unwind and relax at the end of a long day.
We have gathered a wide array of man cave styles for you to browse through. You will see some traditional ideas and some that will take your breath away. From country rustic designs to sleek and contemporary styles, we have a range of possibilities covered.
Whether you want a bar, a theater, or just somewhere to relax in peace, you will find something below to love.
Awesome Man Cave Designs
1. Country Style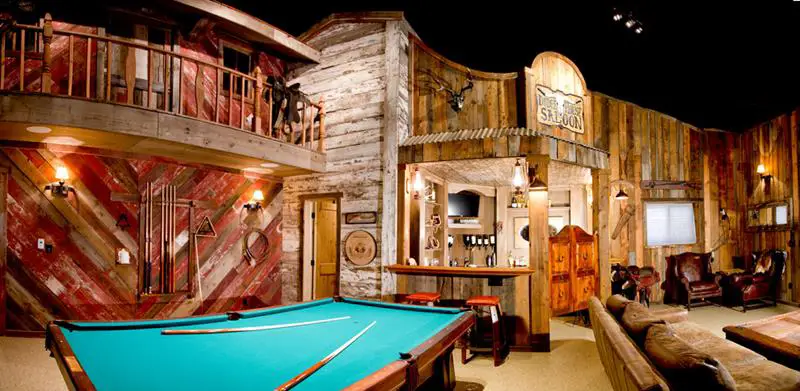 Like something out of a large and functional barn, this man cave has all the space you need for a good time. The Western theme really works.
2. Professional Sports Style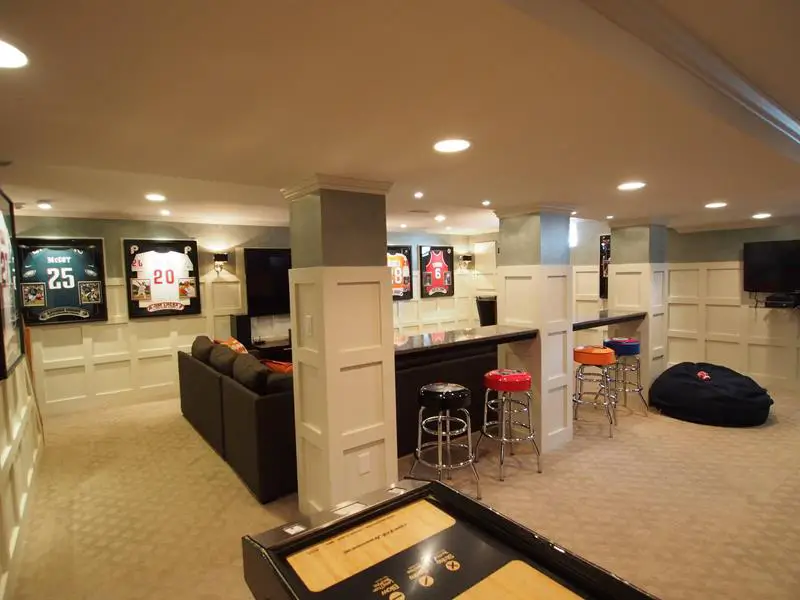 3. Comfortable Barn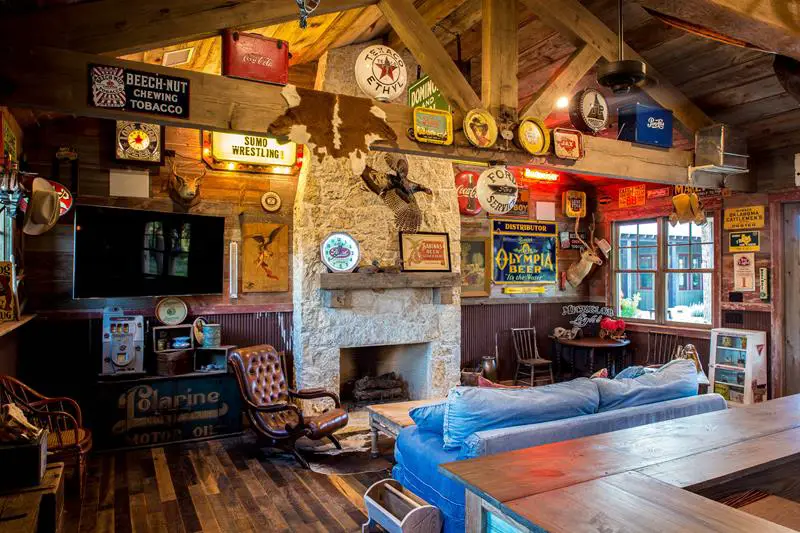 With a collection of signs and decor, like an old antique shop, you will feel the nostalgia in this comfortable barn style man cave.
4. Checkered Patterns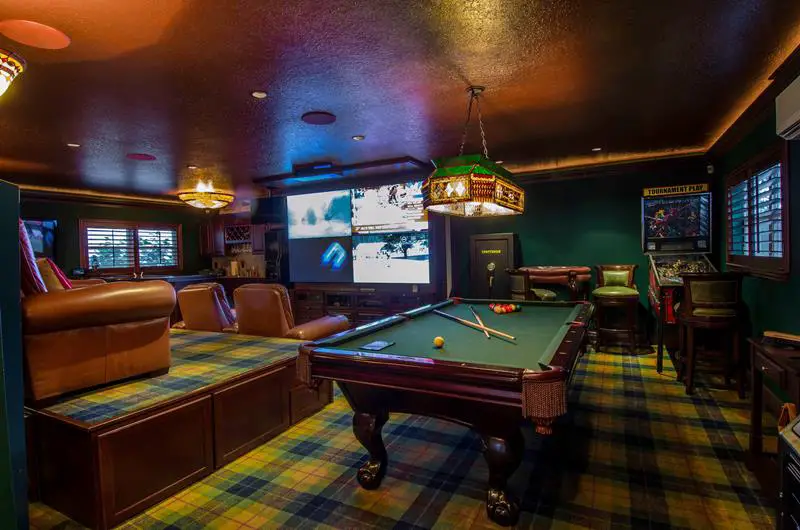 Go a little retro with some wonderful patterns. This yellow and blue patterned carpet brings a sense of an old time game space.
5. All Luxury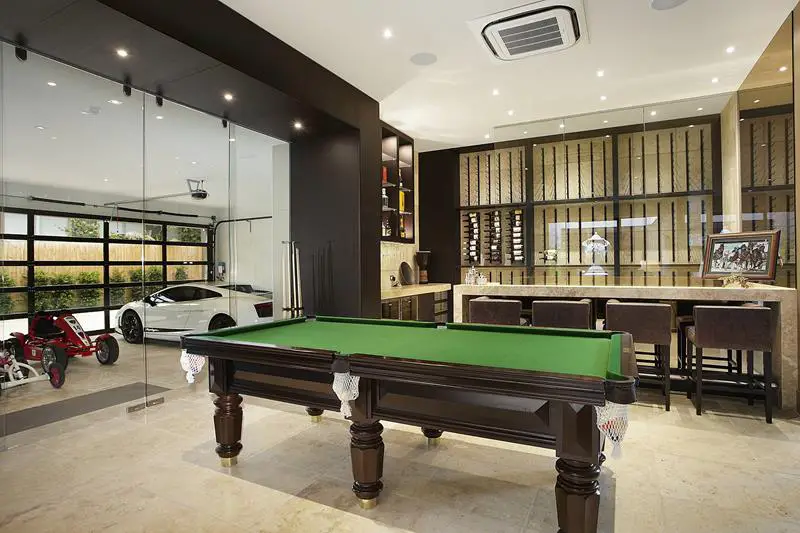 6. Comfortable Sports Cave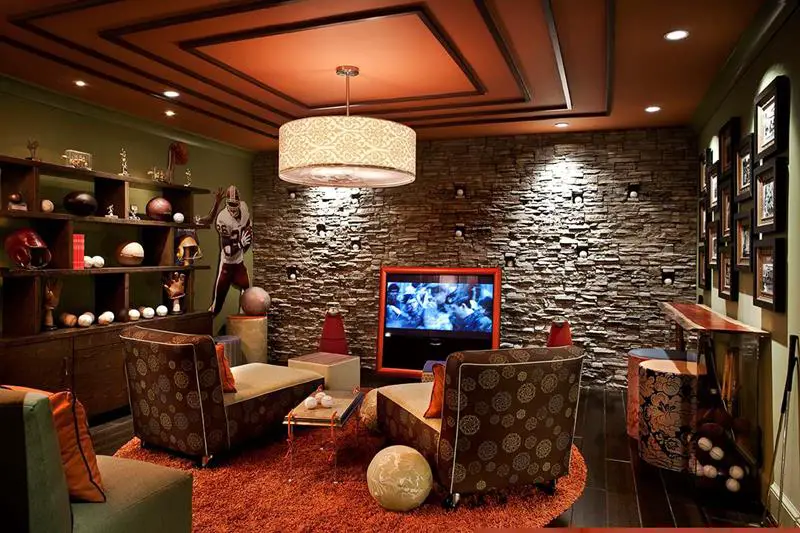 You don't have to have a huge space to have your own personal sports getaway. This room has a wonderful stacked stone wall that gives it a cave-like feeling.
7. All the Bar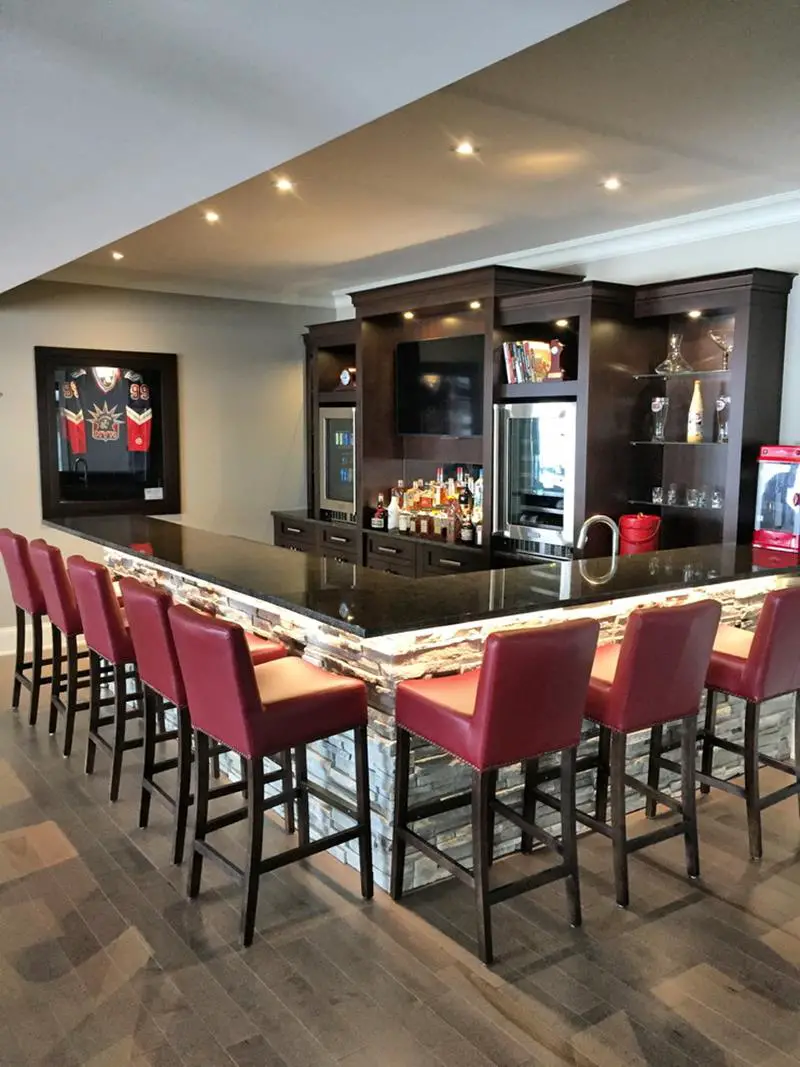 We love the stacked stone design of this bar. Matching it with darker hardwood brings an elegance to this space.
8. Plenty To Do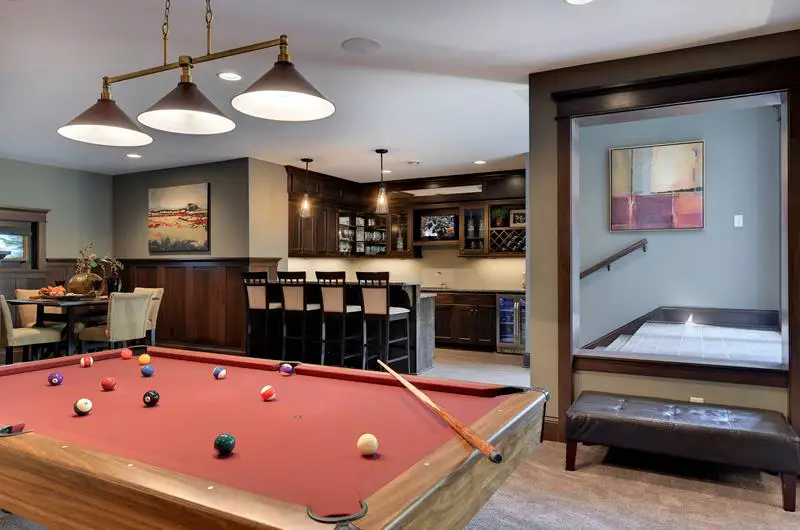 Whether you want to watch television, sit at the bar, or play games with friends, this man cave has it all ready for you.
9. Modern Style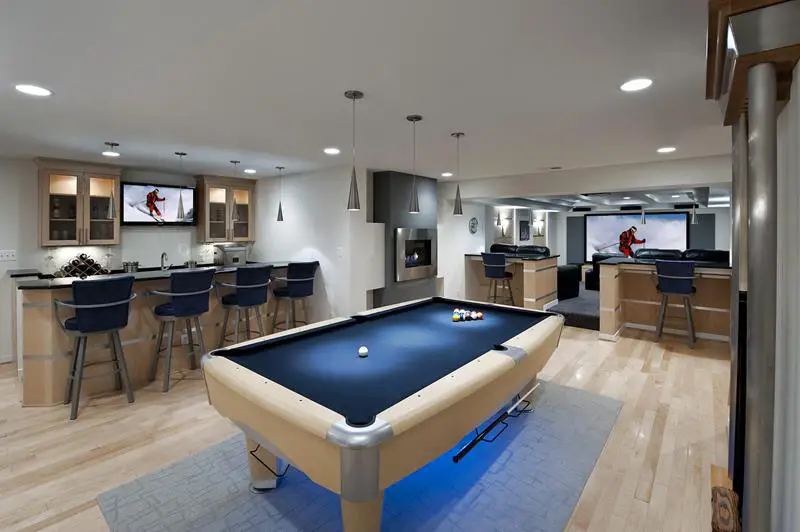 The light hardwood floor is perfect for this man cave. We love the fun blue glow from under the pool table and how easily this space connects to the theater area.
10. Unique Designs
This man cave goes for a new and sophisticated look and it pays off. You can sense the luxury designs all around this room.
11. Garage Styles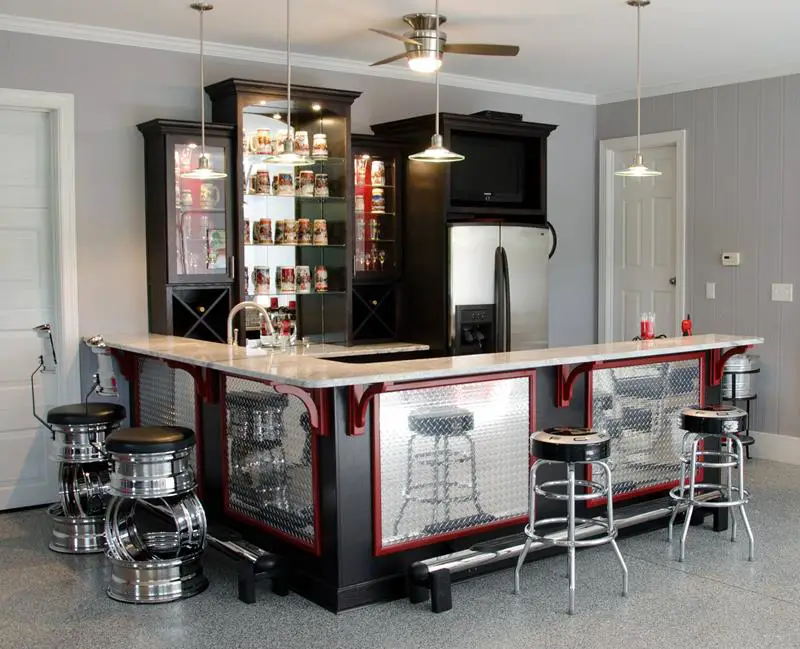 This man cave blends a durable garage style with a traditional cabinet design to make a great mix. Pull up a chair and grab a drink after a long day.
12. Comfortable Mountain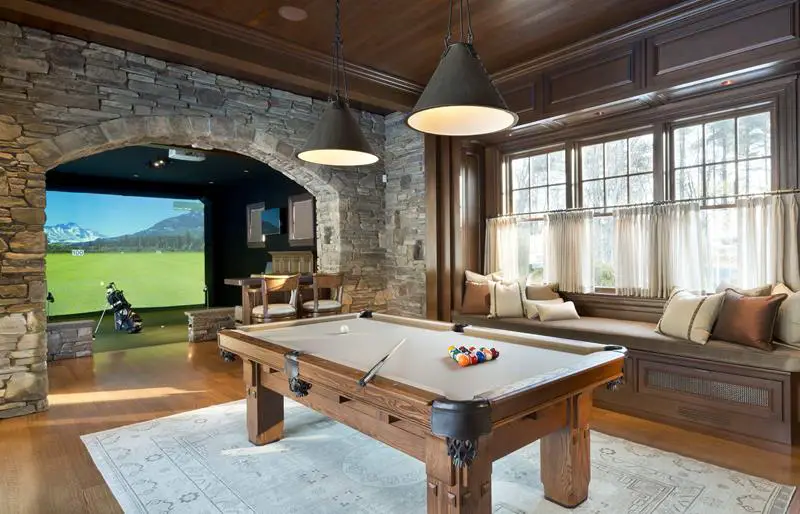 With beautiful hardwood and a stacked stone design, this room features an area for games and relaxing as well as a big space for video games.
13. Theater Ideas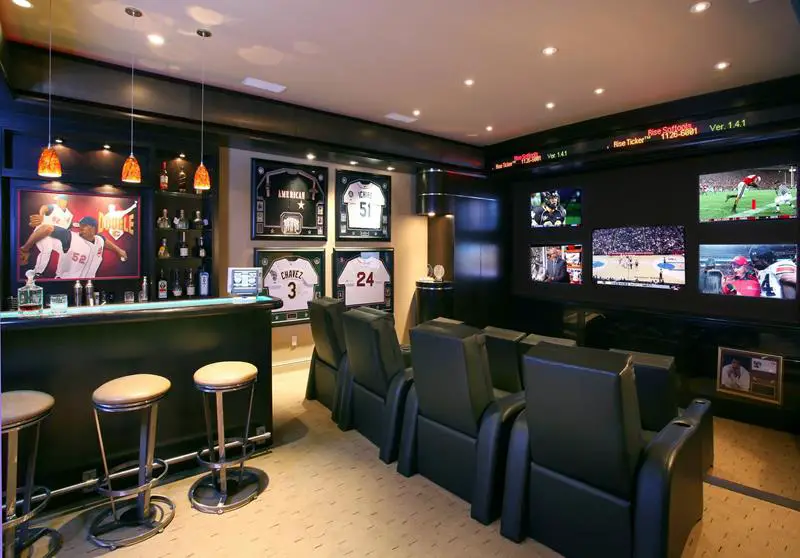 The bard and the theater are right next to one another here, so you won't miss out on any play on any of the many games you can watch at once.
14. Full Bar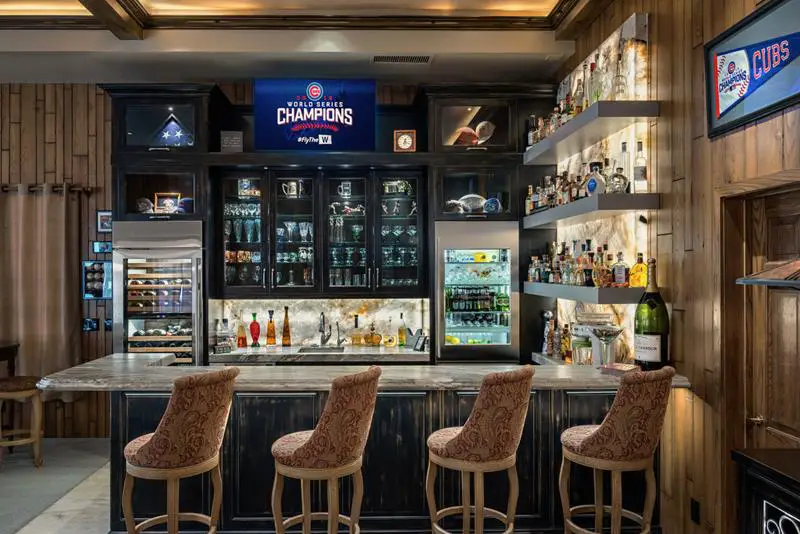 Invite all of your friends over and pour them a drink. With this full bar, you can entertain the way you've always wanted to.
15. Rustic Senses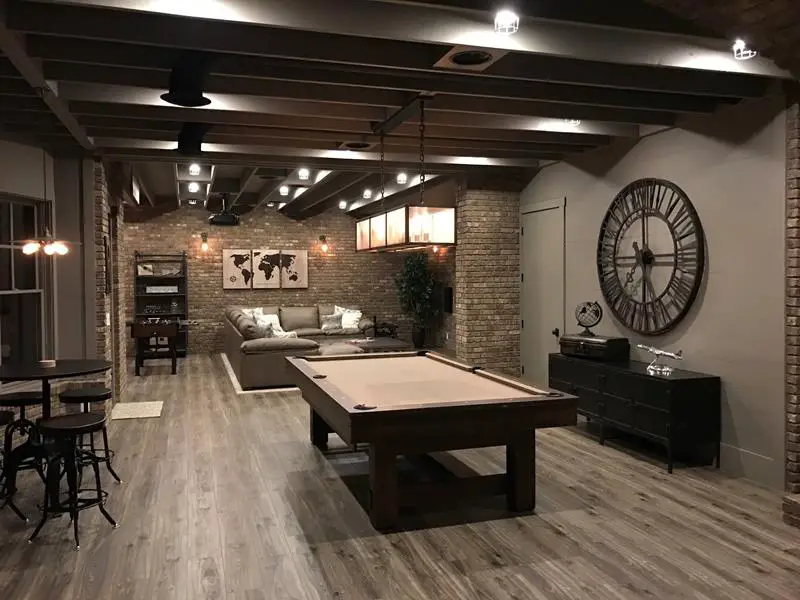 This room takes on a slightly rustic sense, but with a modern flair. With handsome decor, you will enjoy the ambiance of this room.
16. Timeless and Classic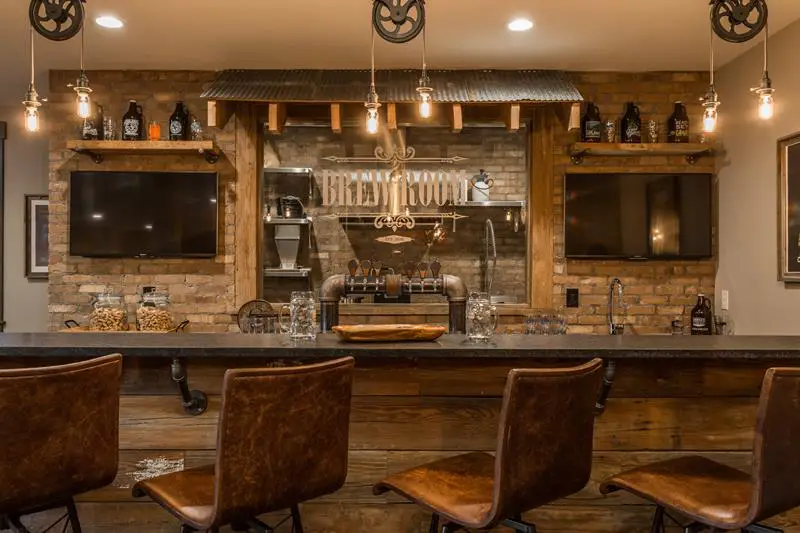 This is another example of how easy it is to make a rustic style that looks great. From the brick wall to the overhang, this is a well designed space.
17. All Inclusive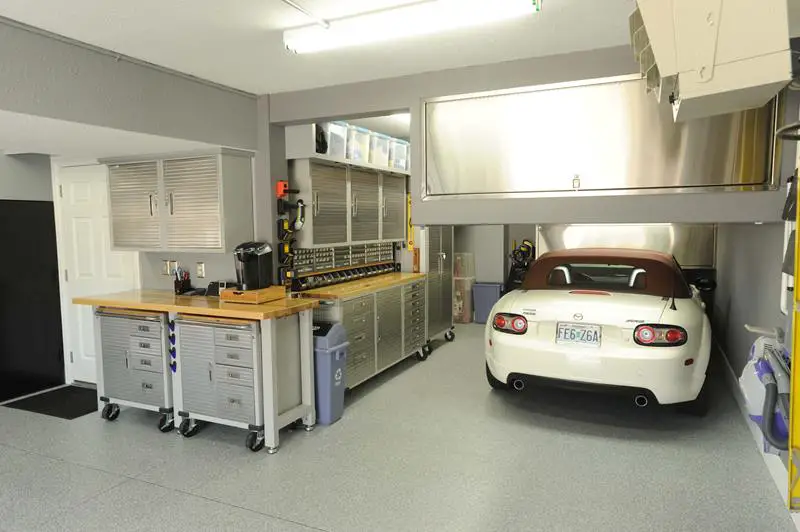 Incorporate your man cave in with your garage and knock out two things at once. This space has an industrial and durable sense.
18. Hardwood and Stone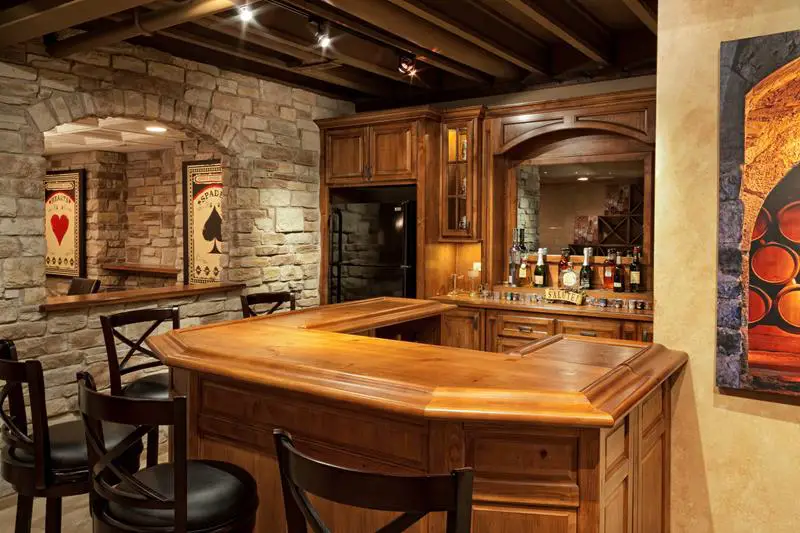 19. Comfortable and Light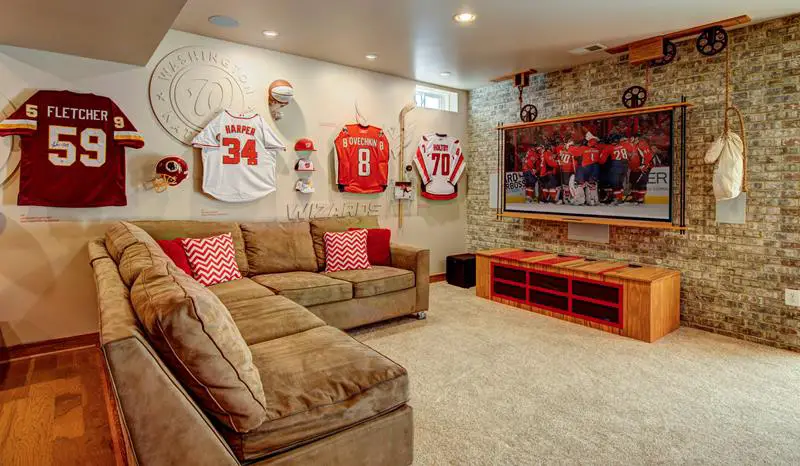 We love the light style of this room, especially with the great carpet in the seating area. The brick wall is a great match for this man cave.
20. Sleek and Elegant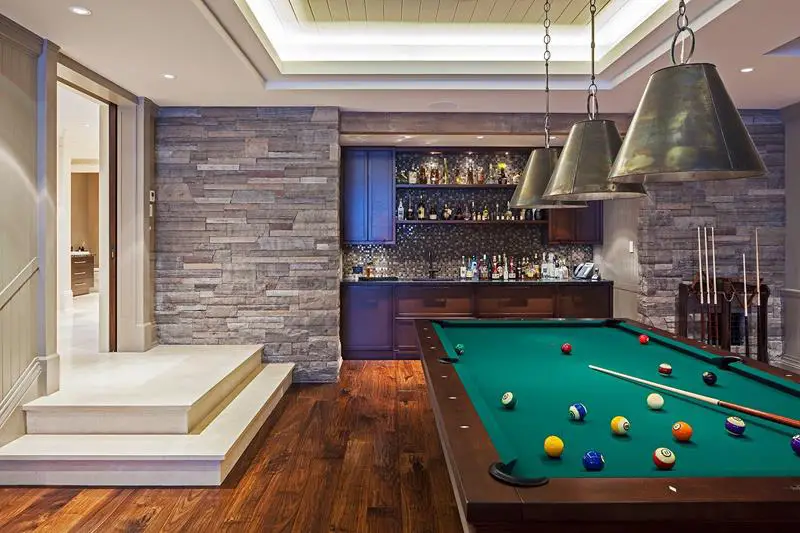 The stacked stone style wall here is a perfect match with the darker hardwood floor. The whole space exudes an elegance that is unmatched.
See Also: 30+ L Shaped Design, Ideas and Layouts
21. Dark Industrial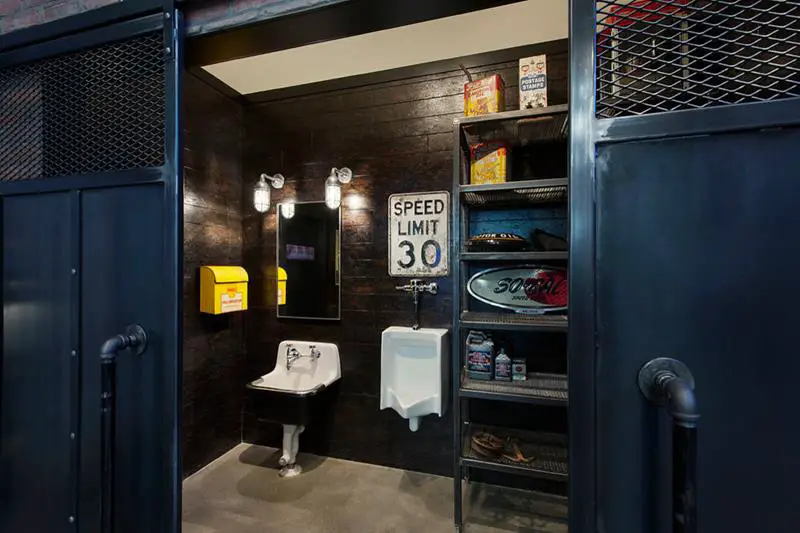 Designed to have an old industrial sense, this built-in bathroom brings you a classic garage style with some nostalgia as well.
22. Classic Hardwood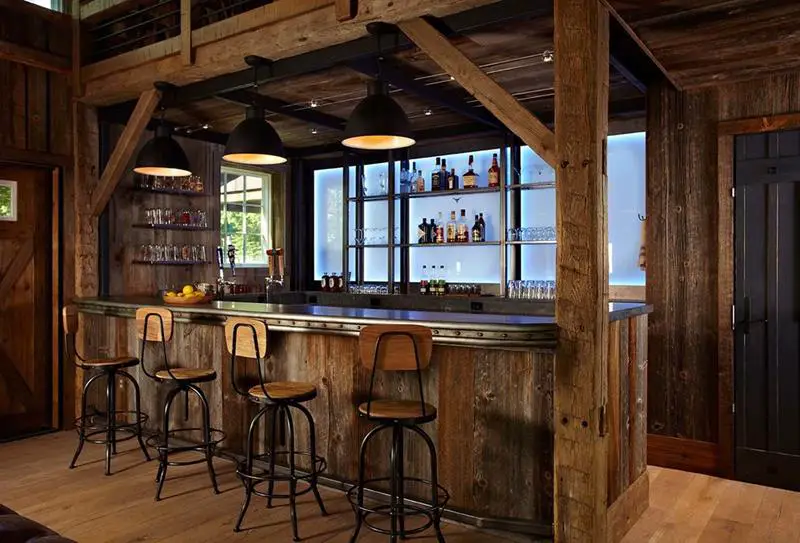 With a durable hardwood design used all around, this bar area has plenty of space for all of your guests as you get ready to entertain.
23. Beautiful Hardwood
We have to say that the lighting in this space really works well to showcase a sophisticated area. Play some pool then head over to catch the game on the big screen.
24. Lighter Styles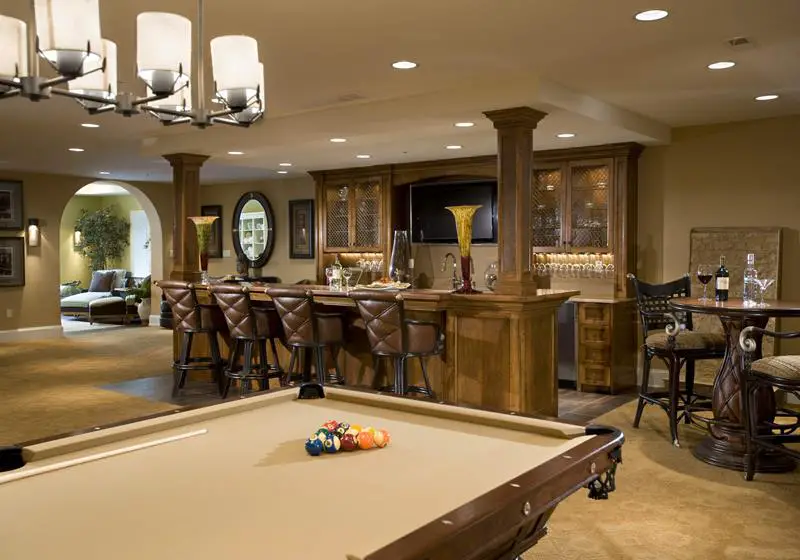 Light an elegant, this room combines hardwood with a classy sense of decor. This will be like going to your favorite upscale hangout every night.
25. Lodge Space
Like a rustic hunting lodge waiting for your to have some fun, this space is ready for anyone you invite over. The decor is amazing and the rustic styles work well.
26. Fun and Entertaining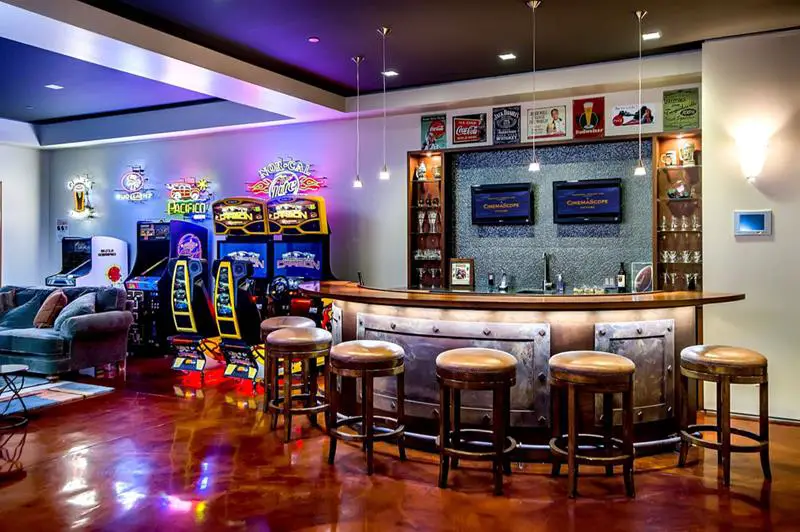 Bring in the arcade games, make a beautiful bar, and get ready to relax. This space uses a rustic and modern decor style.
27. Game and Office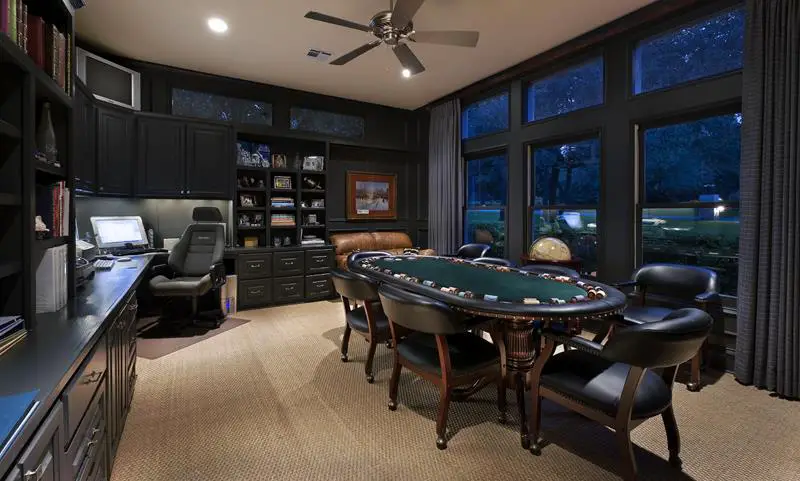 We love how this area combines a game room with an office, so you can get everything done in your own personal area.
28. Hardwood All Around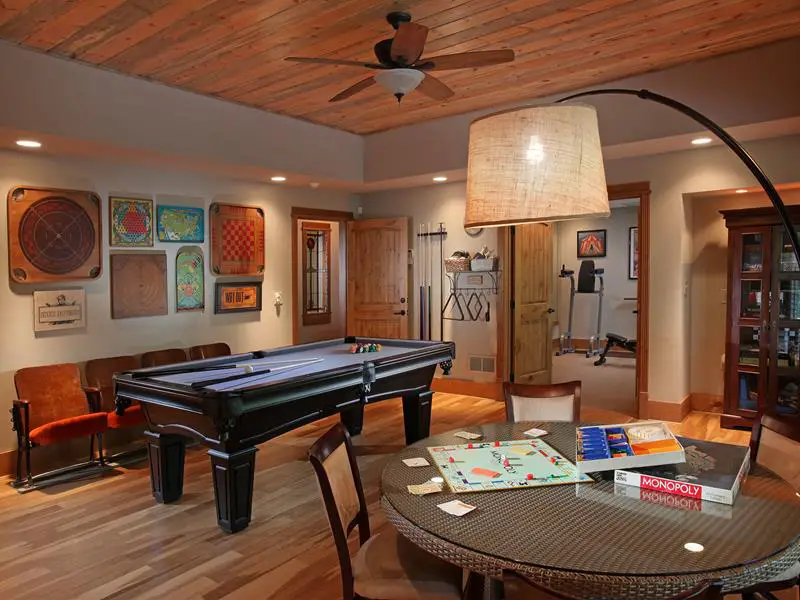 The hardwood floor and matching ceiling set the design tone for this room. You have plenty of space for games of all types.
29. Gray Colors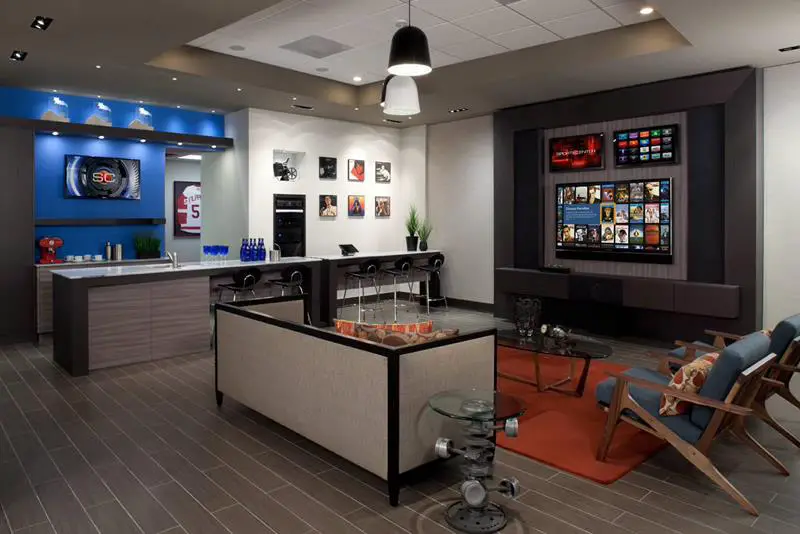 30. Plenty of Games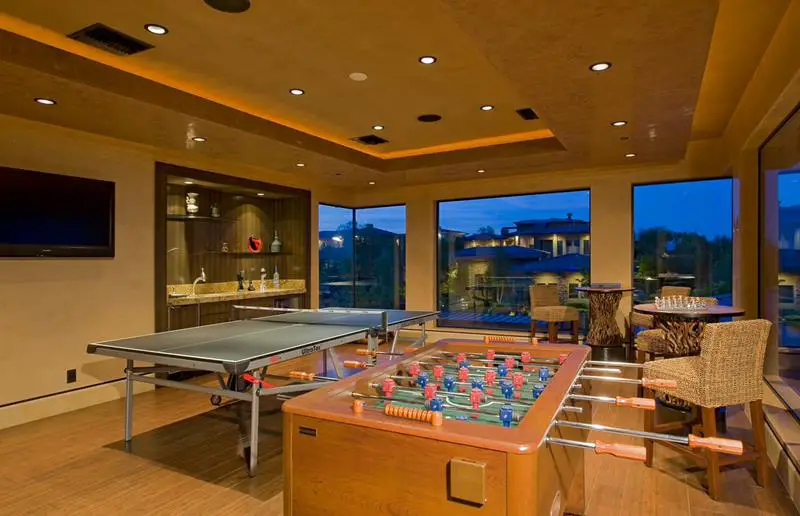 Surrounded by windows, you won't feel boxed in here. Enjoy the many options available for games and the natural wood colors used.
31. Brick Garage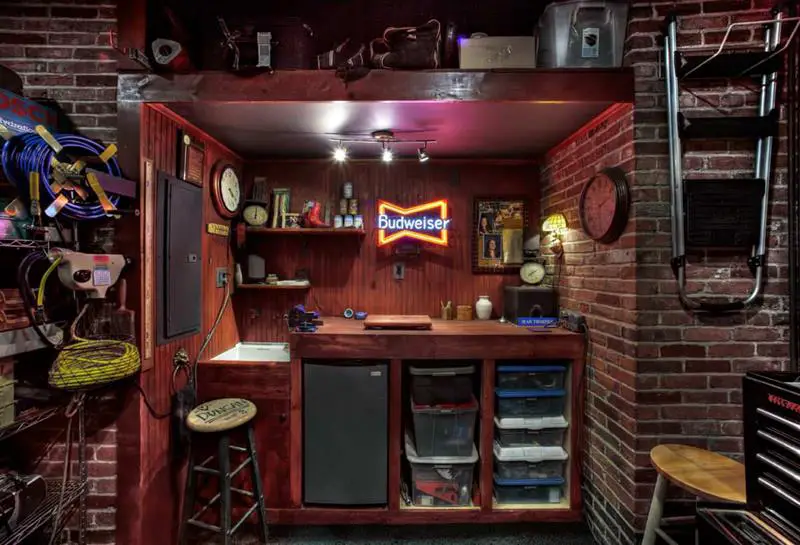 Simplicity works, especially for a space like this. The brick and wood style will have you thinking of an old country bar right in your garage.
32. Contemporary and Sleek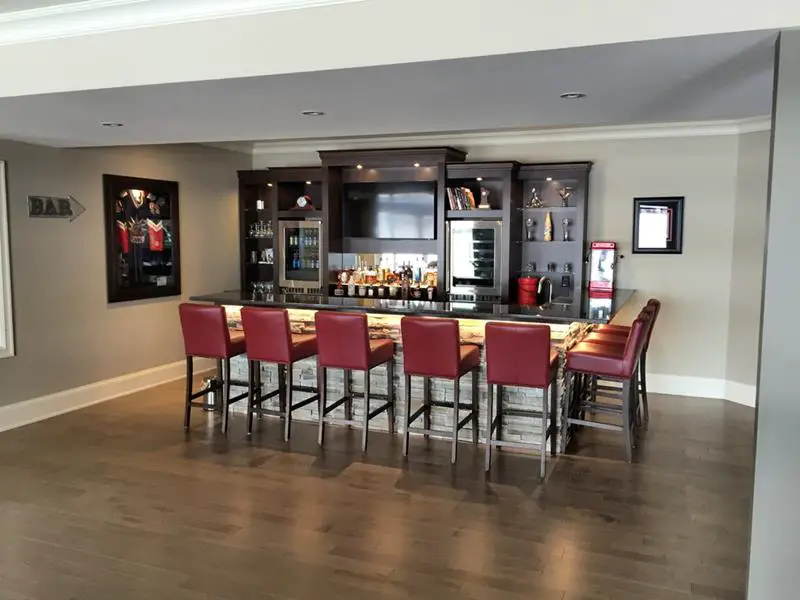 Everything in this space is paired together perfectly. From the dark hardwood bar are to the hardwood floor, you will love how easy this room is.
33. Functional Garage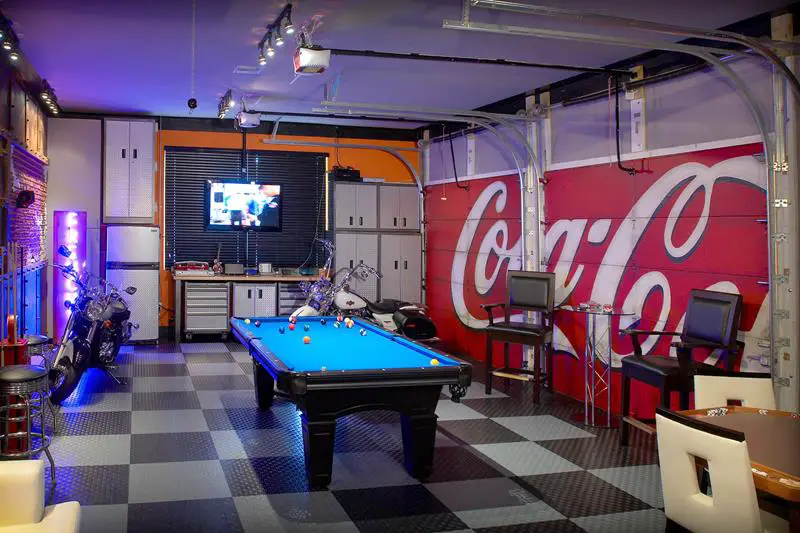 This garage has been completely converted and turned into a man cave. It has a fun and durable sense of style that you and your guests will love.
34. Comfortable for Everyone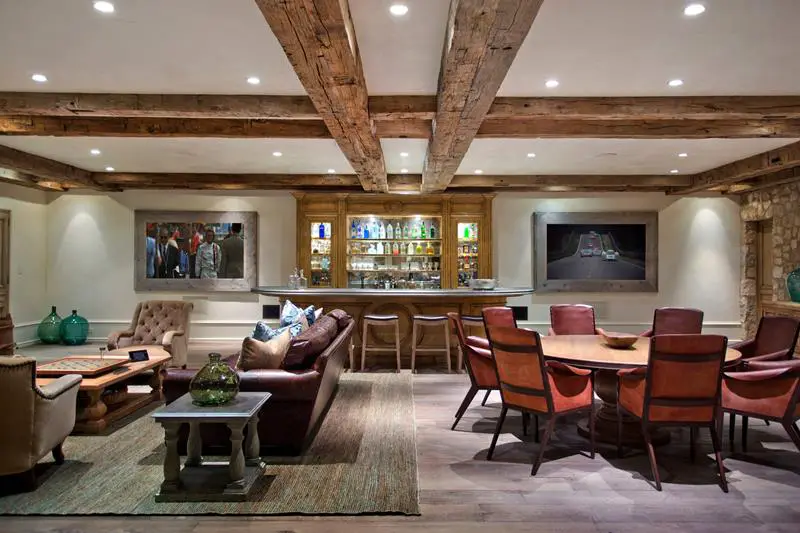 Whatever you want to do here, whether it be eat your meal, watch a game, or get a drink, you can accomplish. This space has a wonderful design tied together by the wooden beams overhead.
35. Great Colors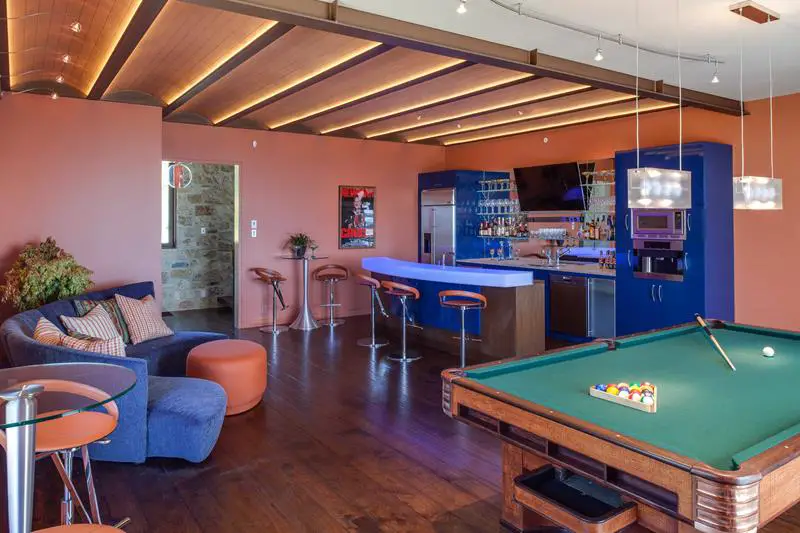 Don't ever be afraid of a little color. This blue goes a long way towards bringing this man cave to life.
36. Kick Back and Relax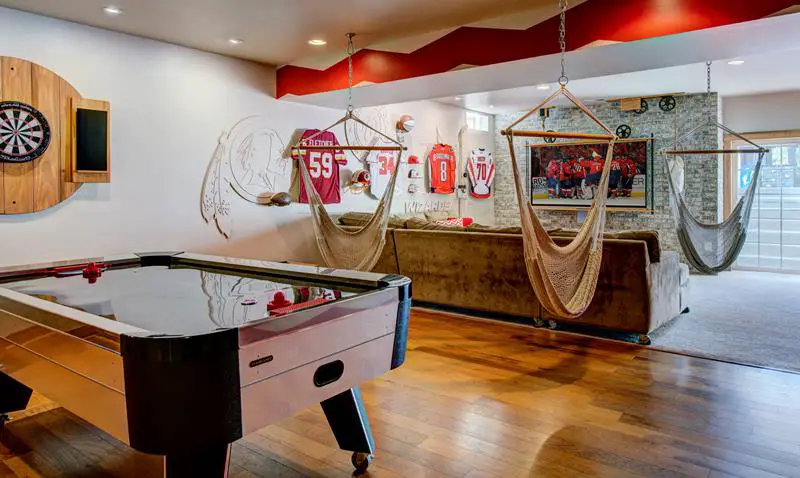 Get a little creative. These hammock seats will give you somewhere fun to relax while you watch the game on television or wait until the next pool game..
37. Brights and Sleek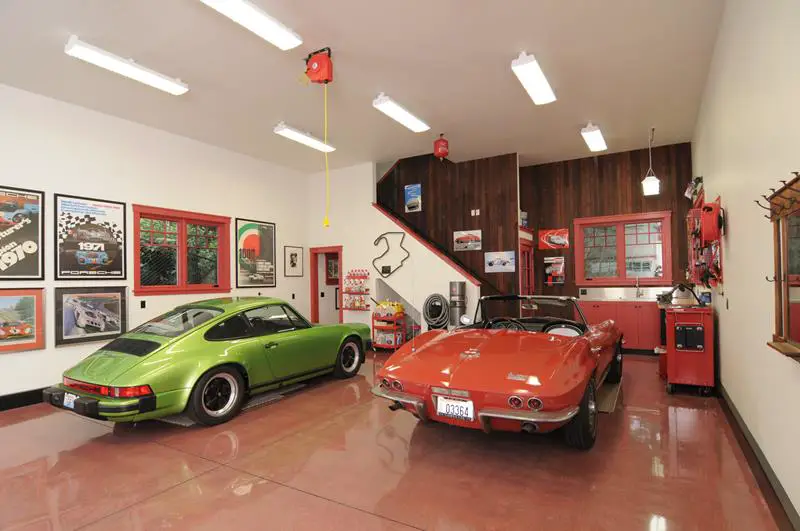 We love the glossy floor of this space. With the classic movie posters as decor and the availability to use this as a garage, this is your relaxation space.
38. Perfect Stone Design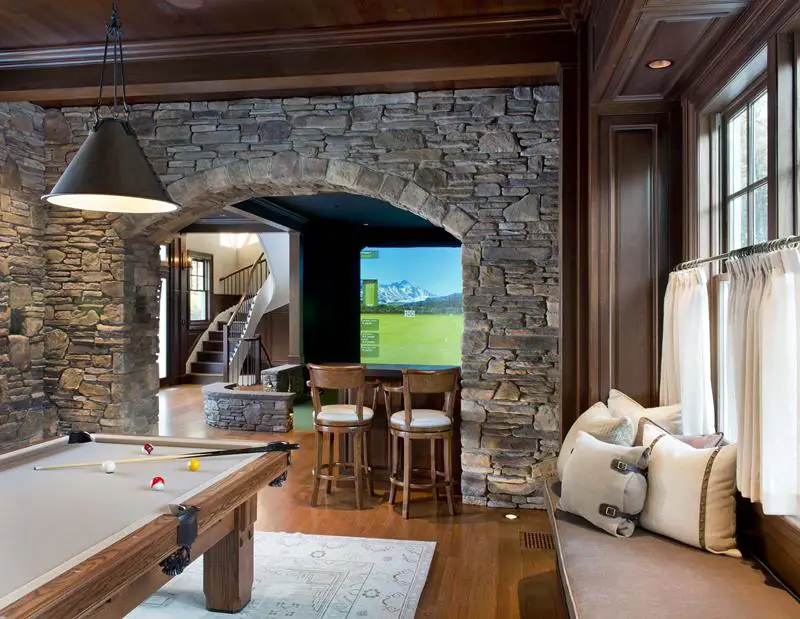 It is hard to go wrong with a stacked stone design and hardwood combination. Relax by the window or play a game of pool here.
39. Elegant Space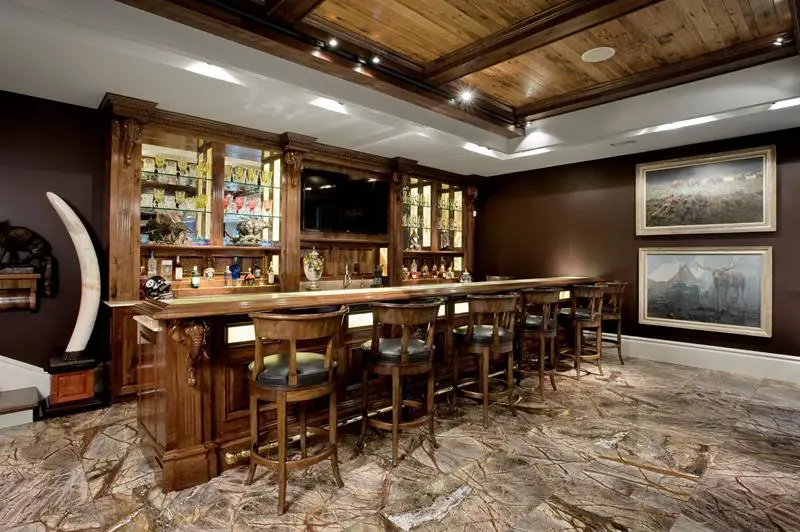 The floor has us thinking of a wooded forest and that look works well with the hardwood design of the bar and ceiling.
40. Contemporary Designs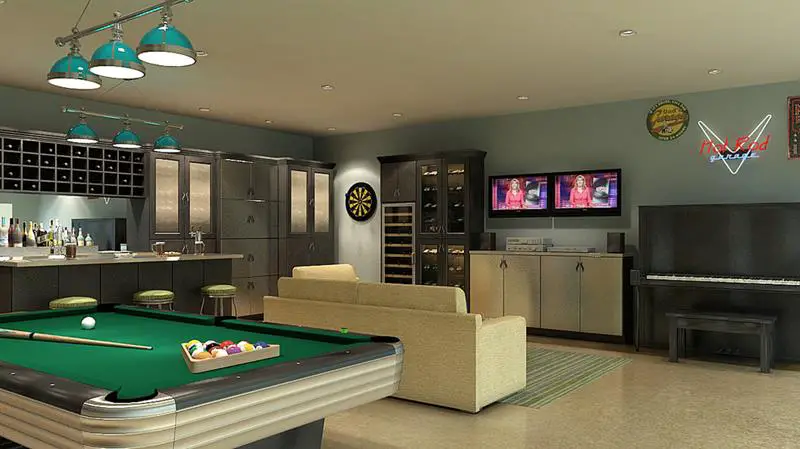 Sleek and modern are the goals of this man cave. With great lighting to highlight the whole space, there is a handsome sophistication here.
Don't Miss: 20+ Beautiful Rustic Fence Designs, Styles and Ideas