Updated on January 3, 2022
Looking at media room ideas can give you great inspiration for your home theatre. And since media rooms include many features and cost a lot of money, you will want to make sure that you have your media room vision locked in your mind.
Check out these 10 media room ideas to spark your creativity, their common features, and cost.
See Also: 36 Family Rooms With a Wall Mounted TV (Photo Gallery)
Media Room Ideas For Every Style
1. Comfort and Style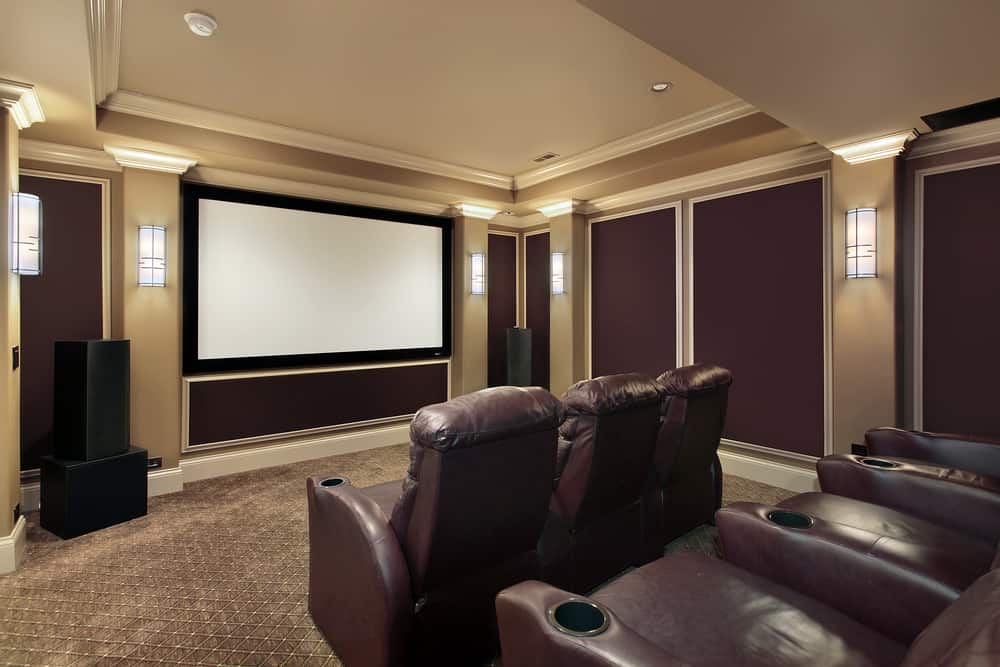 This media room is the epitome of a home theatre. It includes a projector/screen display system, great sound systems, theatre seats, and a subdued color scheme. These features make this media room look like an upscale theatre.
At the front of the room, you will see a projector. This projector shows that the display choice for this room is the projector/screen setup. This setup is a smaller version of what you would find at a movie theatre.
Similarly, this theatre room comes with large speakers. These speakers ensure that everyone can hear the movie. The size of the speakers also helps to smooth out the bass for a more enjoyable audio experience.
Facing the projector, you can see home theatre seats. These seats are complete with a cushioned seat, back, and armrests, and the armrests even come with cup holders at the movies. More so, these chairs are tiered for a superior viewing experience.
Lastly, the design of this room mimics a theatre. It has a deep purple and tan color scheme that is relaxing and absorbs light. Additionally, the walls have panels to improve acoustics and dainty wall lights between the panels.
2. Classic Modern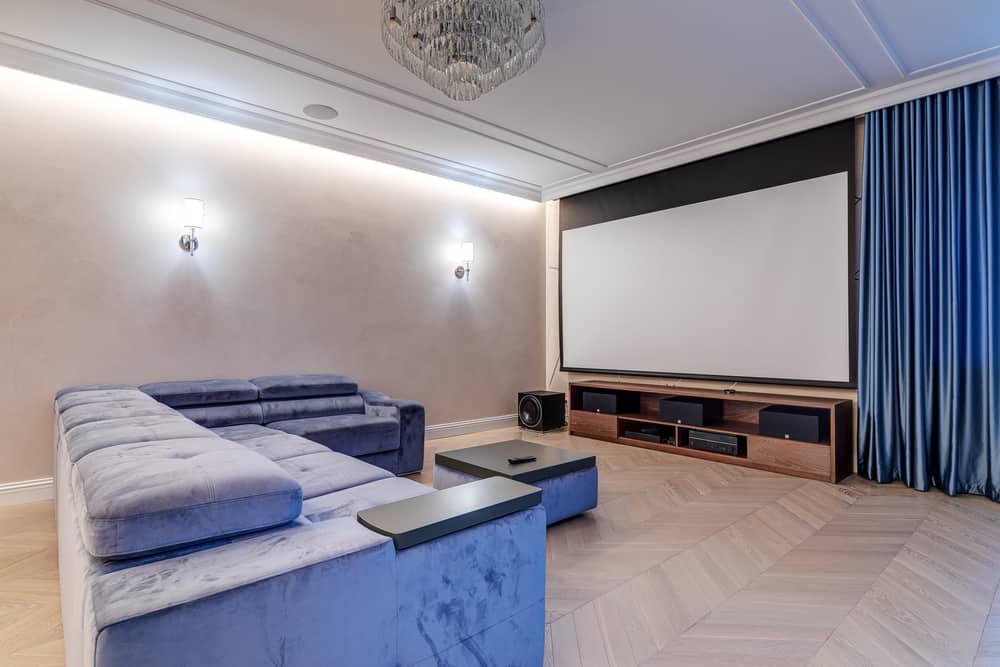 This media room combines classic style with modern technology. Unlike many media rooms, this one is bright and open. It does not look dark or use traditional theatre room colors, but it still looks like a high class theatre room because of the curtains, couch, and chandelier.
At the front of the room is a large projector screen. This screen immediately tells the viewer that this media room means business. Between the screen and screen size, you will have a superior viewing experience in this room.
The screen is above a beautiful base for the source components and speakers to sit on. This base is beautiful because it is organized and simple. It showcases the electronic parts and speakers without looking disorganized or mix-matched.
To the right of the base and screen, you can see curtains. These curtains are a wonderful touch to this room because they enhance the movie theatre vibes and match the couch. Additionally, the beauty of these curtains is that you can hide the screen whenever you choose.
The matching couch is also a great choice in this room. The beautiful color adds a pop of color and matches the curtains. More so, the couch's suede material looks like the floor and curtain materials in retro movie theatres.
3. Budget Friendly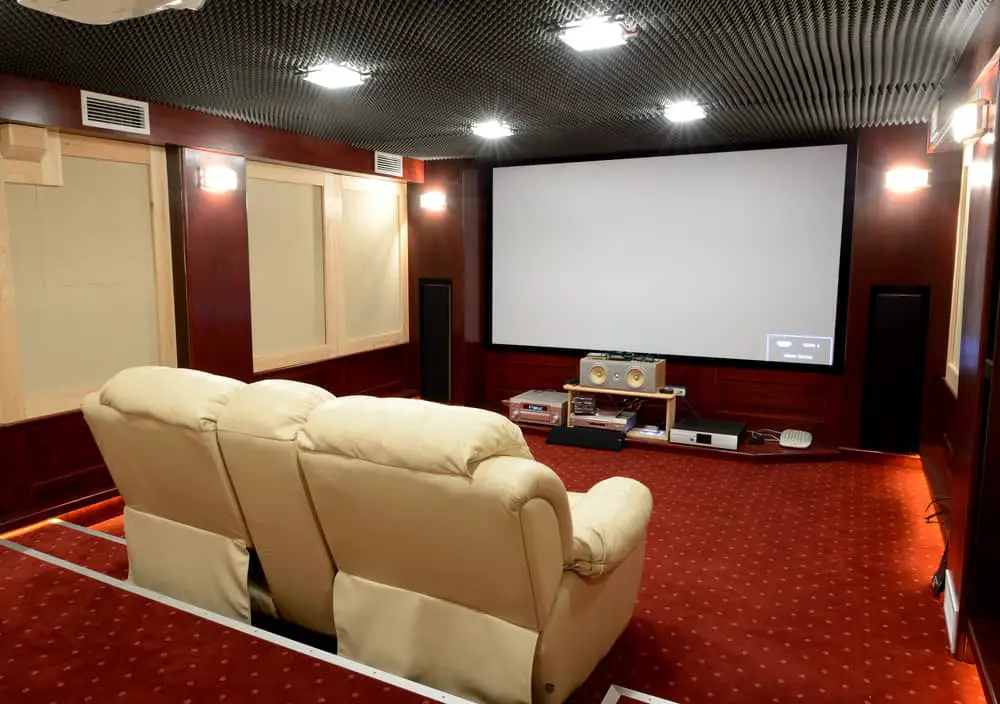 If you love the classic movie theatre look, you will love this media room. This media room includes the features and color scheme of a retro movie theatre. Between the carpet and projector, you will forget that you are not at the theatre in this home media room.
The screening device in this room is a project/screen. This setup is reminiscent of an actual movie theatre. Beneath the screen is the various source components.
The walls and ceiling of this media room are acoustically designed. To the left, you can see panels that soundproof the room, allowing for sound within the room to vibrate within while blocking sounds from the outside. The ceiling also comes with this design.
On the floor, you can see red carpet. This carpet is a great choice for a movie theatre because it is very retro looking; many movie theatres have red retro carpet such as this one.
Additionally, the seating is reminiscent of movie theatre seats. These seats are love seat recliners with a smaller centerpiece. Although they are not exactly movie theatre seats, they are very similar in their design and shape.
4. Clean and Elegant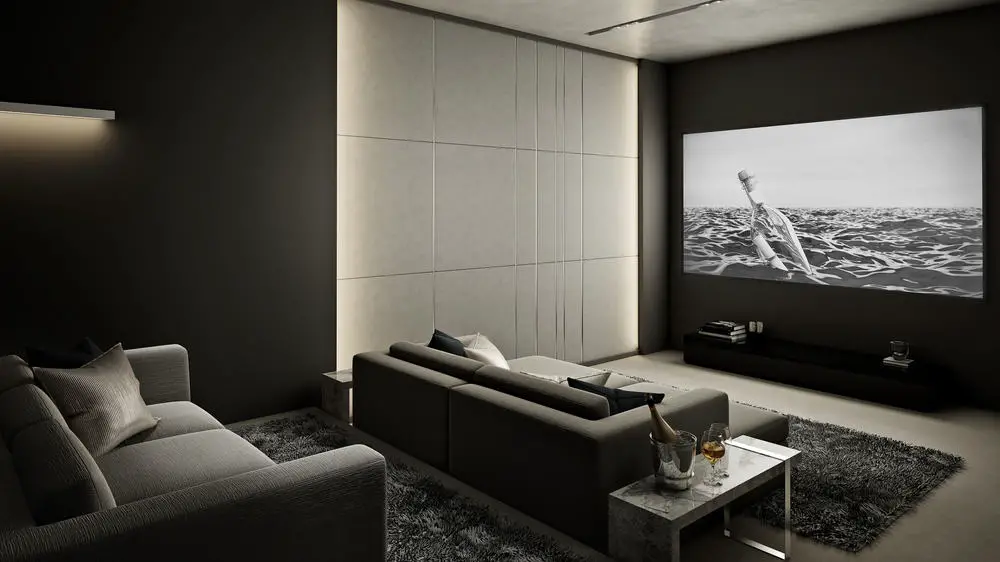 Here is a beautiful and more affordable media room. This media room features a panel TV for viewing and entertainment purposes. The TV sits on a stand, where the source components and other items are stacked.
To the left of the TV is a wall. This wall appears to be lined with acoustic paneling. The position of the paneling is smart because it pushes the sound back to the center of the room.
Couches are used as the seating for this theatre. The couches match, and the back couch is tiered so that viewing is maximized. These couches are decorated with a few throw pillows for added comfort.
The color scheme of this theatre room is primarily grey. The walls, couches, and rugs are all grey. This color is smart for a theatre room because it absorbs light and is not distracting.
5. High End Comfort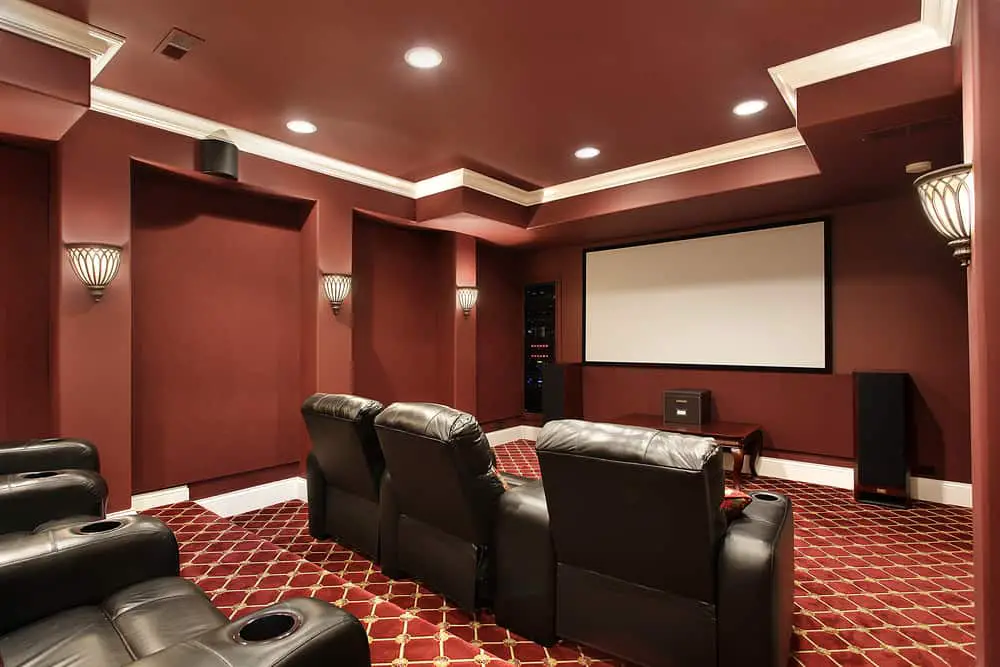 This media room is extremely striking and efficient. It has a deep color scheme, movie theatre chairs, surround sound speakers, and an awesome projector, making it an upscale theater room fit for any and all movie watching purposes.
The color scheme of this room is burnt red and black. This color scheme would probably be too dark in any other room, but it is perfect for a movie room. The walls, ceiling, and carpet are red, while the chairs and speakers are black. These colors absorb light and make the room much cozier.
The brown chairs are a great touch to this home theatre room. They are made from leather material and are complete with a lot of cushioning and cup holders. These chairs are perfect because they look like they belong in an actual theatre.
Another great feature of this media room is the surround speakers. You can see speakers at the front and top sidewalls. The size of these speakers alternates, too, ensuring that you get the ultimate audio experience.
More so, this theatre is complete with a projector/screen setup. Since this room is already designed to look like a miniature theatre, it only makes sense for it to include the display system closest to a theatre.
6. Warm and Inviting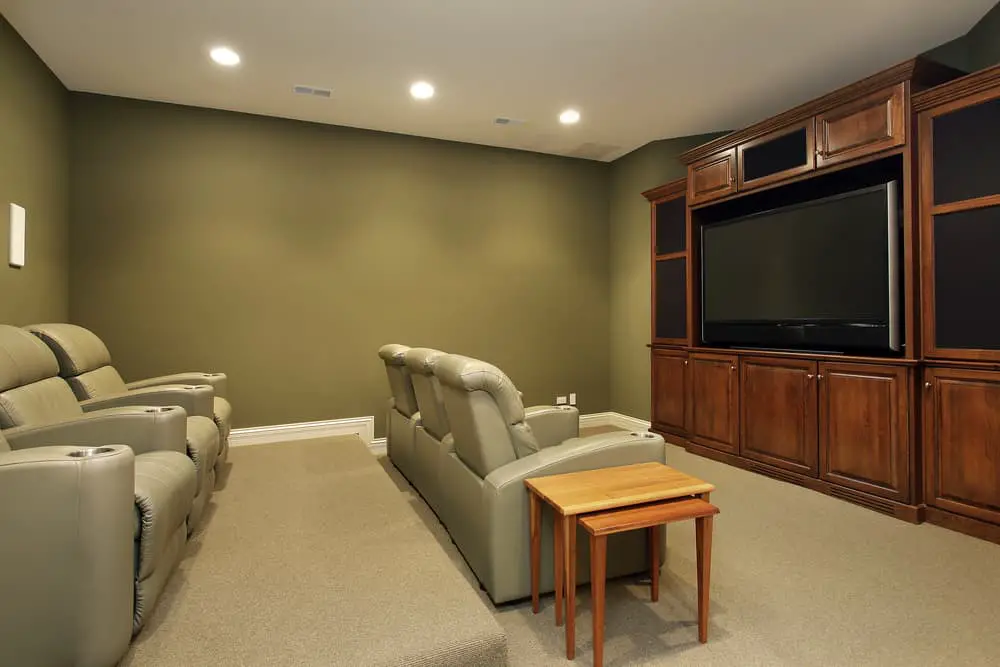 This movie theatre room is much more natural and inviting looking. It includes a panel TV, wood TV base, beautiful seating, and a relaxed color scheme. These features allow this media room to be great in any setting, not just movie viewing.
Unlike many of the previous media rooms, this one includes a panel TV instead of a projector/screen. This TV makes the media room look more welcoming and less intimidating. The TV sits on a beautiful wood base. This wood base gives the room a deep tone, which is great for watching TV in the dark.
Additionally, this media room has beautifully tiered seating. The seating area uses cream leather home theatre chairs. These chairs look like they would belong in a theatre due to their chunky design and cup holders. More so, the chairs are tiered, enhancing the visual experience for all viewers.
Finally, this media room has a lighter color scheme. The walls are green, while the chairs and carpet are cream. This color scheme absorbs light when the lights are off, but they also make the room bright and welcoming while the lights are on.
7. High End and High Tech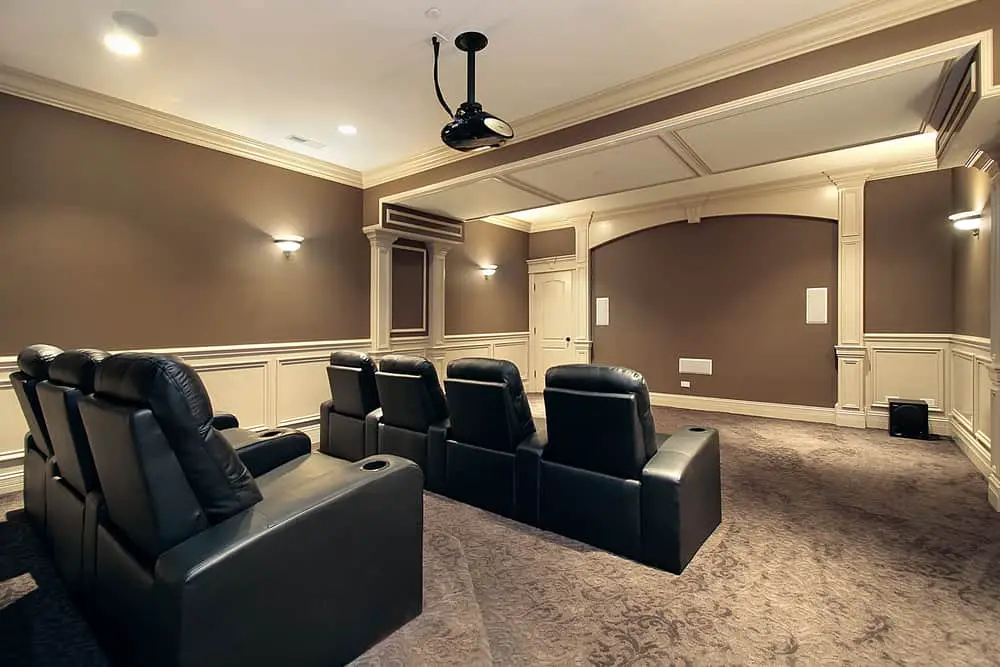 Here is a luxury home theatre room! This room is complete with a calming color scheme, acoustic paneling, theatre chairs, and motorized projector screen. These features make it one of the most upscale media rooms yet.
The color scheme of this room is brown and cream. These colors are a wonderful choice for a theatre room because they absorb light without being too overbearing. The walls and carpet are brown, while the paneling and trimming are cream.
The cream paneling is not just decorative. Instead, it works to enhance the acoustics of the room. This is a great addition because it makes the movie-watching experience much more real and enveloping.
Additionally, this media room comes with tiered theatre chairs. These chairs are black leather and include a lot of cushioning and cupholders. Better yet, the back chairs are elevated so that the view is not obstructed by the people in front.
One of the coolest features of this room is the motorized projector screen. In this image, the screen is up, but it can come down with the touch of a button. This feature is great because it will ensure that your screen is protecting without having to manually roll it.
8. Living Room Home Theater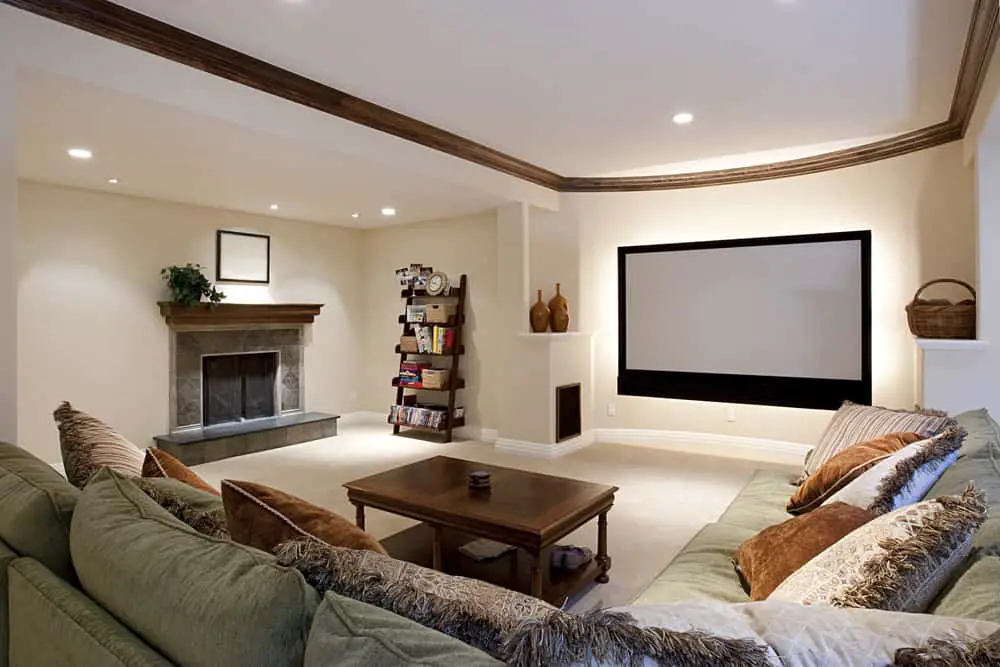 Media rooms do not have to be dark or overbearing. Instead, media rooms can be bright and cozy looking. Take this media room. It includes a bright color scheme and cozy pillows, features, and accents. At the same time, it is a wonderful theatre room.
This media room has cream walls. This color makes the room very bright. The brightness of the walls, however, are paired with deep brown trimming, a natural fireplace, and earthy colors. This color scheme is much brighter than others, yet it is calming due to the earthy tones.
The designs of the couch and pillows make the media room look even cozier. The soft materials and fluffy look create an inviting atmosphere that makes you want to lie down and relax.
The media room is also very funky. Most media rooms are decorated with technology and sound-enhancing features, but this one is decorated with a fireplace, movie shelf, basket, and coffee table. These decorations make this media room look very inviting.
At the same time, the media room makes a great theatre. It includes a large projector/screen that will be visible from anywhere in the room. Additionally, this room does not have any windows, so it can be dark while watching movies.
9. Red Light District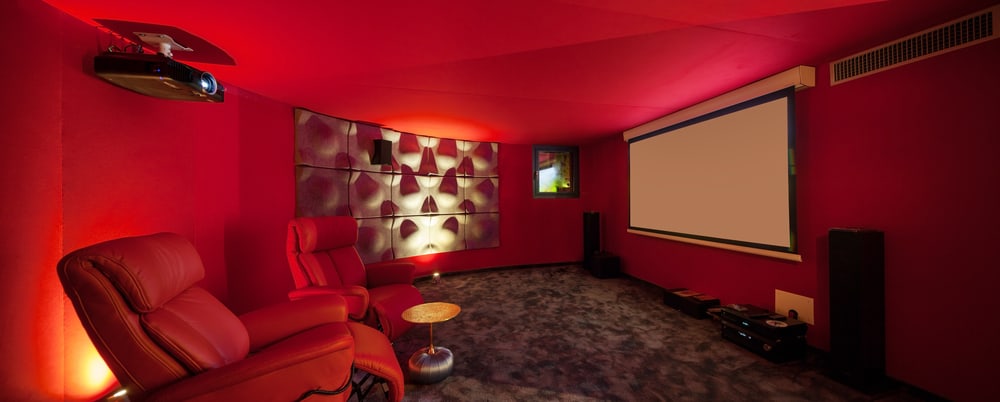 Here is another unique media room. This room has a very bold color scheme with is all red design. Despite its bright coloration, it makes a great theatre room because of its projector/screen setup, acoustic paneling, and theatre chairs.
The color scheme of this media room is clearly red. The walls, ceiling, and chairs are all red. Red may seem like an odd color choice for a theatre room, but it works well because it is deep and calming. When the lights are off, this room will be very relaxing.
This media room is also very functional as a theatre room. It includes a stunning projector/screen. This setup is smart because it conserves space and adds a touch that is reminiscent of an actual theatre.
More so, this room includes acoustic paneling. This paneling can be seen on the left side. The paneling will push the sound back towards the center of the room so that the viewers can have an ultimate auditory experience.
This media room also includes reclining chairs. Although these chairs are not exactly movie theatre seating, they look very similar. More importantly, though, they are extremely comfortable.
10. Mini Movie Theater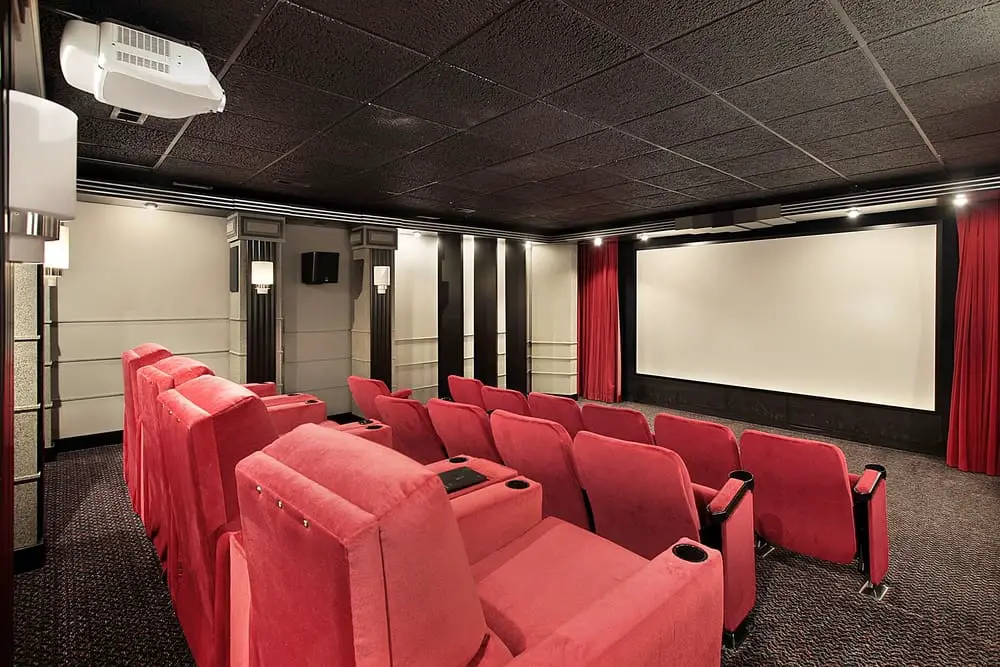 Talk about a movie theatre! This media room is awesome because it resembles a movie theatre down to the very last detail. It includes a projector/screen, red curtains, red theatre chairs, a paneled ceiling, and textured carpet.
At the front of the room, you can see a very large screen. The screen will host the video via the projector that is located in the back of the room. This projector/screen setup looks identical to a movie theatre. The movie theatre vibes are furthered by the red curtains beside the projector screen.
In the audience, you can see three rows of red theatre chairs. These chairs match the curtains and are tiered. The tiered design ensures that everyone, including the people in the back row, can see the screen at all times. More so, these chairs have cupholders and folding seat bottoms.
This media room also accounts for the auditory experience. It is paneled with acoustic panels so that no sound enters or leaves the theatre room. Even the ceiling is made from acoustic tiles that trap sound beneath.
Finally, this media room has the same small touches of a movie theatre. It includes a textured carpet that is both not distracting and covers any stains or spills. Additionally, it has small light fixtures that hang on the side of the walls. These lights will let you see when you exit the room.
Common Features
All media rooms are a little bit different, but most share common items. These features help the media room to look like an actual theatre and increase comfort. Here are the most common features of a media room or home theatre:
1. Display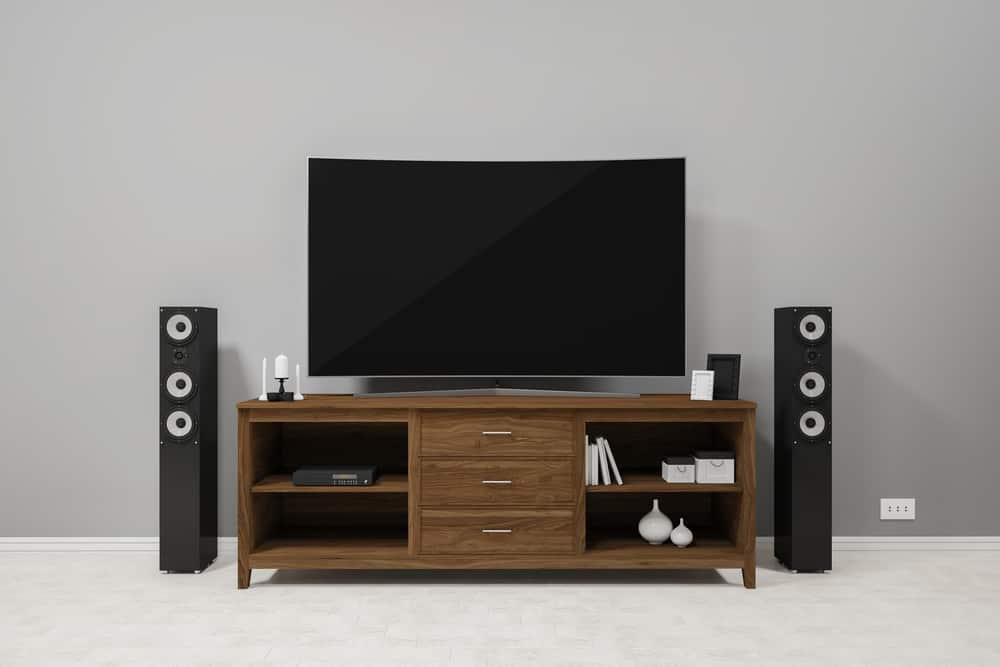 To many people, the display is the most important feature of a media room. You will want your media room to have a killer display system so you can have a movie theatre experience in the comfort of your own home.
Most people opt for a two-piece projector/screen system. This system mimics the look of a movie theatre, which can make you forget that you are home. If you choose this display system, you will need to control the lighting so that light doesn't infiltrate your viewing.
Additionally, you will want the projector to have high brightness. This will ensure that you have the most visible picture possible. These projectors are often very expensive and can cost upwards of $20,000, so this option may not be the best if you are on a tight budget.
More so, you will need to purchase a screen. You will have three screen types to choose from: fixed frame, pull up/down, and motorized. The difference between these screens is how they move. You will also need to consider size and shape.
If you do not want a two-piece set, you can choose a flat panel TV as well. These TVs are the most popular for home entertainment. They do not need complete darkness like the projector/screen system, and they might be more budget-friendly. For your media room, you may want to choose a 75-inch TV.
There are two common features of luxury TVs today. The first is smart TVs. These TVs will connect to your home network and can be used for streaming. This feature is great if you plan to use streaming platforms like Netflix or Spotify.
The other common feature is Ultra HD or 4K TV. These models offer four times more resolution than a 1080p, which will make the picture crisper and clearer. Ultra HD TVs can include other technologies like High Dynamic Range too.
2. Speaker System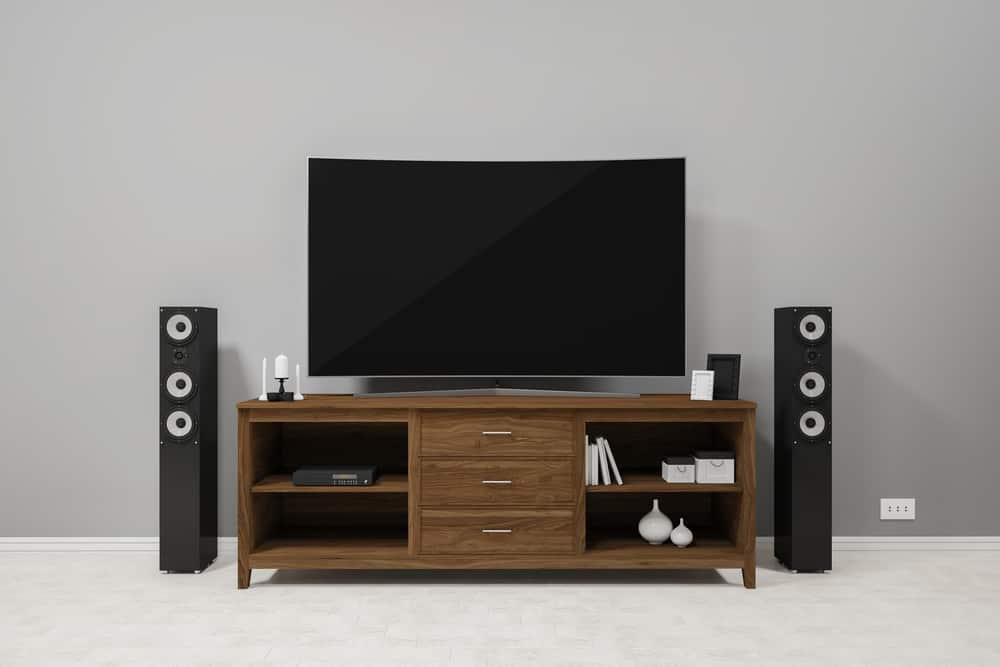 Another important feature of any media room is the speaker room. If you have a large media room, a good speaker system will make the movie or TV fill the room. The last thing you want is to not be able to hear what you're watching.
You will want your speaker system to envelop the entire room, meaning that the sound comes from all directions. This will give the illusion that you are at the movie theatre or immersed in the action of the movie.
The most basic home speaker system has 5.1 channels. The 5 denotes that speakers are placed in the front left, center, front right, rear right, and rear left positions. The .1 refers to the subwoofers, which will help flesh out the bass. More subwoofers will create a smoother listen over a larger area.
Speakers that you hang up can come in many shapes in sizes. You may like freestanding towers or thin mounting speakers. Either way, there are many options to choose from.
When you are selecting a speaker, the size matters when it comes to the bass. The smaller the speaker, the more you will need a subwoofer to fill the low end.
If you do not have the option to hang up multiple speakers, do not fret. You can purchase a soundbar instead. A soundbar uses multiple speaker channels in a single speaker. You will mount this bar either above or below the TV for an increased sound.
3. Electronics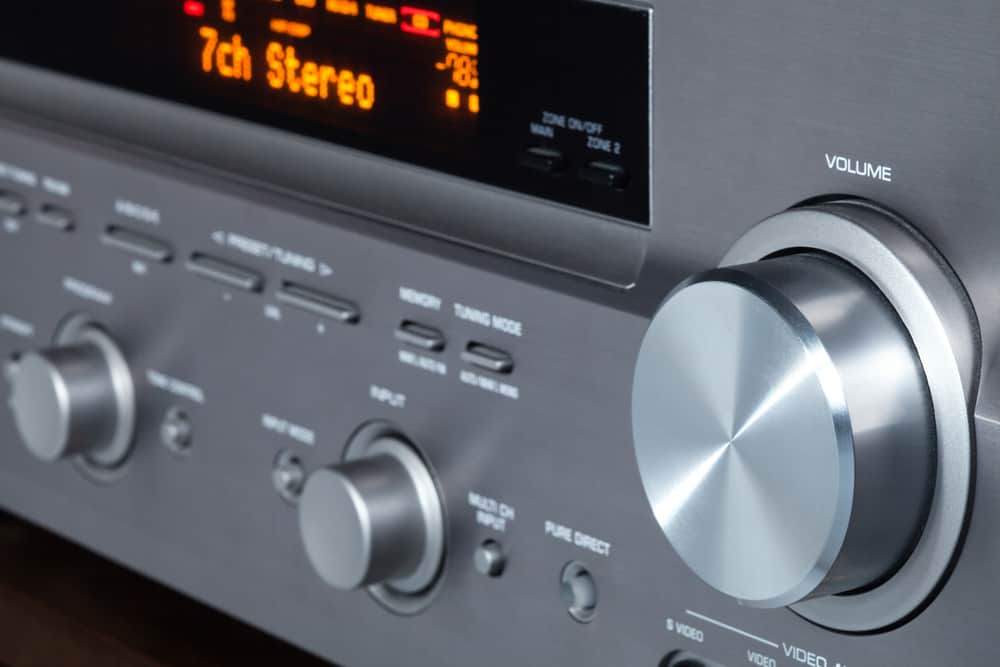 Electronics are how your home theatre room will function. Although these parts are less fun to learn about or look at, they are vital to the functionality of your media room. There are two main categories for electronics.
The first is an AV receiver. An AV receiver puts everything you need together. It will contain all audio and video signal decoding processors and the amplification for the speakers. The AV inputs that you need to connect to your devices.
The second category is separates. Separates are as the name suggests: the parts are separated from one another. This category will require two parts: a preamp/processor and an amplifier. This category is better for audio enthusiasts who want more control over their system.
When you purchase the electronics, make sure that the model is compatible with all the features you are planning to use. For example, make sure that it has an HDMI input if you want to connect your computer to the screen.
4. Source Components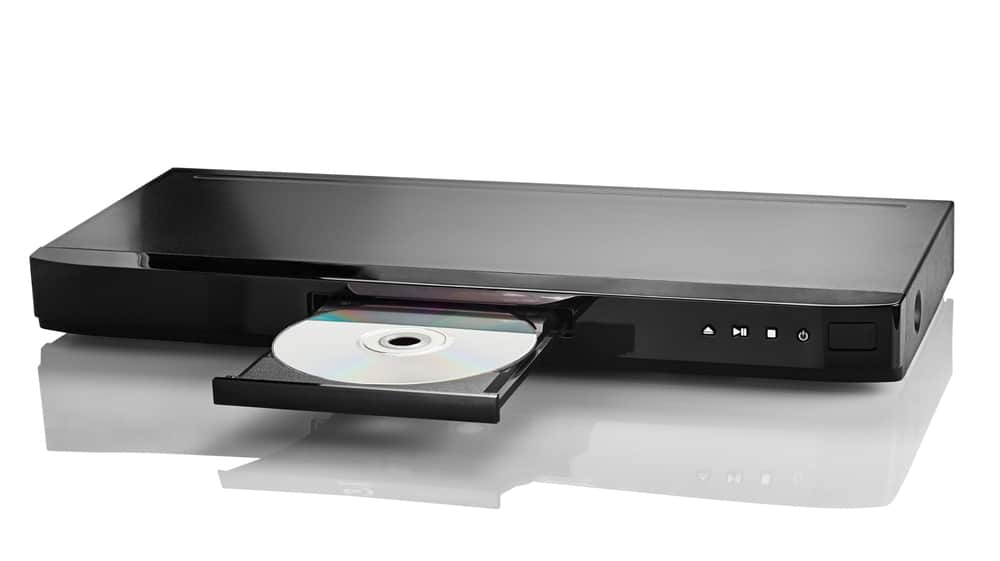 The other key item that makes your home system work is the source components. Source components are what will allow you to play certain discs or devices.
If you want an enhanced visual experience, you may want to invest in an Ultra HD Blu-ray player. This player will allow you to watch discs that are much clearer and crisper. If you do not have a special source component for these discs, you will not be able to enjoy their high-quality visuals.
If you are a gamer, you also may want to purchase gaming sources, such as an Xbox, Game Cube, or PlayStation. Connecting these items to your TV will make the room a true media room in how it hosts a number of different media purposes.
You will need a remote control system to go with your source components and TV. There are many options you can choose from, but the type of remote may depend on your source components and TV.
For a more basic remote, you may like a universal remote. Universal remotes are great because they can be used on a handful of devices and cannot be tailored. This option is great for those who are new to high-tech remotes.
Another remote type that is growing in popularity is smartphone apps. These apps will connect your phone to the TV, making your phone the controller. This option is great if you do not want to keep up with an additional remote, but some people experience connectivity issues.
5. Acoustics and Design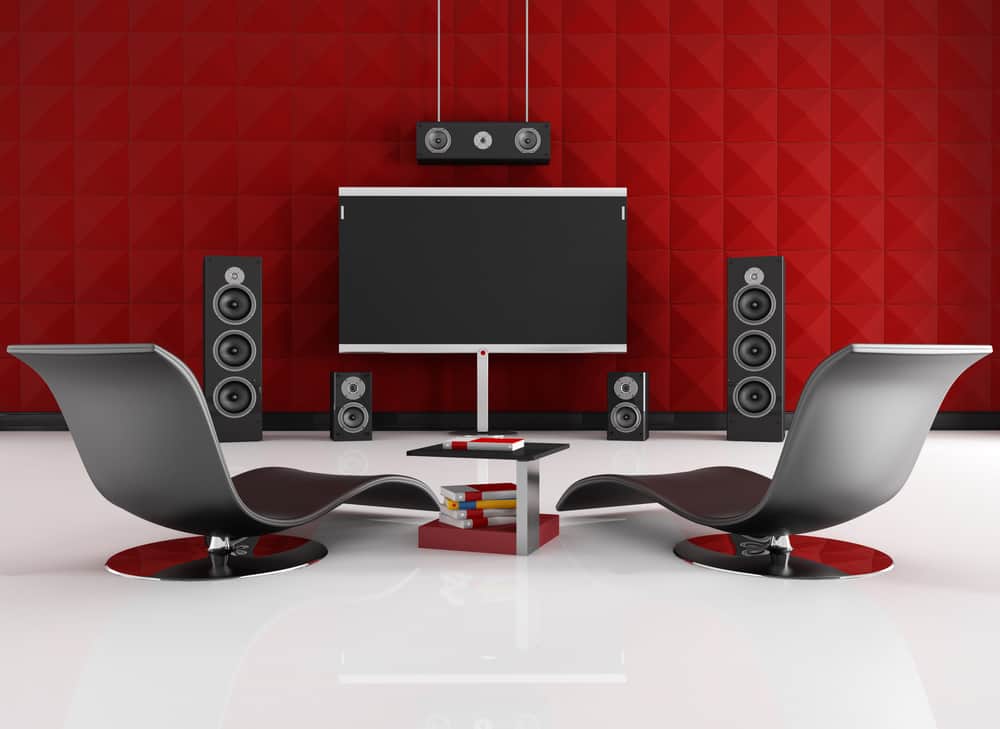 Once you have all your system parts, you can begin to think about the aesthetics of your media room. You can specifically style your room so that sound and comfort are both maximized.
If you want the most luxury-style media room as possible, consider getting soundboards to hang on the wall. These boards will trap the sound from the TV in the media room while muffling sounds from the outside. You can hire a professional to detect what areas of the room most need to be covered.
Additionally, you can install custom lighting. Custom lighting will be a great choice if you have the projector/screen setup, but anyone can enjoy custom lighting.
One of the more popular lighting options in media rooms is dim lights. These lights can gradually be dimmed, which will be gentler on your eyes. You can also add overhead lights so that you will have complete lights when you are not watching TV.
For any theatre room, the seating is another very important feature. You do not want to be uncomfortable while watching a two-hour movie.
For the complete theatre look, you can install tiered theatre seats into your media room. This option is very upscale, but it will cost you a pretty penny.
If you are on a tighter budget, you can opt for a nice couch. Couches are great media room seating options because they allow you to sit and lie down. They are especially great if you have a large family. Consider an L-shaped couch if you have a large home.
6. Additional Items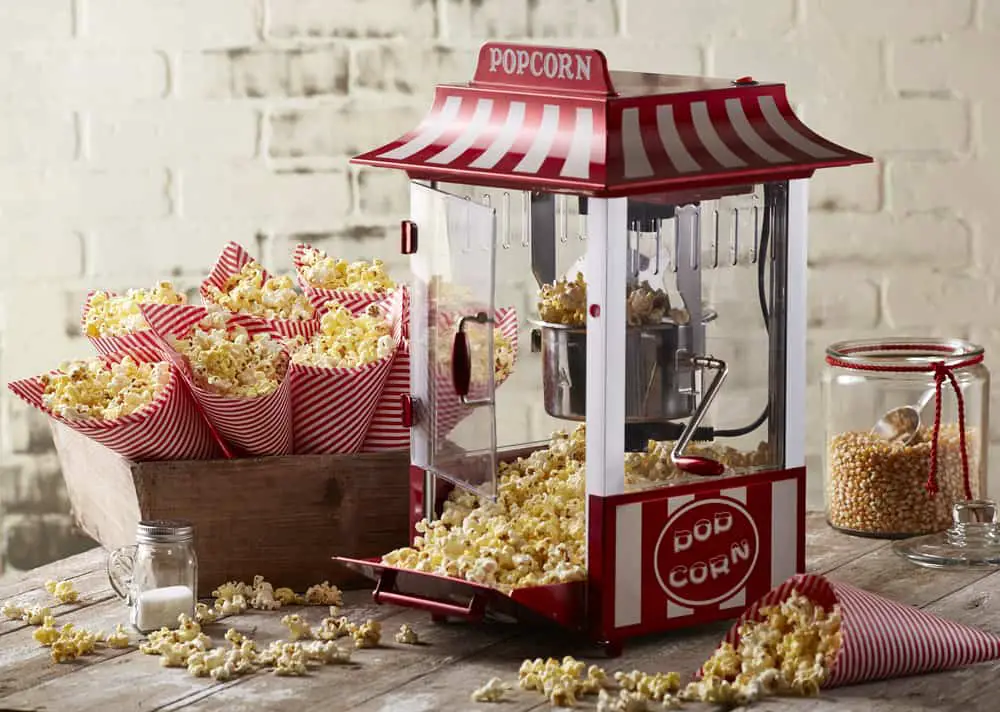 To top off your media room, you may want to add decorative items. These items will enhance your media room and make it appear like an actual movie theatre.
One feature you may consider purchasing is a popcorn maker. These devices will pop popcorn similar to the popcorn makers in the movie theatre. This option is great if you love movie theatre popcorn and eating snacks while watching a movie. You will need to buy the machine, kernels, oil, and seasoning.
Similarly, you can purchase a soda fountain or vending machine. This item will cost a bit of money, but it will be a great addition to any media room if your budget allows.
Another great additional item is curtains. You can hang curtains from the wall to give your media room the theatre-look. These curtains should be thick and heavy, meaning that they will cost a bit.
Additional items can be functional as well. Consider adding a basket full of throw blankets and pillows. These items will make the theatre appear cozier, but they will also amplify your comfort levels while watching TV.
Media Room Cost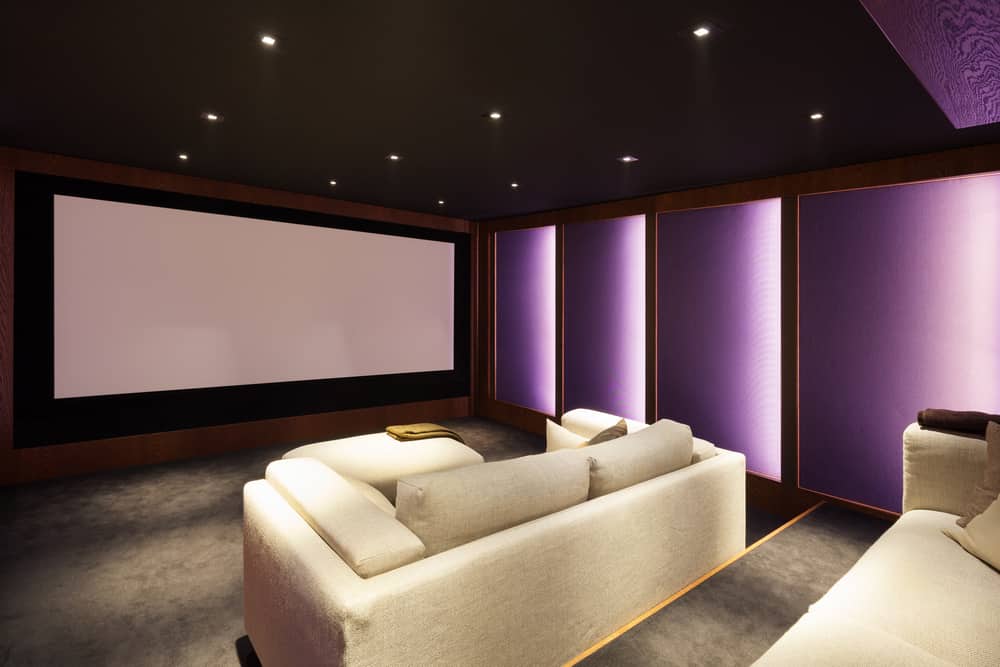 The cost of your media room depends greatly on several items, but almost all media rooms are expensive.
To begin, whether or not you already have a furnished room will affect the total cost. If you already have a furnished room, then you will not have to pay for the room construction. If you are starting from scratch, you will need to construct the room. This can cost anywhere from $50 to $250 per square foot.
Once you have your room constructed, you will need to add features that will transform the empty room into a media room. This includes acoustic treatments and seating.
The acoustic treatments can cost anywhere from $500 to $30,000 depending on how many panels or grade of the panels. Additionally, you can hire a professional to help develop the acoustics, which can cost between $500 and $3,000.
The seating is also very expensive. If you want four-tiered theatre chairs, you are looking to be in the $5,000 to $8,000 range, but they can cost even more than that. You can opt for more budget-friendly options like couches and reclining chairs, though.
Now that you have the look of a theatre room, you will need to buy the media equipment. This equipment can be very expensive, especially if you want the highest grade technologies. For a projector/screen, speaker system, subwoofers, and other technologies expect to pay over $8,000.
You will also need to factor in any additional items you may want. Pillows and blankets will probably cost below $100, while a movie theatre popcorn set may cost you $300. Luckily, these items are completely optional.
If you are unfamiliar with designing and installing your media room, you can pay someone to install it for you. In this case, your media room can cost you a total of $10,000 to $50,000. To put this price in perspective, the average American kitchen costs $30,000 to remodel.
Conclusion
If you are considering adding a theatre to your home, there are many media room ideas to choose from. When designing your room, just make sure that you include the standard features such as a display system, speakers, electronics, source components, and other items.
More so, make sure that you have a set budget. Since media rooms can be expensive, you will want every potential penny accounted for. Once you have that, you are free to start designing your media room and seeking inspiration from other media room designs.