Updated on January 3, 2022
Whether you are building a new home or remodeling an existing space, finding the best types of bathtubs will allow you to have a spot in your home where you can escape from the stresses of day to day life.
If you want to be able to relax after work or in the morning before you take on the day, soaking in the bathtub is a great way to unwind and de-stress.
When you're designing your own space, you get to choose the pieces that are perfect for you. There are many design elements to take into account, from the flooring to the paint colors to the fixtures, everything is up to you.
With so many options, it can feel overwhelming. To make the decision easier for you, we've put together a handy guide that will help you pick the perfect type of bathtub for your space!
Type of Tubs
Since we have touched on the basics of the main styles of tubs, let's take a closer look at each of the styles. There are several variations of each style and
1. Alcove Tub
Probably the most common style of bathtub, the alcove is the classic style you see in most smaller apartments and homes. They are easy to install and the tubs themselves are typically fairly affordable.
You can purchase a prefabricated tub and shower surround or you can install the tub and all of the hardware for your tub and shower, then tile the walls yourself if you don't like the pre-fab look.
Since these tubs touch three walls, you have plenty of options for storage. You can place bottles in the corners or you can install shelves. Most of the pre-fab surrounds have built-in shelving for your toiletries.
2. Built-In or Drop-in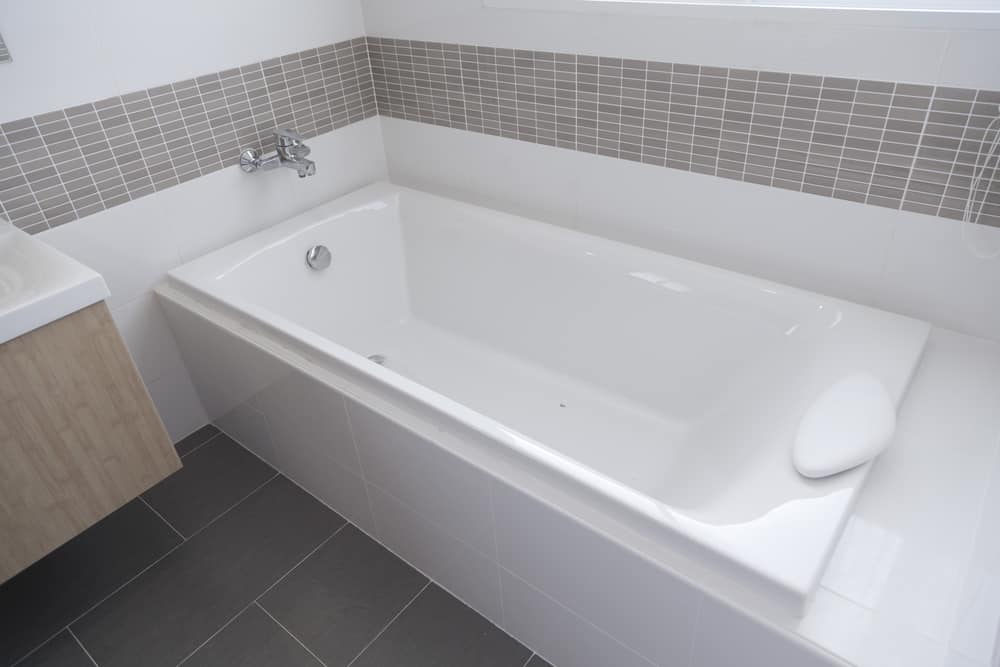 A built-in or drop-in tub is another style that you see all the time. There's a good chance that at least one of the homes you've lived in during your life had a built-in tub. This style of tub can fit into multiple categories, from alcove to corner.
If you're unsure whether or not you have a drop-in tub, there is an easy way to tell. If your tub was set into a frame, then it is a drop-in tub.
3. Corner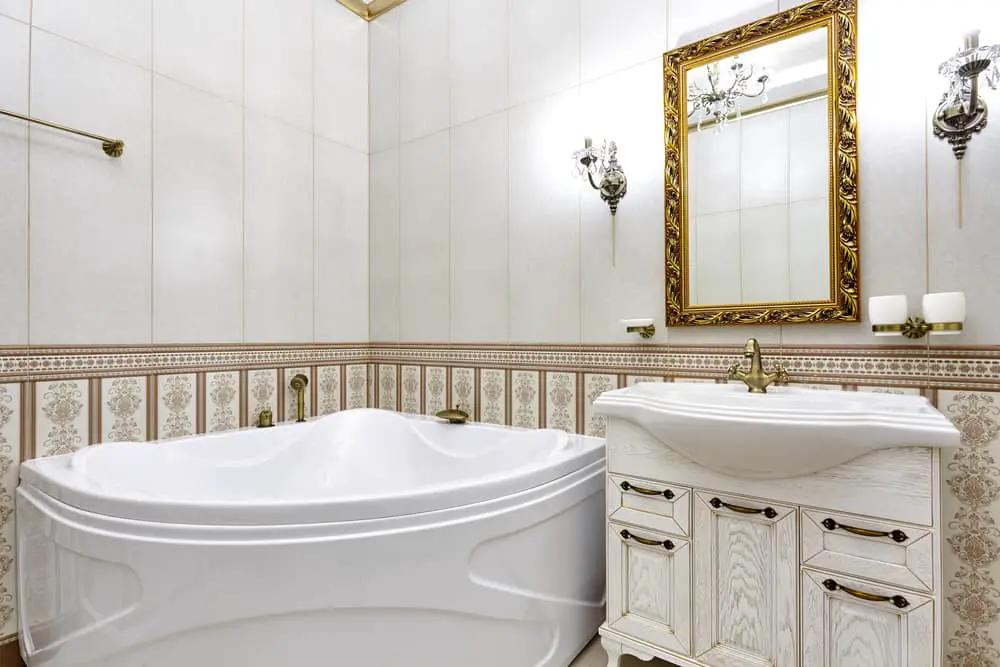 If you want to give a smaller bathroom a large and luxurious feel, a corner tub is a fantastic way to achieve this. Corner tubs can be a free-standing all in one piece or you can get a drop-in style corner tub.
Both are great options, which is best for you would depend on your personal preferences, ability to install the tub, and your budget.
While many people should be able to install a corner tub with the help of an installation buddy, not everyone is able to accomplish this so it would be a good idea to hire a plumber to put your new tub in.
4. Free-Standing
If you want a tub that isn't in a corner or attached to the walls, a free-standing tub would be a great choice. One of these stylish tubs can certainly be set up against a wall or in a corner, but they require less construction since they don't require a frame to be built.
Do you have a larger bathroom and want to add a beautiful focal point but aren't sure what to do? A stylish free-standing tub in the middle of the room is a great way to change up the usual set up of a bathroom while displaying your gorgeous soaking tub.
5. Claw Foot Tub
This is another type of free-standing tub. If you love the vintage or retro styles and want to transform your space into the early 20th century styled bathroom of your dreams, a clawfoot tub would be a great way to go.
This type of tub instantly adds a touch of elegance to your bathroom. Whether you want a fully vintage space or you want to add classic elements to a modern space, there are many beautiful clawfoot tubs that come in a variety of colors so you can surely find the perfect one for your bathroom.
6. Jetted Tub
If you want a tub that is really relaxing, a jetted tub would be a great choice. Fill it up with hot water, turn on the jets, and kick back with some relaxing music, a glass of wine, and a good book.
If you go with a jetted tub, having it installed in a corner or against the wall will give you plenty of storage space for your shampoo, conditioner, and favorite bubble bath or bath oils on the ledge. Utilizing the edge of the tub allows you to take a bath in peace without needing to get up to grab forgotten soaps.
7. Walk-In Tub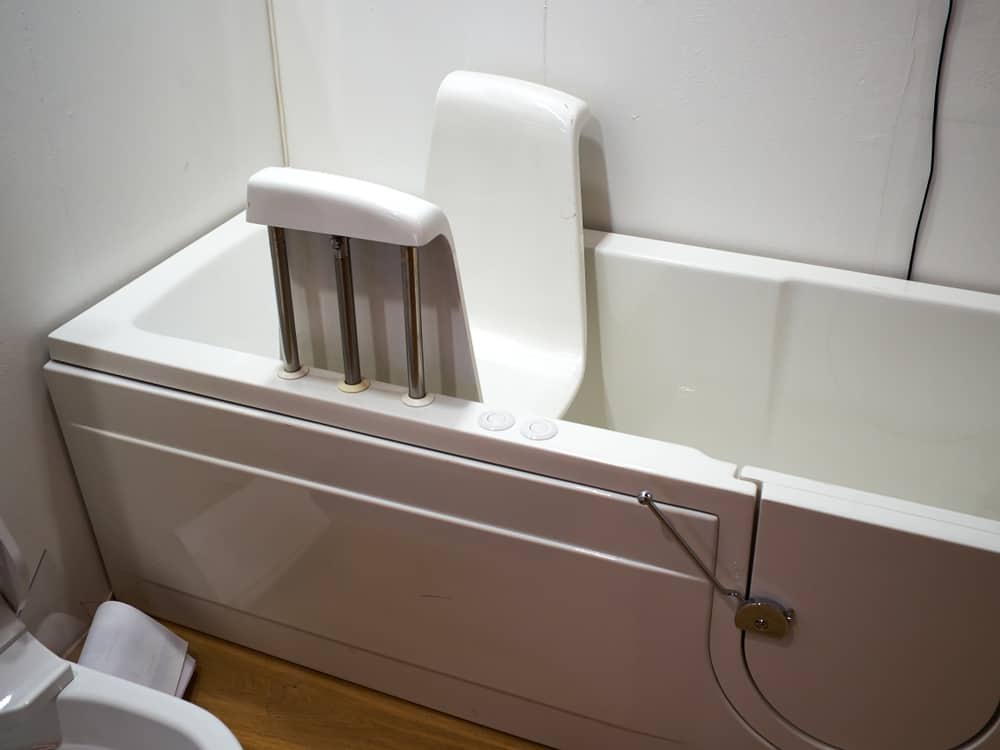 Perfect for the elderly and for anyone that has physical limitations that make it hard to get in and out of a regular bathtub, the walk-in tub will allow anyone to take a bath without needing to set over the side of a tub.
Many walk-in tubs are deep enough that you can step in, sit on a seat, and fill the tub enough that you can soak in it while sitting on a seat that is the same height as a chair rather than needing to sit on the floor.
Having the ability to use a walk-in tub can give a lot of people a better sense of independence, allowing them to bathe without the help of a caretaker.
Choosing the Best Tub
You can certainly browse tubs online and even go to the store and look in person, but before you go to your local Home Depot and buy the first tub you find that looks nice and is in your price range, there are some things you'll need to think about.
Aside from what style and color you want, you should take a closer look at the size of your bathroom, the ages and physical condition of everyone using the tub, and where you are able to install a new tub.
Tub Placement
During the design process, one of the first things you should do is figure out what your options are for tub placement. If you are replacing an existing tub and aren't able to redirect the plumbing, you'll have to stick with installing a tub that will fit into the current tub area.
If you can move the plumbing around and want to switch things up, consider a freestanding tub towards the center of the room or a spa-like tub with jets in the corner.
Size of Your Bathroom
Something that can impact what tub you are able to get is the size of your bathroom. Before you start looking at new tubs, you should first measure your bathroom and the area you have to work with as far as where the tub will be placed.
If you are going to be putting your new tub elsewhere, measure the new spot. For smaller spaces, a corner tub would be an excellent way to maximize the floor space of your bathroom since the tub won't be taking up an entire wall. They also look stylish and give your bathroom an expensive feel.
Who Will Be Using the Tub
One of the downsides of using a bathtub is that it can be hard to enter and exit if the sides are too tall. Needing to climb over larger tub walls may be impossible for some people. You want everyone that will be using the tub to have the most comfortable and relaxing experience possible.
If you have kids, making sure the tub is easy for them to get in and out of is a must. For elderly relatives or for people with mobility issues, a walk-in tub would be a great option. If the tub is going to be used by adults that are in adequate physical condition, the possibilities are endless.
Ease of Use
When it comes to using a bathtub, one of the things a lot of people don't think about is how high the top of the tub is and how easy it will be for you to get in and out of. Some tubs have a ledge or step built into the inside of the tub, which helps when getting in and out.
A couple of ways to help with accessing a tall tub would be building a surround for the tub with a step or two. Otherwise, you can always purchase or build a free-standing step to put in front of the tub.
A separate step would be ideal for smaller bathrooms, as you can move the step and store it elsewhere when not in use.
Weight of The Tub
The weight of the tub is important to know because a heavy tub can damage your floor and cause it to buckle over time. Most tubs nowadays are lower in weight than older ones but you may still find a tub that is abnormally heavy.
If the floor or subflooring in your bathroom has any damage, adding a heavy tub on top of that could result in your floor giving out over time. If the condition of your floor is questionable at all, you should address any concerns you have before replacing your existing bathtub.
Storage
If you are replacing the tub in a bathroom that is shared by the whole family or several members of the family, take into account everything that you would want to store near your tub.
If you go with a free-standing tub, you lose the storage possibilities that come with an alcove style tub or a drop-in tub. You can always build or purchase shelves to use near a free-standing tub.
For families, an alcove tub would really be a great choice because there is plenty of space for everyone's toiletries. Use a corner suction cup net or a basket outside the tub to store any bath toys.
Tub Style
There are a few basic styles of tubs that you will see while shopping around for the best one for you. These main categories mainly refer to where or how they are installed. Within each of these types, there are several additional options, which give variations in size, shapes, and even installation differences.
Drop-In – This style of tub is also referred to as a built-in. The drop-in style of tub is a tub that is dropped into a frame. They can be installed so that the bottom of the tub is flush with the floor or they can be installed up a bit higher for a more luxurious look.
Freestanding – A freestanding tub is a great choice for anyone that wants to make their tub a focal point in the bathroom in their owner's suite. This artistic and spa-like style of tub can take your space to the next level.
Corner – Perfect for people that want a big tub but have a smaller bathroom, corner tubs are a great way to get a high-end feel in a bathroom that doesn't have a ton of space to work with. Corner tubs come in a couple of different shapes and styles.
Alcove – This is the style of tub that you find in a majority of bathrooms. Basically this is a tub that rests in a spot with walls on three sides. Often accompanied by a shower, alcove tubs can range from super simple to elegant and luxurious.
FAQ
Here are some frequently asked questions about bathtubs and their alternatives.
Can I change the color of my bathtub?
If you decide it's time to give your bathroom a facelift, you may debate what you should do with your tub. You love the style and it's in the perfect spot, but the color just does not go with that look you're going for in your space.
The good news is, bathtubs can be painted and resurfaced! If your tub is in good condition and you simply want to change the color of it, you can find paint that is made specifically to handle the conditions that are found in a bathroom.
To paint your bathroom, it's important that you shop for a tub and tile painting kit. They are epoxy-based and are made to bond to the tub and can withstand the temperature variances and moisture that will be experienced in your bathtub.
Once cured, you can expect the paint job to last up to five years.
Resurfacing your tub is another option to give your tub new life. Whether the finish has chipped or you just want to switch things up a bit, this is a great way to bump up the look of your bath.
Resurfacing is done by removing the original finish on the tub and putting a fresh coat on it. This seals the tub and breathes new life into it, making your tub look brand new.
Can tubs be reglazed?
Due to the process that goes into glazing a tub, you can not reglaze your tub. The original glaze was fired in a large kiln to set the glaze onto the porcelain.
While this can't be done again down the line, there is a home kit that you can use that contains a material that is very similar to the original glaze. It comes in a variety of colors and will make your tub look like new again.
To revamp your tub with a reglazing kit, there are a few steps to take:
The first thing you need to do is get the surface of the tub really clean. To achieve this, you'll use a 2-step cleaner. This special formula is really strong and designed to remove mineral deposits, oils, and soap scum.
Once the tub is nice and clean, you'll need to repair any blemishes in the glaze. Fill in any cracks and chips so the end results are super smooth.
After the surface has been fixed, you'll apply a bonding agent, then the super-tough finishing coat. The material of the topcoat is usually acrylic.
Let the finish cure and you'll have a shiny tub that looks like it just came from the store.
What materials are bathtubs made from?
From rivers and streams to washbasins and toughs, humans have been bathing in natural bodies of water and various tubs as long as people have been on Earth. Bathtubs have certainly come a long way over the years.
In the days of ancient Rome and Greece, many people bathed in public bathhouses. From there, plumbing was further developed and eventually personal indoor bathrooms made their way to homes across the world.
Tubs used to be made from iron, wood, and copper but nowadays, these materials are strictly found in antique tubs. Modern tubs are made from porcelain, fiberglass, acrylic, and enameled cast iron. If you want a tub that is lightweight, your best options are fiberglass and acrylic.
What should I do with my old bathtub?
If you've got an old tub that you want to get rid of or repurpose, there are several things you can do with it. You may decide that you want to try donating it or selling it.
Contacting your local Habitat for Humanity would be a great organization to contact because they sometimes take donated building materials. If they won't take the old tub, they may know of a place that will take it for you.
If you don't want to get rid of the tub, you can do one of several things with it. If you are a gardener and like to use raised beds and containers, you can turn your old tub into a garden bed.
Decide where in your yard you want the tub, fill it with soil and compost, and plant your desired items in it. You can fill it with beautiful, colorful flowers if you want or you can plant fruits and veggies in it.
Do you have animals on your property such as pigs or goats? Repurposing your tub and using it for food or water for your animals would be another great way to reuse it.
Alternatively, it can be filled with water and used like a little pool. This is a great way for your pets or kids to cool off in the heat of the summer. Another great use for the tub in the summer would be to fill it with ice so you can keep drinks cold for a backyard barbeque or cookout.
How should I clean my bathtub?
There are several ways you can clean your tub. Clawfoot tubs are harder to clean than others because you need to be able to get behind it and under it to clean the body of the tub, as well as the floor under it.
Gather your supplies. You should have a large cup for pouring water, a scrubber, cleaning solution (either store-bought or homemade works just fine), and a washcloth or rag.
For most tubs, you should start out by rinsing it well with hot water to rinse any loose hair or dirt down the drain, as well as loosening anything that is stuck to the inside of the tub, such as soap scum and general dirt.
After you rinse, apply your desired cleaning product to the inside of the tub. Many bath and shower cleaners come in a spray bottle to make application easier.
According to the instructions for the cleaner you're using, let the cleaner sit.
Using your scrubber, give the tub a good scrub. Make sure to get all of the corners, nooks, and crannies. If you have the type of cleaner that doesn't need to be scrubbed, skip this step.
Rinse your tub with hot water. Be sure to go over the surface a couple of times so you get all of the cleaning solutions.
Once the inside is clean, it's time to tackle the outside of the tub.
Wet your washcloth with hot water. Squeeze out the excess, then spray the rag with your cleaner.
Wipe down the outside of the tub. If you have a freestanding tub, be sure to go around the whole tub.
Wipe down the fixtures. If you really want them to shine, clean them with a mixture that is 2 parts water and 1 part white vinegar.
If you have a claw foot tub, don't forget to clean under your tub as well.
If the tub is still wet, you can wipe everything down with a dry rag or microfiber cloth to remove any excess moisture.
Conclusion
From new builds to remodels, knowing about the different types of bathtubs will help you figure out which is the right fit for your space.
Whether you are limited on space and need an alcove style tub you can fit into a tight spot or you have a massive room and can have a freestanding tub in the middle of the floor, there are so many options, everyone will be able to find a fantastic tub for their bathroom.
From a luxurious and vintage claw-foot tub to a walk-in model that people of all ages and physical condition can enjoy, there are a ton of styles to choose from. With so many options, there is sure to be a perfect style of tub for everyone.
The next step is up to you! Once you decide what style of tub you want and where it's going to go, it's time to get started on your bathroom remodel. You'll have a personal spa in your home before you know it!