Updated on October 11, 2022
What is the central are to your living room? The couch or sofa, of course. When you are figuring out the interior design of different areas of the house, you know you will be balancing the whole room around the sofa or couch, so it is so important to choose the right style. That's where we want to help?
You would think that it would be easy to simply choose a sofa, but reality is much different. There are many different kinds and it can get a bit overwhelming.
We want to give you a quick overview of the different types of sofas and couches so you will be armed with the information you need. We will also show you photos of each style in a natural environment so you get a good idea of how they are supposed to look.
Let us help you get this done right so you can spend your time relaxing with friends and family on a sofa or couch of your dreams.
Types of Couches and Sofas
1. Bridgewater Sofa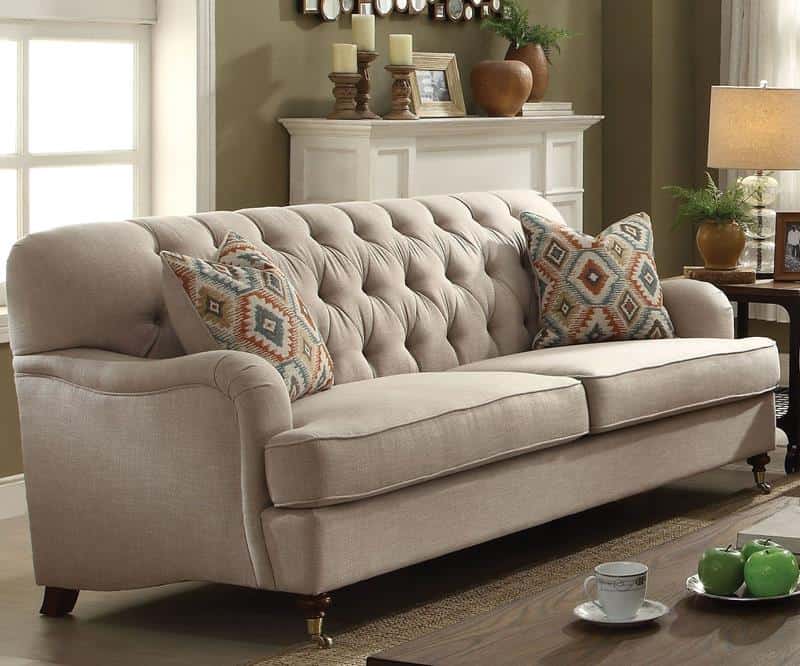 A bridgewater sofa may be exactly what you need to create a wonderful living or family room space. Classic and versatile, the arms are slightly rolled and lower than the back.
A great thing about the bridgewater is that it is a more subdued look. It is not overbearing, letting you create any design style you want around it.
This is more of a traditional look, fitting your idea of a classic living room.
2. Cabriole
If you look at this type of sofa and immediately think about 18th century Europe, there is a good reason for that. Seeing its origins with Queen Anne and Louis XV, you are guaranteeing a classic style that screams luxury.
With a cabriole, you will often see intricate designs. Often, they will have curved wooden arms, but more modern versions have opted for more cushioned comfort.
3. Lawson
A Lawson sofa has one main goal in mind – your comfort. You know it is a Lawson when the back is made of pillows that are separate from the frame of the couch. This creates a wonderful, softer design that gives some flexibility.
Because the Lawson style is so popular, you can find it in many sizes and colors. This is a more contemporary design, finding its origins in the early 1900s.
4. Loveseat
We all know what a loveseat is. Made for two, hence the name loveseat, they are versatile in all situations. Often coming as part of the living room set, they make great additions to a complete sofa in the room.
You can find many different styles of loveseats, from different frame styles to fabrics and cushions. Sometimes, you will find a loveseat in the bedroom at the foot of the bed, giving you another relaxation option or place to read a book.
5. Chaise Lounge
A chaise lounge is one of the most versatile sofa types you can find. It is common to find one near bay windows where occupants can take in the natural light while relaxing. You will also find them popular in bedrooms. You may even find some poolside.
With a chaise lounge, you will find them with one side open for you to sit or lay down, while the other side will have a straight or curved arm. They range from upscale to more laid back designs.
6. Tuxedo
The characteristic high arms that are level with a back that cuts straight across tell you that you are dealing with a tuxedo sofa. The look is so distinct that these sofas will certainly make a statement in the room you put it in.
They look classy and stylish with their straight line designs, but some people don't like the fact that there is no reclining angle.
Born in the 1920, the Roaring Twenties, you can see the high flying times in this design.
7. Daybed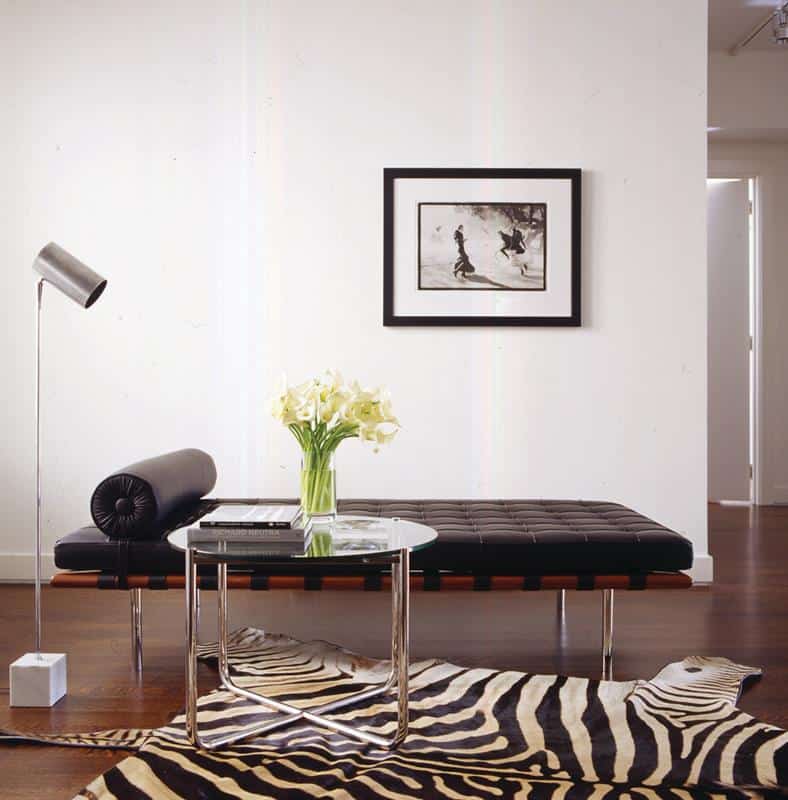 A day bed gives you many options thanks to its versatility. It can be used as a couch to relax with a book by day and it can be used as a bed to sleep in at night. Although, there's nothing saying you can't nap on it during the day either.
Daybeds come in many different styles and you can find them in living rooms, bedrooms, and by bay windows soaking in the natural light. They are classy and can give extra style to any room.
8. Chesterfield
When you see the deep button tufting, or quilted look, on the back cushion of a sofa, you know you are dealing with a chesterfield. It is a classic look, and even though you may not have known what it was called, you've seen one.
The arms of a chesterfield are rolled and are the same height as the back. More often than not, you will find them made with leather.
Chesterfields find their origins in the 18th century, so if you are going to a traditional look, this is the way to go.
9. Futon
Studio S Squared Architect, Inc.
Futons are so versatile because they convert from a sofa to a bed quickly. They are great for more contemporary design styles and they usually give off a laid vibe. That being said, you can get a more luxurious futon that looks sleek and sophisticated, perfect for an office space.
If you are looking for versatility and an occasional sleeper, a futon is the way to go.
10. Contemporary Modern
A contemporary modern sofa is so versatile that you can use it in any room with any design you have in mind. Coming in many different colors and fabric styles, you will notice that the back does not have removable cushions, but is still reclined and comfortable.
Taking a page from the mid-century design book, this contemporary modern will ensure that you have a comfortable place to relax.
See Also: 55+ Different Types of Rugs
11. Divan
If you've ever seen a couch that is missing a back, then you've seen a divan. Often confused with a chaise lounge, they are actually different pieces of furniture. Great for style, you can push them against a wall and arrange pillows for a cushioned back.
Many people don't like divans because they are limited to where you can put them, but there is no rule saying they have to be against a wall. In the middle of the room, they can work well for a place to relax and take a nap.
12. Settee
Mayer & Meyer, Inc. Architecture and Interiors
When you think of a settee, you may think of a wide chair. You aren't wrong, because that is basically what it is. Often at the entrance of a house to welcome guests in, you will find that settees are a classic piece of furniture.
They look amazing, but don't plan on their having much comfort. It is hard to get more than one person on them, but that's not their function. They are made to make your room look good.
13. Recliner Sofa
Recliner sofas are the ultimate means of relaxation. Not only do you get the best of a sofa, but you get to recline back as well.
Coming in many different designs and fabric choices, recliner sofas work for the family who loves spending time together catching up on their favorite television shows and movies.
14. Left Arm Loveseat
Left arm loveseats, other than living up to their name by only having a left arm, also are characterized by their rectangular designs.
Like regular loveseats, these sofas are made to seat two. They often have rolled arms and thick cushions for extra comfort. You can find them in different styles and colors, and their versatility is a plus. They look great inside and out, and you will often find them poolside.
15. English Roll Arm
The English roll arm sofa, often just called the English, is characterized by its low arms and a high back. You will notice that the upholstery is usually tight but the cushioning is ample.
Sometimes, like this photo, the arms on an English are so low that it almost appears to have no arms at all
16. Mid-Century Modern
When we talk about modern sofas, often we are referring to a mid-century design. A contemporary mid-century design will come in a few different styles, but you will notice that they all are strong in their simplicity. The minimal feel they give allows you to create a wonderful design around them.
Often, these sofas have low arms, a higher back, and simple cushions along the back. Usually, there are no fancy patterns or color designs. You will notice their characteristic rectangular shape and solid legs.
17. Camelback
When you see a camel back, you can expect to see a higher back in the center, with curves moving away from the center and into the arms. Sometimes, you will find a camelback with two arches along the back.
Usually, a camelback will have wooden legs, and the styles can range from something luxurious to more contemporary.
18. Sectional
Mark Williams Design Associates
Many people shy away from sectional sofas, but honestly, they can really enhance a room. Sectionals are ones that form an L-shape, usually wrapping around two walls of the room, though they work just as well in large living rooms when they aren't against the walls.
Sectionals come in many different styles and are great if you often have many people in the room at once. Sometimes parts of a sectional recline or turn into a bed, so you have great versatility.
19. Armless Sofa
When you see an armless sofa, we know you are thinking about how it is a retro design, but it still works today. Sure, it was a mid-century creation, but its simplicity works well in many rooms today.
Characterized by its rectangular shape and straight lines, it works well if you are going to a minimal approach. Designing around them is a breeze, especially if you want to use lower end tables.
20. Modular Sofa
Modular sofas are a fantastic way to ensure you have control over your seating environment. If you are often having to change your position depending on what activities are going on, a modular sofa lets you make those changes without have to rearrange the room all the time.
The base of the sofa, sometimes a sectional sofa, stays the same while the extra, ottoman like, parts can be adjusted to meet your current needs.
Modulars give you control over you living room, so if you have an active household, this is your best option.
Don't Miss: 33 Types of Curtains for Your Home