Updated on March 16, 2022
It's time to have the shower you've always dreamed of and we want to help. As you begin planning your new bathroom or shower remodel, or if you are building a new home all together, you will be faced with many options when it comes to design.
Do you get a pre-fabricated or custom shower? What kind of shower head do you want and do you want temperature controls? How much accessibility do you need?
All of these are just the beginning of a series of questions you will be faced with. Below, we've created a complete shower guide so you have a starting point. We will cover over 20 different types of showers and shower options so you won't be lost when you walk into the store to get what you need.
Custom vs Pre-Fabricated
1. Custom Shower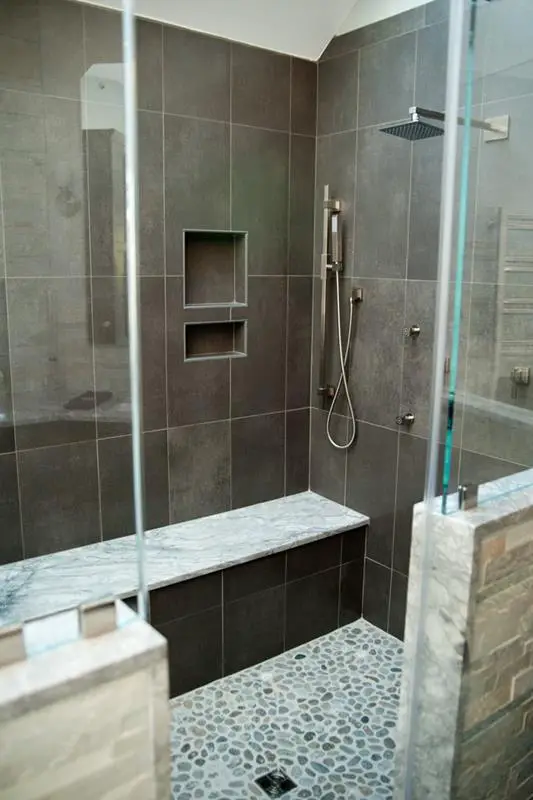 Custom showers will certainly cost more than pre-fabricated ones, but with a custom built shower, you can ensure you get exactly what you want.
Custom showers are built just for your bathroom and tend to be more eco-friendly. The possibilities for custom showers are endless and you can fit them into any space.
2. Pre-Fabricated Shower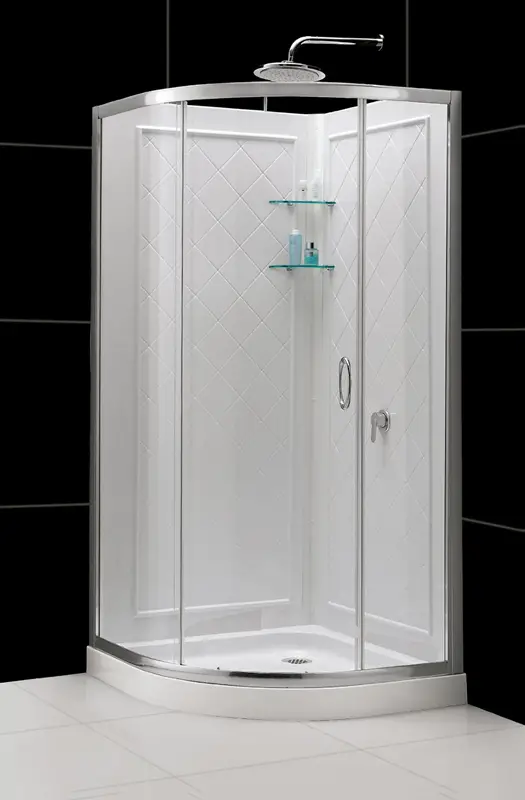 Pre-fabricated showers come in all shapes and sizes, so you should be able to find one that fits the area you have. They tend to cost much less than custom showers because they can be mass produced. Usually, pre-fabricated showers come in a single-piece design, making installation easier and less costly.
You can get many features with pre-fabricated showers, from railings, shelves, seats, and more.
While you may not get the creative design look you want from these types of showers, you can save some money and still have a great space.
Shower Type
3. Manual Mixer Shower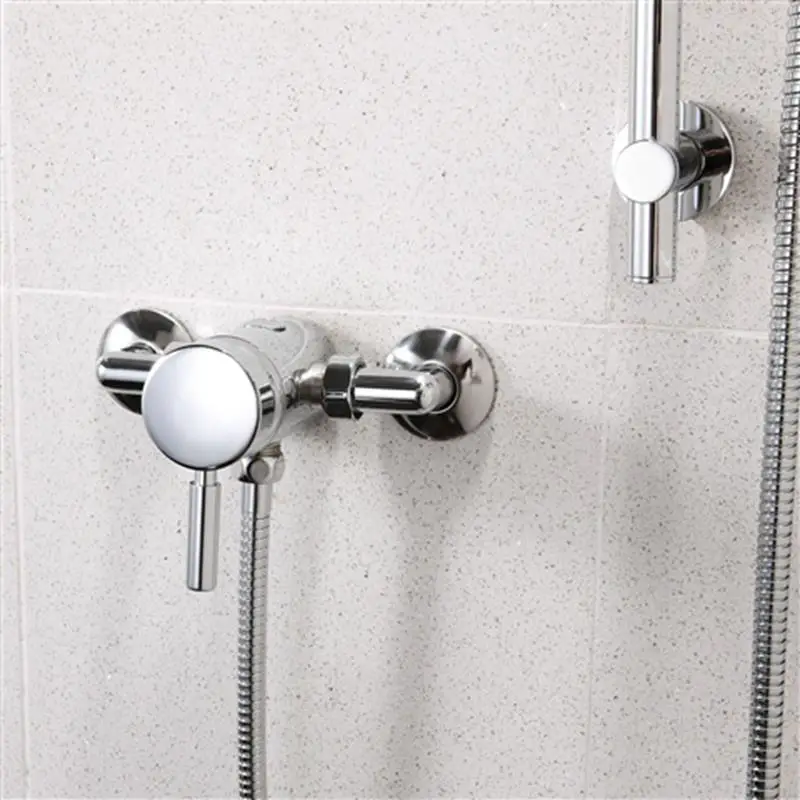 A manual mixer is the style that you are probably most familiar with, as this type makes up the majority of showers and baths. A manual mixer is one in which you adjust the hot and cold water each time you use it to get the temperature right.
4. Electric Shower
We love electric showers, especially for areas in which you don't want to have to connect to the hot water supply. Electric mixers only need cold water because they heat the water as it runs through it.
5. Thermostatic Shower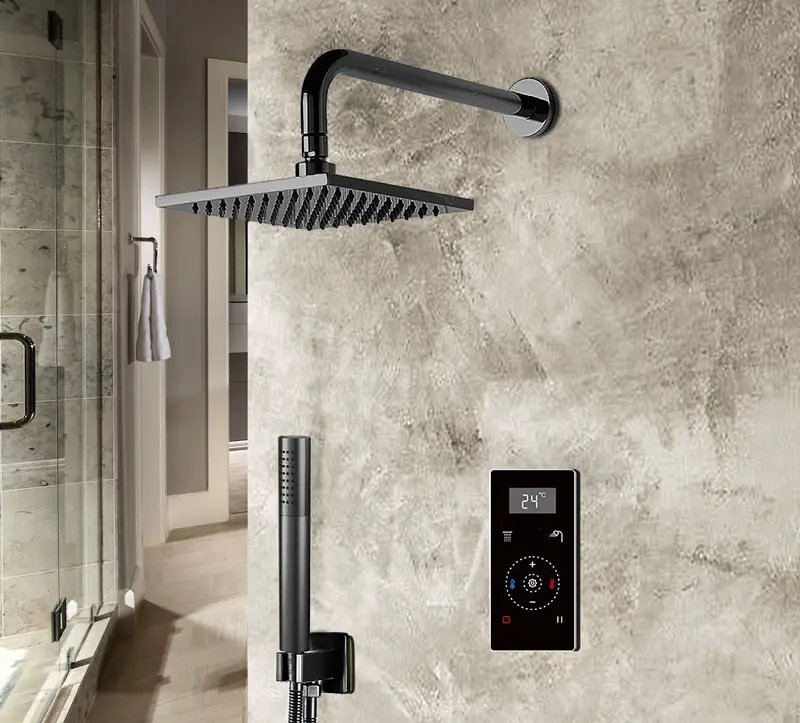 With a thermostatic shower, you never have to worry about finding the right temperature. You also won't have to worry about the kids getting scalded by hot water. Thermostatic showers can be set to the desired temperature and that is what it will be every time you turn it on.
Shower Style and Shape
6. Curved Enclosure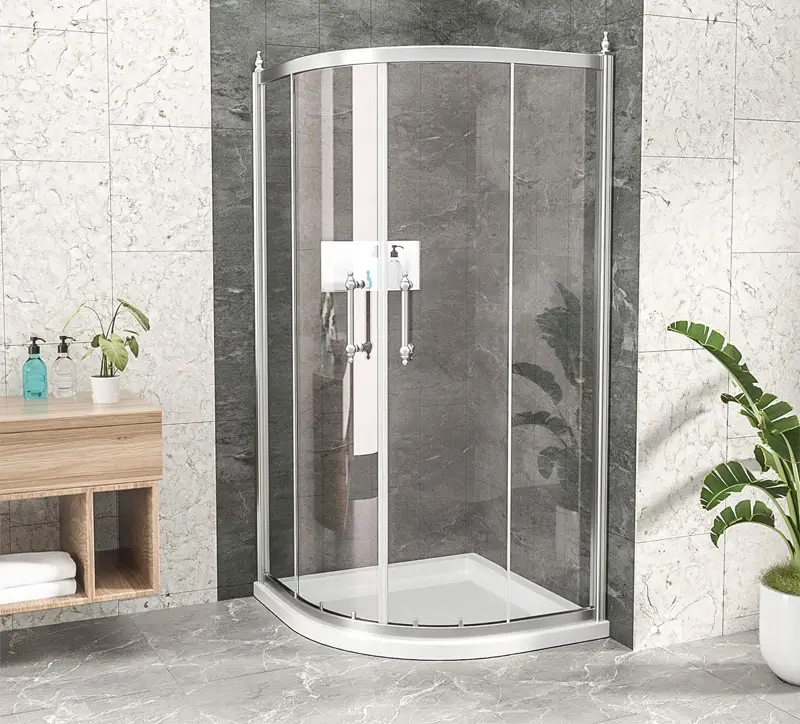 Curved enclosures are usually seen with walk-in showers and have a rounded entryway. They work well in corners and look fantastic.
7. Rectangular Enclosure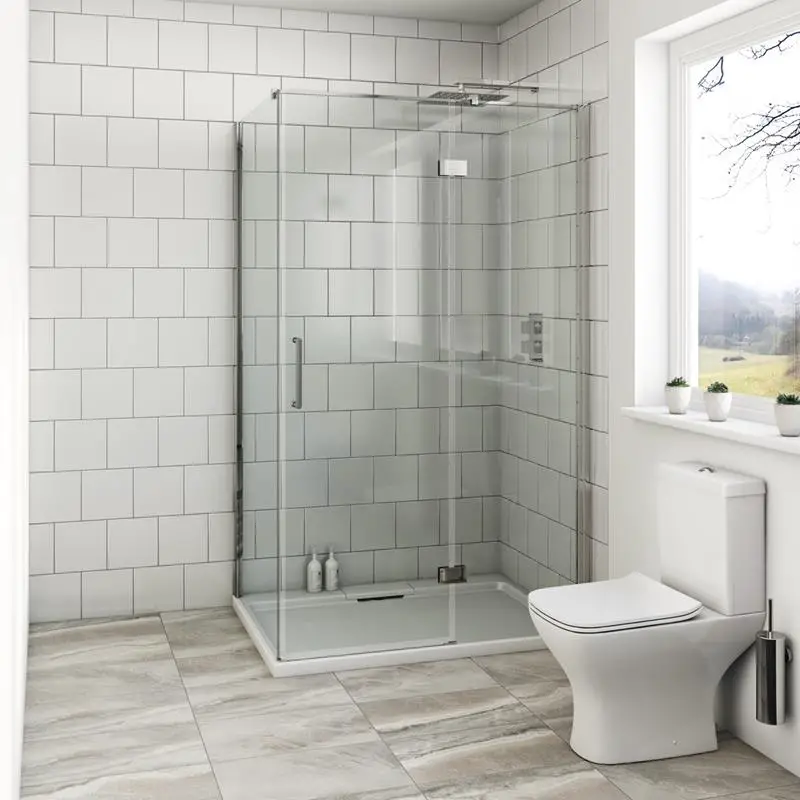 Rectangular enclosures are also common with walk-in showers and fit perfectly into corners. This is another style that works well in smaller bathrooms.
8. Corner Enclosure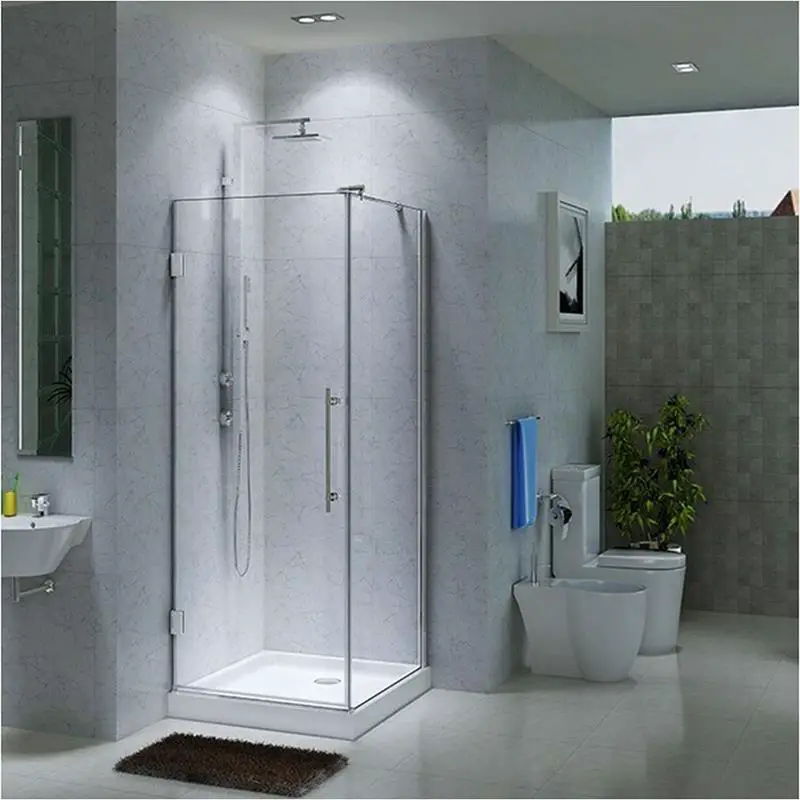 A corner enclosure is almost always going to be a walk-in shower and made to save space  in a smaller area. These are made specifically for corners.
9. Neo-Angle Enclosure
Neo-angle enclosures look wonderful. Usually with five sides, they fit into a corner wonderfully. Notice how the door is right in the center, so you can get in and out easily.
10. Tub/Shower Combo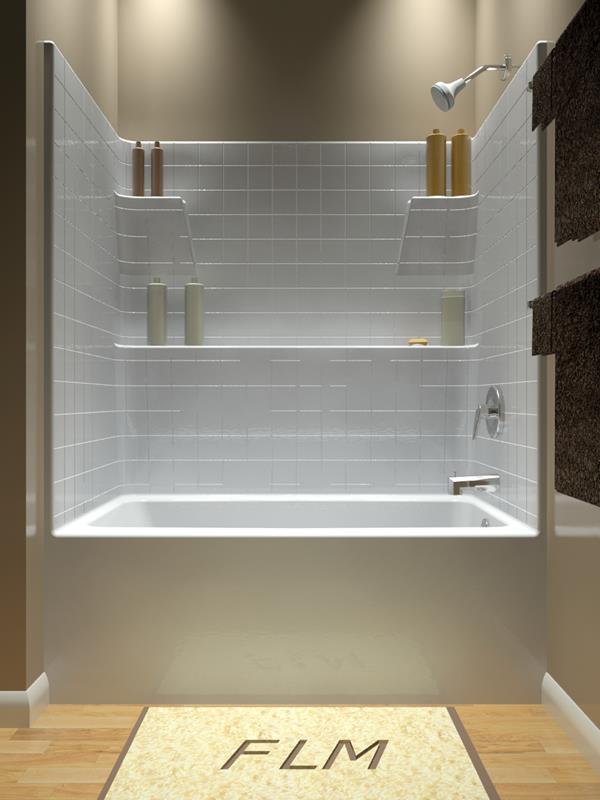 A tub and shower combo is just like it sounds – both in one. These are common and they give you both options in a single space. This works well for smaller areas if you can't separate the two.
Bathroom Shower Door
11. Hinged Door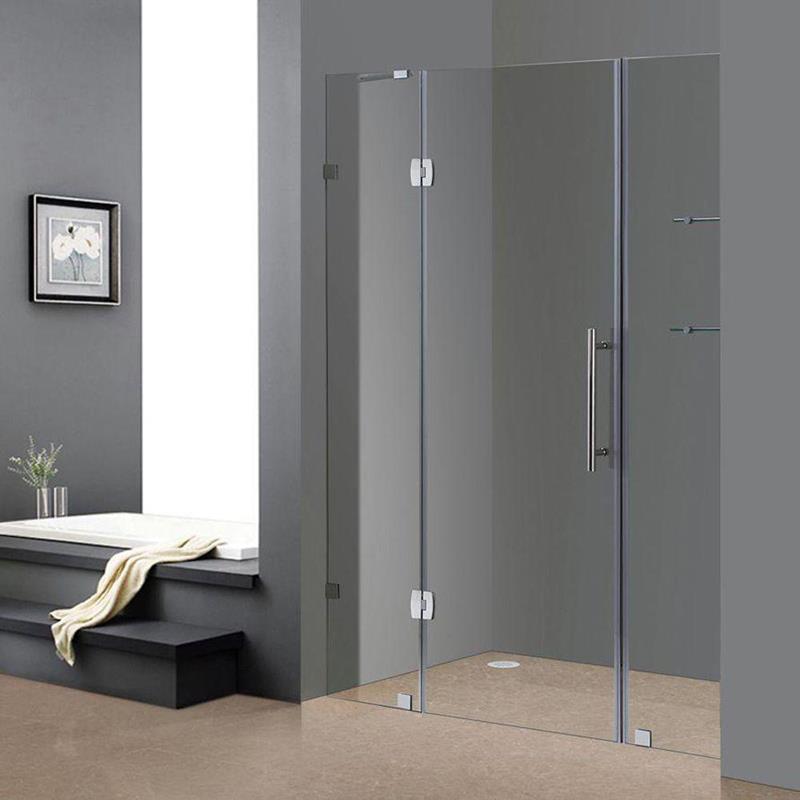 Hinged doors swing open in one smooth motion and have the hinges are in plain view.
12. Pivot Door
Pivot doors are similar to hinged doors with the difference being that you can't see the hinges with pivot doors. They also open in one smooth motion. It is really your preference when choosing between these or a pivot door.
13. Sliding Door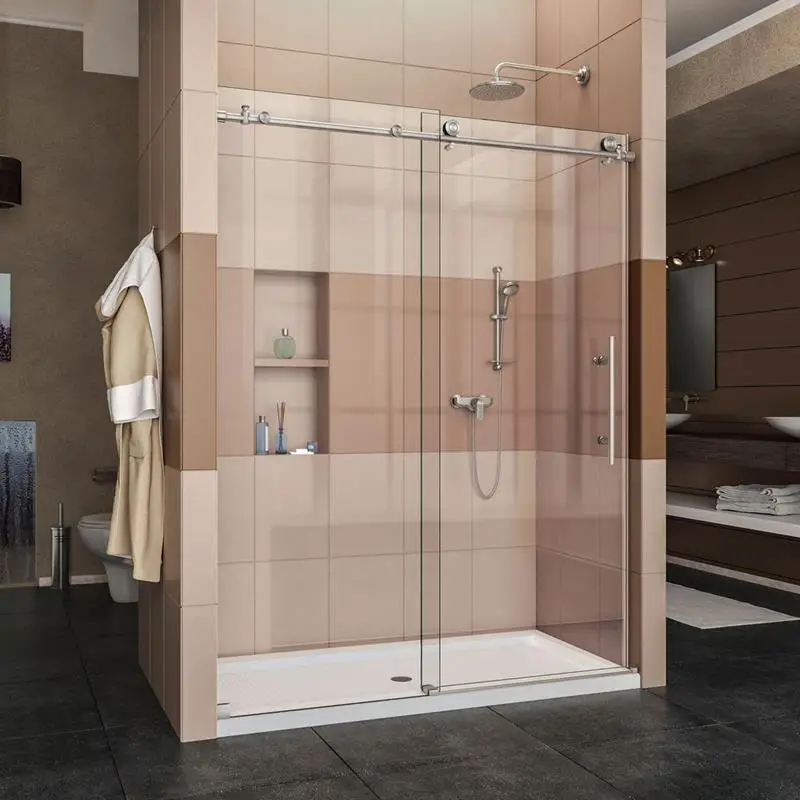 For bathrooms that are already low on space, you might consider a sliding door. Instead of opening outward, they slide along the front of the shower so you can get in.
Shower Head Types
14. Single-Setting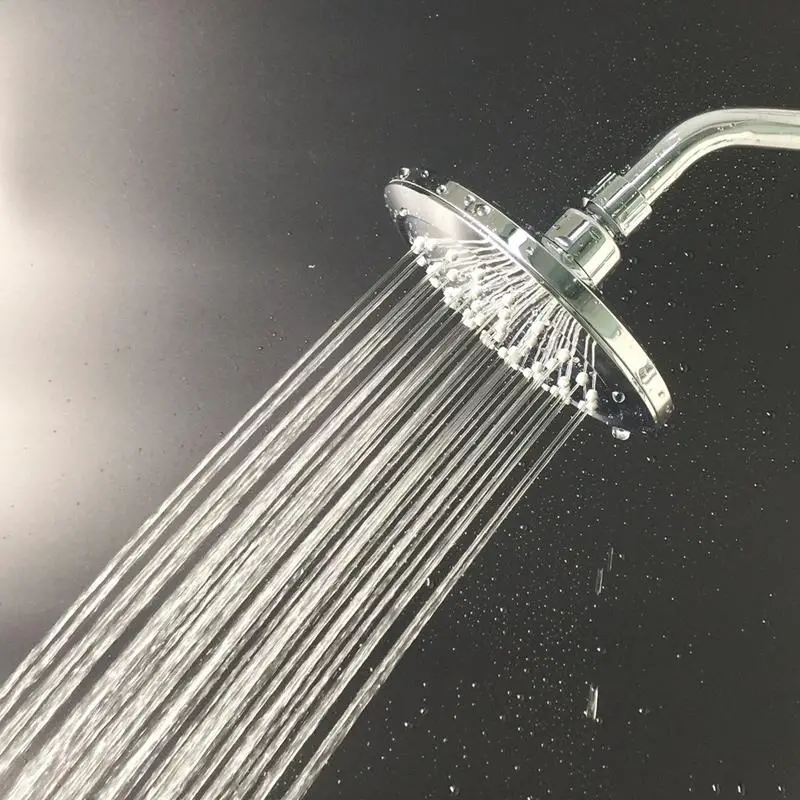 Like the name implies, with this type of shower head you are only getting one single setting when it comes to the water stream. These are the most affordable of all the shower head types.
15. Multi-Setting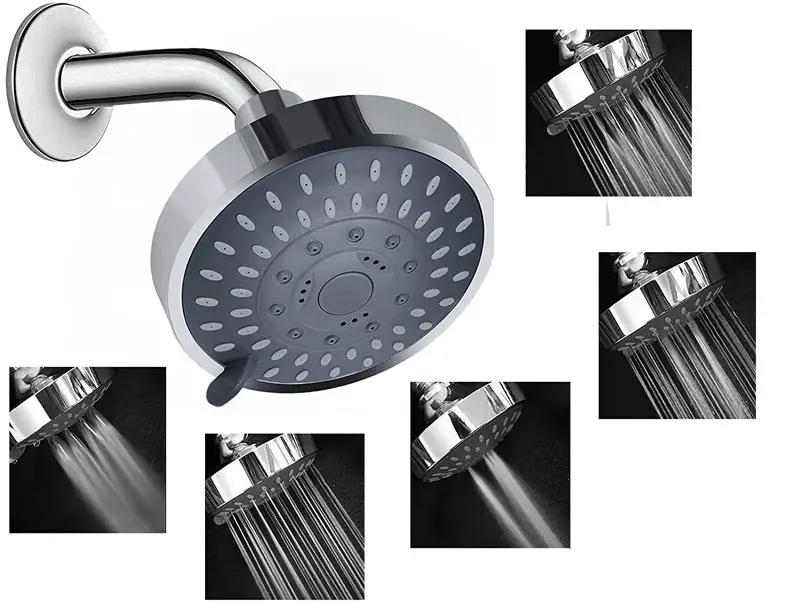 A multi-setting shower head will give you the ability to toggle between different water stream settings. Sometimes there are only two settings and sometimes you can have up to 10 or more. These will cost a bit more, but are certainly worth it.
16. Shower Tower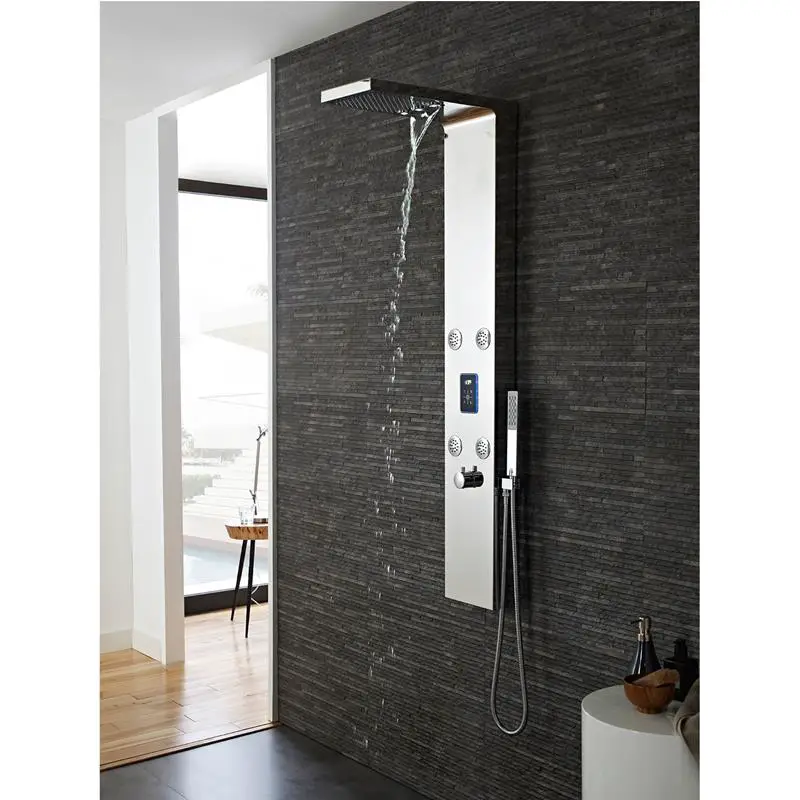 If you have a little extra money to spend, shower towers are worth it. They consist of a vertical shower that has several body jets. Water will spray directly at your body and it also has a fixed shower head at the top so you can use it as a traditional shower as well.
Bathroom Shower Design
17. Concealed Shower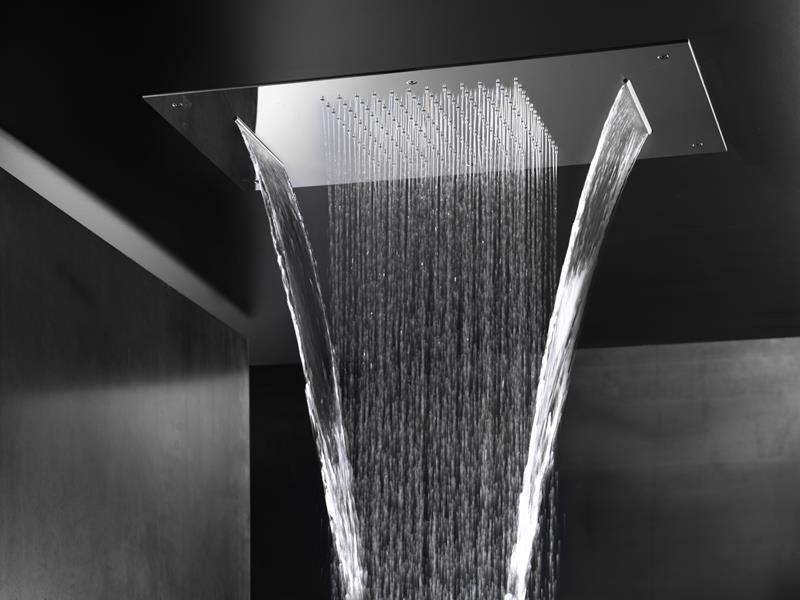 If you are looking for a more modern style, a concealed shower will look great. This type of shower head is not immediately seen, as it is tucked away in the ceiling of the shower. The water will fall from the ceiling like a rain shower or waterfall.
18. Body Shower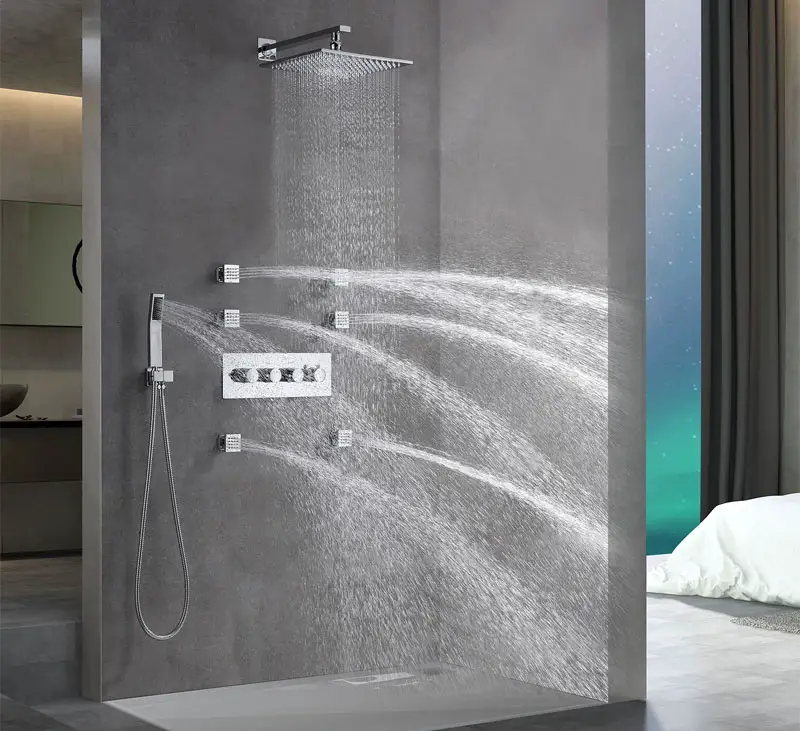 Like the name says, a body shower will spray water at you from multiple directions. The jets of water are strong and massaging, meant to give you a spa-like experience.
19. Exposed Rain Shower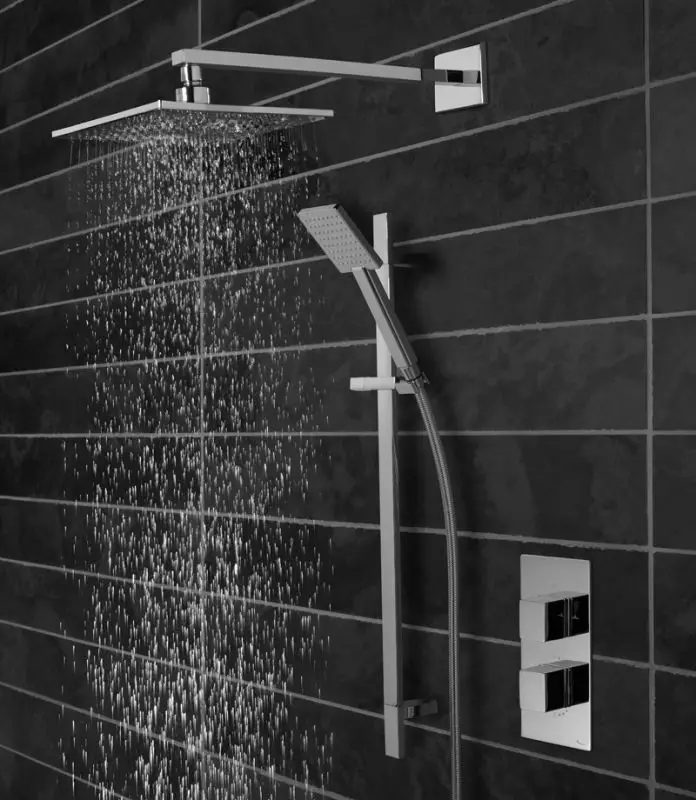 An exposed rain shower will have a shower head that comes out over you so that the water will fall on you like a rain shower. These are similar to the concealed showers, but this is actually a mounted fixture.
20. Waterfall Shower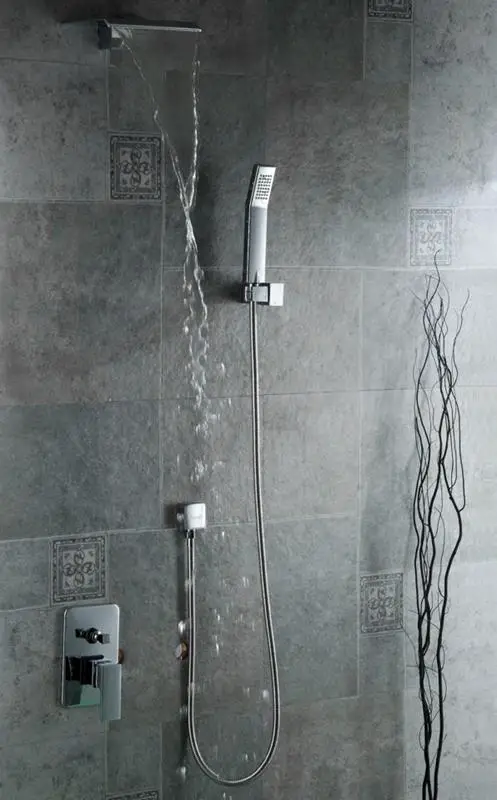 Waterfall showers are meant to have you feeling like you are taking a shower in a natural waterfall. A heavy gush of water streams down on you to cover your whole body.
Bathroom Shower Materials
21. Stone
A stone shower can make your bathroom take on various looks, from a rustic style to a calm mountain design. There are many different types of stone styles available, so you will find one to match your preference.
22. Tile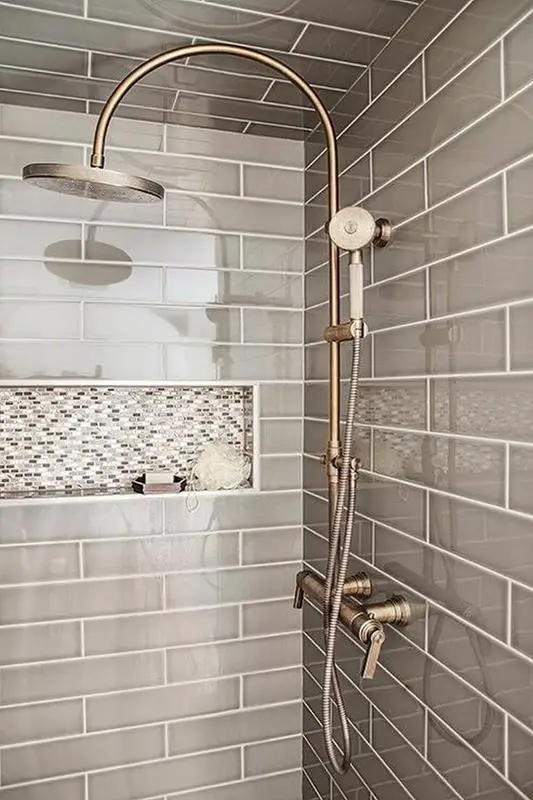 Tile is versatile and stylish. You can get all types of designs and colors, so you will always have something to meet your needs. Although not as easy to clean as a fiberglass or acrylic shower, tile is certainly a great option.
23. Fiberglass or Acrylic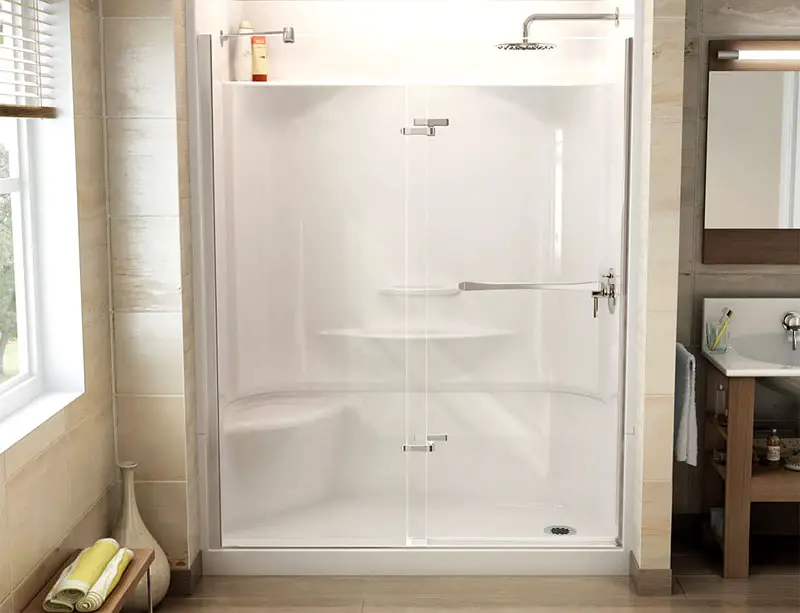 With a fiberglass or acrylic shower, you will usually be looking at a single piece for the whole thing. This types of showers are durable and easy to clean. They usually cost less than other styles.
Bathroom Shower Color and Finish
When it comes to stone and tile, you have choices when it comes to your color and finish. With fiberglass and acrylic, your options are a bit more limited.
With tile, you can get creative and choose from any color you want. Choose something that matches your personality and likes.
You can also get your fixtures, like door handles and shower heads, done in different finishes.
Bathroom Shower Dimensions
If you are designing a custom shower, the final size is completely up to you. As long as it fits in the space you have, you can get creative. Even with pre-fabricated showers, you have a wide range of sizes to choose from.
Walk-in showers can be spacious since you don't have to worry about the tub taking up space. Small bathrooms are great for walk-in showers.
Larger showers can be really luxurious, so find a size that meets your preferences.
Other Features
Accessibility
If you are designing a shower for someone with limited mobility, you can always install rails to help them get in and out of the shower. Also, having a walk-in shower with a low threshold to step over is a big plus for elderly people.
Seat
Built-in seating for a shower is a great idea for everyone, not just those with limited mobility. With a built-in seat, you have the ability to use the shower standing up or sitting down.
Handheld Shower Head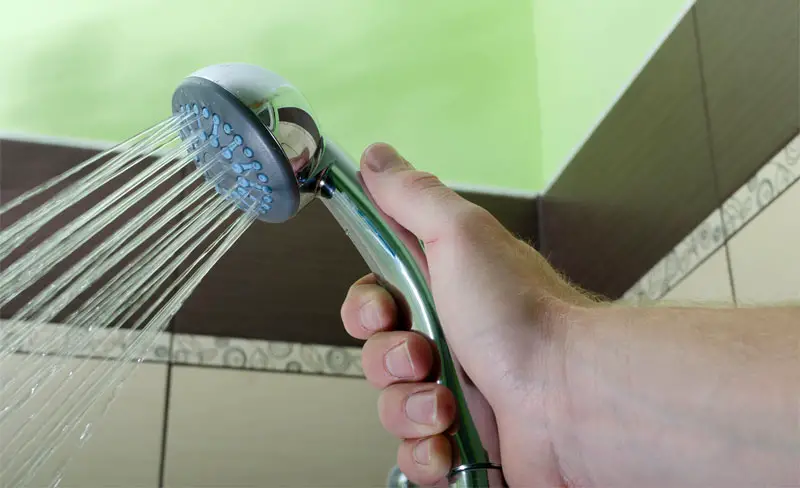 Handheld shower heads are real because you can take them off their perch and direct the water anywhere you want.
LED Lighting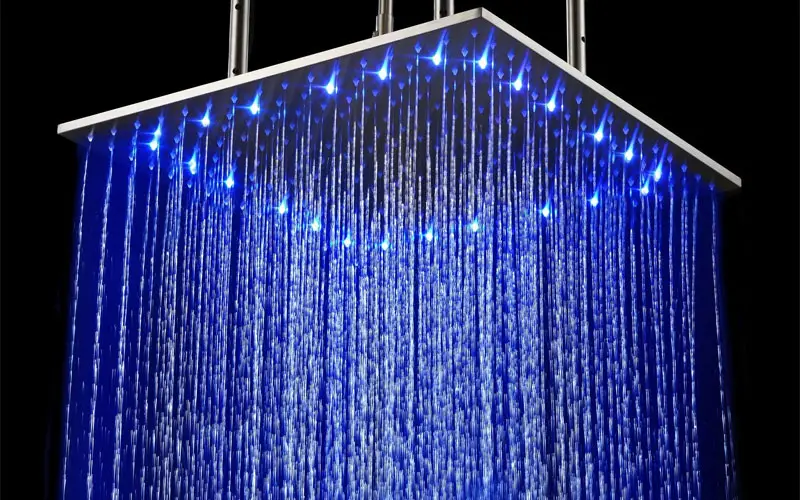 LED lighting from the shower head is a great way to create a modern environment and enhance the mood of the shower. You can get them in different colors, and some change color as the shower goes on.
Steam Generator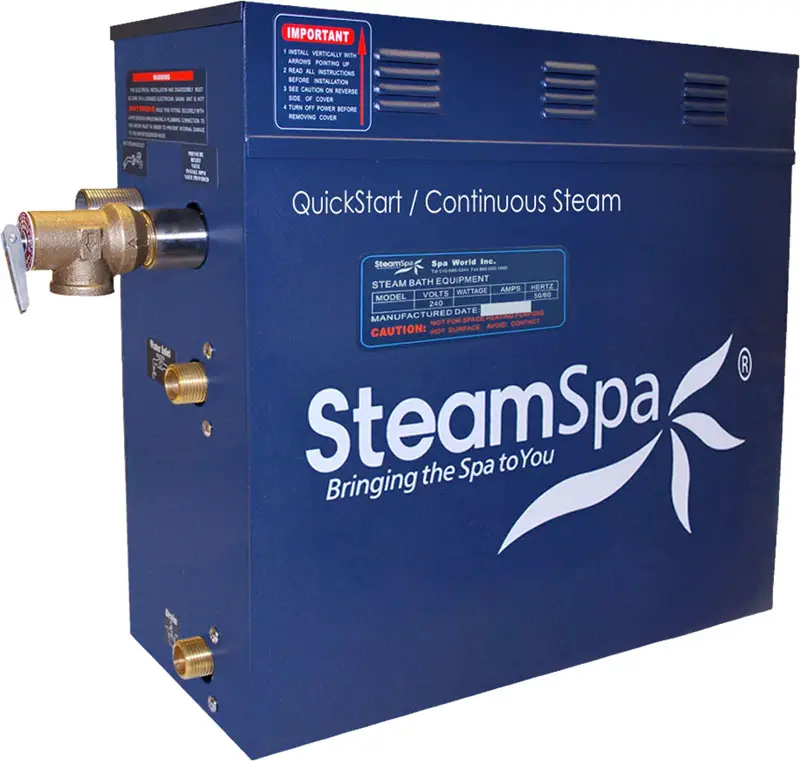 A steam generator for your shower can give you a spa-like experience and help you relax after a long day. Turn off the water and turn on the steam for a new experience.
Water System and Pressure
Water pressure for your shower is influenced by the overall water pressure of your home. Different types of showers require different levels of water pressure to function correctly. There are a few different kinds of water pressure systems for your home.
Unvented Water System – This is the most common. Large amounts of water are heated and stored under high pressure for immediate use.
Combination Boiler – Water is heated and used as needed and is not stored.
Gravity System – This is a cold water tank that is in a loft or attic that water uses gravity to let the water trickle down.
Overall Bathroom Design
When it comes to deciding what kind of shower you want for your bathroom, you need to look at the overall design of the whole room. If you have a smaller bathroom, it may not be the best idea to get a large shower.
If you have a smaller space, a corner shower, as opposed to one that is in the middle of the room, may be the way to go.
Consider if you want a more traditional look or if you want to go with something more contemporary. Also, does the shower and bathroom style fit the overall design of your home?
Take your time and choose what is best for you.
Cost and Budget
Did you know that, according to Home Advisor, the average cost of a new shower is $3295? Okay, we know that  sounds like a lot, but remember it is the average.
You can get your shower completed for much less than that. You can also spend much more if you are building a luxurious area.
Just remember that custom showers will cost more than pre-fabricated ones. The key with designing and installing a shower is setting a budget before you start and finding something that meets your needs for that amount.