Updated on July 29, 2022
Your kitchen is the lifeline of your home. Often a central area for everyone, we know you want to make sure it is designed and decorated exactly the way you want.
A Victorian style can work amazingly well for your kitchen. Based on an eclectic decor era, a Victorian style is known for its ornamentation, crafted designs, and order. It has a calming effect while at the same time leaving you in awe.
Over the years, the Victorian style has been adapted. Below, you will see some traditional Victorian designs as well as some modern ones that blend a few different styles. Take your time and find something that works for you.
Victorian Style Kitchen Design Ideas
1. A Victorian Country Design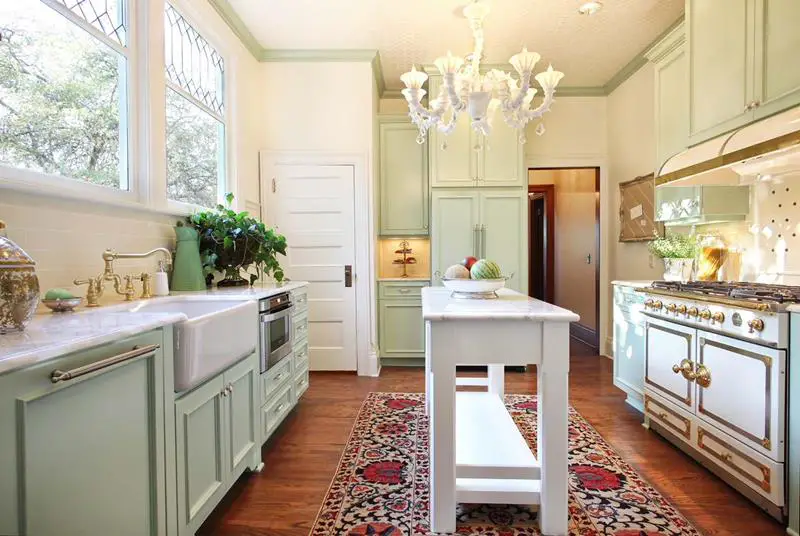 This charming kitchen has a wonderful country style, from the farm style sink to the wonderful and functional center island.
2. Industrial Early Century
With a simple approach to cabinets, this kitchen take a slight industrial approach with the tile backsplash. We love the center island's hardwood countertop.
3. Cozy Charming Area
4. Functional and Traditional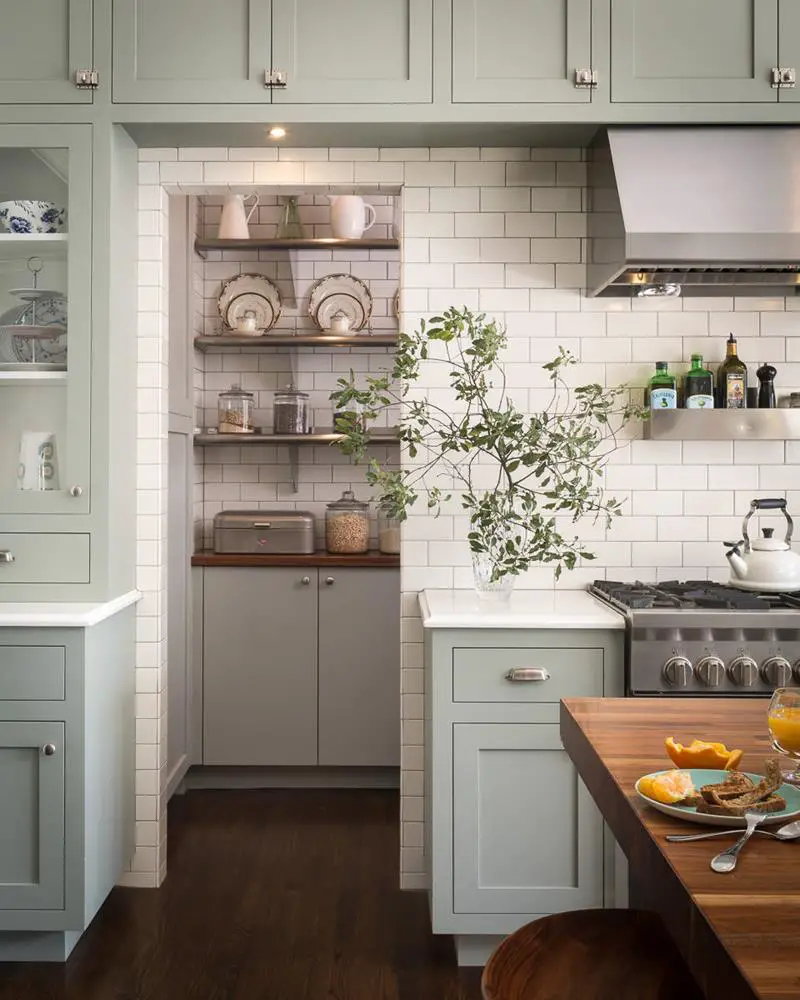 5. Herringbone Backsplash
When used appropriately, a herringbone backsplash can look amazing. We love how well the colors in this kitchen meld together.
6. Victorian Pink Design
A true Victorian style is going to incorporate color. Here, you see how well the pink ties everything together in every space.
7. Beautifully Crafted Designs
This crafted hood vent sits over a wonderful dark range. The cabinets in this kitchen will remind you of a great traditional style that never gets old.
8. Grand Center Island
By using and repurposing older furniture, you can transform your kitchen into a classic wonder. This center island is amazing and goes so well with the beautiful range.
9. Industrial Early Century
This kitchen takes on a grand industrial style, making you think of an old warehouse. It is romantic and functional, with wonderful colors and style.
10. Great Burgundy Backsplash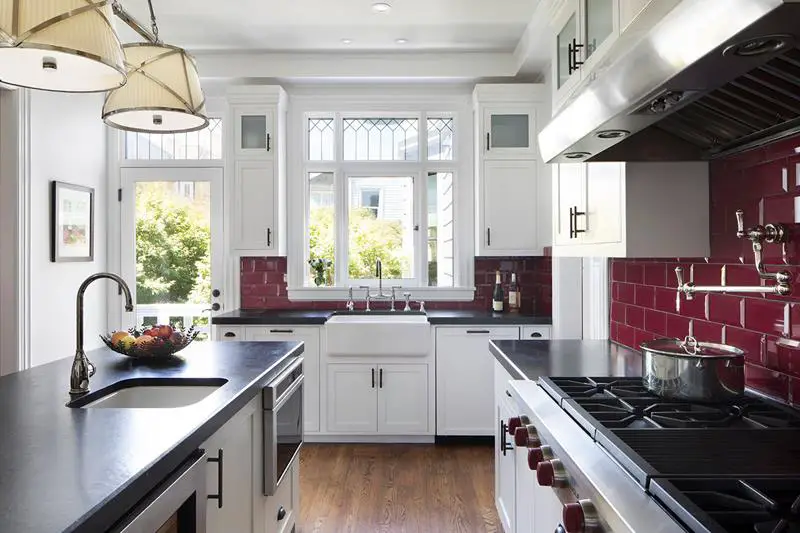 The simple addition of a burgundy tile backsplash here has transformed the whole space into a handsome area. This kitchen is sleek and functional.
See Also: 40+ U Shaped Kitchen Designs and Ideas (Photo Gallery)
11. Stainless Steel Update
In this kitchen, you are meant to think of an early 1900s style. With a great use of light and dark colors for contrast, we love the timeless decor and stainless steel use.
12. Traditional With Dining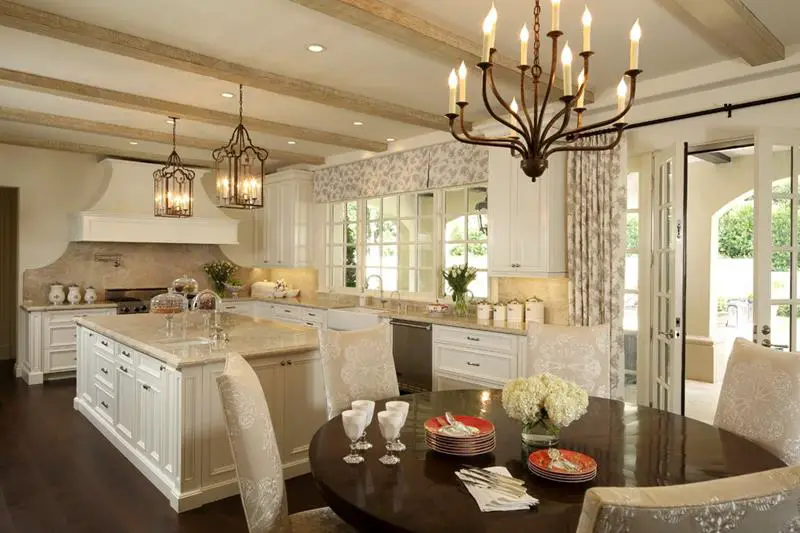 This traditional space is truly beautiful. The elegance is born from taking a rustic style and turning it light.
13. Hardwood Matches
14. Darker and Luxurious
15. Beautifully Crafted Hardwood
Look at how well designed this center island is, with its carved hardwood. It is a perfect match for this grand kitchen space.
16. Traditional Hardwood
We love how well this medium toned hardwood is used with the lighter floor and ceiling to make a beautiful space. The stainless steel appliances are a wonderful match.
17. Hardwood Backsplash Design
18. Beautiful Dining Area
Make a great meal in this kitchen then take it to this beautiful dining area. Surrounded by wonderful bay windows, you will enjoy the natural light in this space.
19. European Center Island
The center island in this kitchen steals the show. A repurposed piece of furniture, you will be transported to an earlier century.
20. A Contemporary Design
We love how well the traditional elements in this kitchen work with the the modern vibe that is created. This space is great, creating wonderful contrasts and a fun environment.
21. Hardwood and Stainless Match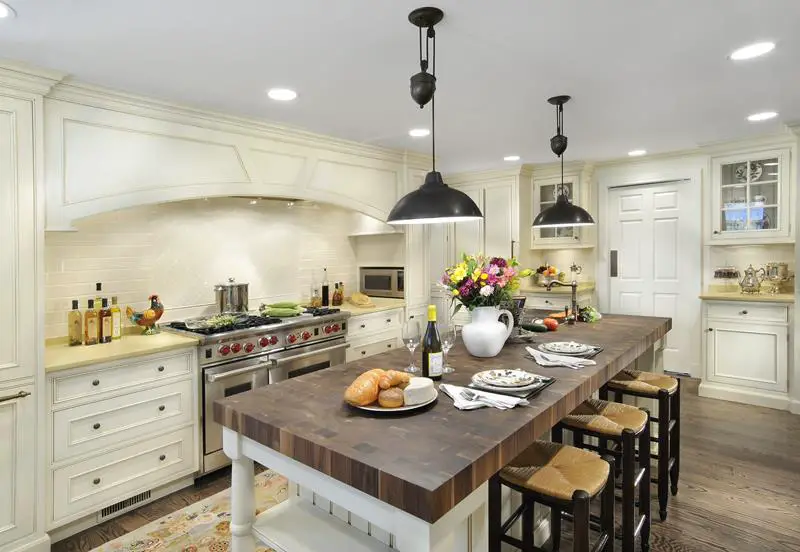 Never underestimate how much a hardwood counter and stainless steel appliances can do. They work together to spruce up this traditional space.
Don't Miss: 25+ Stunning Spanish Style Kitchen Designs