Disclosure: This post may contain affiliate links. This means that at no cost to you, we may earn a small commission for qualifying purchases.
Updated on July 21, 2022
If your house or apartment only has a solid front door, check out these alternatives to screen doors for keeping bugs out of your home if you want to breathe in the fresh air in your home. There's nothing better than that first weekend of the year with weather that's warm enough to keep your doors and windows open. The only downside to increasing temperatures is the increase in the bug population. Keeping flies, wasps, mosquitos and other pesky creatures out of your home is simple!
With these great alternatives to screen doors, you can spend your time enjoying the cool breeze coming in rather than spending your afternoon hanging fly strips. There are a wide variety of products on the market that are designed to allow you to keep your doors and windows open. Not only are there magnetic and retractable screen doors, but there are also fly blinds and storm doors. Each style is a great way to let fresh air in and keep bugs out of your home.
See Also: How to Get Rid of Fruit Flies in the Kitchen
1. Magnetic Screen Doors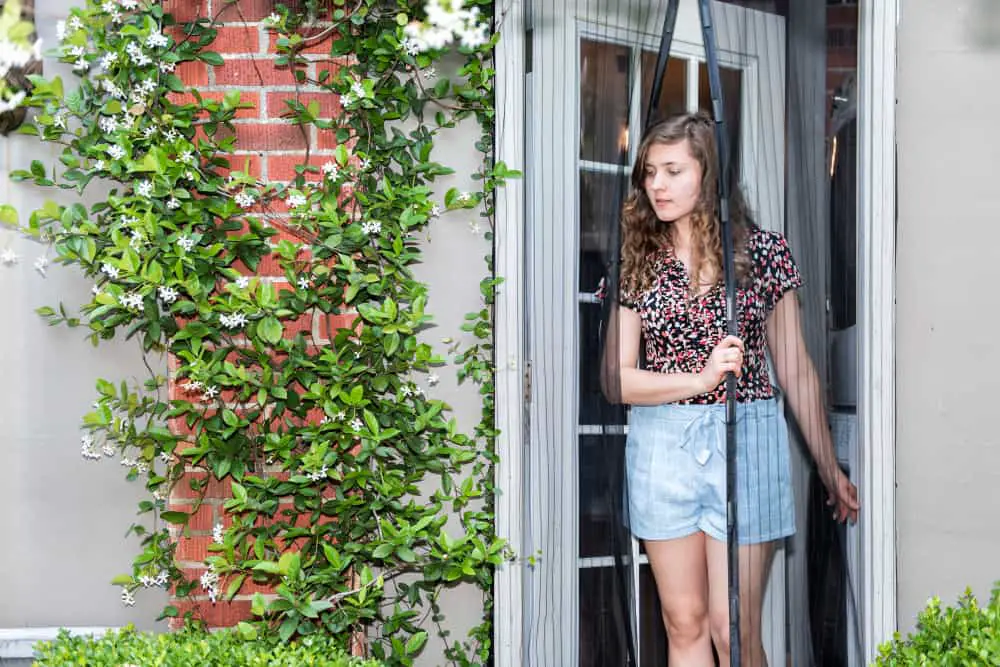 If you're tired of your home being stuffy when it starts to get warm outside and you want to be able to air out your house or apartment, one of the most affordable options you can go with is a magnetic screen door. This is one of those products that you've probably seen an infomercial for, and you can also find them in the "As Seen On TV" aisle at your local grocery store or big box store.
No matter where you pick one up, a magnetic screen door allows you to take a breath of fresh air without spending an arm and a leg on a framed door.
Are you the type of person that prefers open doors and windows rather than running the air conditioner or fans? There's no reason to waste energy and electricity when you can rely on nature to keep your home comfortable.
Maybe your kitchen gets hot in the summer and you want to leave your back door open, but you don't want to deal with bugs coming in? Regardless of your situation, magnetic screen shades are an easy way to keep your home cool and keep fresh air circulating.
Sale
Who Is This Best For?
Before you decide if this is the right style for you, you should take a couple of things into account. While these doors are great for the adult humans of the home, if you have small children or animals that you don't want to have free reign of inside and the outdoors, this may not be the right choice for you. To make it safer for kids, you can always use a magnetic screen door in conjunction with a baby gate.
If you have older children or you want your pets to be able to come and go as they please, this style of screen door would be a great choice. Your kids can go in and out as much as they want without slamming doors or letting bugs in!
Pros and Cons
Pros:
Allows hands-free entry and departure from your home, perfect for carrying a tray of food inside after grilling
Keeps bugs and other pests out while allowing air to pass through
Magnets allow the door to shut quickly and securely as people and pets use it
Installation is super easy and can be done in minutes
Ideal for rental homes since there is no permanent construction that needs to be done
Cons:
Not ideal for homes or RVs where there is a lot of wildlife, as any animal can use the door
Does not close securely so you can't keep kids or pets inside
Can tear if not handled gently
2. Retractable Door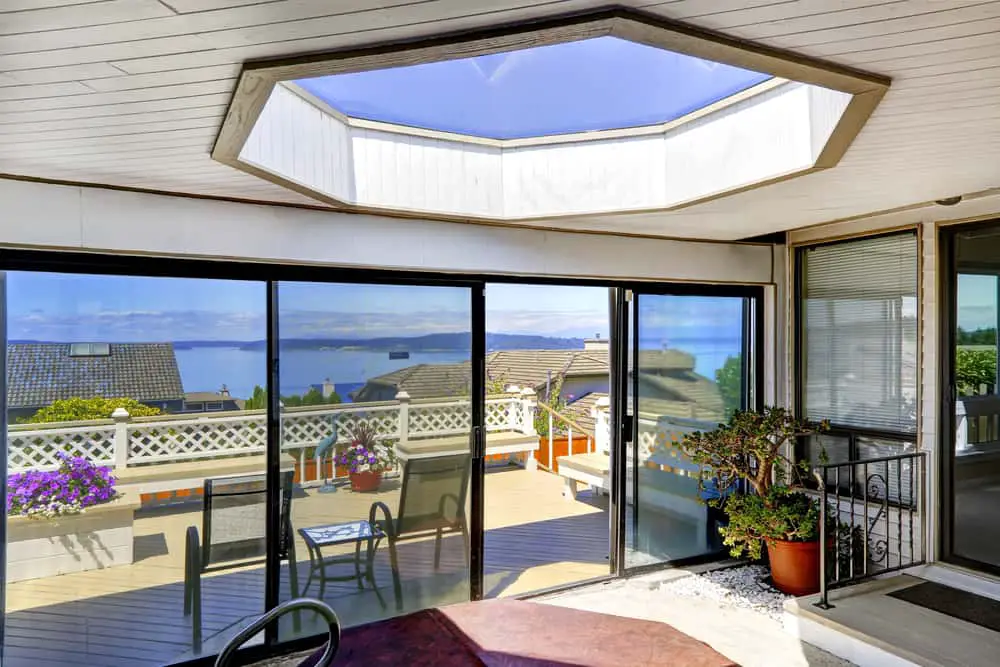 If you love the idea of a screen door but you want something that is much more low profile and that can be hidden when it's not being used, a retractable door is the way to go.
These are a fantastic choice for homes that have indoor-only pets and small children, as retractable doors often latch and many of them even have a lock for added safety and security. Retractable doors come in a variety of colors and styles, so you're bound to find a fantastic door that matches the color scheme of your house.
One of the best things about retracting screen doors is that they can be used on a back door, front door, or even a side door off of your garage. They are a great way to allow cool air to enter your home or workspace and they can add ventilation to your garage if you often work with chemicals that shouldn't be inhaled for an extended amount of time.
Who Is This Best For?
Homes with little kids and with pets would benefit greatly from a retractable screen door since you can latch them to keep animals and kids in the house. This style of door is also ideal for homes that are allowed to be modified. Whether you own your home or your landlord is cool with modifications and improvements, this would work out well for many families.
If you are looking for a hands-free option, this style would not be ideal, since you have to unlatch it when you want to use it. For a hands-free option, the magnetic style would be a great choice.
Pros and Cons
Pros:
Closes nice and tightly with fewer gaps for bugs to squeeze through
The low-profile design blends in when retracted and when in full door mode
Some varieties have finishes that protect from UV rays while still allowing a breeze to come in
You won't need to take the retractable door down for storage in the winter
Cons:
Can be on the expensive side
Installation is not hard but needs to be perfect to ensure the door will work properly
Can be damaged easily if it is used aggressively
3. Fly Screens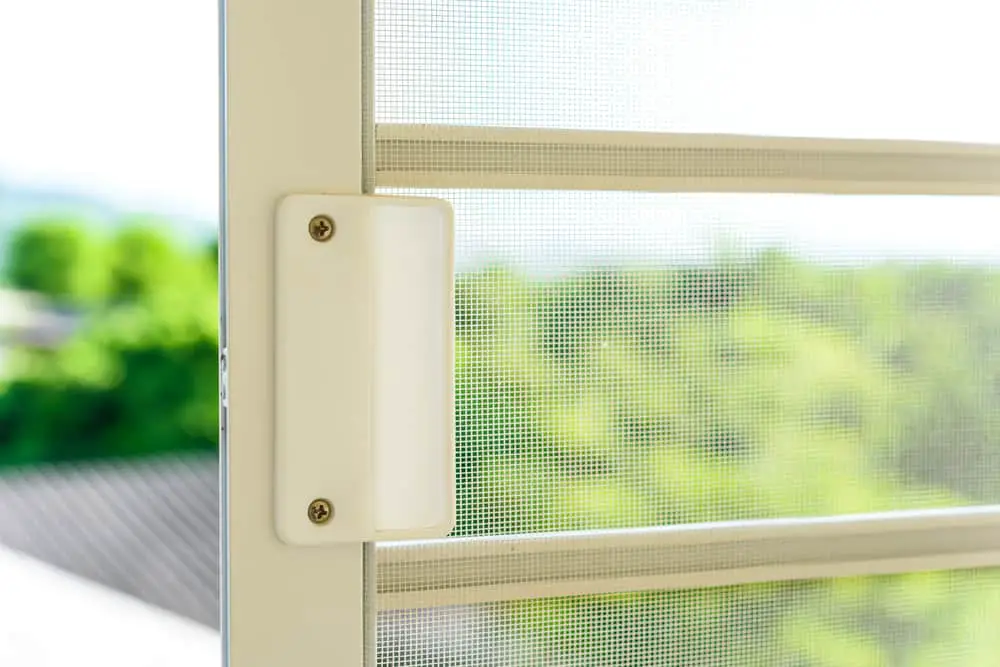 There are a handful of items on the market that are intended to keep flies and other insects out of your home. From fly blinds to screens, if you want to keep flies from entering your personal space use one of these handy products. There are three main varieties of fly screens available and which one is best all comes down to your personal preference and what is compatible with your home.
Retractable Fly Screens
These can be used in doorways as we covered above and you can get retractable screens for your windows as well. They are often referred to as retractable screens and roller screens since they unroll to cover the negative space you want to eliminate, whether it be a window or a doorway. You can install them either vertically or horizontally.
Hinged Screens
A hinged screen door is installed and used as a door. Since it has hinges, it swings open and closed like a regular door. They can be installed with most metal casements, timber, and UPVC.
Pleated Fly Screens
Similar to retractable fly screens, a pleated screen can be moved out of the way when not in use. The difference between the two styles is that retractable screens roll up and a pleated screen folds up accordion style.
Who Are These Best For?
Basically, anyone that is looking for a reliable way to keep bugs out. These are ideal for those that are allowed to put up doors and do minor modifications to their homes.
Pros and Cons
Pros:
Easy to install and can be put up in minutes
Lightweight options that block bugs while still being breathable enough to let in a breeze
Fairly inexpensive choices
Cons:
4. Storm Doors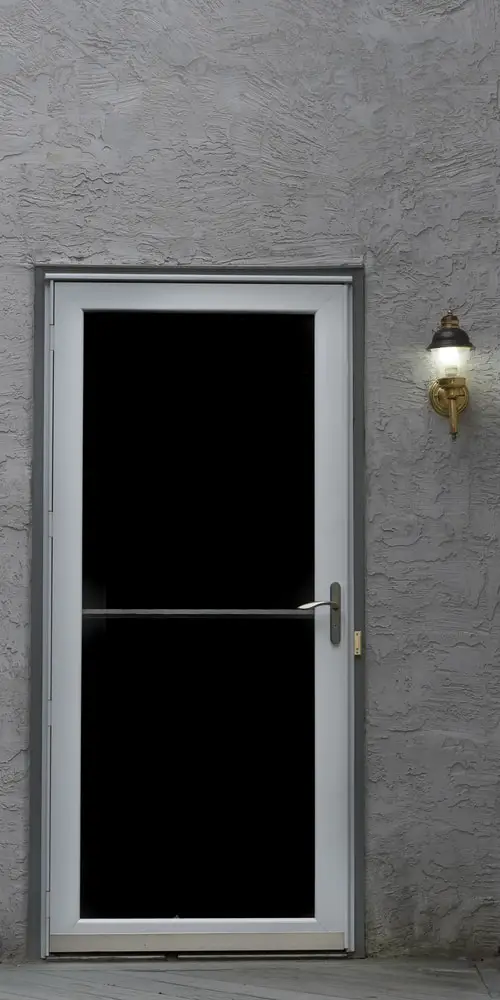 If you want a secure and sturdy way to allow sunlight and fresh air to come into your home while keeping bugs out, then a storm door would be a good alternative to a full screen door.
Storm doors consist of a frame with 2 panes of glass, one of which can be moved to reveal a screen. They are super versatile since you can keep the mobile panel covering the screen if it is a chilly day or you can lift the glass and allow airflow on warmer days.
Storm doors are excellent because they are installed on the doorframe and have secure latches. One of the best things about the addition of a storm door is that they last a long time since they are intended to be a semi-permanent installation.
They come in a wide variety of colors so you are bound to find one that matches your decor. If you have eclectic tastes and a very specific color palette, you can even paint your door for a better fit.
Who Is This Best For?
Due to how sturdy and secure a storm door is, they are a great choice in several cases:
Great for homes with little kids and pets that need to stay in until they have a guardian present
People that own their homes and want to add some functional curb appeal
Those that want the option to have a good breeze without allowing any bugs to enter their home
Pros and Cons
Pros:
Large glass panels allow lots of natural light to flood the home
One panel moves to reveal a screen which lets in a breeze while keeping bugs out
Sturdy and can be locked for added security
Easy way to keep kids and pets securely in your home
Cons:
More expensive than other screen door alternatives
May be a pain if you are returning home with groceries and small children
FAQs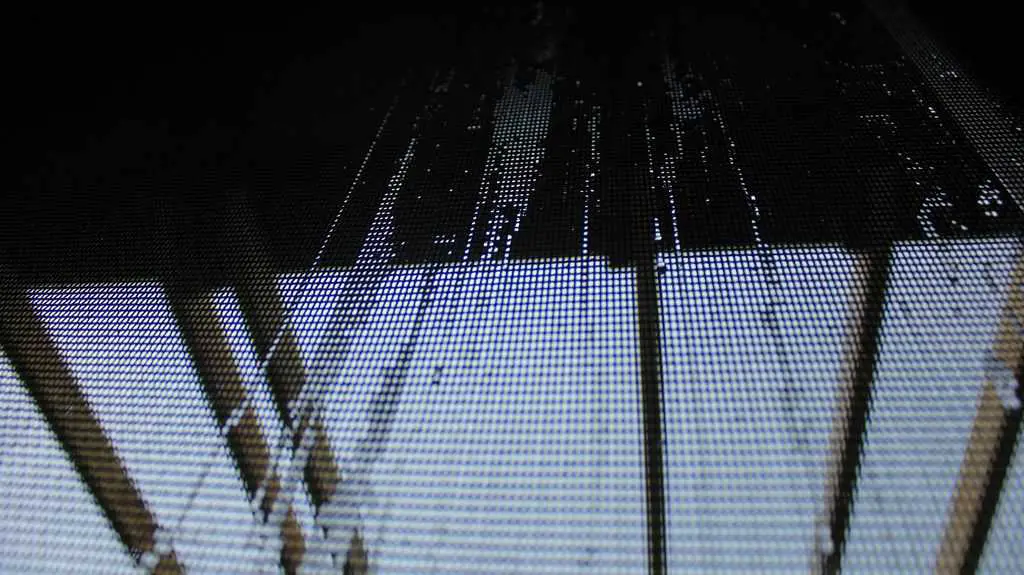 What is the best budget-friendly alternative to a screen door?
There are several screen door inspired products on the market that are fairly affordable. If you want something that is on the low end of the cost spectrum and allows you to leave and enter your home hands-free, a magnetic screen door would be a good choice.
They are held closed by magnets, making them a great choice for a door that leads out to your deck or backyard. If you are grilling out with friends, you can carry dishes, food, and drinks without needing to set things down to open the door or relying upon one someone to help you with the door.
The magnetic screen door is also ideal if you have pets that spend time both inside and outside. They'll be able to come and go as they please without you needing to get up and help them.
Are there any screens that can be used in a camper or RV?
This is another area where the magnetic screen doors shine. Because they are so easy to install and require no alterations to the door frame, they are ideal for temporary use, including being used in a travel trailer or mobile tiny home. You can also use a pleated fly screen since they fold up and get out of your way.
Conclusion
Whether you're looking for a permanent solution or something temporary, there are a ton of alternatives to screen doors for keeping bugs out of your home! No matter what your needs are, you're sure to find a great product to allow fresh air to flow through your home while keeping the bug population to a minimum.
If you're looking for a temporary screen, a magnetic screen door would be a great choice, as they allow hands-free entry and exit. If you want something more permanent, then a storm door would be a fantastic choice. Regardless of your needs, there are a ton of alternatives to screen doors for keeping bugs out of your home!