Updated on October 5, 2022
In a busy world, it's vital to stay relaxed, refreshed, and fit, but going to the gym can add one more thing to our daily to-do list. Finding the time and energy to drive to yet another place after a long day of work can feel daunting, which is why many people prefer a home gym to a commercial gym.
But is it possible to have a home gym that is both useful and visually attractive? The answer is a definite yes!
The dream of having a beautiful home gym doesn't have to be a dream any longer. From turning a spare room into a relaxing yoga retreat, or adding on a spectacular multi-functional gym room, we've got an amazing gallery of home gym designs that will knock your socks off.
See Also: 33 Truly Impressive Home Gym Design Ideas
Home Gym Design Ideas
1. Bright Barn Doors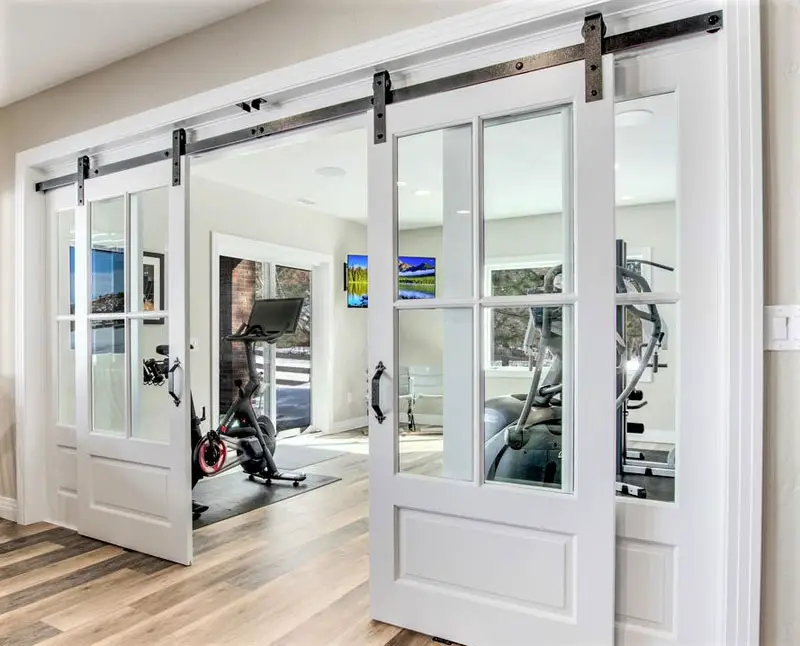 Sliding barn doors create seclusion, but glass panes keep it feeling light and open. This is especially important for basement home gyms, which can feel dark.
2. Rustic and Modern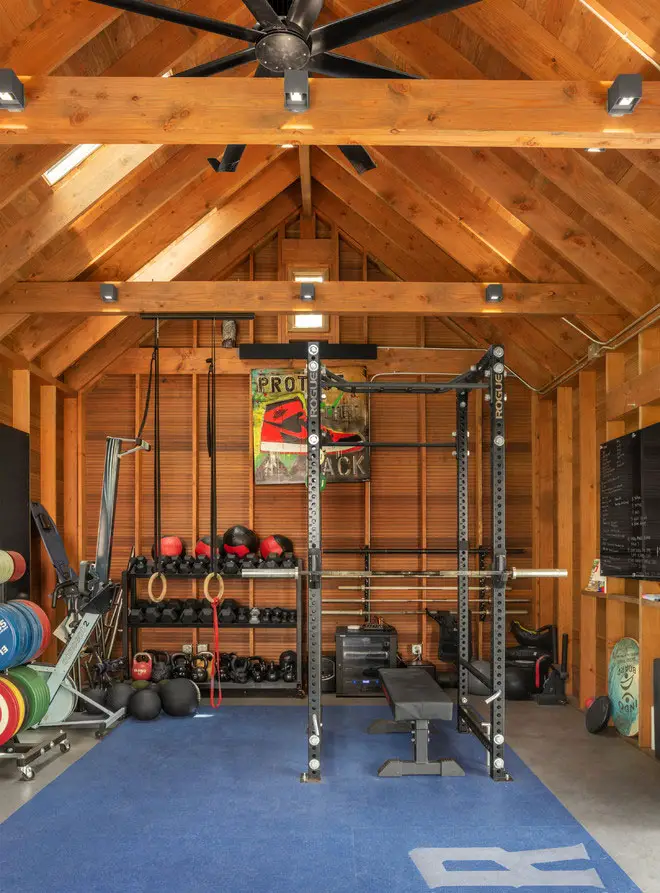 Creating a cabin-like feeling, exposed beams and a concrete floor add texture throughout the space.
3. Open Air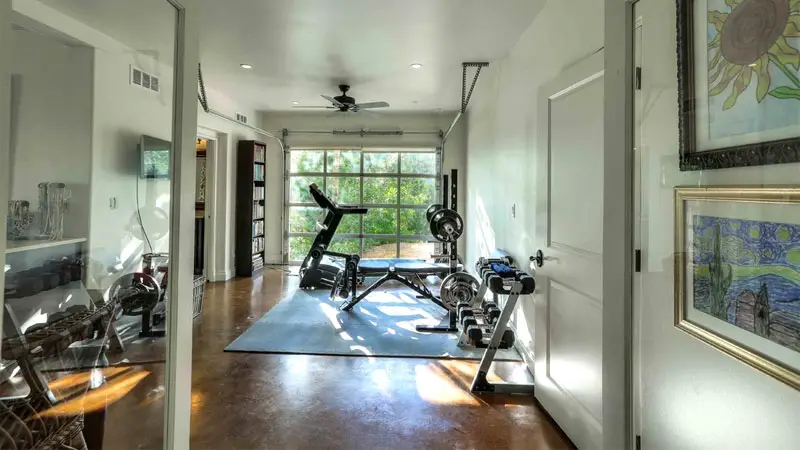 An industrial glass roll-up door lets in light, but can also be opened for a relaxing breeze during a tough workout.
4. Soft Gray Tones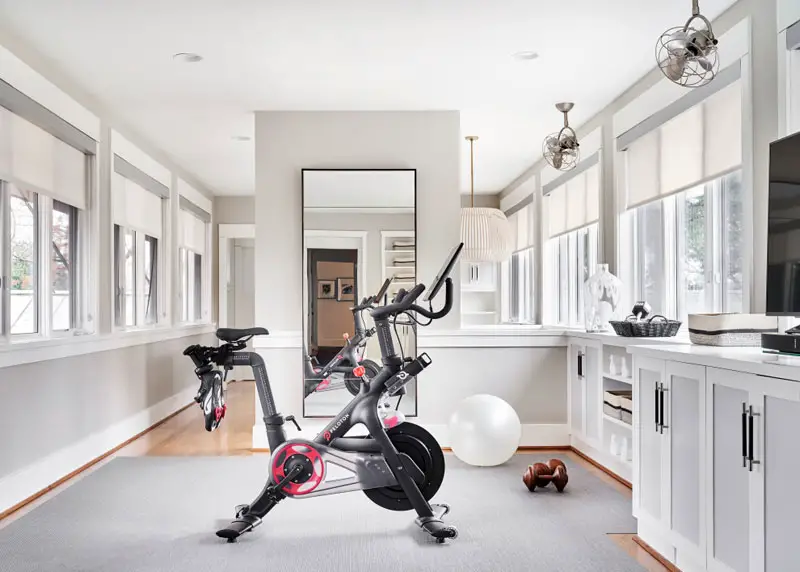 Contemporary craftsman details create a fresh and open feel.The soothing gray walls and wood floor are kept simple, and ceiling-mounted vintage-inspired fans are a genius addition to this workout room.
5. Gray Walls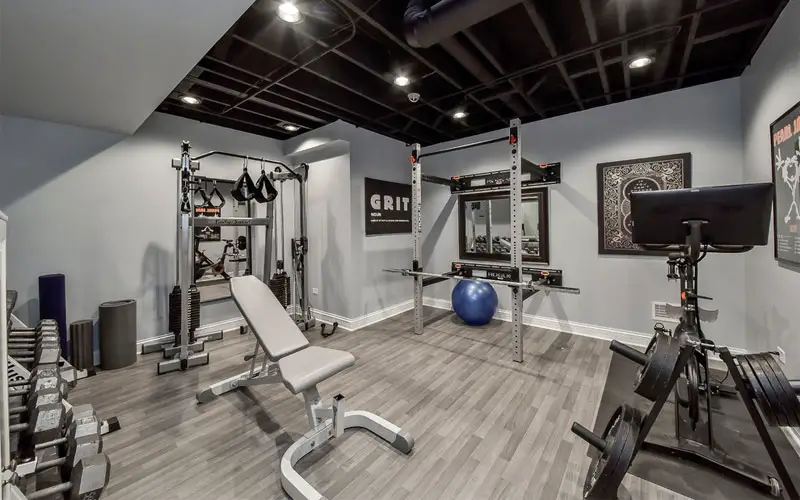 This room is grounded with gray wood flooring and decorative baseboards. An open ceiling, painted black, makes it feel similar to a commercial gym building.
6. Relaxing Retreat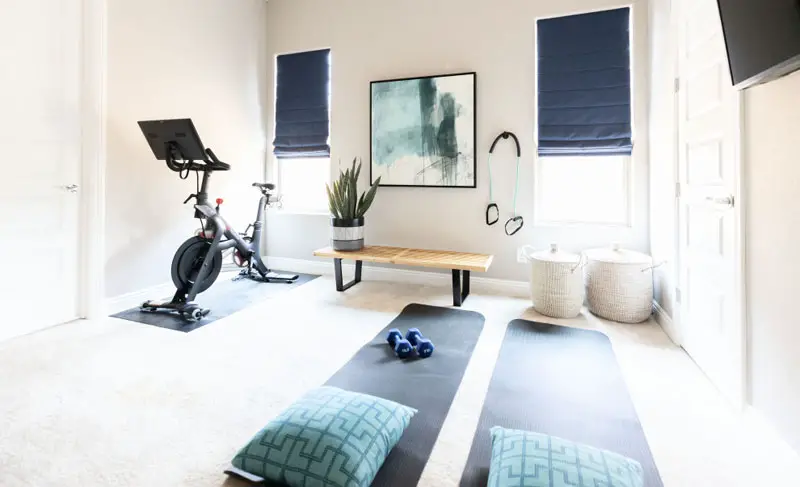 Adding a home gym doesn't need to be a design overhaul. This spare room is a simple but relaxing exercise retreat, using just a few design accents in blue and cream.
7. Bold Photo Walls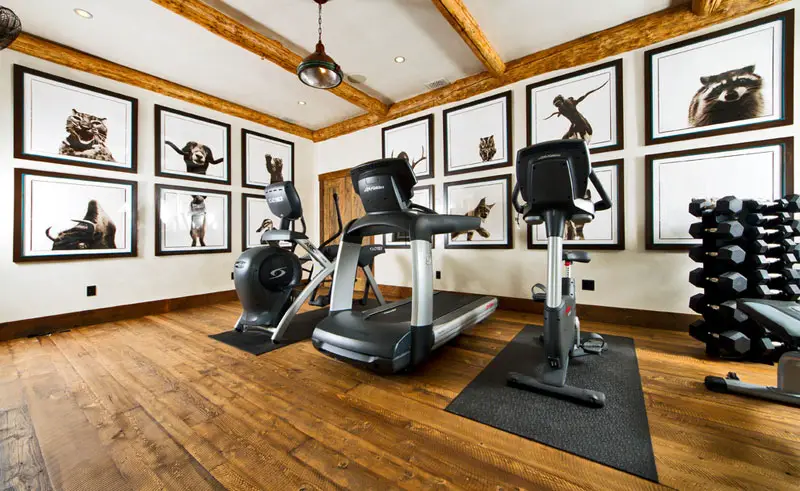 An array of playful animal prints creates a fun atmosphere. Even your home gym can display your unique design sensibility!
8. French Country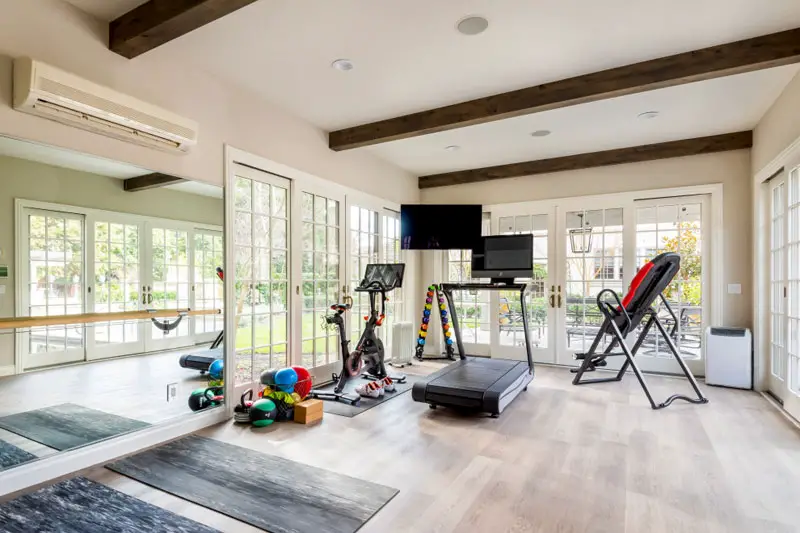 Several sets of French doors surround this lovely, light-filled exercise room. Rich wood beams adorn the ceiling.
9. Contemporary and Cool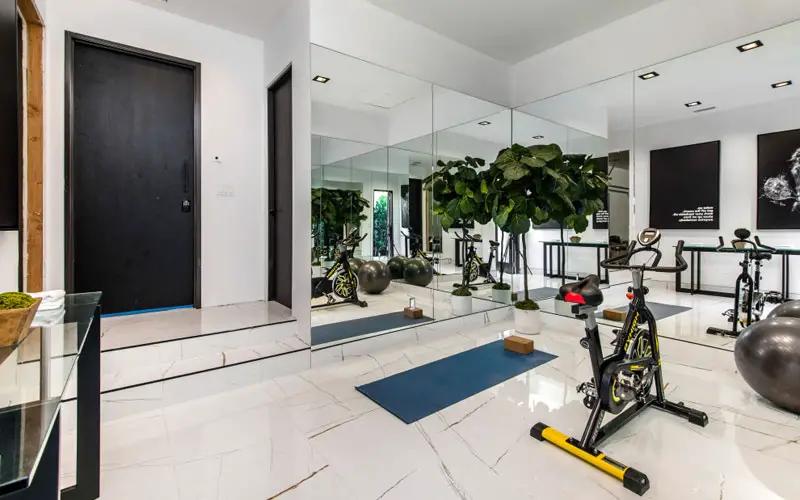 Sleek marble floors are a showstopper in this stunning space. Contemporary design choices like black doors make it feel rich and modern.
10. The Perfect Combo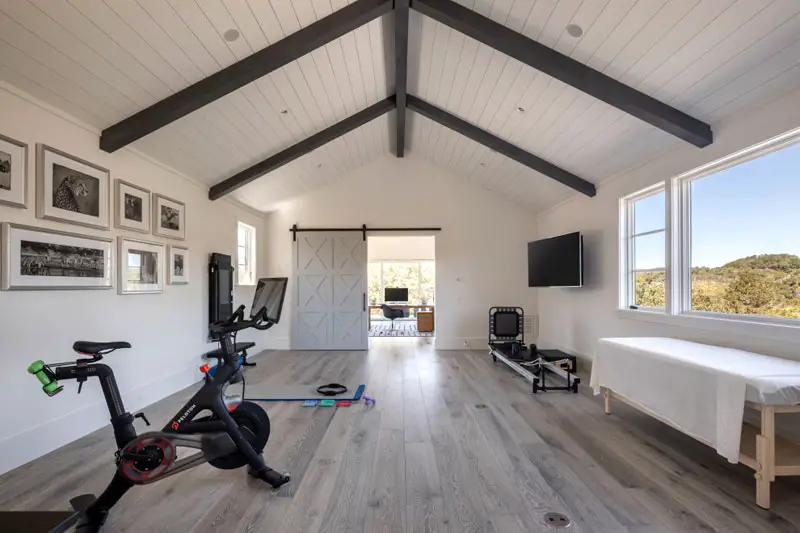 Setting up your workout space next to your home office just makes sense. This work-from-home getaway is calming, the perfect place to work and unwind.
11. For Two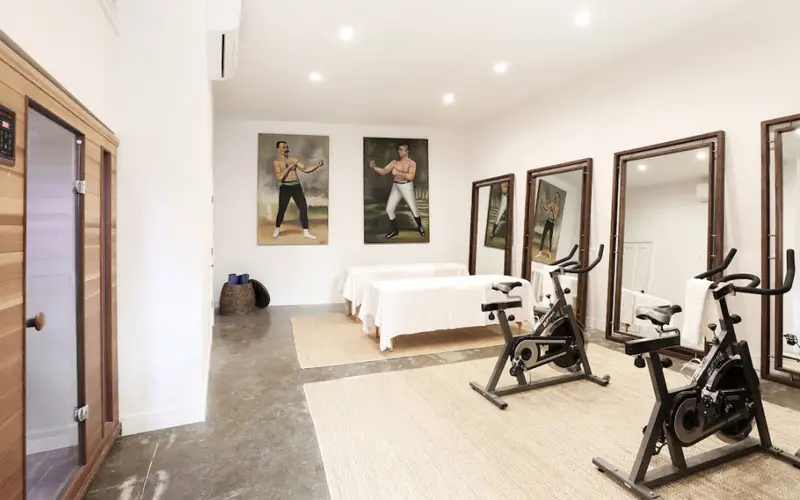 Who wouldn't want a dedicated home massage and workout room? A bit of vintage charm feels just right in this luxurious space.
12. Stonewalled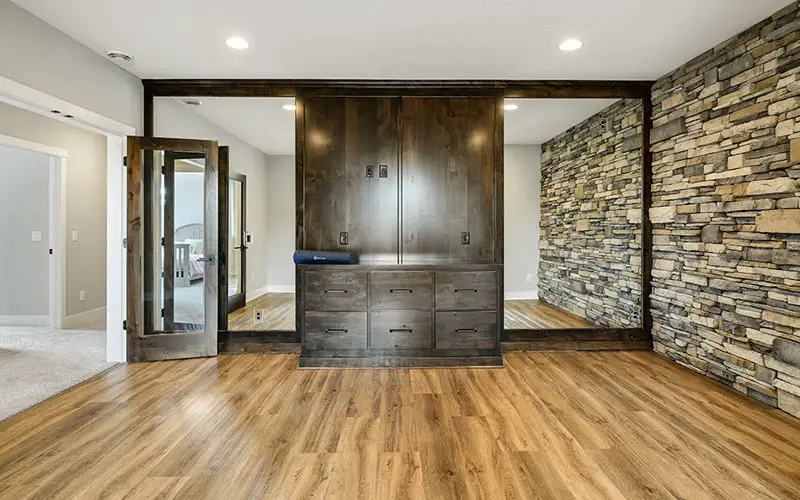 Features such as a stacked stone wall and dark wood built-in cabinets create drama in this stunning traditional design.
13. Nature's Remedy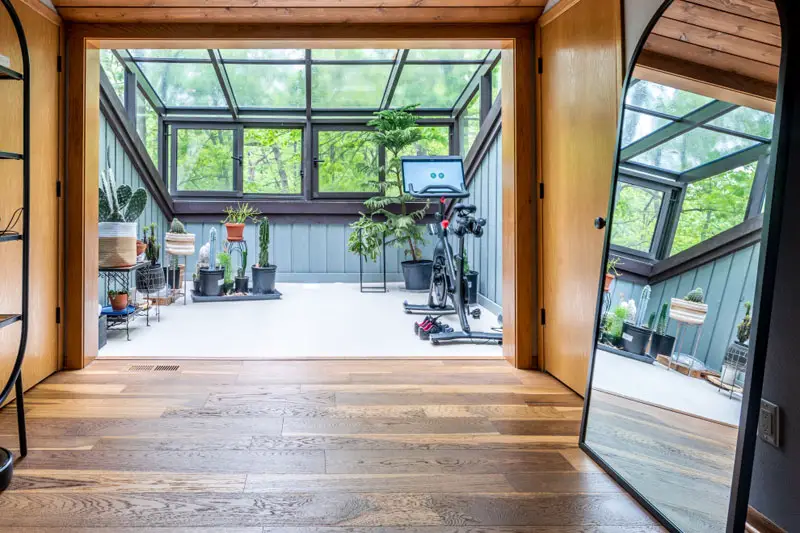 Let the outdoors in by placing your home gym in an atrium. The bright sunshine is good for you and your plants!
14. Farmhouse Home Gym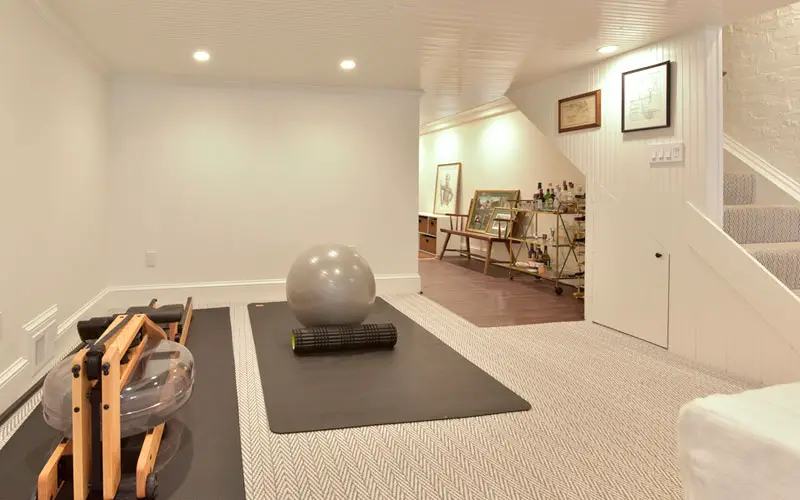 White shiplap walls and ceiling bring in farmhouse charm to this exercise space. Keeping walls light in color makes the room feel bigger and brighter.
15. Mountain Retreat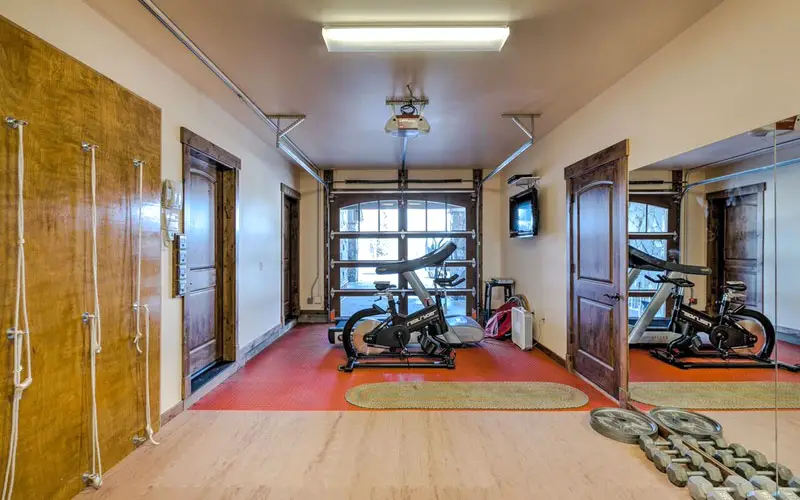 This gorgeous mountain style home boasts a roll-up door with arched windows. Light beige walls and flooring feel warm and calming.
16. Upscale Elegance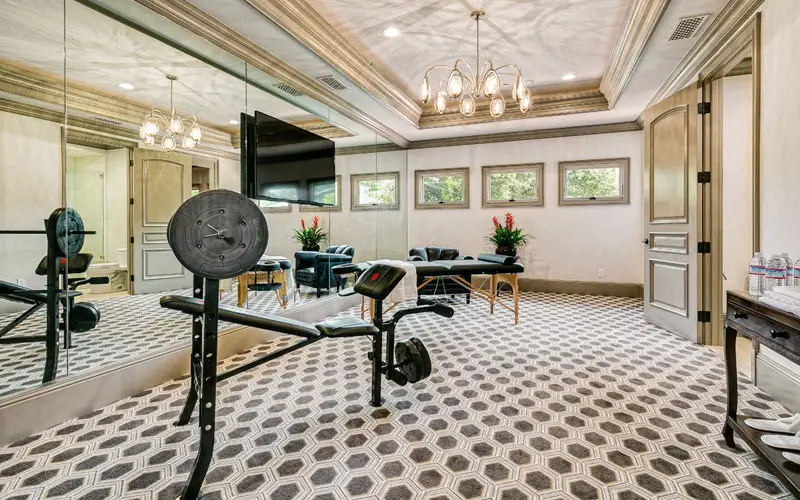 An opulent home also needs an opulent home gym.  This exquisite example has a recessed ceiling, stunning brass chandelier, and mirrored wall.
17. Contemporary and Uncluttered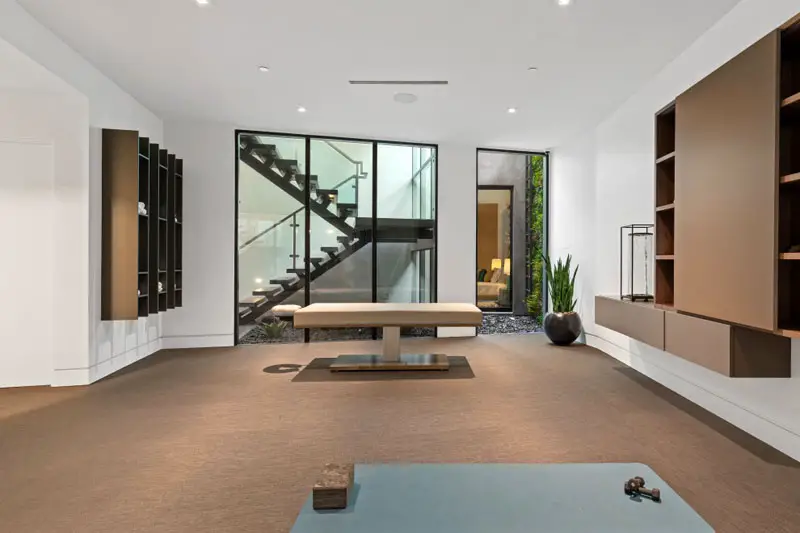 A peaceful, uncluttered space provides a sense of serenity.  Minimalism in your gym design is a sure-fire way to create a relaxing atmosphere.
18. Color Block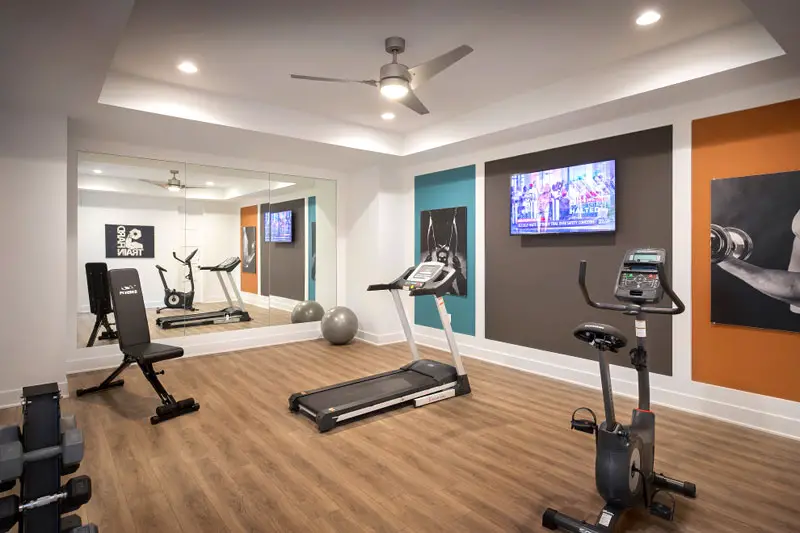 Pops of color on the main wall adds an exciting element to an otherwise neutral room. Black and white artwork adorn each panel, keeping the room balanced.
19. Bright Idea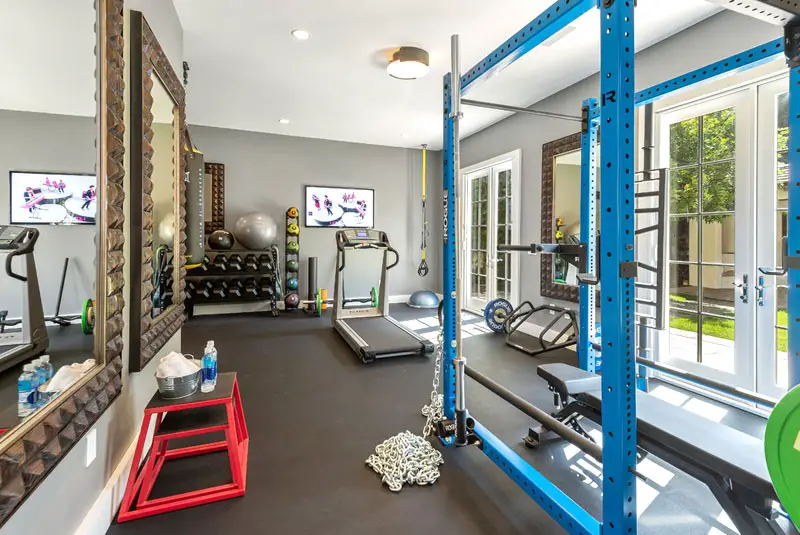 Color isn't just for walls! Painting your gym equipment in fun hues is an out-of-the-box idea that really adds a lot of punch.
20. Under the Sea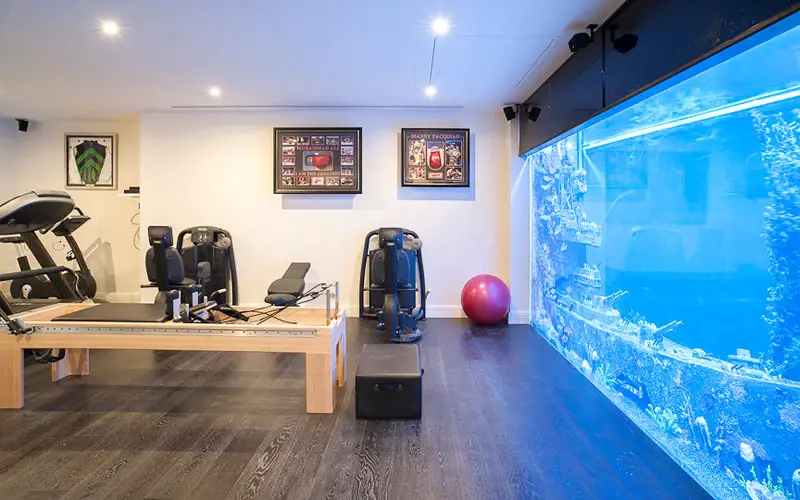 Working out is never boring when an entire wall of your room is an aquarium. White walls and dark flooring keep the rest of the room simple.
21. Traditional Wood Floors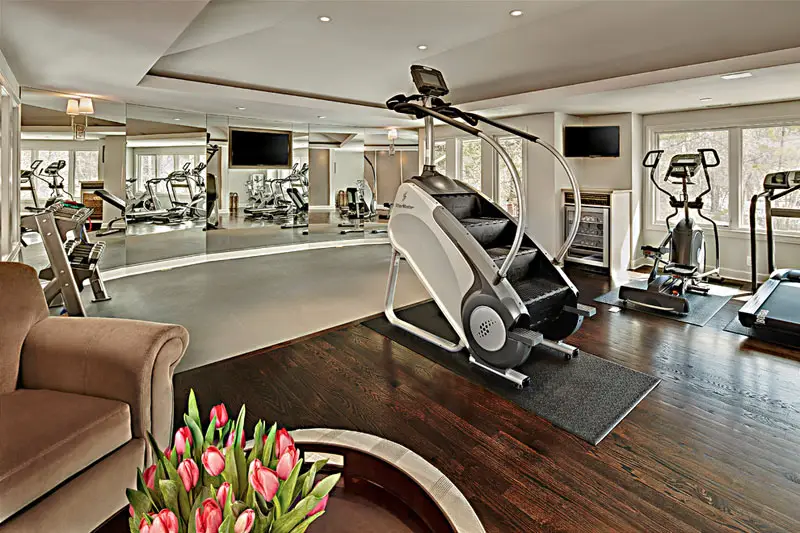 Dark wood flooring and a sofa bring elegance to this workout space. Placing a mini fridge for easy access to water is always a good idea in home gym design.
22. All Together Now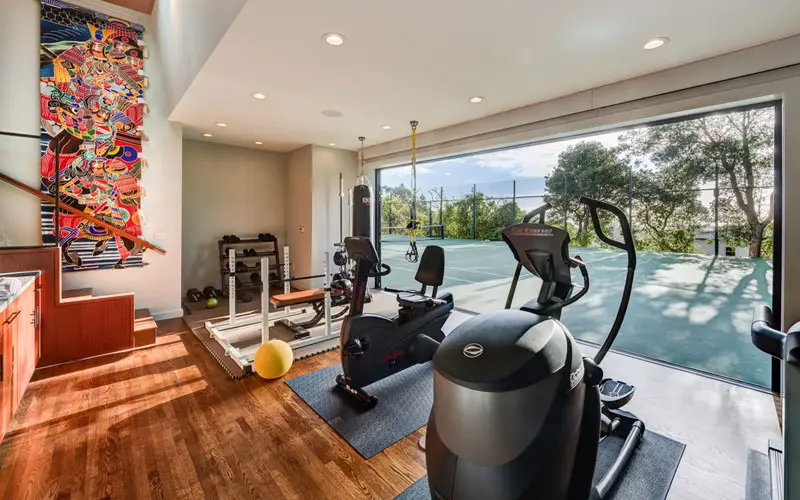 Placing your gym next to other outdoor recreation is a great way to make your exercise routine seamless. Whether a swimming pool or tennis court, a large garage door beautifully unites the outdoor and indoor experience.
23. Asian Influence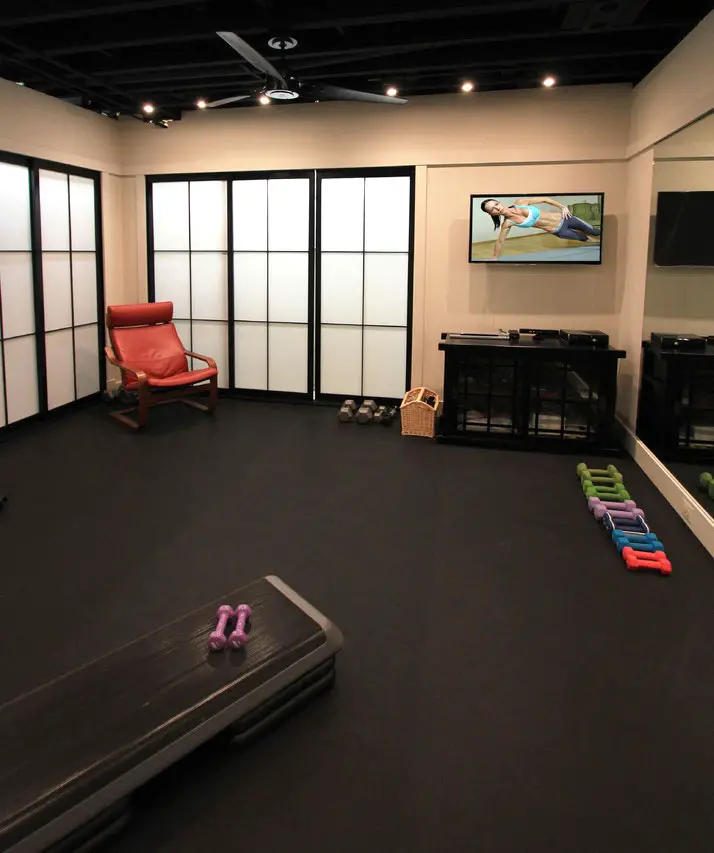 Shoji doors create privacy and a zen-like quality. Several ceiling fans are placed throughout, making sure the gym stays cool and comfortable.
24. Side Hustle
Extra space adjacent to the main living room is the perfect place to squeeze in a home gym. Often-underutilized areas such as an office or dining room can be converted to a sweet exercise spot with little to no remodel.
25. Blue Walls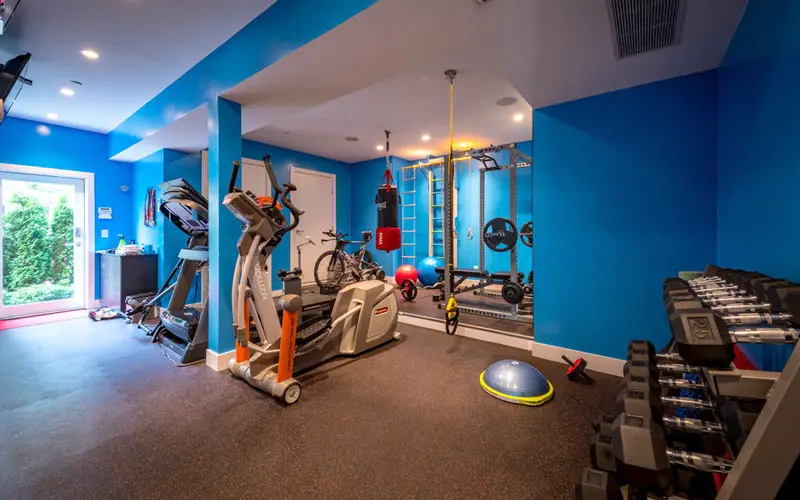 Bold color makes a statement in this contemporary home gym. The colorful theme is continued with speckled red and black floor tiles.
26. Antique Accents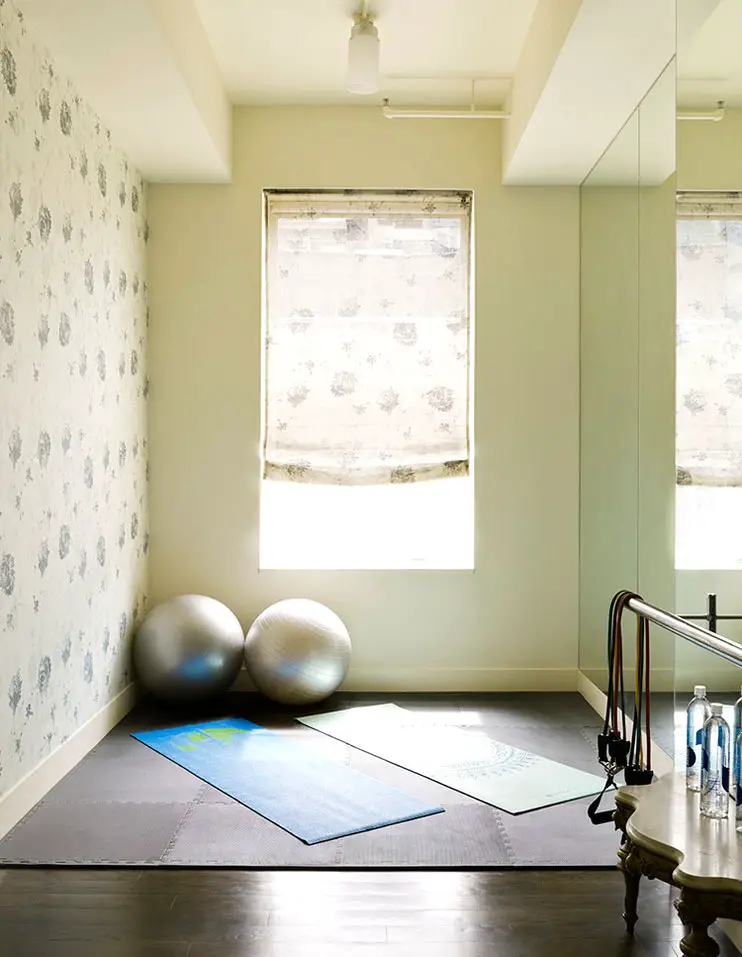 Surprising décor such as floral wallpaper and an antique table make this space feminine and classic.
27. Sleep It Off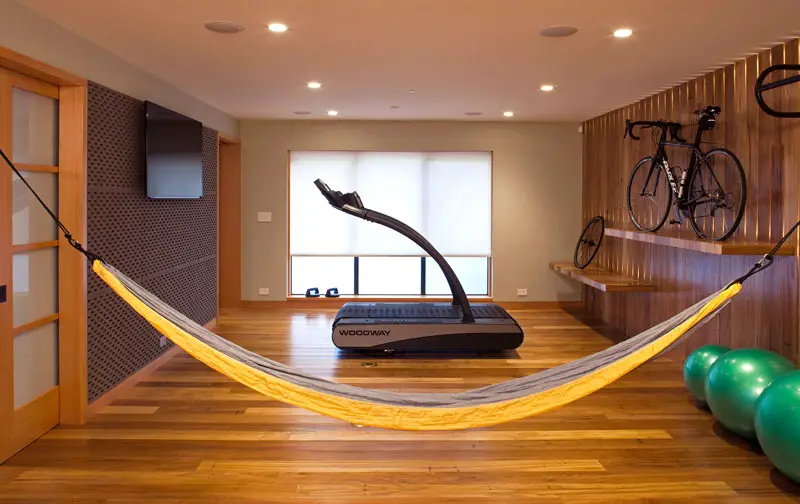 Why not take a nap after an intense workout? Hanging a hammock nearby makes relaxing easy breezy.
28. Seaside Escape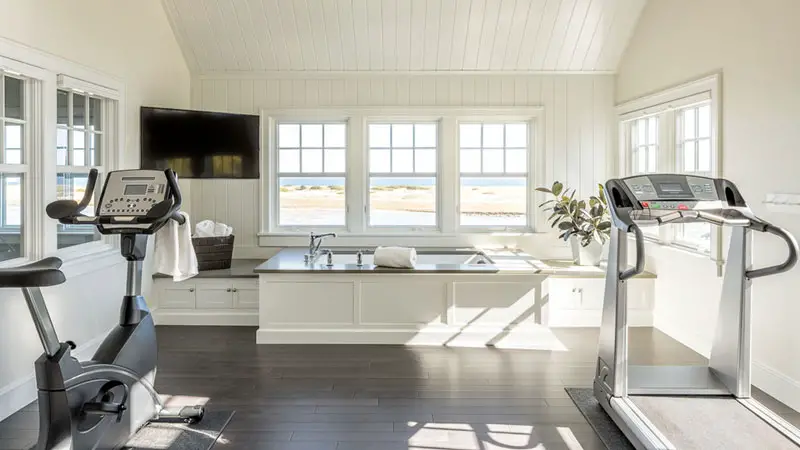 The ideal marriage of workout space and retreat, this oceanside home gym includes a large soaking tub. White shiplap is used on the wall and ceiling.
29. Stunning Ceiling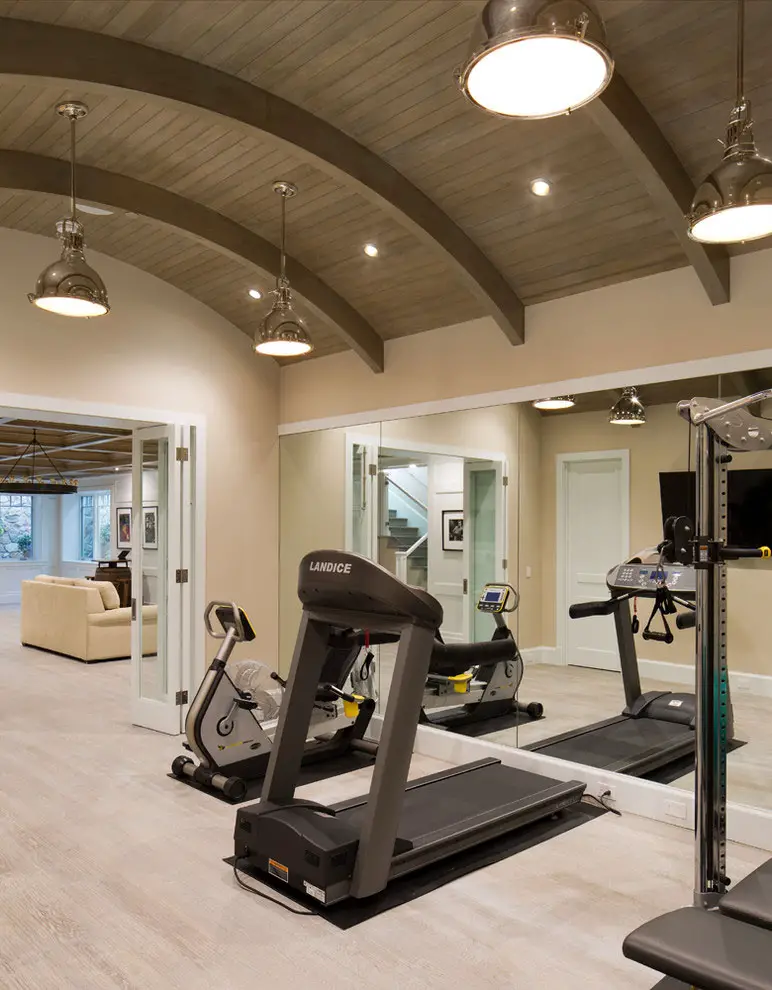 An arched ceiling creates an almost cathedral-like quality in this tranquil, light-colored home gym.
30. Line Up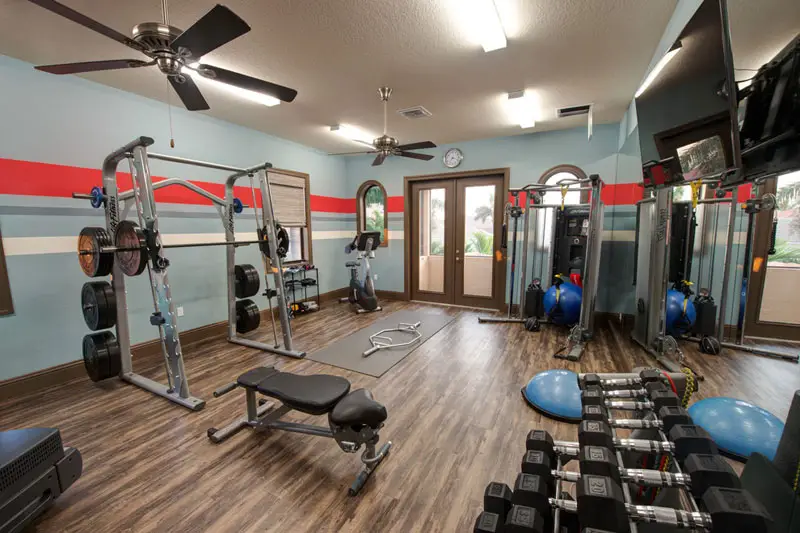 Providing a wow-factor, a red stripe painted across the walls energizes this otherwise serene space.
31. Maximizing Space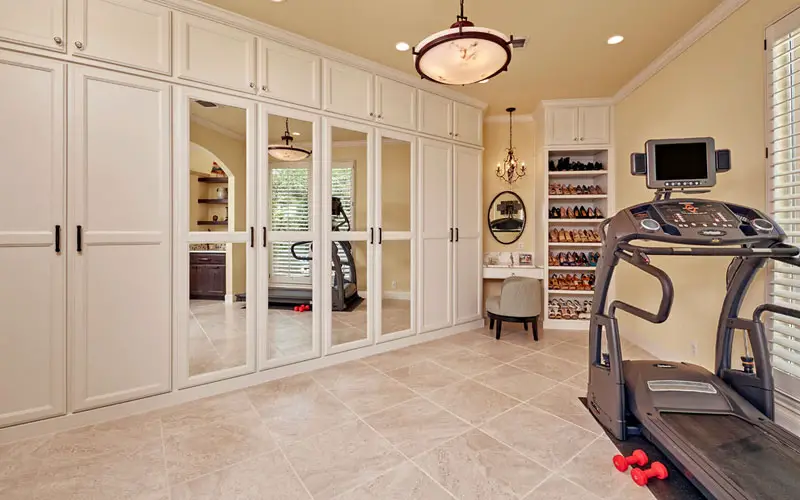 An extra large bathroom can be the ideal place for your exercise equipment. Mirrored closet doors are useful for both your workout routine and your morning routine.
32. Modern Marvel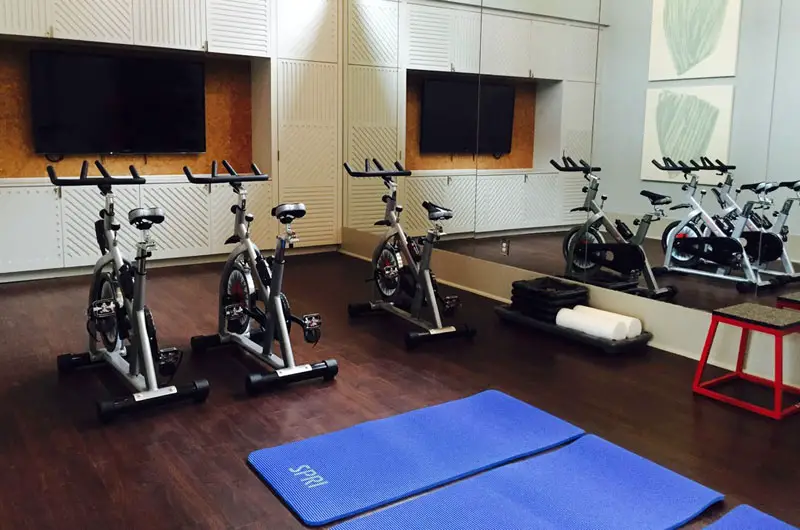 These modern and elegant built-in cabinets are a gorgeous focal point to the room. Having plenty of storage space is always a good design plan.
33. Let There Be Light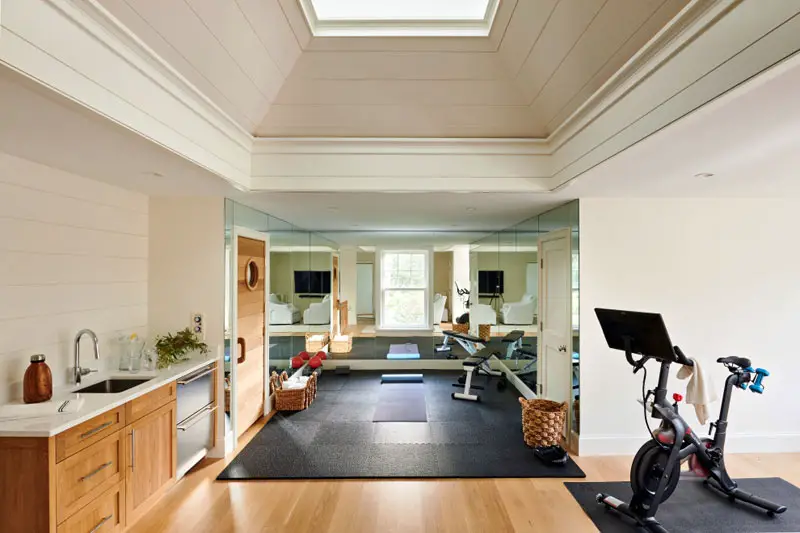 A gorgeous vaulted ceiling houses a large skylight, which is sure to brighten up your morning workout routine. Floor-to-ceiling mirrors also reflect sunlight around the room, so are a win-win for form and function.
34. Wine Room + Rec Room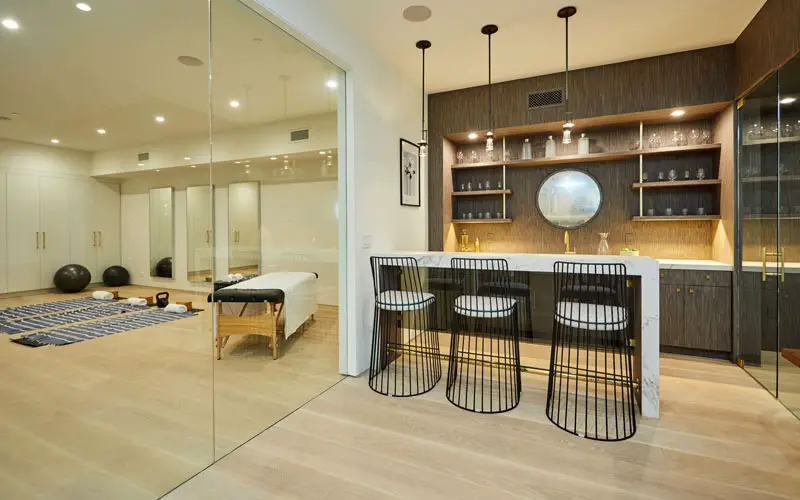 This multifunctional basement includes a wine bar, yoga area, and rec room. The finishes are contemporary and high-end, making the entire space feel polished and purposeful.
35. Warm and Rustic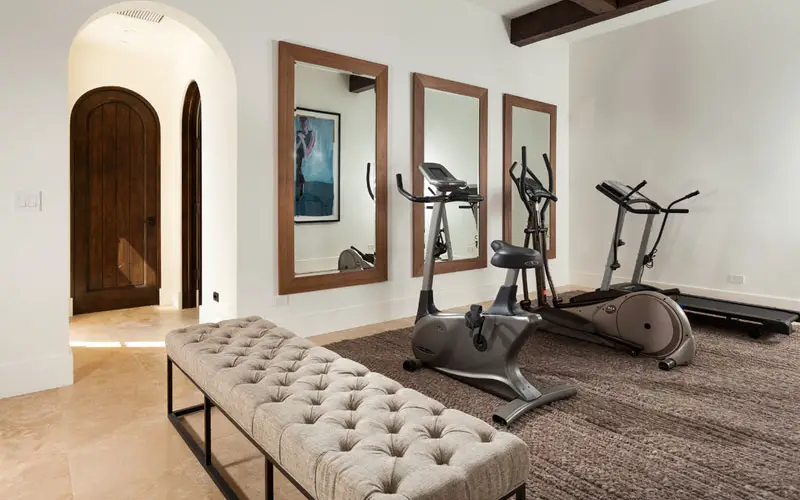 This classy design features an array of warm textiles, making it feel like a cozy living room. Rustic beams and an arched doorway pull in the Mediterranean architecture, making it cohesive with the rest of the home.
36. Vertical View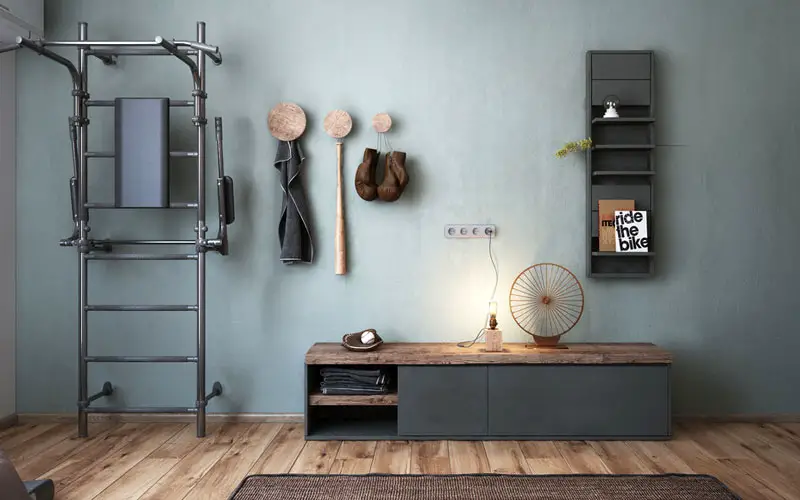 Use vertical wall space to make the most of limited square footage. Gym equipment and shelves can all be wall-mounted to free up the floor, which is ideal for apartments and other small spaces.
37. Black Barn Door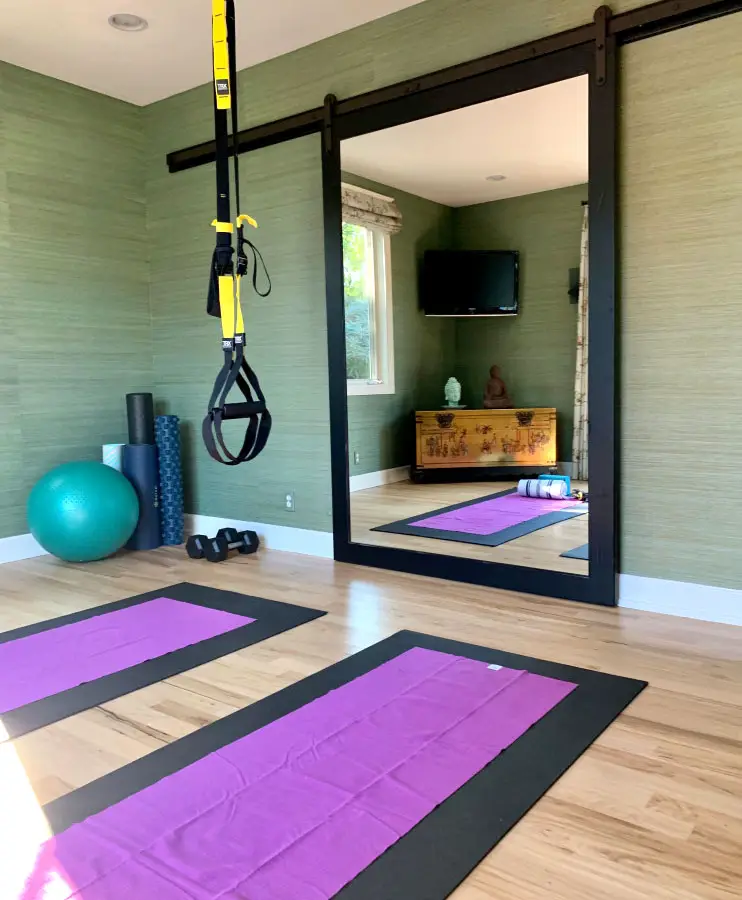 Textured green grasscloth wallpaper adds loads of interest to an otherwise simple design. Adding a mirror to the barn door is a chic and smart way to maximize the elements in the room.
38. Loads of Encouragement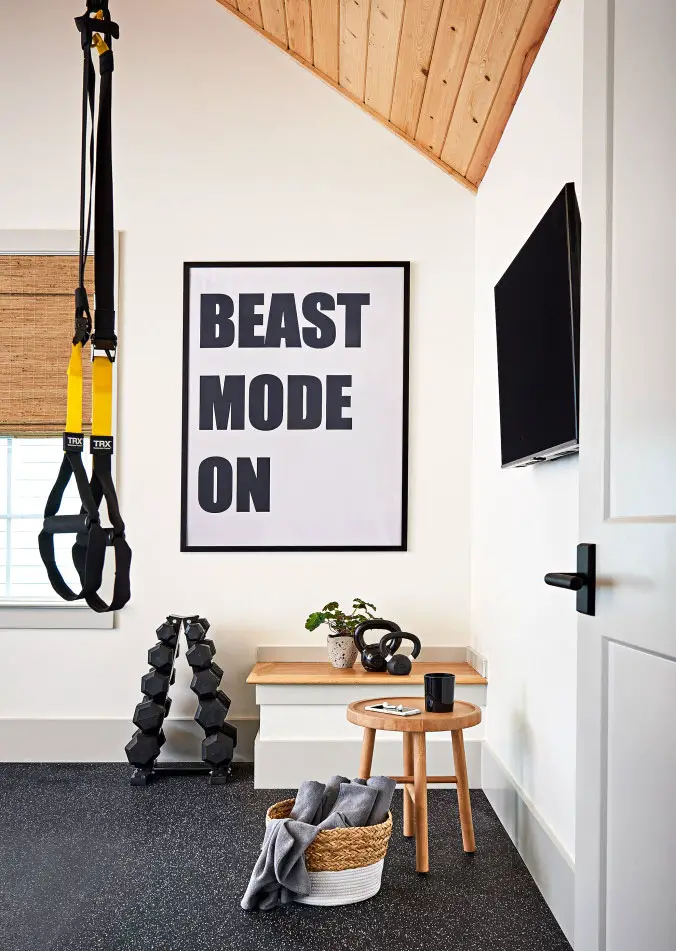 Working out at home can be hard, so be sure to include uplifting artwork! Positive messages will keep you going on the tough days and make your home gym a place you'll love to use.
39. Mid-Century Garage Overhaul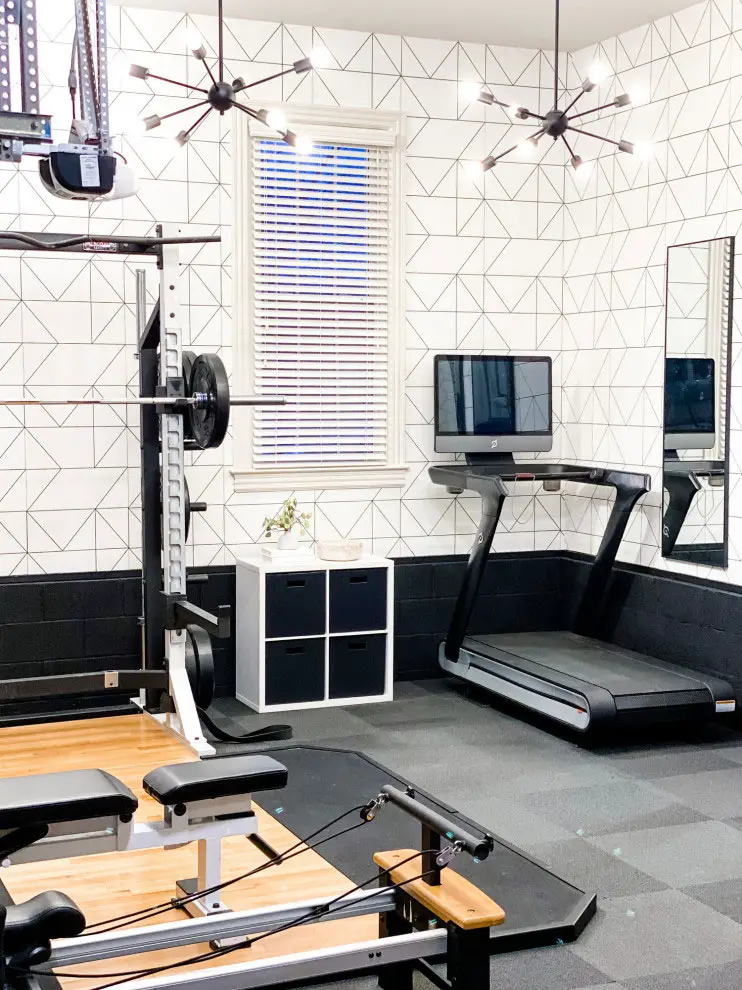 This garage-turned-home-gym is a stunning example of modern design in a functional space. Trendy sputnik chandeliers illuminate the room and add a wow-factor.
40. Vaulted Ceiling Villa
An impressive vaulted ceiling towers above this well-equipped home gym, making the room feel extra spacious. Rich wood beams bring in the French charm just like that of the rest of the home.