Updated on December 26, 2022
So you have decided that your kitchen needs a new look. One of the biggest updates you can make is to replace your cabinetry.
New kitchen cabinets can entirely change the feel and functionality of your kitchen, making it more aesthetically attractive and adding tons of useful storage space. A recent study even shows that homeowners and families who updated their kitchen noticed additional benefits such as living a healthier lifestyle due to cooking more home meals, more sit-down meals with friends and family, and nearly doubling the time the family spends together.
However, with the exception of all-new high-end appliances, new kitchen cabinets rank among the most expensive upgrades or renovations that can be done. But, how much do kitchen cabinets cost?
For your convenience, we will break down the cost of kitchen cabinets and talk about materials, styles, and all the other factors that are going to affect the price.
Average Overall Kitchen Cabinet Cost By Type
Stock cabinets are often completely prefabricated and sold as ready-to-install modules. They can be obtained from nearly any big box hardware store or design store. They are generally available to be taken home either that day or sometimes, within a few days.
The limitations with stock cabinets include only being able to choose from a predetermined array of woods, finishes, and hardware. There are also fewer options regarding sizes; many common sizes will be available, but unfortunately, if you have an odd-sized space to fill or a non-standard height, you may encounter some difficulty in finding a stock cabinet to meet those needs.
Stock cabinets are perfect for quick updates on a modest budget. The cost of stock cabinets can range from $50 to $280 per linear foot.
Semi-custom cabinets provide a small degree of flexibility for the purchaser. This flexibility means that there will need to be ordered with some lead time before they are needed to install, and this lead time can vary depending on the number and type of customizations that are needed.
Semi-custom cabinets are going to be more expensive than stock, but are a great compromise between stock and full custom. The cost of semi-custom kitchen cabinets generally range from $100 to $650 per linear foot.
Custom cabinets allow every single aspect of the cabinet to be controlled and created to the buyer's exact needs and specifications. Custom cabinets are nearly always made by hand by an experienced cabinetmaker, and because of this, they are the most expensive type of cabinet and require the longest lead time for construction.
The cost of fully custom kitchen cabinets can vary nearly as much as the styles. They can cost from $500 to $1200 per linear foot.
Installation Costs and Concerns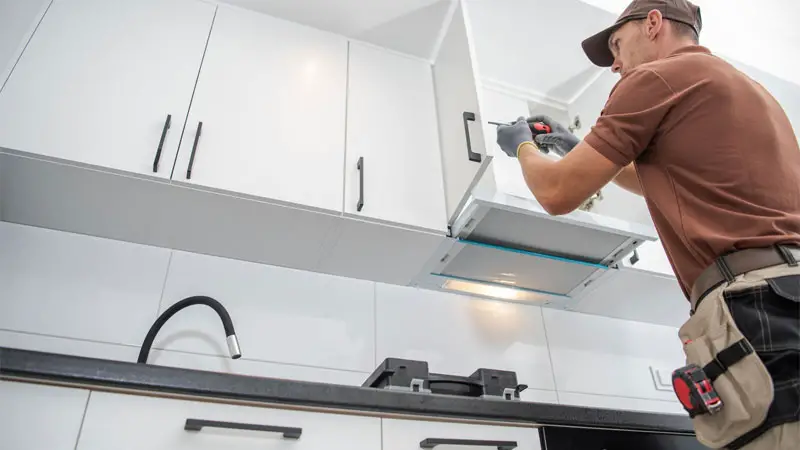 Removal is a step often overlooked. Your beautiful, brand new cabinets will need to go somewhere, which means those old and shabby cabinets need to come out.
Frequently, the average DIY homeowner can execute the removal themselves, but depending on the initial installation and complexity of the removal, you may want to have your cabinet contractor simply remove them before the new installation.
This helps to ensure no damage to the walls or floor happens, which may cause the installation costs to rise in correlation to the repairs that would be needed before installation can take place. Most estimates are based on a basic kitchen area of 10×10, and the average cost of having a contractor remove your existing cabinets will be between $250 and $500.
Depending on whether you are going with stock, semi-custom, or custom cabinets, your cost per linear foot will fluctuate. Stock cabinets will average $100 to $300 per linear foot, semi-custom cabinets will cost $200 to $600 per linear foot, and fully custom cabinets will cost anywhere from $500 to $1200 per linear foot.
Of course, these averages will vary depending on the cabinet options, materials, and physical size of your kitchen.
Installation costs from a cabinet contractor should include any supplies the installer may need, like caulk, fasteners, or other hardware, as well as site preparation and cleanup, but generally will not include any costs of removal.
These installation costs will generally run between $75 and $200 per cabinet. While some may be tempted to use a local handyman to install their new cabinets, this may result in corrective work at a later time, if the handyman's work is not up to par.
When this happens, a licensed and insured contractor may have to add additional charges to correct the initial install.
Average Kitchen Cabinets Cost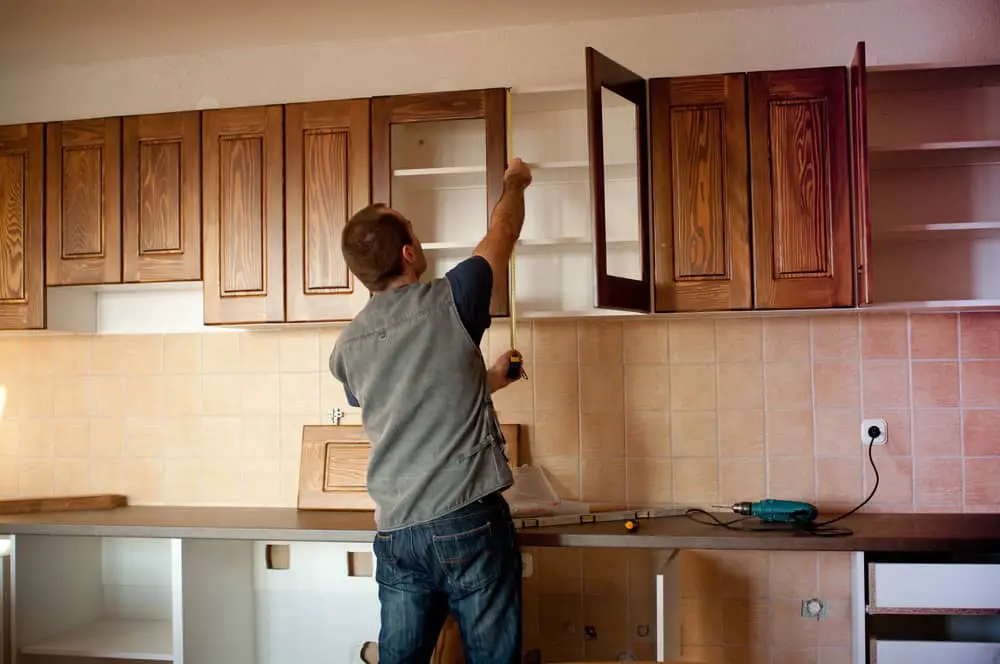 Depending on what materials, options, and style are chosen, cabinet prices can fluctuate. Stock Kitchen cabinets can cost between $100 to $300 each, semi-custom cabinets can be $300 to $600, and full custom can run from $500 up.
Stock cabinets that you buy in a preassembled state are super affordable, and only cost approximately $50 to $280 per linear foot fully installed, or between $100 and $300 per single cabinet. These cabinets will often be shelf stock at big box hardware stores and interior design stores.
Stock cabinets usually come in width increments of 3 inches, from 12" up to 60". The heights are usually restricted to either 30", 33", or 36", with over the range units restricted to sizes between 12" and 18".
Semi-custom cabinets offer a more flexible array of materials, finishes, and designs. In addition to the appearance options, there are also more options in regards to functionality, by including things like pull-out shelves, lazy suzans, and custom dividers.
In most cases, these are created in similar dimensions to stock cabinets but have more allowances for a custom fit or odd sizes. Semi-custom kitchen cabinets can have an installed cost of $200 to $600 per linear foot, or $300 to $600 per cabinet.
Fully customized cabinetry allows the buyer complete control over nearly every aspect of the cabinet design process. While you do have the ability to create absolutely stunning cabinets for your kitchen masterpiece, that will likely last for generations, the obvious downside is the price.
Custom cabinets are the top-tier design choice for high-end or gourmet kitchens. While the design won't be able to be changed much without entirely new cabinets, If real wood is chosen as the construction material, they can always be stripped and refinished, or refaced, in order to create a fresh look on cabinets that will last for decades.
Custom kitchen cabinets will come with an installed cost of anywhere from $500 to $1200 or more per linear foot, or, a minimum of $500 per cabinet.
Materials and Associated Costs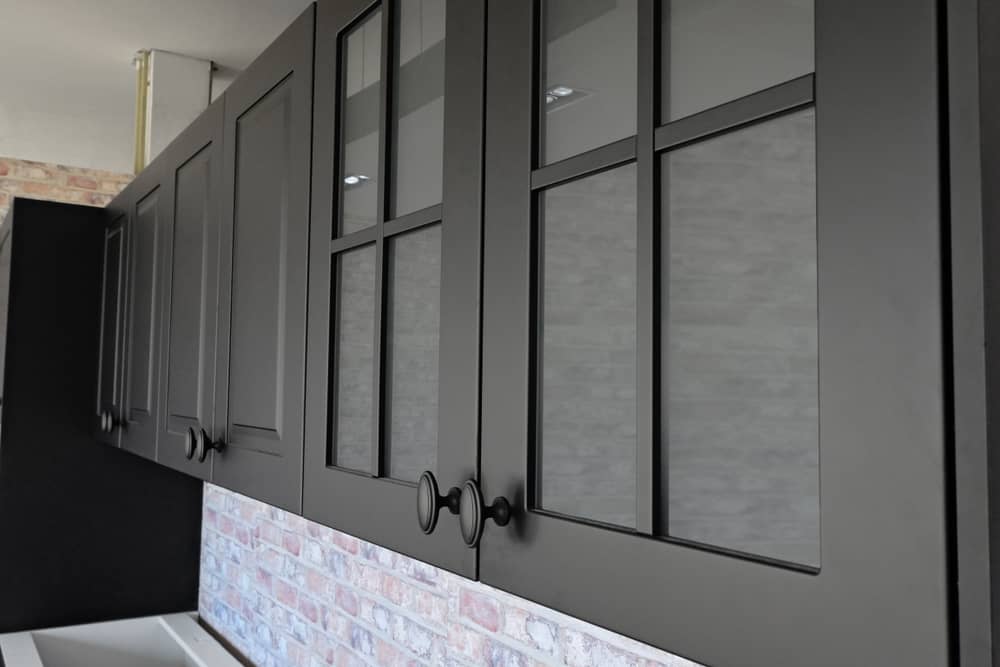 Cabinets are constructed from an extremely wide variety of materials. These materials include particleboard or pressboard, medium density fiberboard (also referred to as MDF), real wood, acrylic, laminate, and stainless steel.
Wood cabinets will generally be prefinished, meaning they will already be stained and finished, so as to avoid environmental hazards like wood-warping moisture, scuffs, and scratches. If the cabinets you have chosen are unfinished, either you or your contractor will need to finish all cabinet surfaces.
Some of the materials, like laminate or acrylic, will be produced or manufactured with the coloring and finish that you have chosen. For an easy reference, here is a comprehensive list of the most popular cabinet materials and important information on each:
Veneer
Veneer cabinets are designed to look like real wood, and can be stained, carved, sanded, and finished in any number of colors or shades. The average cost for 30 veneer kitchen cabinets: $4000 to $9000
Laminate
Laminate cabinets have a medium-density fiberboard core, with a laminate cover that is designed to imitate wood. The average cost for 30 laminate kitchen cabinets: $5000 to $8000
Acrylic
Acrylic cabinets are faced with a composite material, similar to laminate. Acrylic cabinets have an ultra-smooth high-gloss mirror-like finish and can be obtained in nearly any color imaginable. While they resist scratches and dents and are a breeze to clean, they are fingerprint and dust magnets, and if exposed to natural light, can dull and fade. The average cost for 30 cabinets: $5000 to $8000
Wood
Wood is the classic cabinet material for semi-custom and custom jobs. Prices for wood cabinetry will vary wildly depending on the wood chosen and other options. The average cost for 30 cabinets: $6000 to $12000.
Ash – Ash is an inexpensive wood that has a straight but coarse grain that will take most stains and finishes easily and evenly. Excellent strength for a lighter wood.
Bamboo – Bamboo is the most environmentally friendly, or green, option available. It is unique in that it can be processed with either standard vertical or horizontal grain. It is a very sturdy option that resists thermal expansion very well. Bamboo is actually a grass, and as such, it is softer than many varieties of wood.
Beech – Beech is an affordable option that is remarkably durable. It has a very high density, so dents and scratches are easily avoided. The downside to beech is that it is highly susceptible to moisture-related warping, so it needs to be heavily sealed to avoid this.
Birch – Birch is a very easily finished wood, taking stains, paints, and other finishes very well. Birchwood or, "Poor Man's Maple" can take finishes to imitate higher cost woods like mahogany, walnut, and maple. White birch in particular will need additional surface preparation before staining to ensure even absorption.
Cherry – Cherry is a warm wood whose deep color is well known and well-loved. It is best left unstained and protected with a simple matte, semi-gloss, or gloss finish.
Hickory – Hickory is a great choice for hardwood cabinets. Hickory cabinets can easily last for many decades. Care should be exercised when staining and finishing, as hickory is dense enough that stain often sits on the surface and resists soaking in for some time, leading it to have much longer finishing times.
Mahogany – One of the most expensive woods to use, mahogany is exceptionally durable, rot-resistant, and ages spectacularly.
Maple – Maple is quite durable, taking stain and standing up to use very well. The irregular density of maple can lead to inconsistent appearance when staining if the surface has not been properly prepared.
Oak – For one of the least expensive options, oak is remarkably strong and easy to finish, as the wood fibers of oak allow the stain to soak in evenly. Oak is easy to clean and maintain and is one of the woods chosen most often for semi-custom cabinets.
Pine – Pine is extremely porous and will "drink" stain, so it will require several coats in order to retain a deep attractive color and appearance. Pine is considered to be one of the more environmentally friendly woods because it grows and replaces cut pine at a considerably fast pace. It is very affordable and the even density of pine lends itself to absorbing stain very evenly.
Walnut – Another high-end wood choice. Walnut is unique in that it looks the best when it has not been stained, as the natural tone of walnut is considered one of the major draws. Very durable, it stands up to the moisture and humidity found in kitchens. When properly finished, it can be cleaned by simply wiping with a damp cloth.
Stainless Steel
Stainless steel cabinets are the ultimate custom cabinet material. With an appearance that is modern, sleek, clean, and sophisticated, you can certainly expect to pay a premium for them. The average cost for 30 cabinets: $22000 to $36000
Kitchen Cabinet Design Types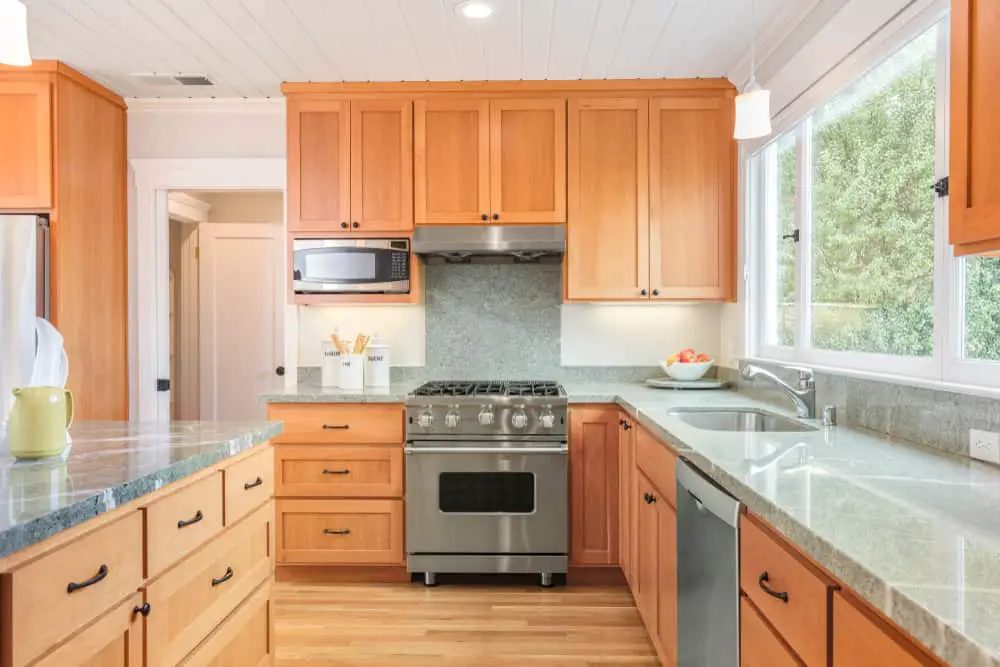 Framed
Traditionally, framed cabinets are what come to mind when people picture cabinets in their minds. There is a frame approximately 1" to 1.5" that forms a perimeter around the front of the cabinet face.
On framed cabinets, the cabinet door hinges are attached to the frame. This type of attachment strengthens the cabinet's structural integrity. Framed cabinets facilitate custom looks with both traditional and inset doors.
Frameless
The frameless cabinet design is experiencing a rapid increase in popularity in the United States. Frameless cabinets require the doors to be directly attached to the walls of the cabinet box with hidden interior hinges.
Because of this, the walls of the cabinets are thicker than framed cabinets. When opening a frameless cabinet, you will also notice that there are no vertical supports where cabinet doors meet, making access much easier for double door cabinets, and facilitating the storage of much larger objects.
One last benefit to a frameless design is the slightly wider drawers due to the elimination of the frame width.
Inset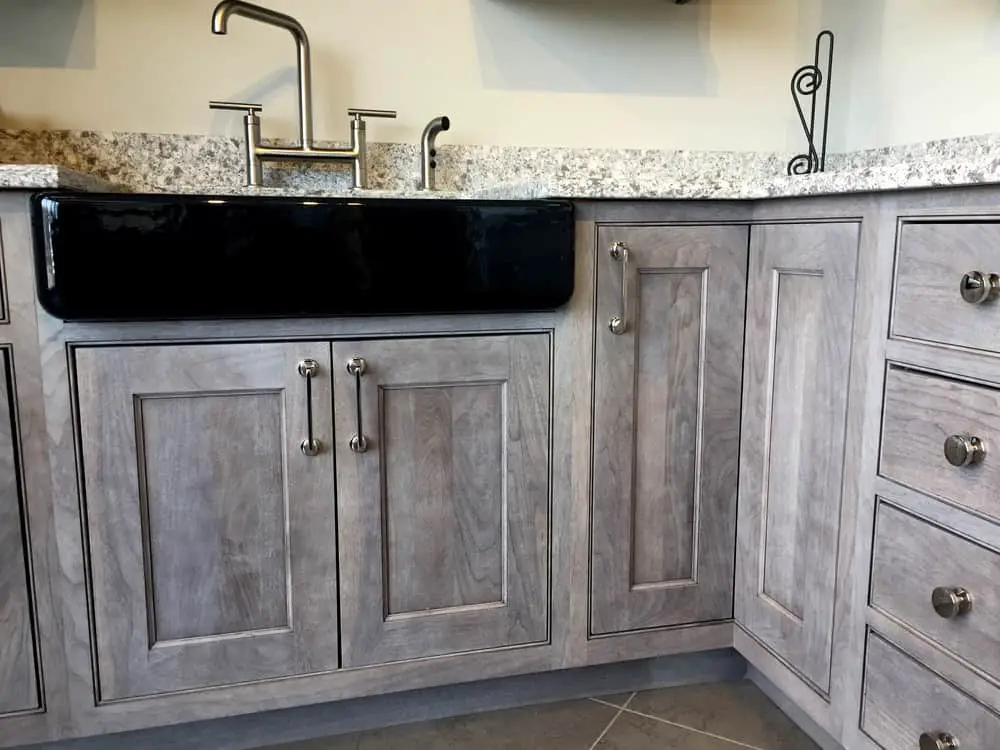 Inset cabinets provide a unique look that is both sleek and vintage, inspired by Georgian and Victorian woodworking. While framed and frameless cabinets both have the doors and drawers on the outside of the cabinetry, the inset style mounts the doors and drawers flush with the face of the cabinet once closed.
Inset cabinets also maximize the usable space by minimizing the negative space between each cabinet or pull-out. Add slab style doors for a clean and luxurious look.
Shaker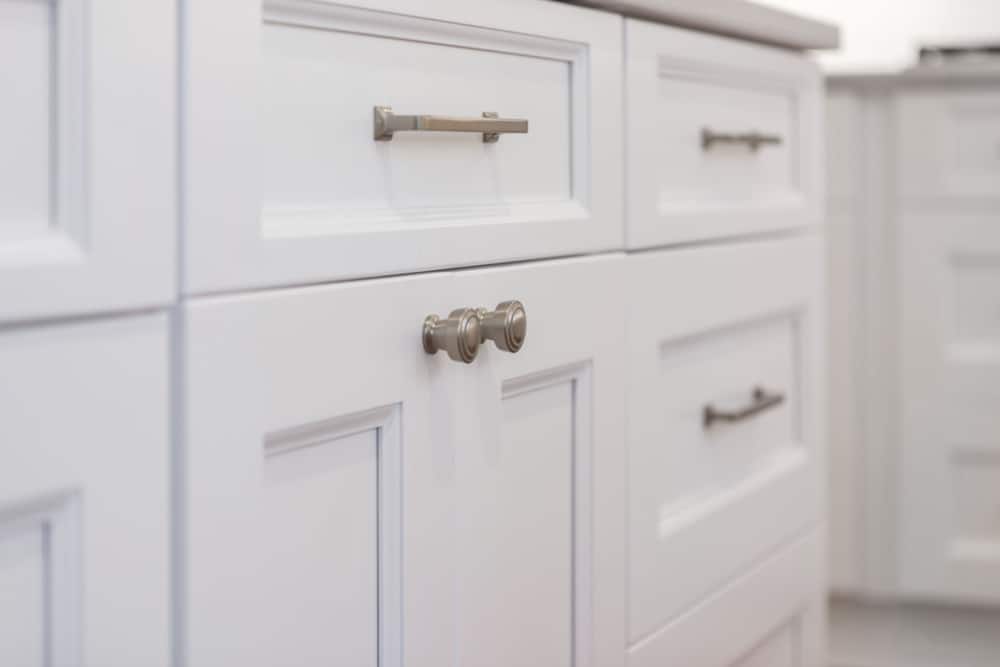 Shaker cabinets are by far the most popular style of doors, with a five-piece construction that provides nearly unlimited potential for customizing the trim, edging, detailing, and decorative accents.
Cabinet Costs By Average Kitchen Size
10×10 Kitchen
With the basic ten by ten kitchen, a homeowner can expect to spend in the neighborhood of $4200 to $9750 for approximately 30 linear feet of cabinetry.
12×12 Kitchen
With a larger twelve by twelve kitchen, the average homeowner can expect to shell out between $5500 and $12300 for approximately 36 linear feet of cabinetry.
Common Kitchen Cabinet Sizes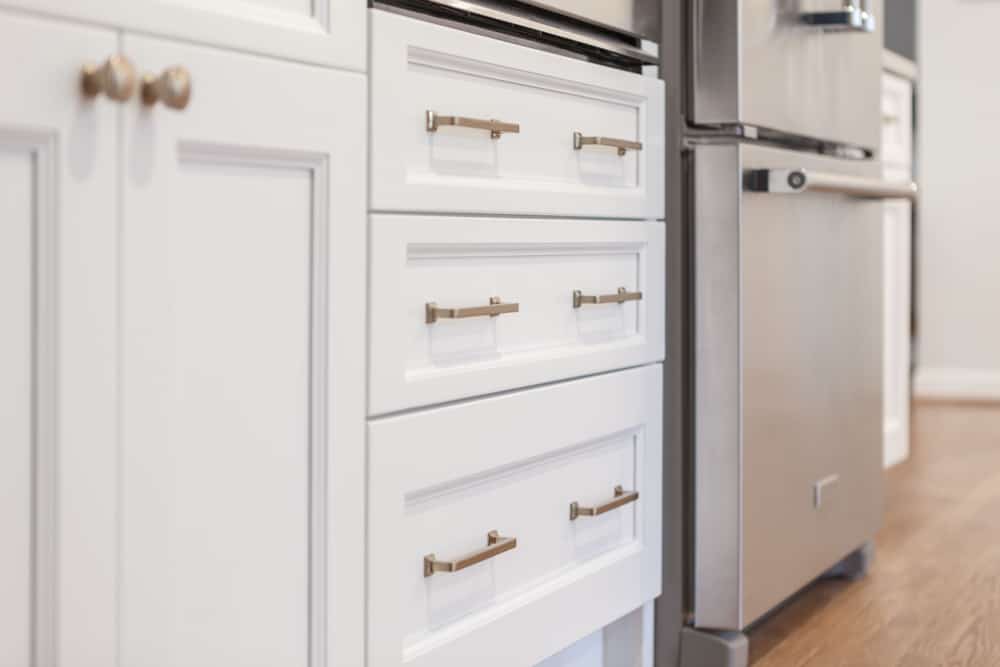 Base Kitchen Cabinets
Base cabinets will usually be between 34" and 36" and are installed directly on the floor. These are the cabinets that will have your countertop and sink mounted on top of. They will have widths of 12", 24", 36", 48", and 60", and the width will generally be determined by its placement.
For example, a cabinet over your range will be the width of the range, in order to accommodate things like an exhaust hood or microwave. Slimmer widths like 12" are usually used to fill space and store small, long items like utensils.
Wall Kitchen Cabinets
Wall cabinets come in heights of 12", 15", 18", 30", 36", and 42", and are generally from 12" to 18" inches deep. These are the cabinets that are mounted on the walls above your sink, counter, stove, and refrigerator.
Wall cabinets will be available in similar widths to the base cabinets, as they will often be matched for visual appeal.
Tall Kitchen Cabinets
Tall cabinets range from 94" to 98" tall, and between 12" and 18" deep. These cabinets are installed where there is no countertop, base cabinets, or wall cabinets, and will mainly serve as pantries. These cabinets are frequently no wider than 36".
Door Types
Arch
The arch door can be found on both raised and recessed types, and showcase an arched top as the main feature.
Cape Cod
The Cape Cod door is a classic design. Often found in coastal architecture, they are equally at home in a farmhouse design or theme. Beautiful and timeless style.
Raised Panel
Classic look, with an understated formal appearance, and features inset frames.
Recessed Panel
Very simple design, with few embellishments, if any.
Shaker
The "classic" kitchen cabinet door style, with five-piece construction, and simple beauty.
Slab
Flat, featureless door. Minimal accents, very contemporary feel.
Glass
An elegant and beautiful way to showcase your china, crystal, or glassware. Combine glass doors on a cabinet with interior lighting to add a distinctive and high-class touch to your kitchen.
Drawer and Door Overlays
The overlay is the designation for how the drawers and doors overlap a portion of the cabinet face when closed. There are three types of overlay:
Standard Overlays
Most common and traditional option. Up to a full inch of the cabinet can be seen between the cabinet drawers and doors.
Full Overlays
None of the front faces of the cabinet can be seen when the drawers and doors are closed. The gap can be as small as an eighth of an inch, making a nearly seamless appearance. Less traditional, and more modern contemporary appearance. Notably more expensive than standard overlays.
No Overlay
This is found in the inset styles. Since the doors and drawers are mounted flush with the front of the cabinet, the entire front face of the cabinet box can be seen when doors and drawers are closed.
Hardware Cost Considerations
Cabinet hardware includes pulls, handles, drawer slides, hinges, and knobs. All of these have a necessary function, in addition to contributing to the overall look and appeal of your cabinetry.
Exterior hardware, like pulls, are usually made from one or more of the following: plastic, metal, ceramic, crystal, or glass. Ceramics, glass, crystal, and plastic will come in a wide variety of colors and appearances. Metal options will generally include brass, brushed chrome, brushed nickel, and stainless steel.
You can discuss these options with your cabinetmaker or installer and see which looks and works best with the cabinets that you have chosen. All of the functionality will be nearly the same, this is one instance where the only real factor to consider is the appearance you want.
Extras, Options, and Features
The following is a breakdown of the various finishing touches you can add to your custom cabinetry. They can help maximize usable space or provide additional convenience that you may have never realized you could have.
Trash/Recycling Drawer
Eliminate the traditional, though unsightly, trash cans from your kitchen floor space or pantry. This drawer will be tall enough for a standard 13-gallon kitchen garbage can, and can also include a built-in rack to dispense garbage bags.
Hidden Refrigerator
Utilize a tall cabinet to hide your refrigerator. It adds a more uniform appearance to the kitchen, particularly if your refrigerator does not quite match your other kitchen decor. Helps bring the kitchen together in a more unified and cohesive manner.
Lazy Susan Corners
Corner cabinets have always been the bane of the homeowner. Awkward to use and access, and generally a waste of usable space. Adding a lazy susan corner allows much more storage in that tricky space, while simultaneously making accessing the stored items much easier and quicker.
Pre-divided Drawers
Provide the optimal organization with built-in drawer dividers, and forego the cheap plastic trays that so often end up being ill-fitting, ugly, and easily broken.
Tray Storage
The perfect place to store long flat items like cutting boards, cookie sheets, baking trays, and pizza pans.
Full-extension Drawers
Allows for access to the entire drawer, by using extra-long slides, or nested drawer slides. This helps eliminate that last third or a quarter of the drawer that is usually left inside the cabinet box when pulled out.
Deep Drawers
The ideal solution for those people who hate having deep cabinets at floor level. Deep drawers are perfect for holding pots and pans and making them easier to access and contain.
Soft-Closing Hinges
An elegant and luxurious feature that lets the cabinet doors close quietly and slowly. Helping to eliminate noise, and damage to the cabinet and its contents. Some types are even self-closing, so when you are done in the cabinet, simply walk away and the cabinet will close itself nicely.
Soft-Closing Drawers
Similar to the soft-closing hinges, the soft-closing drawer slides feature a mechanism that slows the drawers closing so as to minimize the noise, drawer and slide damage, and any possible damage to the contents of the drawer.
Conclusion
If you're looking to remodel your home or you're building a new house, you're probably wondering how much do kitchen cabinets cost. There are many things that factor into the cost for your cabinets, from the material used to the finish and even how they close.
If you've never purchased cabinets or shopped around for them, it may be confusing but this comprehensive guide should help you figure out what an appropriate budget would be.
When it comes to planning your budget, you'll need to factor many things into this. The type of material, your preferred fixtures, and the design of the faces of your cabinets all can impact the value of the cabinetry you purchase for your home.
No matter what look you're going for, there are a ton of ways you can customize your space and make it your own.
Take the next step for yourself! Take a look at our guide and decide how you want your kitchen to look and plan your budget for your new cabinets.