Updated on March 25, 2022
If you are looking to give your master bedroom a little spruce, then you might be interested in hearing about some bed skirt alternatives. Even though bed skirts are still included in the bag when you purchase a new bed set, they are actually kind of working their way out of style in favor of other, more modern design choices.
There was a time when it was the norm to use a bed skirt that completely matched your bedroom comforter and pillow shams to pull your bed together. However, those times may be quickly coming to an end in preference of a look that is more modern for the homeowner.
However, homeowners still long to cover up the metal frame to their bed and hideaway the mess that might lie underneath.
Your bed skirt is more than just a piece of fabric that hides the ugliness beneath your mattress, it is a statement of your style. In this article, you will find a completely modern list of alternative bed skirt ideas. These ideas will help you give your room a polished look without sacrificing the modern twist you crave.
Alternatives to Bed Skirts
1. Fitted Sheet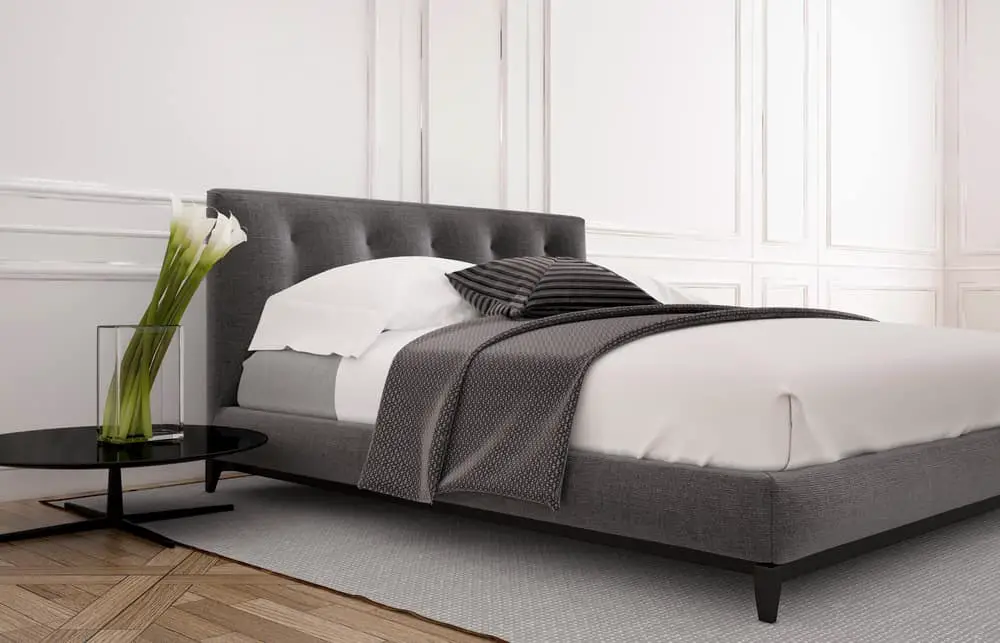 Covering your box springs with a fitted sheet is not going to hide anything happening underneath your bed. However, the sleek lines and clean appearance of a simple fitted sheet to disguise the box springs is an extremely contemporary design. Especially for someone who is looking to transform their bedroom into a minimalist style, this is a great and inexpensive way to achieve that goal.
When selecting a fitted sheet to cover your box springs, you want to begin by finding a sheet that will fit tightly enough that it looks nice and tucked. Some fitted sheets might be a bit hard to perfectly fit on your box springs. This means you may need to tuck them or adjust them to make them fit properly.
Baggy or sagging sheets do not give the neat and tidy look you are probably going for. So, you will have to constantly adjust the fitted sheets so that they maintain the tidy and taught look that you are going for.
Further, many box springs actually have a print designed on them. If this is the case, then you will likely want to choose a dark colored sheet to cover-up the pattern. Otherwise the pattern will shine through the fitted sheet and that will not produce that tidy look you are going through.
A bonus to using a dark colored sheet is that dark colors are very much aligned with the modern design style.
Pros
Modern Style
Easy to Put On
Inexpensive Look
Cons
Hard to Fit Properly
Might be See-through
Needs Adjusting Often
2. Sew Your Bed Skirt
If you are looking to have a little bit more control in the pattern, length, or fit of your new bed skirt, then you might consider dusting off your sewing skills and making your own bed skirt. In fact, you could even use the fabric of your curtains to create a different kind of match for your bed skirt in your bedroom.
If you do not know how to sew, then there are a ton of video tutorials on the internet that can help you make your first bed skirt. The best thing about sewing your own bed skirt is the freedom to incorporate whatever fabrics you desire as you are planning your design. Further, you can add as much or as little frill as you want.
No matter what your vision for your bedroom, sewing your own bed skirt is the option that gives you the freedom to choose whatever look you are going for. Further, if you are thrifty, then using fabric you have laying around can help to save you a bit of money if you are looking for ways to reuse items in your home.
Pros
Any Fabric Material
Any Durability or Length
Inexpensive Option
Cons
Could Be Time Consuming
Requires Special Skills
3. Wrap-Around Bed Skirt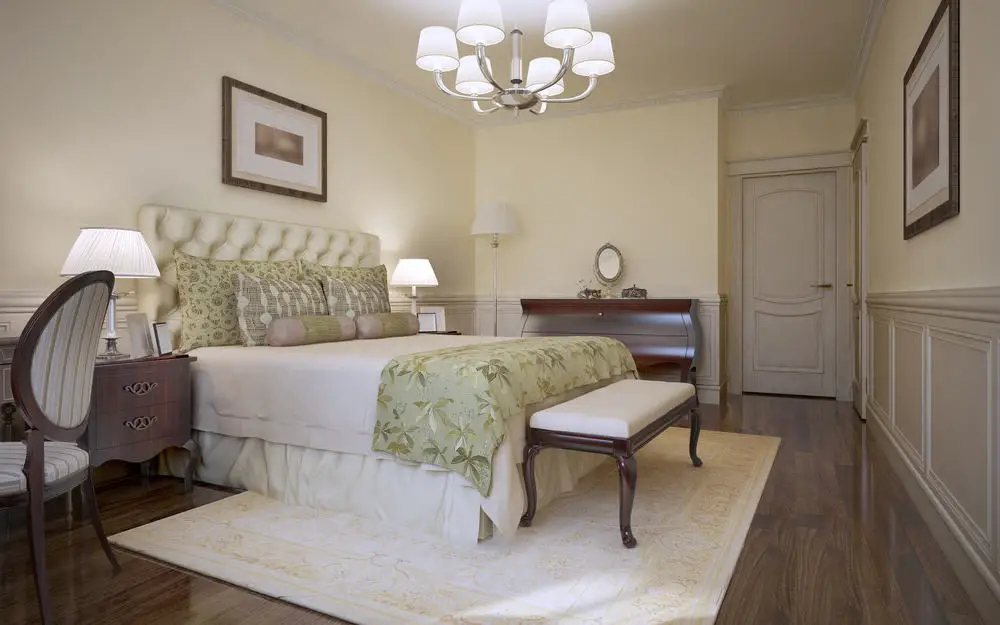 If you need a faster and easier solution to either the homemade bed skirt or the fitted sheet, then the wrap-around sheet offers the best of both worlds. You can wrap-around bed skirts on Amazon in a variety of colors, shapes, and sizes. These are really great for any of the styles that you may be going for.
From shabby chic to traditional, the wrap-around bed skirt makes the transition to various types of bed skirts easy. You could even change the color if you wanted. You can do all of this without ever having to pick up the mattress which makes the ease of install so much better than that of a traditional bed skirt.
If the ease of putting the wrap around bed skirt on your bed is not enough to convince you, then maybe the other benefits are. After all, this bed skirt can be found in just about any style and color that you can imagine.
You can purchase a flat tidy looking wrap-around bed skirt, or you can purchase one that has plenty of frills. This makes this a great choice for whatever design style you are after in your bedroom.
Pros
Easy to Put On
Never Have to Readjust
Stays Put
Cons
Less Personalized
Looks More Traditional
4. Velcro Bed Skirt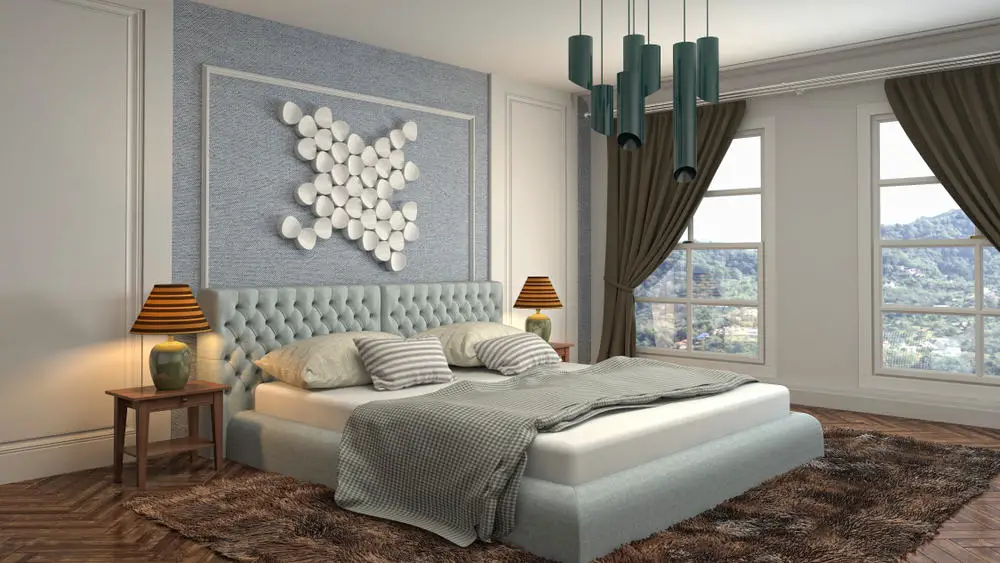 This is an idea that can work with several different types of bed skirts, even those that are already placed on your bed. The Velcro bed skirt is made for the convenience of the bed skirt staying in place so that you never have to lift your mattress to re-position the bed skirt ever again!
You can find Velcro bed skirts for sale in various locations. This option would require that you purchase a pre-made bed skirt and might require investment than some of the other options. Although it is not likely that it will cost you too much.
However, the Velcro bed skirt could be a way to use your do-it-yourself skills and materials. This means that it is not as convenient as simply purchasing a bed skirt that is ready to go. Check out this tutorial on how to make a Velcro bed skirt.
Pros
Held In Place
Versatile Design Options
Use with Existing Skirt
Cons
Must Lift Mattress
Velcro Wears Out Over Time
5. Box Spring Wrap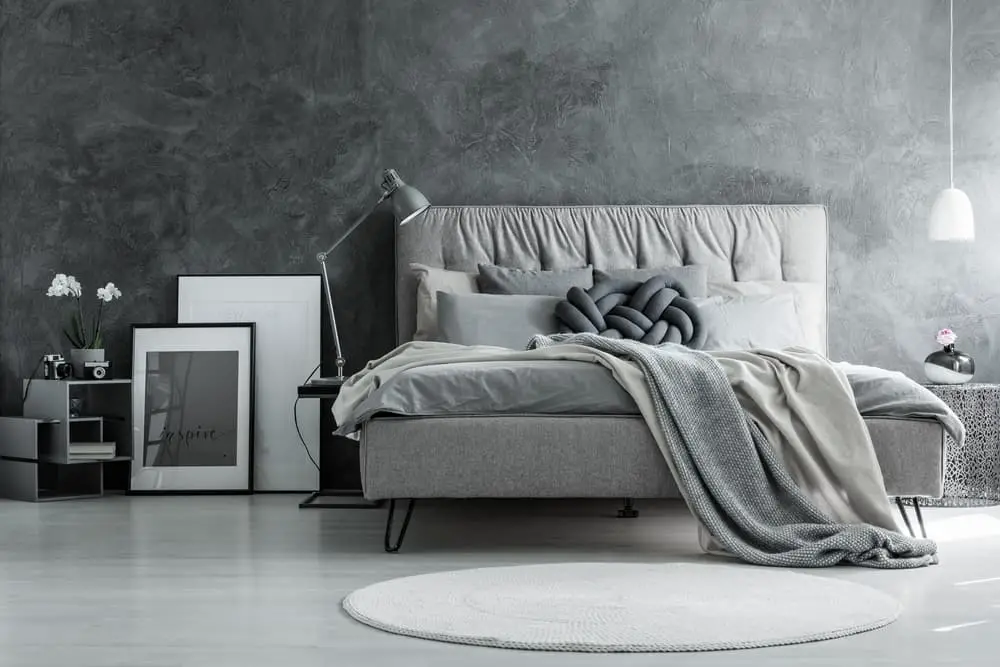 This one is similar to the idea of a fitted sheet that gets placed on the box spring to create that tidy look. However, the box spring wrap is actually made to fit on your box spring with no hassle. This option eliminates the worry about sagging material from a sheet that is not quite made to fit the box spring.
The box spring wrap provides the neat and tidy look of the modern style bedroom without the hassle. Simply wrap your box spring as soon as you get the box spring wrap and then it is ready to go. There is no guess work and there is no awkward tucking or re-adjusting.
While the box spring wrap might require an additional purchase, this is a purchase that is well-worth it for someone looking for the modern look without all the hassle.
The box spring wrap is absolutely the best option for someone who is aiming for a modern design with an easy to achieve method. There is no sewing, no tucking, no adjusting. You simply open the package and spread it on the box spring for beautiful results.
Pros
No-Hassle
Neat and Clean Finish
Modern Design
Cons
Stretches over Time
More Expensive than Some Options
6. Curtains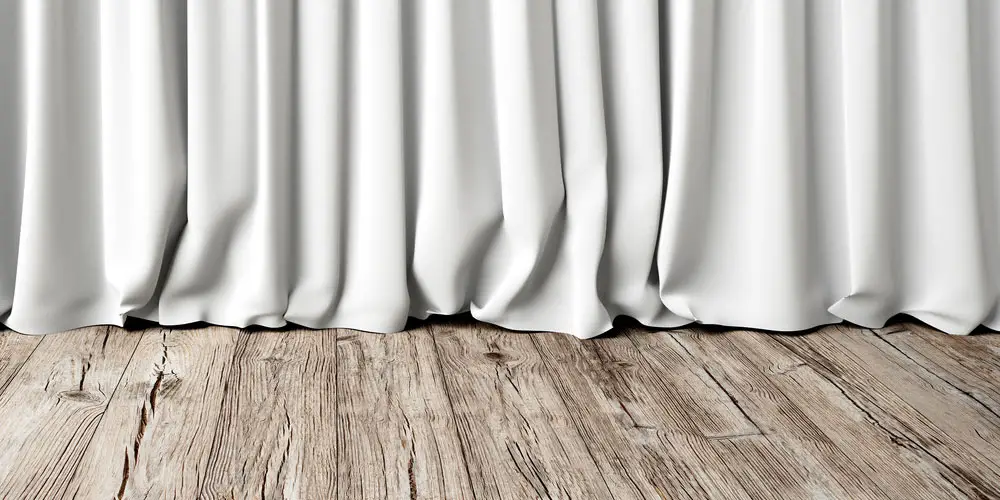 If you want to think outside of the box, a valance traditionally made for a window is an easy and durable option for a bed skirt. These would be easy to attach using bed spring pins that you can purchase on Amazon. Another great feature is that these can be adjusted to be as short or as long as you would like and they will never need readjusting.
The great thing about using a valance instead of a traditional bed skirt is that the fabric for a valance is typically much thicker and more durable than the fabric used to craft bed skirts. This means that the valance might actually last for a longer period of time and might even hold up during difficult moves.
Further, you can choose pretty much any pattern you want. You can also find valance dressings that have a lot of frill or valance dressings that are pulled tight and look tidy. The method of securing this option allows you to adjust to your personal preference. You can make your bed skirt as short or as long as you please.
Pros
Adjustable
Variety of Prints and Colors
Cons
Have to Pin Valance Down
Requires additional Purchase
7. Use a Flat Sheet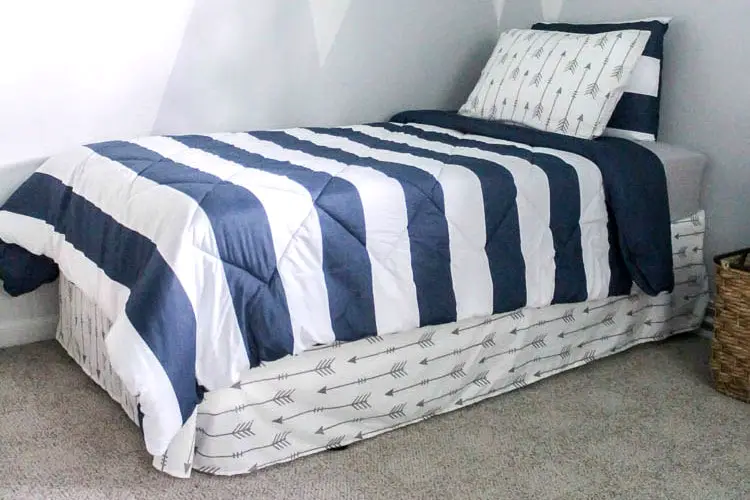 This one is yet another great tip for making a super sleek look with smooth lines. Using a flat sheet that is too large for the box spring is an easy way to get the wrapped box spring look. Further, you might could do this one without having to purchase anything additional.
The one downside to using a fitted sheet is that it might slip a little bit causing it to need to be frequently adjusted over time. Also, if you have a California king bed, then you may not be able to find a flat sheet large enough to accomplish this option.
However, you could use some of your do-it-yourself skills to embellish the flat sheet. Consider adding a laced edge, or some other kind of trim. This is a great way to make the fitted sheet option more personalized to your own taste and bedroom style. Additionally, you could even use no-sew glue to accomplish this if you do not have any personal sewing skills to lean on.
Pros
Affordable Option
Easy to Find Colors and Patterns
Cons
Needs Adjusting Often
Will Not work for California King
Final Thoughts
If you are ready to ditch the traditional bed skirt and go for one of the amazing alternatives, then we hope that you were able to gather some useful information from our list of bed skirt alternatives.
Whether you are looking for a shabby chic look, or searching for the perfect modern minimalist style, there is an option appropriate for you on this extensive list.