Updated on January 3, 2022
It's no wonder that different shades and hues of blue are gaining popularity. Blue has long been a great option for those who live in subdivisions where homeowners' association (HOA) rules specify a limited selection of allowable home exterior colors. Fortunately, one or more blue options are almost always within the rules.
Instead of the all-too-common white or light gray exterior, why not be a bit different and opt for some shade of blue?
Light blue or blue-gray with white trim is the classic look, with some more daring decorators opting for deeper or more saturated blue tones that are breathtaking when done right. Take a look at some of these blue house exterior design ideas and see why this is such an enduring and classic look.
Homes With Blue Exteriors
1. All-American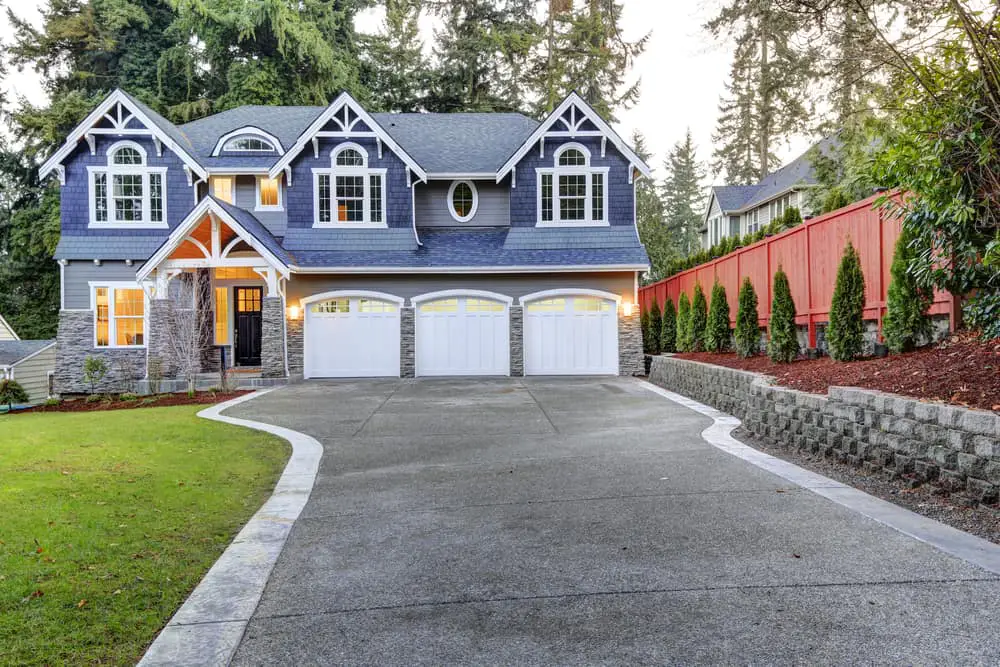 At first glance, this looks like a lot of blue, but with a second look, it is actually very well thought out. Rather than using the same tone of blue, this designer used different shades of blue for the shingle siding, window sill drip lines, and a different blue for both the garage roof and the second-story roof.
This variance lends a nice gradient effect to the exterior, and the ample white trim on the gables, windows, and the garage doors provide plenty of contrast. A red fence completes the all-American home look.
2. Oh Canada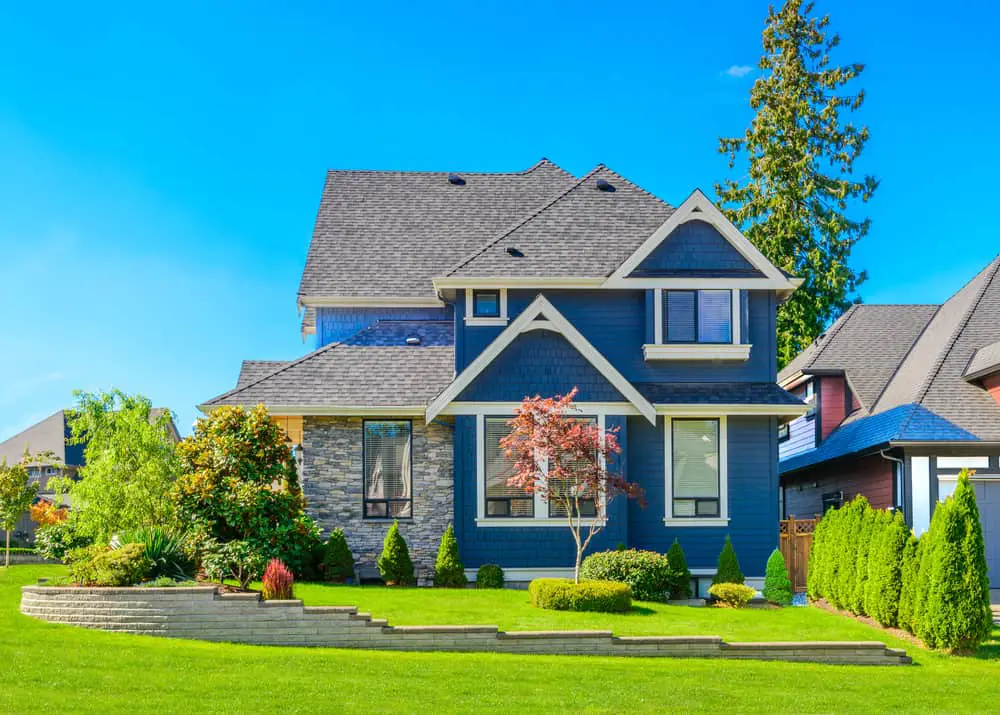 This luxurious Canadian home features a deeper blue, with minimal white trim, but the depth of the blue is offset and highlighted by the cobbled gray brick siding.
3. A Tall Order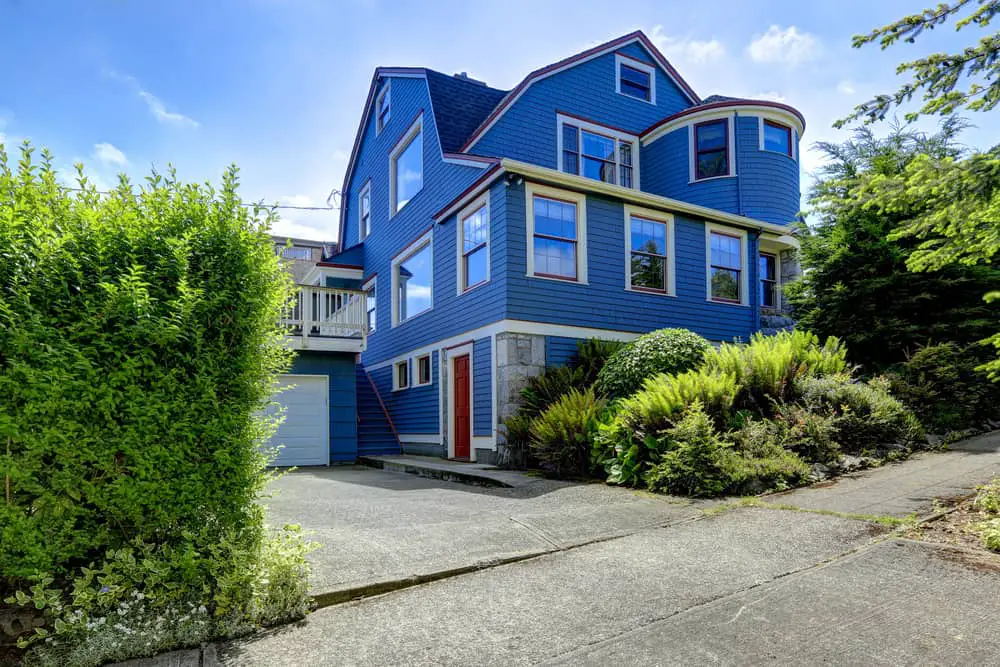 This older home has been given a bright and youthful coating of a modest but unabashed blue. Showing off a standard white trim, the decorator for this property decided to add some red accents to the trim and a red door for a splash of color that makes this blue work.
4. Balanced Contrast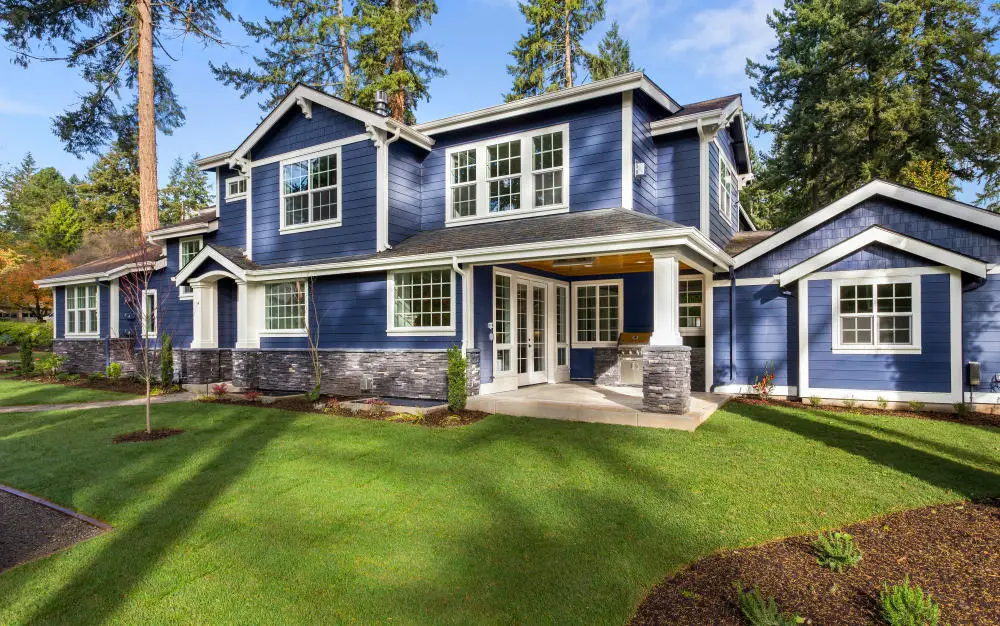 Here is a great example of a shade of blue that isn't too deep or too washed out. Balanced visually with the brick base, roofline, and white trim, this is a very well-executed blue exterior.
5. Bold and Beautiful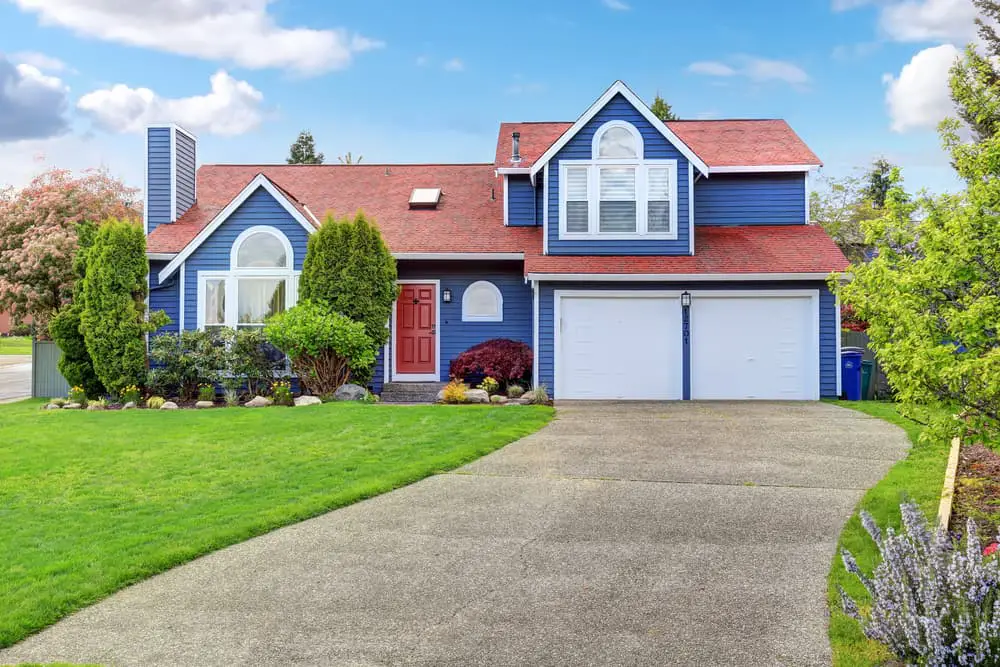 This design uses a very solid blue with wide white trim and garage doors. The blue is evenly contrasted by a similarly bold red roof, giving a very clean and simple exterior.
6. Autumn Beauty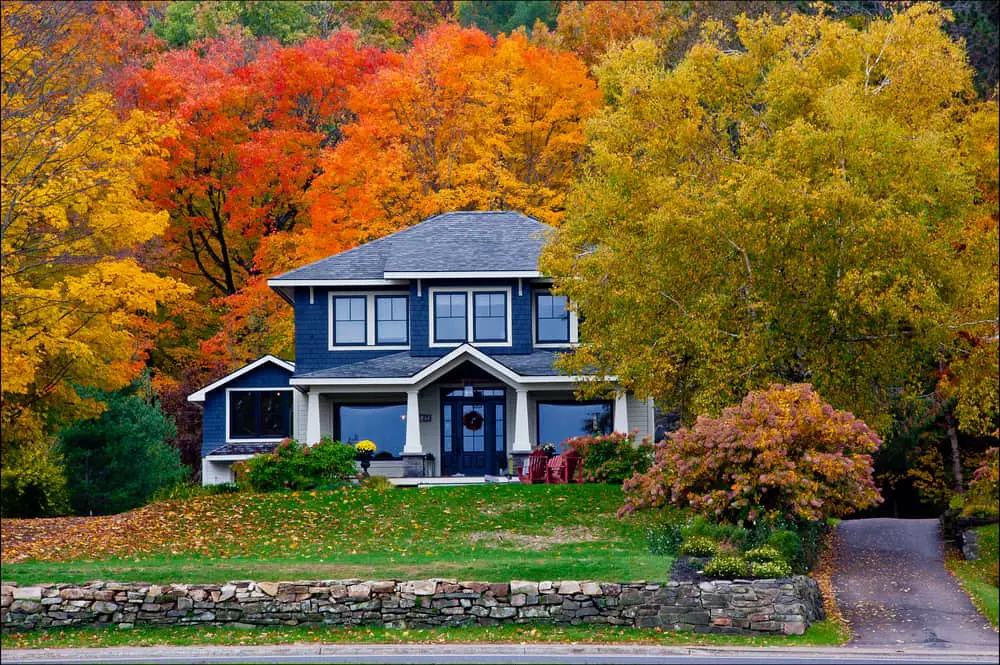 This blue exterior is a perfect example of how blue can make your home stand out, even amongst vibrant and bright autumn foliage, without being obnoxious. Though this a very deep, bold blue, the simple white trim and modest columns make this a near-perfect execution of a blue exterior.
7. Powder Blue Gem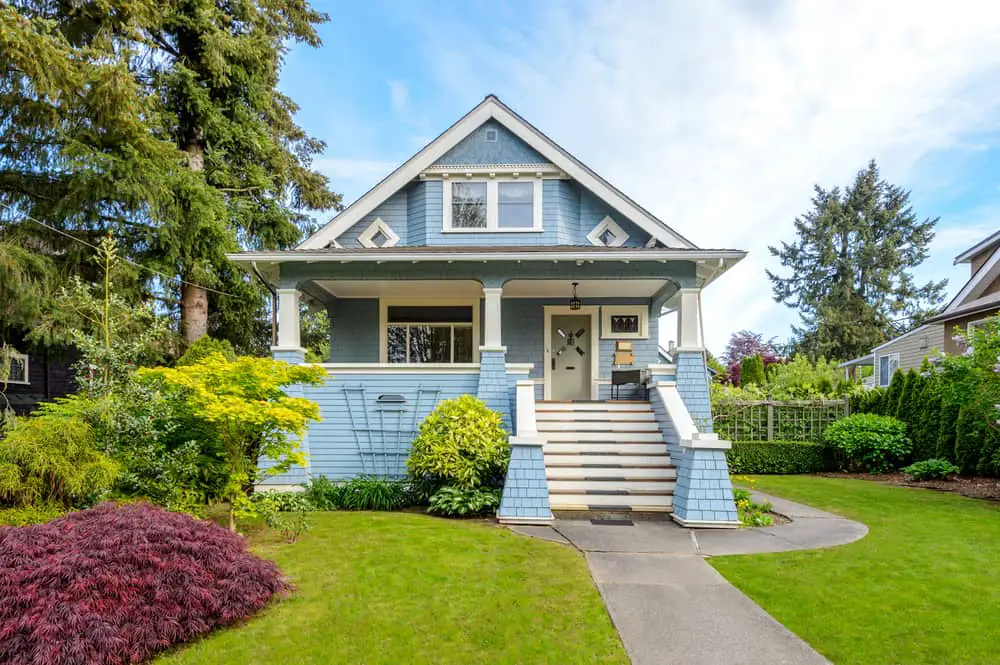 This suburban cottage shows that the right blue exterior can put big charm into a small lot. A light powder blue with select white accents gives this home an approachable beauty that stands out among tan, brown, and gray neighborhood counterparts without being ostentatious.
8. Modern Blue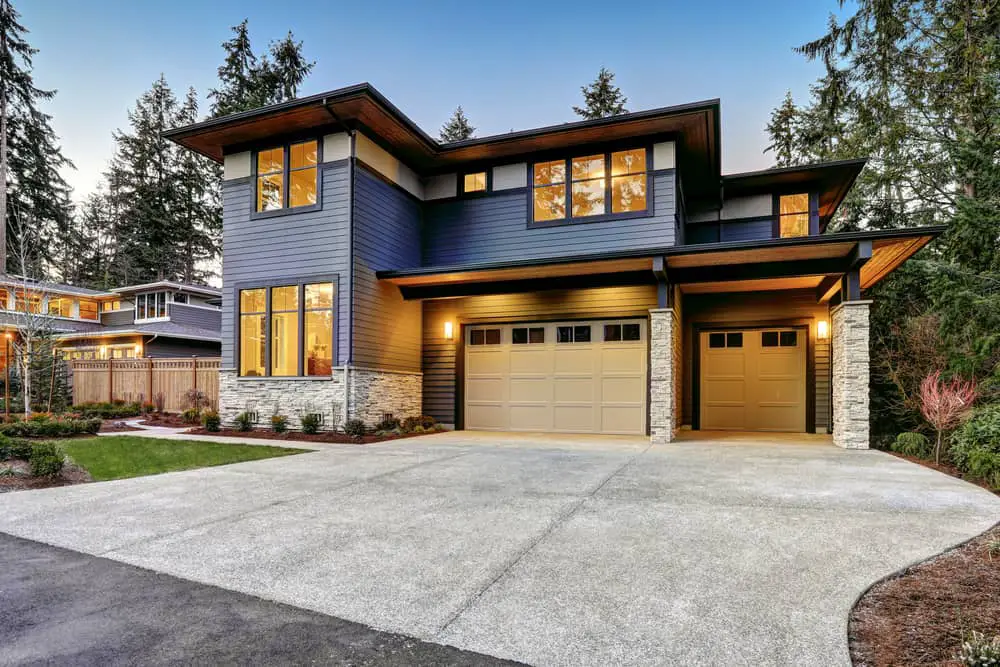 A blue exterior can look amazing in nearly any area of the country. Here is an example of a home in the Pacific Northwest showing off a newly constructed home with a muted blue exterior. With a white stone foundation and gray roofline accent, the unique blue siding and dark blue trim make this a memorable blue exterior.
9. Simple Yet Astounding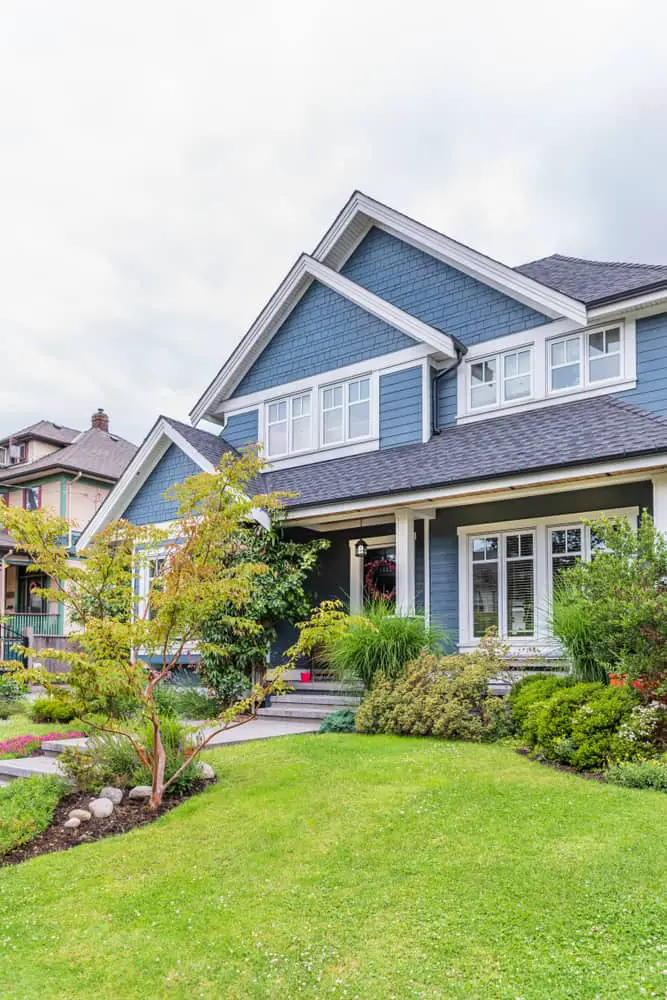 A blue exterior can be simple without being boring, as evidenced here. This suburban home shows a medium-light blue with standard white trim and windows. With the darker roof color, the main body of the house is broken up visually which helps it to avoid being "too blue" from top to bottom.
10. Quaint Cottage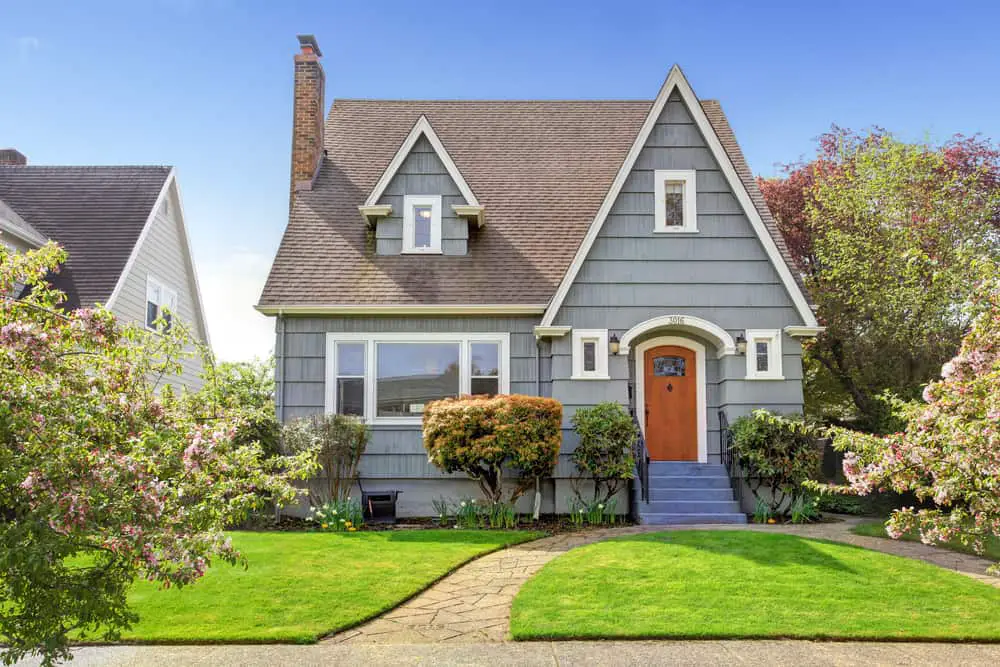 Light blue and muted blue-gray colors are great options for those with limited color options available from their homeowners' association. They are versatile enough to help an owner feel they're making the home their own, while still adhering to any neighborhood standards that may be in effect.
11. Welcome Home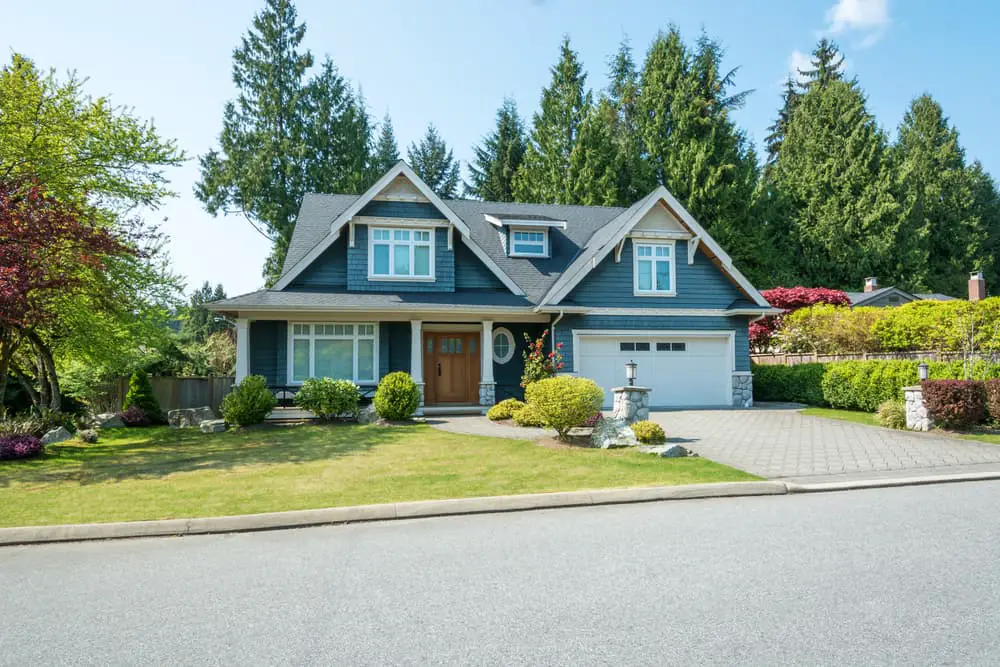 Blue exteriors can be ideal for homes on larger lots. They fit well with the ample landscaping that often accompanies these homes, and if the home is larger and in a cooler climate, a blue exterior that is a little darker, like this one, can increase solar gain and reduce heating bills in the colder months.
The large warm-toned wooden door adds the perfect touch to this blue exterior.
12. Something Different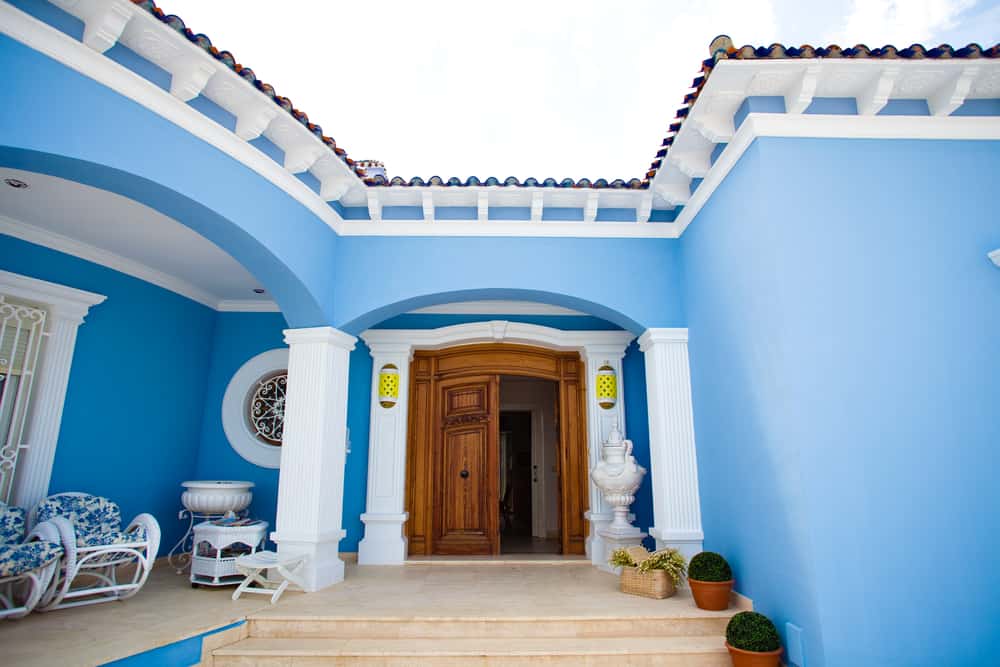 This villa-style home shows that a properly done blue exterior can be happy and provide the perfect touch to welcome guests and to show your pride in having a unique and beautiful home.
The light blue blends perfectly with the white trim, and works seamlessly with any other lightly colored exterior furniture, with sparser warm tones for accent.
13. L-Shaped Head-Turner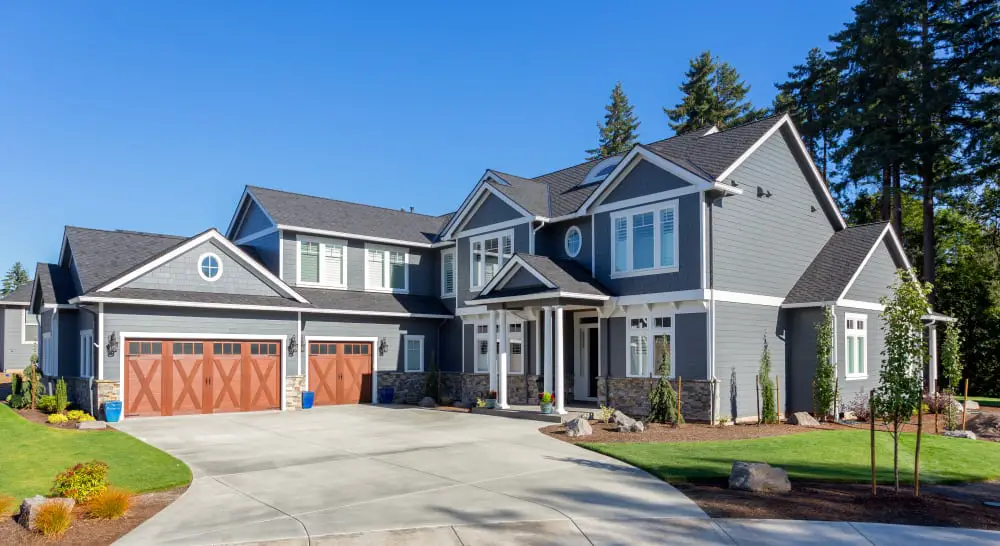 This home has a blue exterior that is muted to the point of being nearly neutral. As such, this blue would work with almost any other colors or accents, making it an extremely versatile choice for a home like this, with plenty of surface area to show off.
The garage doors offer a warm accent to the relaxing blue siding.
14. Sky Blue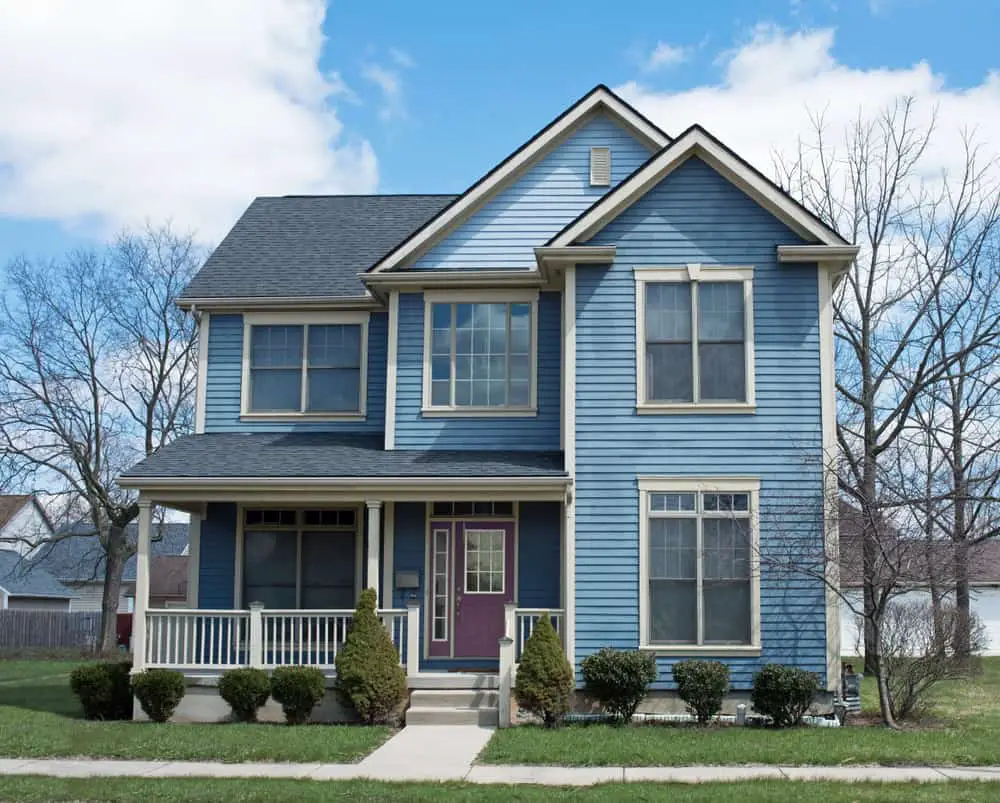 This traditional two-story suburban home has a lovely light blue exterior. The primary color is bordered by white, but not overly bright, trim. To add the perfect touch to the blue, the designer added a whimsical purple front door.
This is a great example of a blue exterior that is a very true blue, without being overly saturated and needing extensive trim to visually break it up.
15. Pale Blue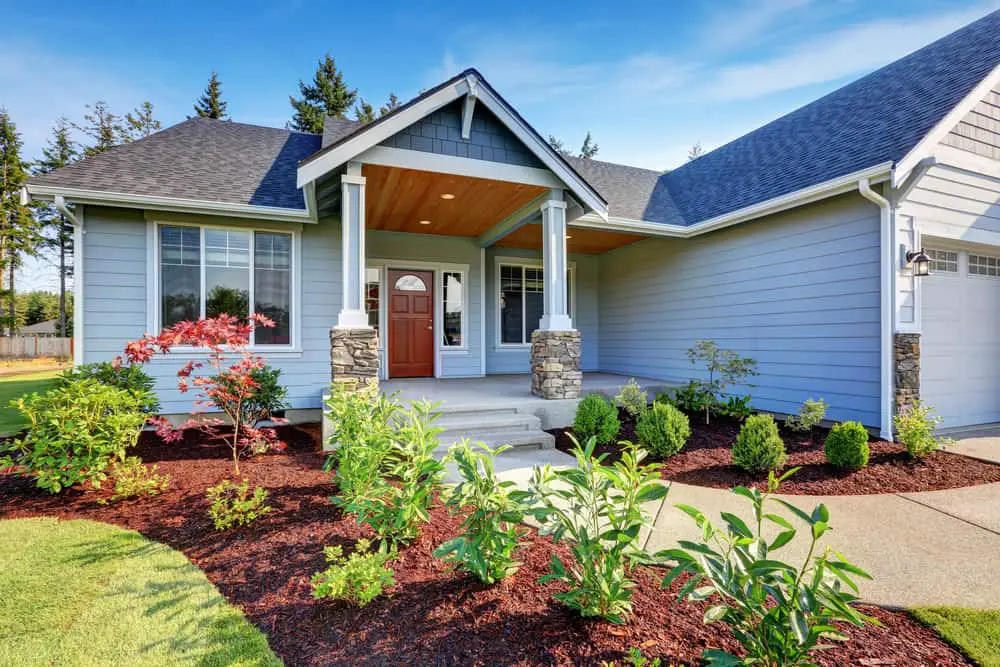 Here is an example of a blue exterior that uses a pale light blue to great effect. The specific color and shade still contrast well with the white trim and darker gray roofing material.
While not overly blue, it still provides a welcome diversion from the beiges and tans often found in suburban neighborhoods. The front door and stained bead board porch ceiling add some much needed warmth.
16. Too Complicated?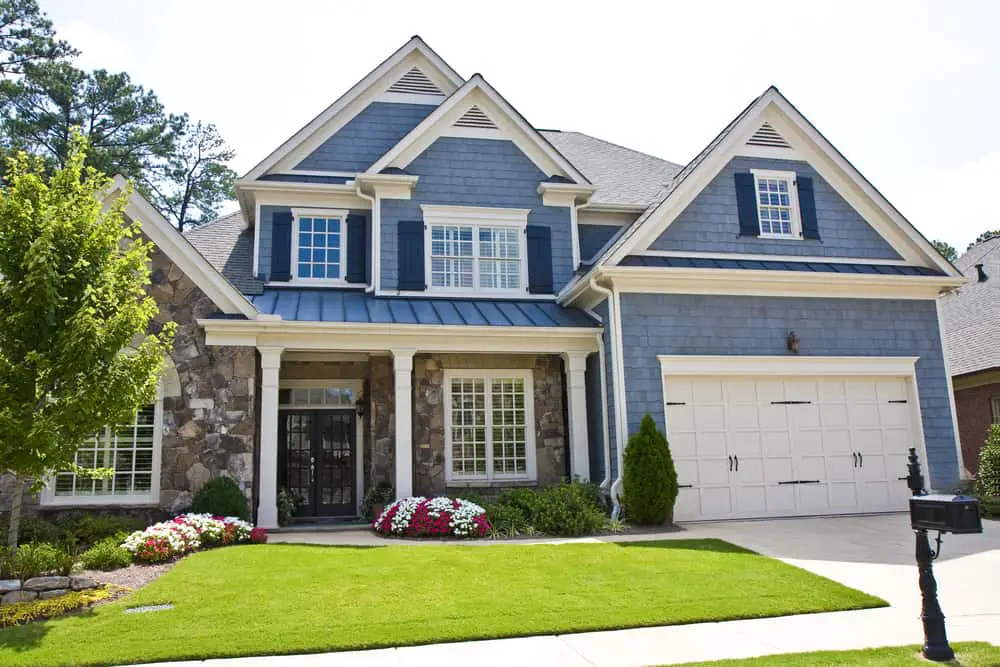 This home does a great job of using a reasonably bold blue shingle exterior, with the usual white trim, but then they add more blue accents in the dark blue shutters.
The dual blue tones combine for a pleasing appearance, particularly when combined with the uncut stone of the main level, and the dark front doors. The stonework and two types of roofing may not be for everyone though.
17. High Contrast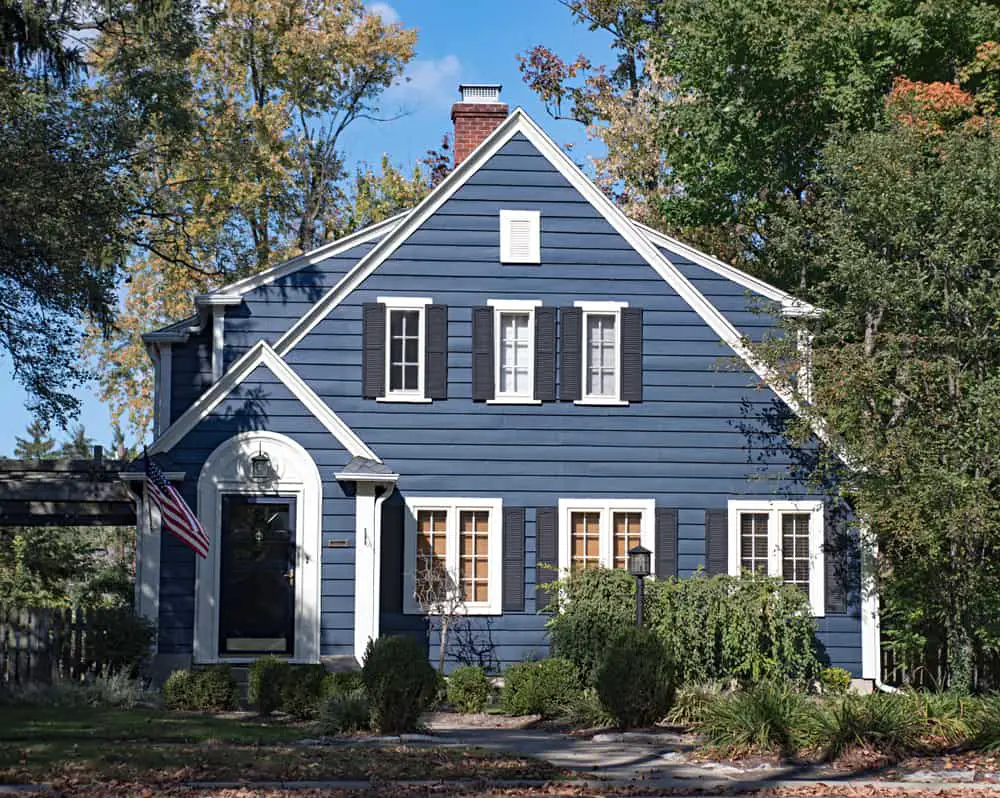 Another great example of using multiple blues in the exterior is this home. A dark and bold blue for the siding, a darker blue for the shutters, finished with wide white trim used sparingly, give a very cozy feel to this house.
The final touch to this well-done blue exterior is the dark blue door with brass accents.
18. Interesting But…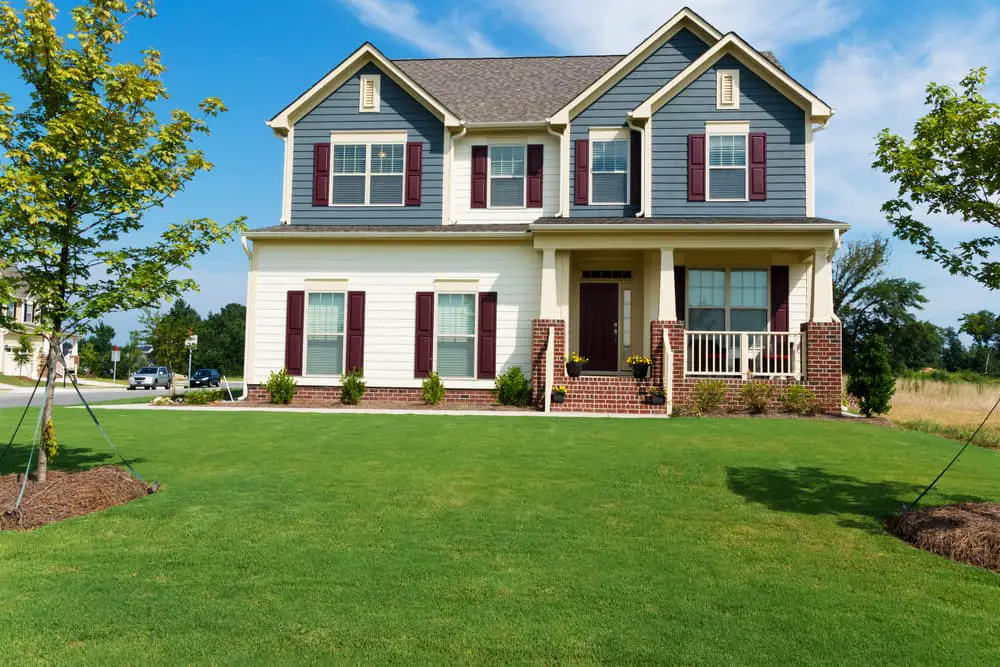 Here is an example of a blue exterior that perhaps wasn't executed as well as others. While the blue tone goes well with the other colors they have chosen, using it only on the second story gives the house an unfinished and irregular appearance.
19. Turquoise Ranch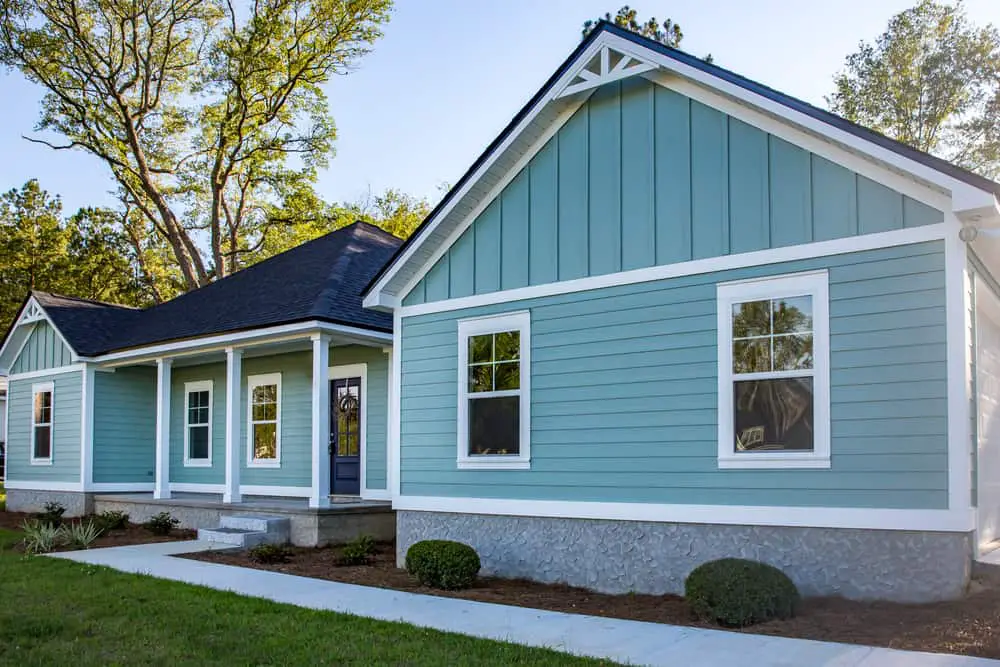 Here is an attractive ranch style home that has a beautiful light blue exterior, with white trim. The simple scheme leaves little complication when the inevitable time comes to repaint, and the colors are attractive and relaxed. Since the blue tone is light it leaves coloring and accent options open and unrestricted.
20. Classic Craftsman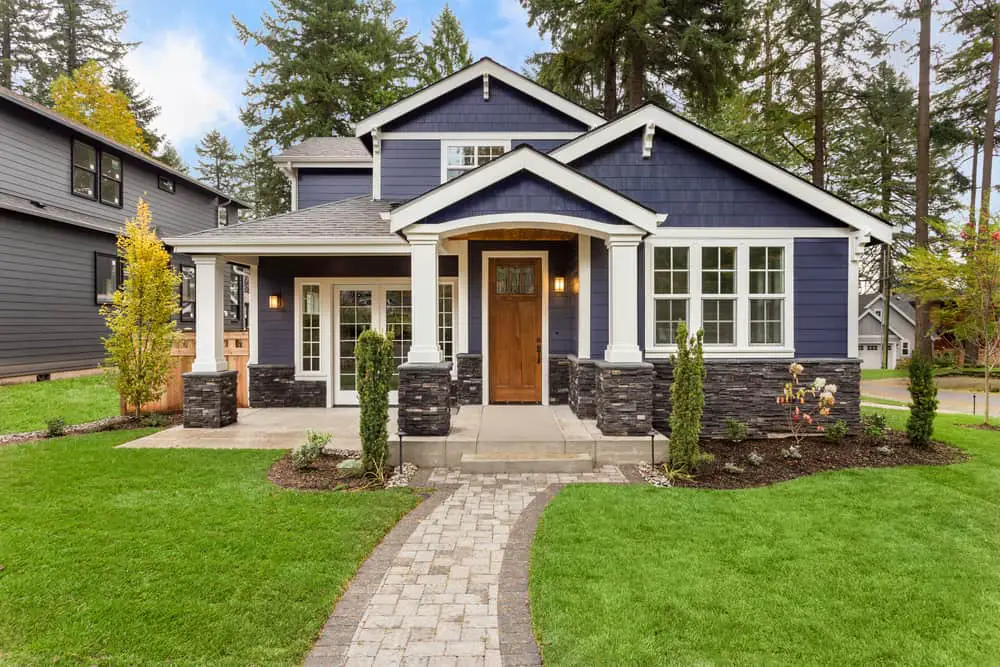 An American classic, this craftsman style home provides a pleasant balance between the blue shingle siding, the gray roofing, and the wide white trim, pillars, and accents.
21. Stand-Out Apartment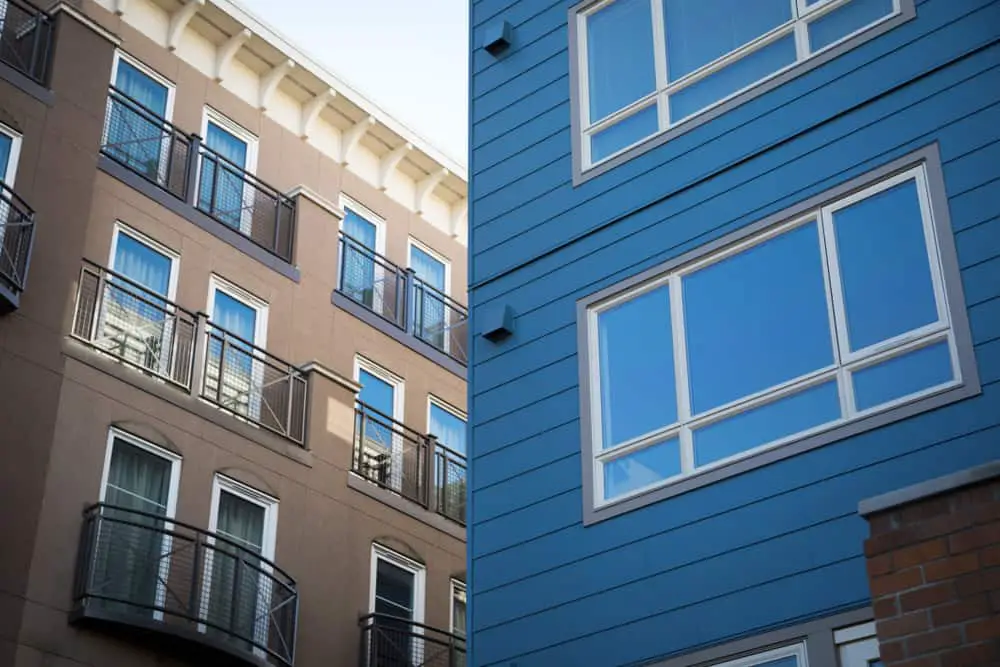 In urban settings, a blue exterior can provide a useful and attractive distinction from one's neighbors. This building uses a blue tone in a close urban setting to set itself apart from the earth-tone building behind it, while not being visually distracting or unconventional.
22. Blue Colonial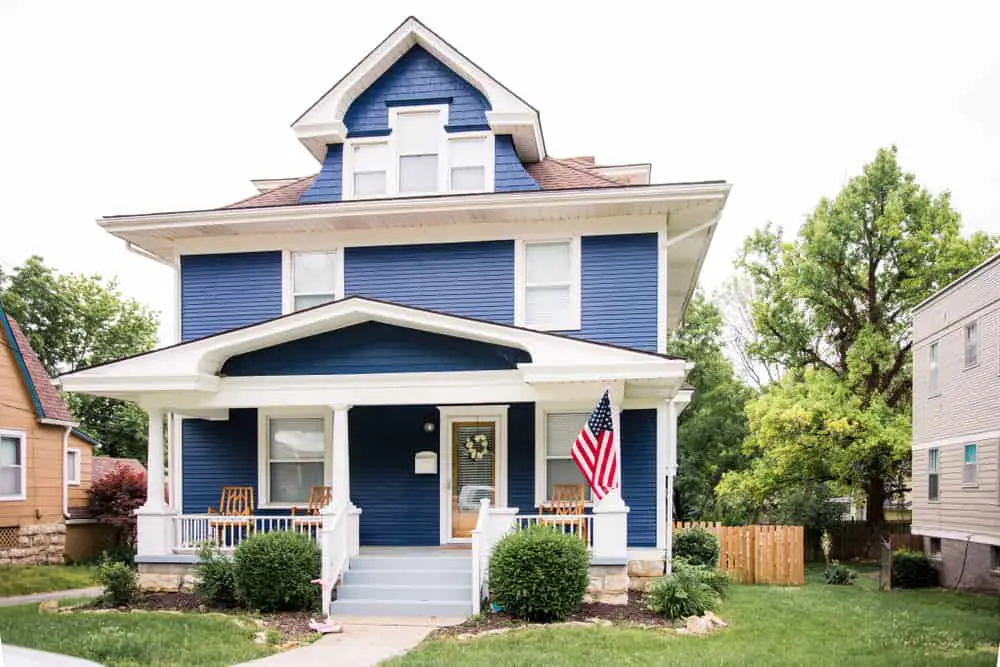 This colonial-style home features a deep navy blue with bright white trim to provide a pleasantly balanced blue exterior that, while bold, stands out for all the right reasons. A splash of red in the roofing material and the flag out front lend a very patriotic feeling to the blue exterior of this home.
23. Coastal Navy Blue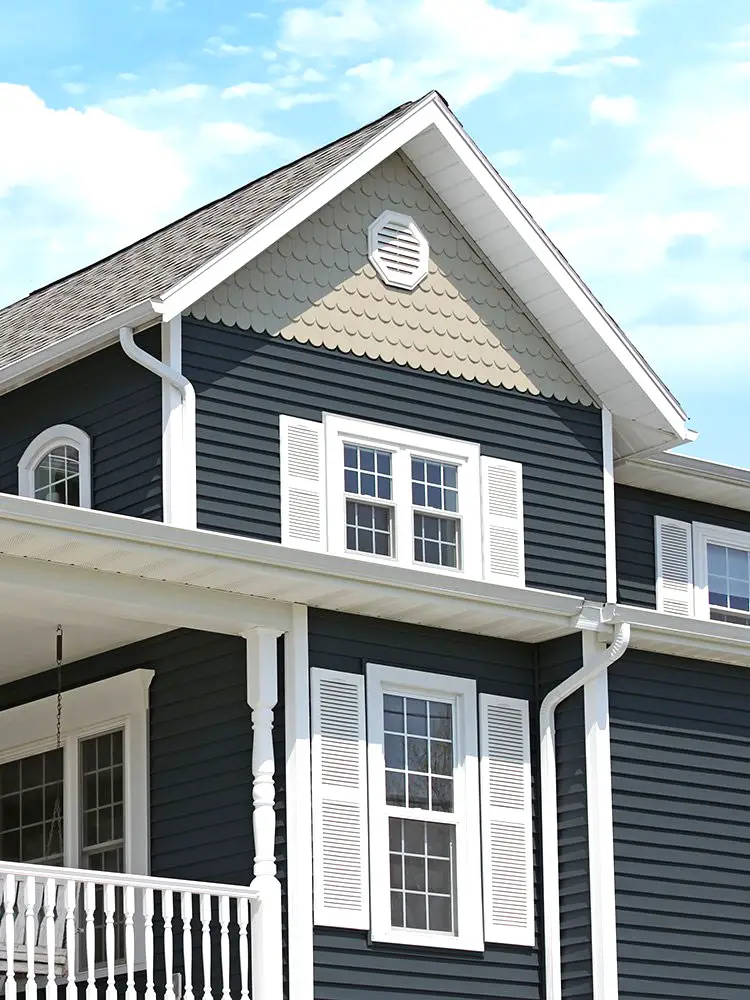 This home shows off a beautiful example of new construction that has been finished with a darker blue hue. Suitable near the beach or typical suburban area, this style of the home helps to break up the solid blue a little bit with white trim and sand colored scalloping.
Conclusion
Blue home exteriors are versatile and run the spectrum from faded traditional and colonial blues, muted blue-grays washed out denim tones, to deep, dark, bold blue options. They offer the chance to make your home stand out while retaining a sense of modesty and conservativism.
For homeowners in cooler climates, blue exteriors can be utilized not only as fashionable and trendy decor, but they can also help cut down on heating bills in the colder months by retaining more of the sun's heating ability and radiating it inwards, warming the home.