Updated on July 21, 2022
Make sure your bedroom is a place you love to go, no matter what time of day. After all, it is your personal space and nobody else's.
With so many bedroom design options to choose from, how could you possibly find something to settle on? We know how tough it can be, so we want to help.
Below, you will see that we have gathered 43 contemporary bedroom designs and ideas for you to browse through. Just because it is labeled contemporary doesn't mean you don't have options. Browse through what we have here and you will find something you like.
Contemporary Bedroom Design Ideas
1. Splash of Blue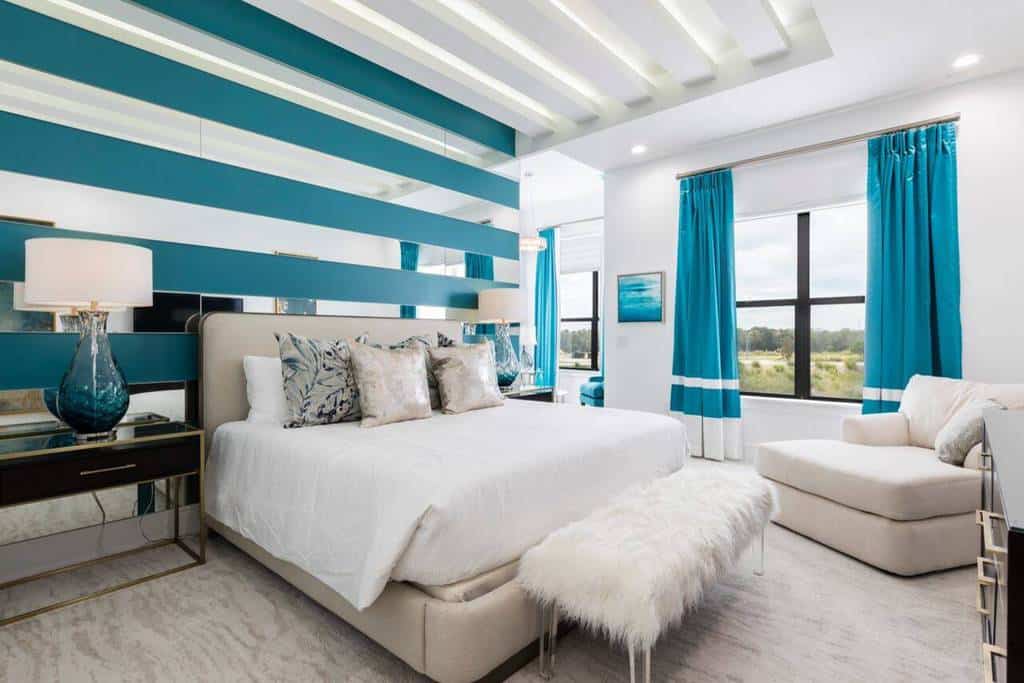 2. Hardwood Backdrop
The hardwood backdrop to this bed matches the floor well, setting the tone for the lighter walls and decor. This room has a wonderful style, balanced throughout.
3. Welcome to the Tropics
With a symmetry that makes it easy to look at, this room takes a tropical style and makes it work. With jungle wallpaper to go with the hardwood, the furniture is simple and not overwhelming.
4. Orange Styles
With skylights letting the natural light shine in and a light style complemented by wonderful color, this bedroom is a lively space. With a beautiful light hardwood floor, you will truly love this room.
5. Bold Designs
6. Crafted Ceiling
The ceiling in this room is a great starting point to design around. With a stand out carpet to complement the furniture, the natural light shines in to show everything off.
7. Contemporary Bohemian
8. Wonderful Decor
This room has a light style that works so well. The decor is a blend of floral elegance that spreads throughout the space. The rug and carpet complement each other perfectly, and the whole room is well lit.
9. Perfect Shelving
This simple space has a minimal ease to it. Without overwhelming the space with furniture, this bedroom has all it needs with a great book shelf and a space to lay your head at night.
10. Minimally Great
Minimal and artistic, this room has a great style to it. To match the light carpet, you can see how well this simple hardwood furniture works. The colors used are subdued and the effect works.
11. Functional Spaces
This space is great and functional. With the bed space separated from a fantastic working area, this room uses modern art styles and decor and colors to bring it to life. All of your needs can be met here.
12. Open Styles
The whole wall of this bedroom is windows, opening it up and letting the natural light shine in. The modern furniture and artwork come together with this dark hardwood floor.
13. Modern Art and Designs
With artwork that brings this room great character, you can sit back and appreciate the design of this room. With a stone fireplace area that works well with the hardwood styles and a well designed bed, you will love this room.
14.  Lavender Wonder
There is no rule book that says you can't indulge yourself with color. This room takes a beautiful lavender style and creates the perfect environment.
15. New Styles
Sometimes things just work out so well when you take the simple route. Here, it is an easy blend of light and dark styles. The patterns and furniture go so well with the light designs around the room.
16. Unstated Elegance
When you see this room, you think luxury. The comfortable space is filled with a lavender style that blends well with the elegant black mixed in. The furniture is amazing, giving this room a romantic feel.
17. Perfect Blends
This room has an abundance of natural light shining in, showing off the beautiful hardwood floor and matching furniture. The space comes together well with a blend of dark and light fabrics.
18. Handsome Styles
With darker walls that complement this hardwood floor well, this room does its job. The earth-toned furniture is a perfect match for the space and the decor is a great finishing touch.
19. Great Floor Design
The first thing that catches your eye here is the great pattern used for the floor. It sets the tone for a traditional space that has a modern flair thanks to the artwork and minimal styles.
20. Open and Simple
This large bed is flanked by easy bedside tables and is open to the whole room. The natural light shines in to show the great wallpaper and the light style around the room.
21. Comfortably Colorful
22. Enjoy the View
Sometimes, a simple turning of the bed changes everything. This bed faces the view and designs around it. With a hardwood design at work all around, you will love this style.
23. Wonderful Plant Life
With great shelving and multiple patterns and colors at work, this room takes the plants and makes the space come to life. It is a light and fun room that everyone will love.
24. Personal Decor
With a wonderful hardwood floor to design around, this room goes for a decor style that shows off personality. The furniture is simple and not overwhelming and the walls have great designs.
25. Hardwood Floor Perfection
With wonderful lighting to show off the whole space, this room starts with the hardwood floor and creates a light style all around. It is open and spacious, giving you plenty of space.
26. Shades of Blue
The blues around this room area a perfect match for the darker hardwood floor. Combined with great lighting and wonderful furniture, this room has an open style that really works.
27. Traditional and Complete
28. Bold Dark Styles
Going with darker styles with the furniture and fabrics, this room has a great balance. The hardwood floor really makes the rest of this room stand out.
29. Earth Toned Wonder
This room has a large and open floor style that lets you move around easily. The earth tones at work here are perfect. You even have a space here to relax and read a book before bed.
30. Black and White Ease
Nothing shows great contrasts better than a black and white style. This room creates itself around the dark hardwood floor and uses wonderful furniture for a great effect.
31. Modern Patterns and Decor
With a beautifully patterned rug to give this room style, you can appreciate the modern decor at work here. With contemporary furniture and light styles all around, this room comes to life.
32. Wooden Delights
The hardwood styles used around this room bring a calming effect to this whole room. Matched by wonderful fabrics and a beautiful carpet, this space is handsome and ready for you.
33. Contemporary Style
Not overly complicated but still refined, this room takes earth tones, makes the light, and creates a wonderful space. The decor is modern and the patterns on the fabric give this room a great style.
34. Warm Center
This room has an open floor plan that is centered by a beautiful fireplace area. You will stay warm, whether you are heading to the bathroom area or to bed.
35. Modern Elegant Designs
This bold dark hardwood floor is matched by a modern elegant design that envelops this whole room. The patterns on the wall behind the bed brings texture and style to this room.
36. Classic Sea Style
This room will make you think of a traditional beach house, with character and style. With great patterns and colors at work to match the hardwood furniture, you will find this room relaxing.
37. Low Profile
The light hardwood floor in this room gives you the ability to take great furniture and decor and make a wonderful contemporary space. Open and spacious, this low bed style really works here.
38. Easy Decor
With a bed that seemingly floats above the room, you can appreciate the patterns around the room. The furniture and decor doesn't overwhelm, but still looks fantastic.
39. Unique Decor
With a great contrast at work with the light and dark blends and patterns, this room goes for a great decor style to match. This space is new and modern, giving you a bohemian feeling.
40. Wonderful Windows
With minimal interference from the beautiful furniture here, this room shines in natural light thanks to the abundance of windows. The stone floor here is perfect for the style of the whole room.
41. Step Up Functionality
This unique room has plenty of light shining down from above. Step up to the bed area or stay down for your book shelves and drawers. This is a uniquely designed space.