Updated on August 19, 2022
Wondering how to clean leather car seats? The good news is, cleaning and maintaining them is much easier than you may think!
Each time you clean your seats, always start by vacuuming them to get rid of any dirt and debris. Then you use a cleaning solution to clean them, making sure not to use any bleach or other products that will damage the leather.
Using a good quality leather conditioner will ensure they continue looking like new.
Cleaning Your Leather Seats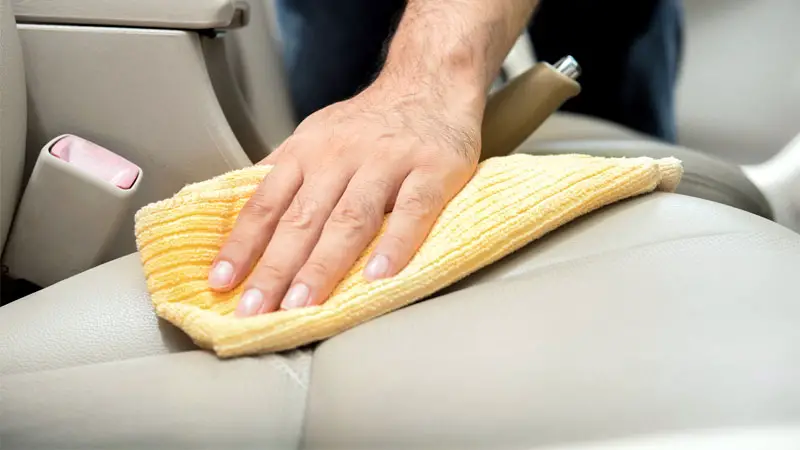 Getting leather seats nice and clean is a simple process. Whether you are maintaining, deep cleaning, or detailing before selling it, the cleaning process is much less of a hassle than many people expect it to be.
Before you get started, it is important that you check your seats to ensure there are no tears or perforations. Any liquid that gets inside will be nearly impossible to remove and could potentially lead to mold and mildew in your seats, so make note of these areas so you can avoid them when you get to the spraying and scrubbing portion of cleaning your seats.
Vacuum
Vacuuming your seats before you start in with your cleaning solution will remove any debris that may be lodged in the crevices. Removing the hair, dirt, and crumbs that may be stuck in the seams makes wiping and scrubbing your seats significantly easier.
Wipe
After vacuuming, you will want to wipe away any surface dirt on the seats. Use a spray bottle to apply either commercial or homemade cleaning solution to a soft towel or a microfiber cleaning cloth and wipe the seats, taking care not to soak the leather.
Scrub
If your seats are really grimy, you can spray them with your cleaning solution and scrub the dirty areas with a soft brush. Ensure the seats are wet enough to scrub but not soaked.
Take special care while spraying if you have any damaged spots that would be negatively impacted by the moisture. If you want to get a really deep clean, a horsehair brush can get down into the pores to remove stains.
Dry and Condition
Once you are finished cleaning, wipe your seats down with a gentle cloth, such as a microfiber towel or an old t-shirt to remove any lingering cleaning solution. Make sure to dry them completely to avoid damaging the material.
Follow up by applying a leather conditioner. Luckily there are a variety of leather care products available so you know you will be able to find a variety that contains UV protection, which will help prevent aging and damage from the sun.
Conclusion
Overall, knowing how to clean leather seats is easy. If you want to keep your vehicle's interior looking brand new, it's as easy as following just five easy steps. First, you vacuum, then you wipe down the seats, give them a scrub, and finish off with drying and conditioning them.