Updated on July 29, 2022
When it comes to your kitchen floor, it is so important hat you get it right. The floor is the base of the whole design, so don't just go with anything.
A hardwood floor for the kitchen can never be wrong. That's because hardwood floors are so versatile. Whether you want something darker or lighter, you can find it. If you want a traditional match, hardwood will do it. A contemporary style? You know hardwood floors work.
We have gathered over 35 hardwood floors for you to browse through. We want you to figure out the perfect design your you.
Light Wood Floor Kitchen Design Ideas
Don't forget to pin these ideas and follow us on Pinterest @homeawakening
1. Classic Hardwood Floor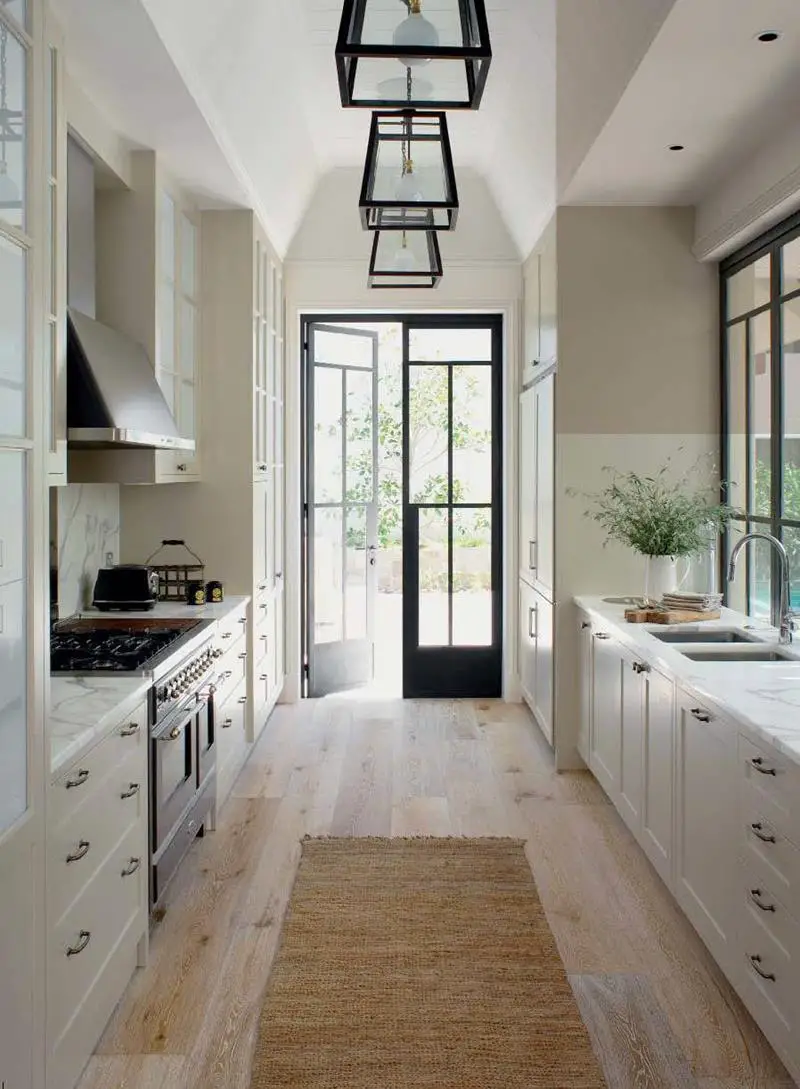 An absolutely beautiful space, with room to work on the long counters down each side of the kitchen. The light hardwood floor is the perfect highlight for this space.
2. Light and Sophisticated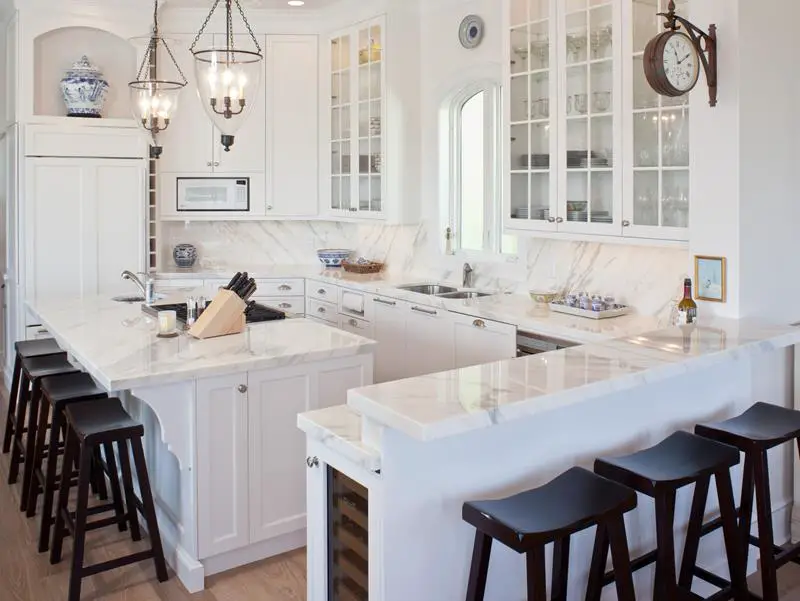 Photo by Renaissance Design Studio
The light hardwood floor in this kitchen is the perfect balance to the white counters and the marble on the countertops and backsplash.
3. Beautiful Cooking and Dining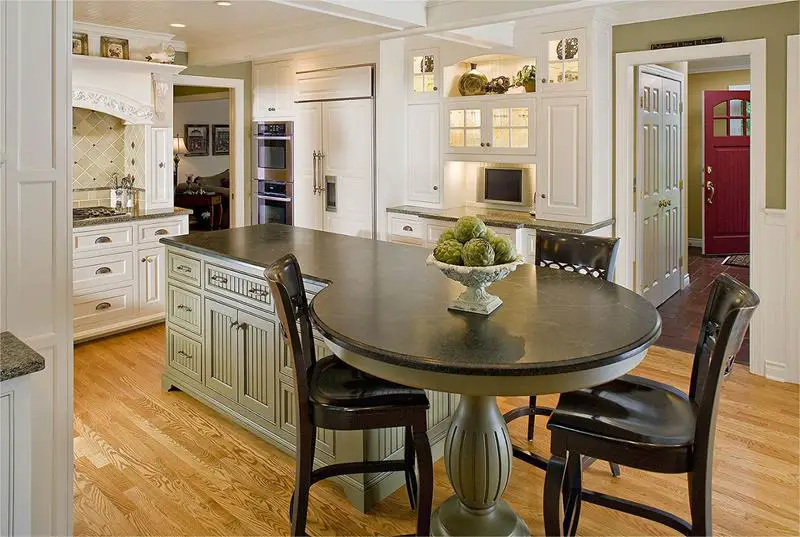 Photo by The Woodshop of Avon
The darker, almost olive color used for this center island is a wonderful complement to the hardwood floor. The dark countertops match the dark chairs well.
4. Bold and Rustic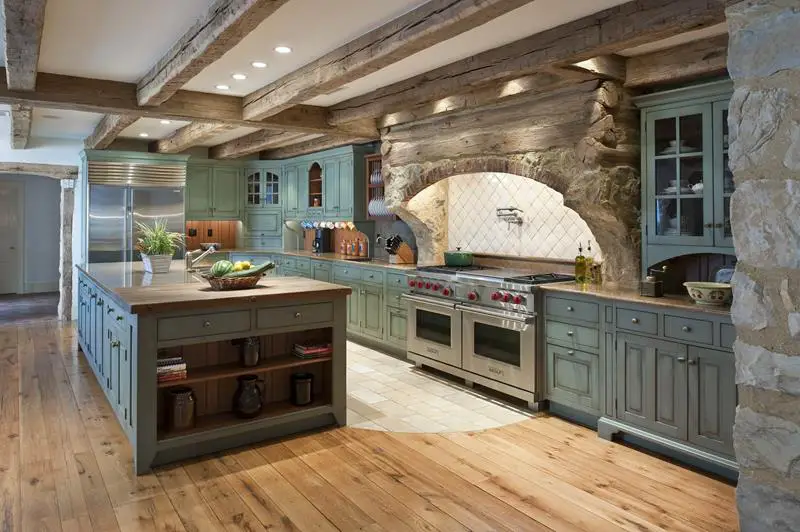 Photo by Period Architecture Ltd.
This is a luxurious and rustic space. With the weathered hardwood beams and stone designs, this light hardwood floor is simple and perfect for this kitchen.
5. Perfect Hardwood Combinations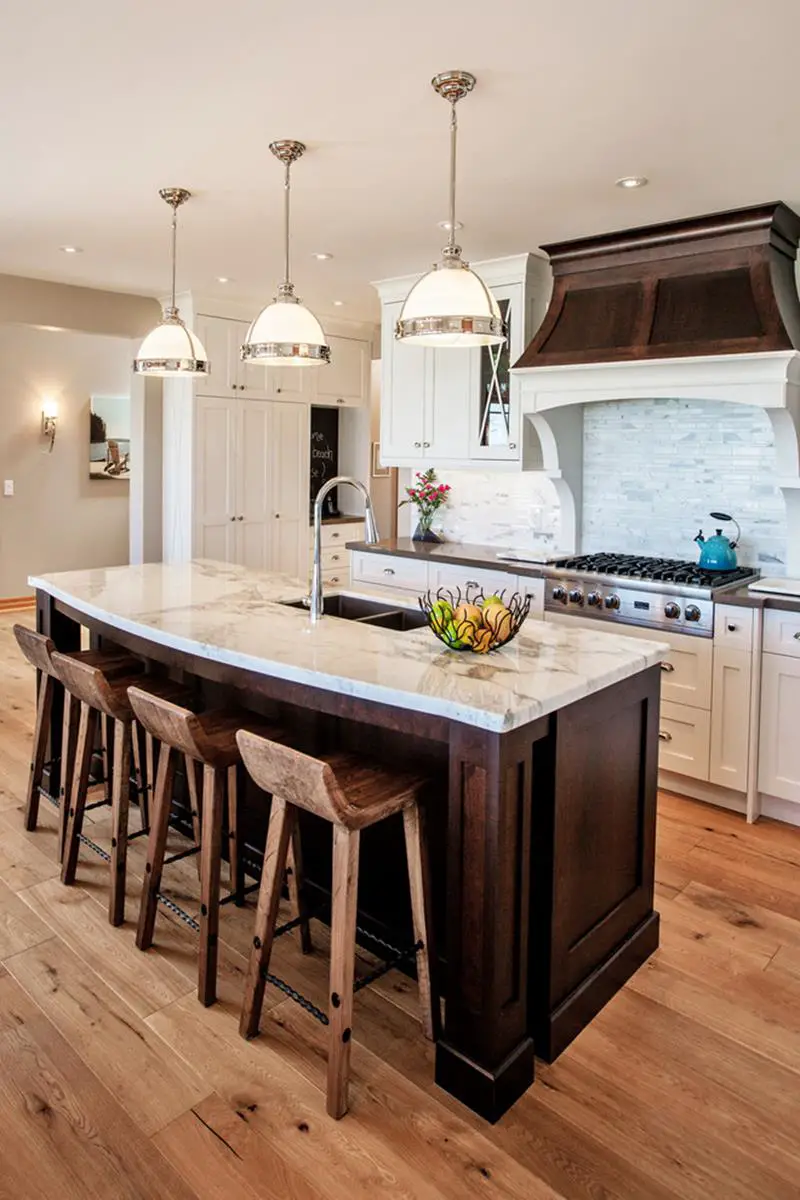 Photo by Madison Taylor
There is no rule saying that you can't have multiple shades of hardwood working together. In fact, it looks great here, with a lighter floor and darker center island.
6. Wonderful Open Floorplan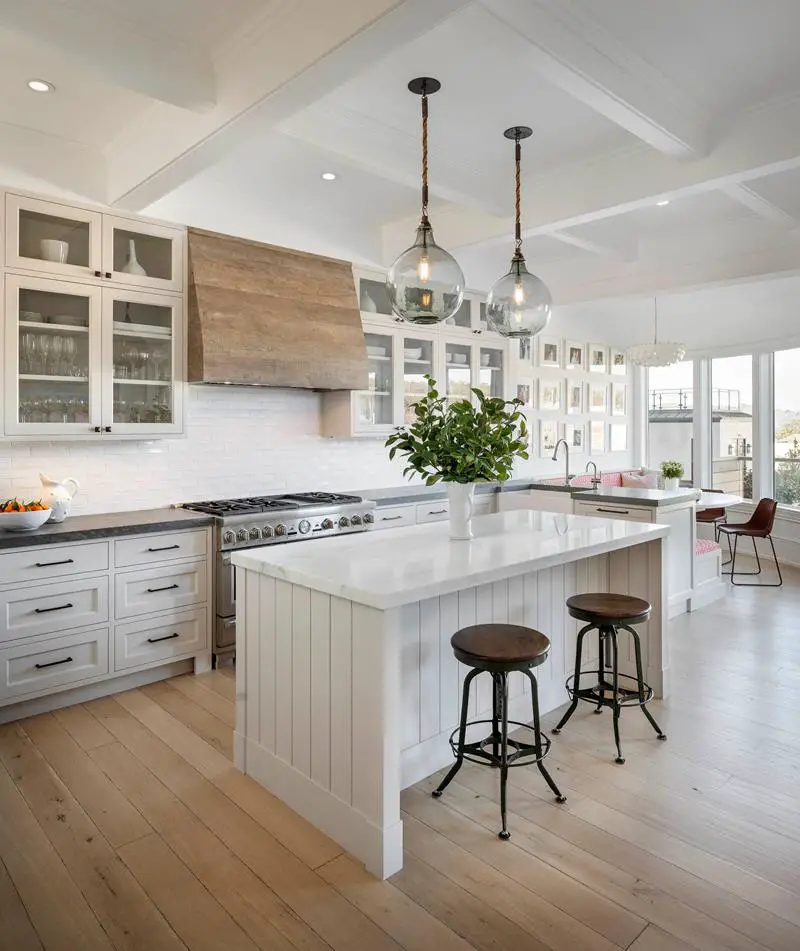 Photo by Sutro Architects
This open floor plan works really well. the natural light shines in to show off the simplicity of this space. The hardwood floor doesn't overpower the room, it works with it.
7. Wonderful Dining Space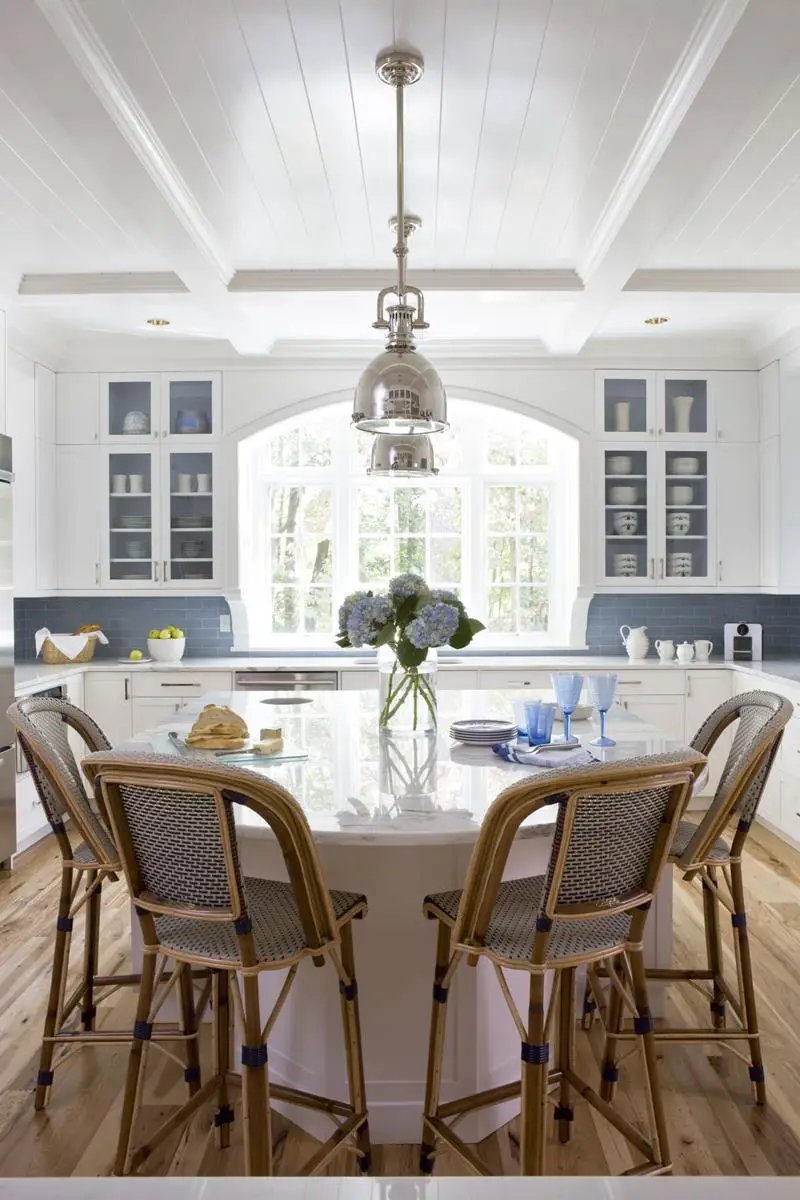 Photo by celia welch interiors
We love center islands that are functional like this. Pull up a chair and have your meal. Here, you are surrounded by a traditionally designed room with a wonderful hardwood floor.
8. Industrial Styles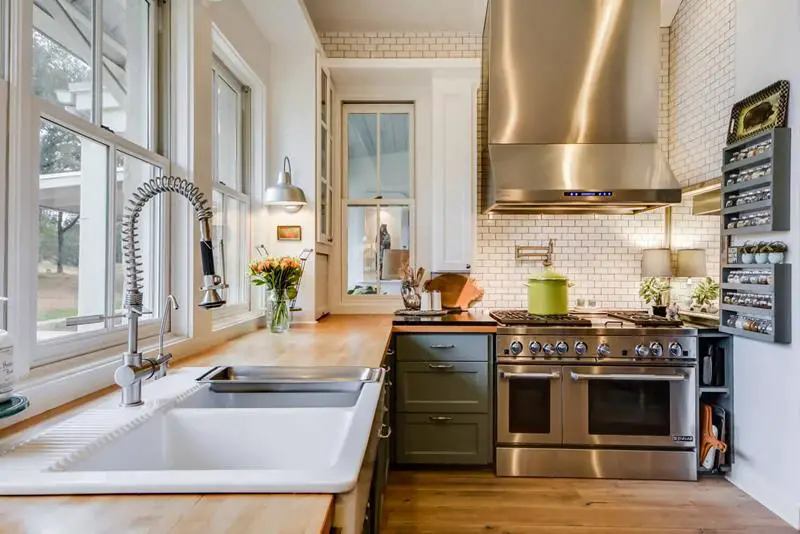 Photo by Van Wicklen Design
Hardwood floors work well with industrial styles. Here, the stainless steel appliances match the brick design around the room.
9. A Contemporary Design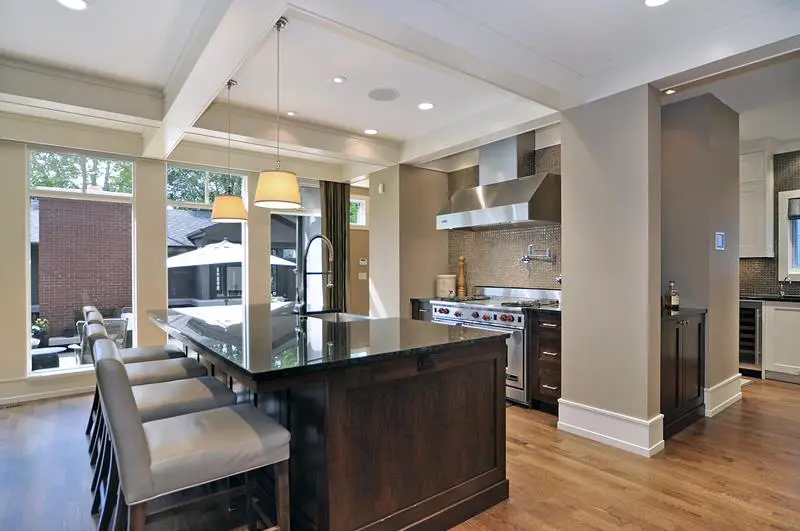 Photo by Bruce Johnson & Associates Interior Design
This kitchen is sleek and modern, with some classic concepts provided by the darker hardwood cabinets. The light hardwood floor creates a wonderful contrast.
10. Lively Decor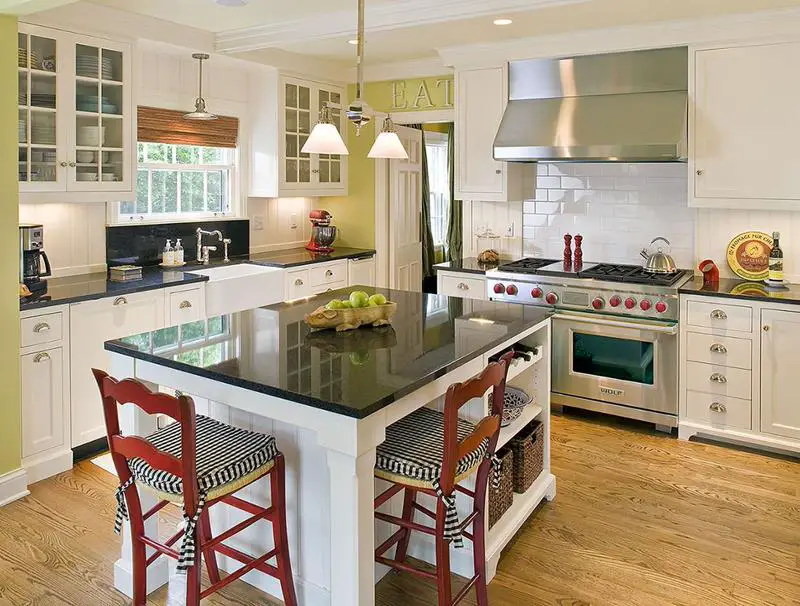 Photo by The Woodshop of Avon
This kitchen gives off a wonderful contemporary country vibe. Starting from the hardwood floor and moving into the decor, everything here works together.
11. Light and Open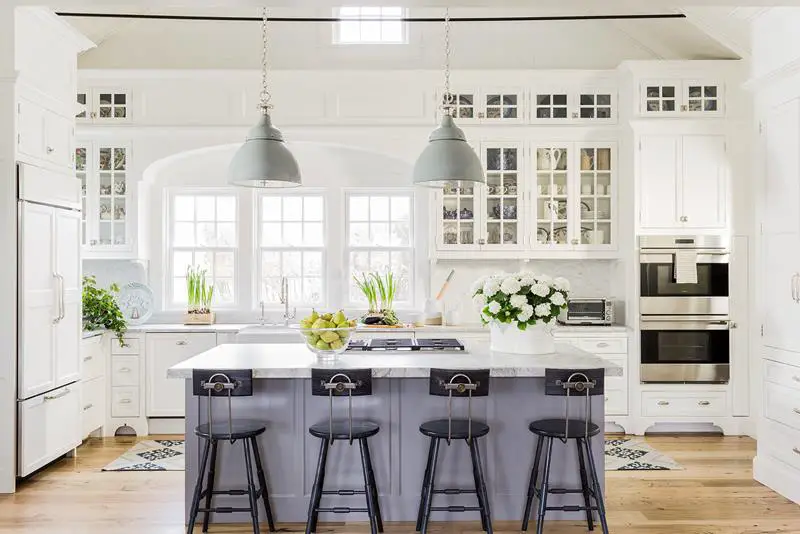 Photo by Nancy Serafini Interior Design
The natural light pours into this room and shows off a modern design. With beautiful plant decor to highlight the room, the hardwood floor and light cabinets are perfect together.
12. Wonderfully Connected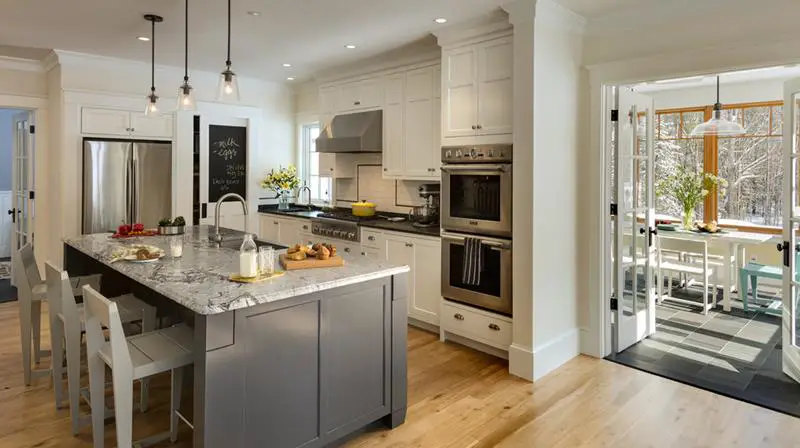 Photo by Whitten Architects
With a great dining area attached and surrounded by windows, there is something special about this kitchen. The hardwood floor is a great match for the overall design.
13. Country Charm

Photo by Joe Nowak Photography
With a great brick design going around this kitchen, you can sense the country farm style going on. The hanging wooden shelves are a perfect match for the hardwood floor.
14. Wonderful Tradition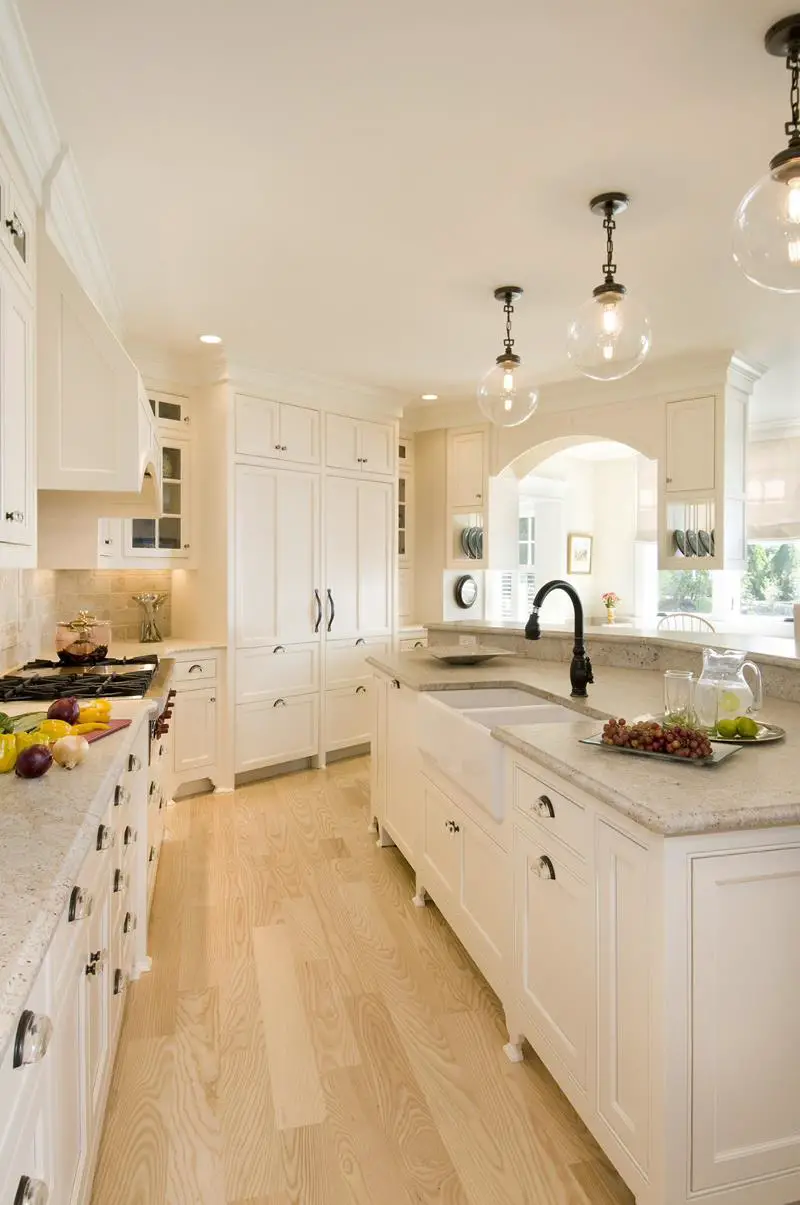 Photo by OLSON LEWIS + Architects
This kitchen takes an overall lighter approach and the match is wonderful with the hardwood floor. The natural light pours in to show off the whole space.
15. Modern and Stylish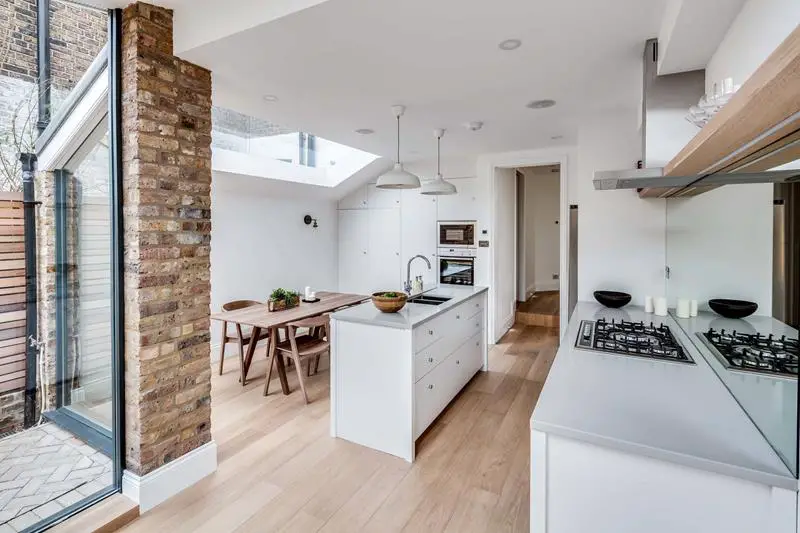 Photo by JLB Property Developments
The brick inside the kitchen is a wonderful design idea. It is a great match to the hardwood floor. This overall style of the kitchen is modern and smart, giving a lively vibe.
16. Modern Bucolic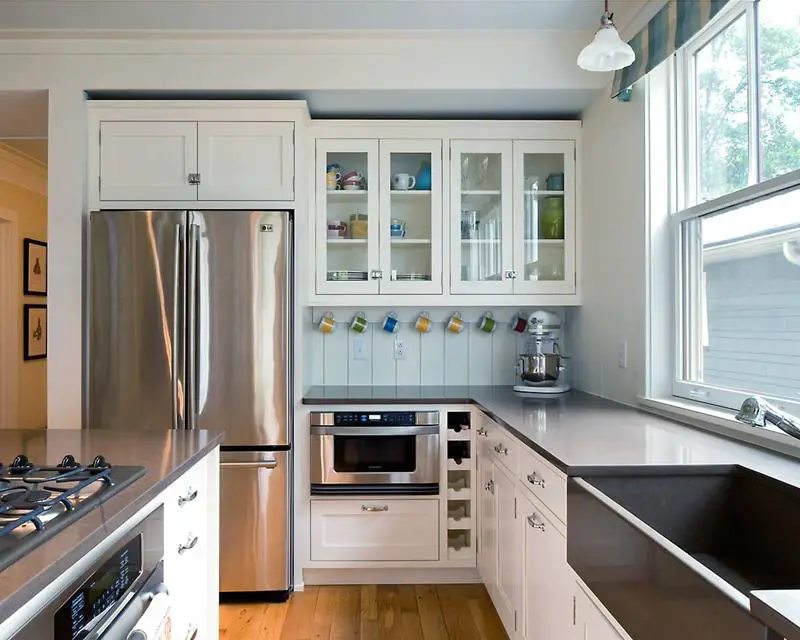 Photo by Hamilton Snowber Architects
Ther is a such thing as a modern farm style, and this is it. With a charming decor display and modern appliances, this is a contemporary dream.
17. Hardwood Match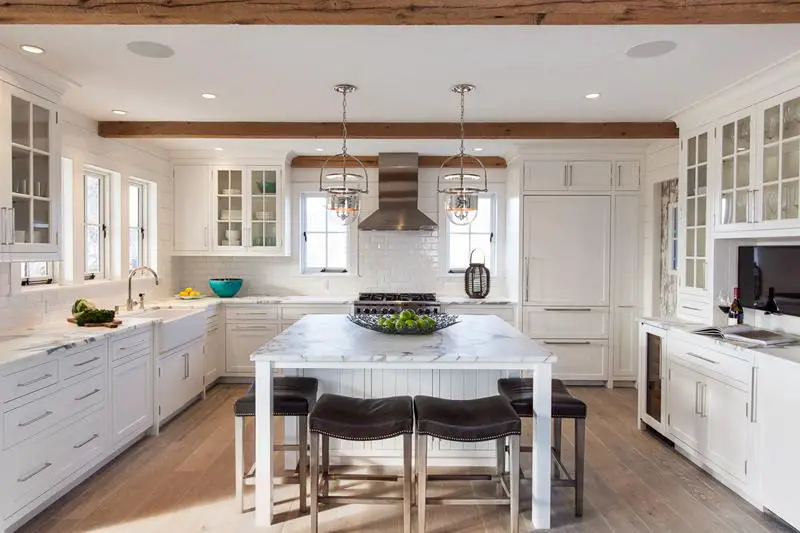 Photo by Jonathan Raith Inc.
This hardwood floor is a great match to the overhead hardwood beams. They work together to enhance the whole kitchen space.
18. Marble Style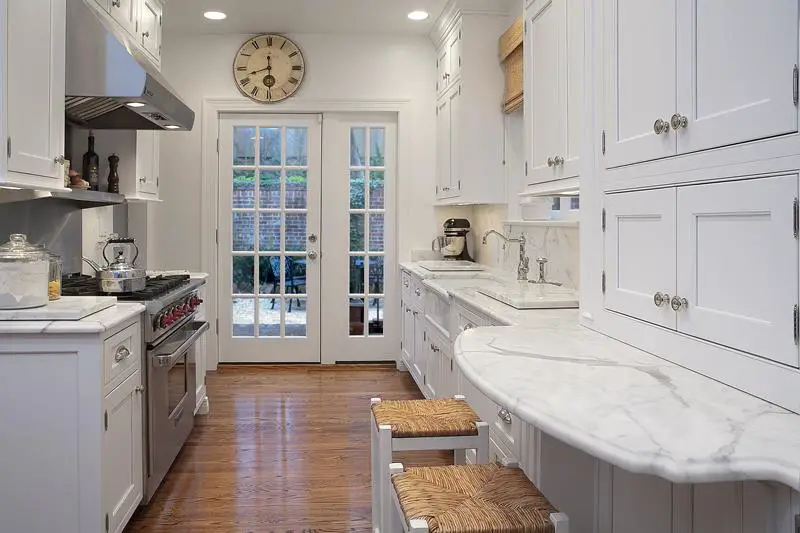 Photo by Thorsen Construction
This kitchen is made to be elegant, and you can see it in the design. The floor is a perfect match to the marble countertops. The decor is spot on and the whole space is functional.
19. Charming Country Style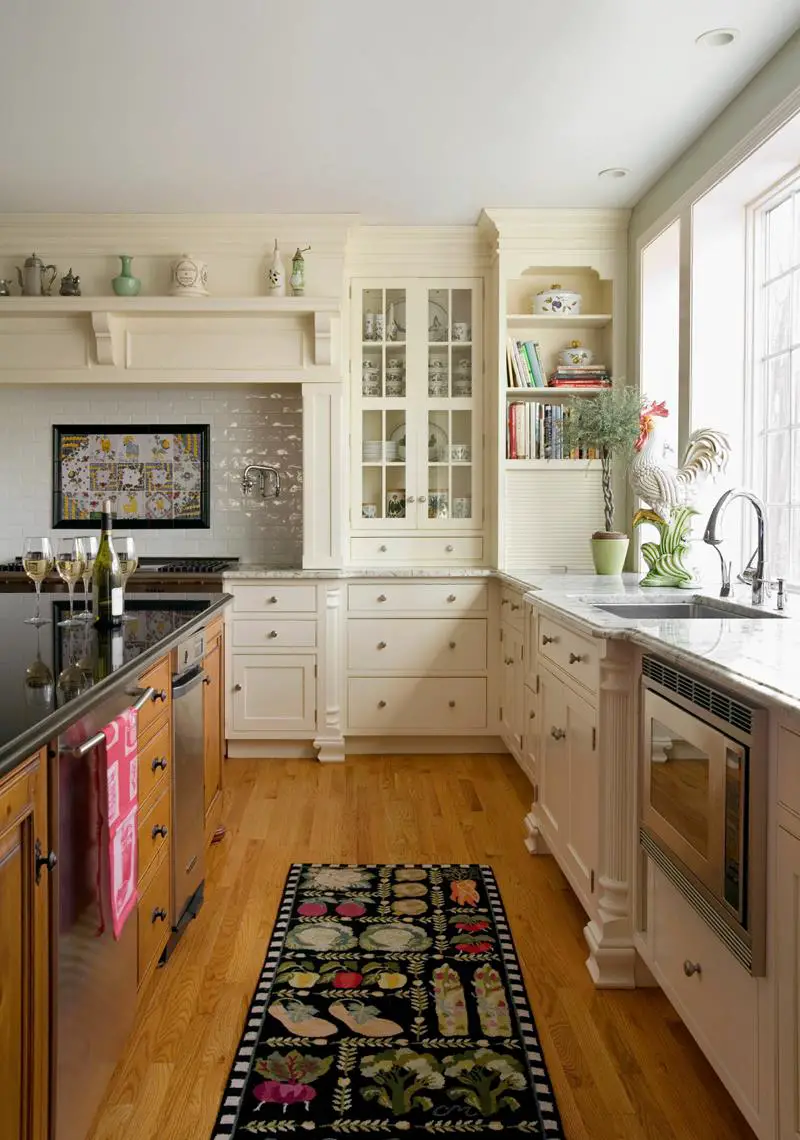 Photo by Quality Custom Cabinetry, Inc
You can quickly get lost in the charming decor, but don't forget that the whole design is made to make you comfortable. The country charm is hard to miss, and the hardwood floor is the perfect base for it all.
See Also: 25+ Stunning Spanish Style Kitchen Designs
20. Grand Island Style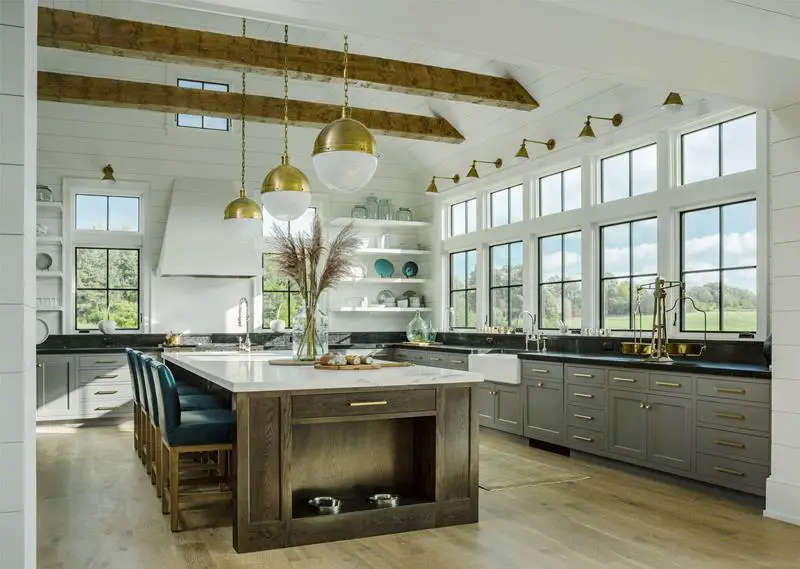 Photo by Roundtree Construction
This open floor plan is complemented by the large center island, bringing you function and style. The overhead beams match the floor perfectly.
21. Sleek Modernity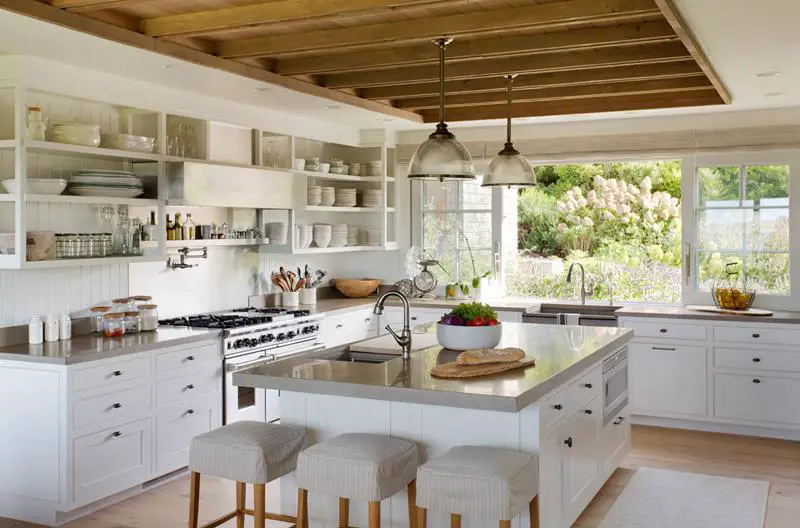 With a row of overhead beams, this whole space is easy to design around. The hardwood floor, the light cabinets, and the sleek countertops all work together wonderfully.
22. Dark Countertop Match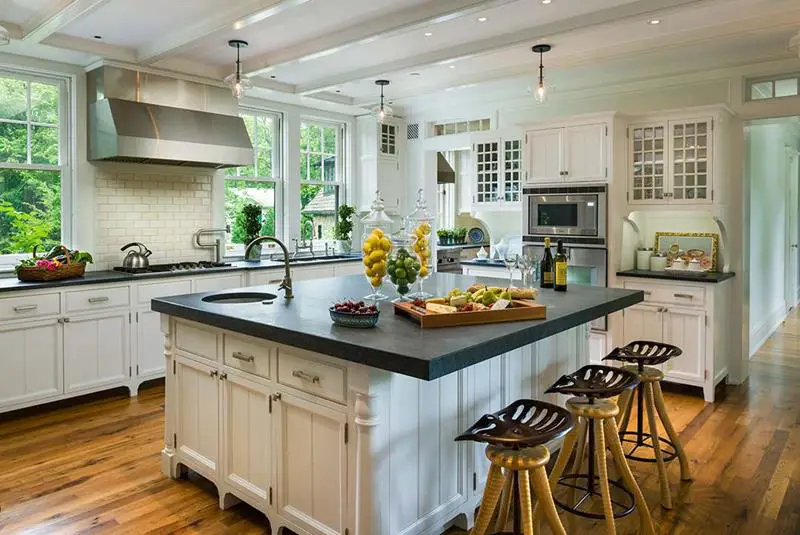 This multi-toned hardwood floor is a classic style, matching the dark countertops and light cabinets so well. The decor is the final addition, and it works so well.
23. Dining Space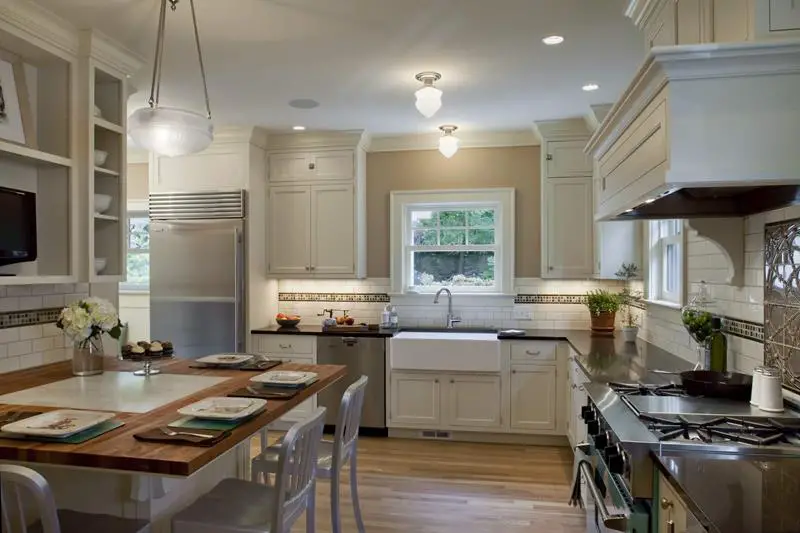 With a mix of traditional and contemporary, you can always count on style in this kitchen. The hardwood floor and island top match the stainless appliances wonderfully.
24. Traditional Center Island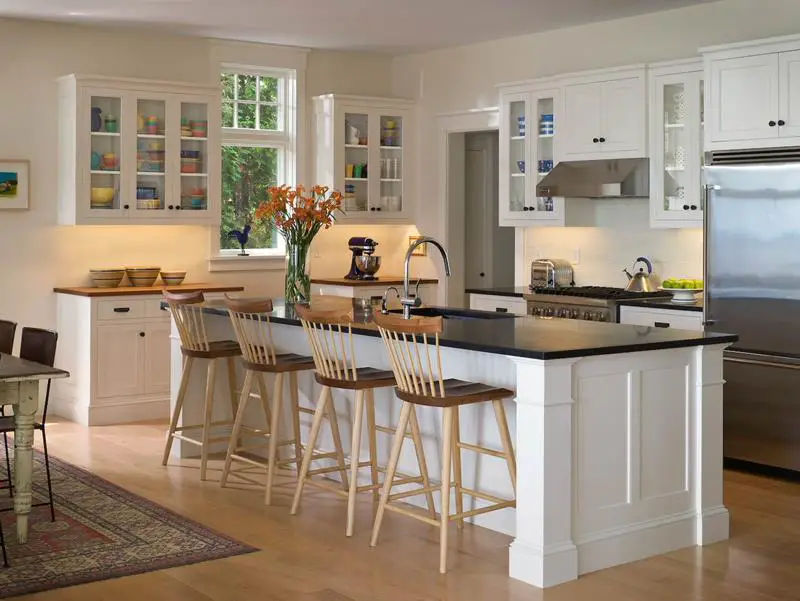 This is a great example of how and traditional styles never go out of style. This hardwood floor is the base of a wonderful design, from the dark countertops to the display cabinets.
25. Classic Designs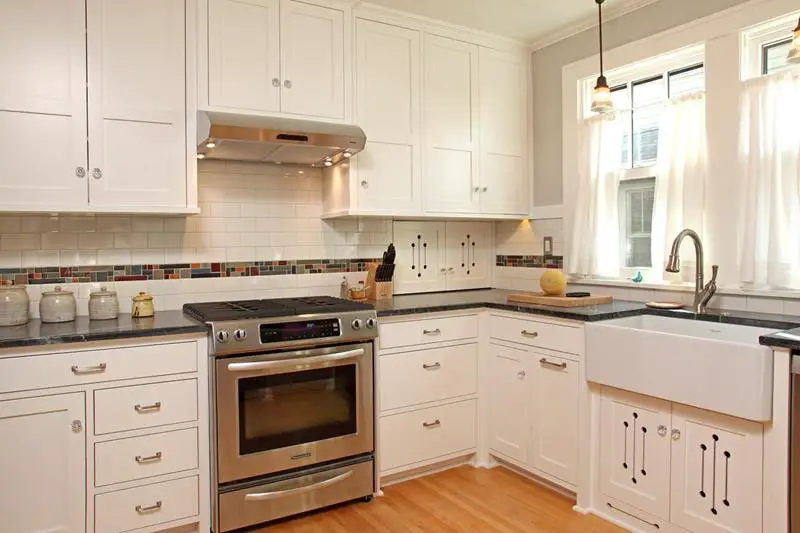 Look at how well this tile backsplash complements the entire room. The simple use of multiple tile colors changes the whole dynamic and matches the light floor perfectly.
26. Charming Spaces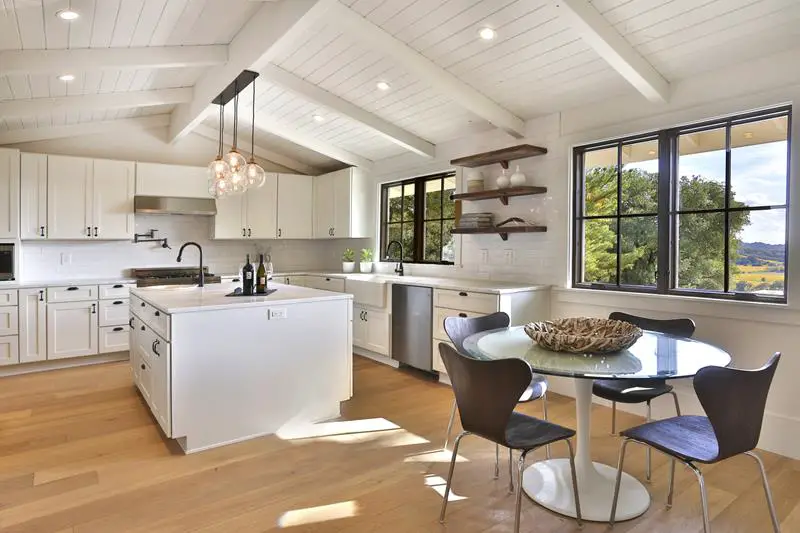 This room takes a bold design approach. To match the hard wood floors, you can see how well the light cabinets are blended with darker trim around the windows and with the chairs.
27. Light Shines In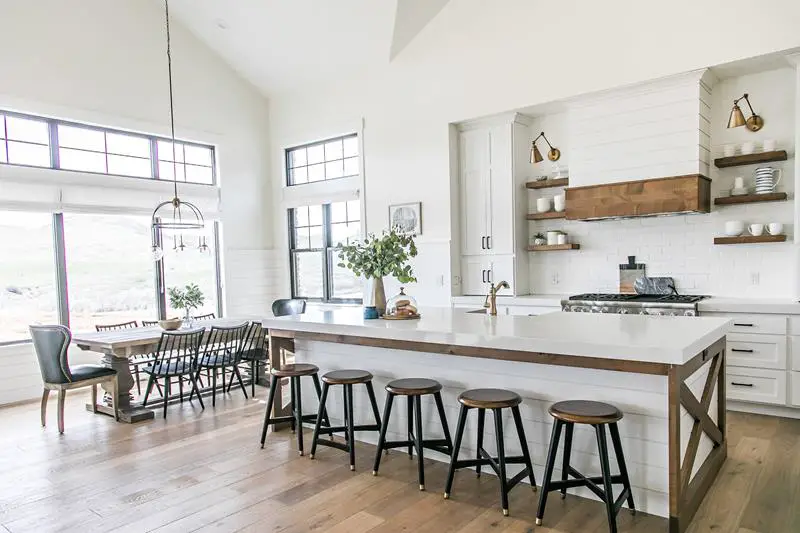 This is a grand space, large enough to accommodate many people at once. With impressive hardwood designs all around, the natural light shines in to show it all off.
28. Contemporary Design Idea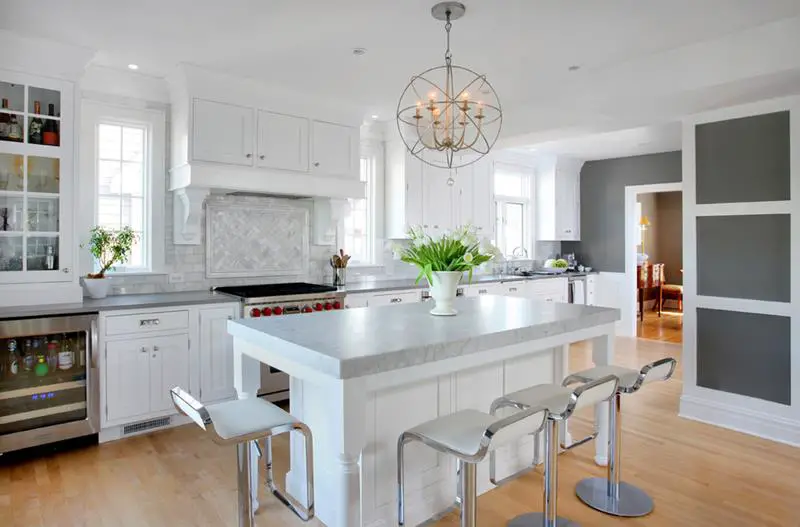 With a wonderful tile pattern for the backsplash, you can appreciate how well this space uses a contemporary design to match the hardwood floor.
29. Easy Eating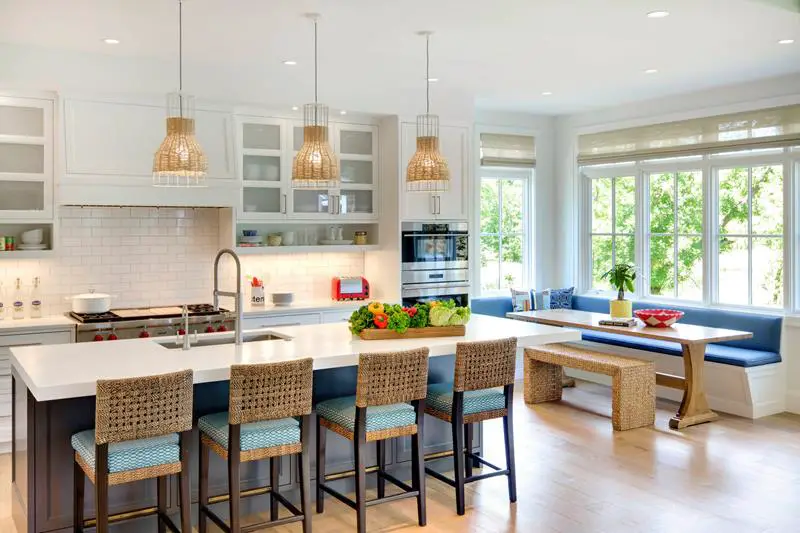 When you use a hardwood style, like this floor and table, sometimes a little color goes a long way. These blues blend well with the room and look great in the natural light.
30. Long Wooden Table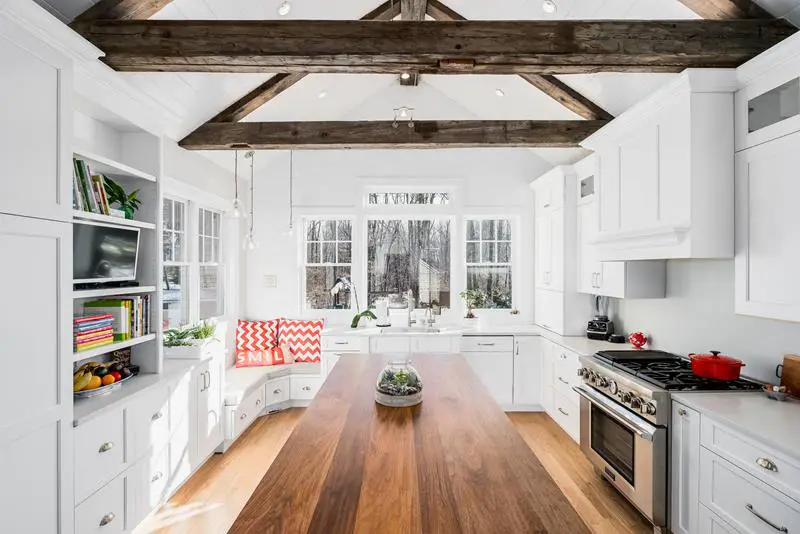 When you want a hardwood design, consider using it for the center island as well. Here, this island looks amazing and works wonderfully with the floor and overhead beams.
31. Hardwood and Stacked Stone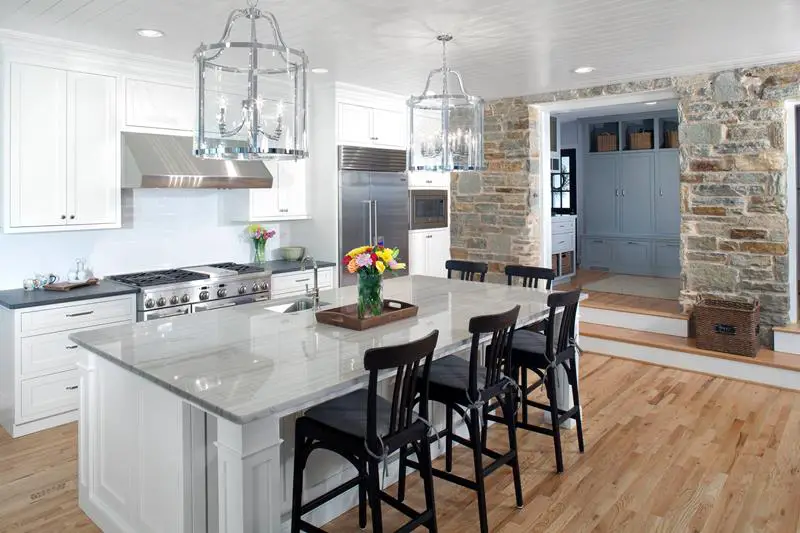 There is something wonderful about using a stacked stone design inside the home. Combined with this wonderful hardwood floor, this kitchen creates a wonderful environment.
32. Hardwood and Tile Match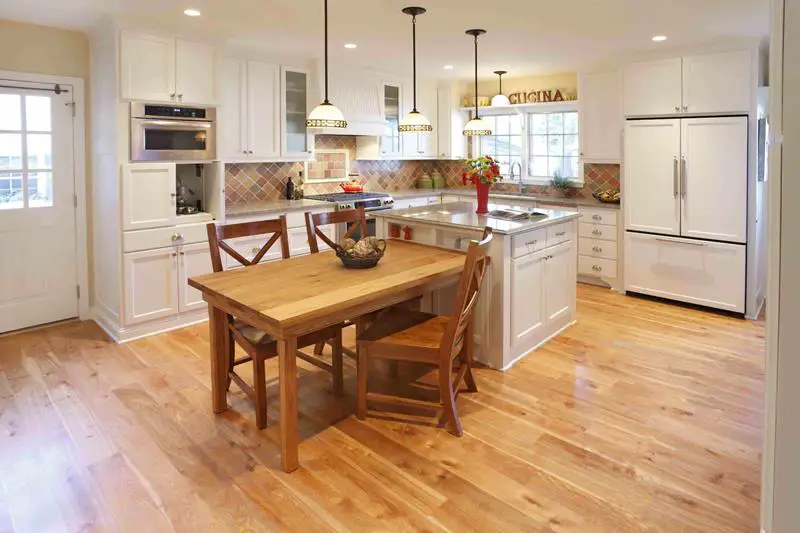 The island extension is perfectly made with hardwood. It is a great blend with this hardwood floor, and the tiles used for the backsplash complement it all well.
33. Light Green and Hardwood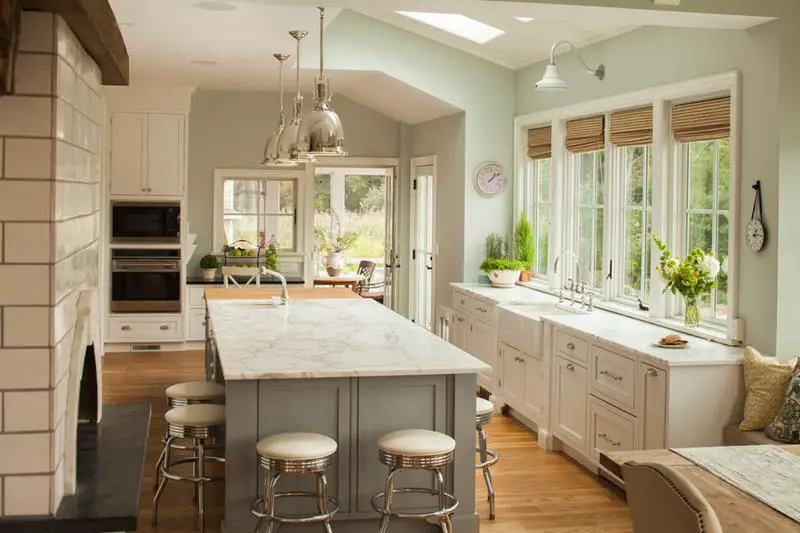 You may not notice at first, but the walls are a light, sea foam green. They are a perfect complement to this hardwood floor and enhance the whole kitchen space.
34. Great Hardwood Shades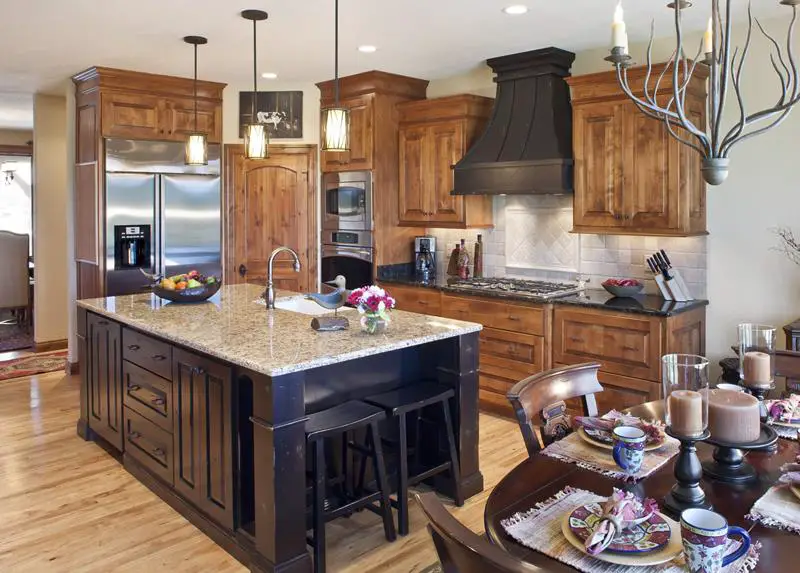 Combine different shades of hardwood together and you can end up with a grand design like this one. This space is elegant and the decor is a great match.
35. Traditional Combinations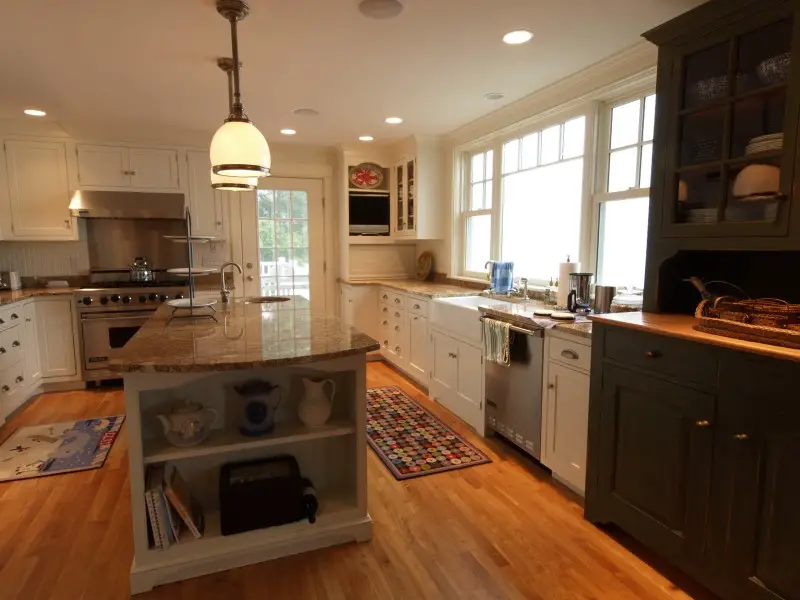 This light hardwood floor is matched by a blend of light and dark styles around this room. With plenty of room to move around, you will love this space.
36. Open Floor Plan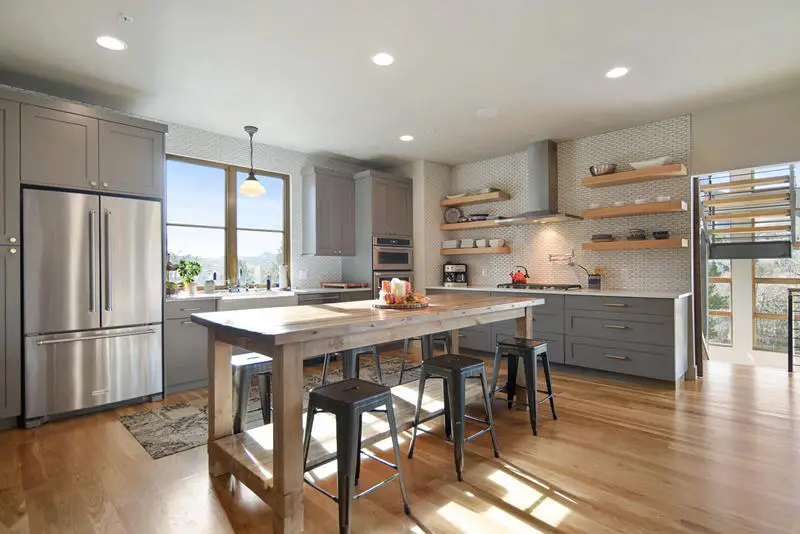 37. Light and Open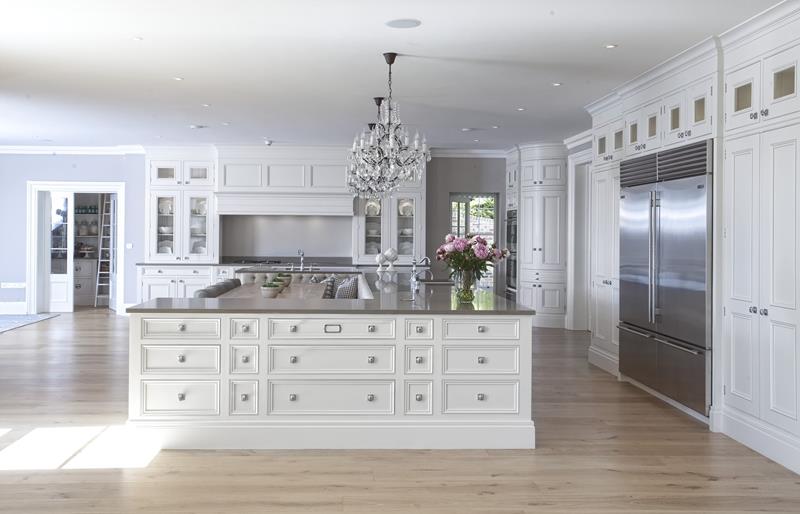 This large center island is the showcase of the kitchen. The whole space is open and eay to move around, tied together with this beautiful hardwood floor.
38. Wonderful Colors and Materials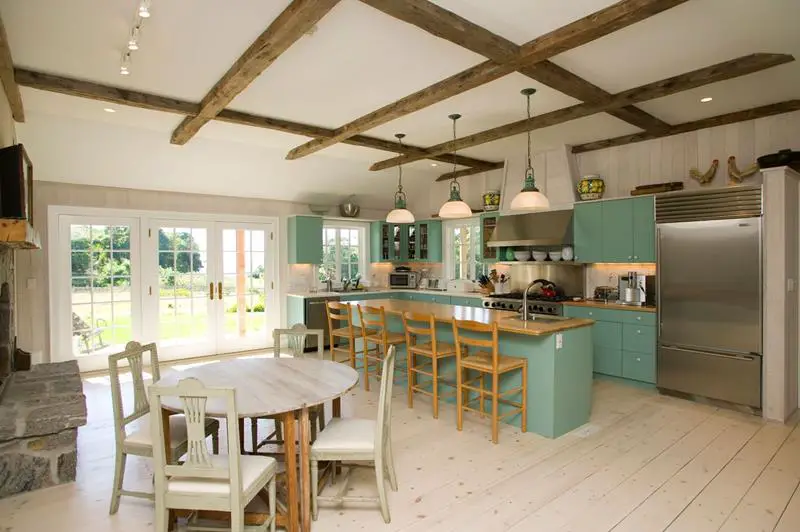 When you have a space like this, with a beautiful light hardwood floor, sometimes a little splash of color is all you need to finish a perfect look.
39. Great floor Layout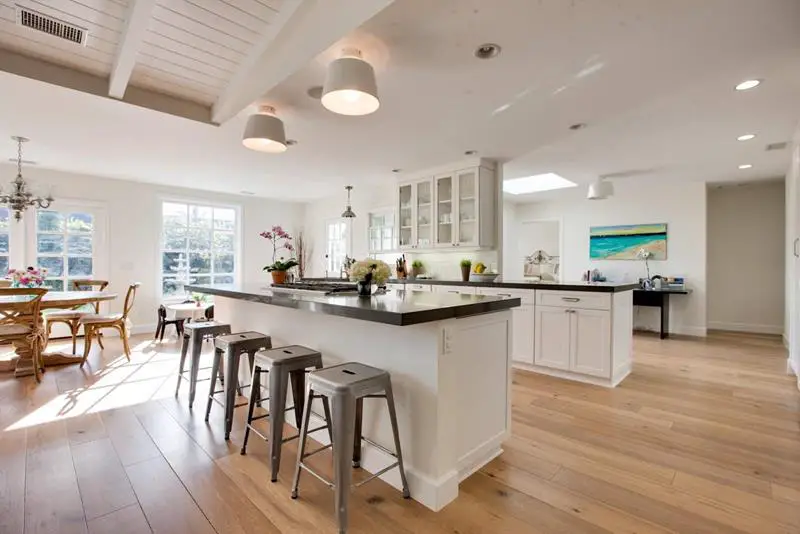 We love kitchens that are open, with the cooking and dining areas all tied together. This whole space take a light style and shows it off well.
Don't Miss: 35+ Kitchens with Dark Floors