Updated on July 29, 2022
We love contrasts. That's why we want to show you how to create beautiful contrasts in your kitchen.
Below, we have gathered over 30 kitchen that use lighter cabinets and match them with darker countertops. From traditional to contemporary, the designs you will see below show such a wide range of possibilities.
If you are going for a bold look in your kitchen, look no further. We are sure that you will see something you like below.
White Cabinet and Black Granite Kitchen Design Ideas
1. Cathedral Style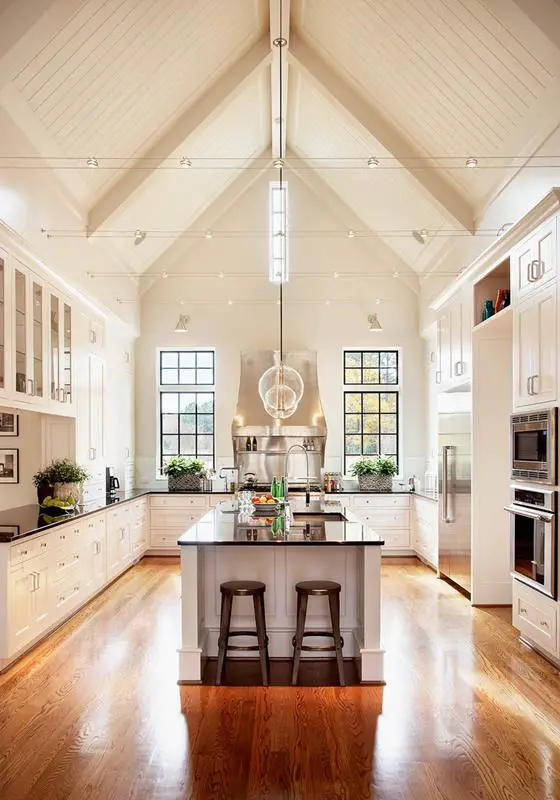 With a large and spacious floor plan, you can appreciate how the natural light shows off the contrasts in this kitchen.
2. Modern Industrial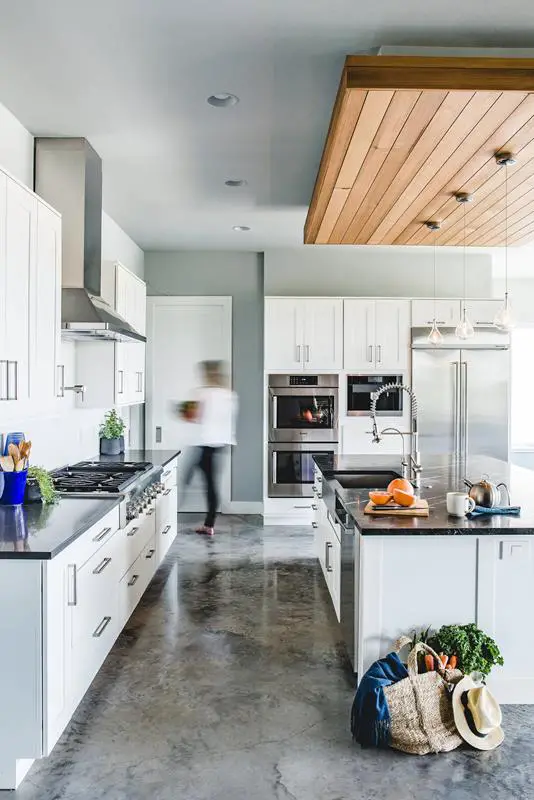 The stone style floor in this kitchen really works well with the light cabinets and darker countertops.
3. Large Center Island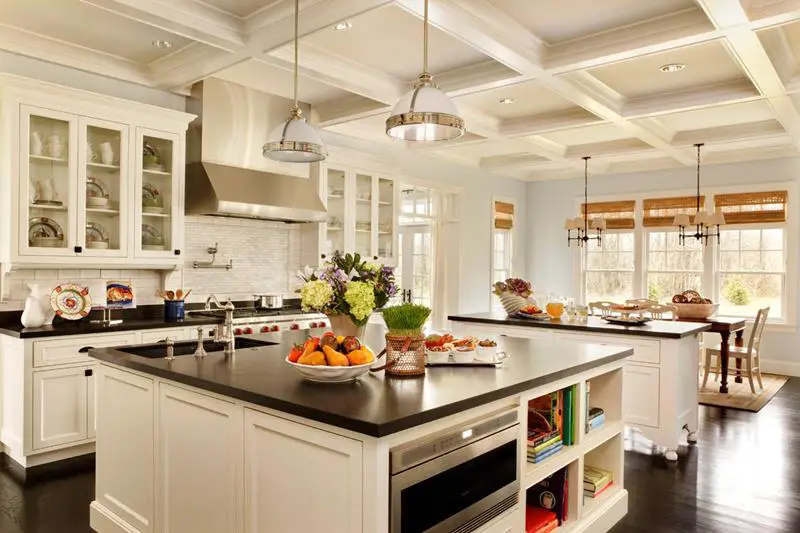 These countertops are a light beige color and they blend perfectly with the bold darker counters. With plenty of room to work, this is a great space.
4. Great Blend With Hardwood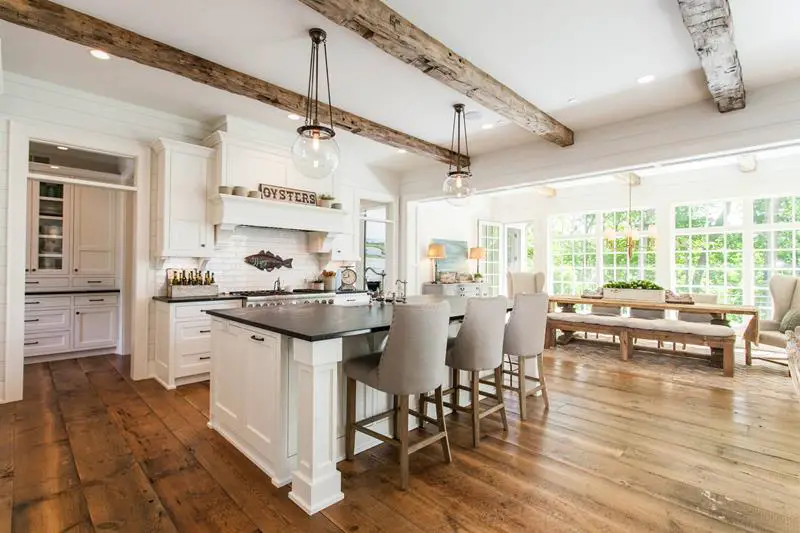 5. All Around Dining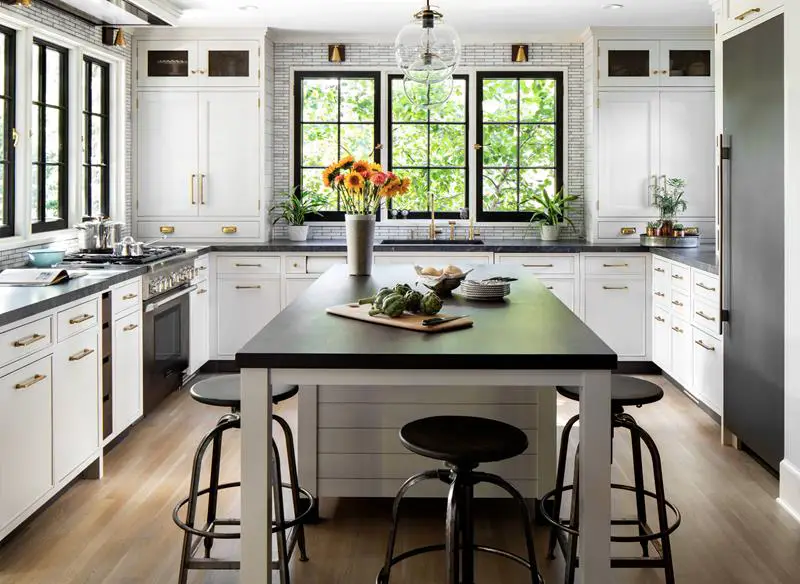 To go with the light cabinets and dark countertops, look at how well this backsplash complements both.
6. Elegant Combination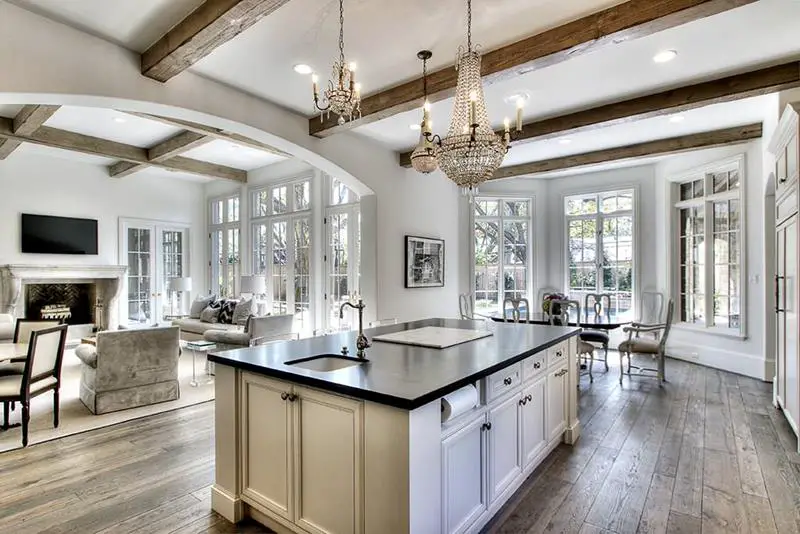 There is a certain elegance about this room. With the dark counters working so well with the hardwood, this style is amazing.
7. Traditional Pairing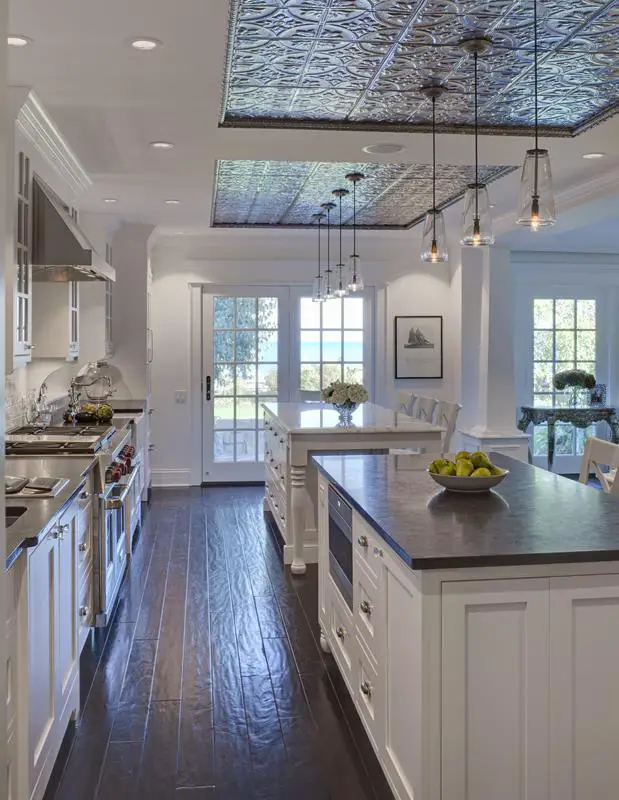 You can sense the traditional style at work in this room, from the textured hardwood floor to the choice of cabinets.
8. Great Match With Hardwood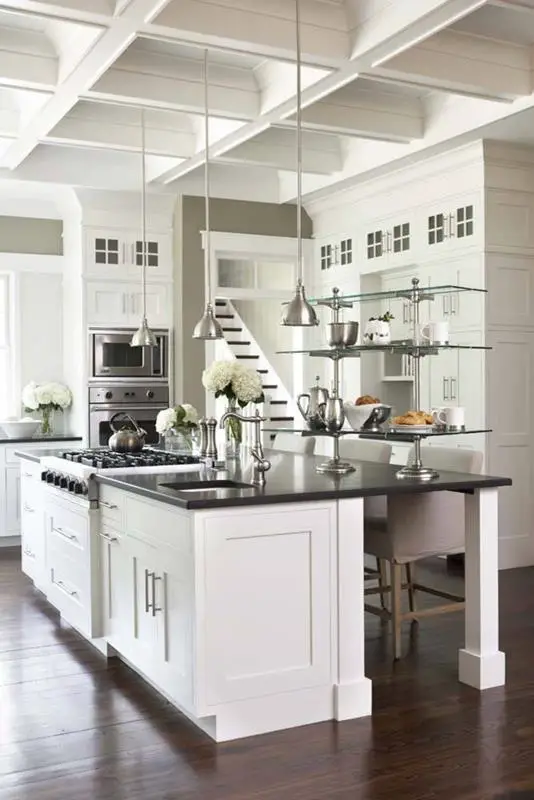 This kitchen is a modern upgrade to a traditional style, giving you wonderful contrasts between white and black.
9. Simple and Spacious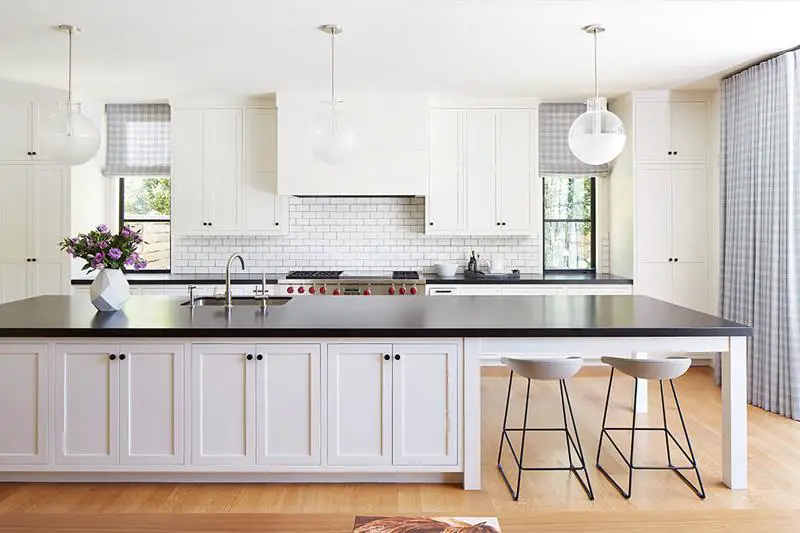 The subway tile backsplash is a great complement to the contrast between the countertops and white cabinets.
10. Multiple Tones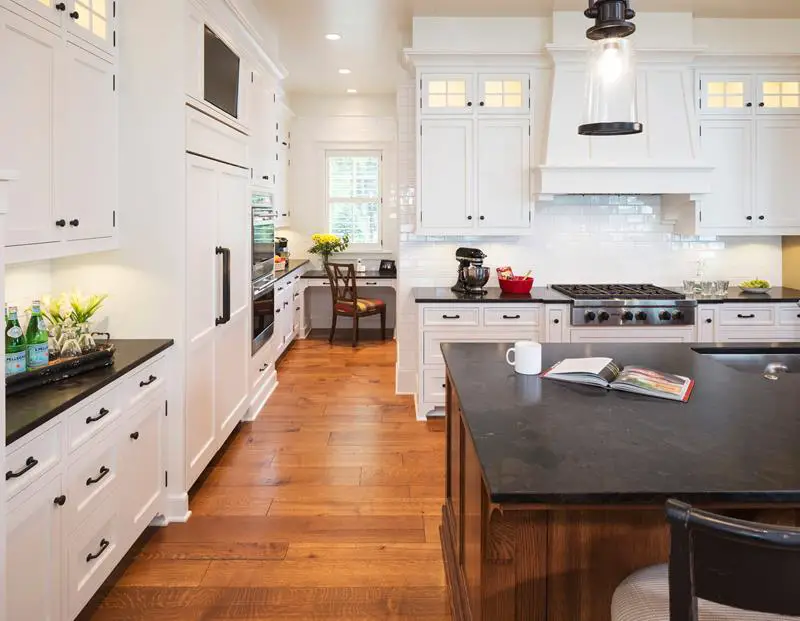 Looking around this room, you can see a great use of multiple color tones all around, from the hardwood to the cabinets and counters.
11. Country Styles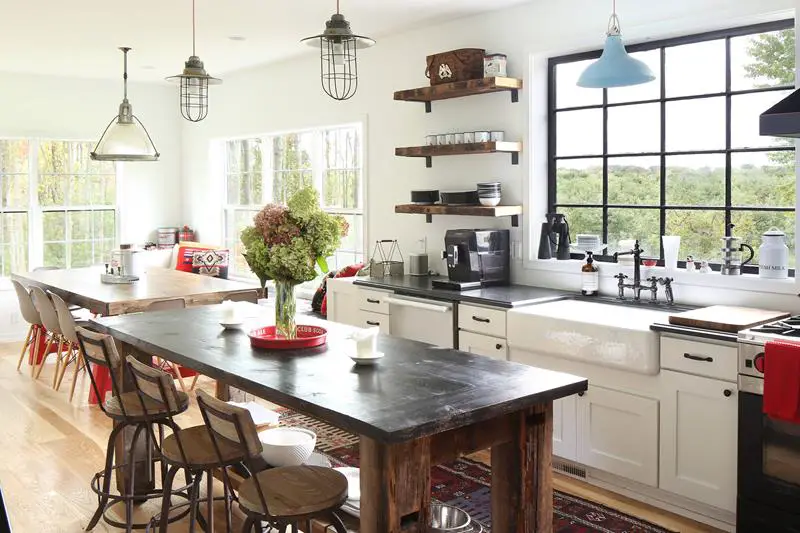 Welcome to a beautiful country style. With a contemporary flair, this space takes in the natural light to show off the design.
12. Old-Style Design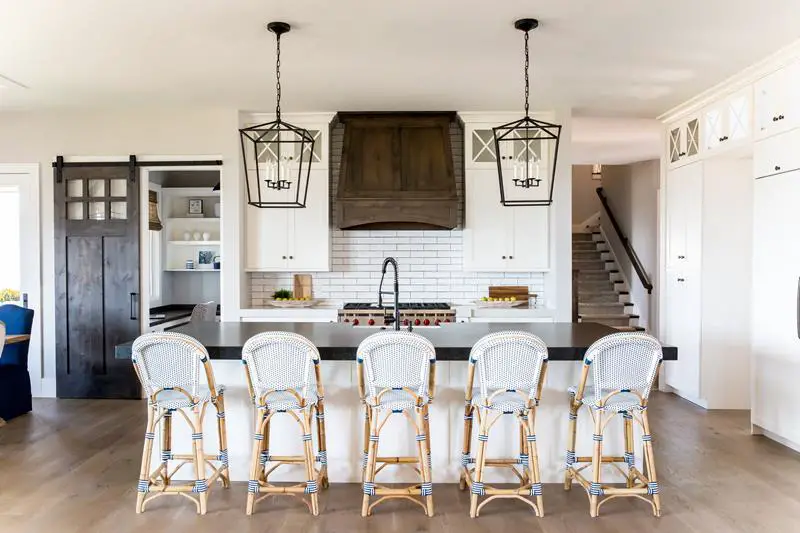 With a beautiful traditional style hood very at the center, the contrasts between light and dark in this kitchen work really well.
13. Easy and Comfortable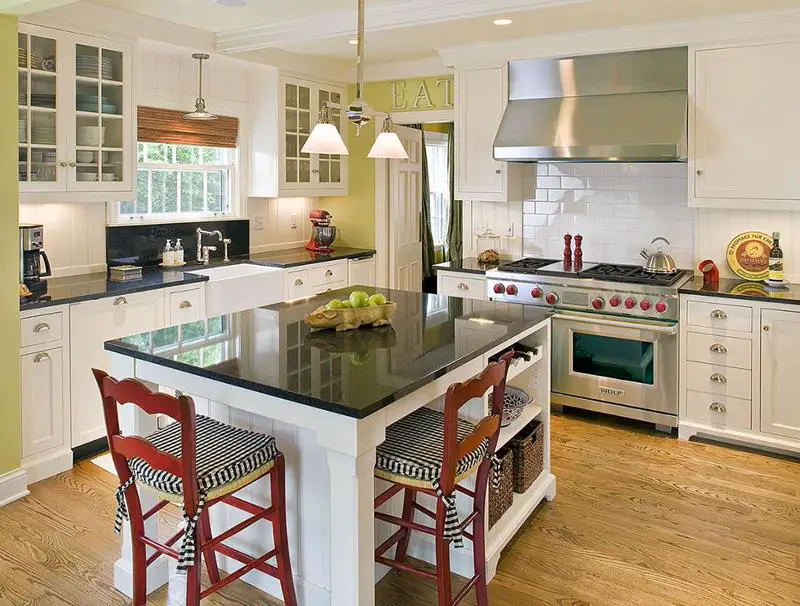 14. All Combined
The natural light shines down from above on this great kitchen. With room to cook and dine, you will love being in this space.
15. Open Style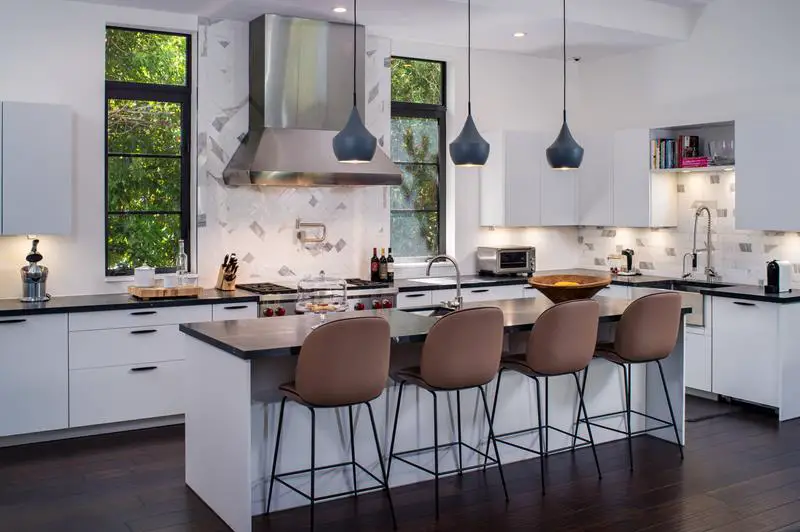 You can enjoy the designs of the tile around the backsplash because it really ties the cabinets and counters together well.
16. Natural Light Show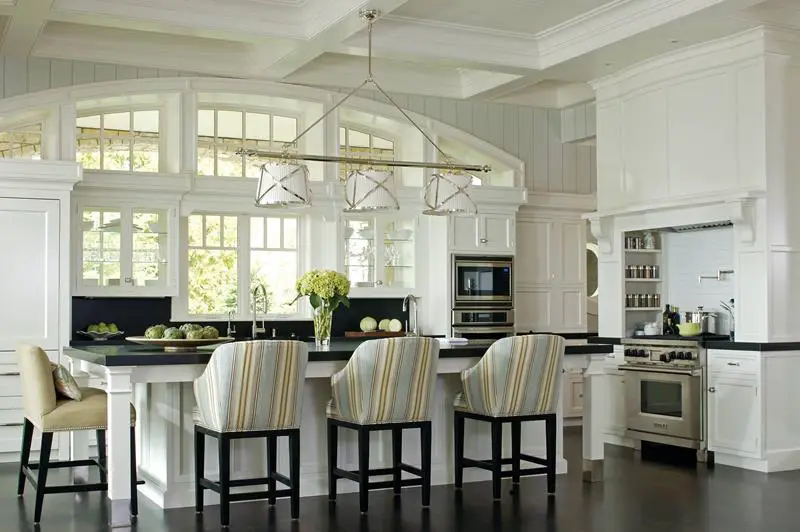 This kitchen would not stand out near as much without the darker countertops giving it a bold appearance.
17. Early Century Elegance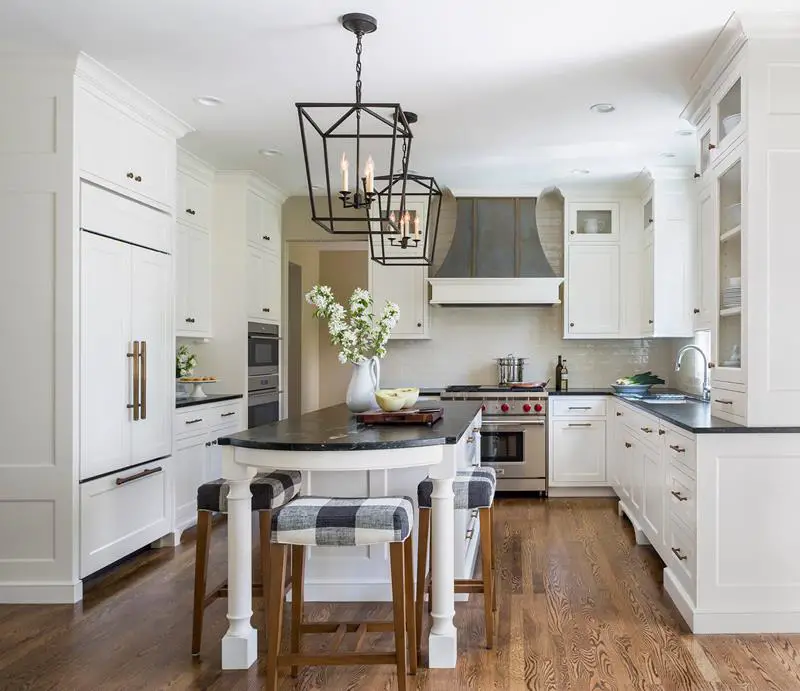 Take a step back in time with the design of this kitchen. From the hardwood floors to the wood architecture, you will love this space.
See Also: 25+ Ideas for Craftsman Style Kitchen Cabinets (Photos)
18. Modern Comforts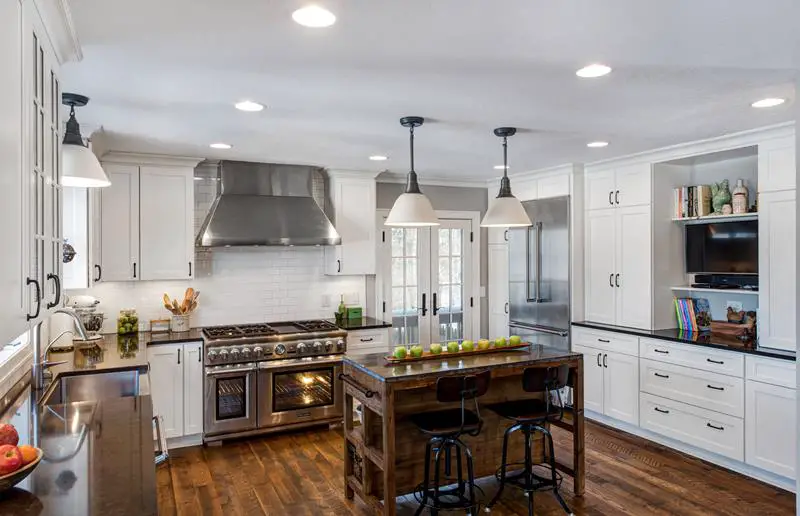 A bold and dark hardwood style works well with the combination of light and dark colors and the modern stainless steel.
19. Easy Styling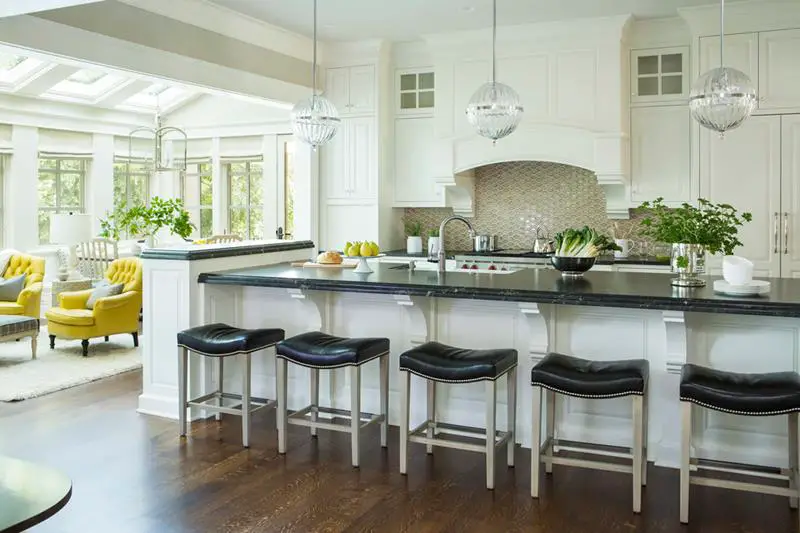 This open floor plan gives you plenty of options and it looks great. A modern take on a traditional style, the darker counters work so well here.
20. Contemporary Transitions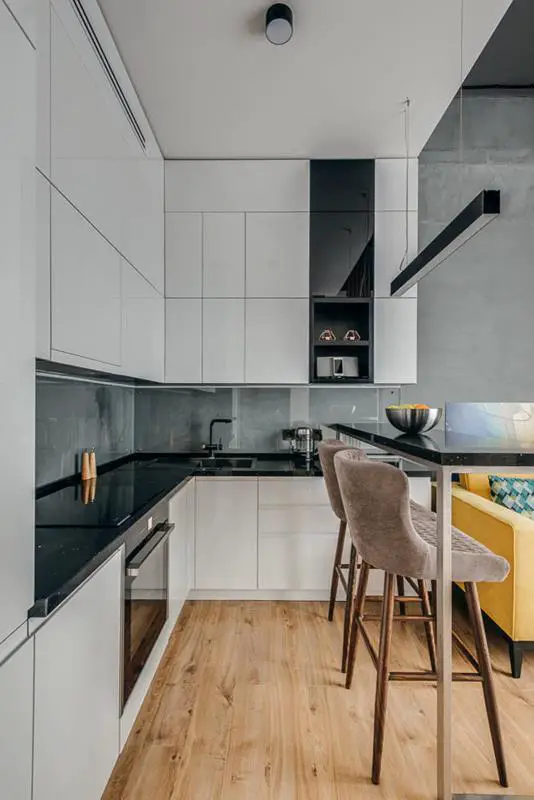 Like a European minimal design, this kitchen relies on a simple light and dark contrasts to make it wonderful.
21. Classic Cabinets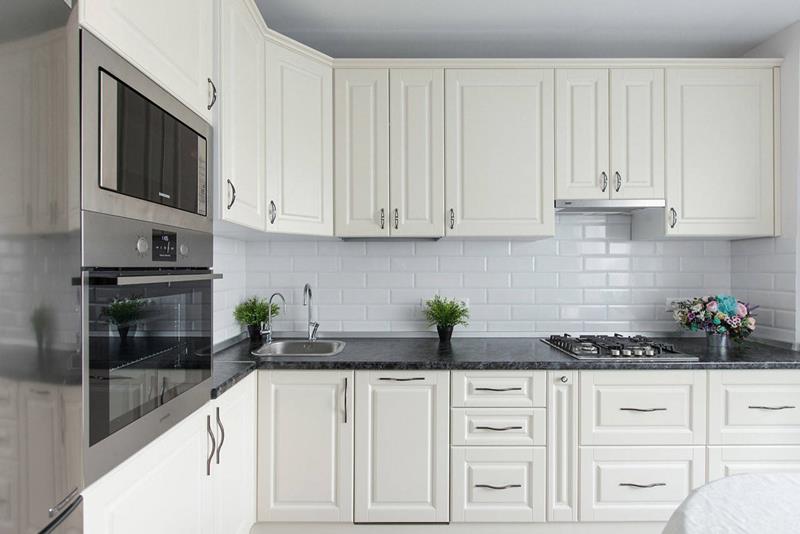 There is nothing complicated about this kitchen. Light cabinets and dark counters are matched perfectly by the backsplash.
22. Modern Minimal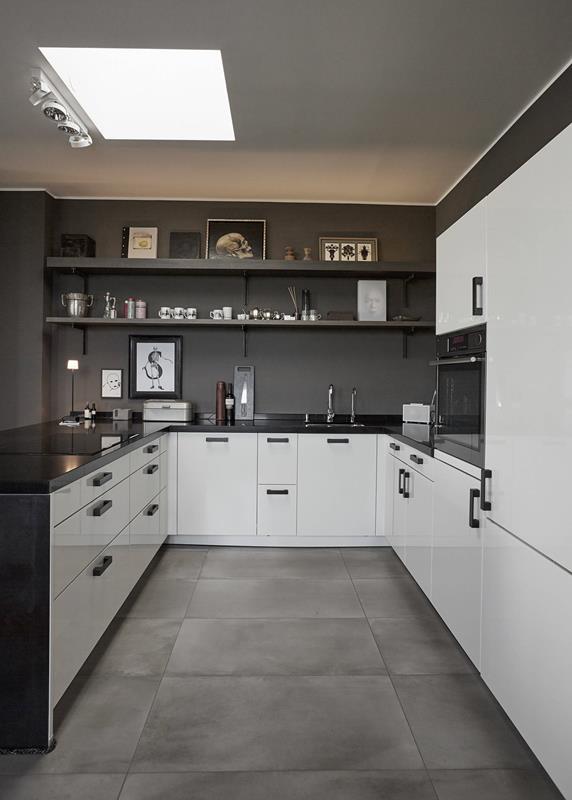 This kitchen makes itself half light and half dark and it works so well. The contrasts bring such great character to the space.
23. New Meets Classic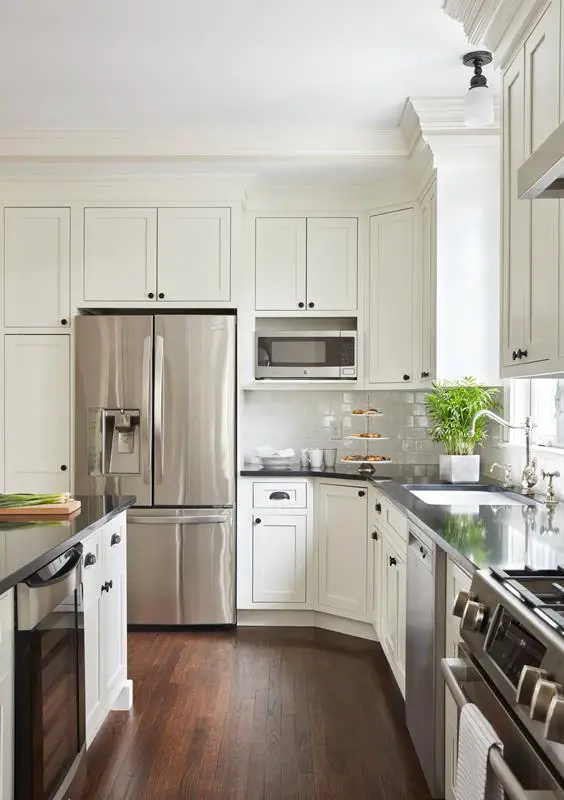 The modern stainless steel appliances work well with the traditional pairing in this kitchen. The dark hardwood floors complete the design.
24. Spacious Floor Plan
25. Cream Colored Cabinets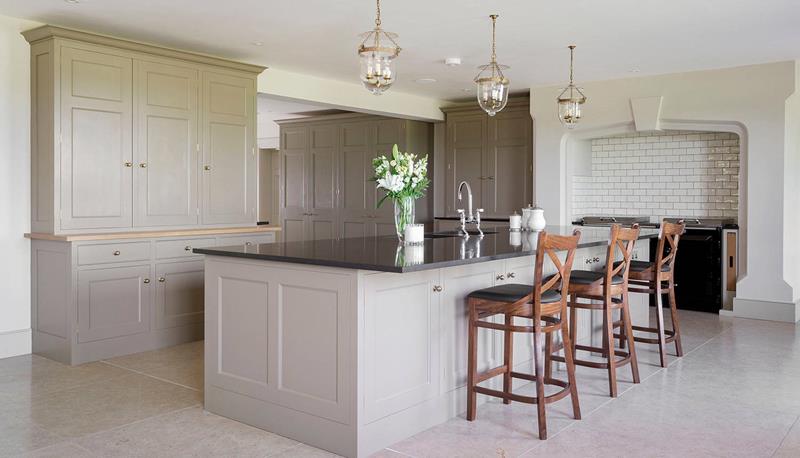 These cream colored cabinets look great when paired with the darker counter on the center island.
26. Easy Displays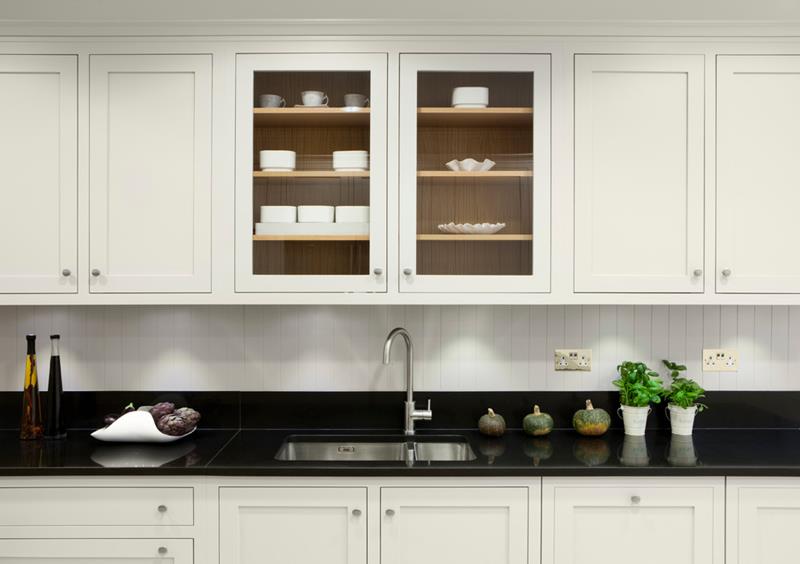 These simple light cabinets stand out so much more thanks to the hark countertop here. With easy decor, this space works really well.
27. Stylish Contemporary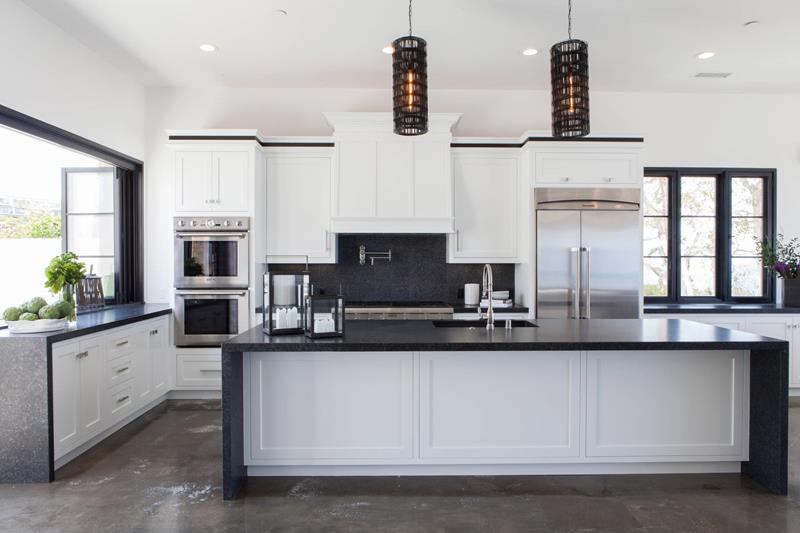 This whole kitchen opens to the outside and lets the natural light shine in on the beautiful contrasts.
28. Wonderful Material Style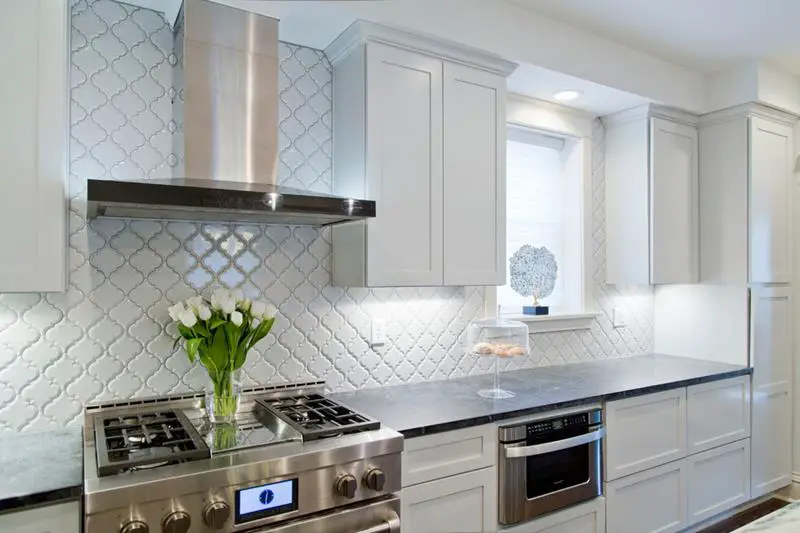 The backsplash here should not be underrated. It works with the light cabinets to blend with the dark countertops.
29. Country Industrial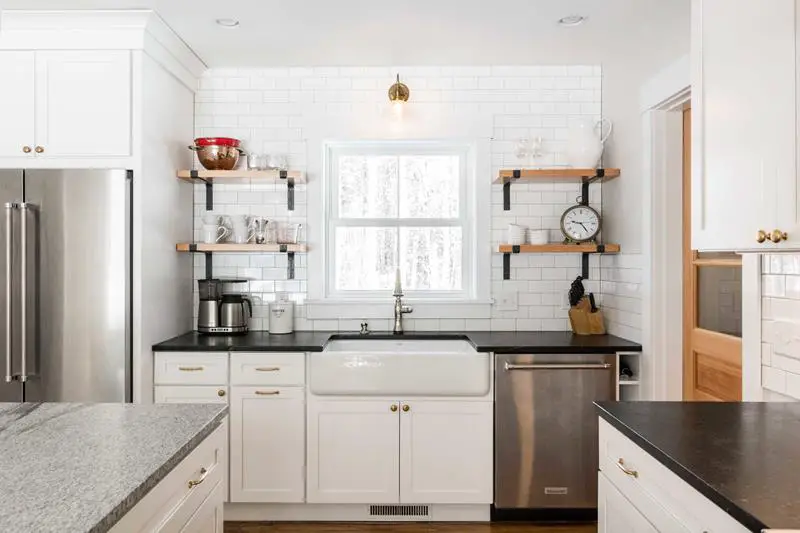 This kitchen is an eclectic mix of styles but it works so well. Cozy and comfortable, there is a charming country sense here.
30. Gray Tones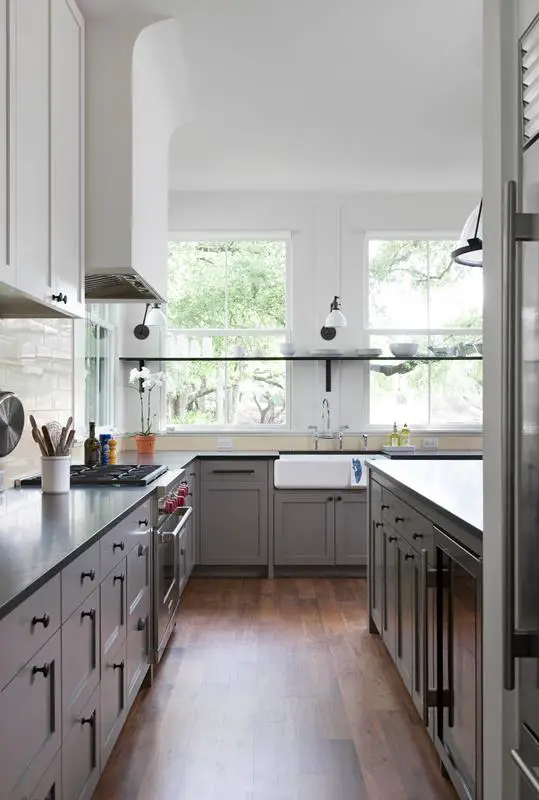 These gray toned cabinets are combined wonderfully with the dark countertops and hardwood floor.
31. Complete Classic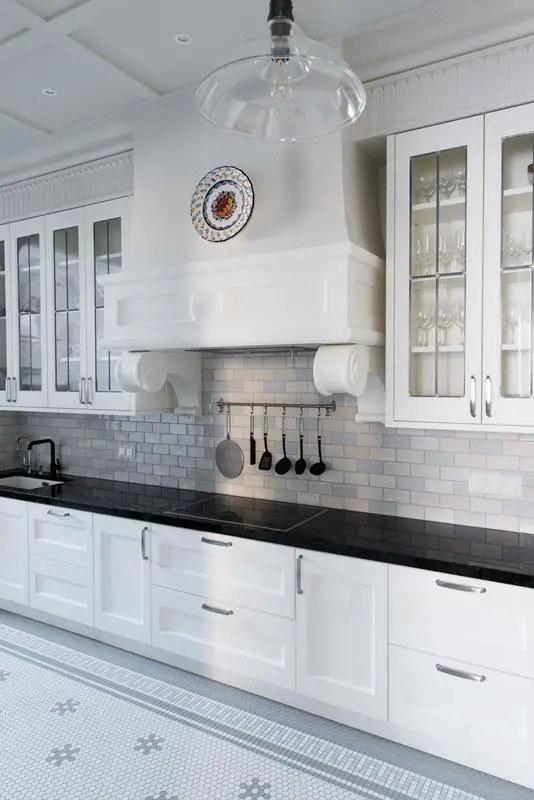 With a classic stove hood vent and a beautifully tiled floor, the dark countertops are such a great way to bring some contrast to this space.
32. A New Industrial Style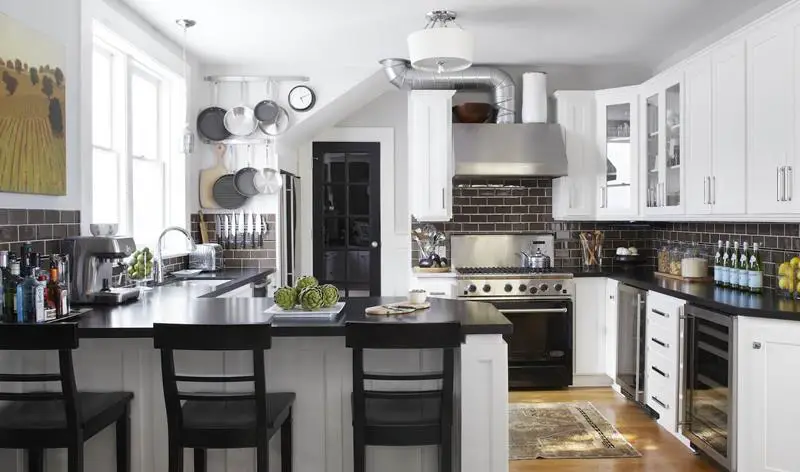 The darker backsplash is the perfect match for the countertops to make a contrast with the lighter cabinets.
33. Slight Contrasts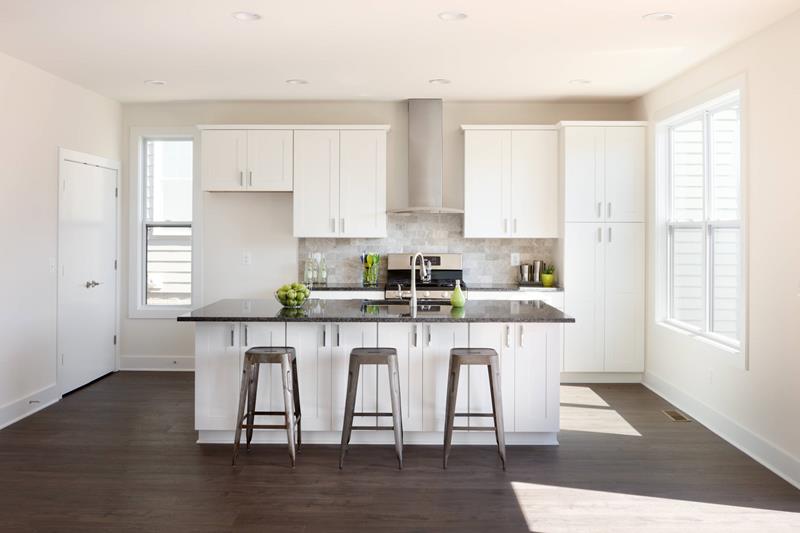 With the simple addition of a dark countertop for the center island, the whole dynamic of this room changes for the better.