Updated on June 6, 2022
Summer is the favorite time for grilling, but why limit outdoor cooking to just one season? Outdoor kitchens can be placed on a patio, under a pergola, or in an enclosed porch, and can be used year round for preparing delicious meals.
Depending on the climate, choose an outdoor kitchen area that will allow you to maximize use of the grill and appliances. Doing a roof addition off the back porch or adding a cabana near the pool is a fool-proof way to keep covered outdoors, no matter what Mother Nature brings.
Outdoor cooking is all about cooking in a way that isn't traditionally done in an indoor kitchen. Designing your outdoor kitchen with space specifically for your smoker or a wood-fired pizza oven is a must-have for adventurous cooks.
No matter how simple or complex your kitchen must be, it's all about gathering with friends and enjoying the food of the season. Putting plenty of seating adjacent to your outdoor kitchen area will ensure it's a winning design!
See Also: 23 Welcoming Patio Design Ideas
Outdoor Kitchen Design Ideas
1. Variety of Lighting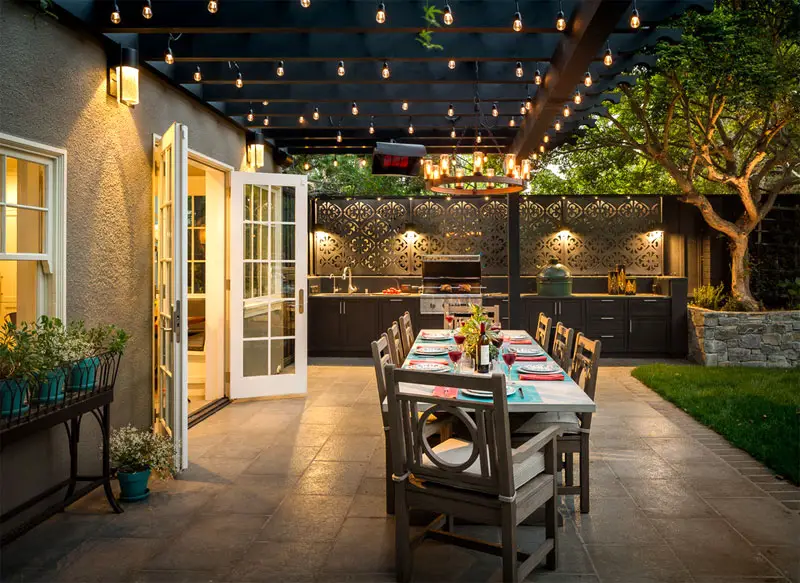 A hanging chandelier and tall wall behind the kitchen make this design feel like an indoor room. Notice the variety of lighting, from wall-mounted sconces to string lights, that bring brightness to every level of the design.
2. Stainless Steel Stunner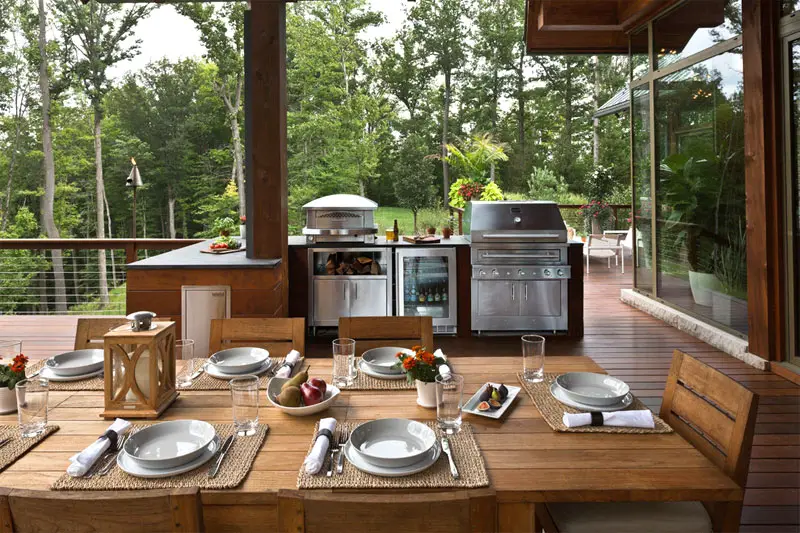 Stunning stainless steel appliances are grouped together, giving easy access to all the outdoor cooking methods.
3. Island Breeze
A swim-up bar accompanies this breezy outdoor kitchen. Obviously island-inspired, the thatched roof feels appropriate without being silly.
4. Natural Stone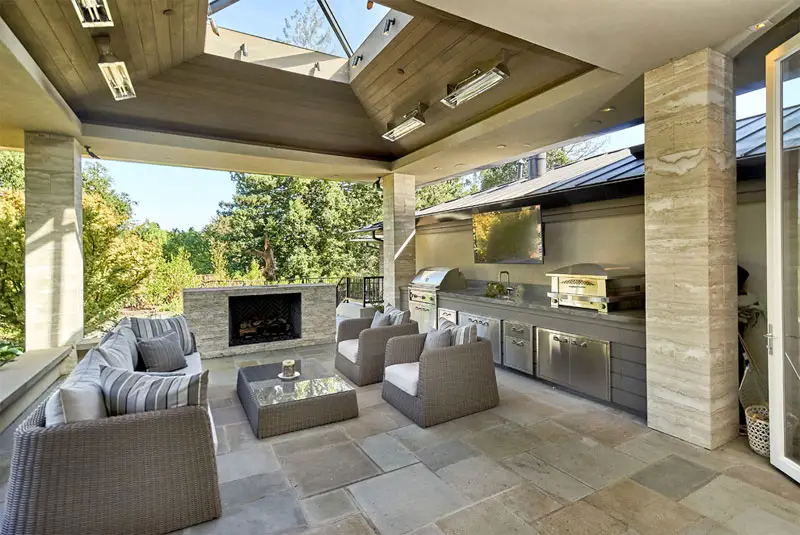 Stone and wood in muted tones connect this gorgeous outdoor kitchen to the landscape that surrounds it. The comfy seating and fireplace make it a mix of kitchen and outdoor living room.
5. Golfer's Paradise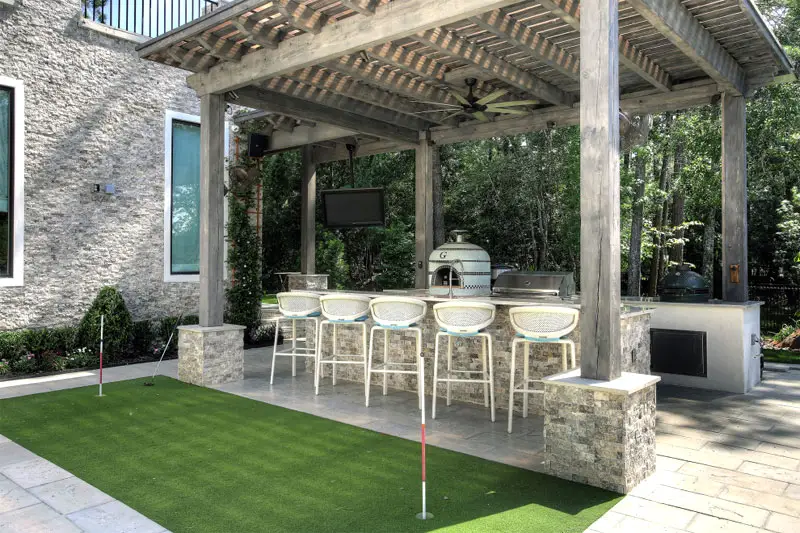 Include a TV and putting green to make your outdoor kitchen the ultimate hangout.
6. Garden Spot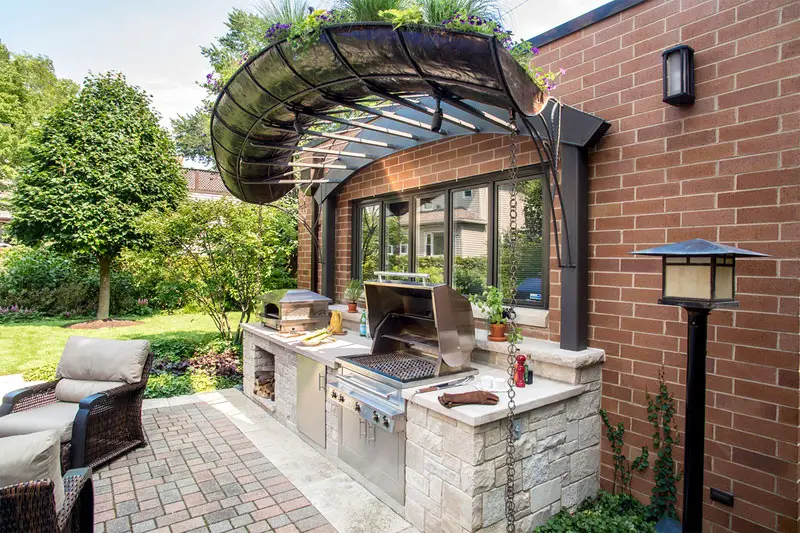 A unique awning accentuates this outdoor cooking space, bringing nature all around the design. Fresh herbs adorn the ledge, ready for picking.
7. Small Yard, Large Gathering
A large roll-up door connects outdoor and indoor eating areas, perfect for large gatherings.
8. Double Duty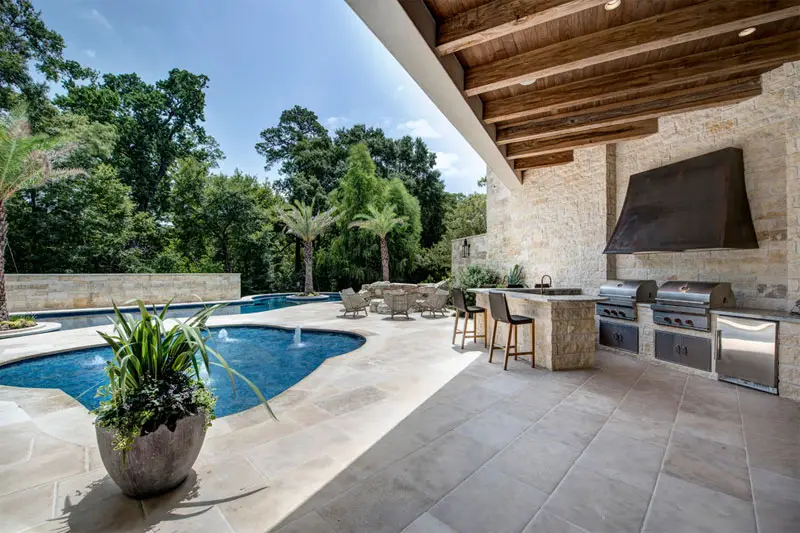 Create a focal point with an exceptional custom range hood. This massive hood covers double grills, and anchors the simple yet strong design.
See Also: 18 Inspirational Patio Designs
9. Waterfall Counters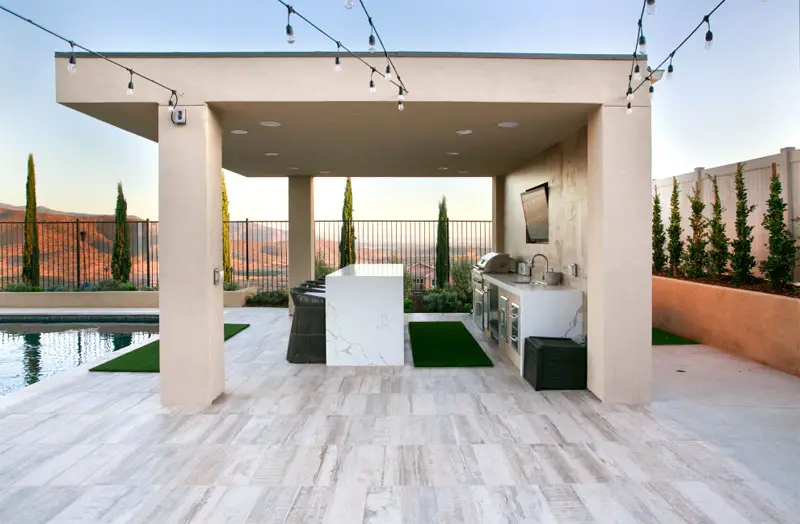 Trendy waterfall countertops can be used outside. These striking marble counters are an impactful choice that blend well with the other geometric elements.
10. Ocean Blue Tile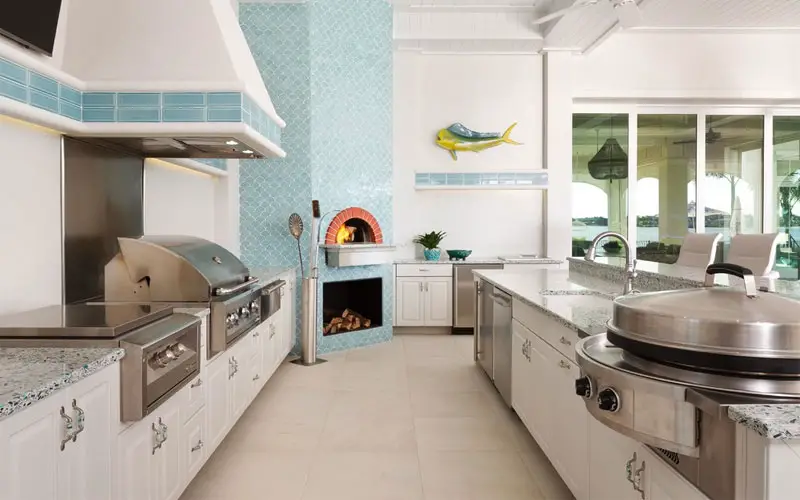 Enclosed under a solid ceiling, this outdoor kitchen feels just like the indoors, complete with white cabinets and a dishwasher. Sea blue scale-like tiles cover the delightful pizza oven.
11. Spiced Up Kitchen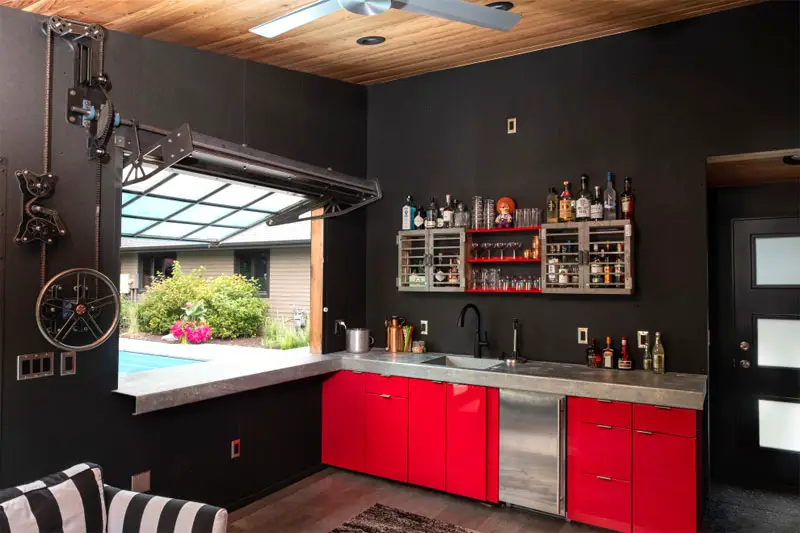 Bold red cabinets spice up this indoor/outdoor kitchen. An industrial awning window makes for a cool way to serve food and drinks to all your guests.
12. Cypress Patio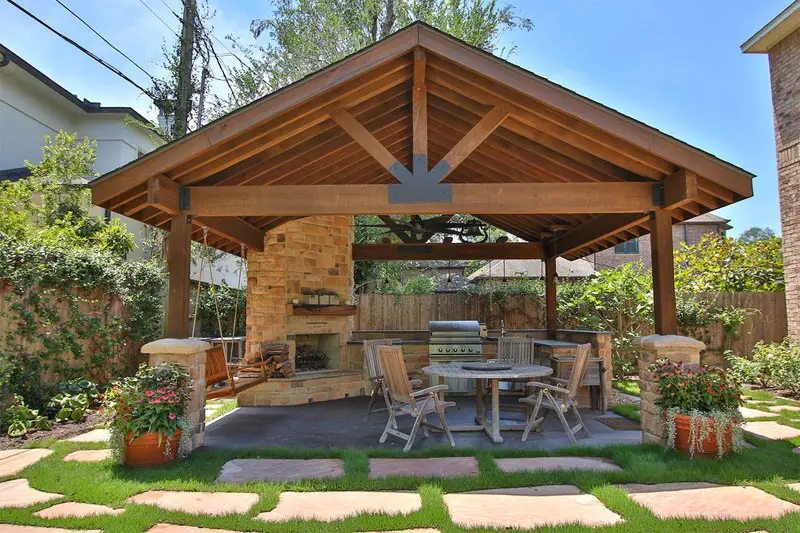 Adding a detached covered patio is like adding more living space to your home. This pleasant area includes a barbecue, fireplace, and swing.
13. Classic Mediterranean
Mediterranean architectural influence makes this backyard kitchen feel like a European vacation. Concrete is used throughout, both on the floor and countertops.
14. Seating for Six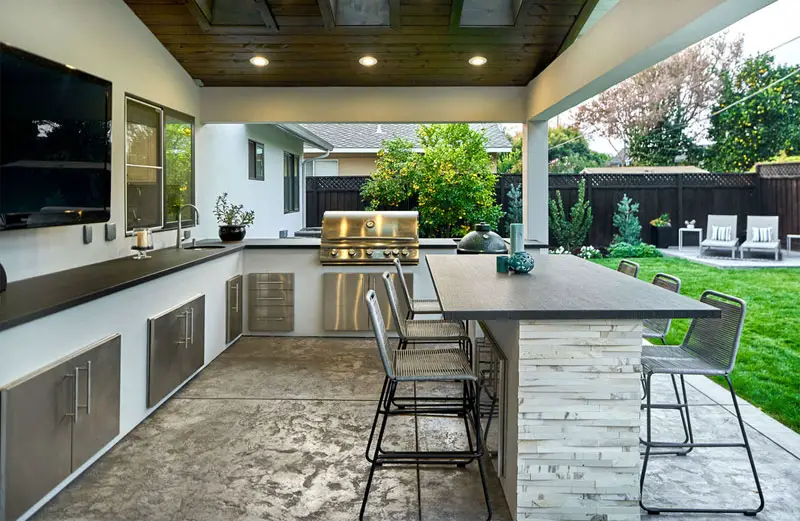 The central island accommodates barstools on both sides, perfect for conversation during meals. Plenty of prep space is created using an L-shaped counter.
15. Brick House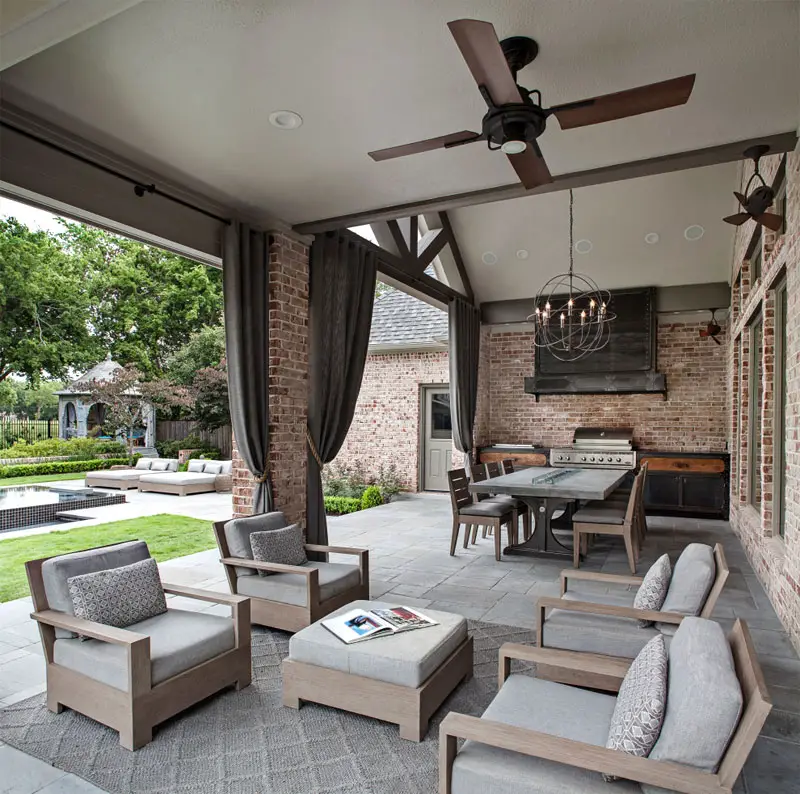 This eye-catching patio features muted hues in the furniture to allow the gorgeous exterior brick of this home to shine. Dark metal industrial details are laced throughout.
16. Navy & White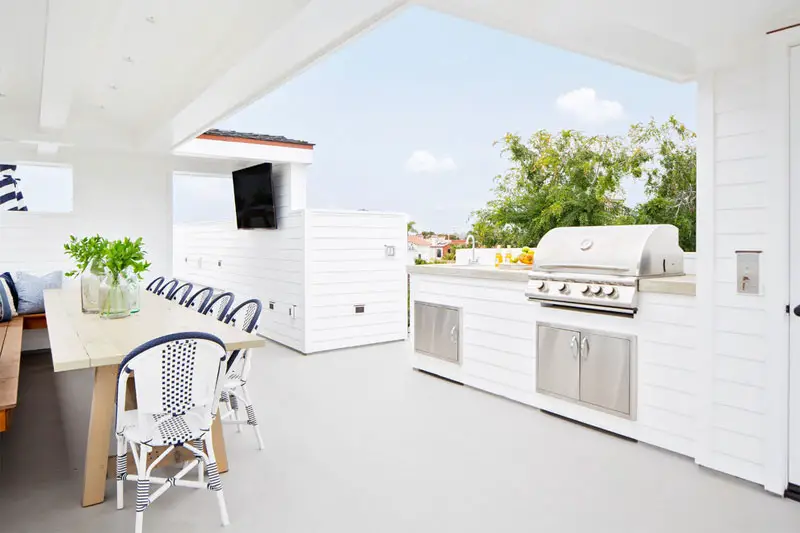 This bright white outdoor kitchen makes it feel like you're right at the water's edge. Navy blue accessories top off the quintessential nautical look.
17. Desert Vibes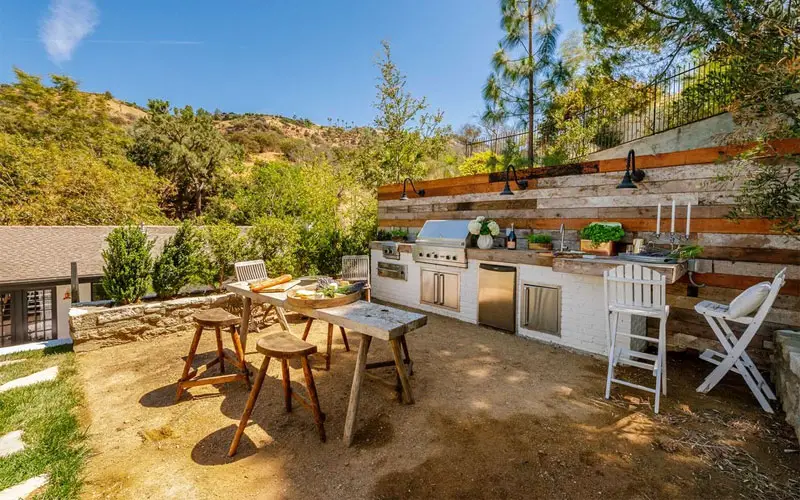 A down-to-earth design feels just right in this Southern Californian landscape, where rustic wooden textures coexist with modern appliances.
18. Traditional Elegance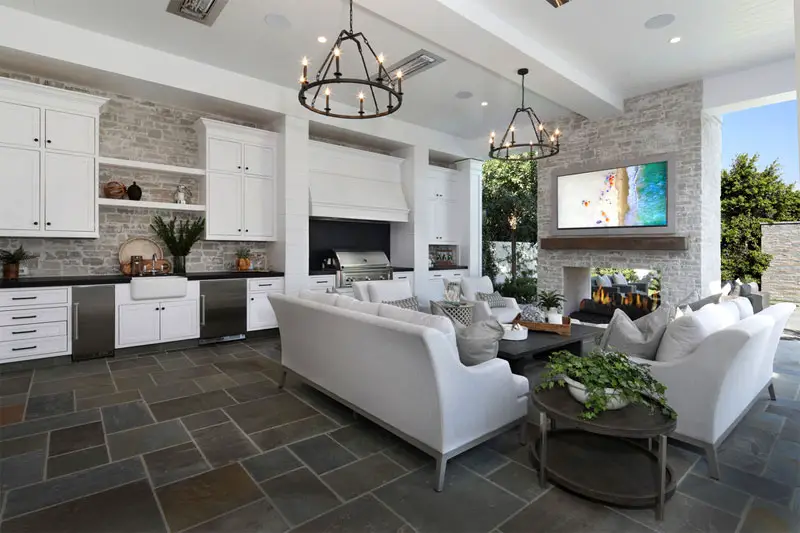 Elegant white-colored furnishings and traditional cabinets add luxury to an outdoor kitchen. A pair of gorgeous black chandeliers hang from the central beam.
19. Old World Charm
Tuscan-inspired textures and moldings are used throughout this masterful design.
20. Layered Grays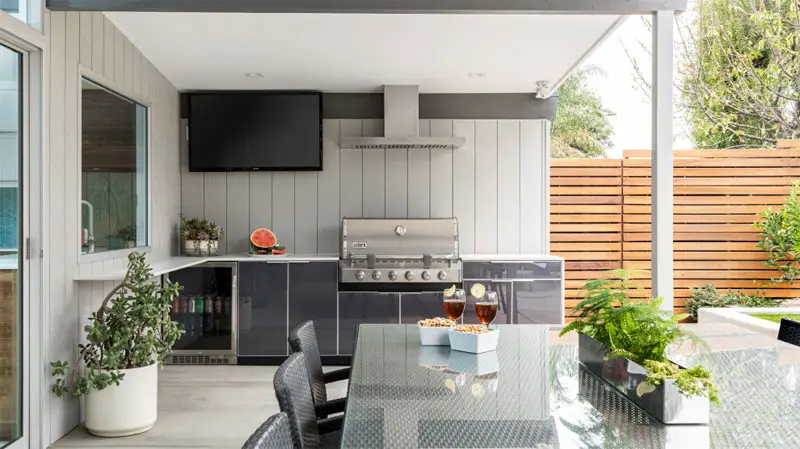 This mid-century makeover used vertical and horizontal lines in the siding and fence. A variety of gray elements in a range of tones, from sleek cabinets to woven chairs, adds dimension.
21. Pretty Patterns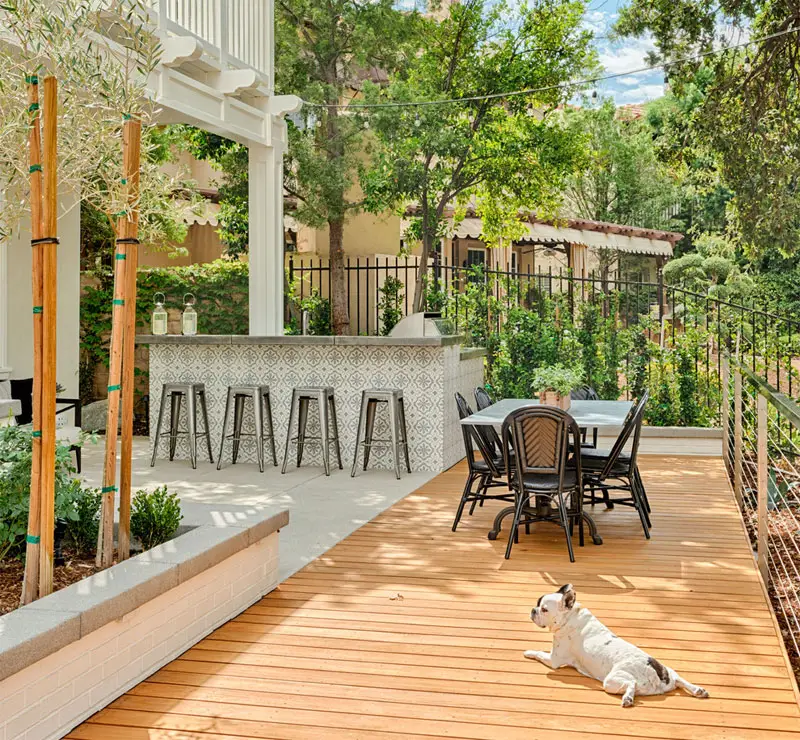 Add personality to your outdoor cooking place with lively patterned tiles.
22. Board, Not Boring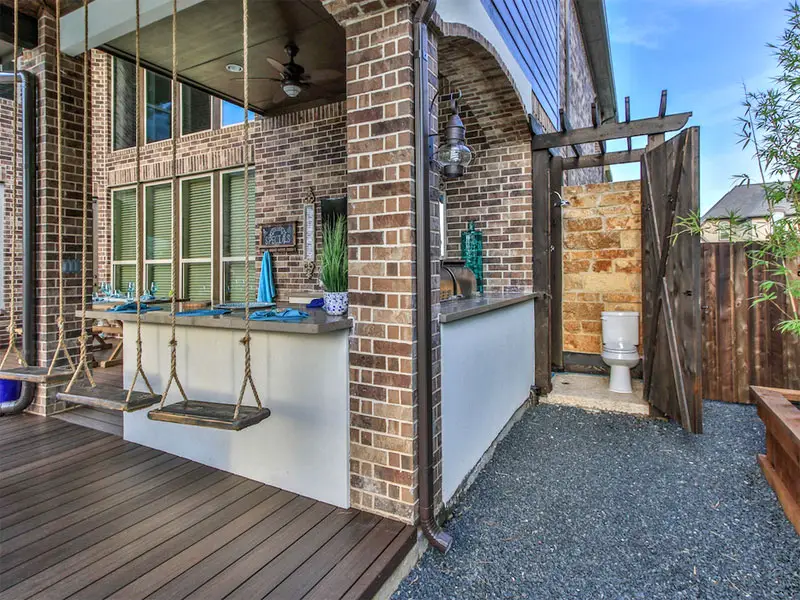 Barstools don't need to be traditional when the outdoors come into play. Here, hanging wood boards suspended on ropes serve as bar seating.
23. Southern Patio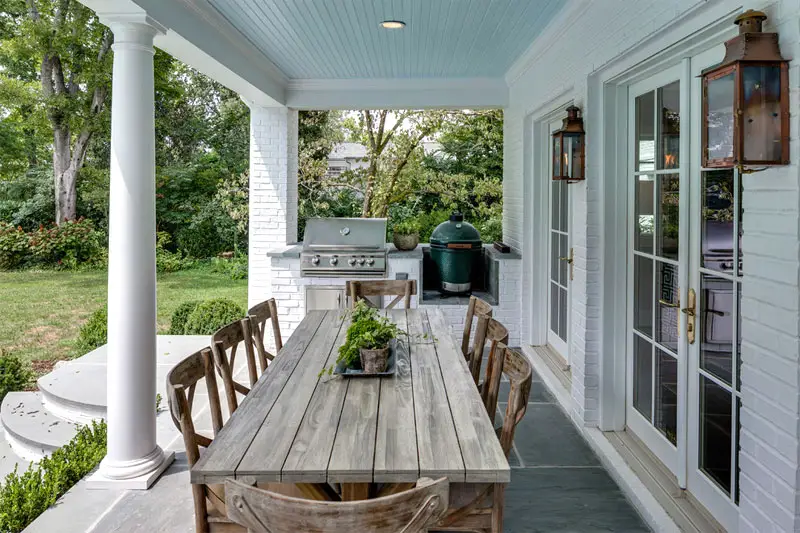 Keeping with Southern tradition, the ceiling of this lovely patio is painted light blue. The smoker is given its own special space next to the grill, keeping the space purposeful and tidy.
24. Contrasting Brick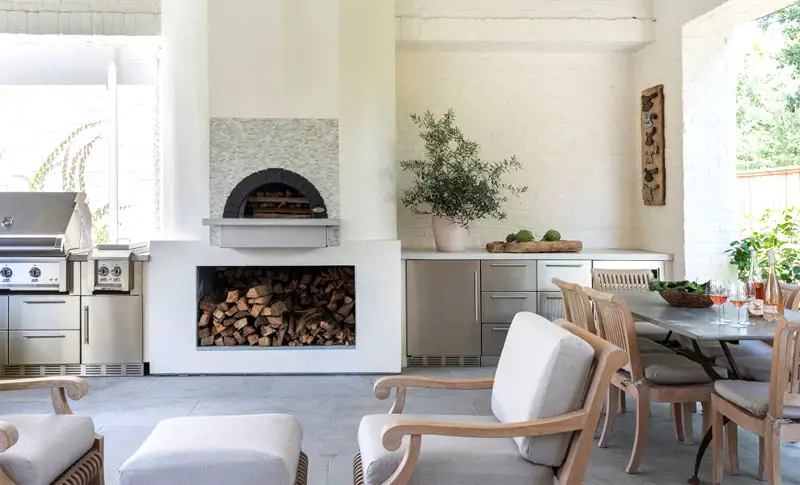 Stainless steel cabinetry flanks a handsome pizza oven with a dark brick arch. The surrounding brick walls are painted white.
25. Unique Teak Outdoor Kitchen
A large teak wood banquette surrounds an inviting gas firepit. The teak is continued in the kitchen area, underneath a concrete waterfall countertop.
26. Texture & Pattern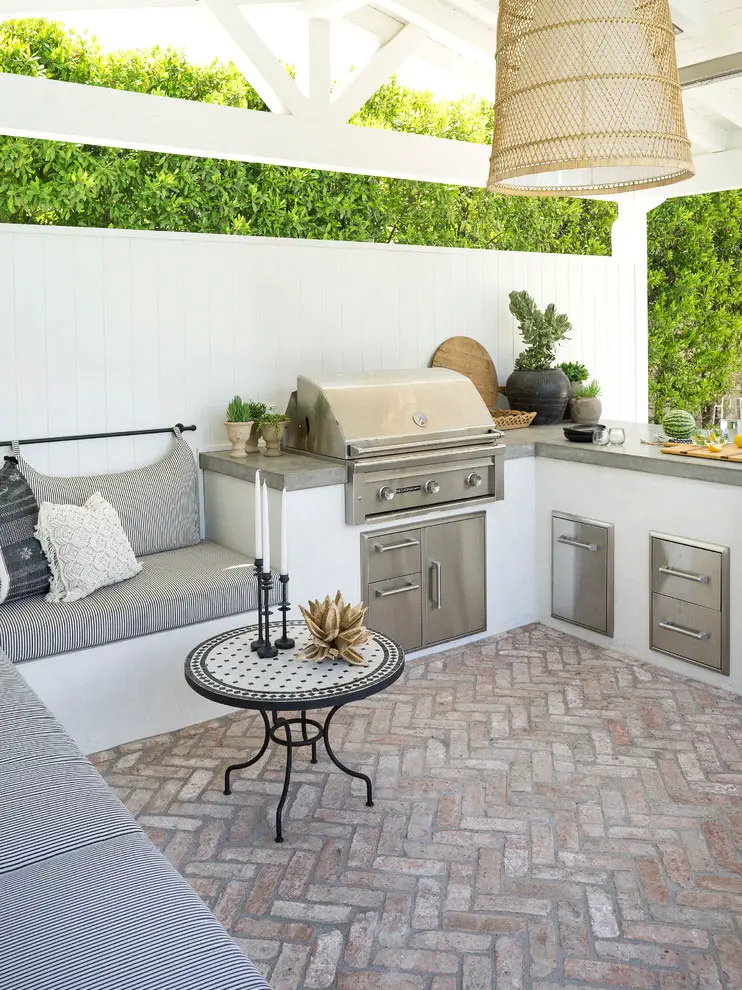 An abundance of textures and patterns creates a quaint and inviting spot to cook and relax. Laid in a herringbone pattern, the vintage brick adds extra charm.
Related: How to Clean a Brick Patio
27. Waterfront Dining
If you have an amazing view from your patio, capitalize on it by facing your bar seating towards the landscape. This deck has an outdoor kitchen and several eating areas, allowing guests to sit around a table, or sit back and enjoy the ocean view.
28. Modern Patio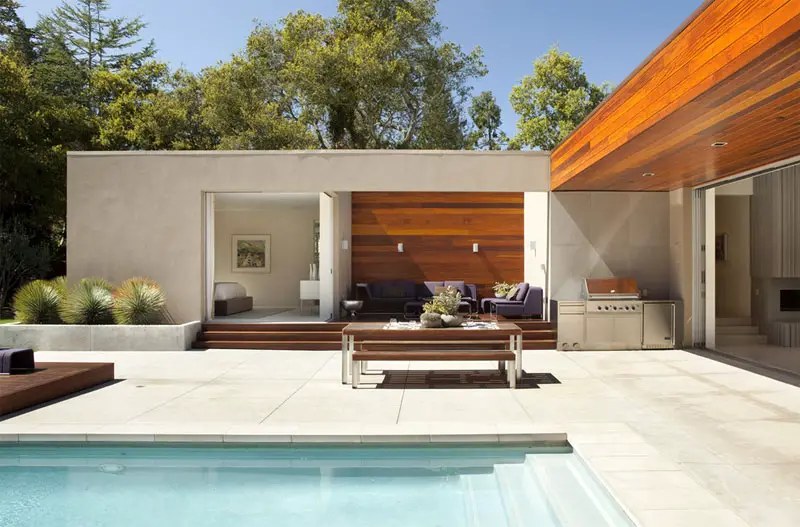 Strong shapes abound in this striking pool and patio space. The stainless steel grill and appliances create a visual connection with the modern patio table and matching benches.
29. Traditional Kitchen Elements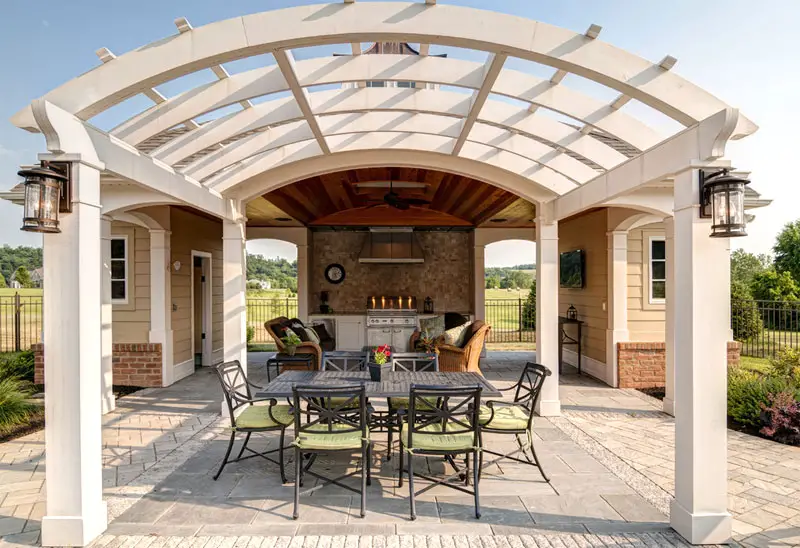 A symmetrical outdoor kitchen with an arched pergola is both traditional and elegant. At the far end, a gorgeous range hood creates a stunning focal point.
30. Simple Paradise
Bright colors and beachy details are reminiscent of an island paradise without being over the top. Separating the space, a cool blue wood wall creates privacy.
31. Sideyard Save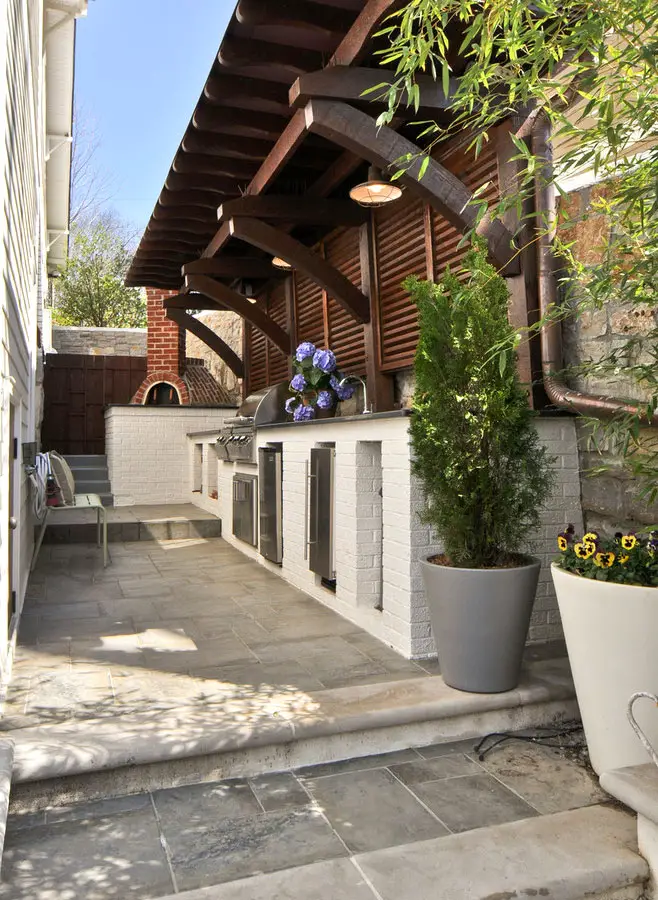 Not a lot of space? Create an outdoor kitchen in the often unused side yard of your home. This galley-like kitchen has all the necessities, and is beautiful, too.
32. Master Chef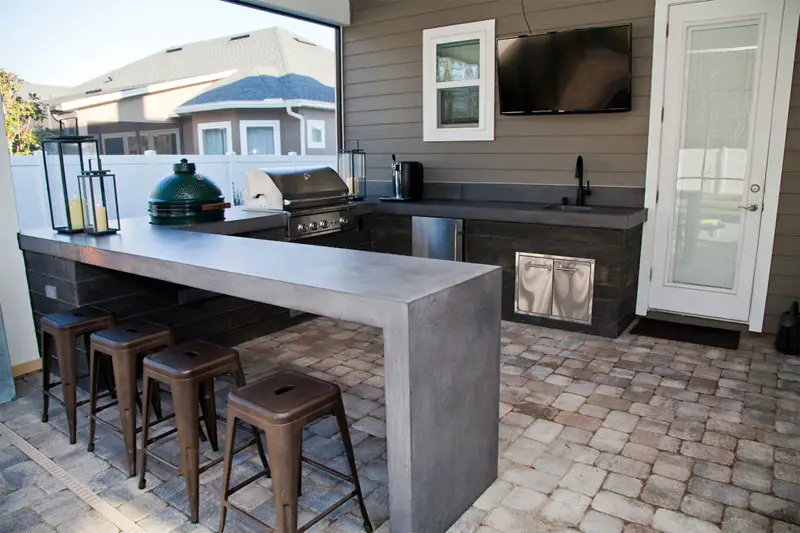 U-shaped concrete counters house all the outdoor cooking gear as well as bar seating, making it easy for the chef to grill and talk to guests.
33. Set in Stone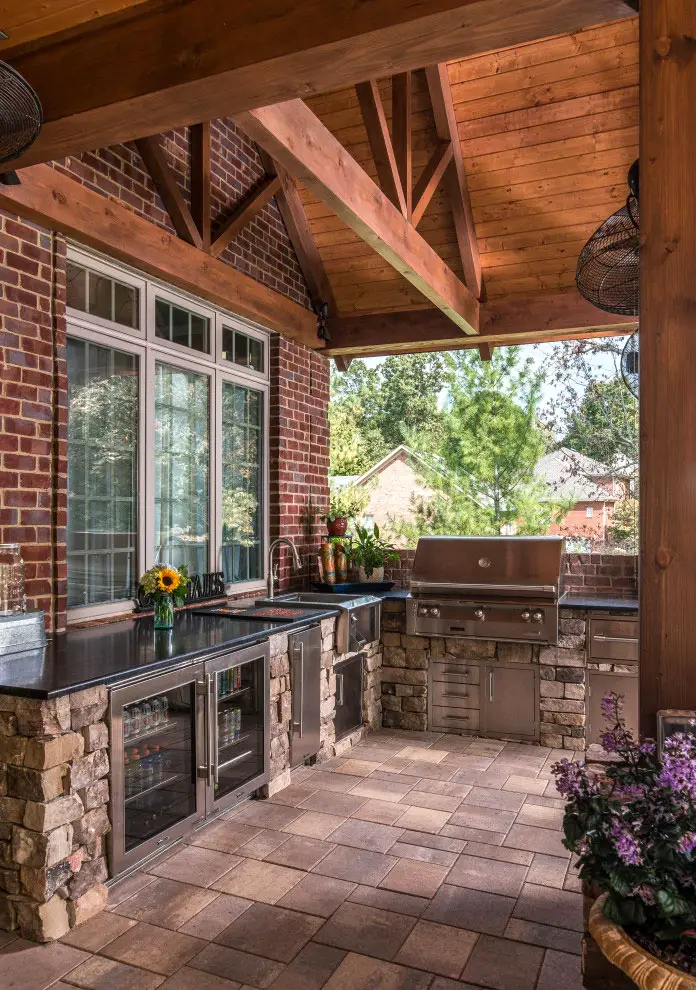 Glass-doored refrigerators are a stylish way to house your beverages. This kitchen has rustic natural stone surrounding the appliances, rather than cabinetry.
34. One with the Landscape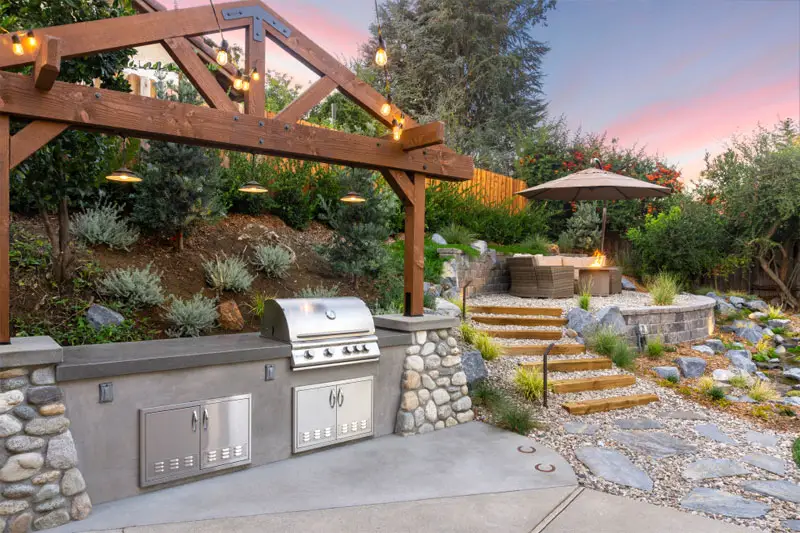 This outdoor kitchen is nestled into the hillside, creating a lovely foliage backdrop to the scene. A freestanding pergola creates the illusion of a roof, and frames out the natural hillside behind.
35. Camouflaged Kitchen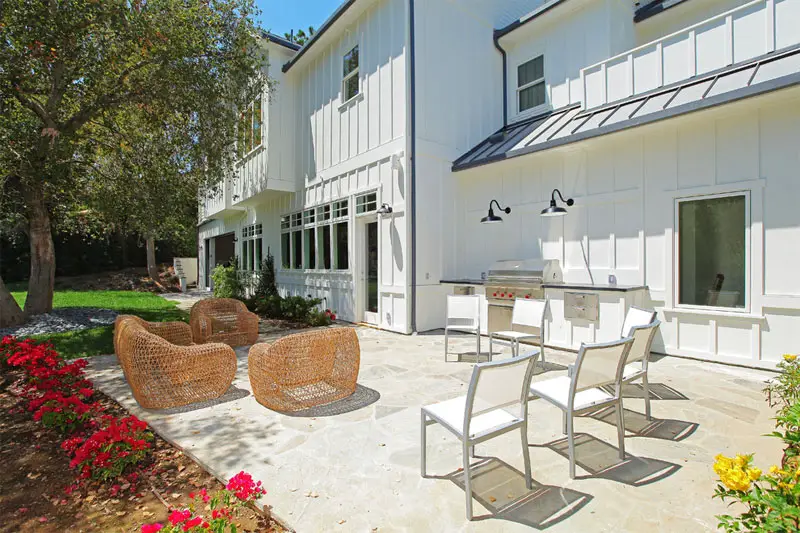 Almost blending into the house itself, the cabinetry of this outdoor kitchen matches the siding of the home. Black gooseneck patio lights are ready to illuminate the area for late-night cooking.
36. Southern Charm
Whitewashed wood and antique brick add authenticity to this endearing design. Traditional textures and design accents make it feel like this patio and kitchen have been there a lifetime.
37. Built-in Beauty
This freestanding outdoor kitchen has impeccable appliances and a built-in smoker. Black metal finishes, from the furniture to the pergola, keep it sleek and sophisticated.
38. Passing Through
Farmhouse inspiration is sprinkled throughout, from the sage green walls to the white dining table. The true genius lies in the placement of the countertops beneath the window, allowing food to be effortlessly passed from the indoor kitchen to the outdoor one in a matter of seconds.