Updated on March 28, 2022
Are you wondering what size ceiling fan to buy for your bedroom? Depending on your room size and its ceiling height, the right size fan will vary.
When buying a ceiling fan, you need to consider the number of fan blades, the blade diameter, the fan size, style, and shape, and its position on the ceiling. If your room is around 8'x10′, then you'll want to buy one that is between 29″-39″. For those with a room that is around 10'x20′, then you'll want a fan size that is around 42″-52″. Any room that's bigger should have a fan size of 56″ or greater.
Types of Ceiling Fans and the Rooms They Go In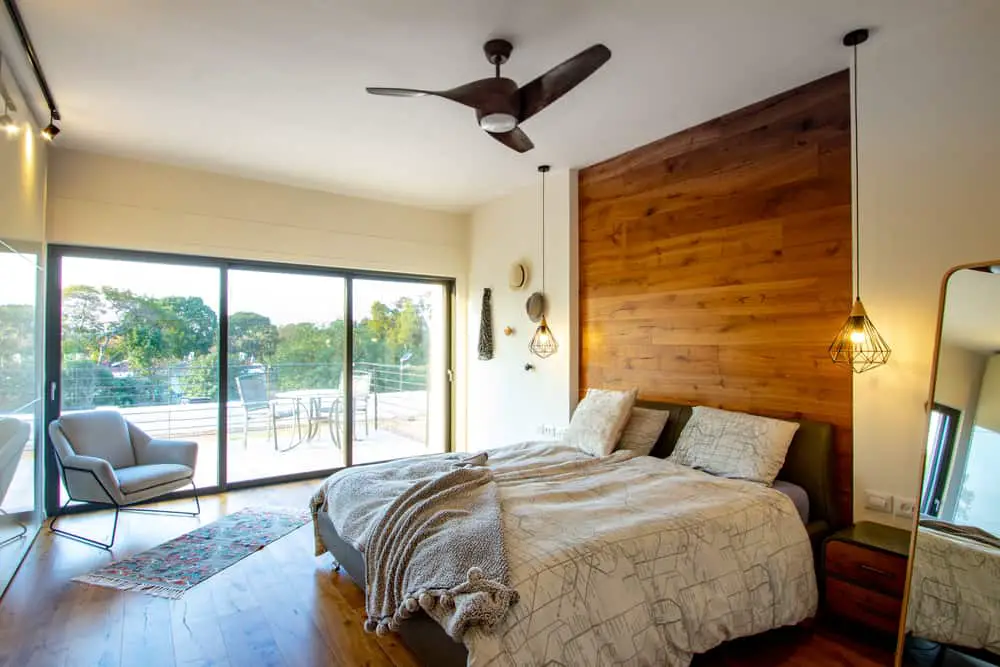 Depending on the rooms that you want a ceiling fan in, such as the living room, powder room, kitchen, or bedroom you'll find some ceiling fan styles to match your needs.
Ceilings are everywhere in your home, so find the right room and space to put your fan up in.
Classic Style
Classic style fans often have blades that have dark wood finishes, such as walnut or oak. These go well with a traditional-style home decor.
Modern Style
Modern style fans often feature metallic finishes, such as brushed nickel or a chrome finish, sleek and shiny.
Rustic Style
Rustic-style fans have a combination of natural wood and nickel or bronze components. The blades of the fans are made of wood, while the metallic components are either nickel or bronze.
Pull Chain Fans
Although a pull chain fan might seem a little dated, you can't beat the simple pleasure derived from the click of the motor engaging and the rush of air that envelops you as it's turned on.
Remote Start Fans
Many fans nowadays are remotely controlled with an app, a switch, a button on a remote, or possibly all of the above. Some of the remote start fans even allow for the fan direction to be controlled remotely as well.
Regardless of how you start your fan, you can control the direction the blades are spinning with the switch located on the motor housing.
Bedrooms
For many, having a ceiling fan in the bedroom is a great way to keep cool air circulating throughout the room and to provide a little white noise for when they sleep.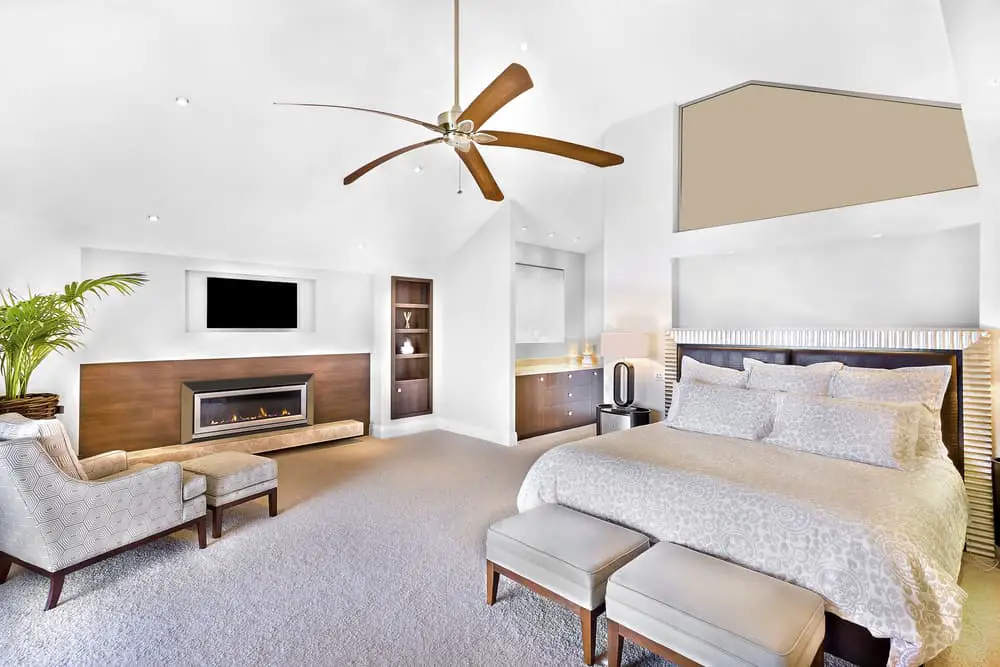 Bedrooms and fans are a great combination.
Dining Rooms
Living spaces can always benefit from flowing air and proper lighting. Even if you have a few lamps already, consider adding a ceiling fan to your dining room. A low-setting fan won't be a disturbance for anyone while they eat or prepare a meal.
Breakfast Nooks
If you're lucky enough to have a breakfast nook, then you might want to put up a ceiling fan within the area to add some lighting and style to it.
Family Rooms
Family rooms, some might call them living rooms, are a great place for a ceiling fan.
Move air throughout the home by having a ceiling fan in your living room.
Utility Rooms
Depending on the size and location of your utility room, you might want a fan in there as well.
Not only will it keep stagnant air from being a problem, but it'll also add some extra lighting to the room.
Odds are that you have a fan in your bathroom as well, they're a necessity. The type of ceiling fan in your bathroom is most likely an exhaust fan, which is responsible for drawing air from the room out into the outdoors.
Determining Your Ceiling Fan Size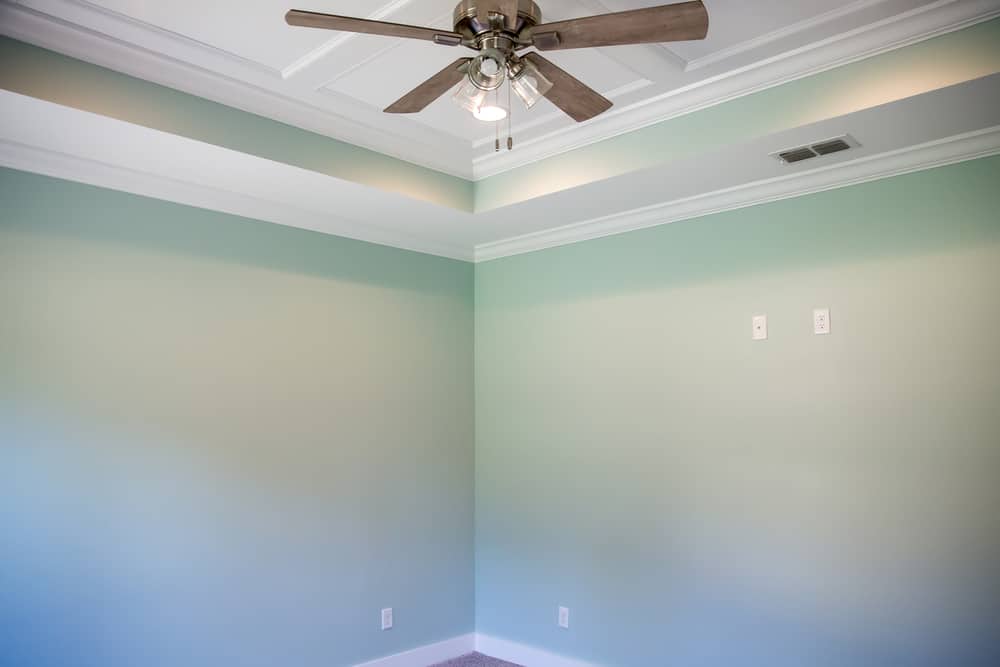 Getting the right size fan for any room in your home will depend on a few details. The length of the ceiling fan blades is one of the most important things when considering if it'll fit in an area on the ceiling of a room.
The diameter of the circle, the motion of the fan blades, is determined by the length of the fan blades.
Measure the Room and Ceiling
In order to get the proper fan blade span for the best air circulation, you need to measure the dimensions of your room and the ceiling.
You might not want to or be able to put a fan up in the middle of a ceiling in a room with ceilings that are higher up and, or, slanted.
Ceiling Fan Sizes
Ceiling fans are a great way to liven up a room and get some wind flowing. Ceiling fan sizes can be a little tricky to figure out, so here's a list of some of the most common room sizes and the best fan size for it.
Small Rooms
Small rooms can be up to 8'x10′ in size, usually a laundry room or home office, and it's recommended to have a fan between 29″-39″. Check the height of your ceilings to determine what kind of fan you need.
Large Rooms
Large rooms can measure up to 10'x20′ in size, kitchens, bedrooms, and living rooms usually fall into this category. It's recommended to have a ceiling fan between 42″-52″. Measure the height of your ceiling to determine if you need a hugger fan, one that hugs the ceiling, or not.
Great Rooms
A great room can measure to be up to 20'x20′ in size and it's recommended to have a fan greater than 56″, open living areas are a common room of this size.
You'll have to measure the ceiling height to determine if you need a downrod or an extended one.
Knowing how large your room is and how tall the ceilings are will help you determine what size fan you need for your room. Having the correct size fan will allow it to efficiently circulate the air in the room.
Where to Put Ceiling Fans in a Room
Knowing just where to put your ceiling fans to maximize airflow isn't that difficult to determine. All you need to know is the ceiling height, the size ceiling of the room, and the blade span desired for your ceiling fan.
Ceilings 8 Feet High Or Less
If your ceilings are 8 feet high or less, then you should get a fan that is low-profile, otherwise referred to as a hugger or flush fan.
Ceilings 9 Feet or Higher
If your ceilings are 9 feet or higher off the ground, then you might want to invest in a fan with a downrod. Downrods, as the name suggests, just allow for the fan to be farther from the ceiling, which helps with circulating air in a room. There are several different sizes of downrods that are sold, so you'll have to check to see which one works best for your size ceiling and its height.
Knowing the distance a fan is supposed to be off the ceiling will matter a lot.
Keep in mind that ceiling fans are most efficient with circulating air at certain heights in a room, so make sure your ceiling fans are at the optimum height for your home.
Why Should You Get a Ceiling Fan
Ceiling fans help are a great way to help with air circulation in your home and they can provide a slight breeze when you're not wanting to use any air conditioners. Make sure to get an Energy Star rated fan for maximum energy efficiency.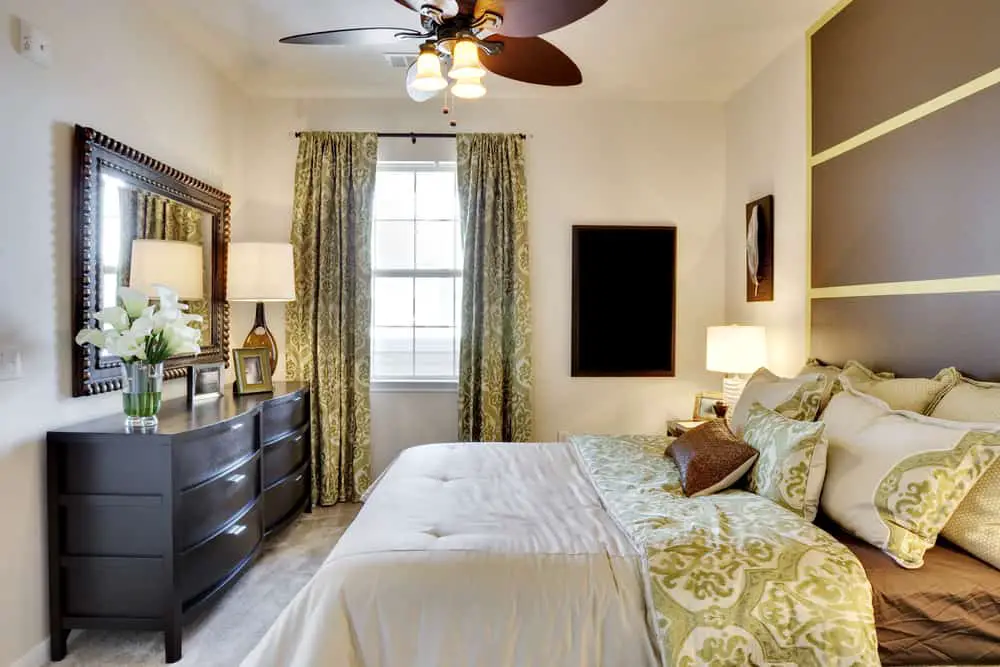 Not only do ceiling fans provide air for the room, but they can also help with lighting up an area. Consider a style that features multiple lights if you're in need of better lighting.
Consult a Ceiling Fan Expert
If you want to make sure that you get the right fan for your bedroom, then you might need to consult a ceiling fan expert at a fan company.
There are many brands to choose from and oftentimes they offer promotions on getting multiple ceiling fans installed at once, so shop around.
Retailers
You can also find ceiling fan experts at any hardware store or retailer that sells fans. For many of them, you can virtually try the fan before you buy it, just provide some details of the room and the app will take care of the rest. After you view the ceiling fan in place, you can add it to your cart along with any other items you want.
Many brands and their trademarks, offer exclusive email offers for those that sign-up. Customer service is key when it comes to keeping people satisfied with their brands and coming back for more fans.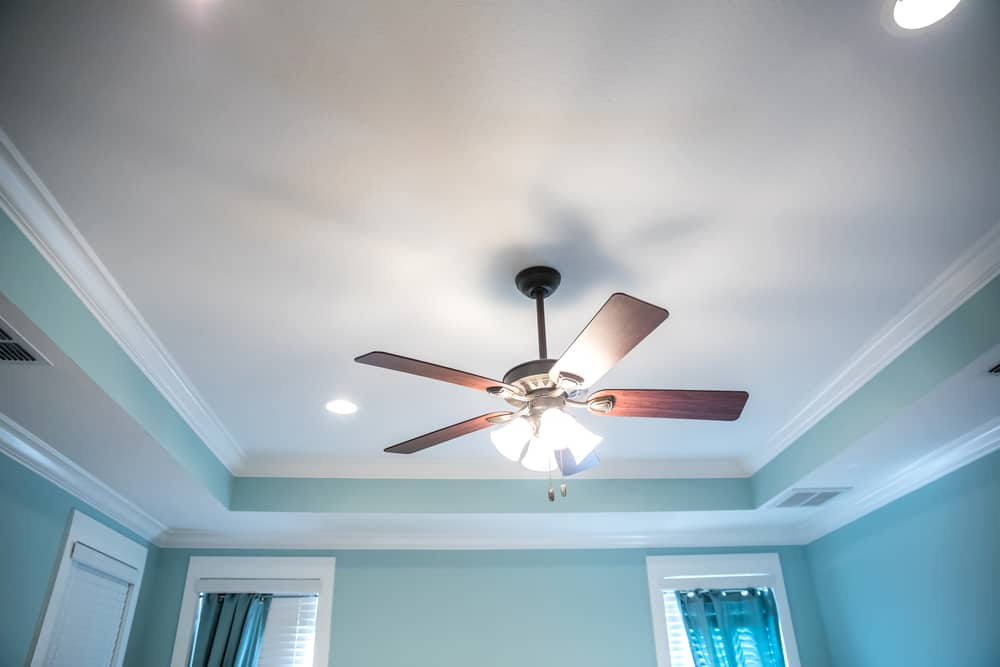 There are many great rooms to put up a ceiling fan in, all you need is the ceiling space for it and to make a selection. So, pick your style of ceiling fan, it could be classic, rustic, coastal, and pick its blade type, such as glass, wood, or metal, and decide if you want one with shades. Transforming spaces in the bedrooms of a home can be as simple as adding some ceiling fans.