Updated on January 3, 2022
Protecting your home from floodwater is an essential action to maintain the integrity of your house, keep you safe, and ensure you are not in deep monetary trouble when severe weather strikes.
However, large and unsightly sandbags are not only inconvenient, but they can also cause environmental harm. Fortunately, there are several quality alternatives to sandbags for flooding that can help remedy your needs and keep you prepared in the long run.
See Also: 5 Alternatives to Underground Sprinklers
How do Sandbags Work?
Before seeking out alternatives for sandbags, it is important to know their purpose and how they work in order to make an educated decision on the best choice for you! Sandbags are a classic flooding prevention mechanism to protect the home and/or other structure from water damage.
When sandbags are filled with sand they create a barrier for the water that falls and change the direction of it to be away from the home or building. This alters the water's route to go around the structure instead of toward and into the building at hand.
Sandbag Alternatives
1. Plastic Tube Barrier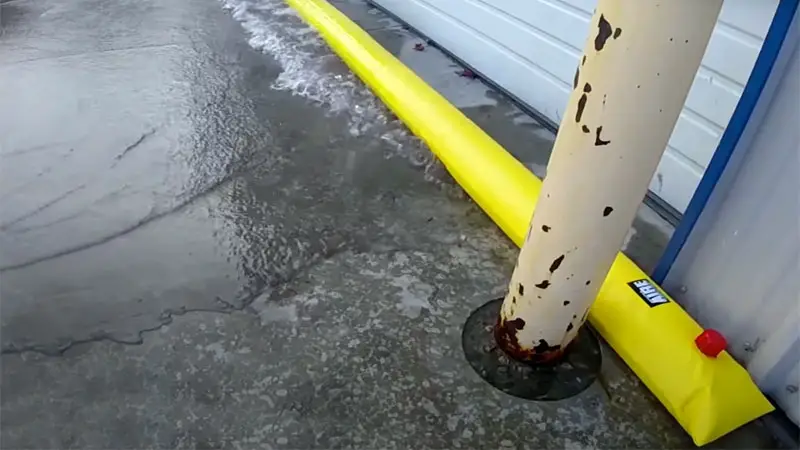 The first alternative to large sandbags for flooding is refreshingly lightweight but still more than capable of protecting your home from unwanted water seeping through and causing damage. These plastic tubes incorporate polyester and are long in length and customizable for the size and shape of your home.
These tubes are simply weighed down using sand or dirt and hold their own in the face of rain. Once they have been sufficiently filled there's nothing to worry about as your home will be adequately protected from any water damage. They are often placed along the siding of the home and around the garage to protect from any decay to the initial design due to floods.
The primary concern with this alternative to sandbags is that installation is a bit difficult. While they are initially lightweight, it can require a few people to come together in order to place them properly to protect the home. However, they are still more aesthetically pleasing and just as functional in comparison to sandbags.
2. Stormbags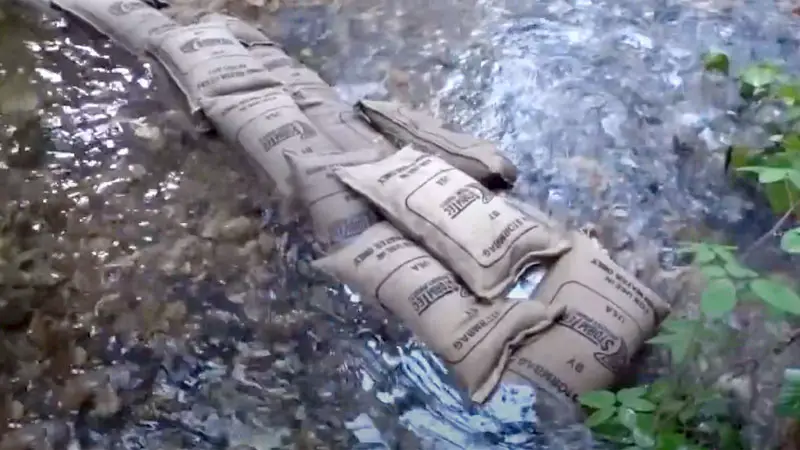 As their name indicates, Stormbags are a great option for protection from flooding as a result of an impending storm with rainfall and potential for damage to your home. They are unique in that they are lightweight and filled with a substance that is activated when they are wet which creates a good seal from water coming through.
By dipping the bag in water they bag immediately expands to its full size. This is a great option to have on hand as it is very compact until it is needed to be used.
This product also has a clear advantage over products like sandbags, garbage bags, and tubing due to its ability to be quickly thrown together. The lightweight nature makes assembly a snap and you do not have to prep beforehand. Additionally, when not in use these are not visible which makes them advantageous over the tubular options as well.
However, these are quite high in price, but they do their job well and if you have the extra money they are perfect to not detract from the exterior/landscaping of your home, but give you peace of mind that your home is protected all the same.
3. HydroSacks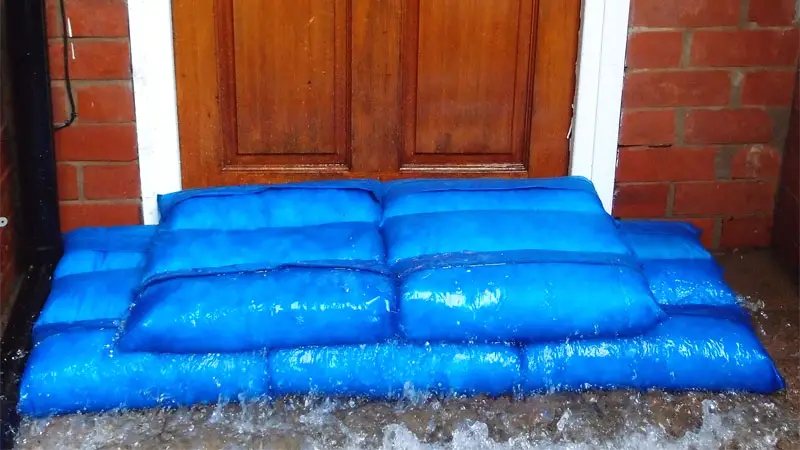 Although they appear to be quite similar in structure and assembly to sandbags, Hydrosacks actually contain no sand at all! They are easily placed and lightweight and are capable of absorbing massive amounts of water in a rapid period of time; this makes them a great option for last-minute situations or emergencies.
Hydrosacks are particularly effective because the second they come into contact with water they expand and begin guarding your home against damage. Not only do they protect against floodwater and debris, but they also divert the water on a path away from your home to prevent residual damage if/when they are no longer in use.
Additionally, they are easy to use and good for the environment. When it is time to say goodbye to the product, you do not have to worry about it ending up in a landfill as they are biodegradable and approved by many environmental agencies. In fact, in several countries, these Hydrosacks are used in a professional capacity by emergency responders.
Finally, these have an amazing shelf life. If you do not know when you will use the Hydrosacks, rest assured that they can be stored on a shelf in your home or garage for up to five years. They will still remain effective as time goes on so that if you have an unexpected emergency arise you can immediately put them to use and protect your space.
4. Absorbeez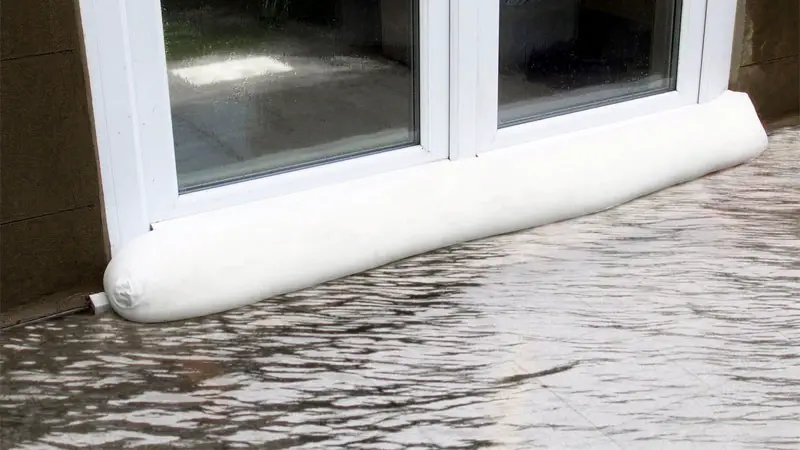 Absorbeez is unique not only in its name but also in its composition and functionality. This product is made entirely without sand but has an extremely high absorbency so you can rest assured that water will not break through and get into your home.
These are comparatively easy to assemble/situate given that they are lightweight and do not need to be submerged in water prior to use. In fact, this makes them the perfect option for true emergencies and is all the more reason to have them on hand just in case something were to happen.
When you purchase Absorbeez you can rest assured knowing that they are highly durable and worth the investment. Moreover, you need fewer of them than other solutions, such as trash bags, to accomplish the job. Simply layer a few in front of your door or any exposed areas and enjoy the protection they offer.
They are the perfect item to have on hand just in case. They fold over nicely for storage and come in packs of five so that you can store them with ease in your garage or basement.
Finally, they are relatively affordable and do not require advanced stacking. For these to work, you simply lay them down, and as the water naturally comes in from the rain and flooding they will immediately expand and perform their job as expected.
5. Hydrabarrier
This inflatable solution may look like plastic tubing at first glance, but this is actually a much more environmentally conscious option as opposed to sandbags or plastic tubing. In fact, this option is comprised of vinyl which is eco-friendly and highly durable. When you purchase this barrier, you are making an investment.
Despite their durability and high functionality, these hydrabarrier solutions are not terribly expensive. With options ranging from 6 feet to 24 feet, you can truly choose whichever works best for you and the space you are protecting from the flood.
Moreover, this is an incredibly lightweight option, which makes for easy assembly as they are easy to handle and do not require more than one person for a successful installation. They are easy to fill and can be satisfied with a garden hose. When it is time to put them away, you simply release the cap and allow them to drain out before storing.
Once empty, these easily collapse and their flexible material allows them to be folded nicely for a compact storage solution. This also means that they are reusable, which saves you money and effort in the long run as opposed to when you use sandbags or a do it yourself solution such as garbage bags.
6. Quick Dam Flood Barriers
Another viable and effective alternative to sandbags is the Quick Dam Flood Barrier. This option is notable for its easy assembly that expands rapidly once wet to create a barrier that is sufficiently tall and wide to protect the area in which it is placed.
Additionally, this option is extremely affordable. They come in packs of at least two and are a fraction of the price of other options with much easier assembly due to the fact that they are lightweight and easy to place. They only increase in weight/size when exposed to water, so they are otherwise easy to store before and after use.
Moreover, these are great for blocking the home and sending water down the designated path to protect the rest of your property and landscaping design as well. Rather than having a giant puddle emerge, they will divert the stream to where it should go away from your house.
This is a perfect solution to protect your door, house siding, garage, and more. Additionally, It can be adjusted to fit the exact custom shape of your house without allowing any gaps to come through.
This is the perfect option for someone wanting a minimal impact on the outward appearance of their home as it is sleek, only expanding once wet. Moreover, this can be assembled easily by only one person given its flexibility and lightweight nature, so there is no hassle or additional help needed for installation.
The only minor drawback is that prior to expansion it can be a bit difficult to reduce but after time it will shrink down and can be folded and stored in an area of your choice to be reused at a later date.
7. Trash Bags filled with Dirt
If you would like to save money and have the materials on hand, this is a great makeshift option. While these bags are still quite heavy and unsightly, they at least prevent you from having to go out of your way and purchase sandbags. You can do this simple project using dirt from your landscaping/around your home and garbage bags that you have in your house.
Obviously, you won't be able to completely fill a trash bag with dirt and move it into place without the bag ripping. Ideally, you will use heavy duty yard bags which are only filled partially. This may allow you to fill in one area and move them to the area needed while remaining intact. You'll have to experiment to see what capacity will work.
While not as good as actual sandbags, garbage bags will work in an emergency situation. Just be aware that if you are experiencing last minute/flash flooding you may not have time to employ this method as you need to have everything situated and adequately filled beforehand.
However, in terms of functionality, these bags are actually very effective. They divert water away from the home so long as they are laid out in a clear path and at the appropriate height with no room for water to seep through.
FAQs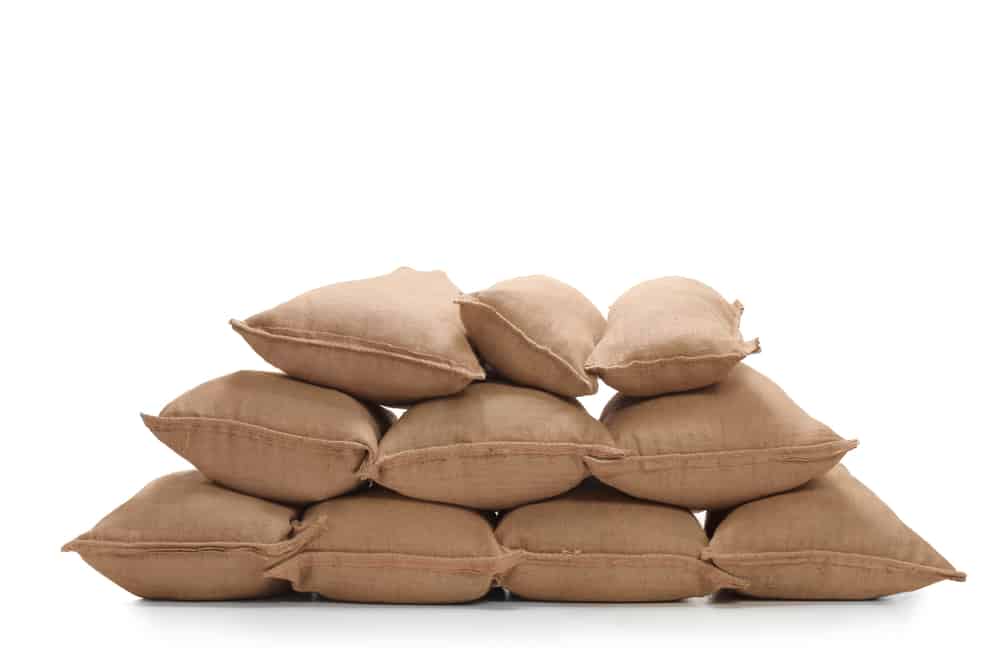 Here are some frequently asked questions about alternatives to sandbags for flooding.
Do I even need sandbags/any of their alternatives?
While the choice is definitely up to you, sandbags/alternatives are the only guaranteed way to protect the foundation of your home from flooding and the resulting damage. They divert the path of the water to ensure no rot takes place and that water does not seep in and damage the interior of your home and/or flood your basement, especially if you have done interior design work which can be costly to repair.
If you live in a place with a high capacity of rainfall or even more intense tropical storms such as hurricanes or tsunamis, sandbags can be essential in preventing water from rapidly flooding your home. You especially need them/their alternatives if your home is at a downhill angle such that water will freely flow towards it and penetrate the foundation.
How should I place/align my sandbags or their alternatives?
This really depends on the alternatives you select. For example, if you are using a tubular option you will want to wrap it all around the home to ensure no gaps are to be found that can allow water to seep through.
However, if you are using sandbags or a similar alternative, you need to stack them with a great deal of care as the structure is everything in ensuring your home is protected.
Using a pyramid structure is a good rule of them, but you must ensure that for the width you create you have an appropriate matching height to go along with for balance, as seen in the diagram below.
Conclusion
When all is said and done the method that you select to protect your house from flooding is a decision that is all your own. You must consider the amount you want to spend and the effort you want to put into the particular method. Once you have combined and considered all of these methods if you still wish to move away from sandbags, be sure to consider one of the alternatives outlined above.