Updated on January 3, 2022
When it comes to keeping your garden hydrated it may seem like there aren't many affordable alternatives to underground sprinkler systems, but that isn't necessarily the case! There are several ways you can cut down on the cost of watering your lawn and your garden!
An underground sprinkler system is definitely convenient but it can be costly, especially if you have it professionally installed. Fortunately, you can cut the cost of keeping your yard watered down significantly by doing a few things.
For manual watering, you can water yourself with a hose or watering can or you can use a sprinkler that you attach to your hose. If you want a hands-free alternative, you can make an underground sprinkler system yourself or you can set up a drip irrigation system.
See Also: 7 Garden Hose Storage Ideas
Hands-Free vs. Manual Watering
There are advantages and disadvantages to all things in life, watering methods included. Some people love to spend the time out in their garden, looking at and talking to their plants as they water everything.
Other people don't have the time or desire to be so involved in the watering experience. No matter what style you prefer, each one will do a great job at keeping your plants and lawn nice and healthy, even on the hottest days.
Hands-Free Methods:
Manual Sprinkler
Drip Irrigation
DIY Sprinkler System
Manual Watering Methods:
We're going to take a look at several affordable ways to keep your lawn and garden hydrated and full of life so you can decide which method works best for you. You don't have to spend an arm and a leg to get the lush backyard of your dreams!
Hands-Free Watering Methods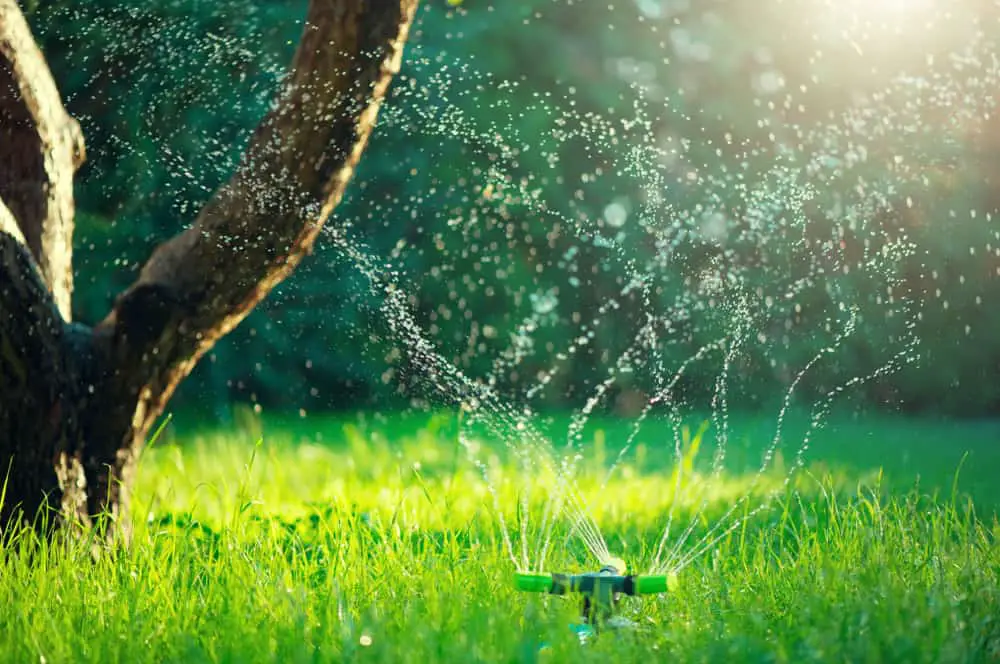 Using a more economical alternative to professionally installed underground sprinkler systems does not mean you have to lose out on convenience. The main reason people get underground systems is that they make life easier.
Well, those costly set-ups aren't the only way watering your yard or garden can be easy! With any of the following methods, you'll be working smarter and saving money at the same time.
Manual Sprinkler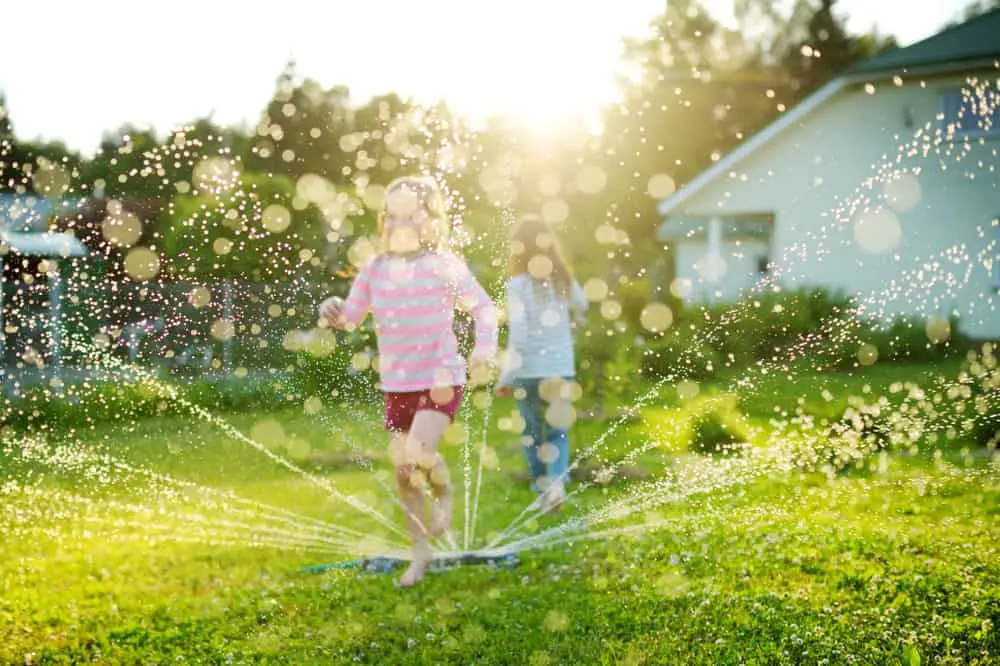 We're going to start out with the manual sprinkler because it is the most hands-on sprinkler system we're going to look at. There is a little bit of set up involved but you're always just a few minutes away from your yard getting the water it needs to thrive.
If you have a larger yard, a manual sprinkler that is attached to your hose would be a wise investment so you don't have to water everything by hand.
There are several styles on manual sprinklers on the market and they all serve the same basic function: to water your plants with minimal work on your part. You can get the classic oscillating bar sprinkler that you may have played with as a kid, as well as sprinklers with different spray patterns, including a vertical spray or a circular spray.
To use a manual sprinkler, you simply attach the sprinkler to your hose, set it down where you want it, and turn on the faucet. The pressure of the water coming from the spout will do all of the work for you.
You can sit outside and keep an eye on the sprinkler or you can set a timer and take the opportunity to take care of other chores or relax for a little while.
Drip Irrigation
If you're looking for an easy and effective way to water your garden, a drip irrigation system would be an excellent choice for your yard. One of these handy watering systems is the perfect way to ensure your plants stay hydrated even on the hottest days.
There are some plants that can survive just fine with a smaller amount of water, but many need the soil to remain moist so that the plants thrive and give you delicious fruits and vegetables.
As you can probably guess from the name, a drip irrigation system provides a small amount of water to your plants throughout the whole day.
Using drip irrigation set up is a fantastic choice for your garden beds but isn't as effective for lawns. If you want hands-free watering for both the grass and your beds, you can set up a drip irrigation system for your flowers, fruits, and vegetables and use a manual or DIY underground sprinkler for the grass.
Keeping all of your plants healthy is easy when you use hands-free methods of watering.
Pros:
Provides a steady but not overwhelming amount of water to your plants all day
Supplies to set up a drip system are affordable
Quick assembly can be done in an afternoon
Cons:
Not good for watering the grass
DIY Sprinkler System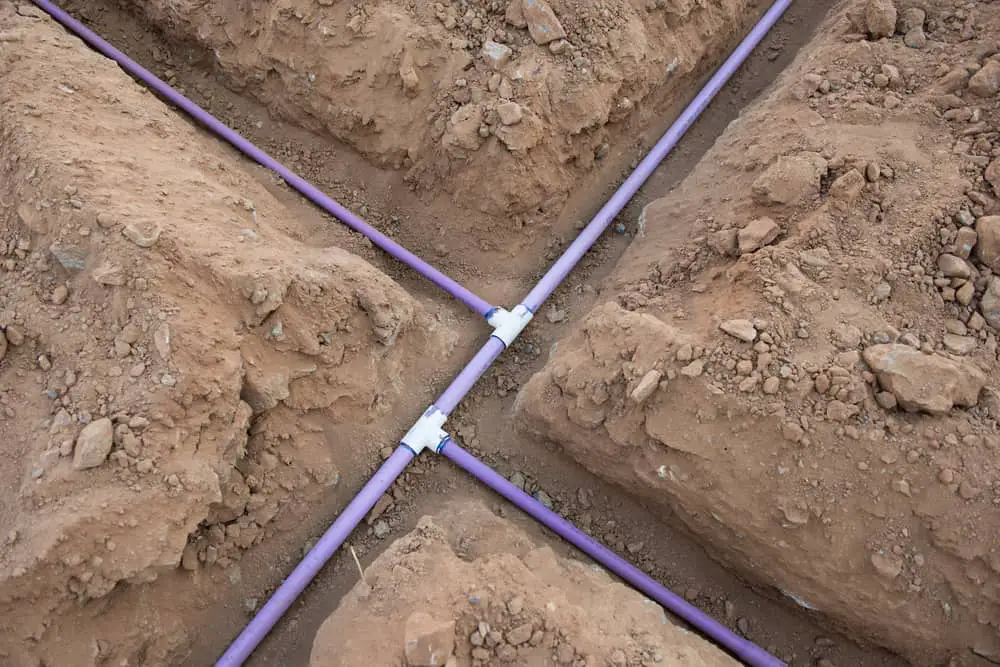 One of the downsides of suburbia is needing to keep a well-manicured lawn during the warmer months of the year. Many neighborhoods have home owner's associations that have strict rules on the condition you must keep your lawn at.
To violate these guidelines can result in HOA fines, as well as potentially being kicked out of the association. If you want to stay on everyone's good side, taking care of your lawn will keep you in the club's good graces.
The main reason people choose to shell out a ton of money on a high-end professional sprinkler system is to keep their lawns nice and green, even in the hottest and driest days of summer.
If one of these systems is not in your budget, you can make an easy DIY version that costs just a fraction of the fancy system your neighbor has. The best part of this homemade sprinkler system is that you don't have to dig up your yard to accomplish it, although you are welcome to bury any hoses if you prefer to hide them.
Supplies Needed:
Garden Hoses
Hose Adapters
Sprinklers
Water Hose Timer
Once you have all of your supplies gathered, it's time to set things up.
Attach a hose to the outdoor faucet. At the opposite end, attach the hose timer. You can use a simple one with a dial or digital settings or you can purchase a smart timer that you can control from your phone or tablet.
Attach a second hose to the output spot on the timer.
At the free end of the hose, you can utilize hose adapters and continue attaching additional hoses if you are going to set up multiple sprinklers. If you are only going to use one sprinkler, attach it here.
Set your sprinkler up where you want it. If you want to bury the hose, you are more than welcome to. If you want to have the option to move the sprinkler around, don't bury it.
Set your timer and turn open the faucet wide to test everything.
Pros:
Much more affordable than expensive professional sprinkler systems
Easy to set up in just a short amount of time
Smart times can be controlled from your phone or tablet
Cons:
Will probably need more frequent maintenance than professionally set up alternatives
Manual Watering Methods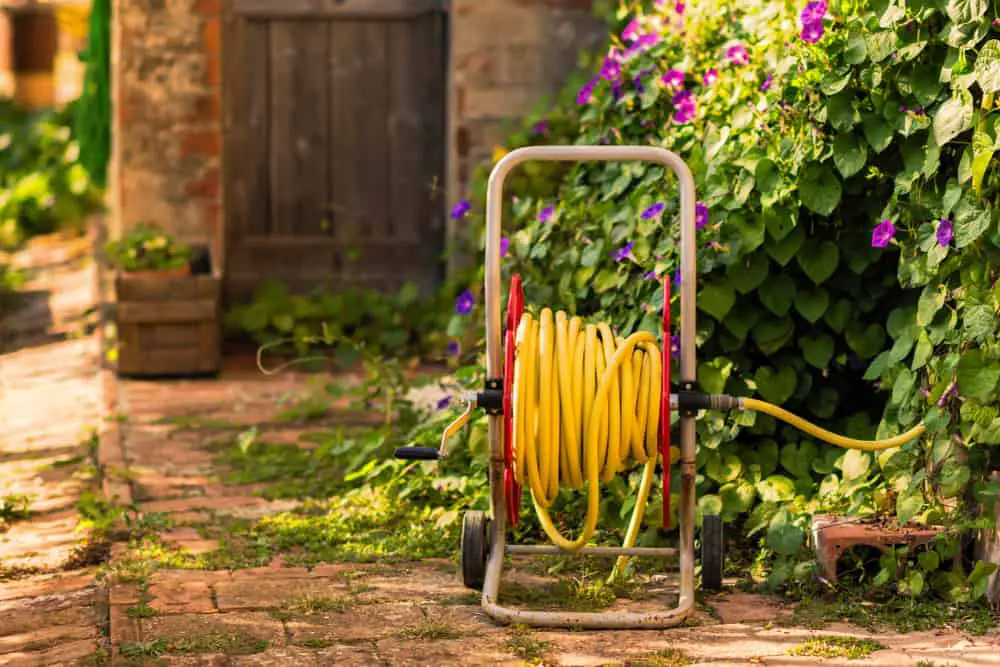 One of the easiest ways to significantly cut down on your watering costs is to water your lawn and garden manually. This is an ideal way to go because you won't be using as much water as you would if you were to use an automatic sprinkler system. The equipment needed for manual watering methods is also drastically more affordable than an underground sprinkler system.
Watering Can
Easily the simplest and most affordable way to manually water your garden, using a watering can have several benefits. The biggest perk is that you can keep an eye on how much water you're using each time.
Since you're in control of the water, you'll avoid wasting water and overwatering your plants. While you don't want to underwater, overwatering can be just as harmful to your crops.
You can further lower the cost of using a watering can by collecting rainwater if it's allowed in your location. Rainwater is free and it contains minerals that are good for growing plants. Another great thing about watering cans is that they provide a gentle cascade of water so they are ideal for delicate or fragile plants.
While you can definitely water your grass with a watering can, if you have a large yard, it may be more work than it's worth to use a can over other methods.
Pros:
Gentle flow
Cuts down on the risk of overwatering
Even cheaper if you use rainwater
Cons:
Not practical for a larger garden since water is heavy and you'll spend too much time refilling
Hose
While using a watering can is an effective way to hydrate a small garden, if you need to cover more surface area, giving your plants a good shower with a hose is the way to go.
Hoses are easy to take to all areas of your yard since they are long, flexible, and lightweight. If you find that your hose isn't long enough on its own, you can usually connect multiple hoses together for added length.
In addition to hoses being long, the spray distance goes pretty far beyond the length of the hose. If you attach a sprayer to the end, you can easily spray 20 or more feet past where you're standing. As long as the water is on, you shouldn't have any issues having enough water to get your whole garden and your lawn.
Pros:
Great for covering a larger area
Sprayers allow the water to hit plants that are further away
Multiple hoses can be connected to make a longer hose
Cons:
Time-consuming if you have a large area to cover
Conclusion
When it comes to having a well taken care of yard and garden, keeping everything watered is the first step towards keeping your plants healthy. Many people choose to use a professional underground sprinkler system to keep their grass and garden beds hydrated and thriving but one of those systems is not in every person's budget.
Whether you live in a neighborhood with an HOA or you have gardens that need to be watered, finding an affordable watering system can be the difference between a yard full of plants and a yard full of brown grass and empty flower beds.
The most affordable alternatives to underground sprinkler systems are manual watering. You can water a small garden with a watering can, or you can use a hose to cover more area.
If you want a hands free option, a manual sprinkler or a DIY sprinkler system can keep your garden and lawn hydrated. If you just need to water your garden beds, setting up a drip irrigation system is a great choice.
Whichever method you decide to go with will keep your plants watered and healthy all summer long.