Updated on January 3, 2022
Welcome to the best place on the web to find baby boy nursery ideas! Designing a nursery for a baby boy is so exciting, which is why we put together this handy interior design guide for decorating a baby boy's nursery.
From themes to color schemes and furniture ideas, scroll through our gallery to get inspiration for your baby boy's nursery!
Gallery of Baby Boy Nursery Ideas and Design Inspiration
1.
The wooden crib and rocker in this nursery have been painted to match the walls, a great choice for rental properties if you can't paint the walls a different color. The white washed color of the walls and wooden crib is contrasted against the light blue and gold tones incorporated in the accessories of the room.
A wooden rocking horse (painted white of course), a fuzzy blue carpet on the wooden floor, and metallic gold wall art all help bring the nursery together.
2.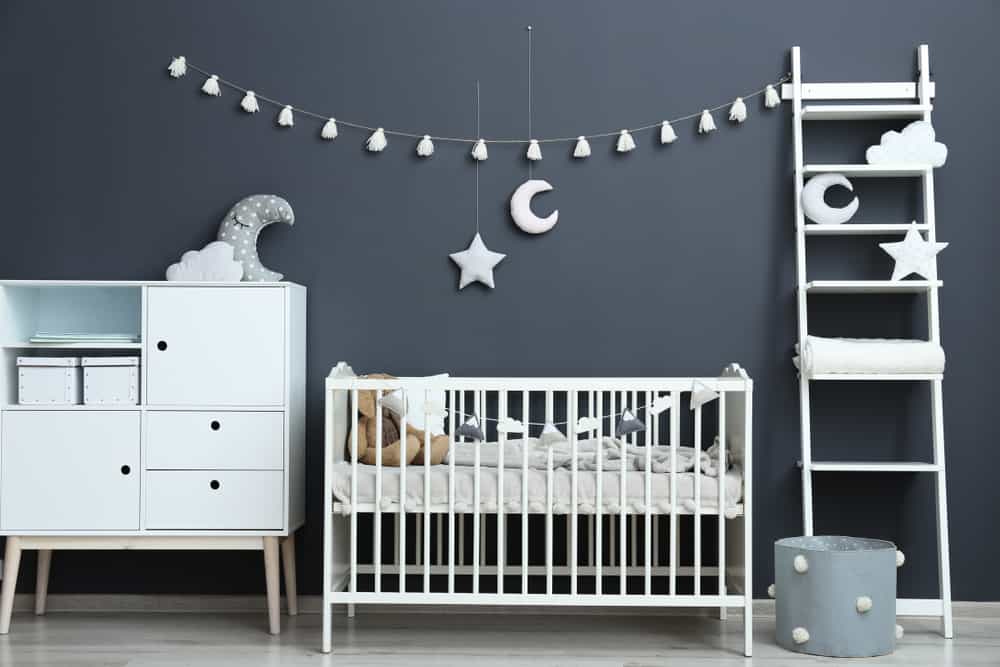 Dark walls for a nursery is not traditional, but this stylish baby boy's nursery proves that it can work if you pair it with the right furniture and decor. Besides the dark grey wall all of the furniture and decor in the room are a light white or grey color, and the dark background makes each of the features pop.
Dark grey is a masculine room color for baby boy's and the addition of stars and planets in the decor makes it a cozy dreamland for a baby.
3.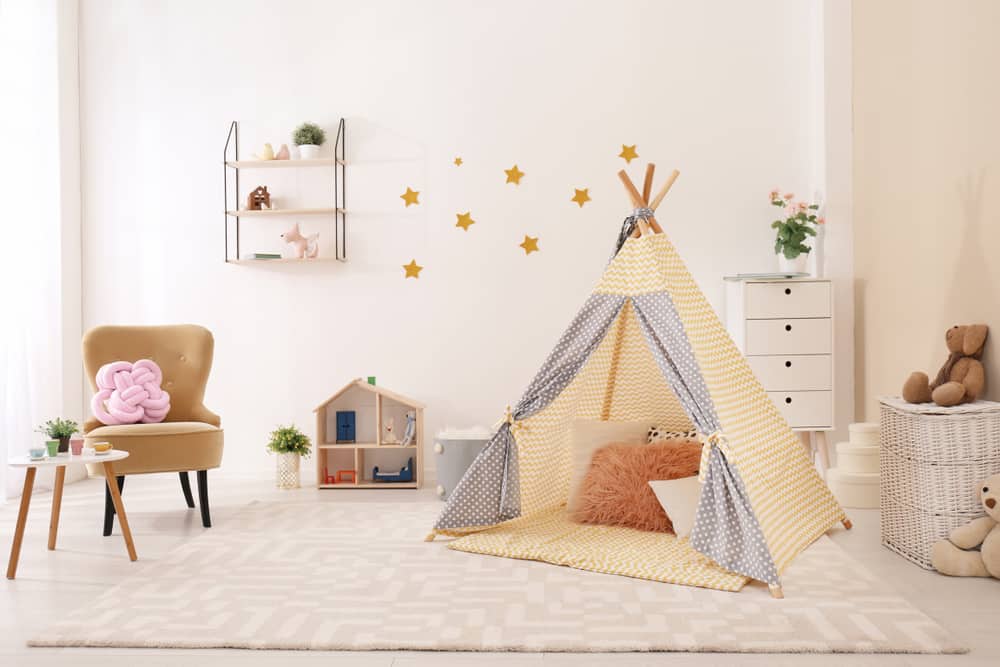 If you prefer a classic nursery then we suggest going with soft neutral tones like the teddy bear and star themed nursery in this photo. Adding a teepee and plush carpet in the room make it a cozy playroom for the baby as he gets older.
4.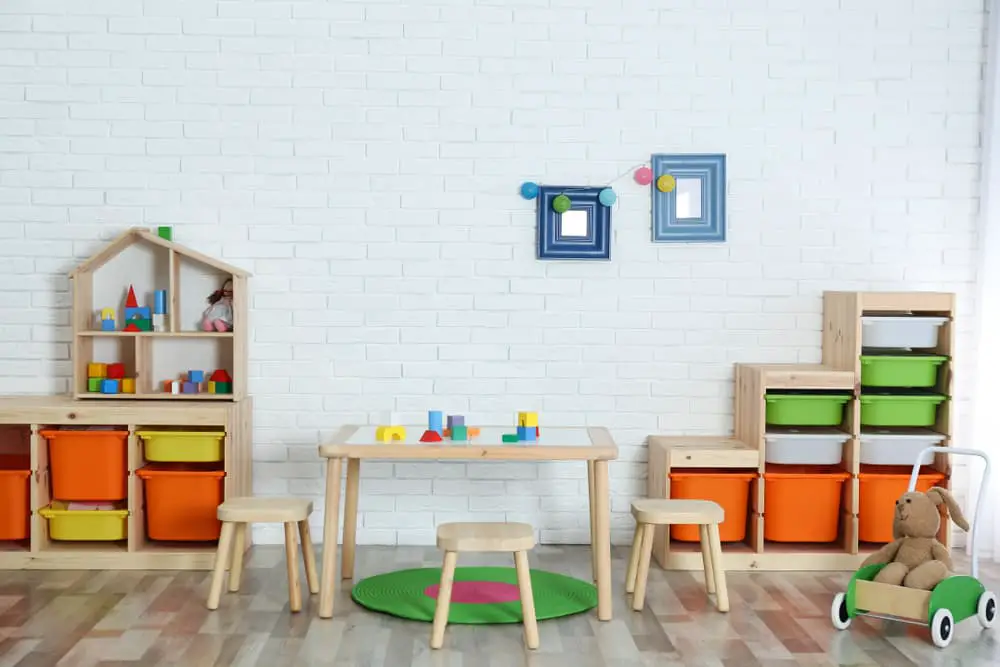 If neutral tones bore you, then we suggest thinking about a brightly colored nursery like this one. The bright greens, yellows, and oranges are perfect for baby boys. One of the best features of this nursery is how the storage bins are different colors, making storage part of the overall design.
5.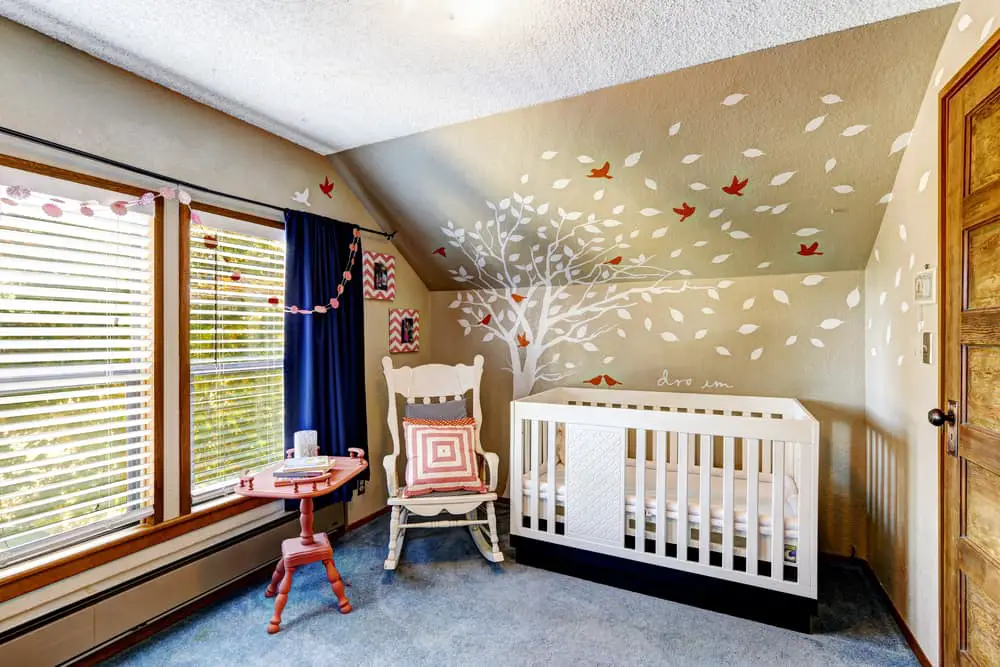 This baby boy's nursery proves that red, white, and blue are not reserved to naval and patriotic themed nurseries. This boy's nursery uses a bold combination of bright white, navy blue, and red. The best feature of this nursery is the unique wall art, which can be achieved in your own nursery by buying stick-on wall art, hiring a professional muralist, or doing a DIY nursery mural yourself.
6.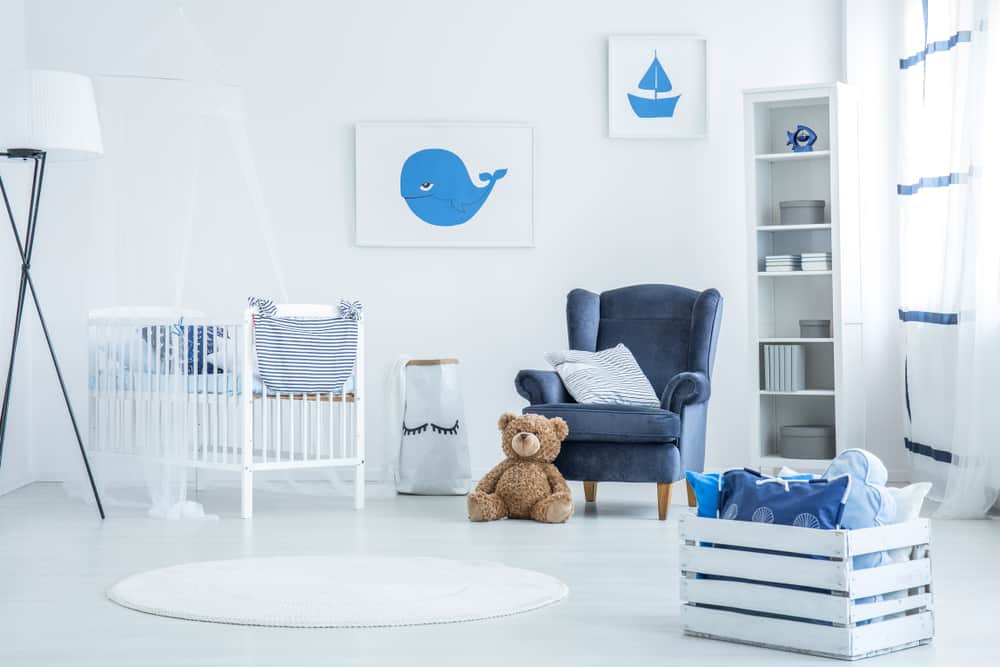 Baby boy's nurseries don't have to be blue…but doesn't it look so cute? This nursery for baby boys has a dainty white crib with a white canopy, white walls/floors, and a circular round carpet. The blue armchair stands out, and the blue whale wall art and blue and white striped drapes bring the design of this blue marine themed nursery together.
7.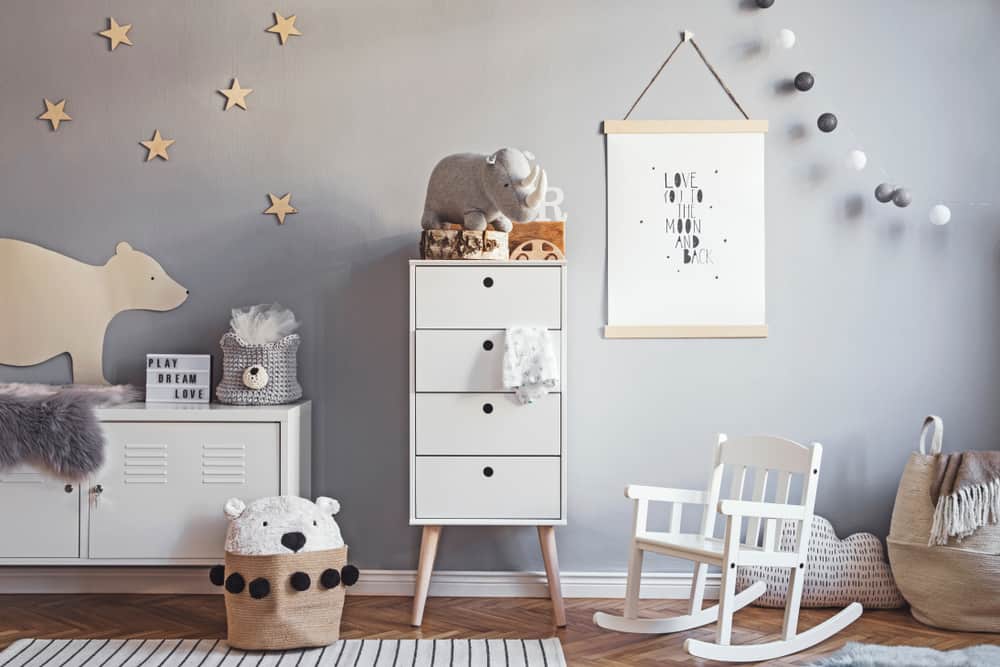 There are light grey walls in the nursery paired with gold stars and paper lanterns for a cute scandinavian design. All kinds of animals can be found around the nursery and the friendly faces make it an inviting environment for babies. The furniture in the room is painted white, with a few features left as bare wood to match the wooden floors.
8.
This minimalist nursery has a simple white crib and white walls. The accessories in the room that make it a stylish scandanavian nursery are the soft teddy bears and blankets thrown over the crib, as well as the cloud-like hanging ceiling lamp. The desk doubles as storage for baby supplies and is close to the crib for easy access.
9.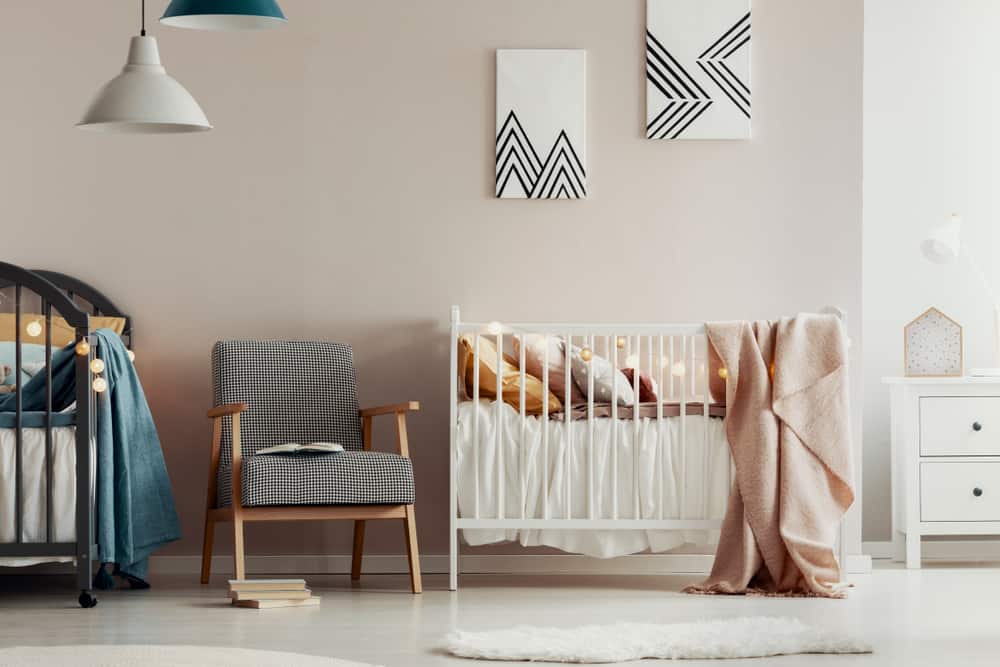 This nursery features a retro armchair between two cribs. Both cribs are made out of wood, but one is painted white and one is painted black. The wall art has black and white stripes to match the cribs and create a sense of unity in this nursery for multiple babies or children.
10.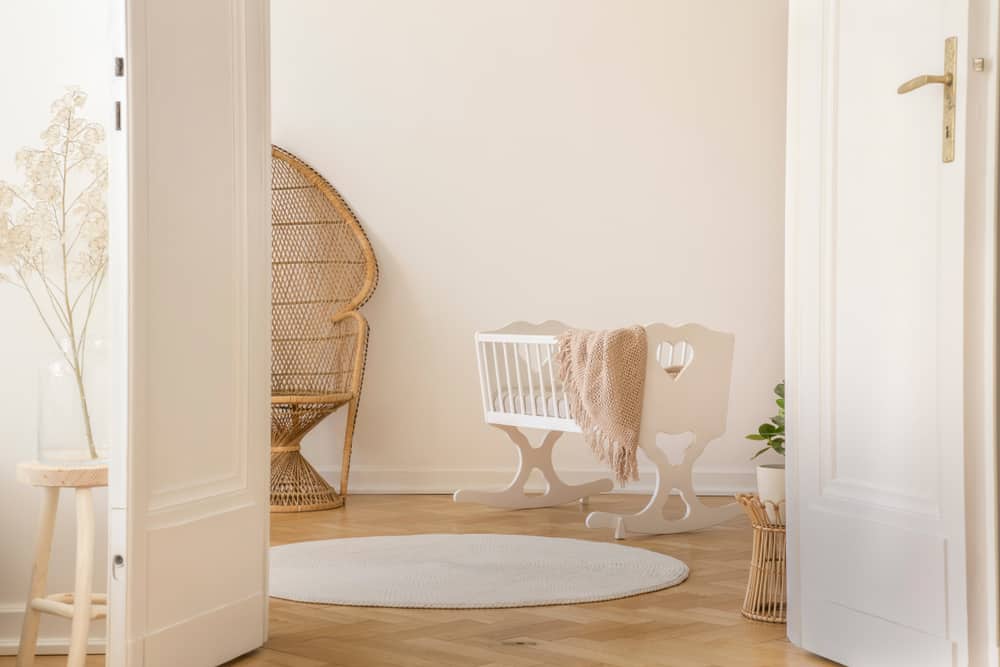 This is an elegant nursery that features only cool, neutral tones of beige, white, and wood. For stylish, modern, elegant homeowners this neutral elegant nursery design is perfect. This design also shows how to make the most out of small spaces with minimal furniture and light, neutral color schemes.
11.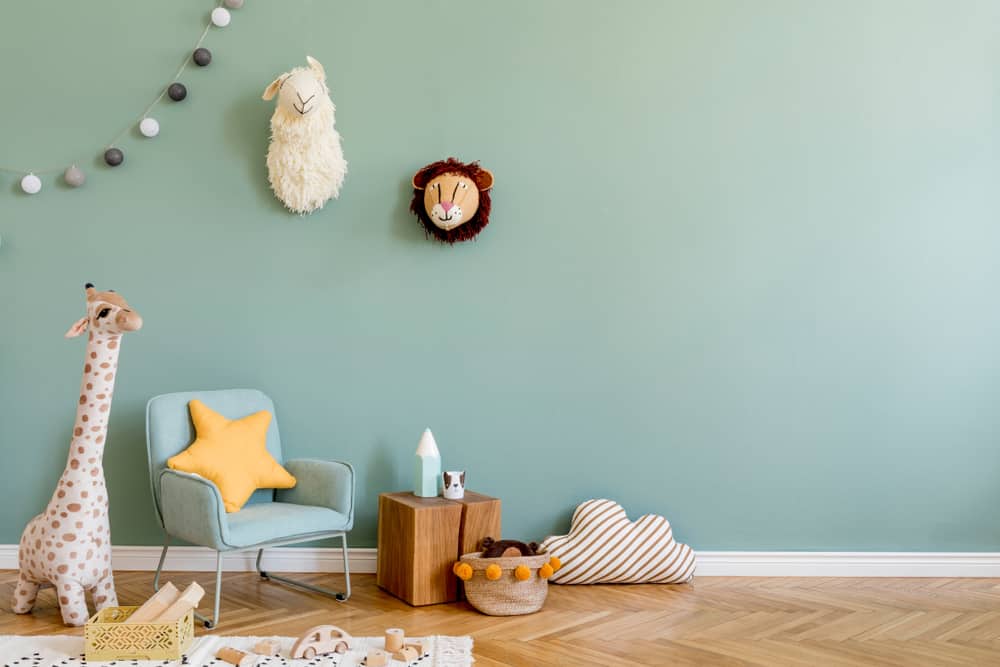 This nursery wall color is a light green/blue. The blue and yellow colors in the chair and star pillow match the walls and look great against the wooden floors. Adding wooden toys and animal faces to the wall make this a really child friendly nursery that baby boy's will love.
12.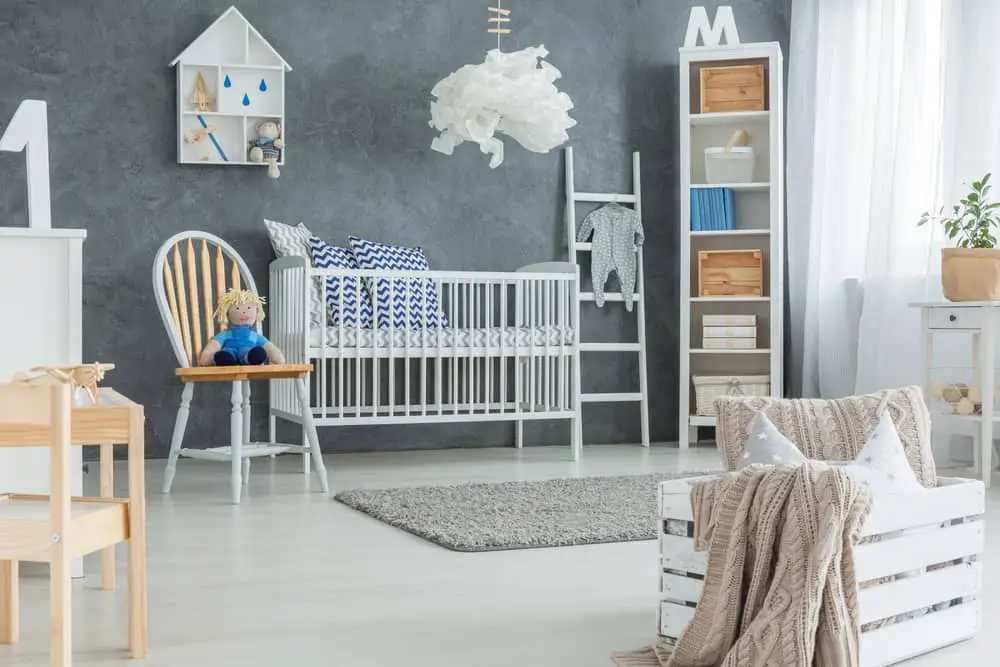 One of the unique features of this nursery is how the walls have a textured grey appearance instead of a flat color. Although the walls in the room are dark and cloudy, the bright whites and greys of the room bring everything together for a calming nursery design. There are also wooden elements scattered in the room in addition to the stark white, cloudy grey, and blue.
13.
If you want to know what an all-grey nursery looks like, then check out this adorable starry grey nursery with white furniture. It has a cute white cat decoration, string lights, and light-up stars on the wall that turn this "boring" grey color scheme into a dreamy wonderland.
14.
Here is a perfect example of a functional nursery where you can see how the crib, changing table, and bed are all positioned in such a way that the room feels open despite all of the furniture. Above the crib are cloud wall decals which could be an easy DIY. The wall has grey polka dots on it, which might be achieved by wallpaper, stickers, or painting directly on the wall.
15.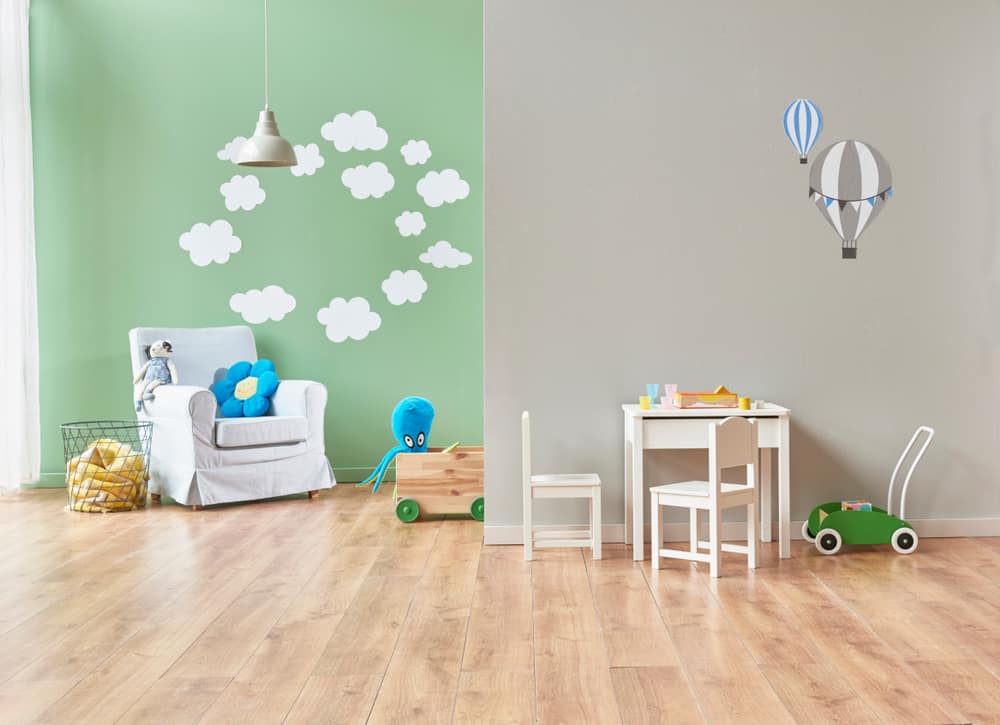 Here is an example of how you can contrast the wall colors in a baby's room. This nursery has a light green and a light grey wall with light brown wooden floors. The furniture is mostly white, with wooden toys, and blue and green decor lying around.
16.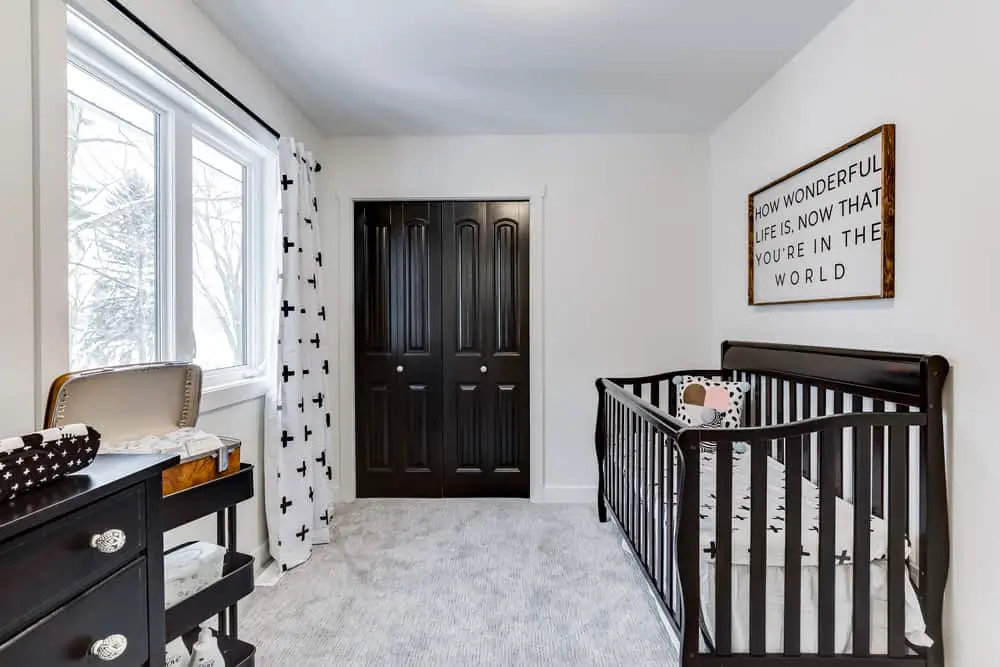 Here is an example of a small nursery with minimal design that is very stylish. It has a black painted double door which is one of the best features of the room, which is matched with the black painted crib. Above the crib is a black and white framed quote that brings positive vibes into the space.
17.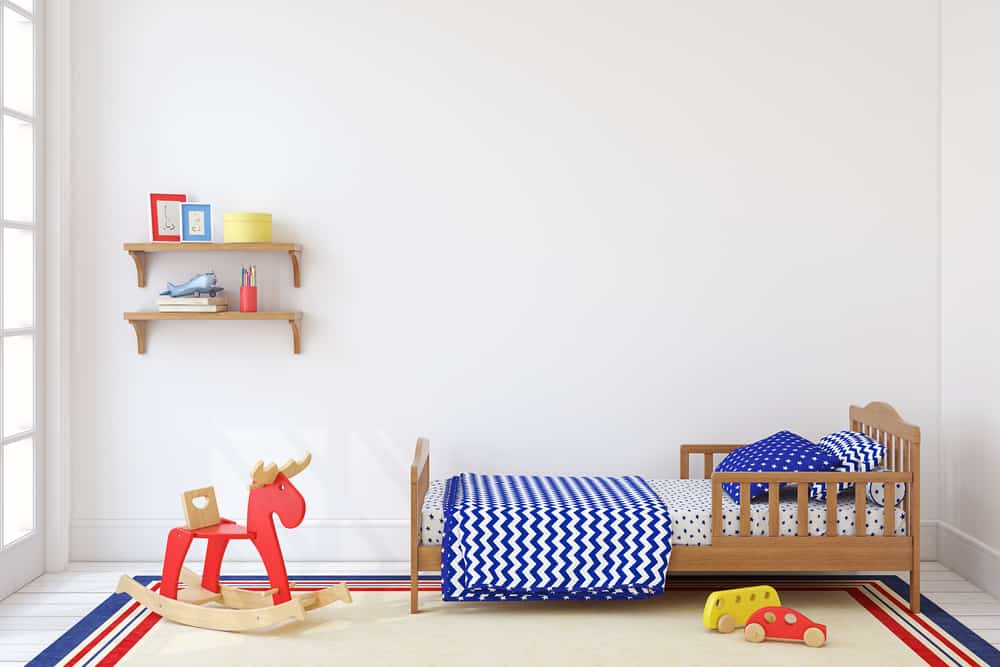 Primary colors are a classic childhood favorite which is why we had to include this adorable primary color scheme baby boy's room in our gallery. This room illustrates how to use primary colors in a way that is not overwhelming by pairing them with a lot of white and light wooden furniture to offset the bright colors. This can easily be achieved in most rooms by adding red, yellow, and blue toys, decorations, and rugs.
18.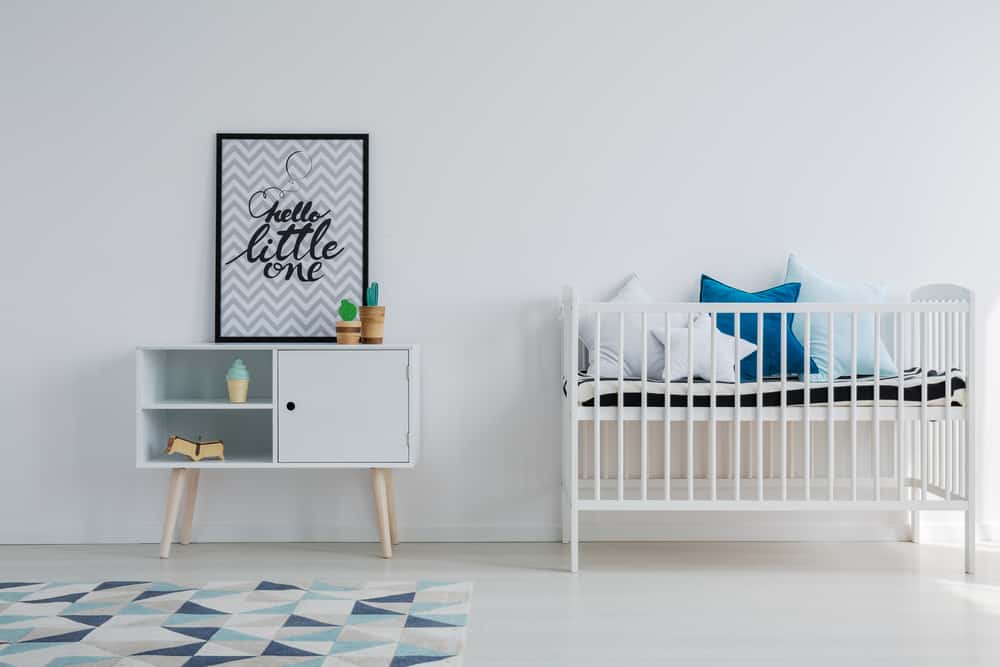 Blue is classic for little boy's nurseries, and this blue and white nursery gives it a modern twist with a framed black and white quote, retro rug, and plant decorations. The simple white crib has blue pillows to match the rug, and the addition of the poster on the wall makes this otherwise simple nursery feel complete.
19.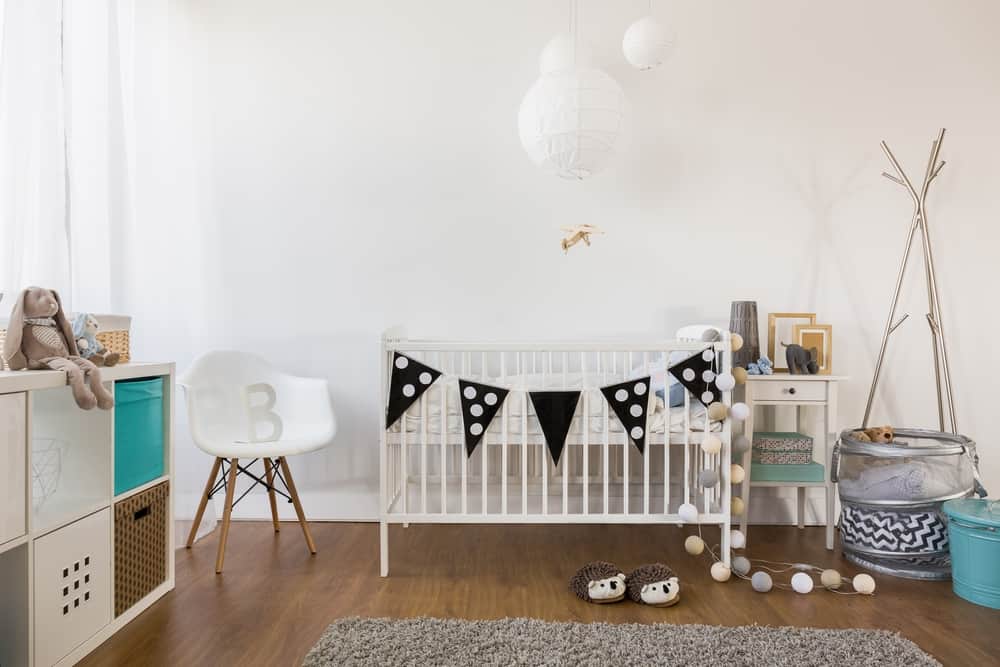 This whimsical nursery has plenty of storage. We love how the storage is seamlessly integrated into the design, with the hamper, changing table, and storage cubbies all adding to the design of the room. In addition to the furniture there are paper lanterns used to decorate the room which is an affordable and versatile design choice that is perfect for children's rooms.
20.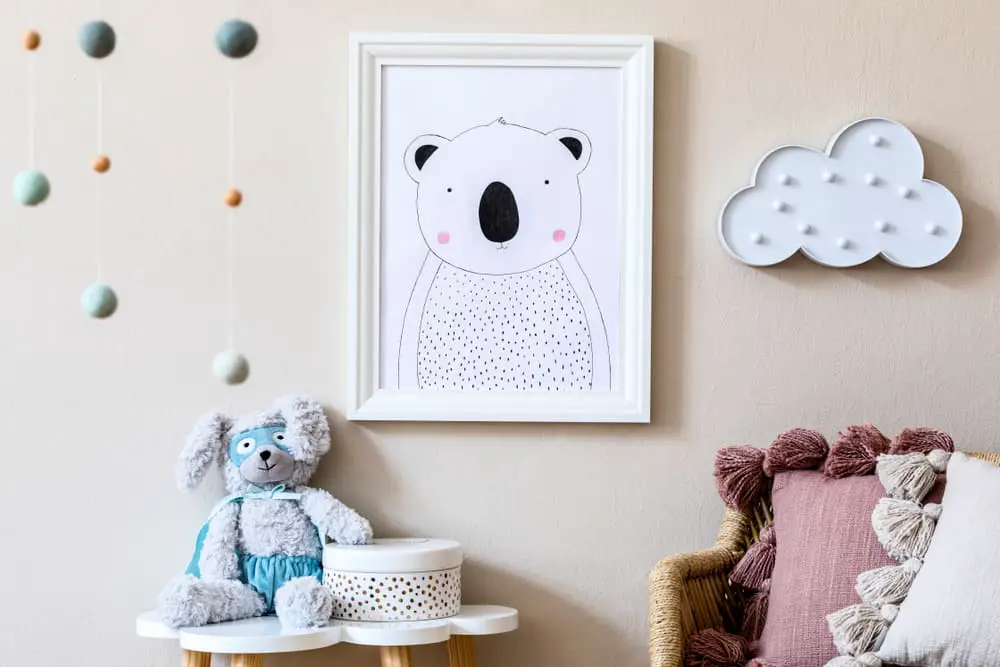 If you are wondering what kind of home decor you can add to nurseries, here are a few ideas. Try adding a colorful piece of wall art, some wall lights, pillows, and stuffed animals. Matching the colors and style of the home decor together will help bring the design of the nursery together.
21.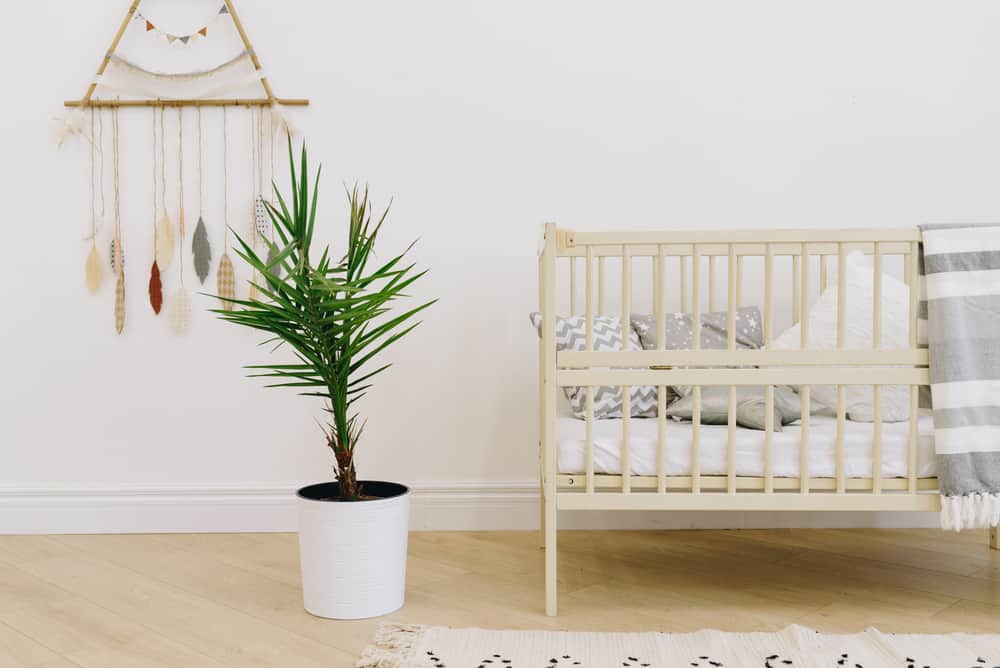 Plants and feathers are used in combination with the white, beige, and light wooden scheme for a modern, boho nursery. Adding a real house plant to the nursery will improve the air quality as plants purify the air.
22.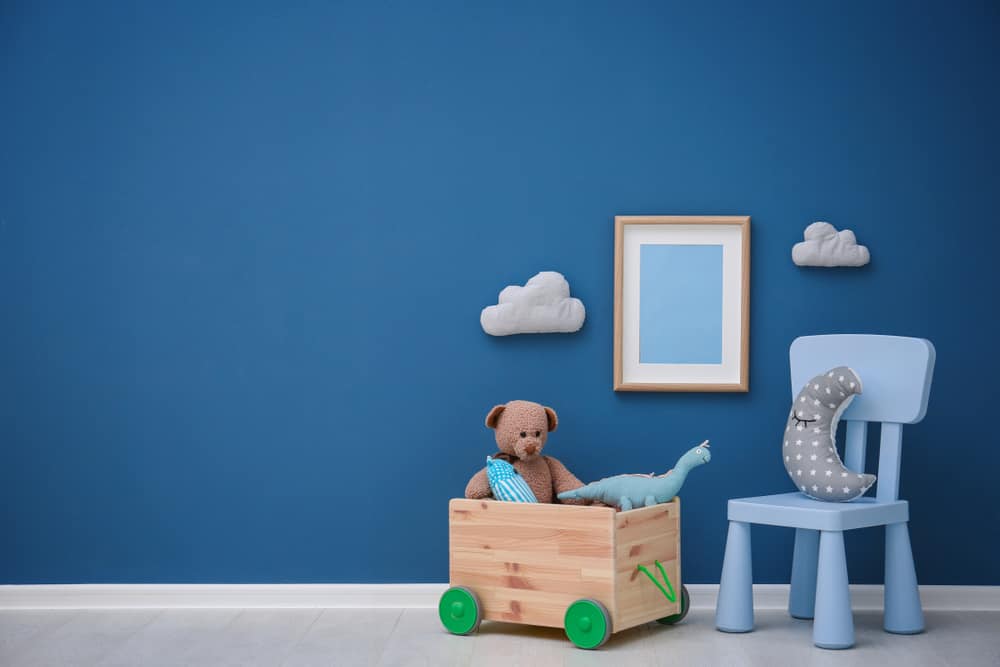 Painting the wall a dark blue and having light blue furniture/wall art makes this a dreamy boy's nursery. The cloud wall art is another feature that matches great with the teddy bears and blue color scheme. The green wheels on the wooden toy cart add a pop of color to contrast against the blue so it isn't overwhelming.
23.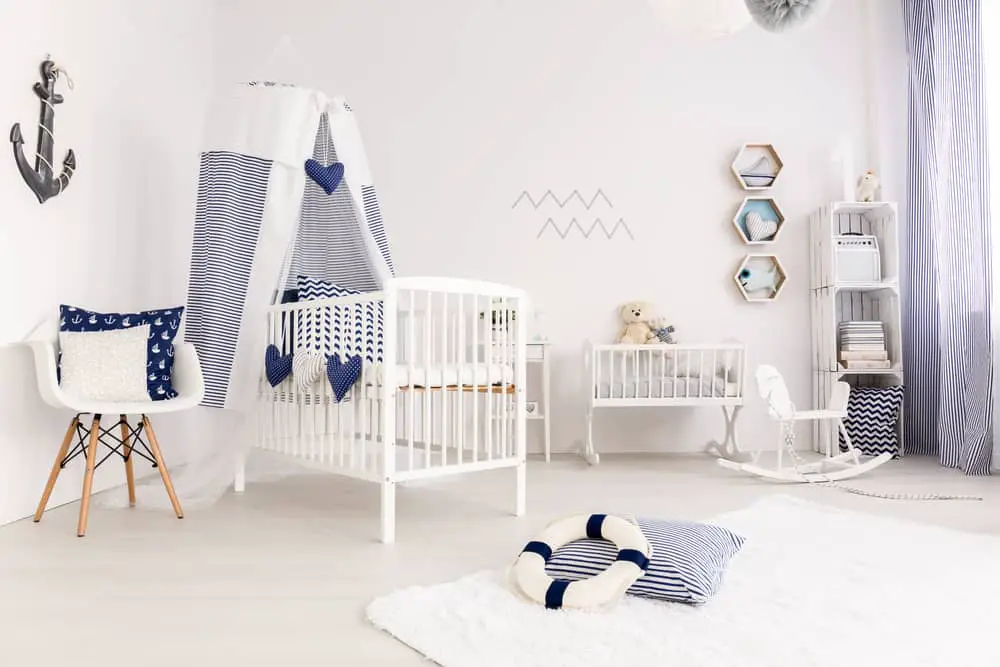 In this modern nursery naval anchors and hearts are combined along with geometric wall art for a bright and inviting nursery. Other great features include the large, fluffy white rug and the matching canopy over the crib.
24.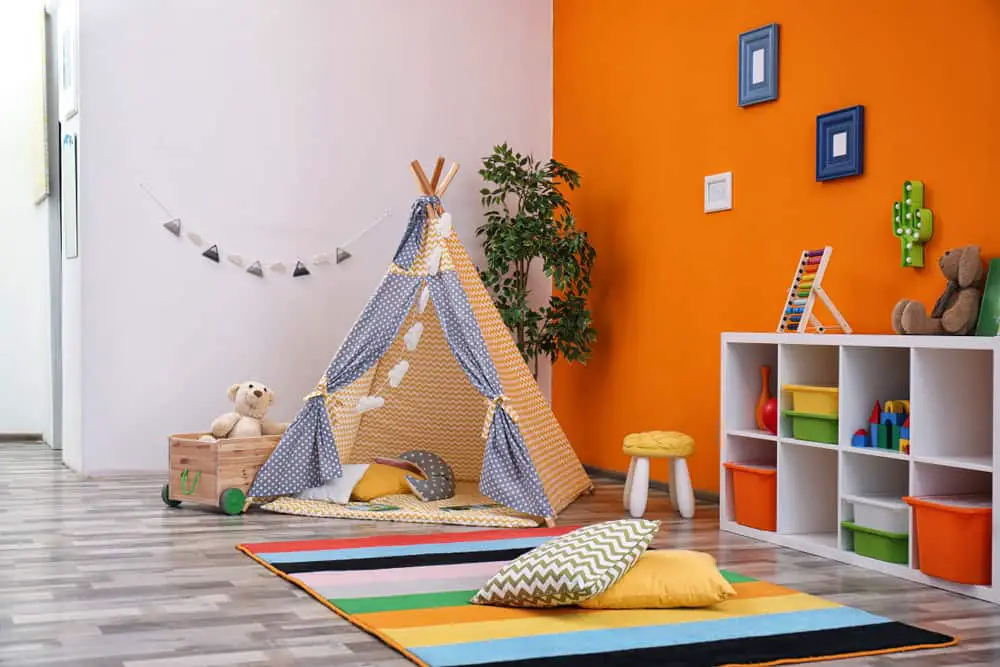 Is orange a good color for a boy's nursery? Paired with a white wall and cool blues and greens to offset the orange we think this design is a cute idea for a boy's nursery. The rug and teepee will be cozy for the infant to crawl around on as he gets older. The white shelves have colorful storage bins for toys and other supplies.
25.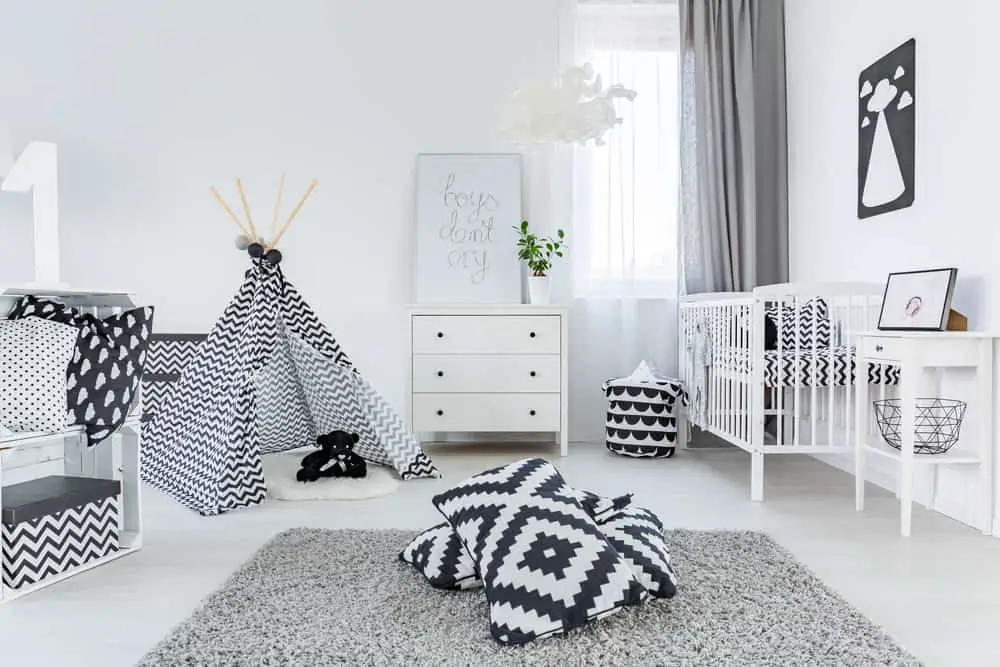 This modern nursery has black and white stripes, geometric designs, and even a black and white UFO poster on the wall. This is certainly not a classic nursery, and for some people the black and white designs might be overwhelming. Pairing them with plenty of plain white wall space helps to make this a stylish choice for a modern nursery.
26.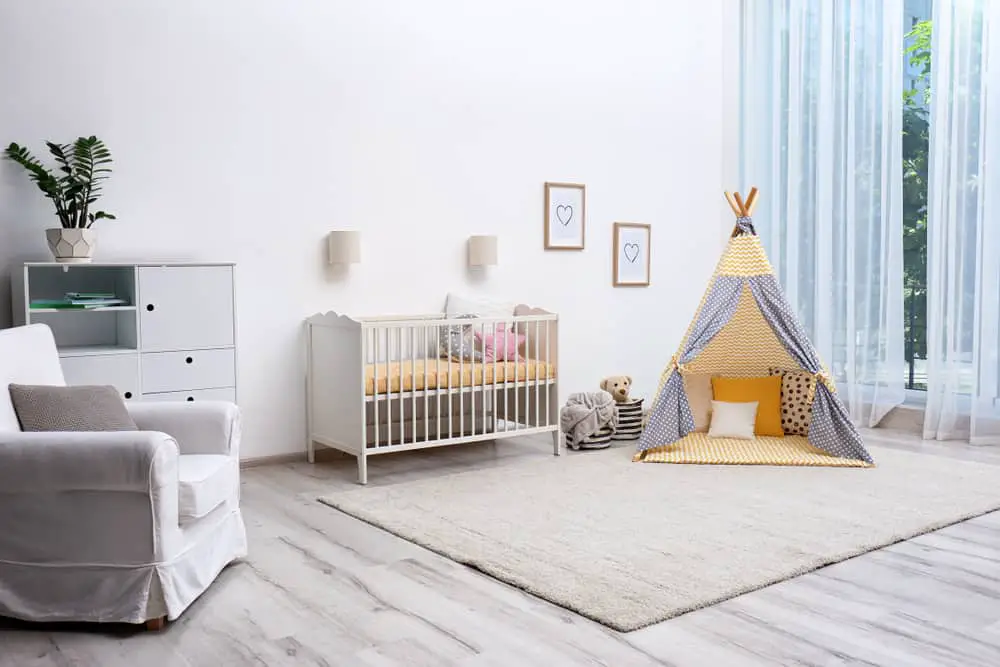 If you are going for a calming mood for your boy's nursery then stick with neutral colors like the whites, beiges, and light blues in this cozy baby room. It has a white crib and white walls, with light blue, beige, and orange being highlighted in the cushions and teepee.
This nursery has large windows with long drapes, as well as a potted plant which add to the light and airy mood of the nursery.
27.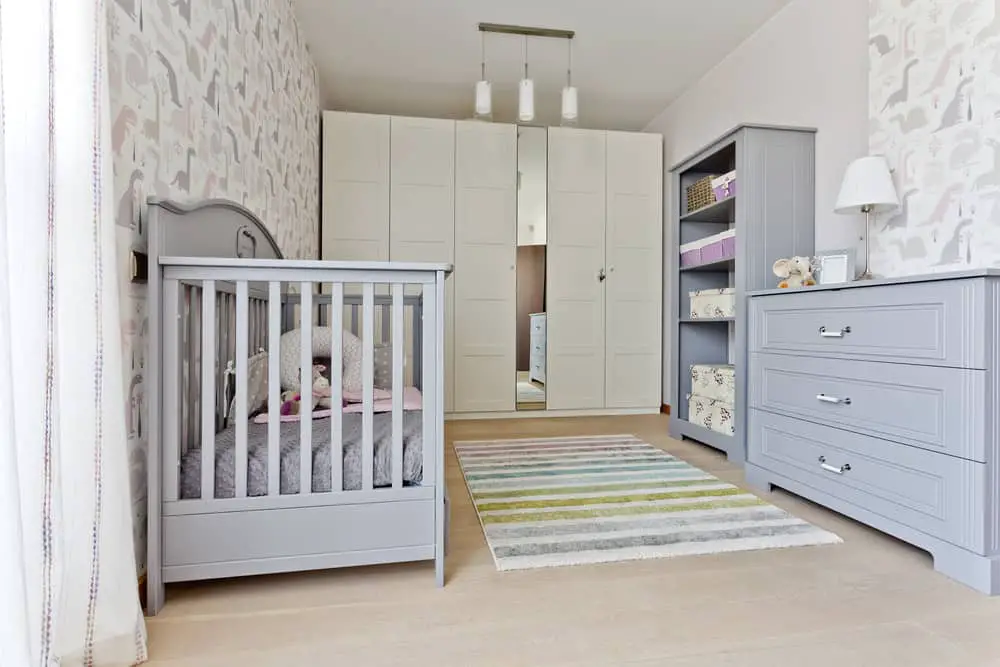 On one wall of the nursery is dinosaur wall paper which matches the furniture and other decor with light greys, pinks, and greens. There is plenty of storage in this nursery in the large wall cabinets on one side, as well as the multiple shelves and dressers around the room.
The carpet has bright splashes of pink, green, and blue that brighten up the otherwise drab color scheme.
28.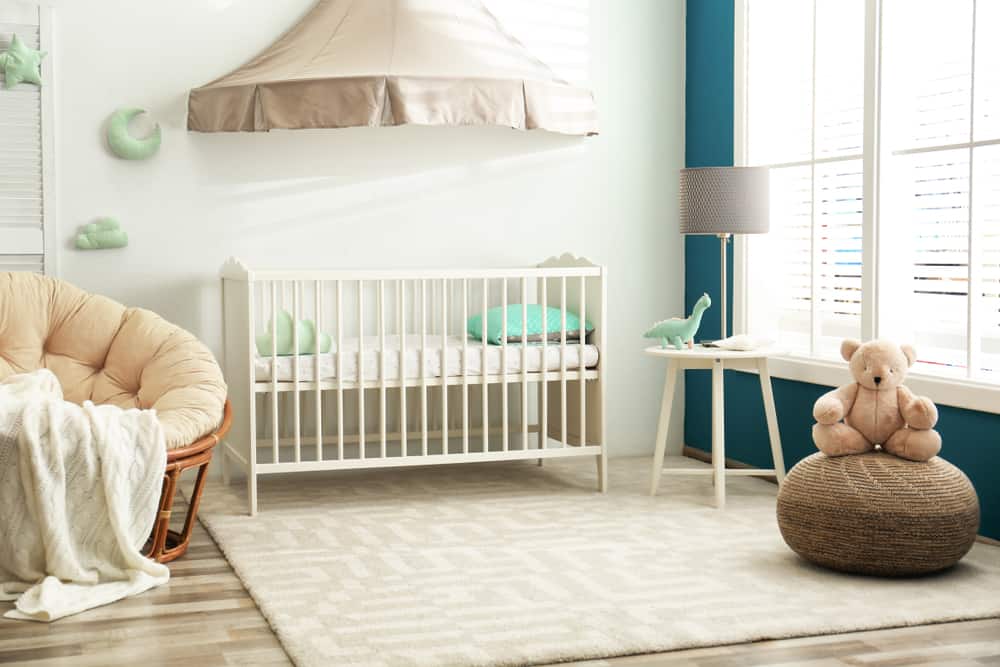 The teal highlight wall in the nursery blends right in with the light seafoam greens, teals, and beiges throughout the interior. The carpet is soft and plush and a round wicker chair provides plenty of seating. Toys such as a teddy bear and dinosaurs make it a baby friendly space.
29.
For this tropical themed baby boy's room they have painted one wall with black chalk paint which allows you to draw custom murals like the giraffe in this picture!
Baby's and toddler's will love writing on the walls with chalk, just make sure they are old enough to understand which part of the wall is okay to draw on and which part is not! Animal prints and plants make this a tropical baby nursery to die for.
30.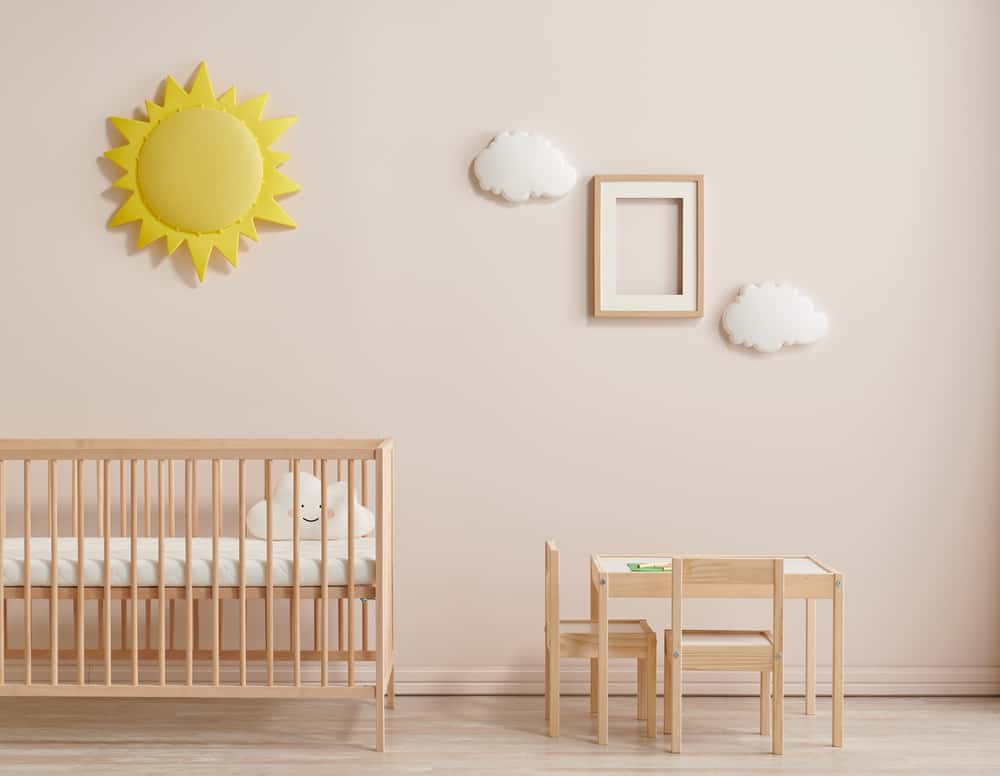 Yellow is another cute color option for baby rooms and nurseries, and this is a good example of how to incorporate a splash of yellow into your baby's nursery without it being overwhelming. The bright sun wall art brings a splash of color to an otherwise boring design.
Design Features to Consider When Shopping For a Baby Boy Nursery
When it comes to shopping for your baby's nursery there are many things to consider. Here is a list of the design features to think about when shopping for a baby boy nursery.
Floor Material
One of the first things you may want to consider is the existing architecture of the room such as the flooring. Wooden floors are easier to keep clean, but we suggest adding soft carpets
For carpeting in a baby's room it is essential to keep it clean so that lingering allergens in the carpet don't agitate the babies sensitive respiratory system.
Hardwood floors can give off different moods depending on the color and finish of the wood, and likewise with carpet the color of the carpet can add a lot to the overall design of the room.
Wall Color
If you live in a rental property then you may not want to paint the walls, in which case you can rely on home decor, wall hangings, and temporary wall stickers to spruce up the space.
Mural
A mural in a nursery is a beautiful and elegant choice that kids will love as babies and toddlers. You can paint a simple mural yourself following an online guide, or you can hire a local muralist to paint a mural in your babies nursery.
An economic solution to a mural for a nursery is to use temporary wall stickers. There are wall decals available that can provide an affordable and sometimes temporary solution to an adorable mural for your baby's nursery.
Wallpaper
Wallpapers for nurseries can be an important part of the design. Consider papering all or one of the walls with a fun print such as dinosaurs, animals, or patterns that your baby will love.
Paint
Painting the walls doesn't have to just depend on the color. You can also use chalk paint to add a fun activity and artistic opportunity to customize the room. Another fun design to do with paint is to add a highlight wall in a bright color paired with a neutral color like white, grey, or beige.
Boy Nursery Themes
Here are some examples of themes for baby boy's nurseries.
Animals
Babies love animals. Examples of cute animals to add to your nursery are bears, dinosaurs, giraffes, polar bears, pandas, dogs, and cats. Add animal wall art and animal stuffed animals to complete the look.
Colors
Primary colors, blues and greens, and oranges and yellows are all popular color choices for little boy rooms. You don't have to go with traditional blue for a baby boy's nursery, think outside the box with black and white, neutral, and bright color schemes.
Naval
A popular theme for baby boy's nurseries are naval themes which feature lifeboats, anchors, sailboats, and other decor reminiscent of the high seas. The white, blue, and red color scheme is perfect for little boys and easy to achieve.
Vintage
If you love the classic and vintage, then you may want to incorporate that into the decor of your baby's bedroom. Go for light white washed tones or a dark rustic to achieve a vintage look. The toy's and wallpaper are also opportunities to add a vintage flair to the room in addition to vintage cribs, rocking chairs, and furniture.
Modern
For a modern look make clean and minimalistic design choices. Modern interior design focuses on functionality, so for a modern nursery incorporate lots of storage and focus on making the space feel larger with neutral tones and minimal decor.
Scandanavian
Scandananvian nurseries are popular for modern homeowners. White walls with wooden and neutral tones is one feature that defines scandanavian design. You will also find metallic highlights of geometric designs and house plants in scandanavain nursery ideas.
Features to Consider When Shopping For a Baby Boy Nursery
When you are thinking about the interior design of a baby's nursery there are some practical features that need to be considered in addition to the color scheme. Here are some of the most important features to consider when shopping for a baby boy nursery:
Crib
The crib is the most important feature of the nursery so you might want to start with the crib and then make your other design choices based on that. Depending on how much space you have for your nursery you may want to choose a larger or smaller crib. The color and the material of the crib are other important design aspects to consider when shopping.
Storage
For your baby you will need to keep some supplies such as wet wipes, changes of clothes, and toys. You should plan for storage in your nursery in the form of dressers, storage bins, or closet space.
Chairs and Seating
You might also want to consider a seating arrangement for the nursery. You may need to rock your baby to sleep, which is why rocking chairs are a popular choice for nurseries. Rocking chairs also add a touch of classic or vintage style to the room.
Changing Table
Another important feature of a modern nursery is the changing table. You should make sure that you have room for a changing table and that the changing table matches your decor. Consider integrating the changing table into the storage or crib, as there are cribs that convert to changing tables as well as changing tables that offer storage beneath.
Conclusion
Thanks for checking out our baby boy nursery ideas photo gallery! We will be updating this style guide and more regularly on our blog, so check back for updates on the latest ideas for baby boy nurseries.