Updated on August 19, 2022
If you live in a hot climate where your plants struggle to survive due to the heat and lack of moisture then a cacti garden may be the perfect solution for you.
Planting a cactus garden instead of a traditional garden doesn't mean that you can't still incorporate beautiful flowers. Many cacti are flowering and with the many variations of colors and sizes of cacti and succulents there are many ways to design your cactus garden effectively.
Cactus gardens are not limited to hot or desert climates. Cacti can flourish in almost any climate which is why they are such a versatile choice for home gardens. The care required for most cacti is less than that of other types of plants so you can spend less time doing maintenance.
Cactus Garden Ideas
1. Not Quite Soft and Fluffy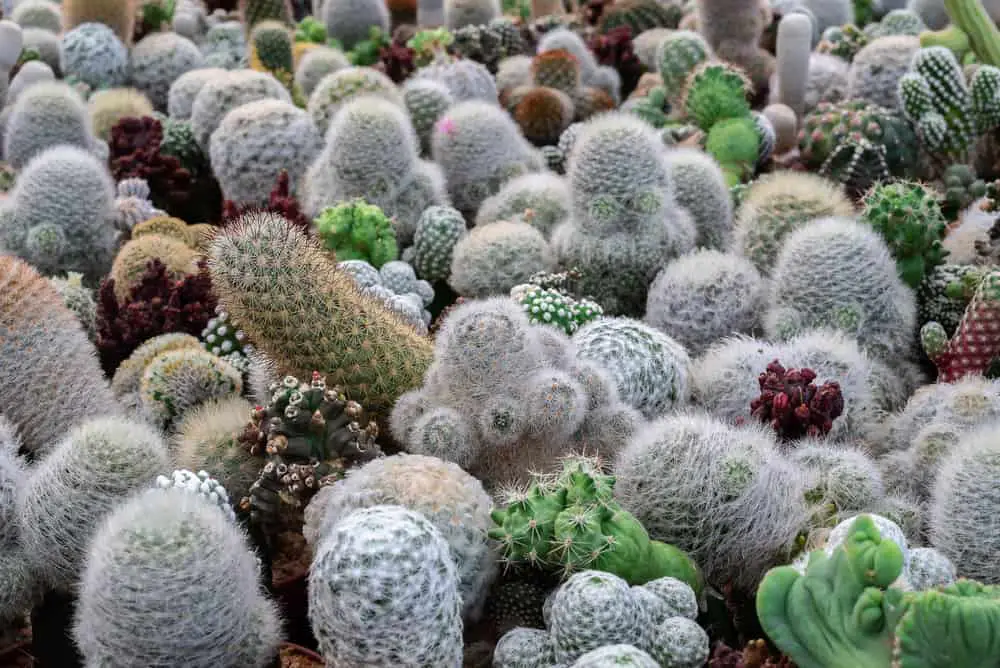 Here is an example of a cacti garden with smaller cacti grouped all together. The contrast between the colors and textures of the plants makes it very aesthetically pleasing to look at.
There are bright green and dark red plants scattered about the garden in between round/oval shaped cacti covered in white spikes that look fluffy almost like snow or fur, but we can imagine are probably not soft to the touch!
2. Driveway Cacti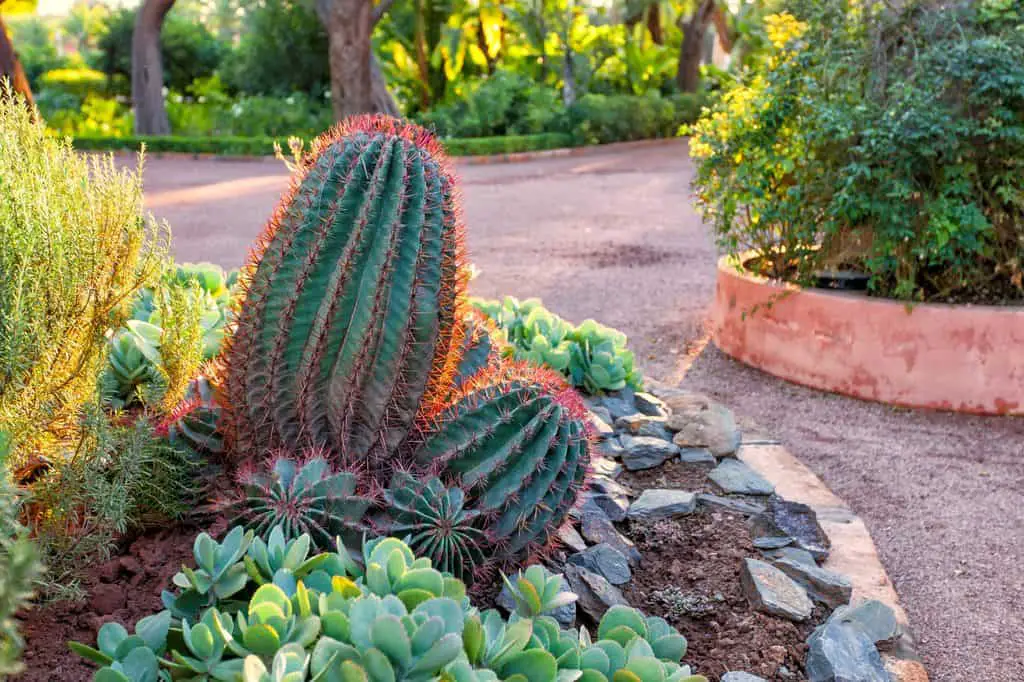 This small cactus garden is embedded within the driveway of the house which makes a perfect spot for a garden such as this because the concrete pour of the driveway makes a natural garden bed for the plants.
There is a good mix of at least three or four different kinds of cacti and succulents in the garden bed with colors varying from light green to a dark teal with red spikes.
This photo of a cactus garden is a good example of what cacti look like lit up by the "golden hour" sunlight of the sunset. The sun brings out the bright colors in the succulents and shines through the translucent, brightly colored thorns of the cacti.
See Also: How to Get Started In Bonsai
3. Cacti Perfection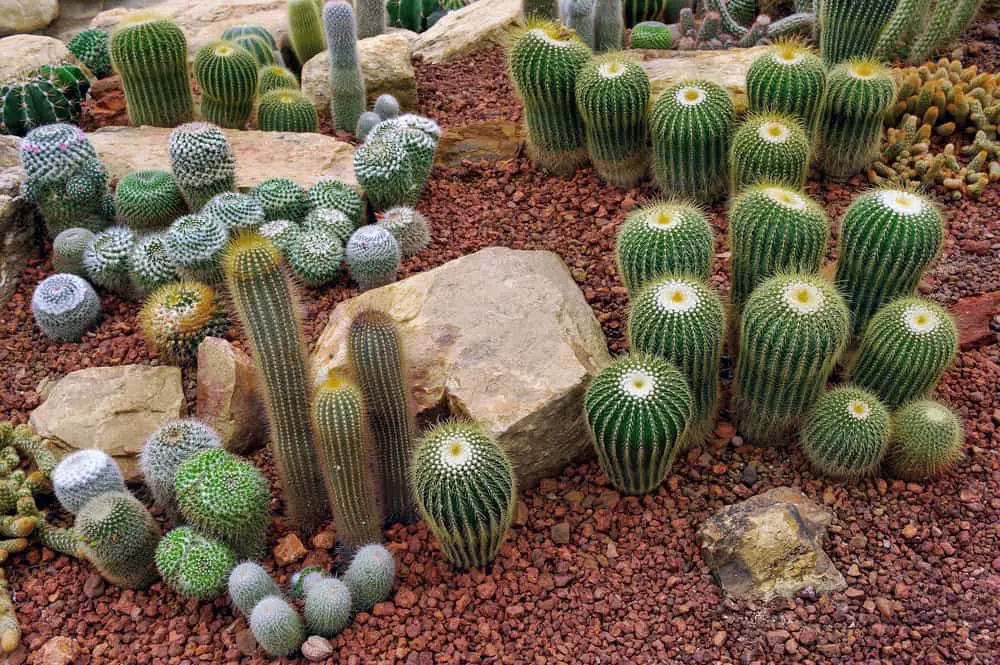 The western feel of this cactus garden is achieved by the use of only green cactus, which are clustered together around large rocks. Underneath the cacti are planted in a bed of reddish colored rocks with contrast perfectly against the green of the cacti.
4. Mini Cactus Garden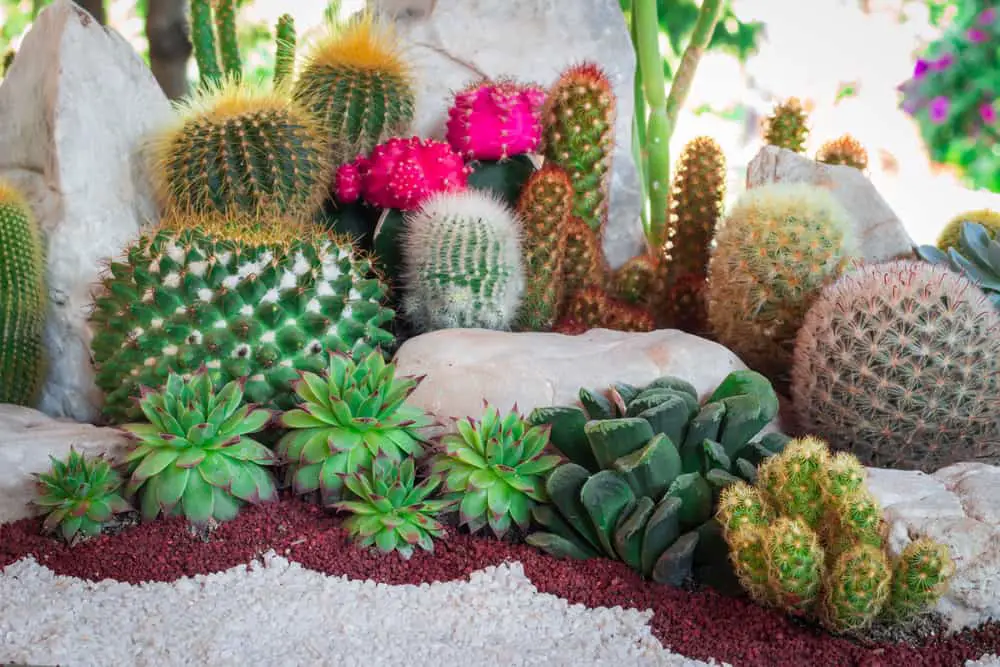 This beautifully arranged miniature cactus garden is an example of how the use of rocks and stones can make a huge difference in the overall aesthetic of the garden. Without the stones the plants are seemingly scattered randomly in clusters, but the white large stones around them creates contrast between the colors and organizes and unifies the design of the garden.
Two features that we love are how the stones on the bottom are shaped purposefully and the addition of a brightly colored pink cactus among the rest of the green ones.
5. Potted Cacti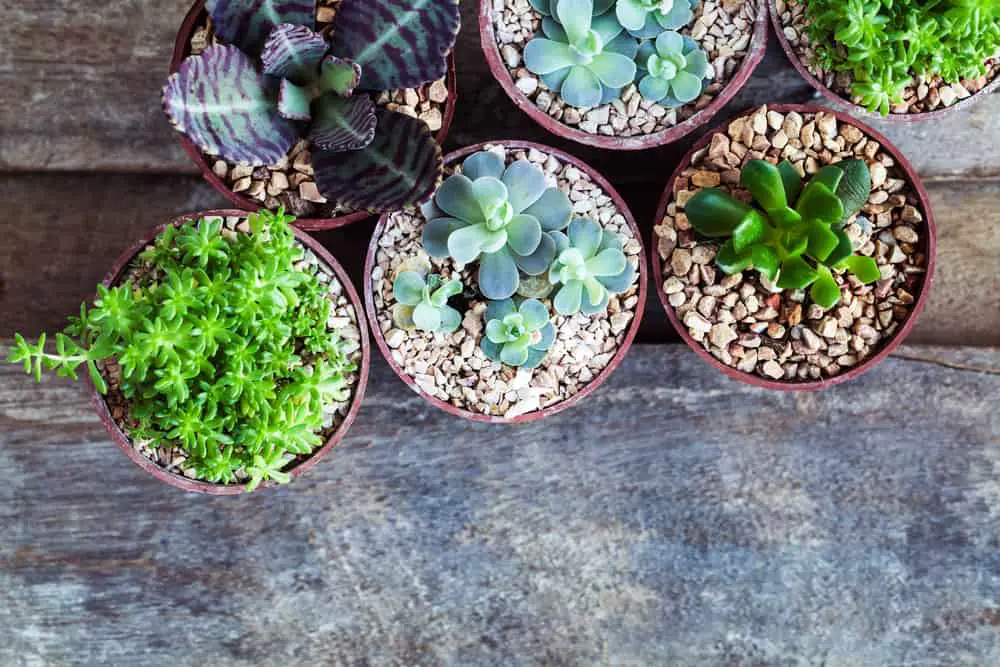 If you live on a rental property and you want to start a cactus garden but you are not allowed to plant on your property, then what you can consider instead is planting the cacti and succulents in pots and grouping them together in the yard to form a garden.
You can use stones, wood, statues, and other accessories to hide the flower pots or you can decorate the pots to give the garden a flair. One benefit of planting your cacti garden in this way is that if you move to another property you can easily transport your garden with you.
6. Grand Cacti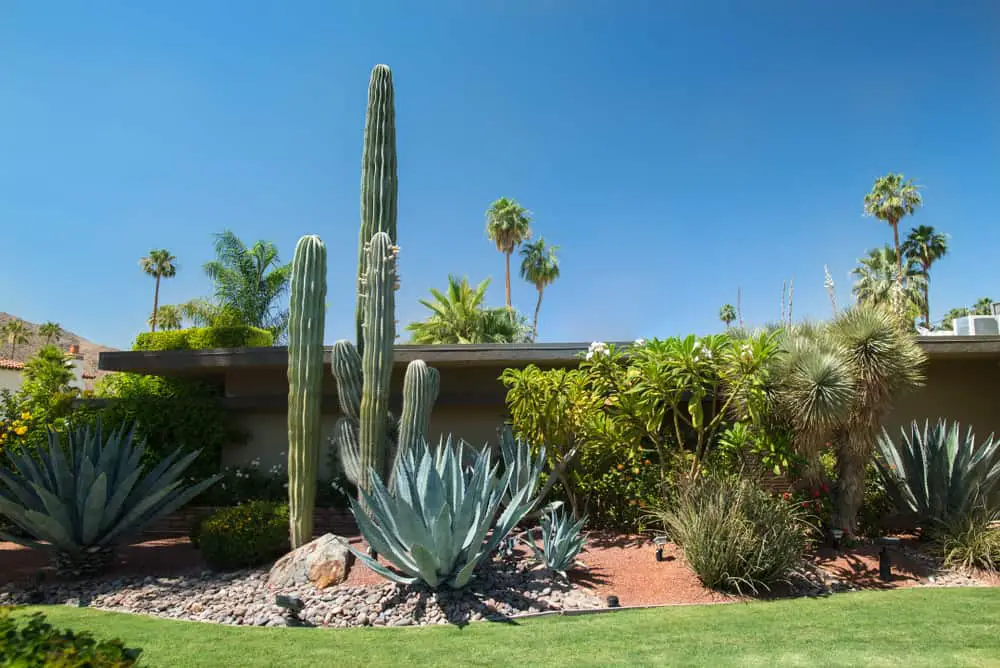 This desert inspired succulent garden is on the side of a building and has some of the largest cacti we've seen so far in this guide. Here, the tallest cactus reaches what looks to be almost twice as tall as the structure standing next to it!
In this warm climate (palm trees, blue skies) the garden seems like a natural part of the landscape, although we can imagine that it actually took a long time for these plants to grow to this size.
7. All Shapes and Sizes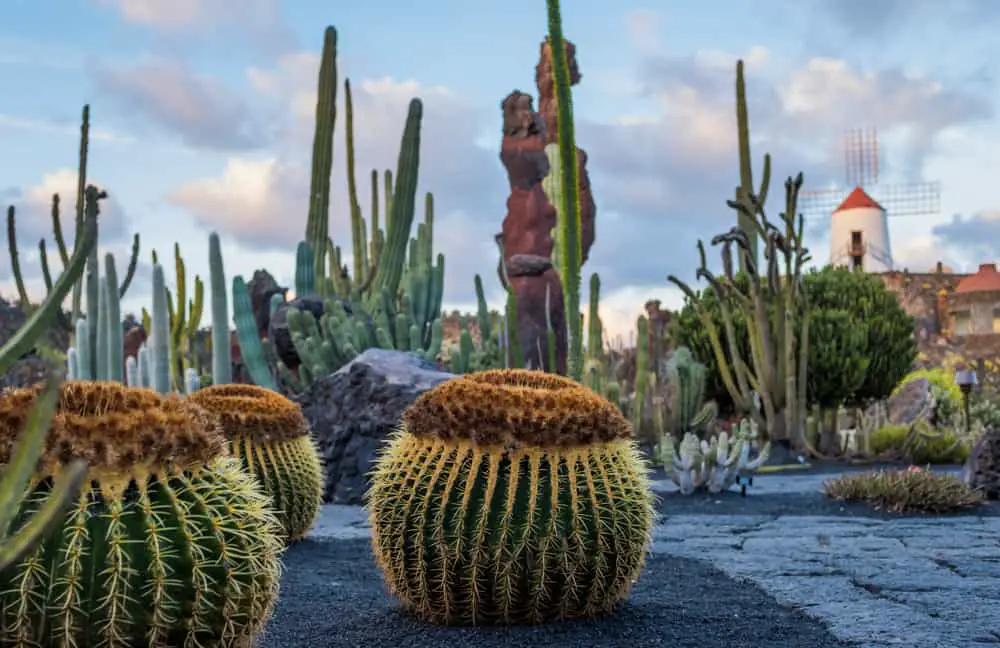 Here is another stunning example of a cactus garden with large cacti, set against the building in the background, the cacti appear to be very tall and thin, compositionally sitting higher on the landscape than the building on the far right.
There is a combination of what looks to be many different cacti of different shapes and sizes used in this garden with large stones and a pathway to unify it.
8. Succulent Variety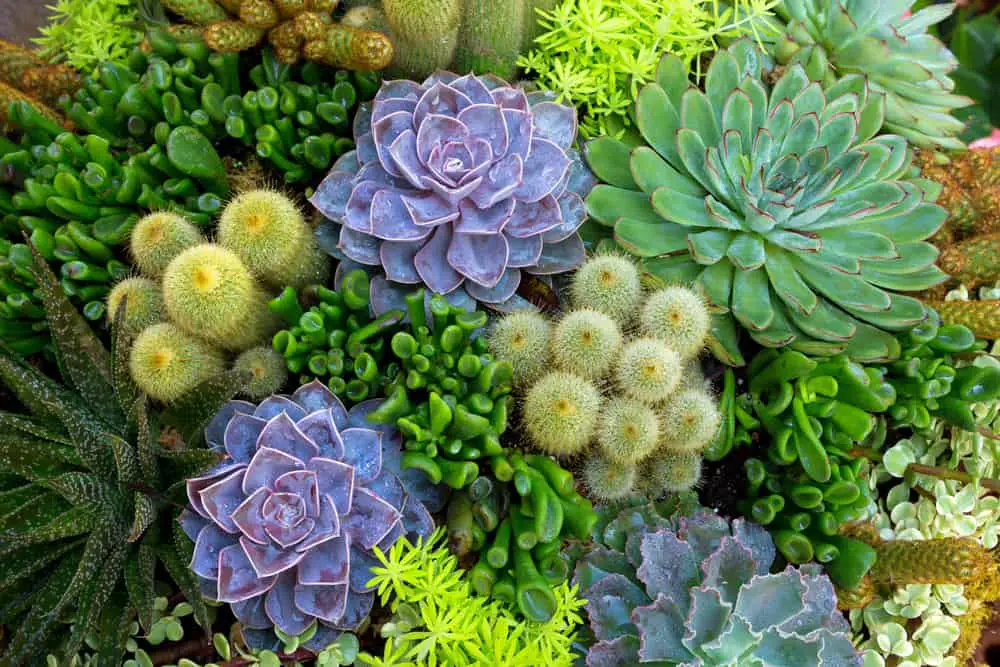 If giant cacti aren't your thing, then perhaps clusters of small succulents and cacti like the garden in this photo will inspire you. These small, young cacti and succulents have different colors and textures that contrast against each other and remind us not only of the desert, but also the brightly colored textures of underwater reefs.
The purple and blue succulent stands out beautifully against the other green cacti and looks similar to a large blooming flower.
9. Faux Cactus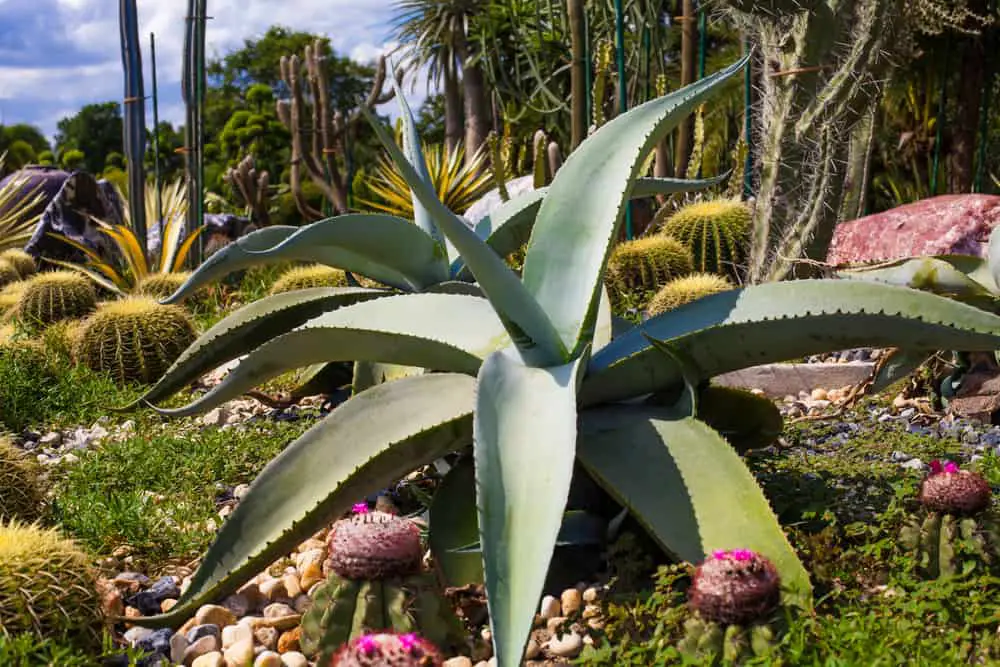 While an aloe vera plant may look right at home in this cactus garden, the plant itself is not a cacti. However it perfectly complements both the large various species of cacti as well as the smaller flowering cacti with hot pink blooms. They are scattered among a bed of white, brown, and golden stones.
The plants are thoughtfully arranged from largest to smallest with the tallest cacti and several trees being seen in the very back of the image.
10. Greenhouse Garden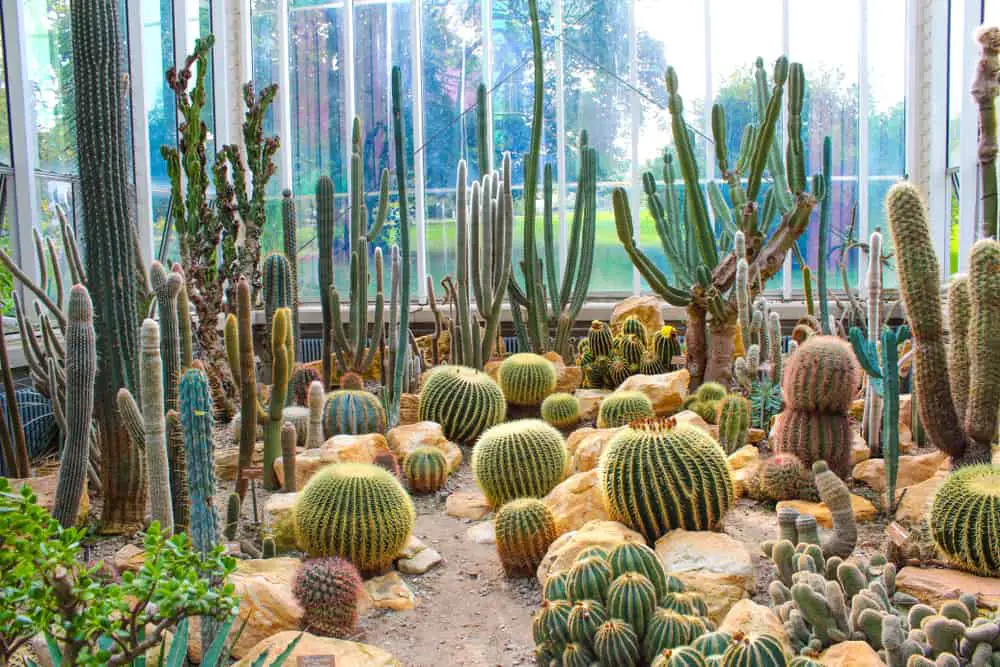 Inside this greenhouse is a variety of different shapes and sizes of cacti. While they are mostly all in various shades of green, it still looks extremely colorful to look at because the thorns on the cactus range from hot pink to orange to yellow, while the green of the cactus itself ranges from a dark brownish green to a bright teal.
If you live in a cold climate and you aspire to have a large cactus garden, doing it inside of a greenhouse may be your best option for cultivating plants used to hot weather in a cold climate.
11. Beautiful Cactus Flowers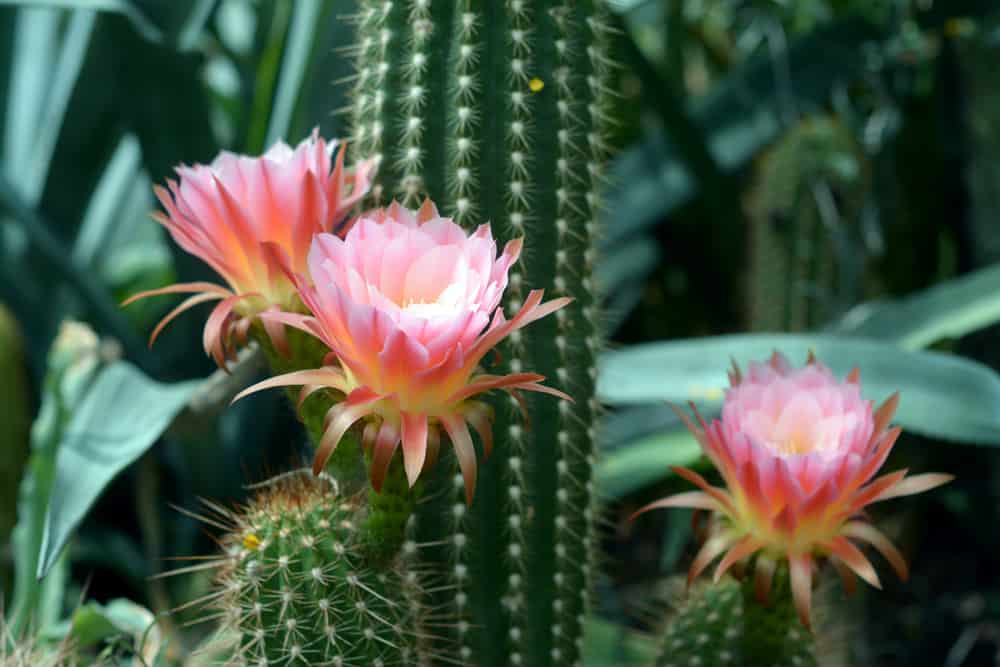 If you never knew that cacti grow flowers, this picture will blow your mind with how beautiful, large, and brightly colored the pink blooms are. There are many cacti that grow flowers of all sizes, shapes, and colors, which means that you don't have to sacrifice having a colorful flower garden in exchange for a cactus garden.
12. Take the Narrow Path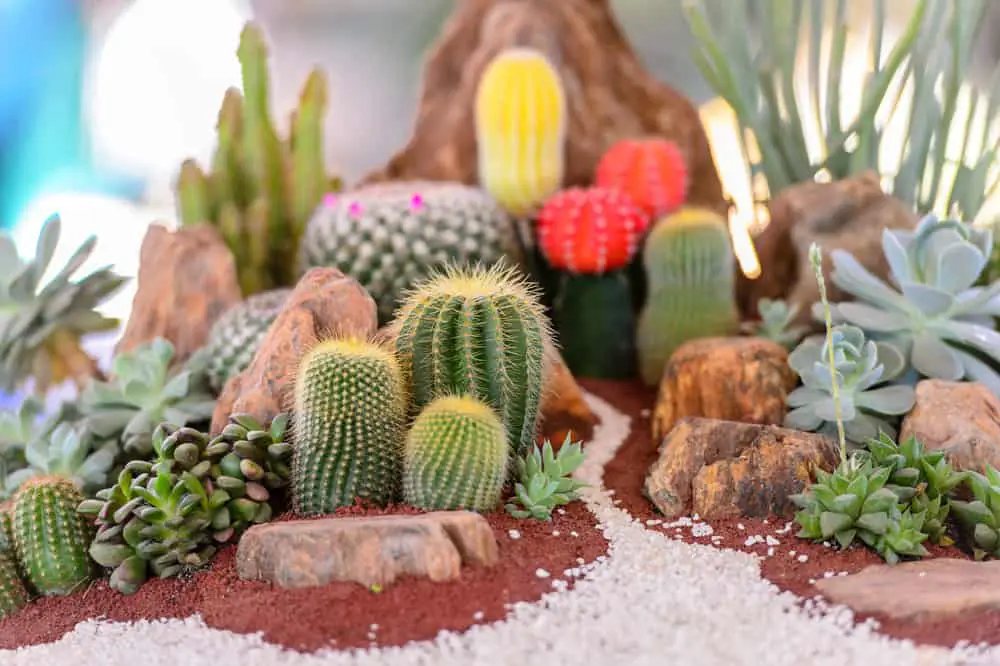 This fun little cactus garden looks like a fairy pathway! The white and red small stones beneath the cacti make them look like they are towering trees over the small white trail leading through them to the brightly colored red, orange, and yellow cacti at the end of the trail.
This is a beautiful example of a colorful and well designed cactus garden for small spaces.
13. No Sitting Here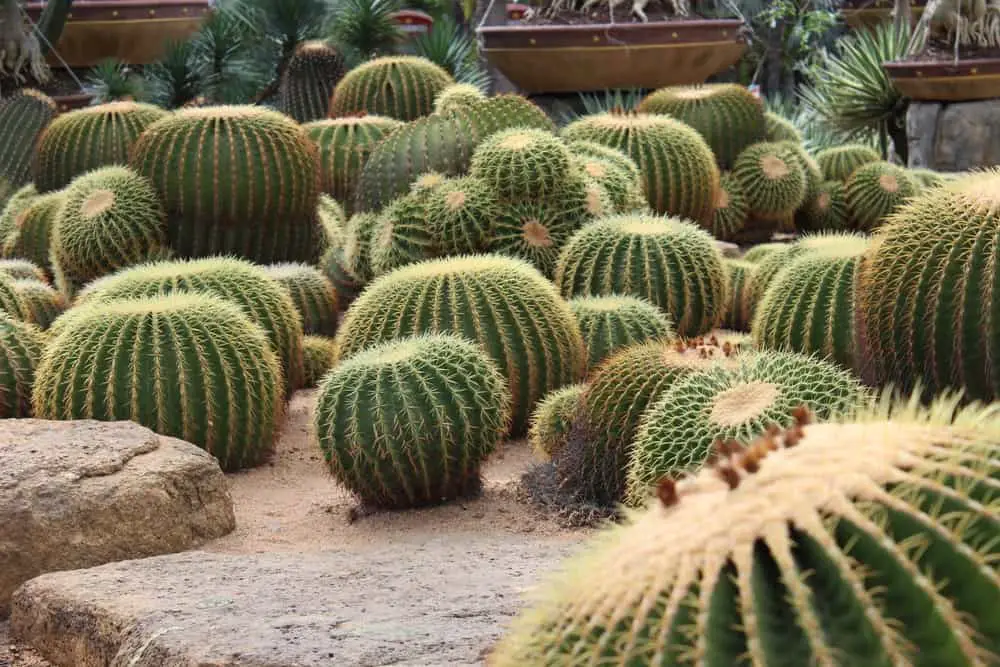 For a unique and surreal look these gardeners have planted many circular cacti which have grown to large sizes. Uses all the same kind of cactus gives the space a hypnotic look and is reminiscent of actual desert landscapes where many of these plants grow close together.
You can see in the background of the cactus garden that other plants and gardening fixtures are also incorporated.
14. Massive Indoor Cactus Garden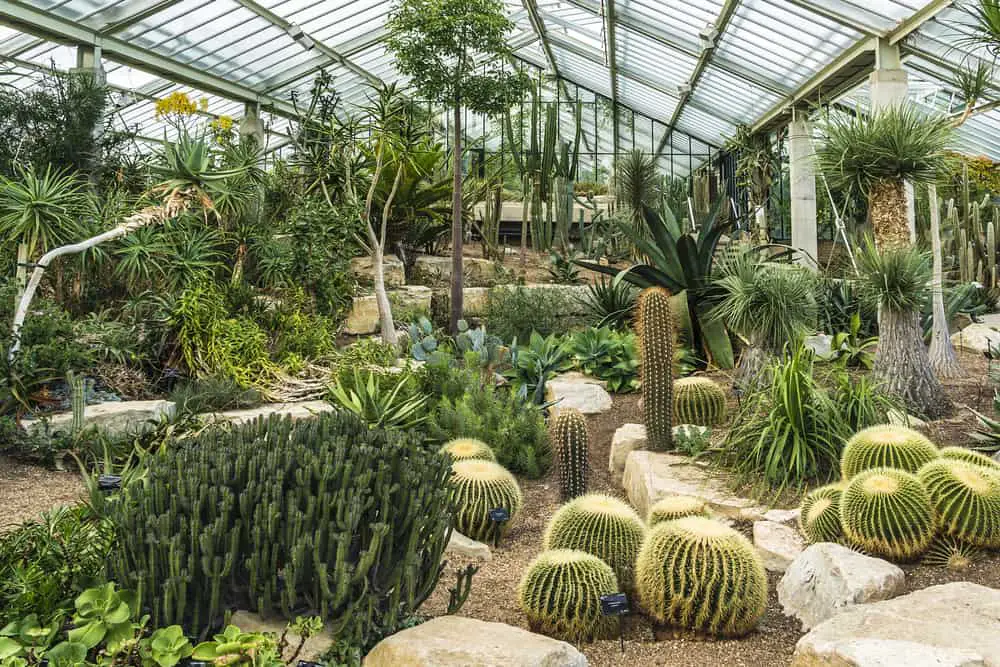 This large indoor cactus garden is in a very large greenhouse. They have done a great job of making it look like any other outdoor garden with the additions of the large rocks and dirt floor.
15. Moon Cactus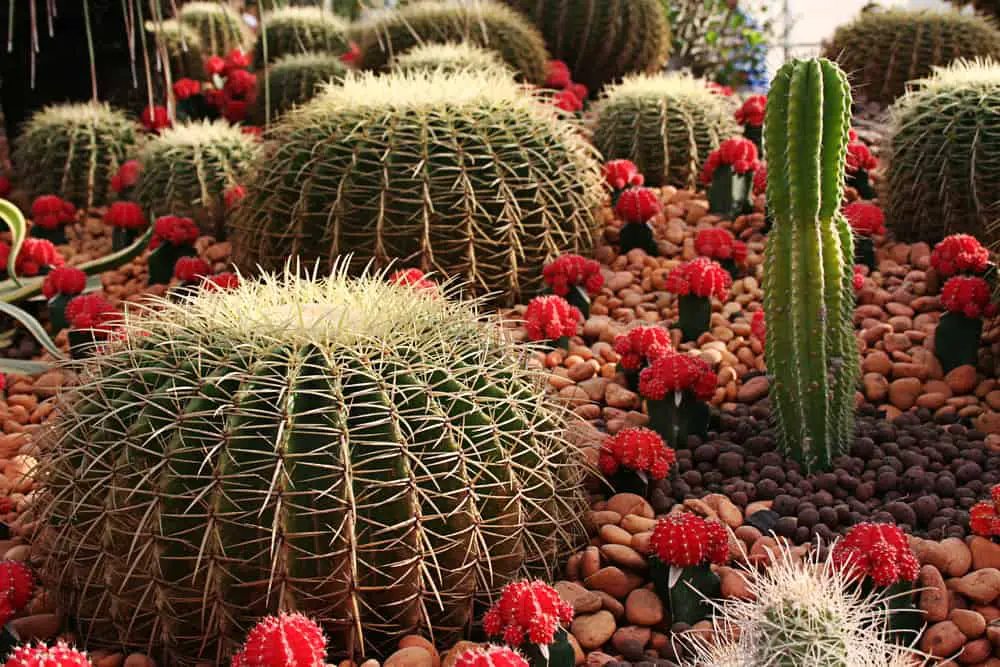 For this cactus garden they have used large round green cactus as the main element, with a bright red tiny species of cactus (Moon Cactus) planted around it. The size difference between the round green cacti and the tiny red cacti is super cute.
There is also one taller green cacti incorporated in this section of the garden, and they have changed the colors of the stones around it from red to a dark brown to make it stand out.
16. Cactus Flowerbed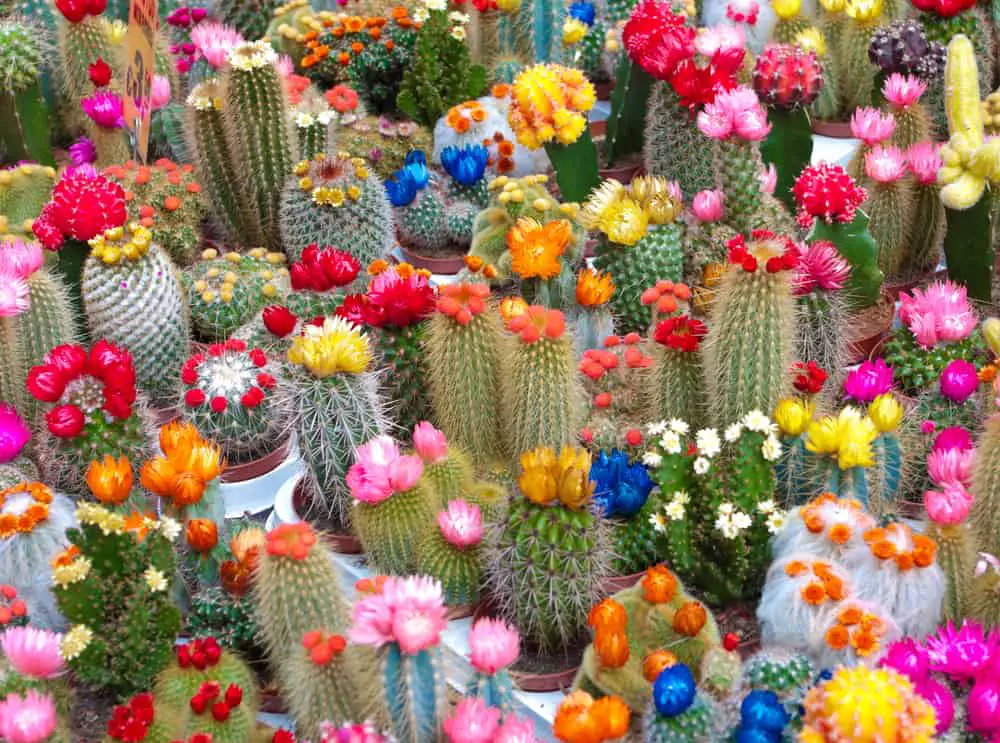 Here is one of the best examples we have found of how colorful the blooms of cacti and succulents can be. This cactus garden looks more like a traditional flower garden because each of the cacti is in beautiful bloom.
The way they are arranged so closely together you can hardly even notice the way they are all potted separately and grouped together in an above ground flower bed.
17. Natural Design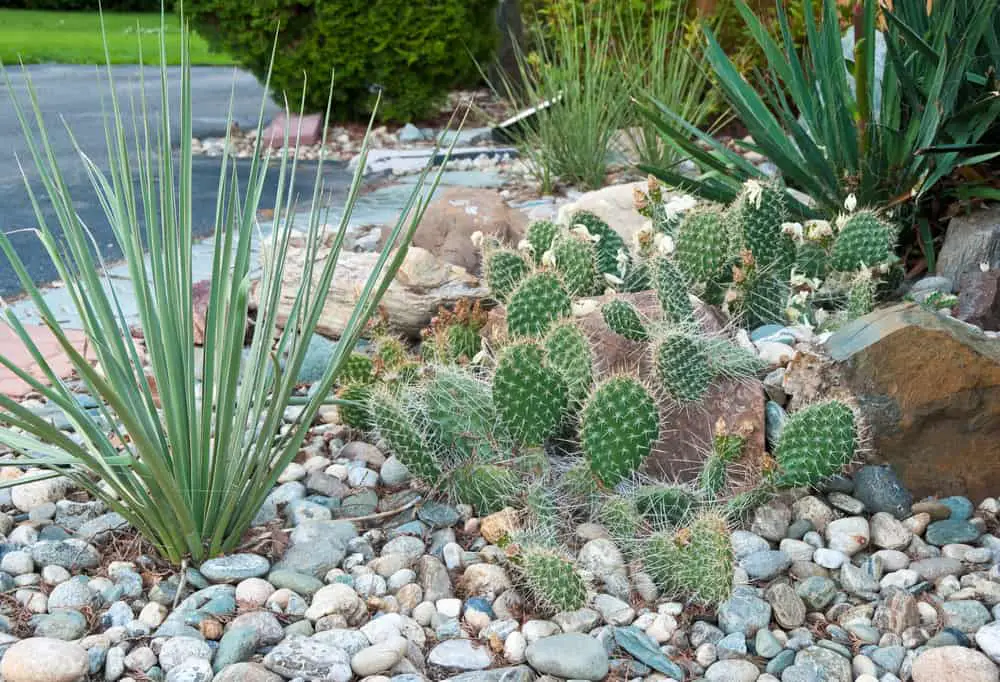 These cacti are planted among a lot of rocks and are scattered around instead of being close together. Having lots of small cacti grouped together versus having lots of large cacti spread apart can create two different vibes from the garden. This design is calming with soothing greens, greys, and neutral colors.
18. Safe Succulents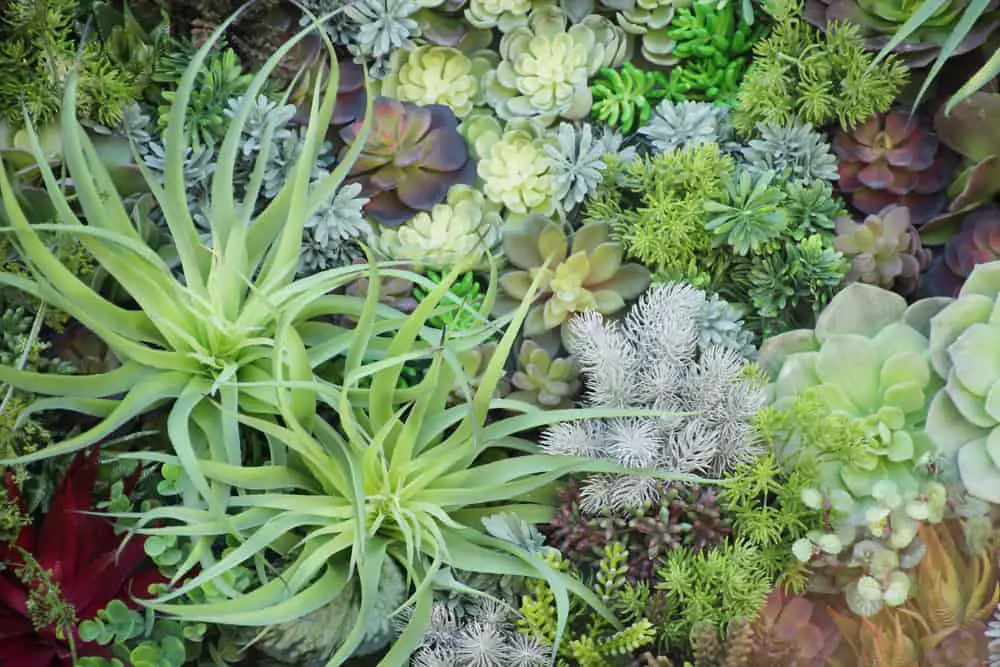 Here is a succulent garden for those who are not interested in a sharp cactus garden. Succulents do not grow as large as cacti so it is harder to build a large cactus garden using these kinds of plants, but for small cactus gardens planting a combination of succulents and cacti close together can create a textured, varied look that you will love.
19. Pin Cushions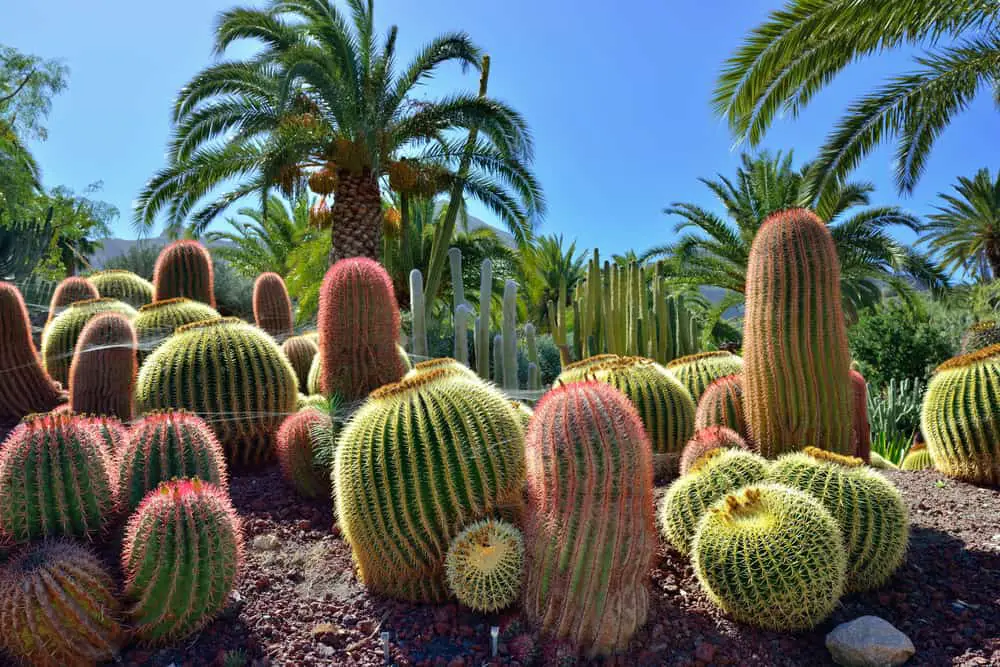 It doesn't take a million kinds of a cacti to create color contrast in your cactus garden. Here they have used large round and oval sharp cactus with stripes of spikes ranging from pink to yellow.
20. Jack of All Trades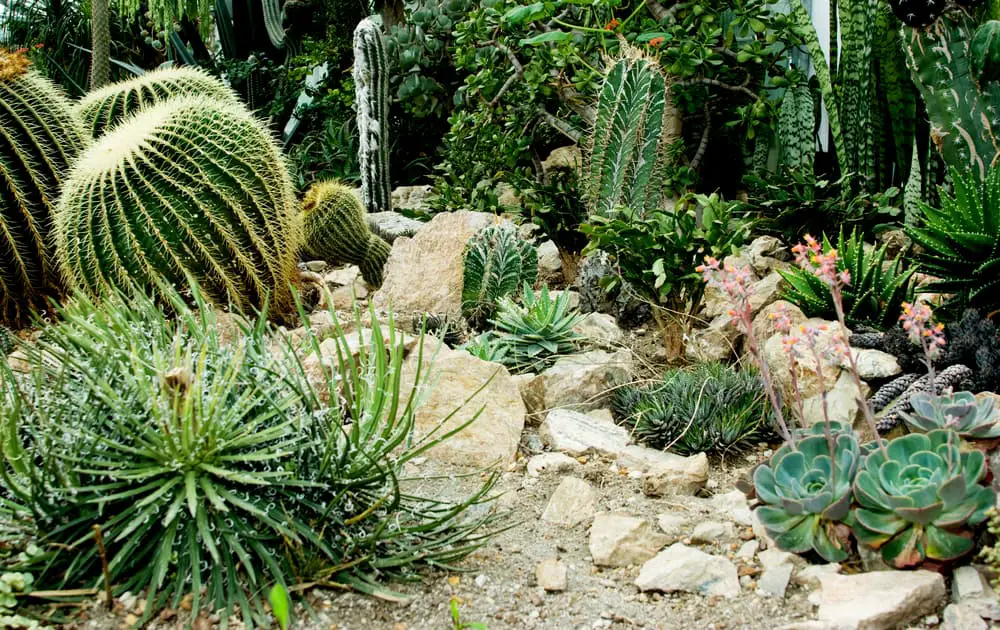 For a rugged, western look use sharp, jagged rocks and sand in between green cacti to make it look like a real desert. There is a combination of succulents, round cacti, tall cacti, and cacti with long snake-like tendrils that are scattered about this garden. You can even see a few pink flowers growing near the succulents.
Advantages of a Cactus Garden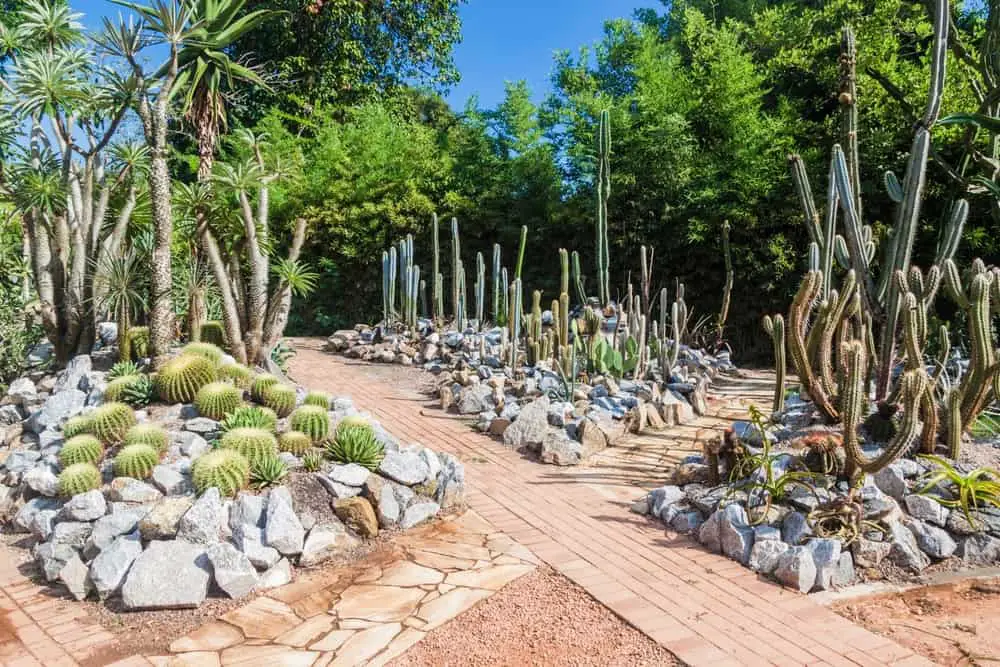 1. Low Maintenance Garden
One of the most low maintenance gardens you can have is a cactus garden. They require very little time watering, rarely require pruning, and are generally easy to take care of.
For those who do not have a green thumb and struggle to keep up with maintenance and have ended up with wilted gardens in the past, switching to a cactus garden might be an excellent solution.
2. Water Conservation
Because of their native desert roots, most cacti require very little water for cultivation and growth. This means that not only is the maintenance required less, but also that you can conserve water used for cultivating the plants.
A garden is one place in the home that can rack up high water bills when the garden hose has to be used often. Cactus gardens use significantly less water for upkeep.
Read Also: Garden Hose Storage Options
3. You Can Eat Cacti
In some places, it is very common to eat the flesh and the fruits of cacti. You can incorporate the cacti you harvest from your garden into your meal plan. In addition to savory dishes made with the flesh of the cactus itself, there are also sweets that can be made out of the fruits of some cacti.
Disadvantages of a Cactus Garden
1. Sharp
Unlike other gardens, you may want to avoid touching the plants in a cactus garden. Many cactus have sharp spines, spikes, and thorns which can cause damage to the skin and lasting irritation from the small pricks. Having a cactus garden means admiring the cactuses from afar without getting too up and personal.
Wearing proper gloves to protect your hands is important when working with cacti. Children and animals should be kept away from the cactus garden unless supervised if it includes sharp spiky plants that could potentially cause injury.
2. Specific Aesthetic
There is a very specific western aesthetic that comes along with a cactus garden. It appeals to a specific group of people and not everyone may like the impression of a desert in their backyard. Looking at a cactus garden will bring to mind the sand and sun of the desert.
How Much Does a Cactus Garden Cost?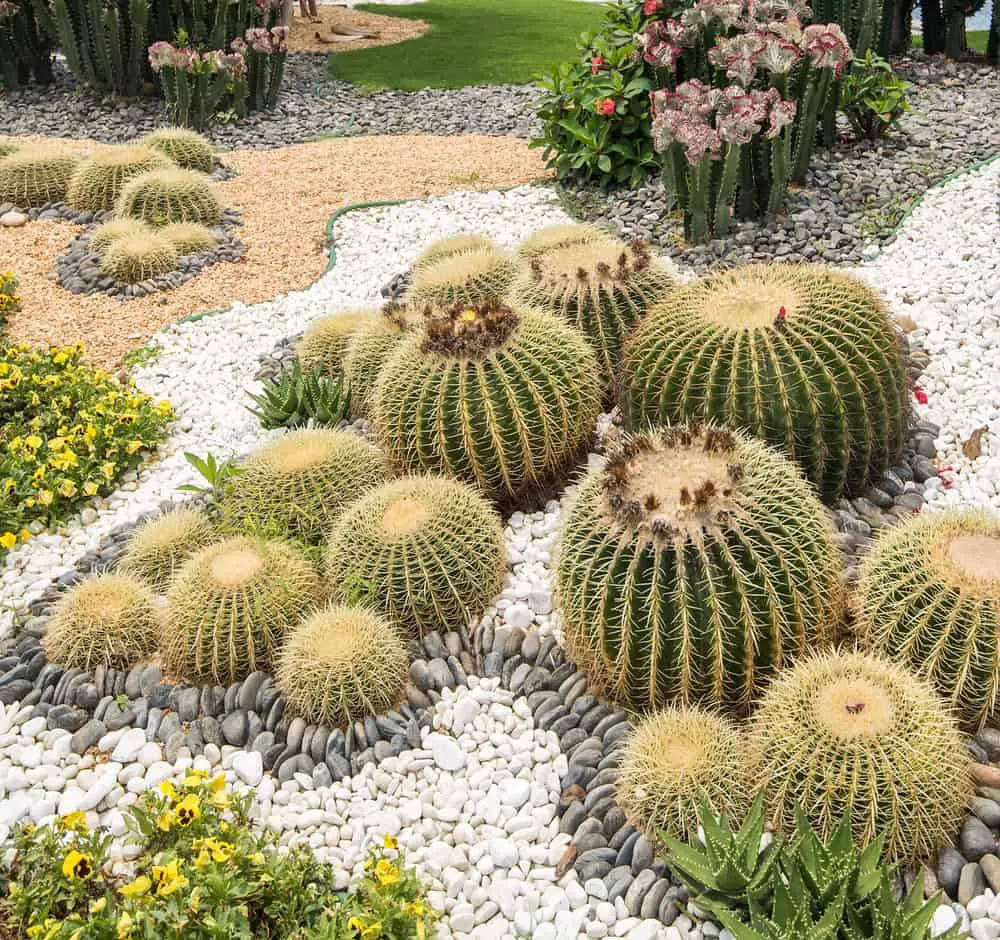 Is a cactus garden more cost effective than a regular garden? In most cases the answer is yes, not because cactus are less expensive to purchase up front than other plants, but because of how low maintenance the cactus garden is to take care of.
With lower water costs and less time spent pruning and tending to the plants, you can save lots of money compared to most gardens. You also will not need a gardener to tend to a cactus garden as the maintenance is so minimal you can probably handle it all by yourself.
Here is a list of factors to consider when it comes to the price of a cactus garden:
1. Building the Garden Bed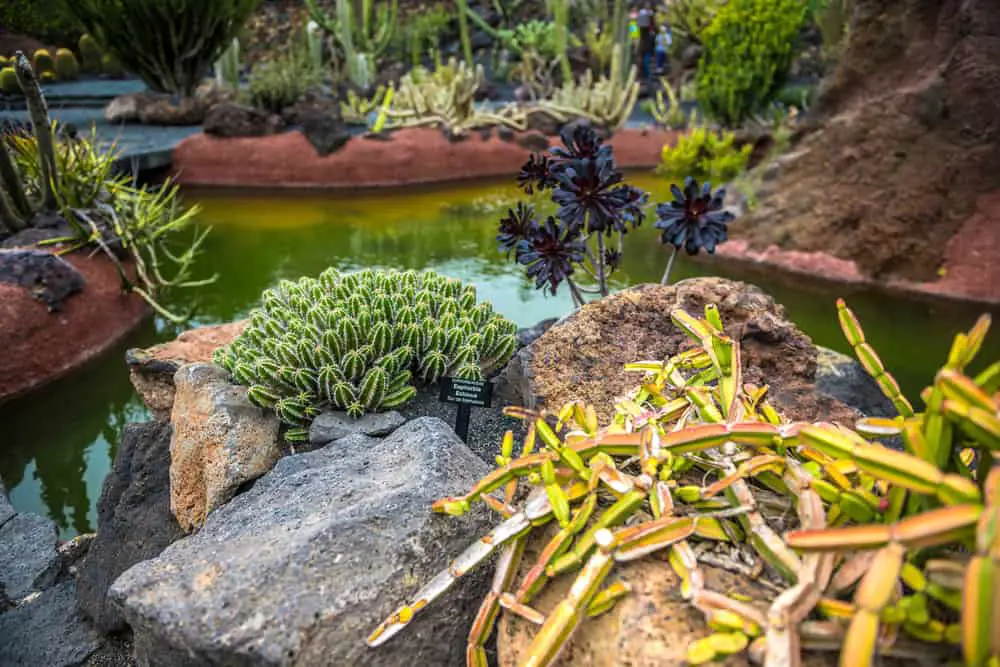 One thing that is important when it comes to pricing the garden is how much it will cost to build the garden bed in terms of materials and labor. You can build a garden bed out of wood, concrete, or recycled materials.
For a cactus garden having a garden bed is essential. If you are looking for the most cost effective solution we recommend using wood instead of concrete. It takes a lot more work to install a concrete garden bed than it does wood and the materials are less expensive.
2. Choosing the Cacti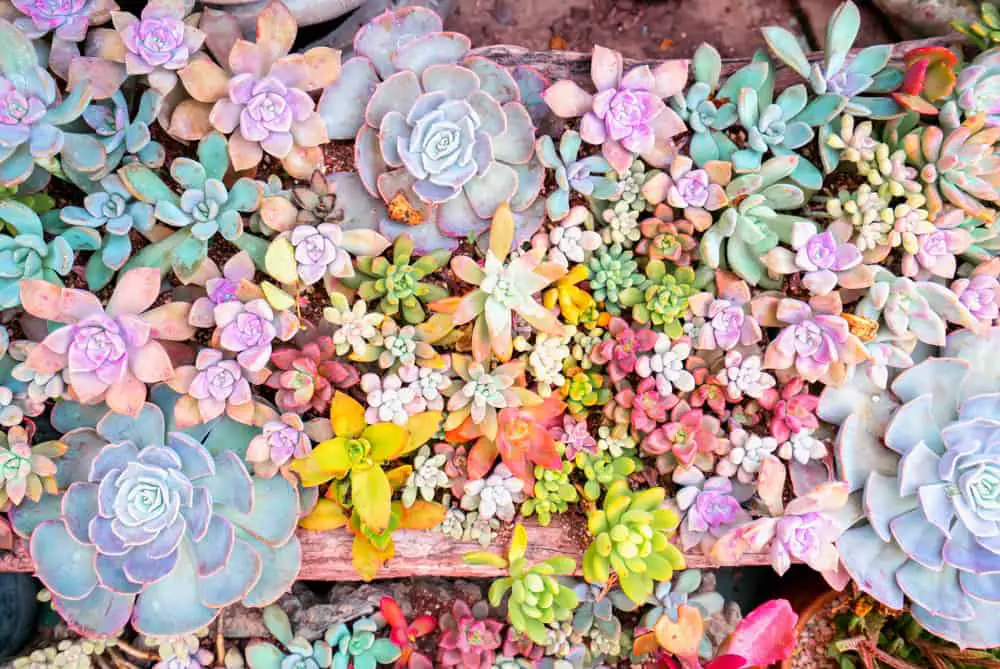 There are many types of cacti that you can buy for your cactus garden. The species of cactus and the age and size of the plant are all features that will have an effect on the overall price of the garden. Most cactus are generally inexpensive and can you purchase many varieties at local hardware stores.
To incorporate rare cacti, flowering cacti, and edible cacti you may expect the price of the plant to go up. Likewise, large and beautiful plants are most expensive, so choosing a younger plant will be more cost effective.
Depending on whether you want to raise the garden yourself or if you want to skip past the initial growth step and directly plant a fully grown stunning cactus garden, the price will vary.
3. Maintenance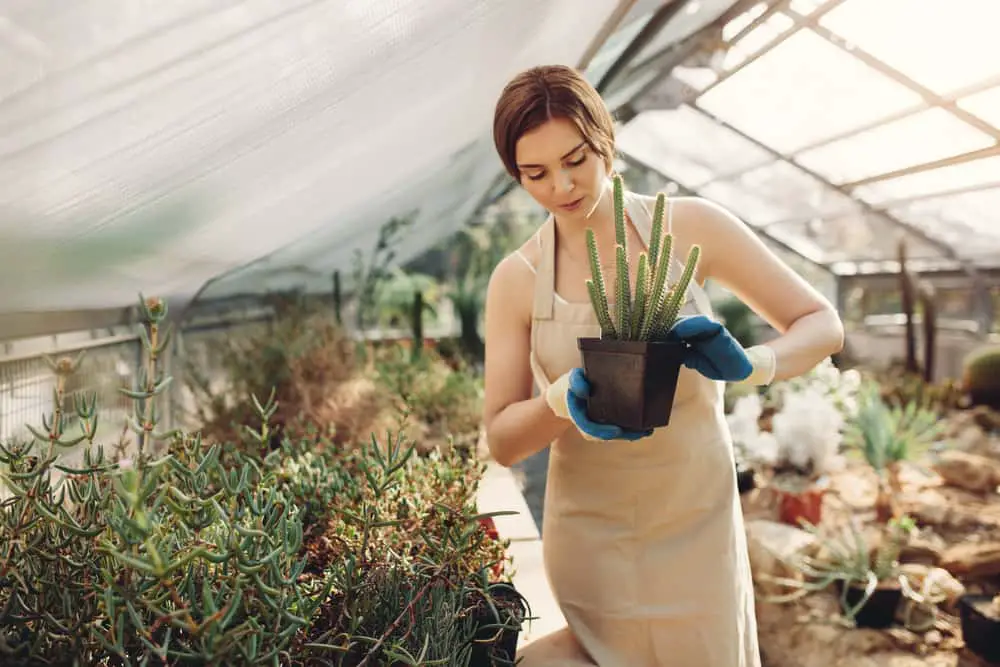 One of the reasons why people choose cactus gardens over other types of gardens is because of how low maintenance they are. While other gardens can take hours of pruning, weeding, and other work to maintain, a cactus garden is much more manageable.
One of the ways that you save money by planting a cactus garden instead of another type of garden is because cactus gardens use significantly less water than traditional gardens.
This will save a lot of money on your water bill depending on how large the garden is. While other large gardens will cost a lot of money to upkeep, a large cactus garden is very cost-efficient.
4. Garden Accessories
One of the costs that you should consider when designing your cactus garden is that of garden accessories you may need or want to go along with it. Here is a list of a couple of the garden accessories you should consider buying when designing your cactus garden.
One tool that is important when working with spiky cactus is a good pair of gardening gloves. While some gardening gloves are efficient at protecting you from bug bites and allergic reactions to touching plants, many are not heavy duty enough to protect your hands from being poked by the sharp spikes on the cactus.
You will need a heavy duty and thick pair of gardening gloves to protect your hands when working with the cacti and weeding around them.
One way to spruce up the appearance of your cactus garden is by adding lawn accessories. Because cactus gardens have a very specific western look, adding lawn accessories like statues or wind chimes can bring a different vibe to the garden in addition to the plants.
Just like with the gardening gloves, when it comes to caring for cacti you may need something more heavy duty than typical pruning shears to cut through the thick cactus. A quality pruning saw is good investment.
Cacti don't need pruning as much as most plants, but if there is a dead section or diseased section on the plant you may need to remove it to keep it from spreading.