Disclosure: This post may contain affiliate links. This means that at no cost to you, we may earn a small commission for qualifying purchases.
Updated on October 1, 2022
Headboards are a great way to elevate your bedroom, and, luckily, there are many headboard styles to choose from. Choosing the correct headboard style will add a bold look to your bed that matches the rest of the room.
Read on to see 18 stunning headboard styles and learn about buying a headboard.
Headboard Styles
Headboards are not a necessary part of a bedroom, but they make the room look more elevated and put-together. Here are some headboard style ideas:
1. Warm and Rustic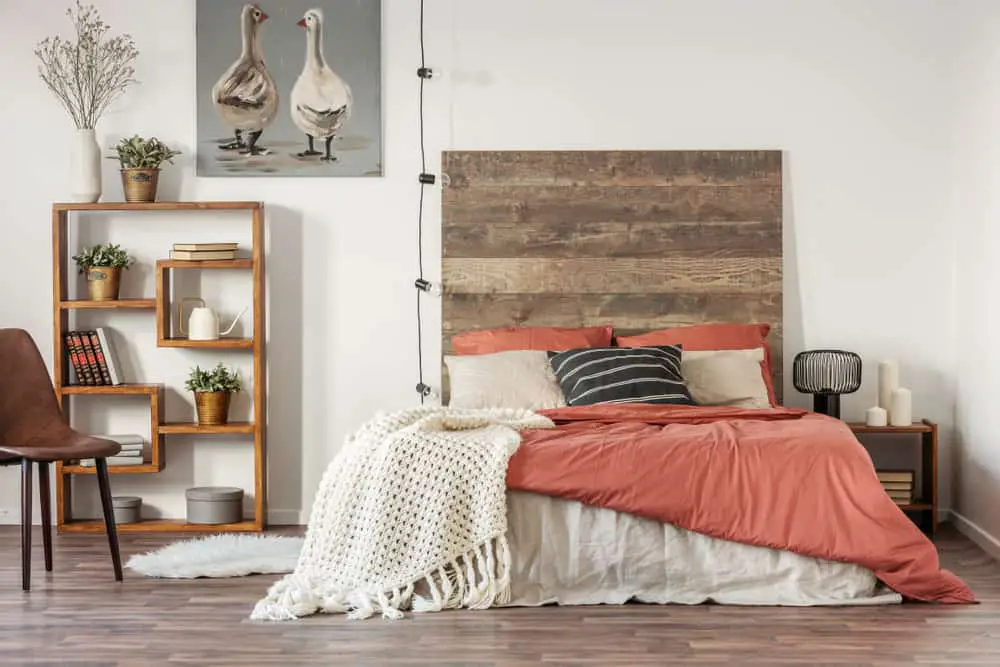 This wooden headboard is rustic, inviting, and cozy. It does not distract from the beautiful colors and materials in the room, but it also does not blend in with the wall either. This headboard style is perfect for Rustic or Scandinavian styled rooms.
The headboard is made from untreated wood. The wood matches the bookshelf, bedside table, and flooring, while it contrasts the white wall and salmon bedding. It gives the room a warming effect that would invite anyone to relax and sleep peacefully.
2. Tufted Perfection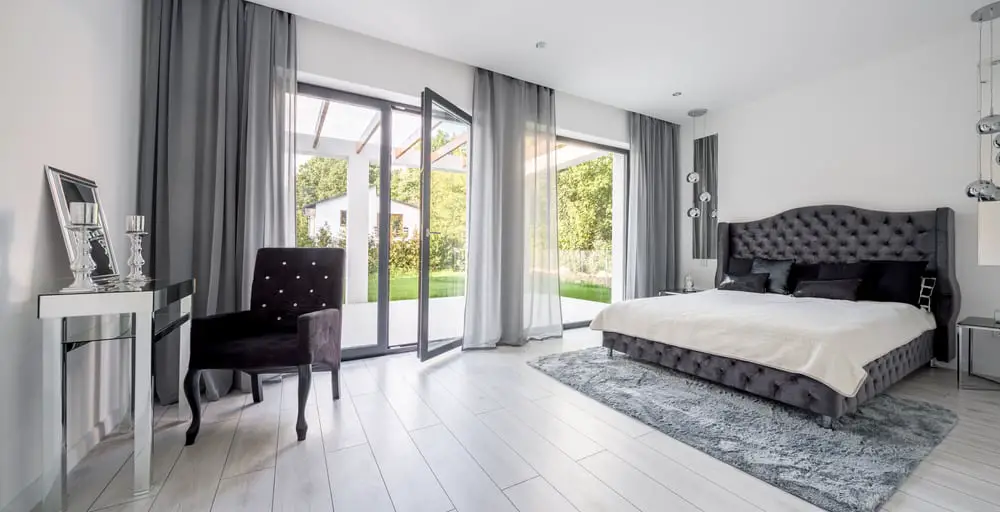 If you are looking for a more sophisticated look, you will love this headboard. This headboard is made from a quilted upholstery that matches the bed frame and adds glamour to the already glamorous room.
The headboard is made from a quilted charcoal fabric. The charcoal coloring matches the neutral color scheme and pops off the white walls and bedding. The quilted design also adds texture to this room, which gives it more dimension and personality.
3. Simply Minimalistic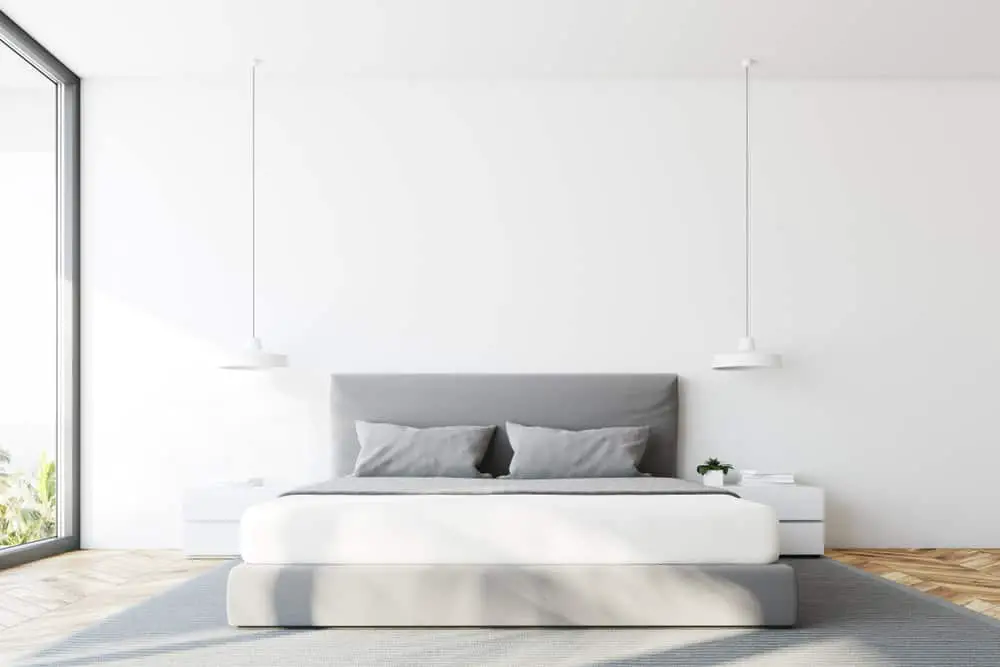 This headboard is wonderfully minimalistic. It adds some decoration to this minimal bedroom design, but it does not overbear the style or wall. Both the color scheme and material make this headboard an ideal choice for minimalistic bedrooms.
The headboard is made from grey fabric. The grey color matches the rug, blanket, and bed frame, but it also contrasts from the white walls and light fixtures. The fabric material is a great choice because it softens the room without adding unnecessary frill.
See Also: 33 Scandinavian Style Bedroom Designs
4. Cute and Intricate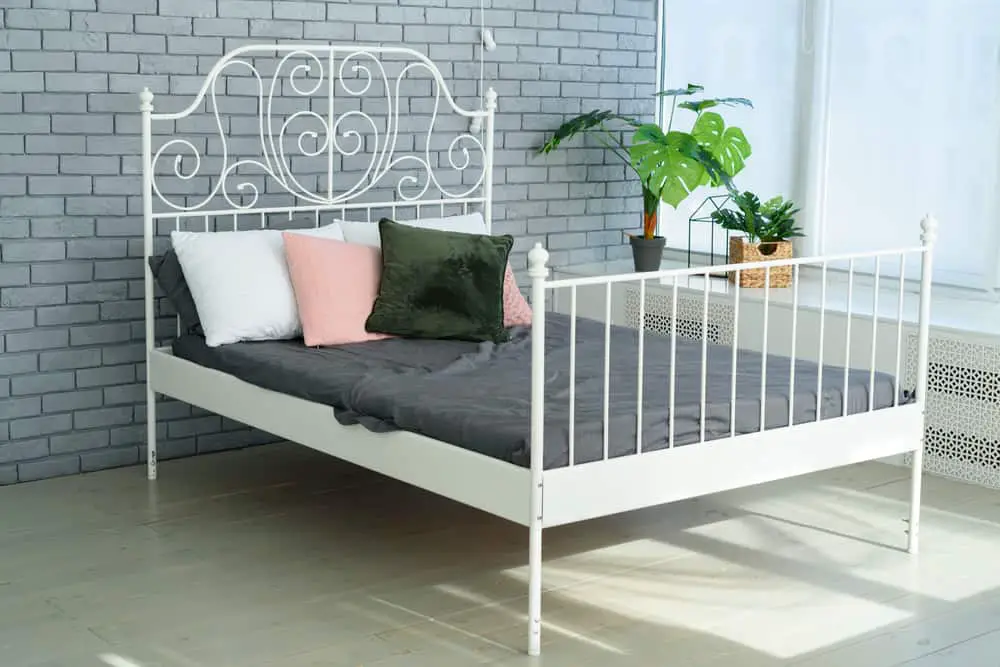 If you love a simple, girly room, you will love this design. This bedroom has a simple brick background, delicate metal bedframe, and lovely green plants for decoration. This room has minimal excess features, but it is cute and intricate, nonetheless.
The headboard is connected to the bedframe. It is made from white metal that creates simple slats at the foot of the bed and beautiful swirls and detailing at the head. These details add a needed touch of glamour and even match the vent covering.
5. Oversized and Functional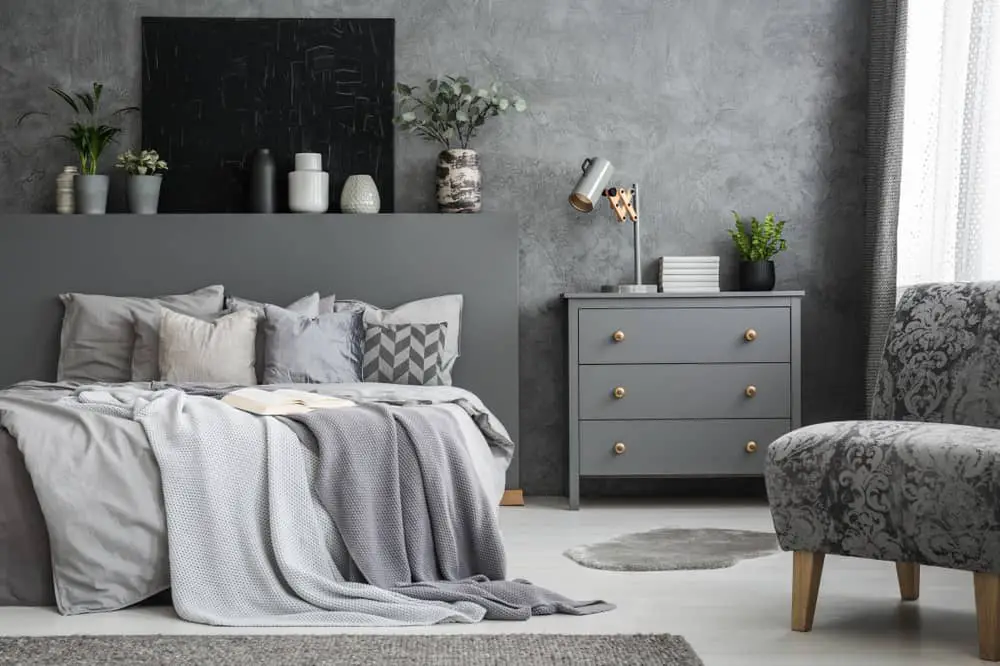 This bedroom is beautifully grey and contemporary. It hosts a beautiful armchair, comfy bed, functional headboard, and plant decorations. These features make it a perfect Contemporary styled room.
The headboard extends beyond the bed and is matte grey. This matte grey matches the dresser and adds a visual dimension from the patterned wallpaper. Interestingly, this headboard is also very functional in that it can be used as a ledge or shelf.
6. Fit for a Royalty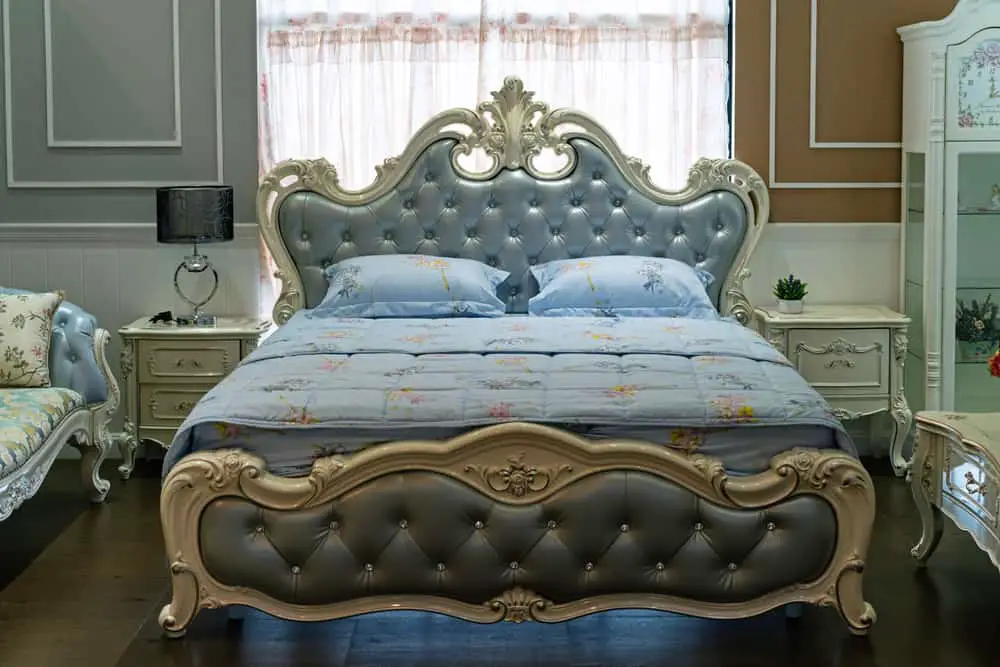 This classic bed set is glamorous, upscale, and draw-dropping. The headboard matches the bedframe, color scheme, and other furniture in the room. This headboard is a great choice for classic bedroom styles.
The headboard is blue and cream. The face of the headboard is made from blue, pleated material that adds color and texture to the room. More so, the frame of the headboard is detailed with intricate carvings. These carvings make the headboard and room look very expensive and classy.
7. Honeycomb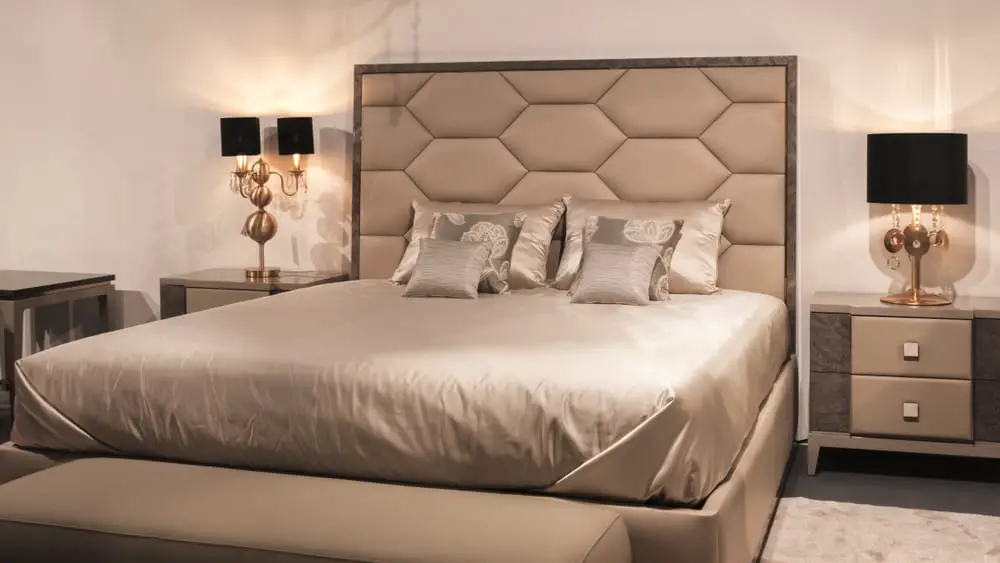 If you want to remodel your room in a contemporary style, you will like this room and bedframe. The bedframe is beige with a quilted hexagon pattern. Due to its clean lines and natural color scheme, this bedframe would look perfect in a Contemporary room.
The frame of the headboard is made from wood. Framing the headboard gives it a more structured and cleaner look. The wood frame also complements the beige fabric on the face of the headboard, which has a hexagon pattern. This pattern gives the room a touch of texture and dimension.
8. Framed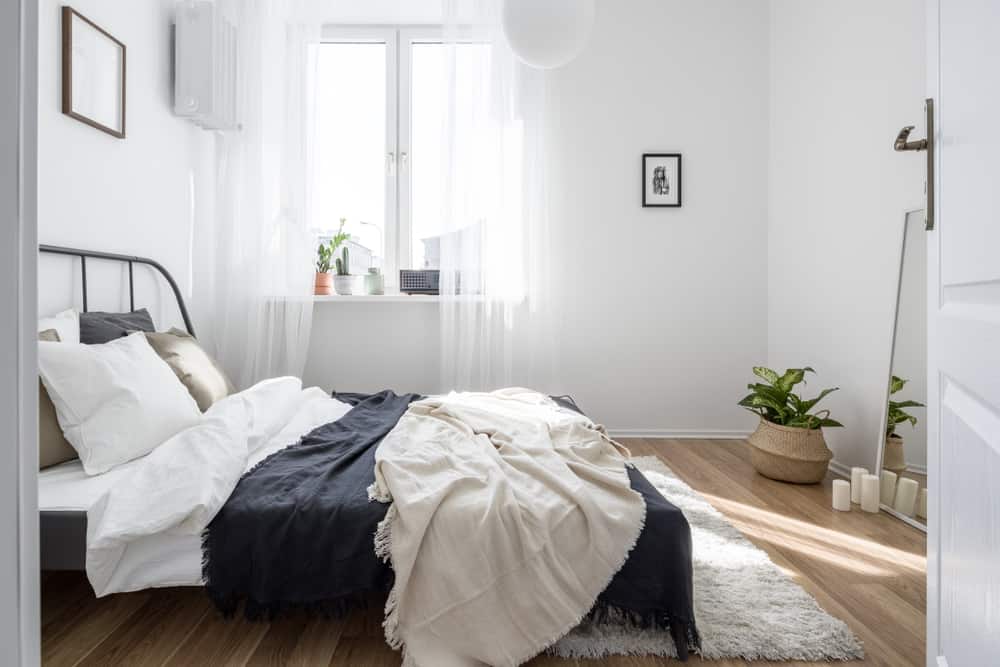 Contemporary styled homes are the perfect place to use simple, metal headboards. This room has a white, black, and beige color scheme, which creates a neutral and warm environment. The warmth is furthered due to the candles, plants, and delicate features on the wall.
The headboard is also delicate, making it unassuming and inviting. It is made from black metal poles that are small but still framing. The headboard materials match the bedding and wall decorations. It also elongates the wall in this small room.
9. For the Book Reader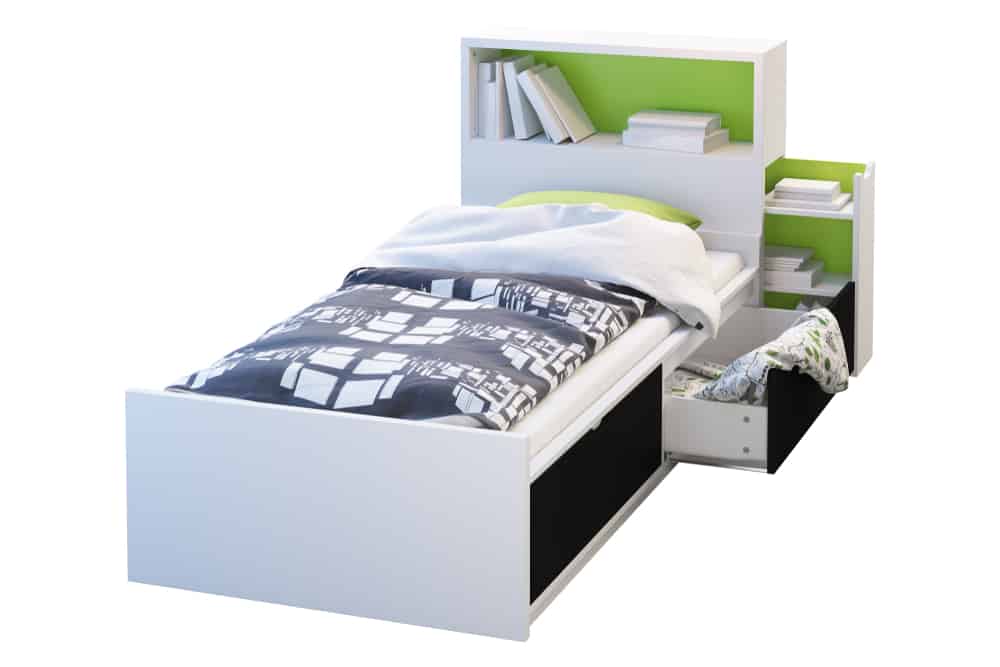 If you have minimal space for your child's bedroom, you will love this bed set and headboard. The headboard has a white exterior and lime green interior. The green interior adds a pop of color, but you could repaint it any color you like.
This headboard maximizes space by offering storage options. The front of the headboard offers shelving, which can be used to store toys or books. On the left, there is a pull-out compartment that can be used to store other items, making this headboard great for storage.
10. Clean Curves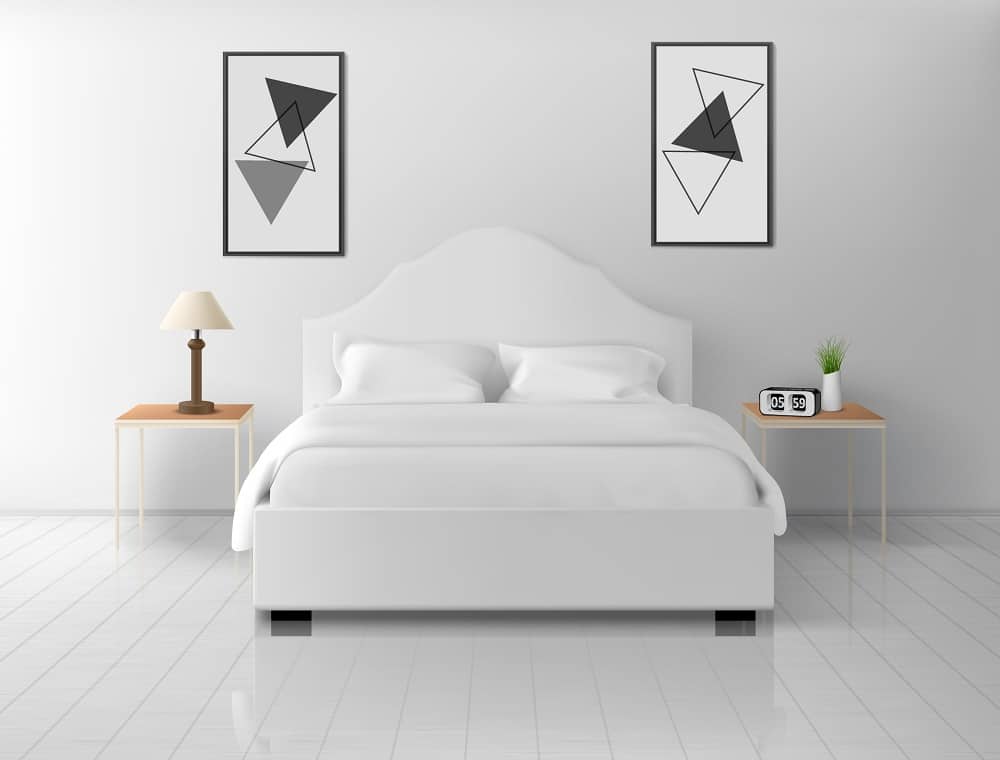 This bedroom design is the perfect example of a modern bedroom. It has a white color scheme, clean lines, and minimal excess decorations. The headboard is the only item in this room with a curved shape, making it the focal point of the room.
The headboard is all white with a curved structure. The white coloration makes it blend in with the rest of the room and bed. At the same time, the headboard stands out because of its curved structure. This curved structure gives the room dimension and flair.
11. Pink Perfection
If you love the girly and romantic look, you will love this bedroom. It includes an almost exclusively pink color scheme that can be seen on the walls, bed, bedding, and headboard. The only pop of color comes from the plants and stools located to the left of the bed.
The headboard in this room blends in with the bedding. It is a dusted rose color that matches some of the blankets on the bed. It is cinched at the center, which gives the headboard the allusion of being two pillows. This design allows the headboard to blend in with the other features of the bedroom.
12. Home Within a Home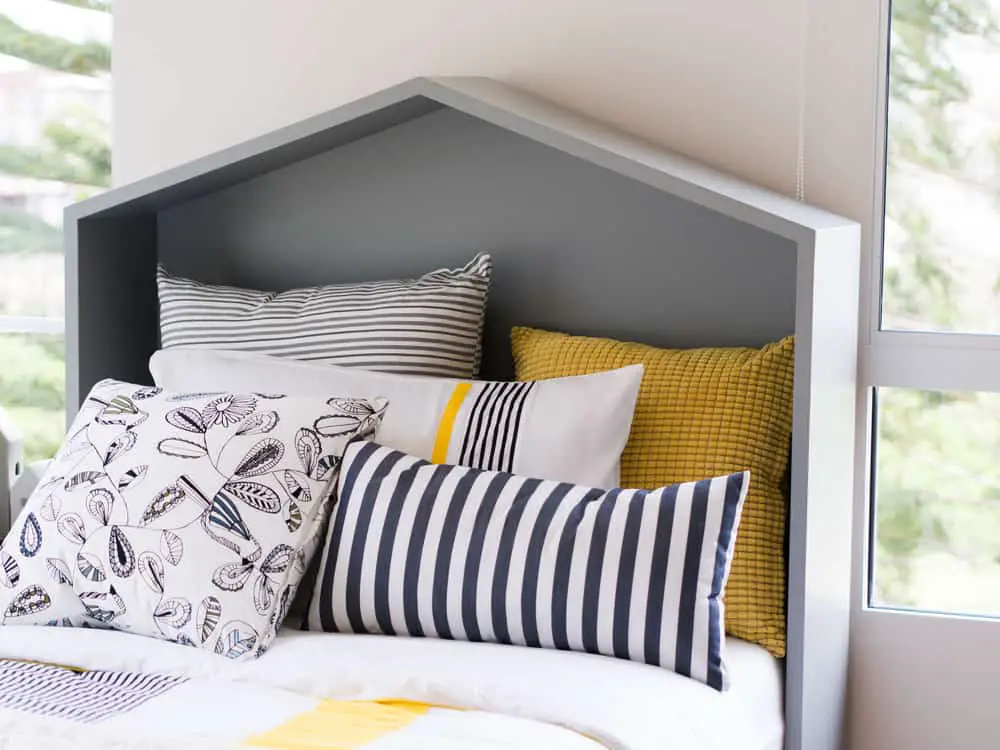 This headboard would look perfect in a craftsman styled room. The pillow patterns and unique headboard give off an Arts and Crafts look that only a craftsman room can embody. This style would be great in a guest bedroom.
The headboard is shaped like a house. This house shape provides a place for the pillows to be held and showcased. Additionally, the grey color scheme allows a neutral background for the ornate pillow patterns and yellow colors to pop.
13. Eclectic Luxury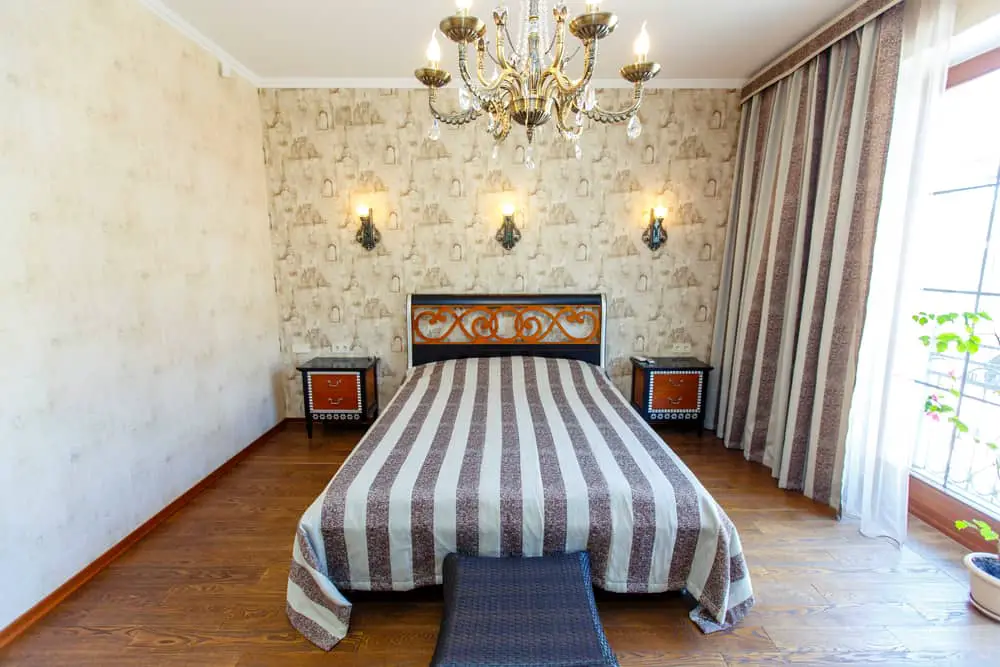 This eclectic bedroom hosts luxurious wallpaper and light fixtures, a funky headboard and bedside tables, and a wall-length window. These features are all very mix-matched, but they work together to create a luxurious and eclectic design.
The headboard is detailed and includes vibrant colors. The center of the headboard has orange details and designs that match the shape of the chandelier. More so, the funky colors match the drawers on the bedside tables.
14. Contemporary Stripes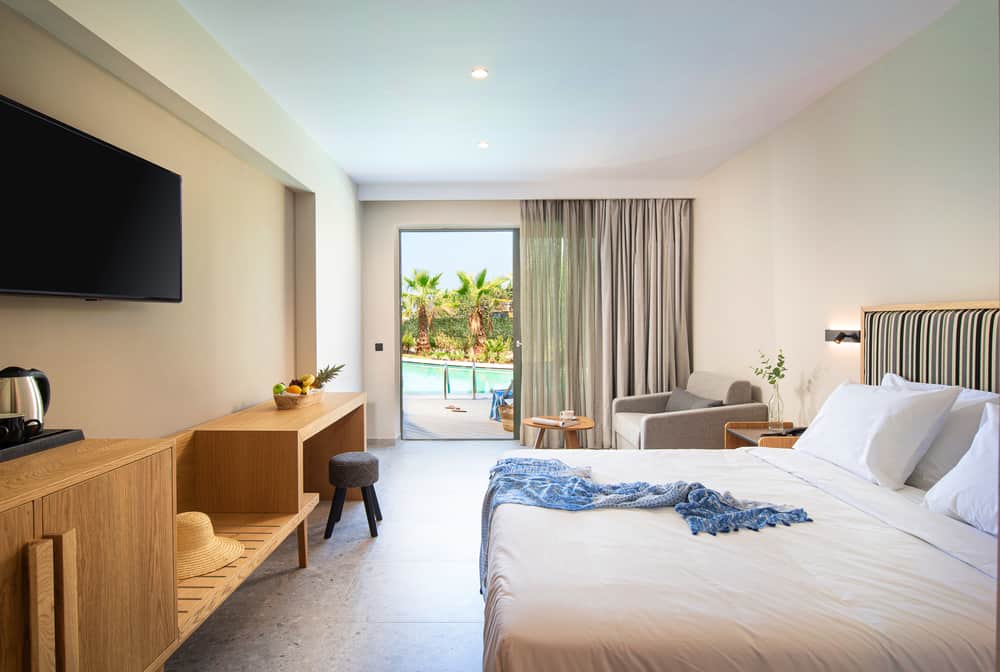 This contemporary bedroom has a delicate and warm personality. The color scheme is beige and white, with touches of blue and black. The furniture is made from wood, which further warms the room. Interestingly, the curtains add texture and match the headboard.
The headboard is made from patterned fabric. The pattern alternates between different colored vertical stripes that add color and dimension to the room. At first glance, the headboard pattern matches the crinkled curtains, creating a point of similarity.
15. Nautical Theme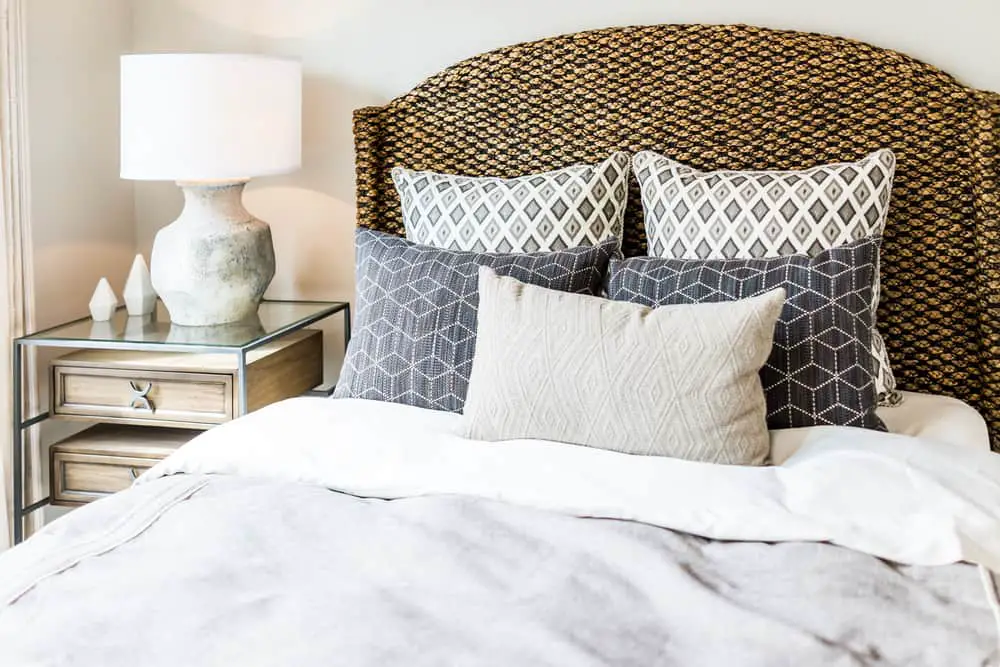 If you live around the beach, you are probably familiar with coastal designs. This bedroom is a more sophisticated take on the coastal style. Due to the ropey headboard, stone lamp, and muted color scheme, this room would look great alongside a beach view.
The headboard is made from a ropey material that is reminiscent of wood. This material adds texture to the otherwise smooth room. Additionally, the headboard elevates the room by adding a warm tone and mimicking driftwood.
16. Wall Art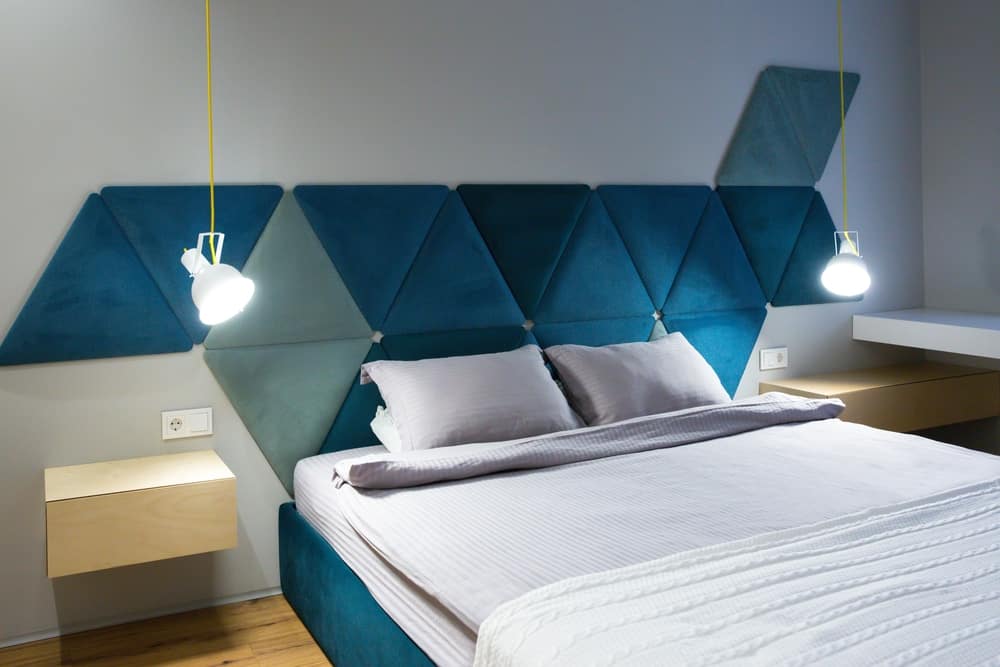 This bedroom would be modern, if not for the funky headboard. The room itself is very simple with floating bedside tables, hanging light fixtures, and a white and grey color scheme. The headboards, however, are colorful and funky.
The blue on the headboard adds a large splash of color and matches the bedframe. The rest of the room is only grey and white, with wooden furniture. The headboard also adds texture because of its geometric pattern. With triangles placed together, this headboard is anything but square.
17. Bachelor Pad
If you are an eligible bachelor wanting to redo your bedroom, you will like this blacked-out bachelor-pad style bedroom. It is almost exclusively black, but the white bedding, green plants, and wood window frames create warmth and light.
The bedframe in this bedroom is made from charcoal fabric. The fabric adds a soft touch that this room needs due to the black walls and floor. The charcoal color also lightens the room by adding a slightly different shade.
18. Earthy Olive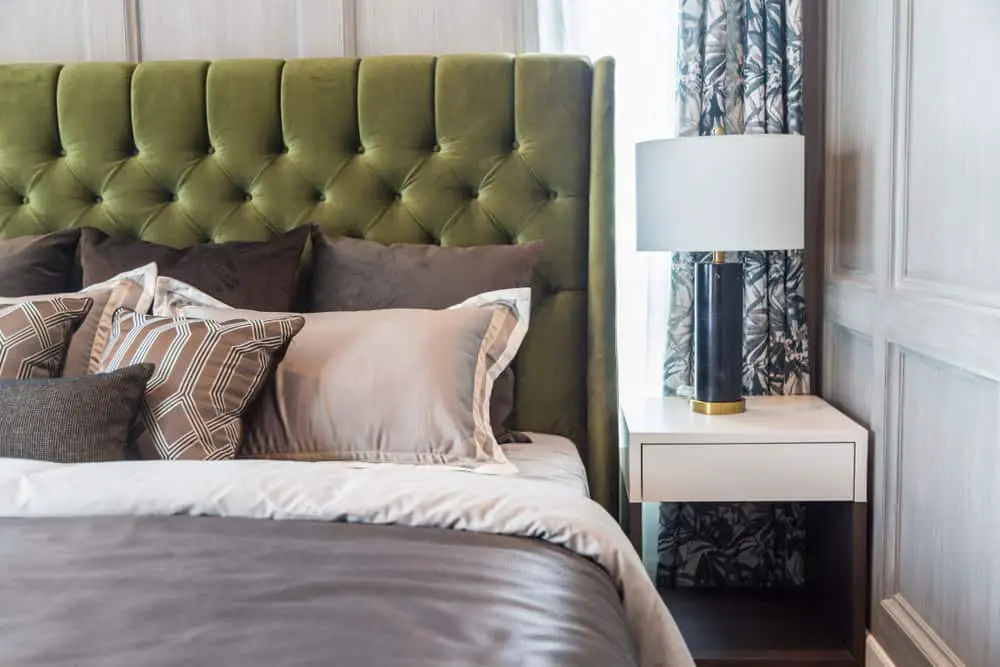 This olive headboard adds just the right amount of color to this earthy room. At the same time, it still maintains a simple and reserved look. This headboard would look great in a craftsman or mid-century styled home.
The color scheme of this room is earthy. The headboard is made from a felted olive material that adds a nature-inspired pop of color. The pleated design of this headboard also complements the room and its use of patterns and textures.
What to Consider When Buying a Headboard
There are several factors to consider when buying a headboard. These factors will help you to determine which headboard goes best with your room and budget. Here are 7 factors to consider:
1. Budget
The first thing you will want to consider when buying your headboard is your budget. This factor will help you to weed out headboards that are too expensive for your needs. If you are redoing your entire bedroom, the headboard should factor into your overall budget.
Headboards have a large price range. Some of the lowest new headboards can cost as low as $50, but you can probably find cheaper headboards if they are used. On the other end of the spectrum, some headboards cost over $1,000. This large range ensures that you will find one that fits into any budget.
There are several things that might affect the cost of a headboard. The materials used, sturdiness, and size are all common factors that can cause a headboard to be more expensive.
2. Bed Size
Though this may seem like a no-brainer, you need to consider the size of your bed. The reason for this is that the headboard should be the same width as the bed. It should not be smaller or larger than the bed unless it specifically designed that way.
Before going to buy a headboard, determine the size of your bed. Bed sizing is classified by the following titles:
Twin or Single: Twin mattresses are 38 inches wide and 75 inches long. You can also get the XL size that is 80 inches long. This mattress size is great for small children and dorm rooms.
Full or Double: A Full mattress is 53 inches wide and 75 inches long. This mattress may be better for older children or guest bedrooms.
Queen: The Queen mattress is 60 inches wide and 80 inches long. It is the most common mattress size in America since it comfortably fits two people.
King: A King bed is 76 inches wide and 80 inches long. This bed is very luxurious, but it requires a lot of space.
California King: The biggest mattress is the California King. This mattress is 72 inches wide and 84 inches long.
Once you know the size of your bed, you can match the headboard size. Headboard sizing uses the same titles as the bed sizing, which makes finding a matching headboard quick and easy.
3. Bedroom Size
In addition to the bed size, you will need to consider the size of the room. Since the headboard will sit against a wall, you need to make sure that the headboard won't overtake the wall.
If you have a small room, you may want a thinner headboard with long lines. For example, many metal headboards are thin and include long lines in the design. The thin width will take up minimal space while the long lines elongate the space.
For bigger rooms, you could choose any headboard style. Chunky or fabric headboards may look beautiful in rooms with a lot of space.
4. Bedroom Style
Another factor to consider when buying a headboard is the style of your bedroom. Headboards come in many styles, so you will want to find one that best matches the overall look of your bedroom. This factor may be the most fun to consider if you like the interior design step of room renovations.
Here are some of the most popular bedroom styles today:
Contemporary: Contemporary bedrooms tend to have a subdued color scheme and simple fabrics to make the room relaxing and cozy. They have headboards that include straight lines, earthy colors, and fabric, adding to the coziness.
Modern: Though often confused with Contemporary designs, Modern rooms have exclusively straight lines, neutral colors, and minimal decorations. Your modern headboard should be crisp, neutral, and lack unnecessary frills.
Bohemian: In contrast to the Modern style, Bohemian designs are free-spirited, colorful, and textured. You can layer rugs, blankets, furniture, and color to make a one-of-a-kind Bohemian look. For a Bohemian headboard, you can opt for bright colors and textured fabrics.
Rustic: The Rustic style is inspired by nature. It uses organic materials like stone and wood and focusses on creating open light and space. The headboard for your rustic room should probably be made from beautiful stained wood.
Art Deco: The Art Deco style is inspired by the roaring '20s, making it glamorous and over the top. This type of room will typically have bold patterns, plenty of metallics, and luxurious fabrics. As for the headboard, Art Deco rooms tend to use bold designs such as a tufted headboard.
Scandinavian: A Scandinavian styled bedroom is simple and cozy. These bedrooms incorporate raw woods, natural textiles, and floral patterns to create a warm atmosphere. Your Scandinavian headboard should be cozy by using neutral, warm tones, and a pillowed design.
Some other bedroom styles include the following:
Coastal
Mediterranean
French Country
Minimalist
Transitional
5. Bedroom Color Scheme
Alongside the style of the room, you will need to factor in the room's color scheme as well. You will want your headboard to match the room, but you can choose to make the headboard either stand out or blend in with the walls.
The color scheme of your bedroom will largely depend on the room's style.  For Contemporary, Modern, Rustic, and Scandinavian styles, you will want a neutral color scheme made from white, cream, beige, or brown. You can add pops of color to the Contemporary style, as well.
In rooms with a neutral color scheme, you will probably want the headboard to look more subdued against the wall. If the wall is painted white, for example, consider a cream headboard so that you can see it without it completely contrasting the wall.
An Art Deco room will probably include a lot of white and cream, but it should also include black and metallics to makes the room look more sophisticated than neutral. You will probably want your headboard to stand out a lot more in this design. Consider a darker or more textured material.
The Bohemian color scheme should be loud and diverse. Feel free to use colors like orange, yellow, or turquoise. You can really use any color you would like in this room. You can choose to make the headboard stand out or blend in, but this room may look best with a loud and unique headboard.
6. Headboard Materials
You should also consider the headboard materials. The materials will affect the price, look, and durability of the headboard. Here are the main materials used in headboards:
Wood: Headboards are frequently constructed from wood. The wood headboards are more natural and create a warm environment in the bed. You may want a wooden headboard if you have a Bohemian, Rustic, Scandinavian, or Country styled room.
Metal: Another commonly used material is metal. Metal headboards can either be minimalistic bars or intricately detailed. If you have a Contemporary or Modern room, you will want a minimalistic metal headboard. For Art Deco or Romantic rooms, you may opt for the detailed options.
Fabric: Headboards can come with fabric covers. These headboards are chunkier and often look warmer and inviting. The fabric material can be stretched or pleated. The material can also add texture. Bohemian, Scandinavian, and Art Deco styles look great with fabric headboards.
7. Environmental Factors
Lastly, you need to consider environmental factors like allergies, pets, and children. This factor will help to determine maintenance requirements and materials.
If you have pets or children, for example, you may opt for headboards that are easier to clean. Wood and metal may be the best option if you fear drink spills or a cat scratching at the headboard.
You may also prefer a wood or metal headboard if you or a loved one suffers from allergies. These materials are easier to clean and don't trap dust or debris. Upholstered headboards, on the other hand, trap possible irritants, which may exacerbate allergies or asthma.
At the same time, you may want to avoid metal headboards if you have small children. Metal is harder than wood and fabric headboards, so your children may bump or scratch their heads on the hard frame. If this is a concern to you, fabric headboards may be your best option.
Headboard Uses
Headboards are a great way to elevate the aesthetics of your bedroom, but they can serve functional purposes as well. Here are common functions of headboards:
1. Storage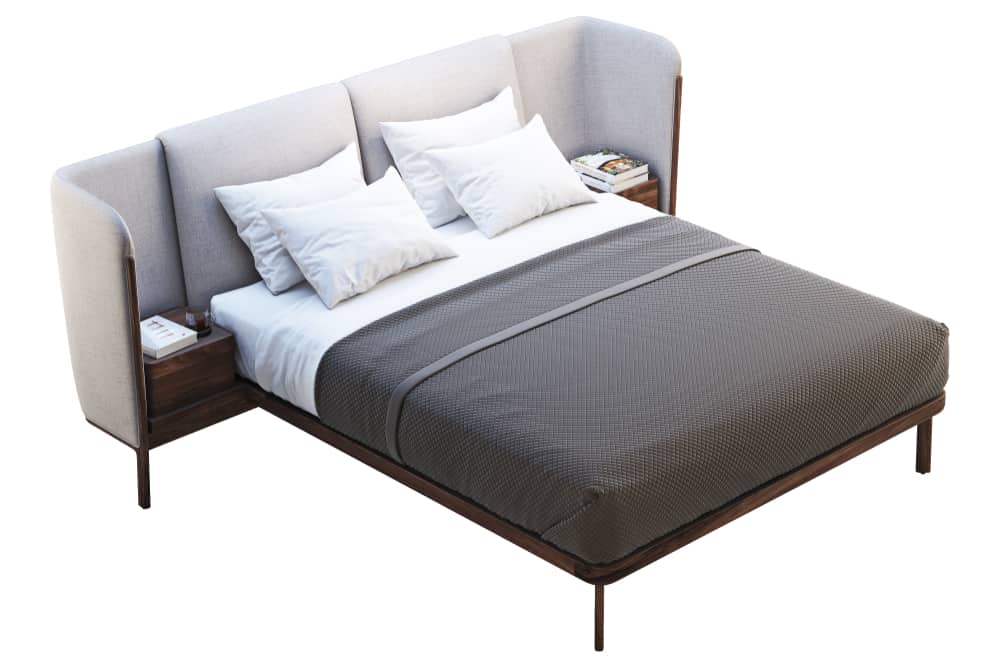 If you have a smaller room, you can use your headboard for storage. Storage headboards have drawers, shelving, and compartments for storing your items. This functional headboard may be ideal if you lack room for a bedside dresser.
The downside of this design is that items inside the compartments may move when you move, which may disturb your sleep. Make sure that all items are securely placed in the drawers to help prevent noise and movement.
2. Bookshelf
You can also use your headboard as a bookshelf. This design features a larger headboard. The portion directly around the bed is normally a solid material and surrounded by bookshelves. This design needs to be properly installed so that the books don't cause the headboard to fall under the weight.
A bookshelf headboard requires a lot of space. If you have a small room, this headboard design may be too overwhelming and cause the room to look cramped.
Where to Buy a Headboard
You can find headboards just about anywhere. If you prefer shopping in person, furniture stores and home improvement stores should have plenty of headboard options. More so, supermarkets like Walmart or Target also sell basic headboards.
You can also buy headboards online. Wayfair and Amazon are two great online options. Buying online will allow you to read reviews and compare store prices.
Conclusion
Headboards are a great way to elevate your bedroom, and there are many style choices to choose from. Though headboards are not necessary, you should consider getting one to make your bedroom look more sophisticated and stylish.
Before buying a headboard, though, there are a few factors to consider first. More specifically, you should consider the budget, bed size, room size, room style, room color scheme, headboard materials, and environmental factors.
Once you determine these factors, you are ready to shop in person or online for the perfect headboard!