Updated on January 26, 2022
Clean. Simple. Uncluttered. If that describes a place you'd like to take a sleep in, you've come to the right place for Scandinavian designed bedrooms.
Originating around the 1950s, Scandinavian design is simple yet functional, and doesn't sacrifice comfort for minimalism. Tones tend to be light, but can also include muted, dark colors that are restful to the eye.
If you are looking to include Nordic design in your bedroom, choose natural textiles, slim furniture, and minimalistic artwork. Organic elements are also a must. Though simple, these bedrooms are stylish and inviting, with a calming lived-in look.
Check out the inspiration below to create a lounge-worthy bedroom with all the quintessential pieces of Scandinavian design.
See Also: 25 Scandinavian Kitchen Design Ideas
Scandinavian Style Bedroom Design Ideas
1. Black Wall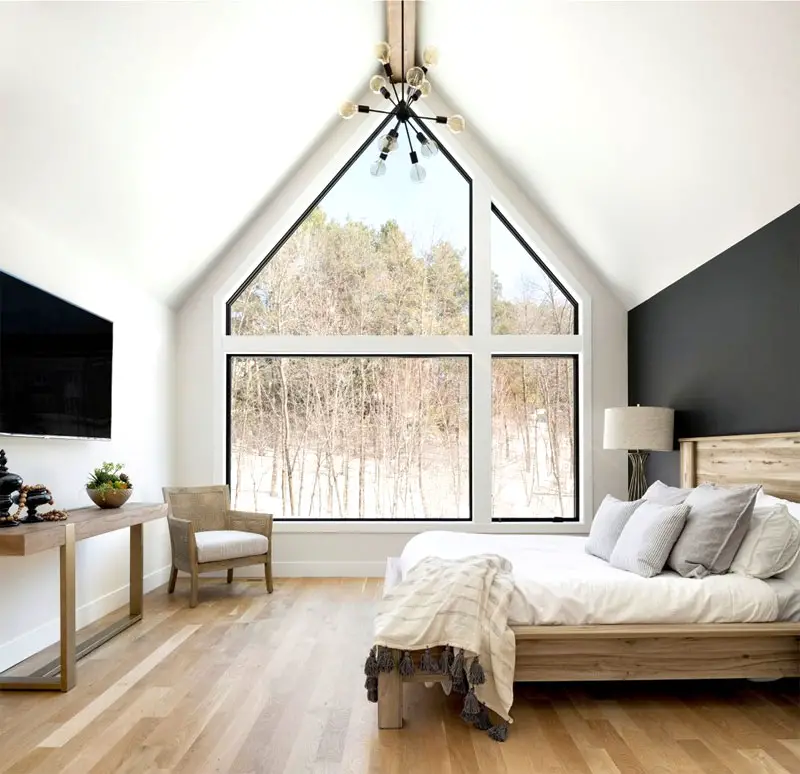 Simple furnishings don't compete with the awe-inspiring outdoors in this striking bedroom. Though a black accent wall highlights the bed, the room still feels open and airy because of the white ceilings and large windows.
2. Brilliant Beams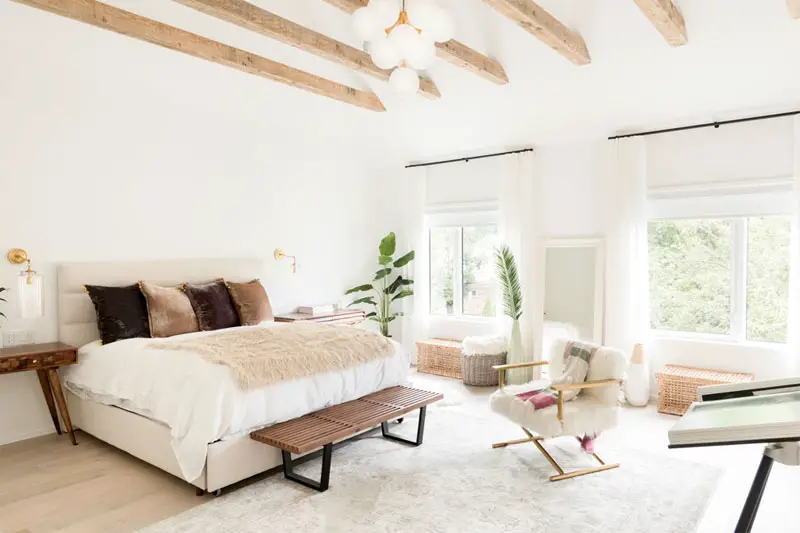 Natural textures can be found throughout this magnificent bedroom, from the wood beams to the woven trunks. An array of textures creates interest in a neutral room.
3. Water's Edge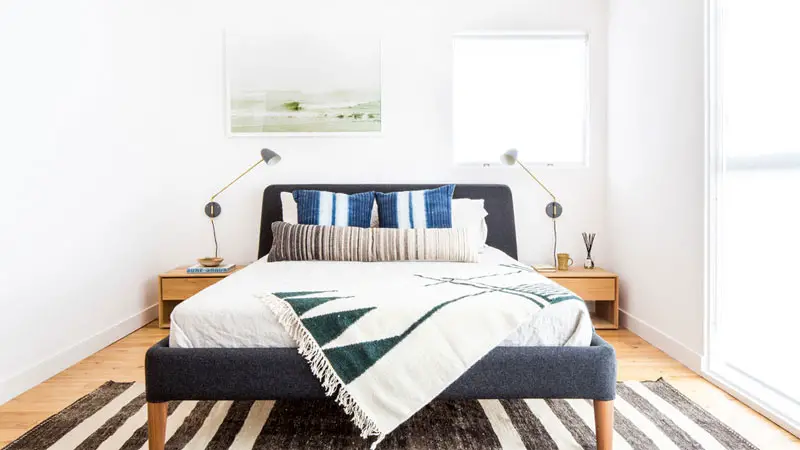 Watery tones play into the ocean print above the bed, creating a minimalistic beach-y vibe.
4. Mellow Yellow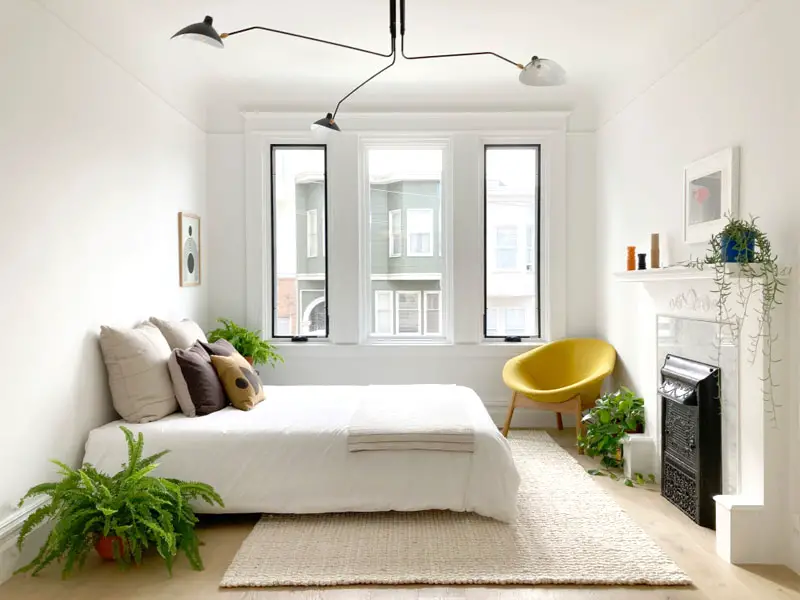 The yellow here is a muted mustard tone, bringing a sunny color into the room without being overwhelming. Plants are also a strategic way to bring life and color into a minimalist space.
5. Subtle Stripes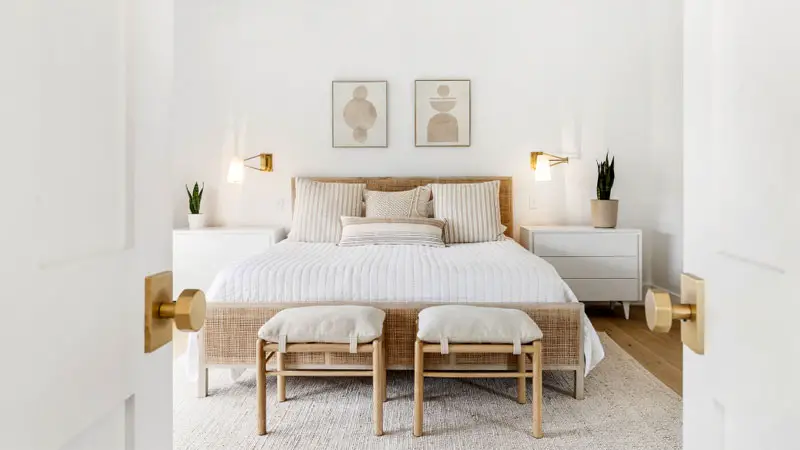 Layered creamy tones are anything but boring. Though all the surfaces are similar in color, the consistent use of stripes draws the eye throughout the room and creates interest.
6. Cool Light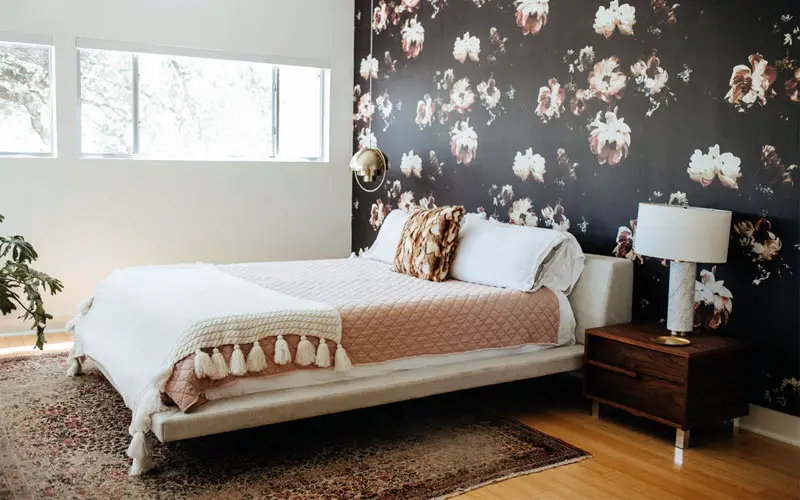 Scandinavian designs can also be eclectic. Pulling in a vintage rug or funky light fixtures adds personality and edginess.
7. Strong Color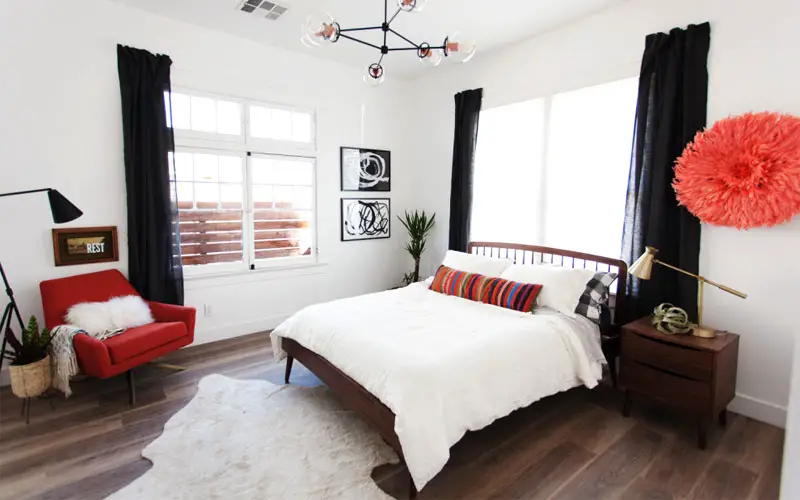 This room gets a bold kick with red accents, and black and white textiles keep it high-contrast.
8. Circling Overhead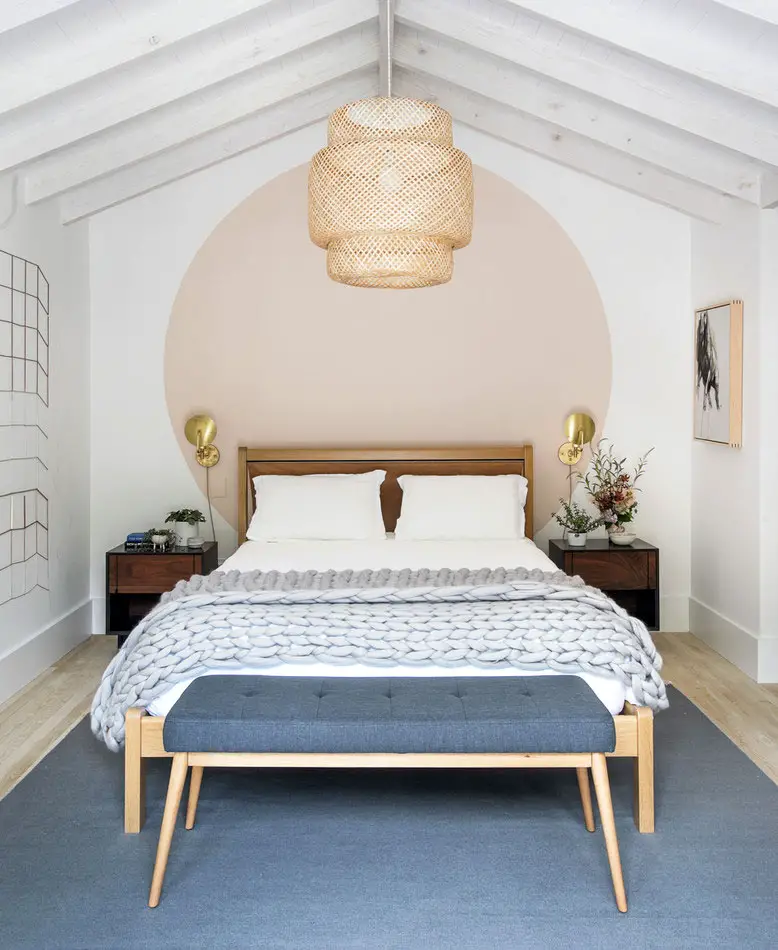 Light blue and pink playfully intertwine in this sweet but mature bedroom. A large blush pink circle is an inspiring take on an accent wall.
9. Landscape Architect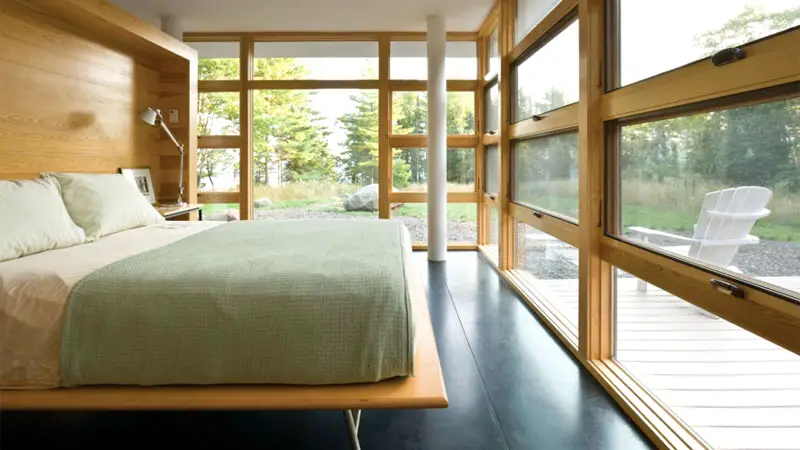 No white walls here. This room is truly all about the amazing scenery, and the windows are the frames for the natural artwork.
10. Slate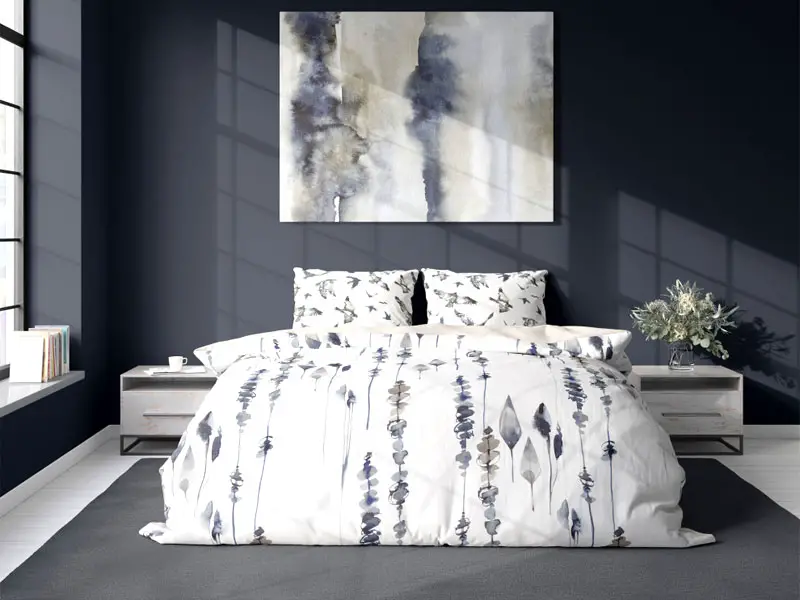 Low-profile furniture is signature to the Scandinavian style, as seen in the bed and matching nightstands seen here. Dark slate blue walls make the light artwork and duvet to pop.
11. Organized Collections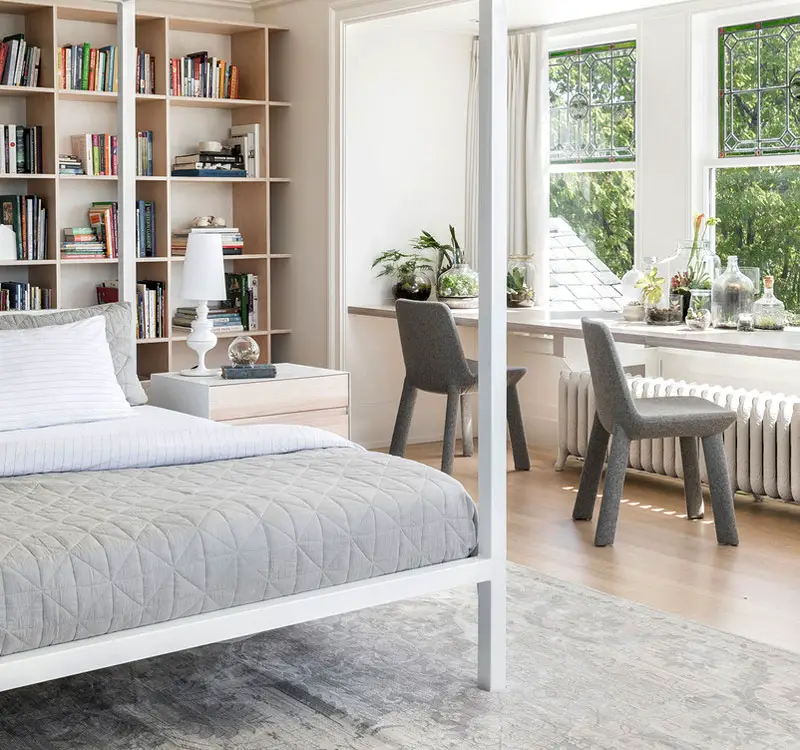 Though Danish design tends to be uncluttered, stacks of books and a collection of jars make this room feel homey and lived-in. Don't be afraid to show off your treasures by placing them in organized groups.
12. Glam Gray Bed Frame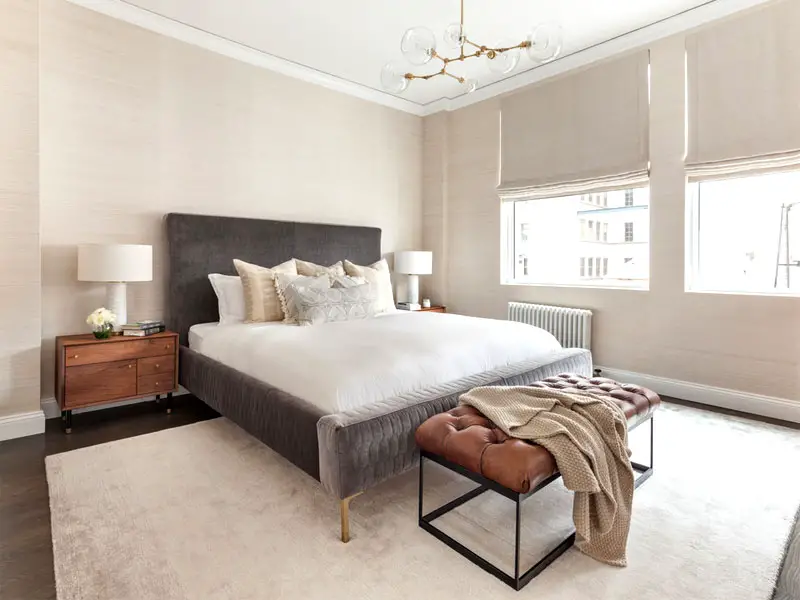 Scandinavian simplicity goes a little glam in this master bedroom. Adding luxurious touches like a velvet-covered bed frame and bronze light fixture add elegance.
13. Pops of Pink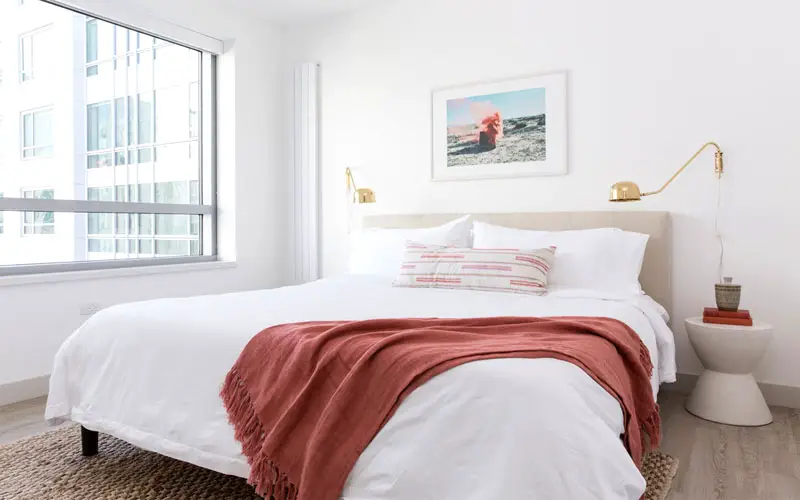 An easy way to achieve a cohesive design is to start with a neutral palette and pick one accent color to pop around the room. Here, a muted rose color adds a feminine touch.
14. Leather Headboard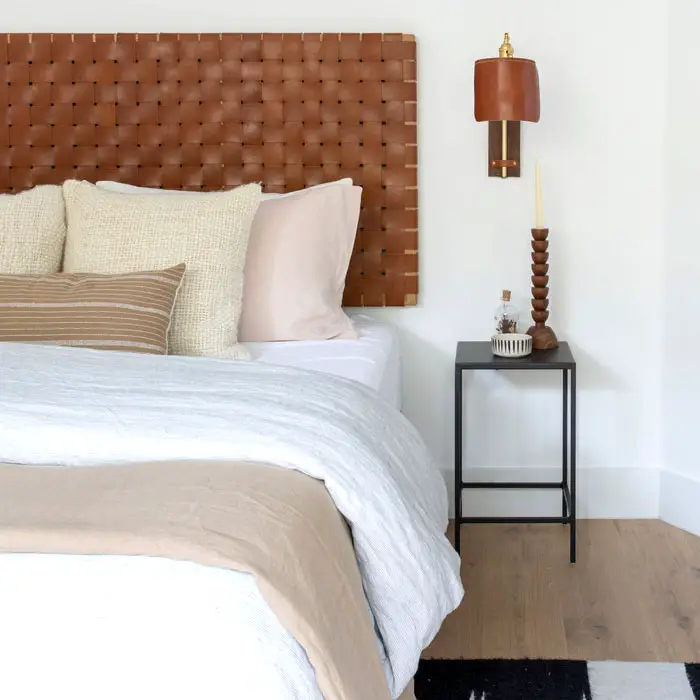 In addition to natural fabrics, leather is a rich and warm complement to Scandinavian design. Find a stunning headboard or cool accent chair in a warm brown tone to add to your room.
15. Smart Abstract Art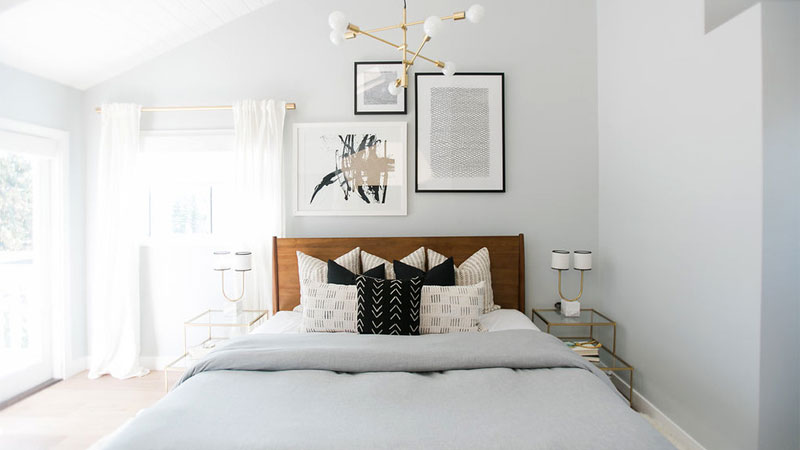 Picking artwork can be intimidating, but using only black and white prints makes it a breeze. Put artwork in a group to create maximum impact and keep the other walls uncluttered.
16. Small Spaces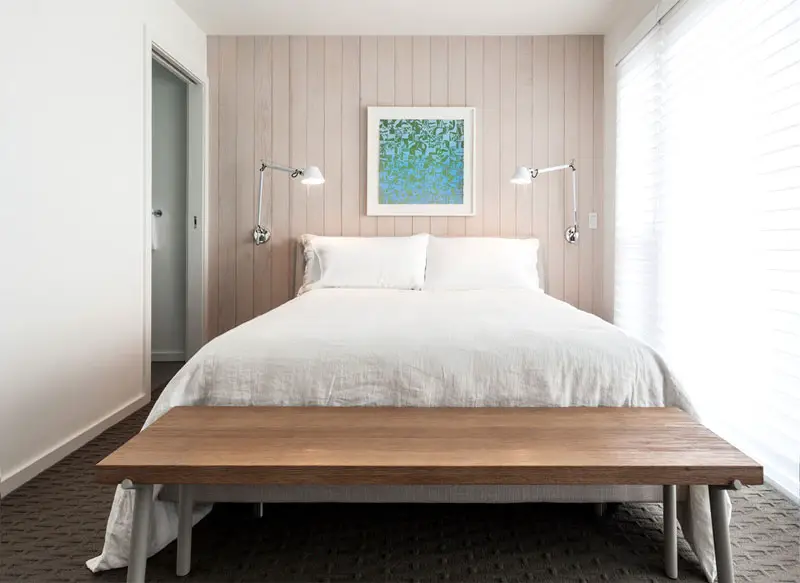 Minimalistic design is great for small spaces.  If you don't have room for nightstands, opt for wall-mounted sconces.
17. Bold Blankets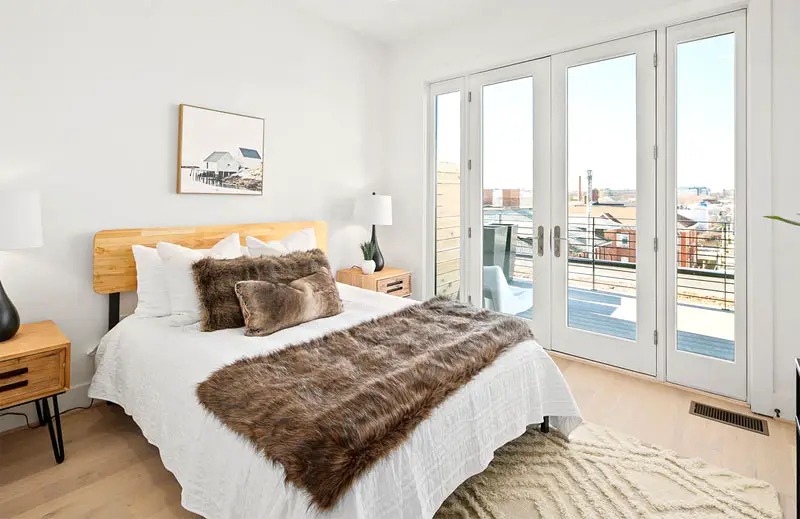 What could be more Icelandic than a warm fur blanket to cozy up in?  Fur accessories add plenty of drama and textural variety.
18. Gorgeous Green Walls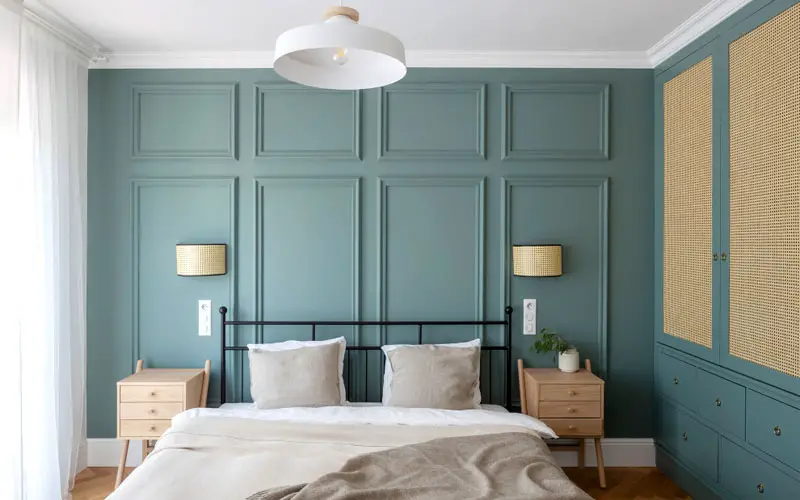 Danish modern side tables and a white pendant light bring in the minimalism, while gorgeous paneled walls in a muted sea green tone are the wow factor.
19. Warm & Cold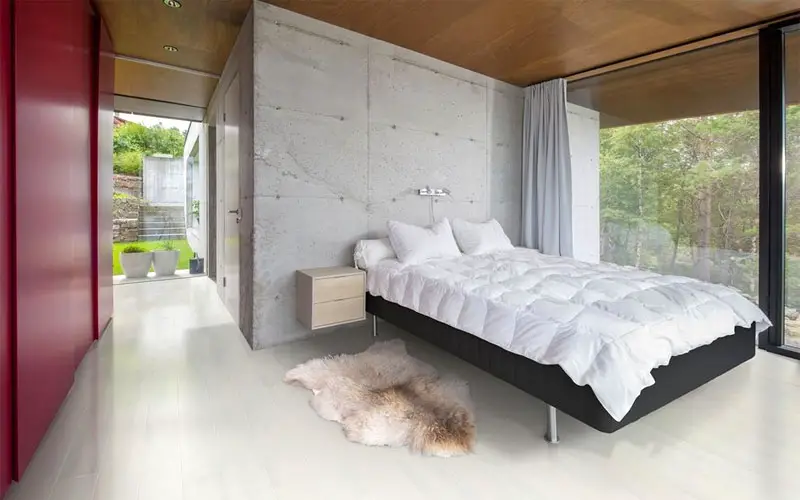 A warm-toned wood ceiling and fluffy fur rug offset the coldness of concrete walls.
20. Dark Tones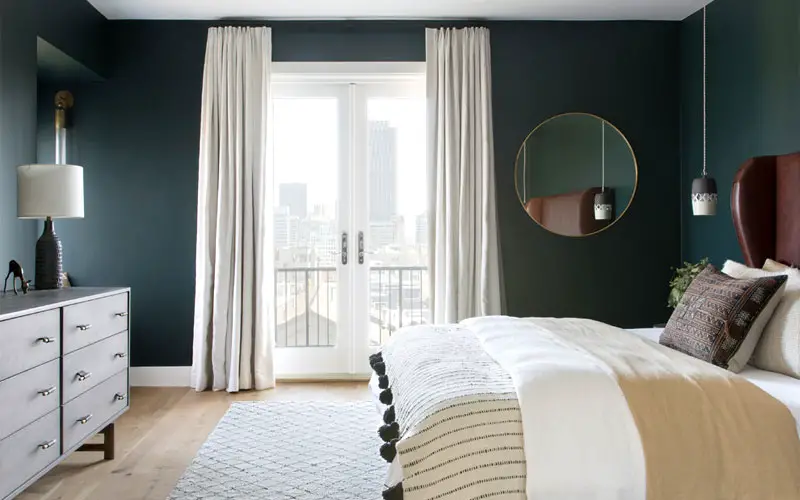 Unlike most Scandinavian interiors, this bedroom has dark walls and furniture. Though moodier than most rooms in this style, the modern and simple shapes keep it firmly rooted in the Danish aesthetic.
21. Mismatched Lamps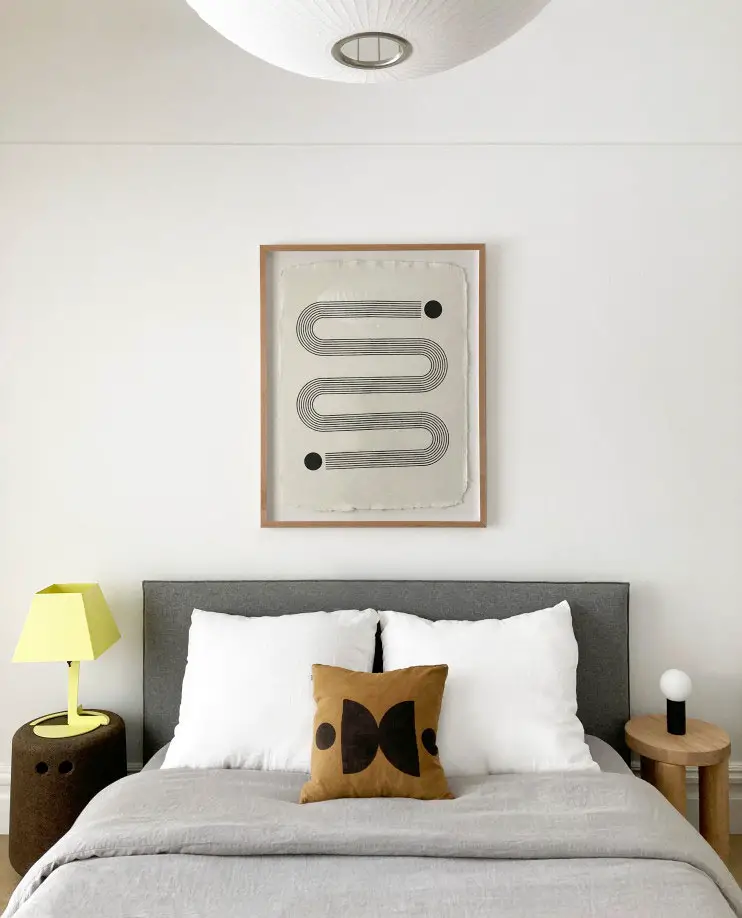 Create interest with asymmetry. Two very different lamp and table styles flank the bed, mixing up what would be an otherwise symmetrical room.
22. Over and Under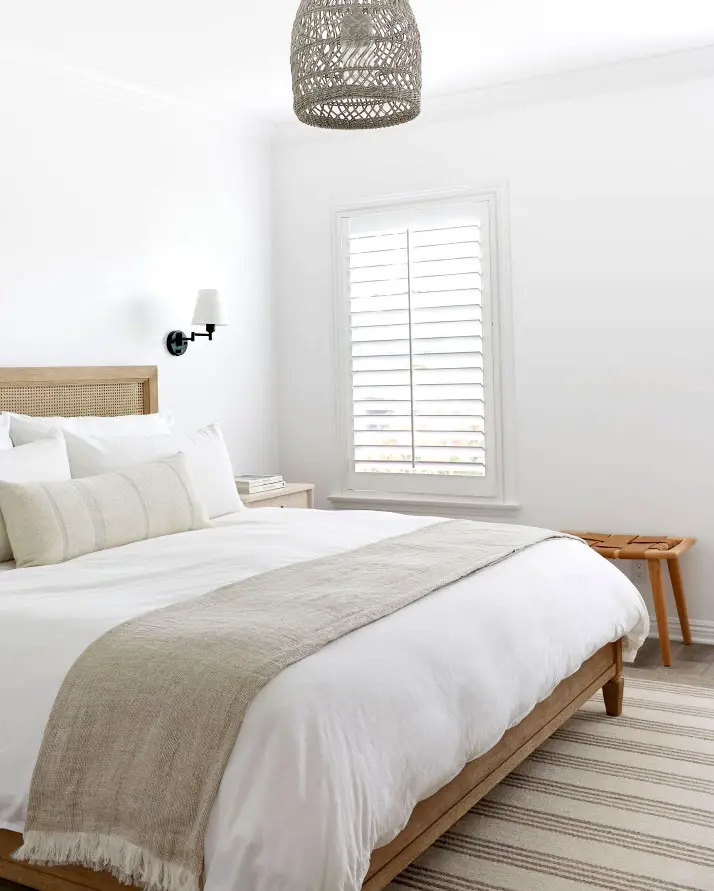 Yet another neutral Scandinavian space, but here texture is done through woven elements. The headboard, basket light, and bench each add in their own unique way.
23. Earth Tones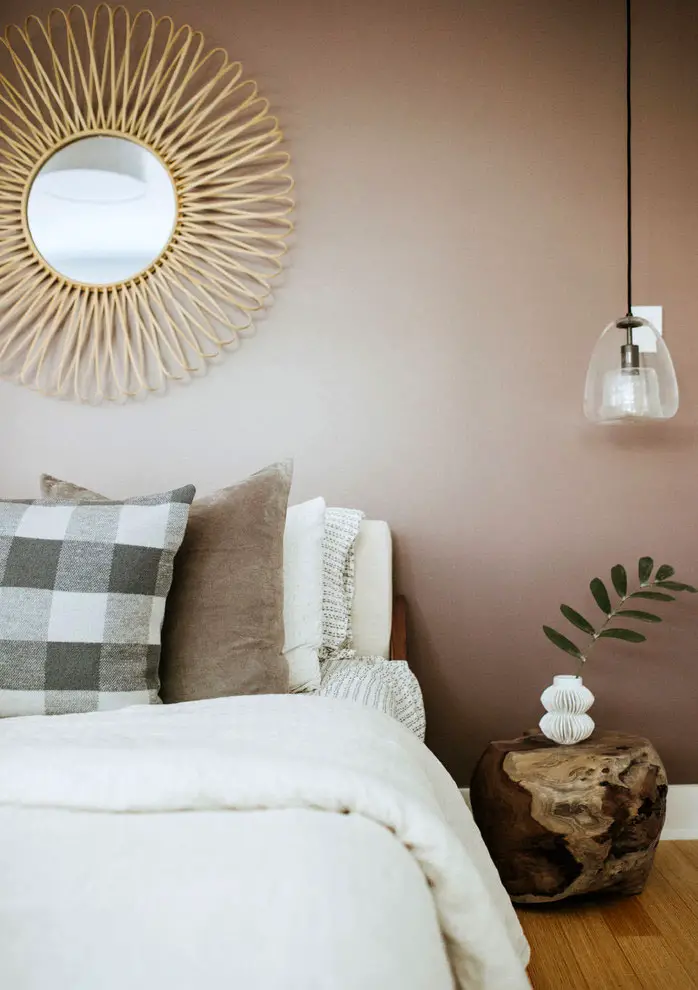 Forest vibes are brought in with a natural wood side table and earth-toned walls.
24. Ticking Stripe Pillows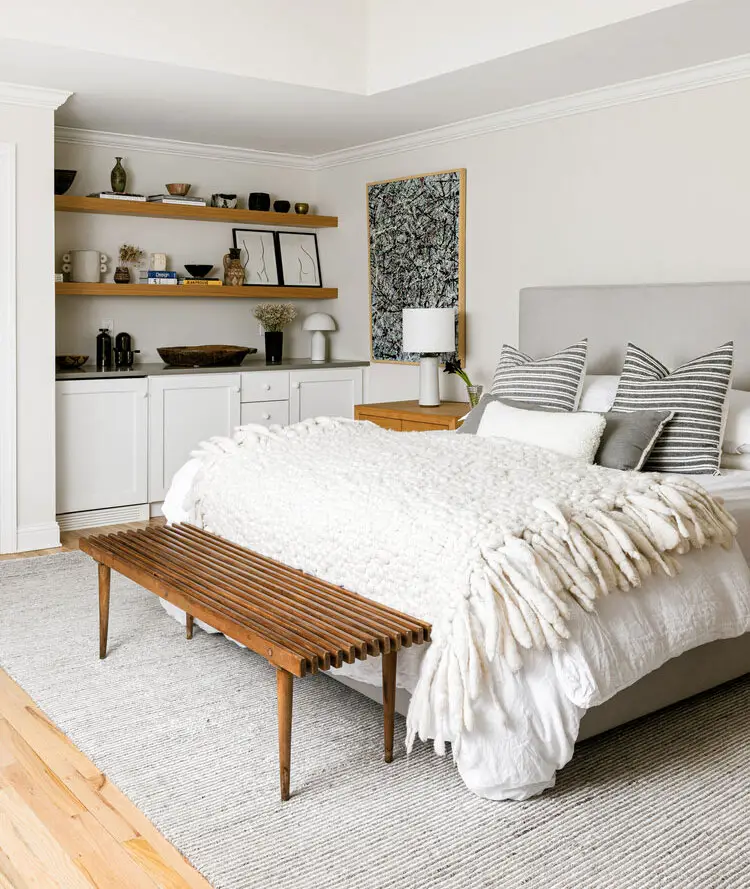 Mix a little farmhouse in with crown molding and ticking stripe pillows.
25. Op Art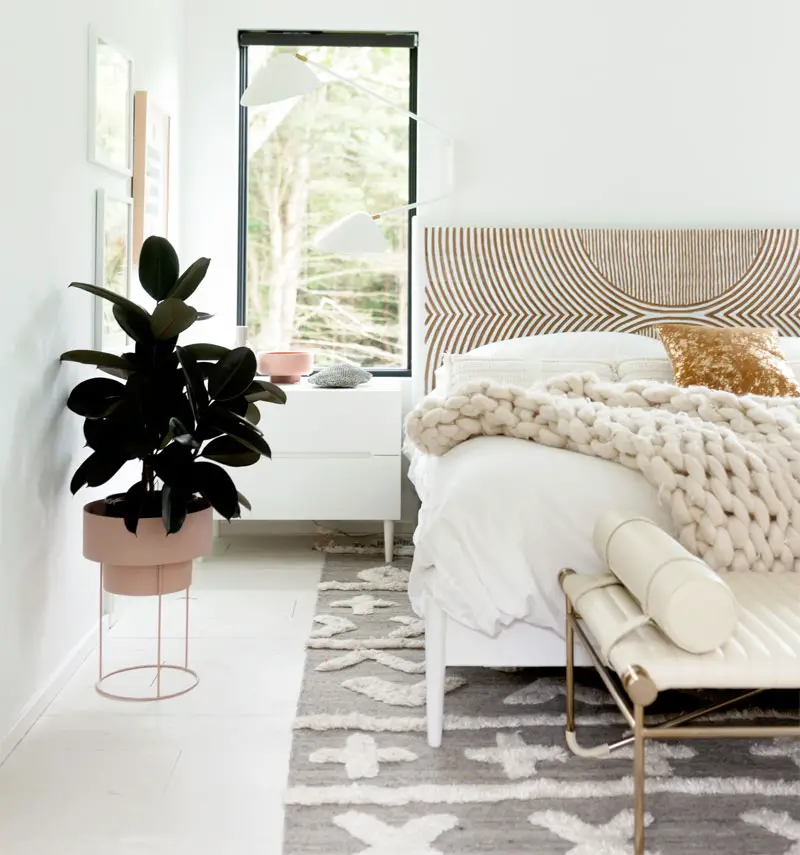 An optical art headboard and large motif rug bring bold pattern into this soothing space.
26. Evergreen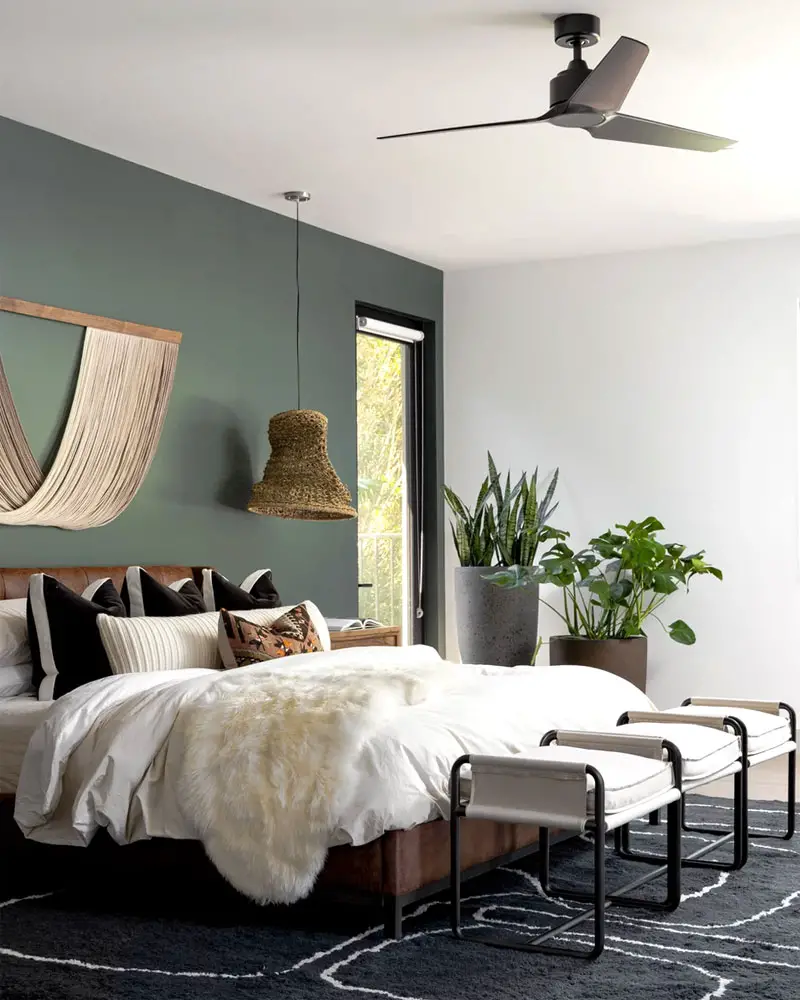 Large indoor planters steal the show in this brilliant master bedroom.
See Also: What Size Ceiling Fan Is Best For a Bedroom?
27. Soft Place to Land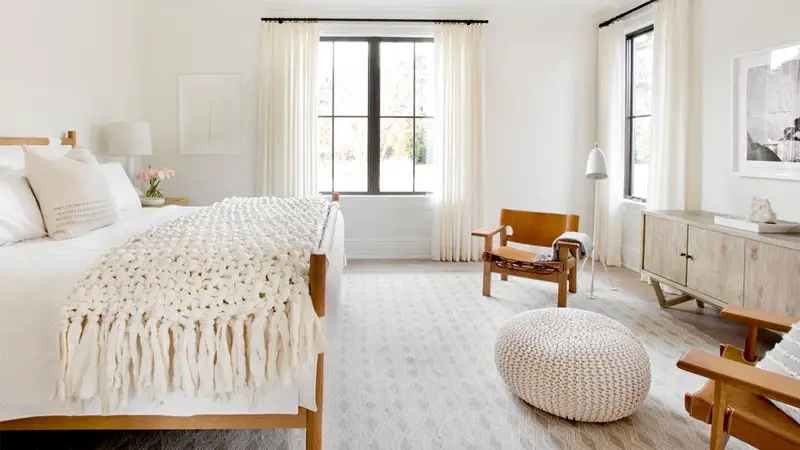 A prime example of feminine minimalism, this room is filled with soft shapes and airy curtains. Leather chairs give just the right amount of heft.
28. Dramatic Panda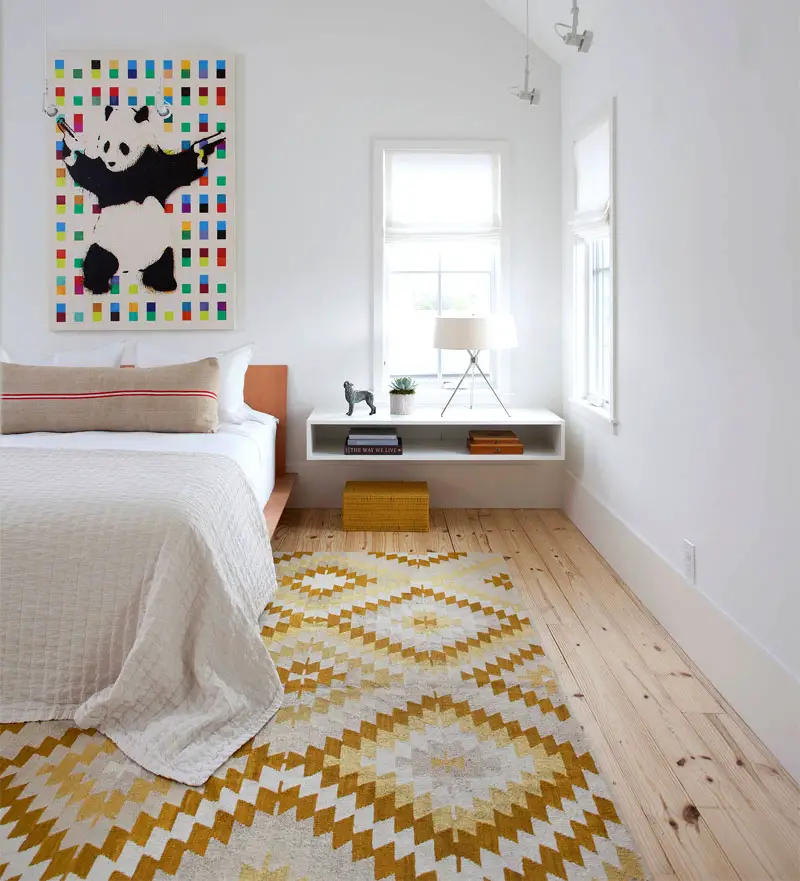 Light wood planks set the stage for this quirky, fun bedroom. Ochre and sienna tones keep it grounded.
29. Creamy Gray Walls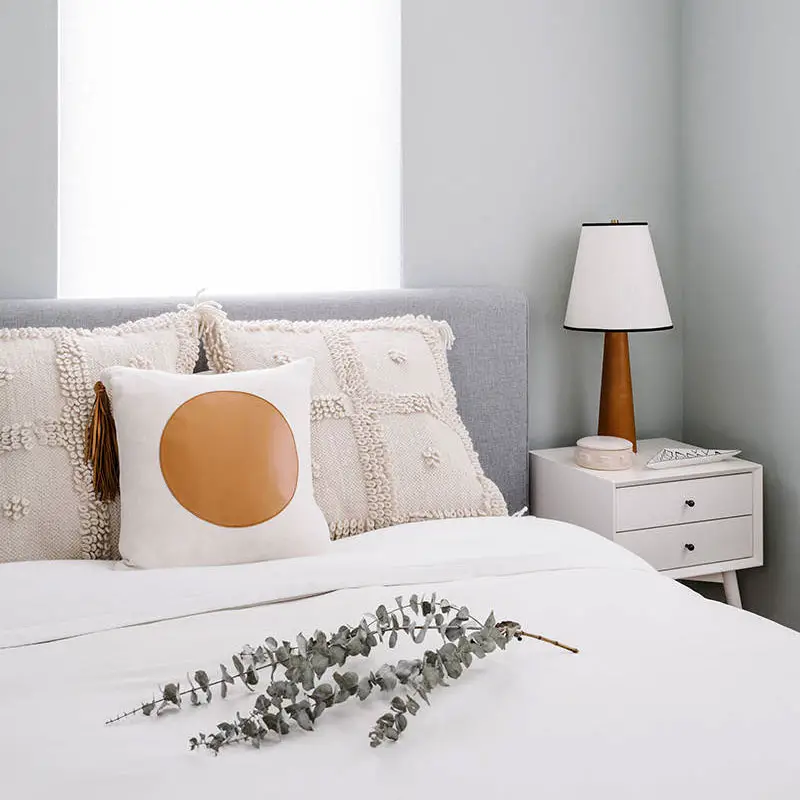 Not up for white walls?  Creamy gray tones are a safe second choice, and still create an open and light-filled atmosphere.
30. At Its Simplest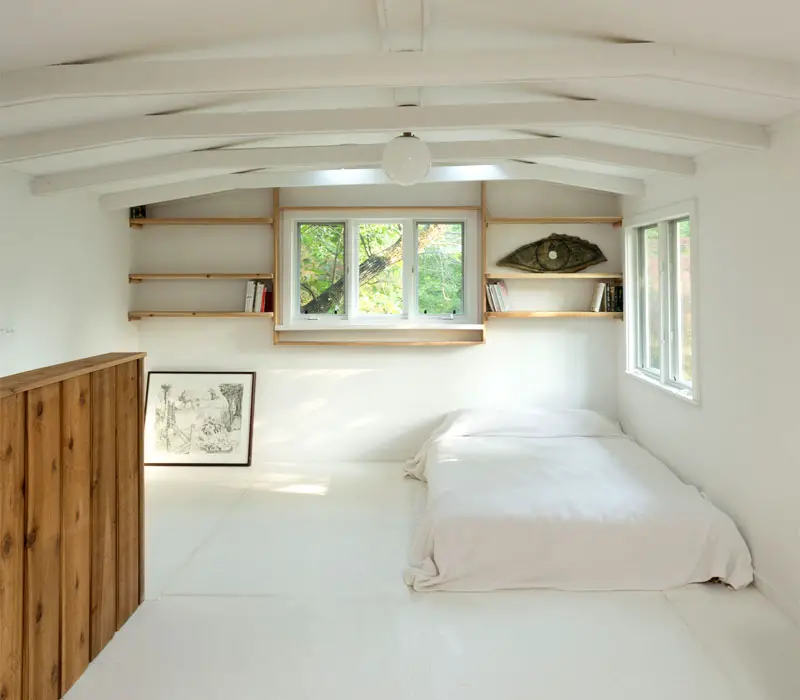 For the true minimalist, go all white…and no furniture! Embracing simplicity is the genuine nature of Nordic style.
Read Also: 9 Traditional Bed Alternatives
31. Forest Finds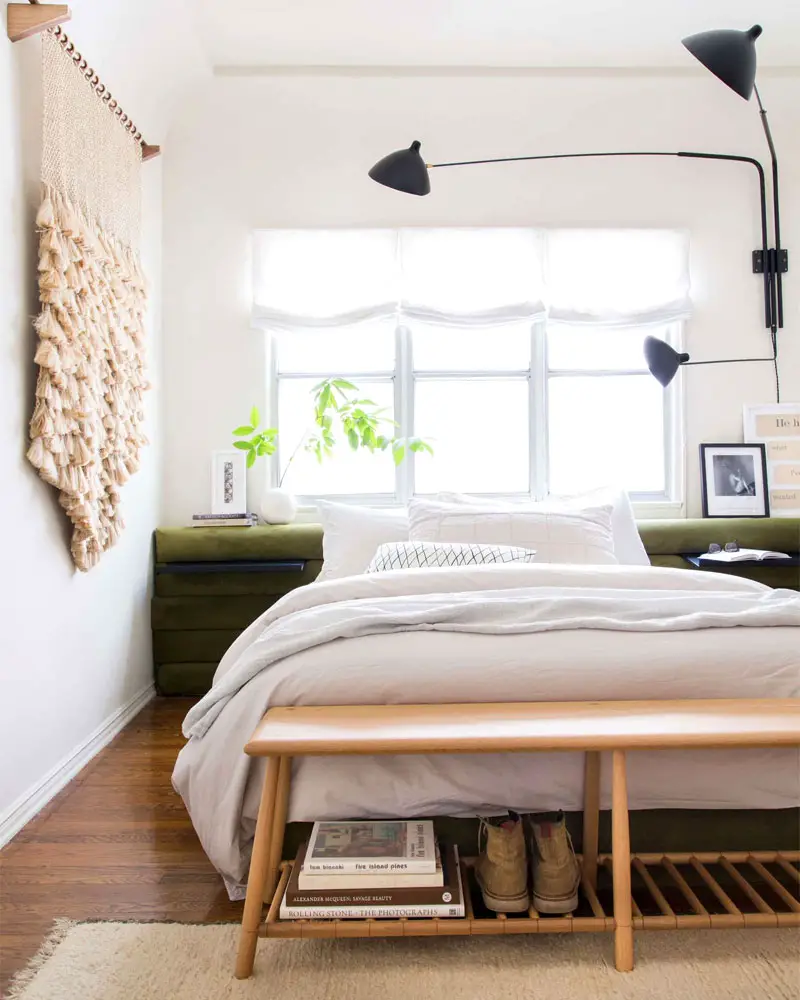 Reminiscent of gorgeous woodland paths, these mossy green nightstands feel natural yet modern.
32. A Little Boho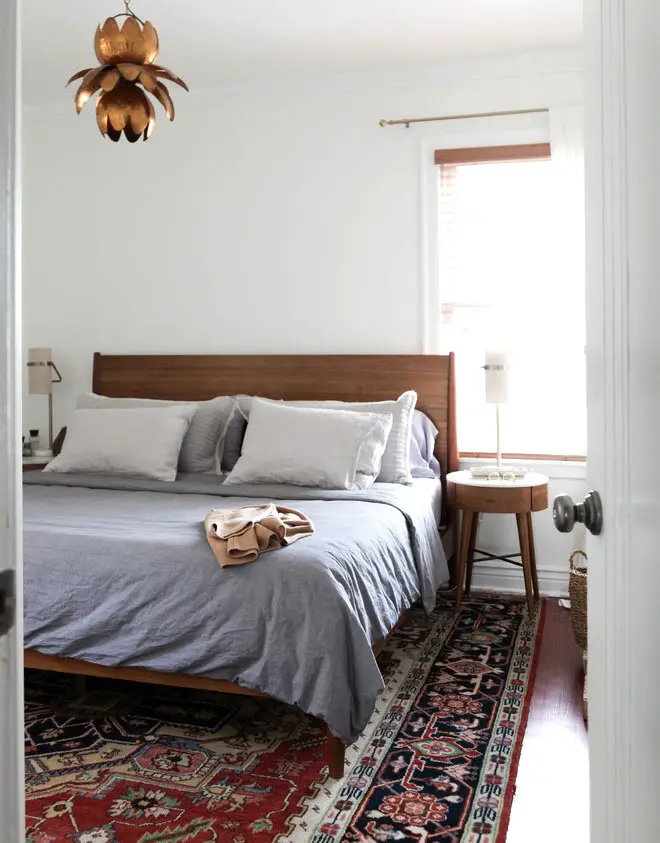 Scandi furniture is mixed with bohemian treasures such as the copper pendant light and dark red oriental rug.
33. Natural Enclosure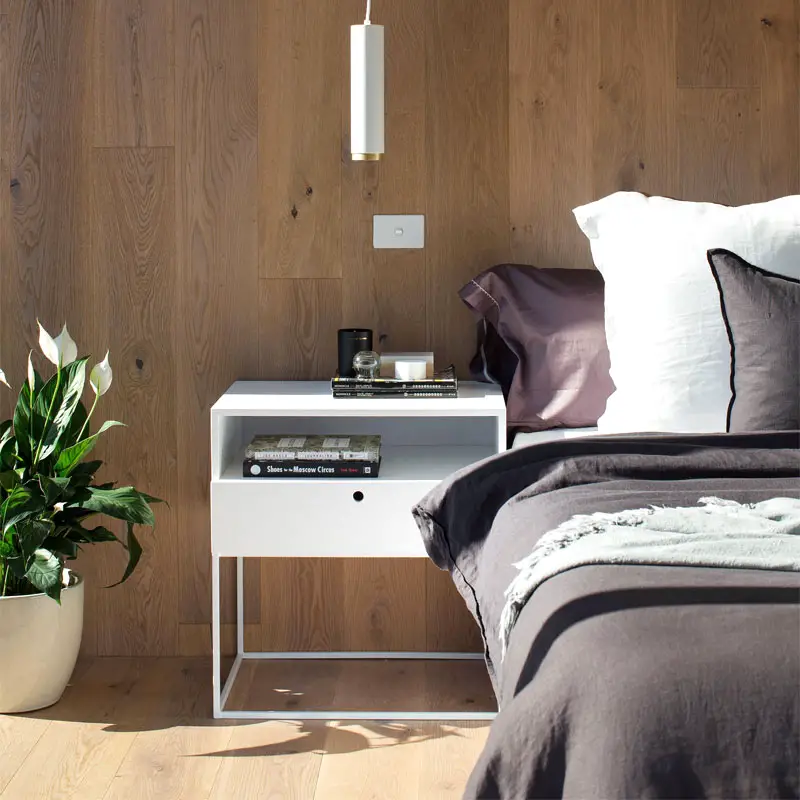 Surround yourself in beauty by wrapping the entire room in wood paneling.  Matching wood planks on floors and walls create a cocoon of natural elements.