Updated on January 3, 2022
Exposed beams on the ceiling of a home can be wonderful. In their most natural form, they are part of the home, structural pieces that support the roof. Traditionally, they are hardwood and give a room a rustic sense of style, but tdon't think you are limited. Exposed beams are used for homes that run from classic to contemporary designs.
Exposed beams are often a darker color than the rest of the room, creating stark contrasts that catch the eye. Others are painted the same color as the room, giving a calm accent to the entire area. Often, they rise with a cathedral ceiling, giving a wonderful look.
Below, we've gathered over 25 different rooms with exposed beams along the ceiling. You will see just how great they can make a room look.
Ideas for Rooms With Exposed Beams in the Ceiling
1. Bold Dark Beams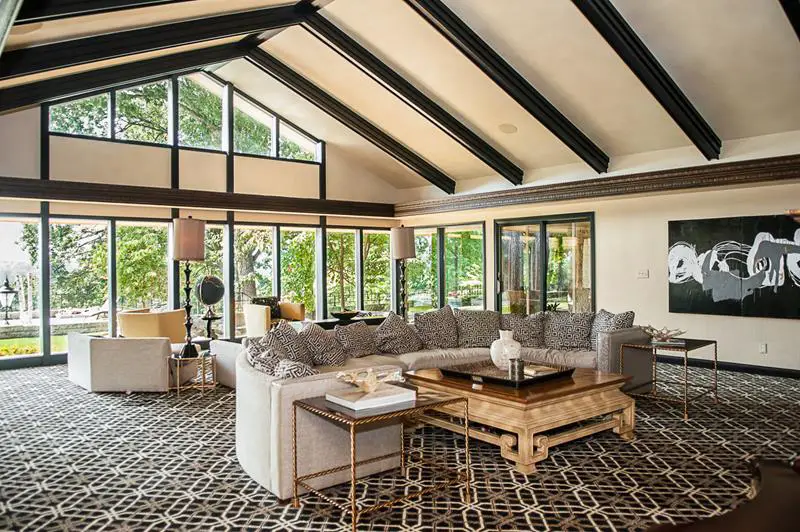 Photo by CMI Construction
The bold dark exposed beams along this ceiling create a wonderful contrast with the room. They work perfectly with this patterned carpet and the modern artwork.
2. Charming Country White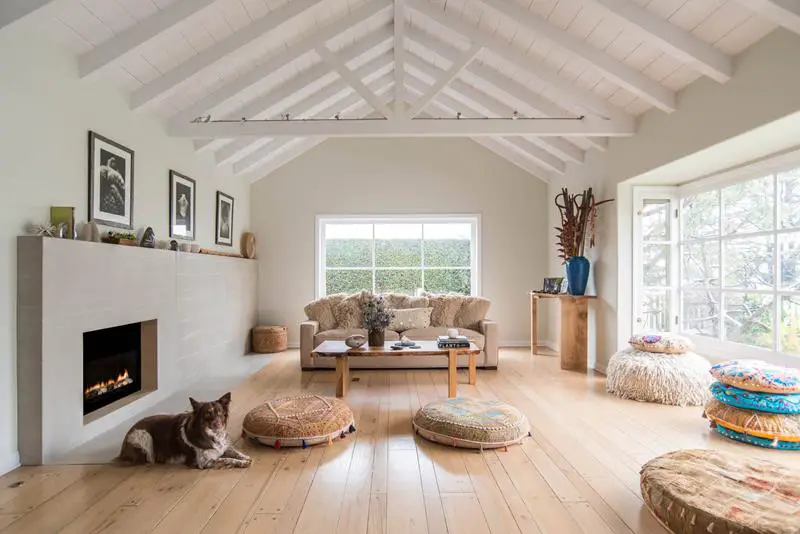 Photo by Sarah Barnard Design
By having these beams and A-frame beams in white to match the whole room, a light and open sense of style is created in this living room.
3. Rectangle Order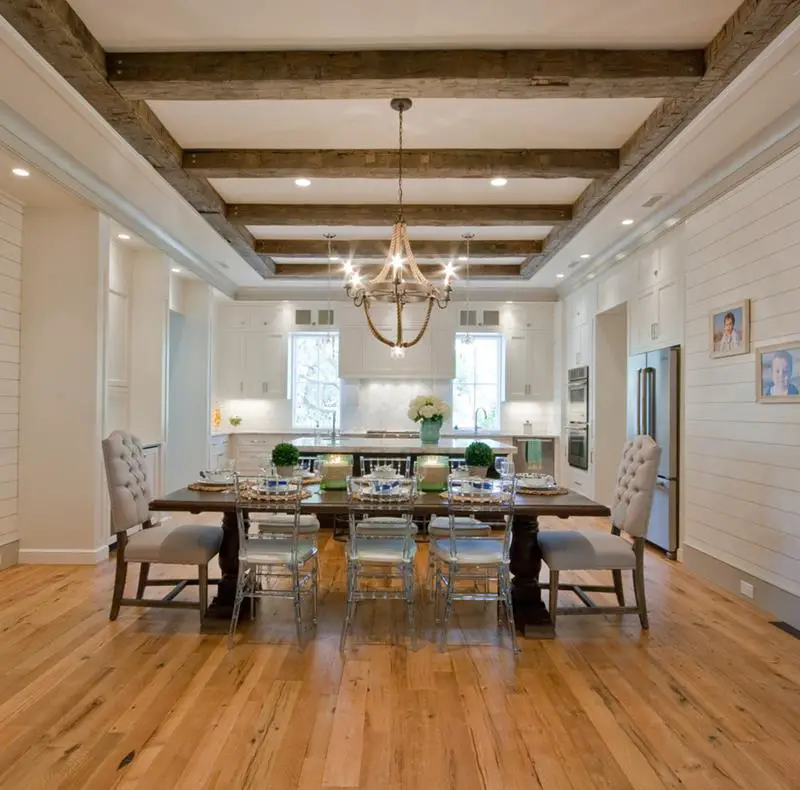 Photo by Ink Architecture + Interiors
We love how durable and weathered these hardwood beams are. They create a wonderful rectangular, ordered style in this dining and kitchen space.
4. Beautiful Durability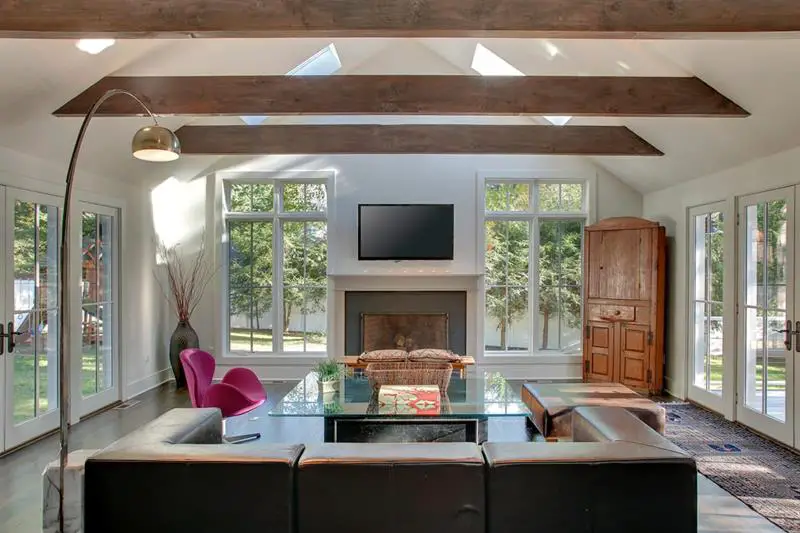 Photo by Sellars Lathrop Architects, llc
Exposed and hanging lower than the ceiling, these hardwood beams are shown off wonderfully by the natural light that shines in from the skylights above.
5. Hardwood Blends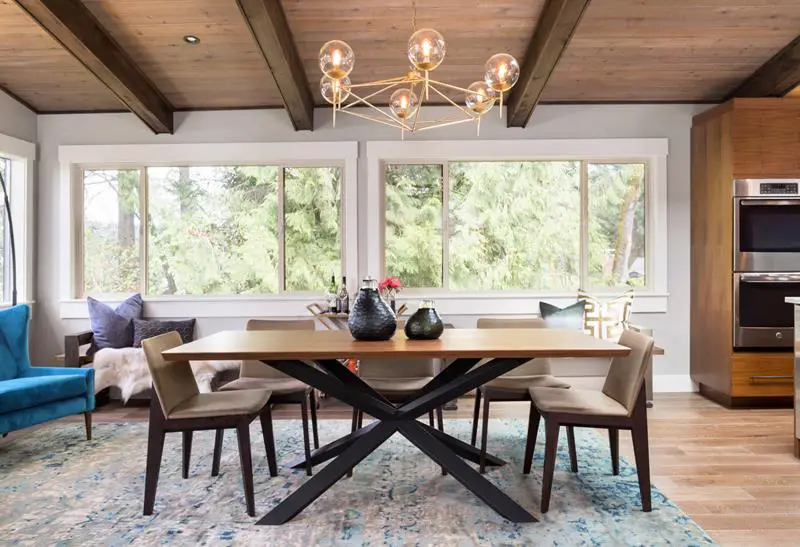 Photo by Ponciano Design
These beams are slightly darker than the hardwood ceiling, which works really well. This space takes on a slightly retro, slightly modern feel, combining hardwood with great furniture.
6. Complete Cathedral Style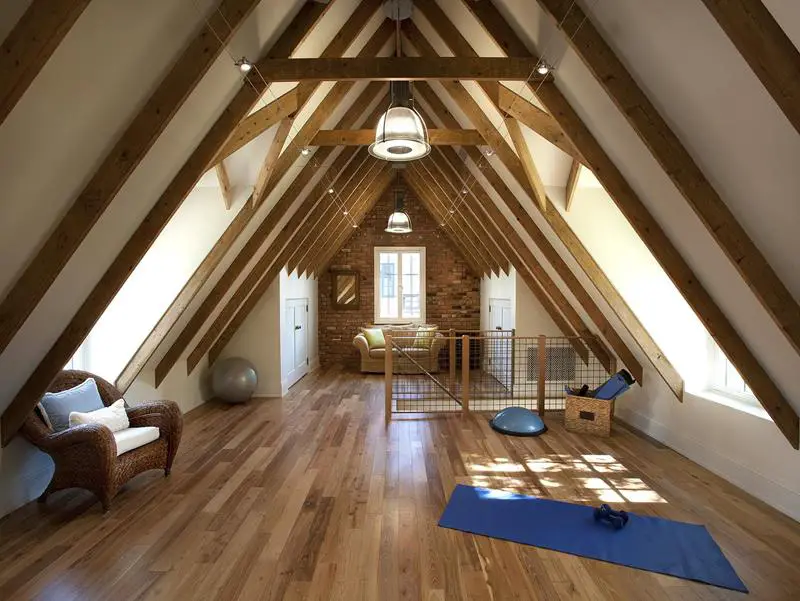 Photo by Candelaria Design Associates
In the upper portion of this home, this cathedral ceiling rises us and you get to see the bones of the structure. It gives a wonderful industrial loft vibe that is unmatched.
7. Contemporary Beam Blend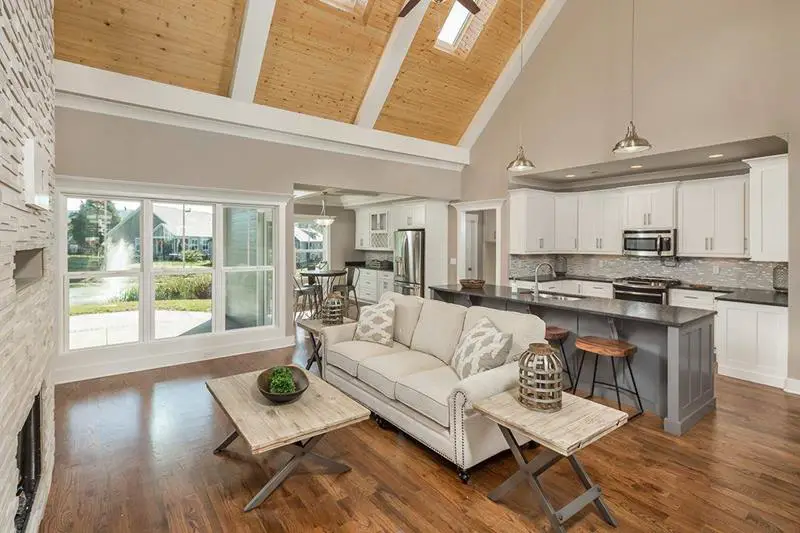 Photo by G.T. ISSA Construction LLC
This ceiling rises high above this area, giving the whole space an open style. The white beams that run across the plain hardwood in the ceiling create an amazing look.
8. Darker Beam Contrast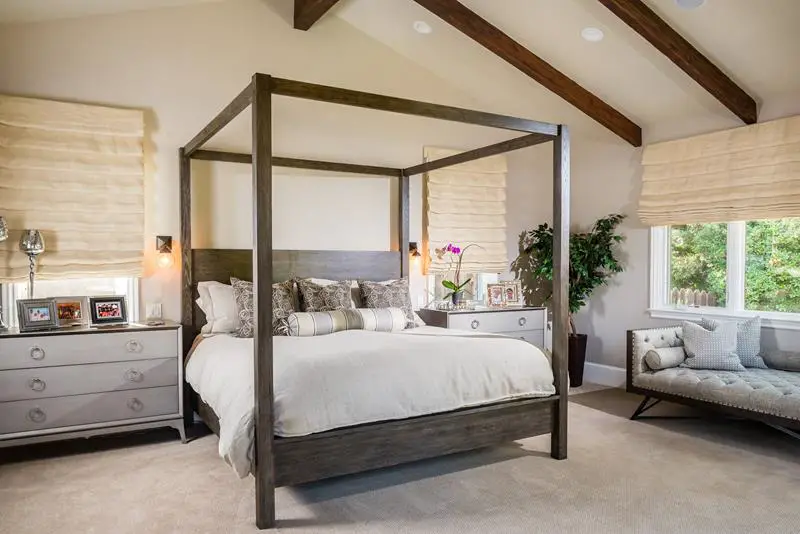 Photo by HKW Designs, Inc.
These simple hardwood beams give this space a slightly rustic and fully romantic vibe. We love how they work to create a sense of calm in their contrast.
9. Light Hardwood Beam Match

Photo by Bespoke Fine Interiors
These light hardwood beams run across this kitchen ceiling to contrast with the white walls. They are a wonderful match for the hardwood floor below.
10. Great Hardwood Trim Match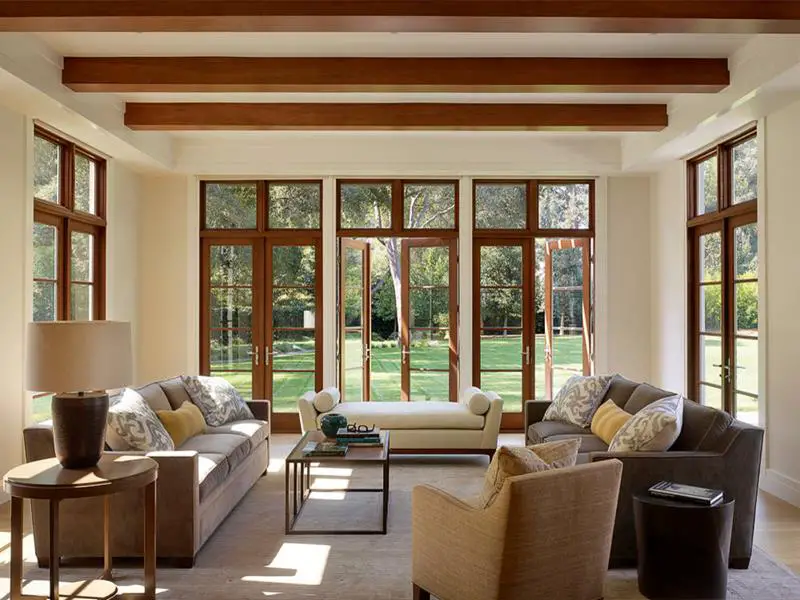 Photo by Aleck Wilson Architects
We love it when all parts of a room work together. This space has wonderful hardwood trim that matches the overhead beams so well.
11. A Rustic Setting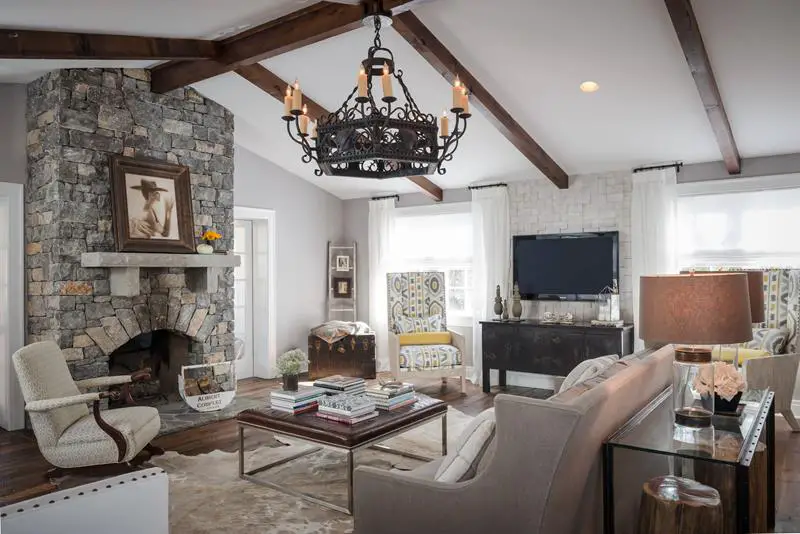 Photo by Hartert-Russell
This living room has a great rustic sense of style thanks to the stacked stone fireplace that rises to the wonderful darker hardwood beams overhead.
12. Sophisticated Design Style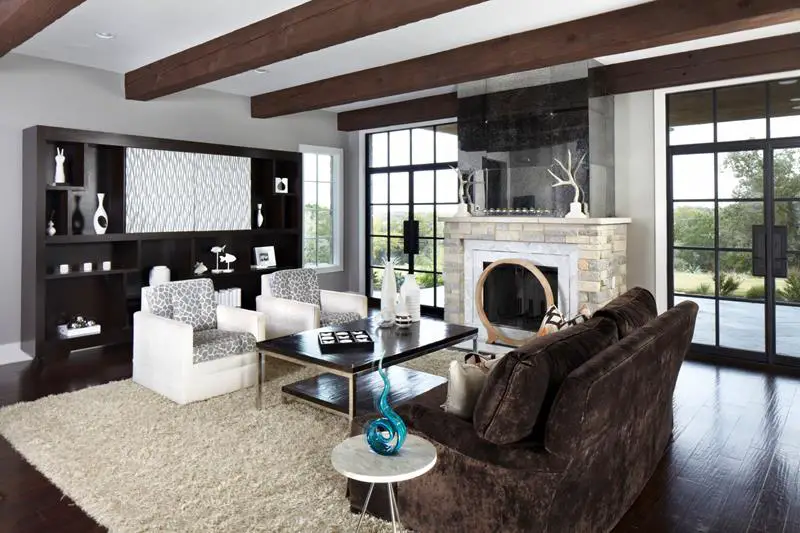 Photo by Square Construction
This room proves that exposed beams work well in a modern setting. Here, we have a contemporary design and modern furniture that is enhanced by the great hardwood beams overhead.
13. Lights In Between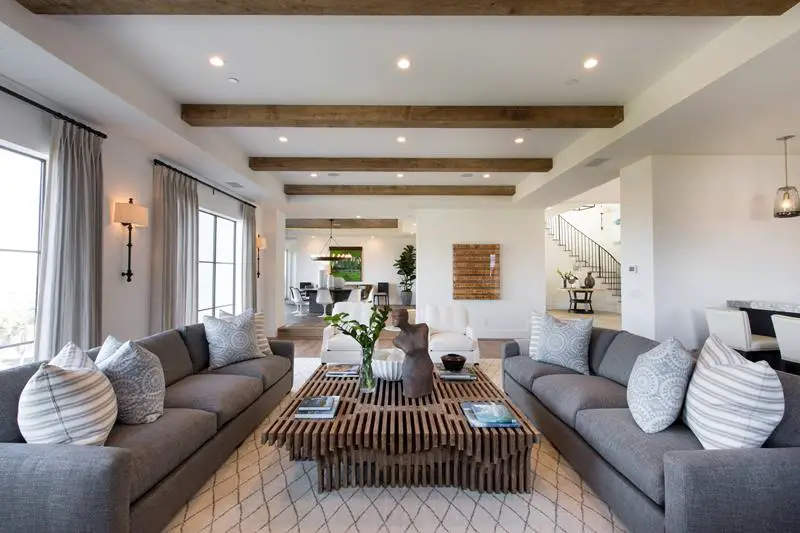 Photo by Denise Morrison Interiors & House of Morrison
These smaller hardwood beams are just the right size to give this space an accented look. The lights spaced in between work well to create a modern elegant style.
14. Mountain Spa Style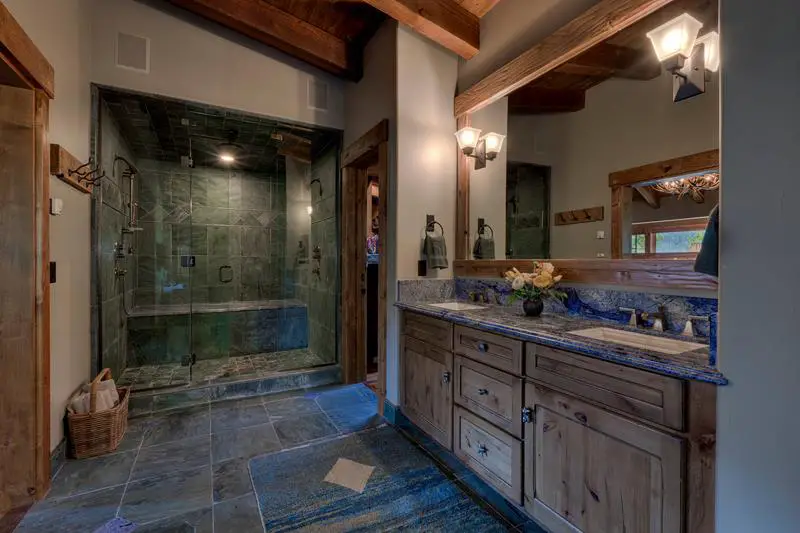 Photo by JK Architecture Engineering
This whole bathroom area is meant to give you a durable, rustic sense. With a wonderful hardwood style, from the ceiling and beams to the cabinets, this space has a rugged charm.
See Also: 14 Different Types of Ceilings for Your Home Explained
15. Complete Cabin Design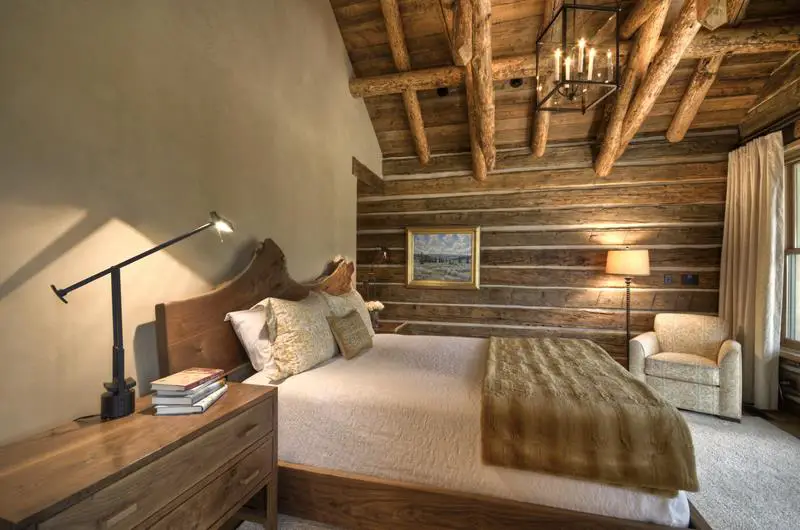 Photo by Laura Fedro Interiors, Inc.
We love how this cabin style room makes use of a minimal style. The hardwood furniture is perfect for this space and the round exposed beams overhead add character.
16. Easy and Durable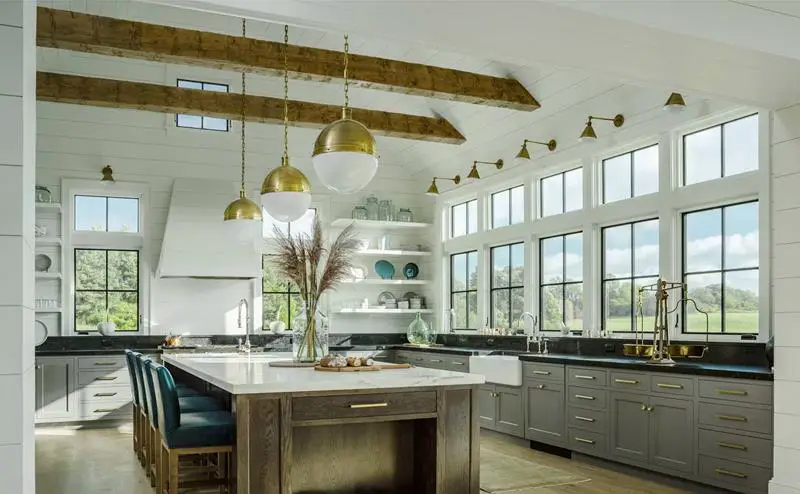 Photo by TruexCullins Architecture + Interior Design
These hardwood beams run the length of the kitchen and create a wonderful contrast to the white ceiling and walls. They give you the ability to use great fixtures that match.
17. Wonderful White Design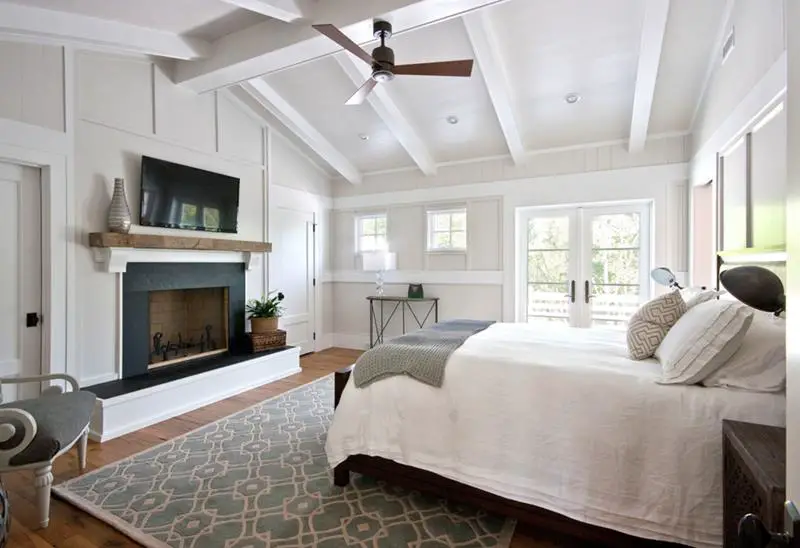 Photo by Ink Architecture + Interiors
Beams overhead don't have to be different colors than the ceiling to make a statement. Here, we see how well these white beams work to blend seamlessly into the environment.
18. Dark and Light Perfection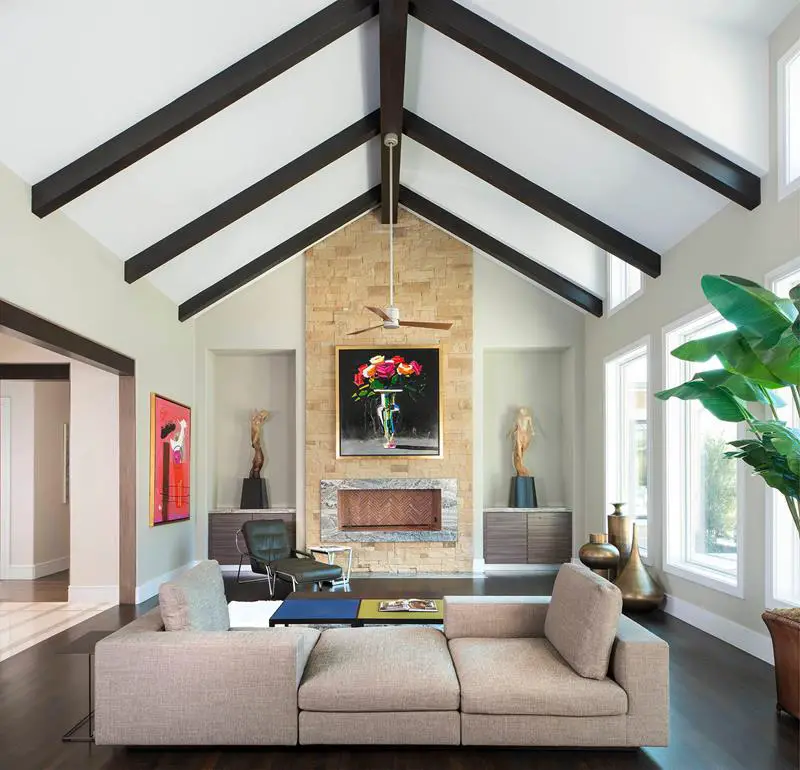 Photo by Sharif & Munir Custom Homes, Inc.
These bold and darker hardwood beams create an eye-catching contrast. Inside of this modern living room space, we love the materials and style of this room.
19. A European Style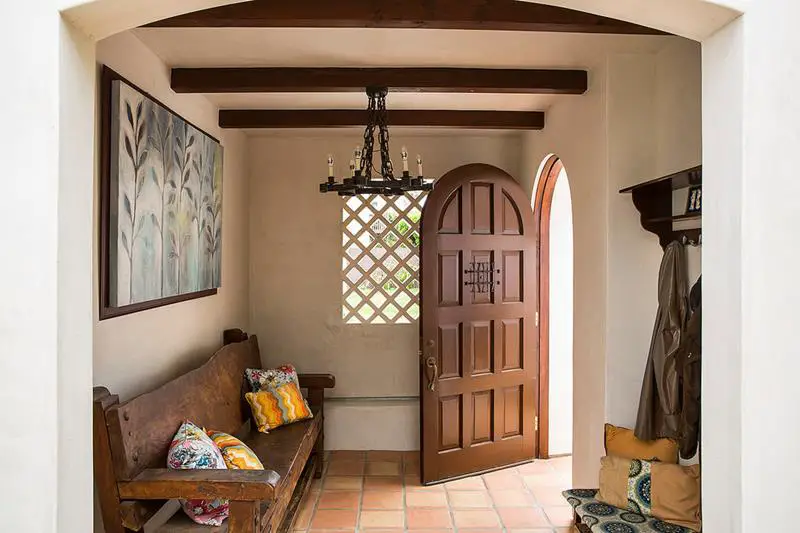 Photo by Buchmann Design
This European style entrance area has a charming and rustic appeal. The beams overhead match the rough and durable style of this space.
20. Weathered Durability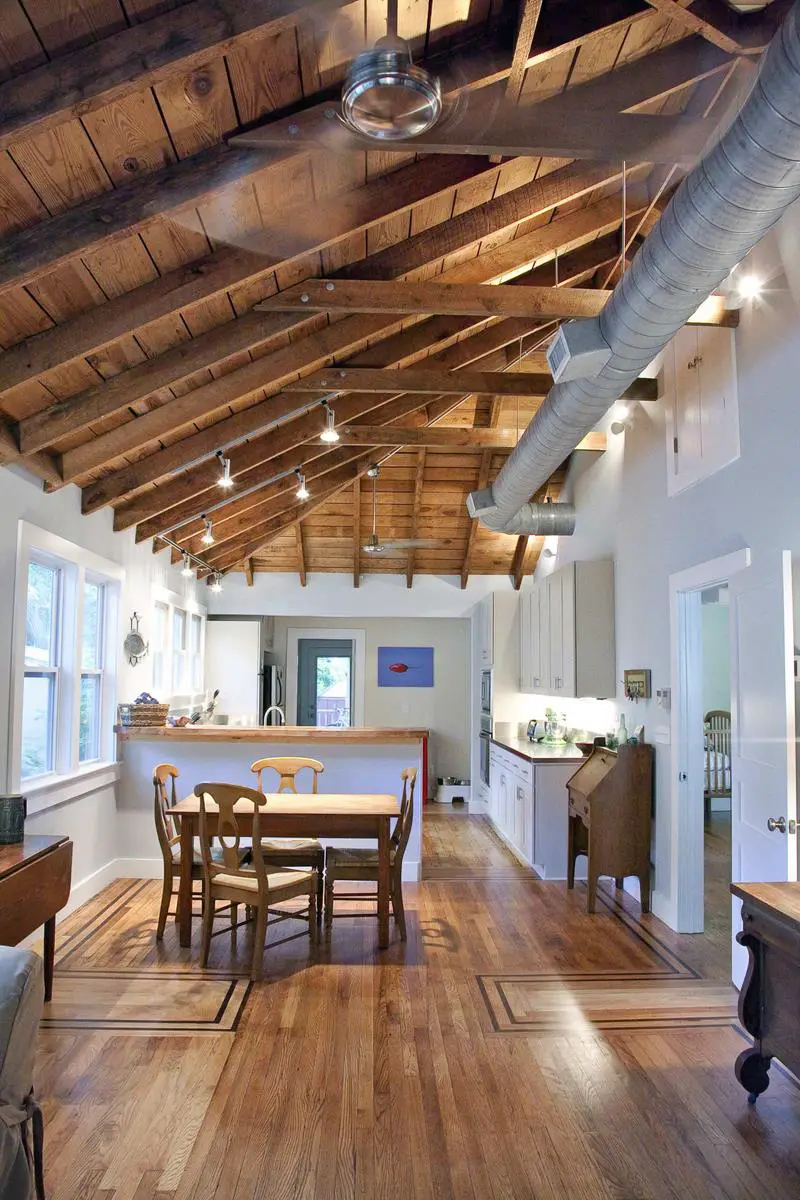 Photo by Charleston Home + Design Mag
The hardwood ceiling and beams overhead work so well with the industrial style of this connected space. With the exposed air vents and open floor plan, we live the overall look.
21. Calm and Handsome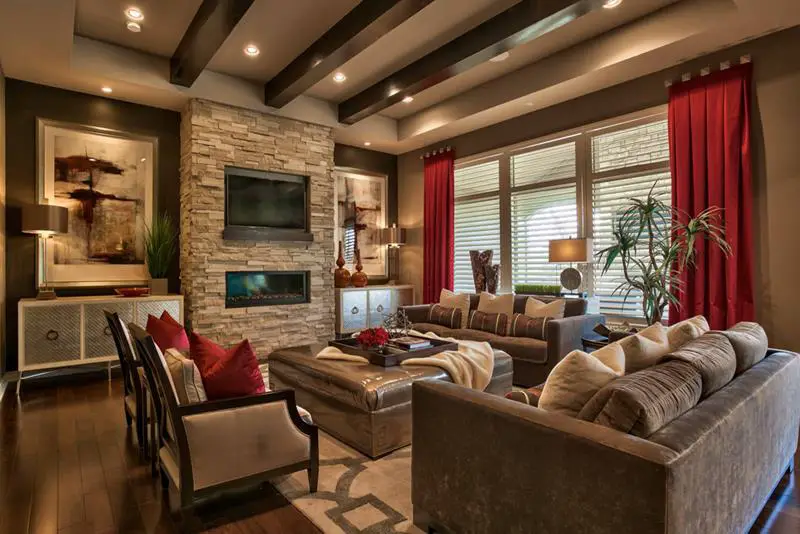 Photo by Falcone Hybner Design, Inc.
There is no understating how well this room works thanks to the hardwood beams overhead. They calmly become part of the environment, with wonderful lighting in between.
22. Contemporary Rustic Senses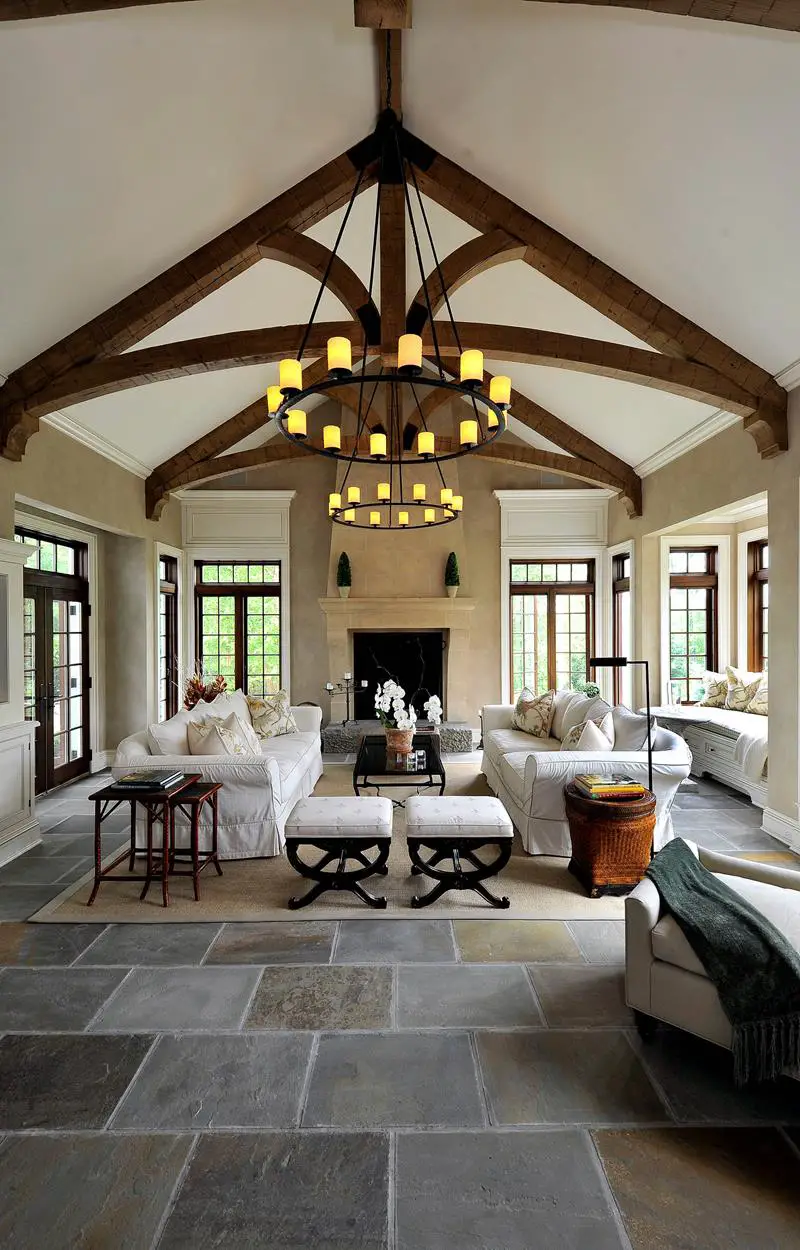 Photo by Legacy Construction Northeast LLC
The blend of curved hardwood beams overhead and durable stone style flooring is amazing. It gives this space a rugged look to go with a modern decorative sense.
23. White and Gray Contrasts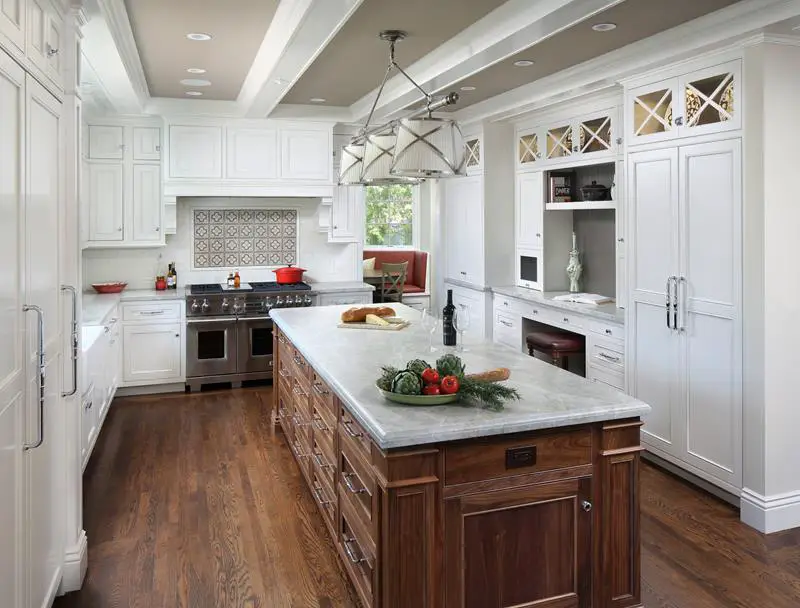 Photo by TRG Architects
The white beams that run through this kitchen work to accent the traditional style of the space. We love the contrasts created by the hardwood floor and island against the rest of the space.
24. Straight Wooden Beams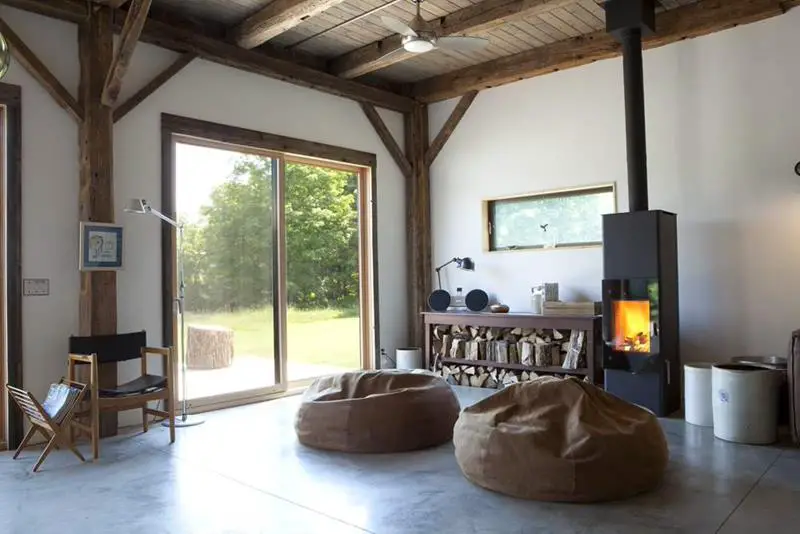 Photo by kimberly peck architect
The beams here run along the walls and the ceiling to give that bare exposure that looks so great in this loft space.
25. Cathedral Crossing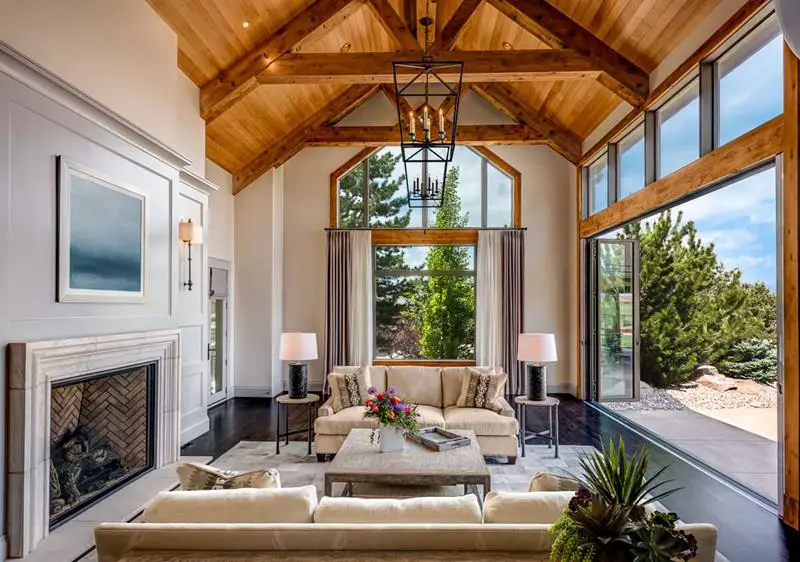 Photo by Ellis Construction, Inc.
We love how this ceiling and the A-frame beams overhead are natural hardwood to create a beautiful contrast with the rest of this living room area.
26. A Traditional Design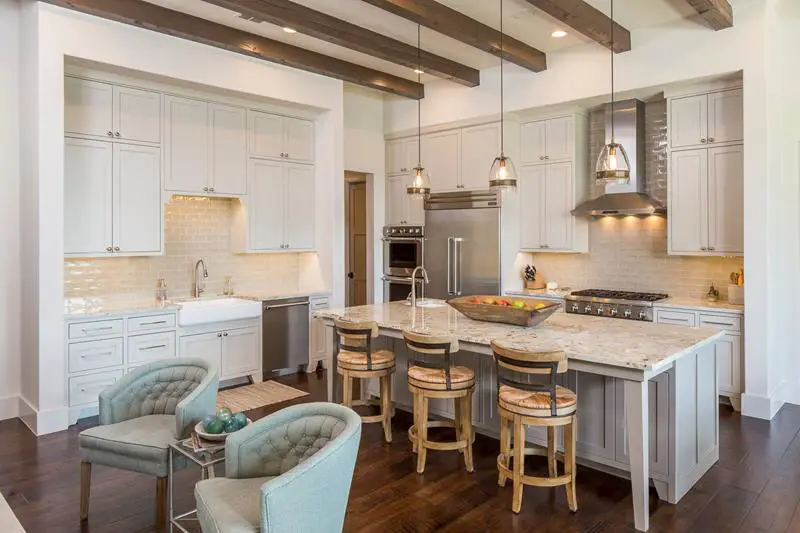 Photo by Sendero Homes
Solid hardwood beams run overhead in this kitchen to give a fantastic bit of character to this traditional space. We love how the beams and hardwood floor pair up to make a great look.
27. Rough Natural Look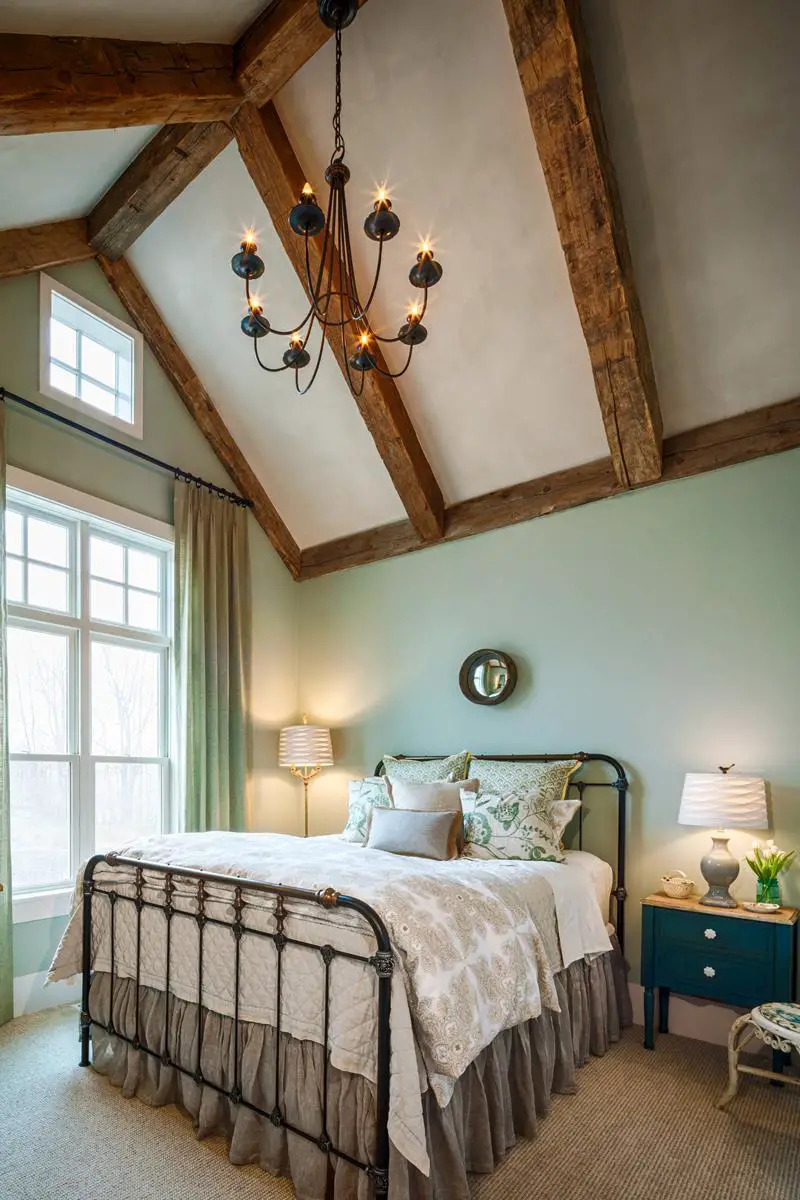 Photo by DeLeers Construction, Inc.
It is hard to beat exposed beams that take on a rugged and durable look like these do. They really work inside this cottage style bedroom, giving the whole room a rustic style.
28. A  Classic Feel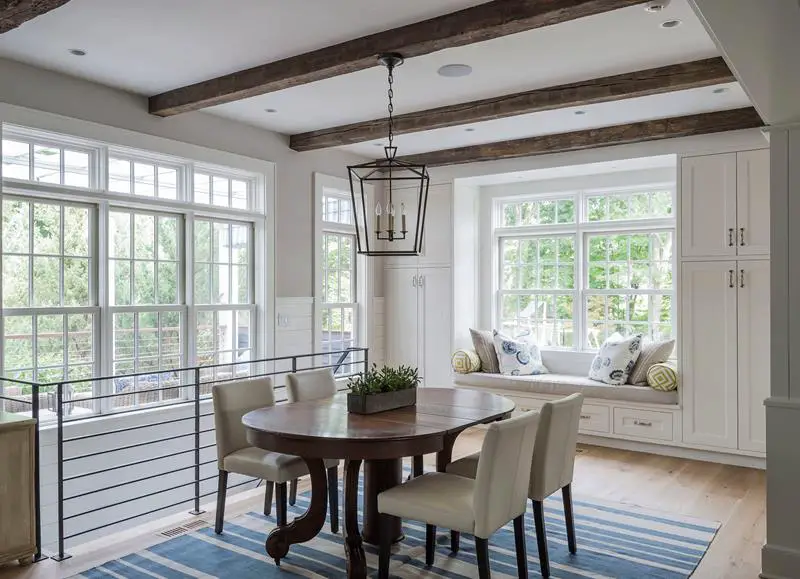 Photo by Sellars Lathrop Architects, llc
These hardwood beams run calmly along the ceiling, not drawing too much attention but still giving off the perfect amount of character for this calm dining space.
Don't Miss: 35+ Kitchens with Vaulted Ceilings (Photo Gallery)