Updated on March 25, 2022
Are you in need of knowing how to organize a small bedroom? Thankfully, there are several storage hacks for organizing a small bedroom.
Organizing a small bedroom can be as simple as putting up a few shelves, wall-mounted or hanging, and buying some drawer organizers, or upgrading beds and buying risers.
If you're looking to spend as little money as possible, then buy some plastic and mesh organizers and put them to use. If you have more money to spend, then consider buying a bed riser or even a new bed and putting up some shelving on the walls and ceiling.
Getting Started on Bedroom Organization
Before you start drilling holes in the walls and ceiling of your bedroom, you need to do a little planning.
Plan Your Budget
Any kind of remodel, even a simple small bedroom organization, can benefit from creating a budget. Start by determining the amount of money you're willing to spend.
Check out Some Retailers
If you're in need of storage ideas, then check out some online retailers, like the IKEA website, and peruse the site for furniture and storage tips. You can find all kinds of information in their table of contents and affiliate links.
Measure the Bedroom and Closet
Knowing how much space you have available will help you determine how to organize a small bedroom. You'll need to measure the entire bedroom and closet, this includes floor space, wall space, and the ceiling.
Measure everything twice to make sure the dimensions recorded are accurate.
How to Save Money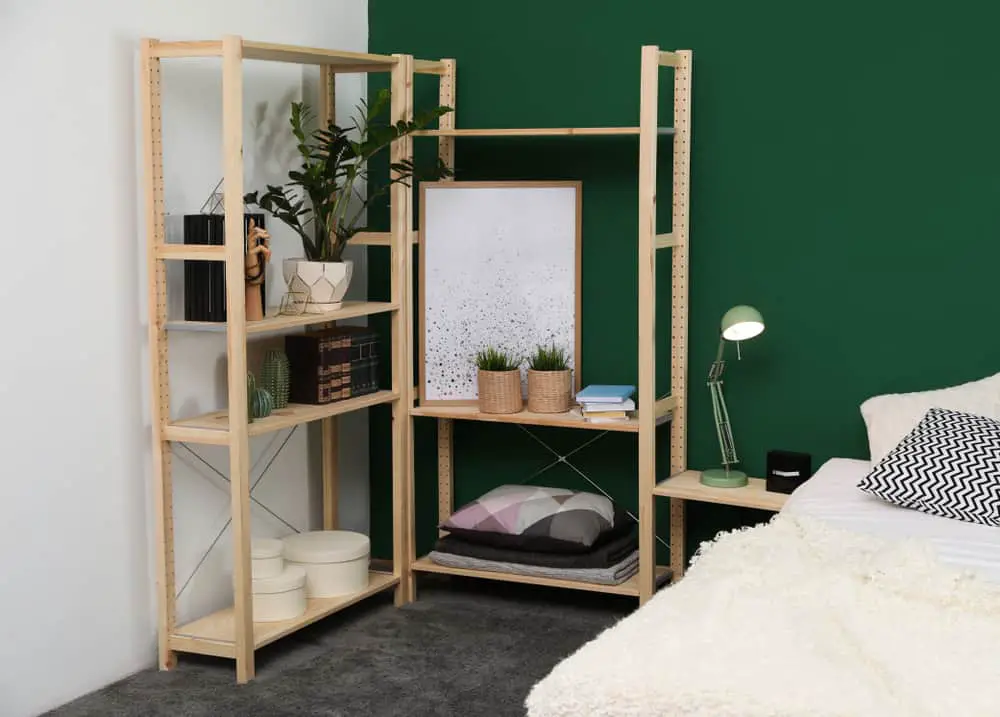 Stick to your budget and organize your small bedroom at the same time, there are all kinds of ways to save. You don't have to spend a lot of money on ways to organize a small bedroom.
DIY
If you like building and tinkering with your hands, then you might want to try a little DIY build for your bedroom organization.
With a few pieces of wood, some sandpaper, a few nails or screws, and some paint or lacquer, you'll have some shelves or drawers in no time at all.
You can also easily make a mesh or rope closet organizer to store all of your clothes and other small items.
Dollar Store
There are several cheap options available at the dollar store to help you organize your bedroom. Consider buying a plastic or mesh organizer for your shoes, umbrella, hats, etc.
Another great thing to buy at the dollar store is drawer organizers or storage boxes. They're cheap, can fit anywhere in your bedroom or closet, and can be used for all kinds of items.
Shop Online
There are all kinds of ways to save money when ordering online. Look around for online coupons and bundle deals for the best prices. Consider using an online price comparison tool that will scour the web and find you the best deal.
If you don't mind your items having been opened before and returned, then shop for open-box deals. This might be a little different with the number of Covid-19 cases still being so high, company policies to adhere to government health policies might still prevent open-box deals from being available.
Repurpose Something
If you like to get your money's worth out of something, then consider reusing something you have around your home for a storage place. This can be a basket that you hang up for storing light items off the ground or your hammock that you keep inside in the winter timer.
You can take an old bed frame and convert it into storage for underneath your new bed. You can also
You can easily transform something you already have around the house into a useful storage container.
Sticking to your budget doesn't have to be difficult, shop around and look for more ways to save. There's a lot of great ways to save money, be creative and see where the ideas take you.
Ways to Organize A Small Bedroom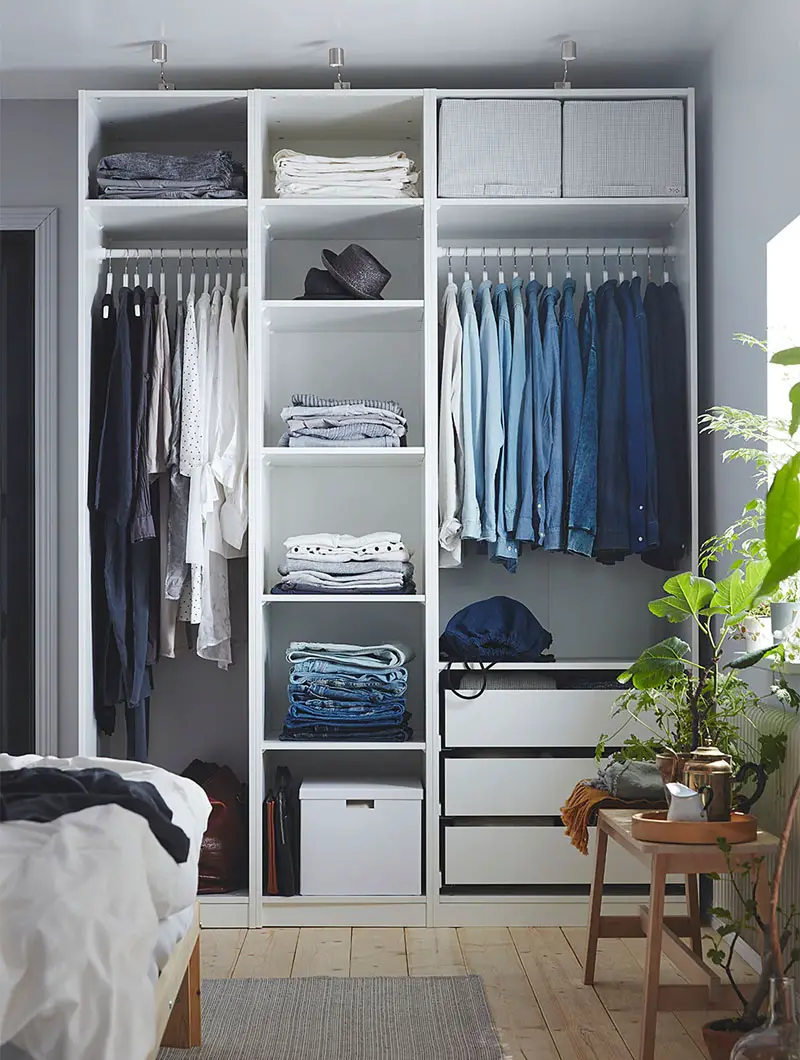 Organizing a small bedroom takes a lot of ingenuity. Here are several ways to increase and optimize the storage in your bedroom.
Bedroom Furniture
Given that almost every room has it, furniture is a great way to keep a small room organized. Consider whether your existing furniture works for you, or if you need to make some adjustments to what you currently have. A room without furniture is an empty space indeed.
Beds
If you have a small space to work with then consider some bed options to make your room feel a little less crowded.
Consider buying some bed risers so you can store shoes or storage boxes under your bed. Bed risers are a cheap and simple solution for creating more storage space.
If your bed is tall enough, you can store stuff under the bed frame, such as drawers, a shoe rack, or some storage containers. Some companies even make rollout storage racks for storing underneath a bed.
A murphy bed, while not for some, is a bed that folds up into the wall when not in use by anyone. This is a great way to make your bedroom seem more spacious.
If you don't want a murphy bed or bed risers, then just buy a platform bed. Given that it's naturally elevated higher off the ground, you might find this more suitable than placing risers under a traditional bed.
Dressers
For some people, their clothes storage is in their closet, not the drawers of a dresser, to keep them from getting wrinkly. If you have extra space in your dresser, then consider investing in some drawer organizers. They are a great way to organize everything in a room that you don't want elsewhere.
Organize a small bedroom by utilizing your drawers for shoe storage, your laptop when it's not in use, or for any other items that'll fit inside.
Shelves
Shelves are a standard in most bedrooms that provide storage space and can provide easy access to any items stored on them. If your room doesn't have any, several different shelving options are mentioned below.
Buy an Organizer
If you have a lot of items that need to be organized, then invest in an organizer. Depending on the type and style you buy, you can use it for clothes, to store shoes or even your books.
Closet Organization System
Given the sheer amount of clothes and shoes needed for a variety of occasions, you probably have a pretty full closet. Clear up some of the floor space and make your closet space more organized.
Closet Storage
If you keep your clothes in the closet, consider using s hooks to hang them up, or invest in some tiered hangers to use.
Closet Door
You can easily pin-up or nail a plastic organizer or some small shelves on a closet door. This is a great way to utilize small closet spaces because you can store clothes, shoes, books, etc.
Install a Shoe Rack
If you have a lot of shoes that take up space, then put up a shoe rack so you have a dedicated spot for shoe storage. Having a place for everything may seem like a little much, but it'll make extra storage space easier to come by.
Shelves
There are several types of shelving systems available to increase storage space in your bedroom. Although they all serve the same purpose, their setup varies.
Bookcase Shelves
For many, bookcase shelves are what they think of when shelving is brought up. Bookcases are a simple way to add storage space to a room without having to make any permanent changes, such as screw holes in the wall or closet.
Floating Shelves
A great way to maximize space in a small room is by hanging floating shelves from the ceiling, hence their name. You can put them anywhere and easily adjust the height to ensure you don't hit your head on them.
If you want to use floating shelves, remember to leave enough clearance for walking under them.
Wall Mounted Shelves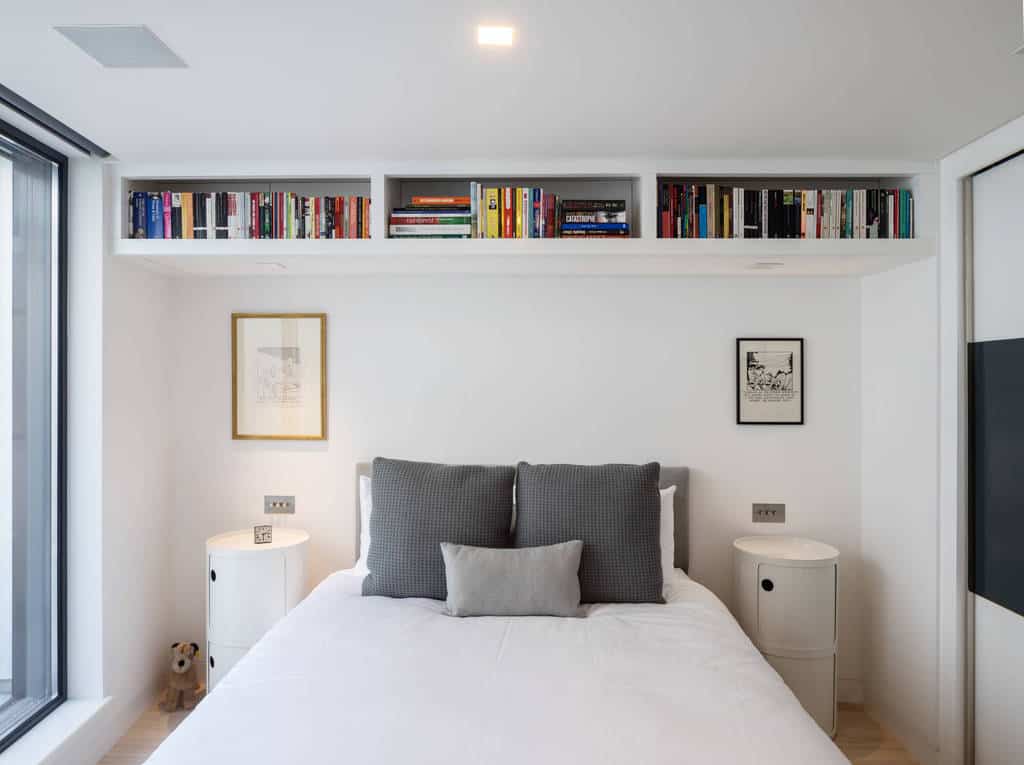 If you like shelves but don't want to buy some bulky furniture, then get wall-mounted shelves to install.
Shelves on a wall take up a lot less space than their full-sized counterpart. This extra space could have a storage box or a clothing rack underneath.
You can even install these in your closet for storing shoes or other items.
There are a lot of shelving options available to choose from, and they don't just have to go up on a wall. Consider the many ways to use shelving and which option works best for your space. This is where a layout would come into play.
Storage Space Place
In a small room, you have to get creative with managing your space. Take advantage of your ceiling, walls, and doors by putting up racks or shelves.
Use Your Wall Space
As mentioned above you can use your walls for shelves and so much more. Don't wall yourself into a cluttered home, maximize the space in your room.
Wall Desk
Some retailers, IKEA, and the likes make a collapsible desk that is mounted to the wall to take up less space. These wall desks work well for a small space when you need extra storage while not working or using the desk.
Bedroom Door
The door is just another part of the wall, so make use of that space to organize a small bedroom. You can easily pin-up an organizer to create some extra storage space or attach a simple shelf to the door.
You can even do this on other doors in the home.
Storage Boxes
If you need some stack-able storage containers, then invest in some storage boxes. They are a great way to make small spaces seem like more. Given their affordability and ease-of-use, they're the first choice for many.
Baskets
If you have a lot of baskets around the house, then use these to store anything that'll fit in them. Given their variety of shapes and sizes, you can easily find some to suit your needs.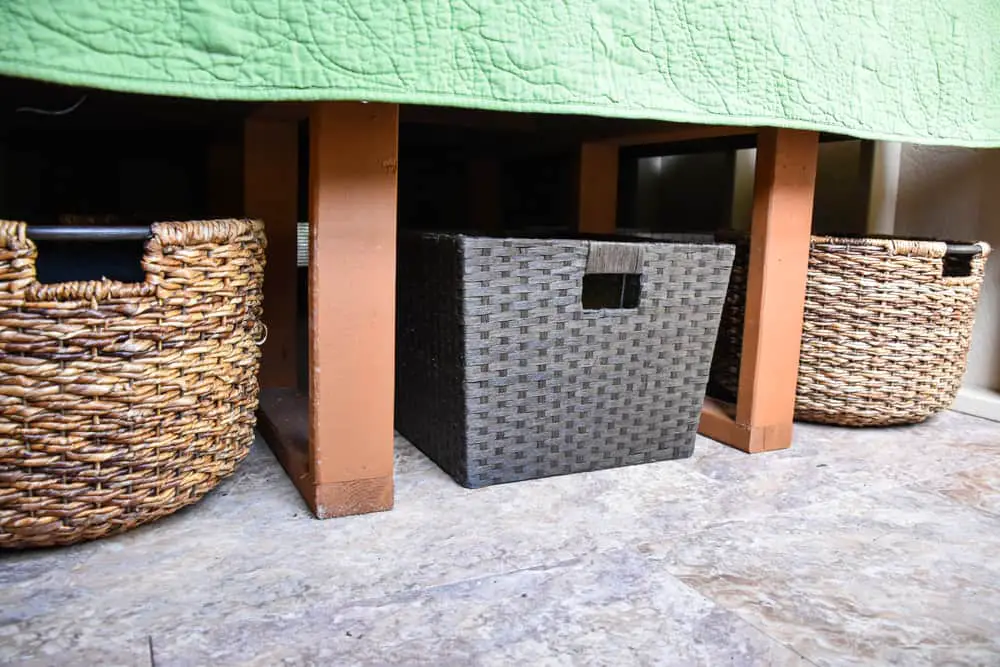 With the multitude of materials and weaving patterns that baskets come in, you're bound to have a few that match or complement your bedroom. Baskets have been around for thousands of years, continue the tradition and use them in your bedroom.
Don't limit yourself to the above ideas for ways to organize a small bedroom, do some more research. Being creative is how people get things done, you can soon be the one with the original ideas that everyone wants to implement.
More Storage Ideas
If you're still stumped on how to organize your bedroom, then consider searching through some of these resources for more ideas on storage and organization.
Follow a Home Decorator and Organizer on Twitter or Instagram
You can find out all kinds of information through shares of tweets and other posts through all kinds of social media apps. People enjoy sharing their tips with the rest of the world. Just create an account with an email address to get started.
Taking a few minutes a day to peruse through the content can help you in your quest for bedroom organization. You'll eventually have more ideas than you know what to do with and then you can start having followers of your own.
DIY Network
Check out more ways to organize closet space and improve your other real estate know-how with the DIY network. There's also something new to learn and this is a great place to get new information.
You can find great tips on closet renovations, ideas for increasing available bedroom space, and much more.
Storage Tips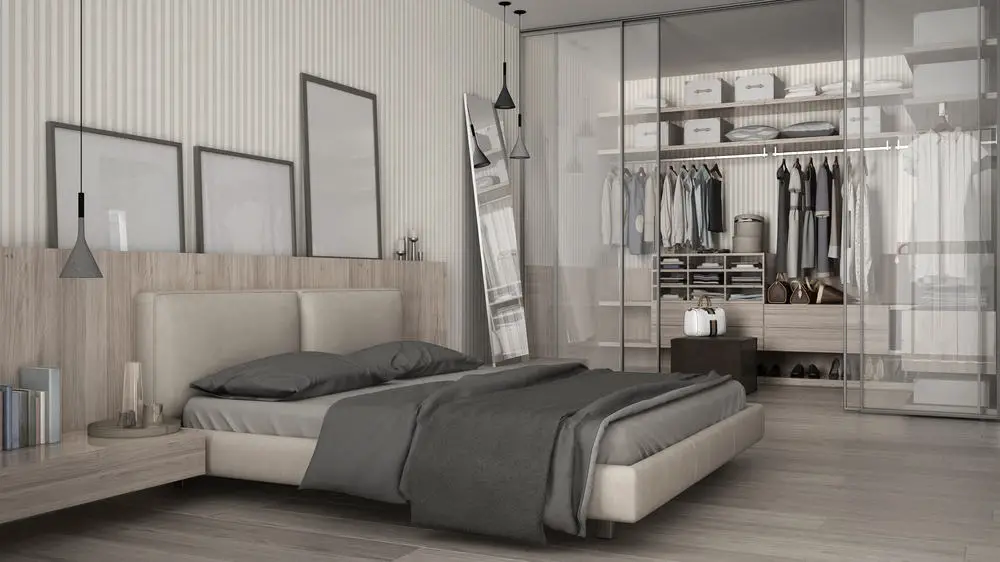 Keeping your small bedroom organized is an ongoing battle, don't let the clutter win. Here a few tips for organizing around the home.
Closet organization is a major factor for small bedrooms, make the most of yours.
Using the ceiling and wall space in small bedrooms will really help with bedroom access and openness.
Use the floor space under your bed, it's a lot of unused potential.
Drawers aren't just for clothes, make the most out of your dresser.
Don't just limit yourself to these tips you can find all kinds of information out there. Do your research and you'll have an organized room in no time.
Organizing a small bedroom can seem like a challenge, attempting to squeeze every little bit of storage space you can out of the place. Make the process easier and organize your bedroom and home more efficiently by applying some of these suggestions. You're bound to find a solution to match your budget.