Disclosure: This post may contain affiliate links. This means that at no cost to you, we may earn a small commission for qualifying purchases.
Updated on January 3, 2022
Rugs are an amazing things. They have been used for most of human history and offer a way to create amazing looks for any room of the home. Whether you need a rug that serves a purpose in the bathroom or kitchen, or you want something ornate and decorative, you can find a rug that works.
Since so many people get overwhelmed by the different types of rugs, we wanted to make this buying guide for you. We will walk you through the different styles of rugs. We'll give you the methods of production and construction styles, as well as different materials and patterns used.
Different Types of Rugs
Rugs can be used in so many settings. Here is a rundown of what types of rugs are available.
1. Area Rugs
Area rugs are popular because they can go in any room of the household. They work well over all types of floor materials, including carpet. You will find area rugs that fit any style and made from all kinds of materials, from the simple to ornate.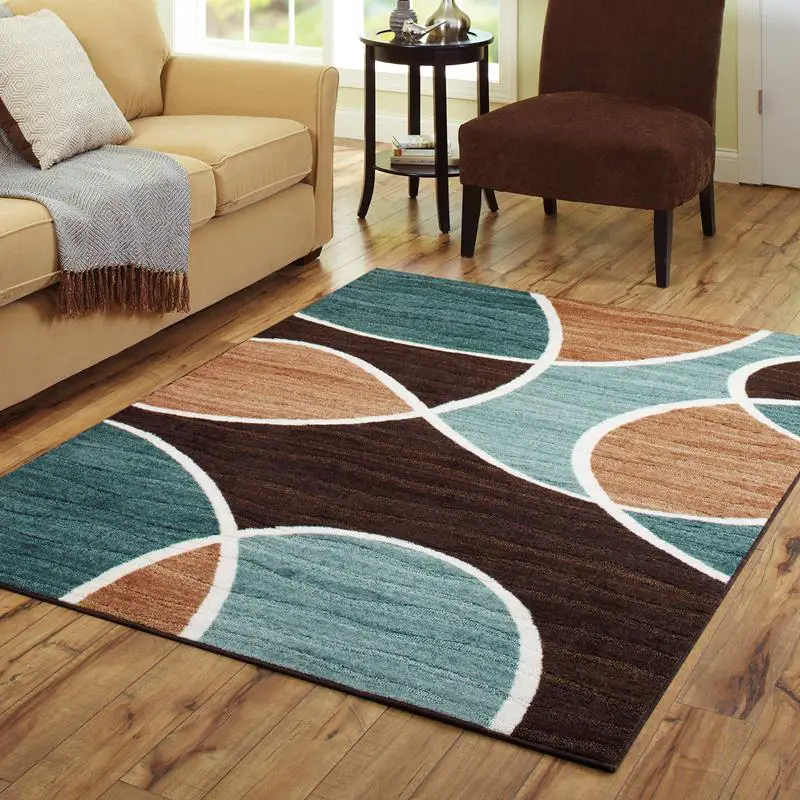 2. Hallway Runners
You will find that runners work well in slender areas like hallways. They give that extra added style to a space that sometimes goes overlooked.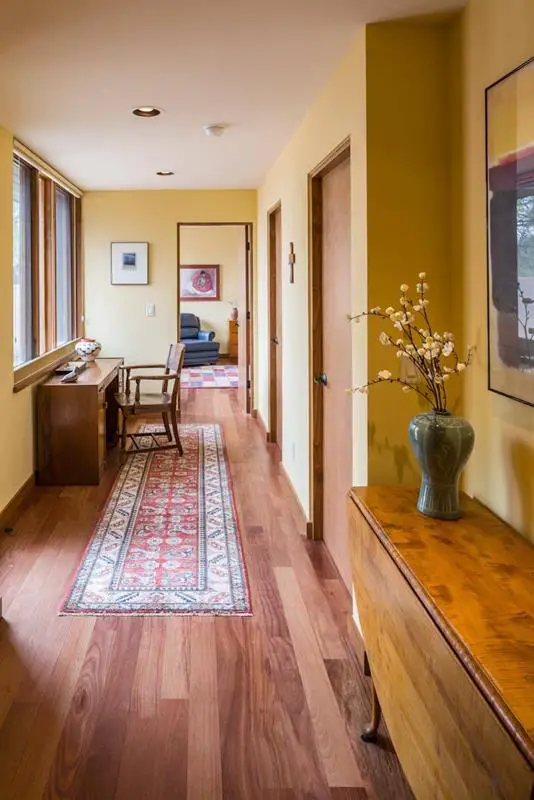 3. Kids' Rugs
Some people use plain area rugs as kids' rugs, and that is great. Actually, kids's rugs are just area rugs that come with fun and specialty designs. Get them with superheros on them and you will be your kids' superhero.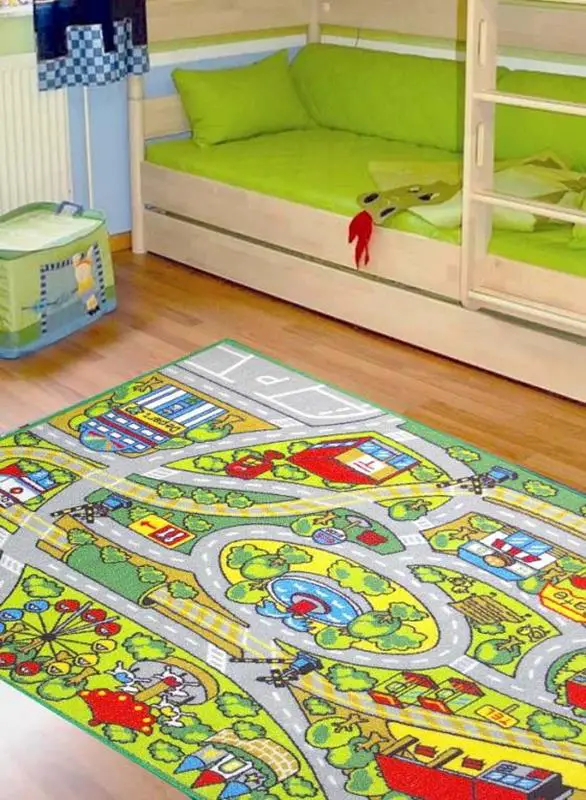 4. Kitchen Rugs
Kitchen rugs work as both a functional item and a decor piece. Find a style that matches your kitchen and you'll love the look you get.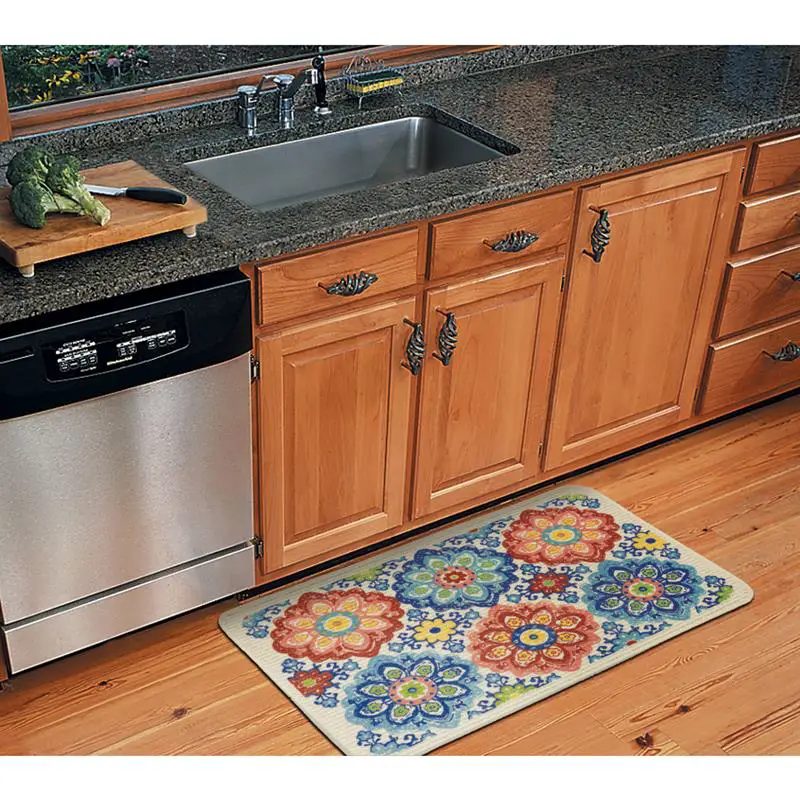 5. Stair Runners
Some people leave their stairs without anything covering them, but some people want to ensure a little extra stability when they go up and down. Stair runners can really enhance the look of your stairs.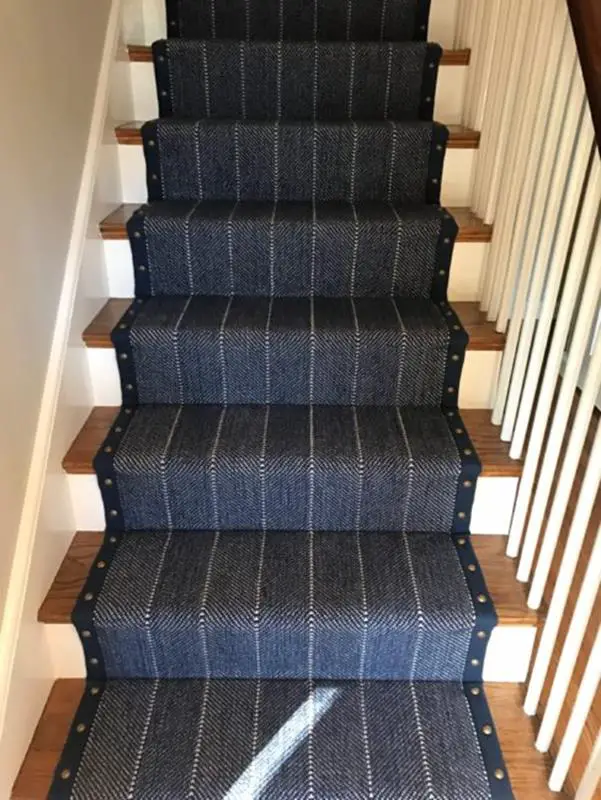 6. Bath Rugs and Mats
We need bath mats. Nobody wants to slip and slide when they come out of the shower. You can find bath mats that range from ornate to utilitarian, but they all serve a purpose.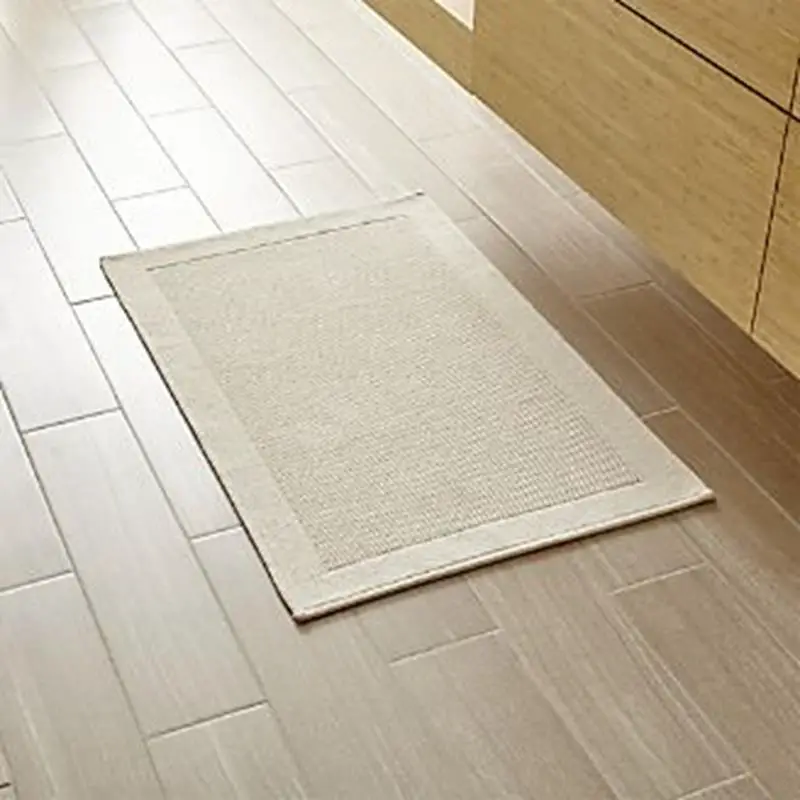 7. Door Mats
Who doesn't love a good door mat? They give people a warm welcome into your home and somewhere to wipe their feet. People say they are the most maligned of all the rugs because they work so hard to welcome us and we just stomp on them. That's okay, we love them.
8. Outdoor Rugs
Many people don't think about putting rugs outside, but they make ones just for the elements. Spruce up your patio or deck with a beautifully designed rug.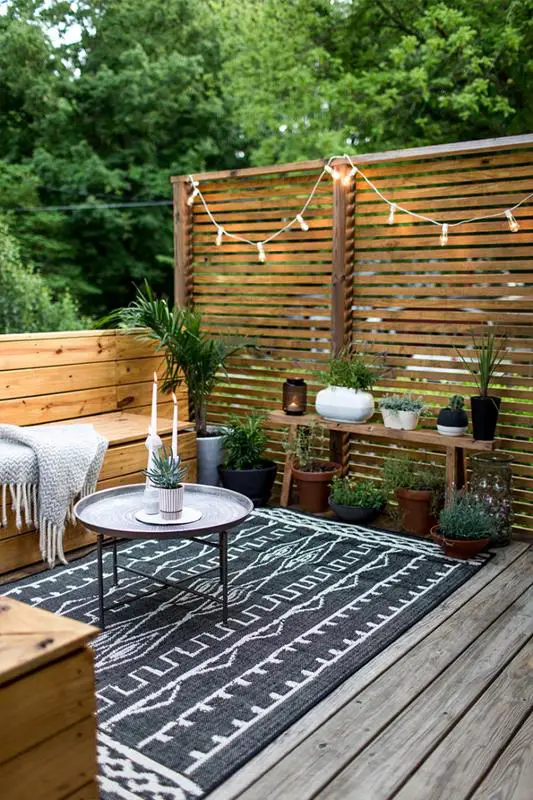 Production Method
Rugs have been around for centuries. Machines haven't. In the past, people passed their trade of making rugs down from generation to generation. There are still many people who hand weave rugs today, but machines make the bulk of our rugs.
1. Hand Woven
Different cultures around the world have used differing methods to make rugs. Rug making was, and still is, an art form. If you want to get a hand woven rug, expect to pay a premium. You are paying for passed down knowledge and extreme skill.
2. Machine Woven
Machine woven rugs are popular simply because they are less expensive. Machines can churn out beautiful rugs, ones that mimic hand woven rugs, at a high rate. These will still look great, and are what you will likely find at most rug stores.
Construction Styles
1. Knotted
If you've seen a traditional Persian rug, then you've likely seen a knotted rug. They are created by knotting the fiber of the rug together. Whether it is made by machine or by hand, the knot it cut when it is made.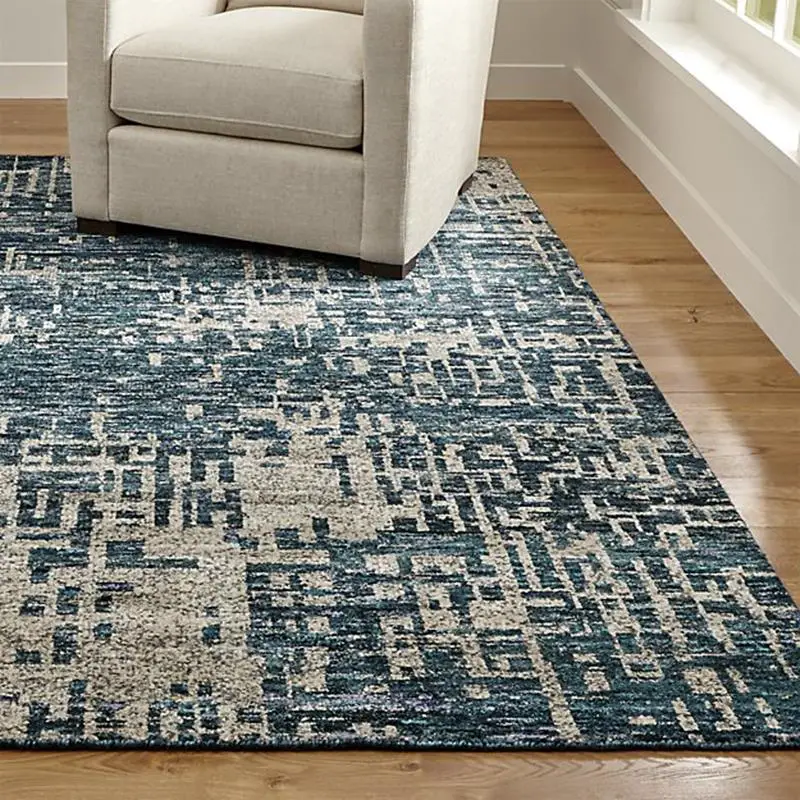 2. Hooked
If you have seen a checkerboard pattern on the back of a rug, then you have seen a hooked rug. The fiber is hooked through the holes in the backing to create the rug.
3. Braided
Braided rugs are a classic American design. Long sections of cloth are braided and then sewn together. These are commonly oval or round rugs.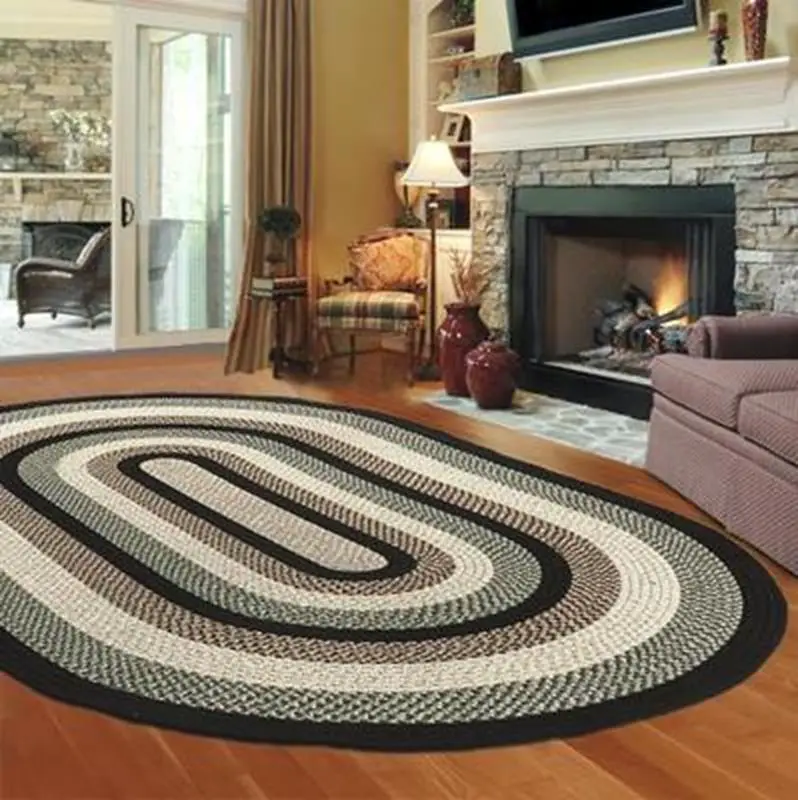 4. Flat Woven
A flat woven rug is similar to a knotted rug, except the knots are not cut. They are continued to create more knots. They are able to be made more quickly than knotted rugs.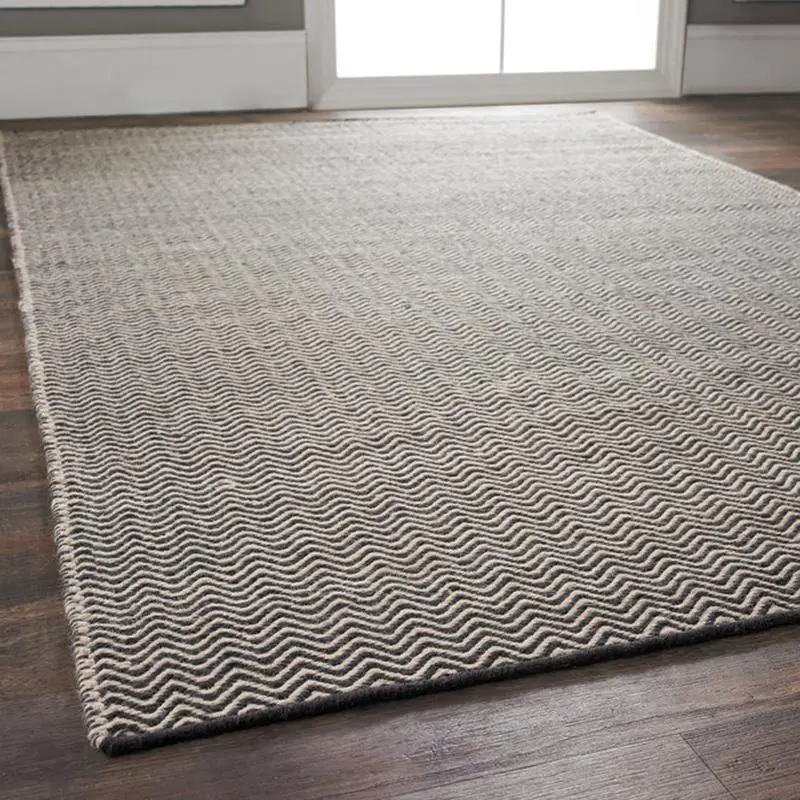 5. Tufted
With a tufted rug, fibers loop through the rug's backing. The fibers are either then left looped or cut evenly across.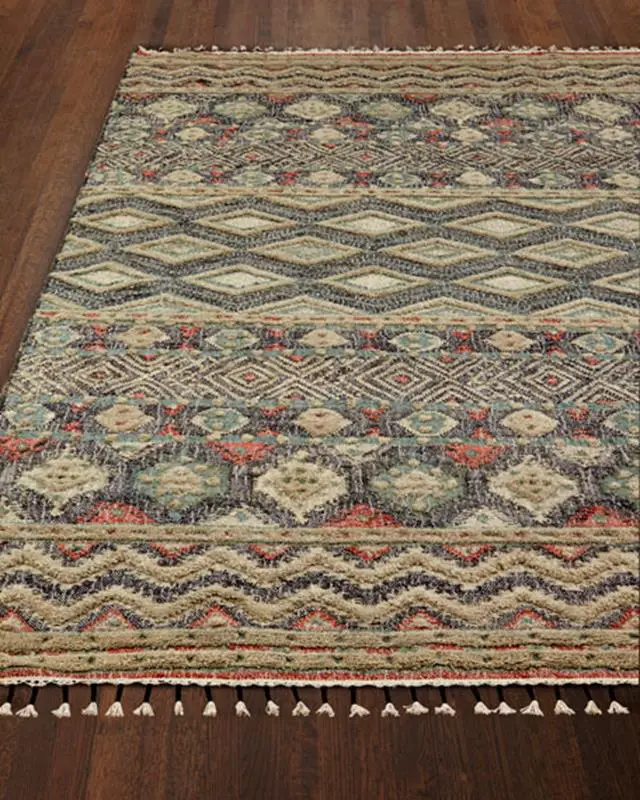 Rug Shape
1. Rectangular
We've all seen or used rectangular rugs, and they are the most popular. We see them in living rooms much of the time, but they work in most any room.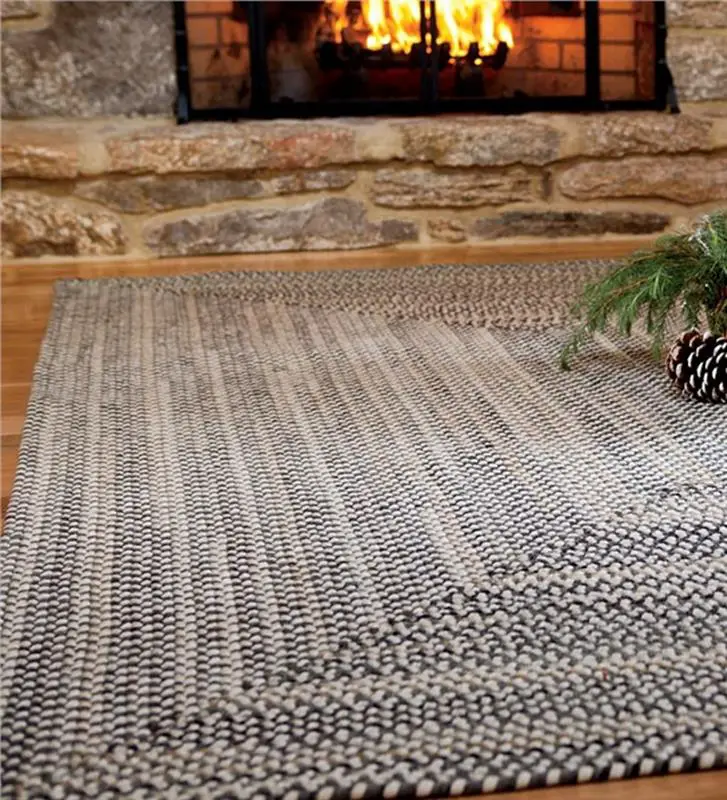 2. Square
Similar to rectangular rugs (squares are rectangles after all), they serve the same purpose and fit the same rooms.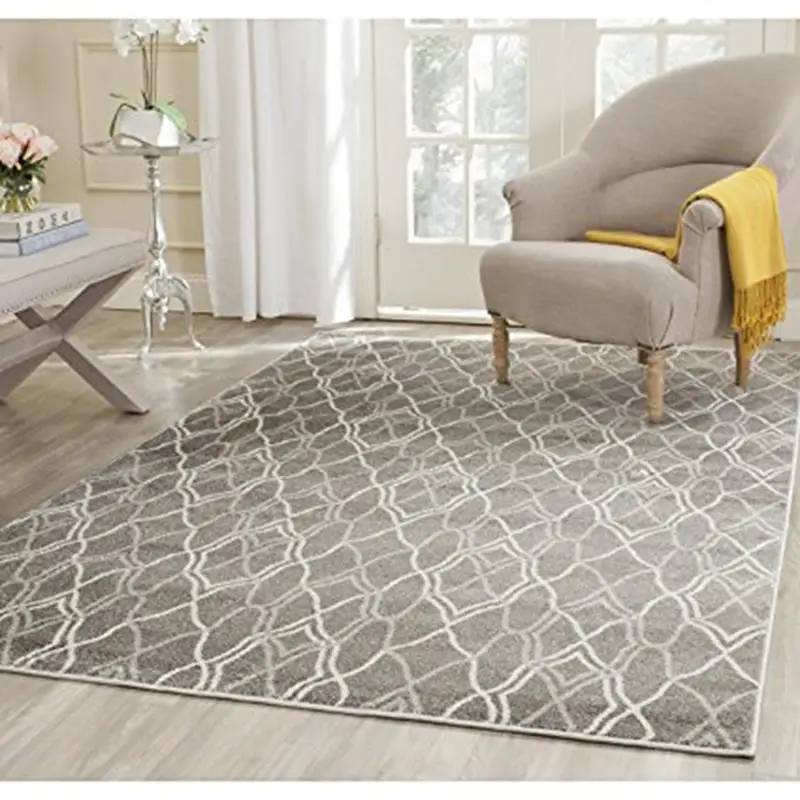 3. Runners
Runners are gong to be longer rectangles. They are slender to fit areas like hallways or stairs.
4. Slices
These are going to be your half-moon shaped rugs. You will see these with door mats, kitchen rugs, and bath rugs.
5. Oval
Oval rugs are popular and many people use them where they might use rectangular or square rugs. You will also find many bath and kitchen rugs are oval in shape.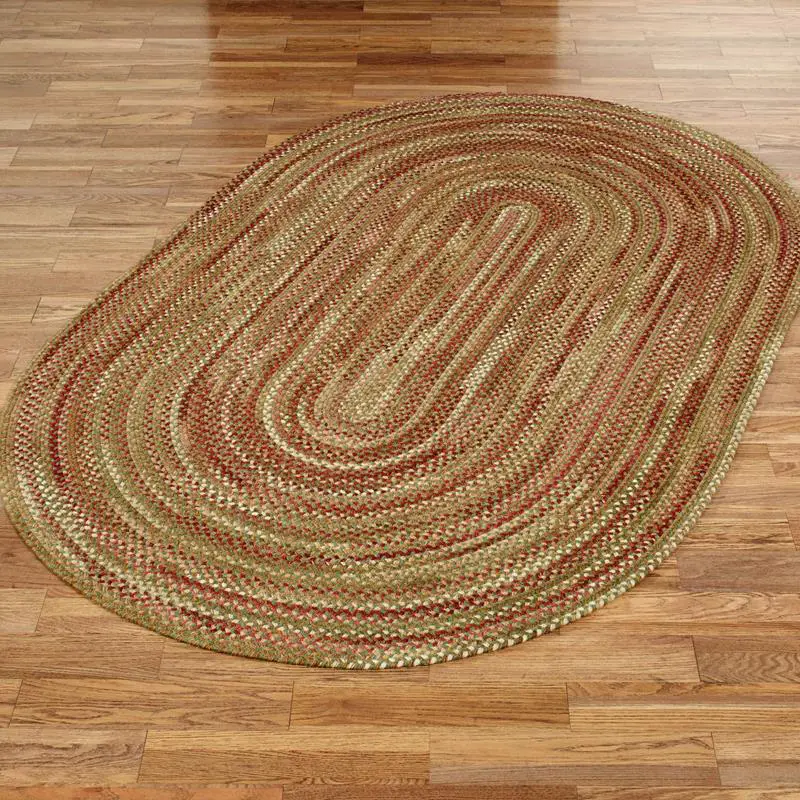 6. Octagonal
With eight sides, octagonal rugs are wonderful decor pieces to spruce up a room. They can go under a table or near waiting areas.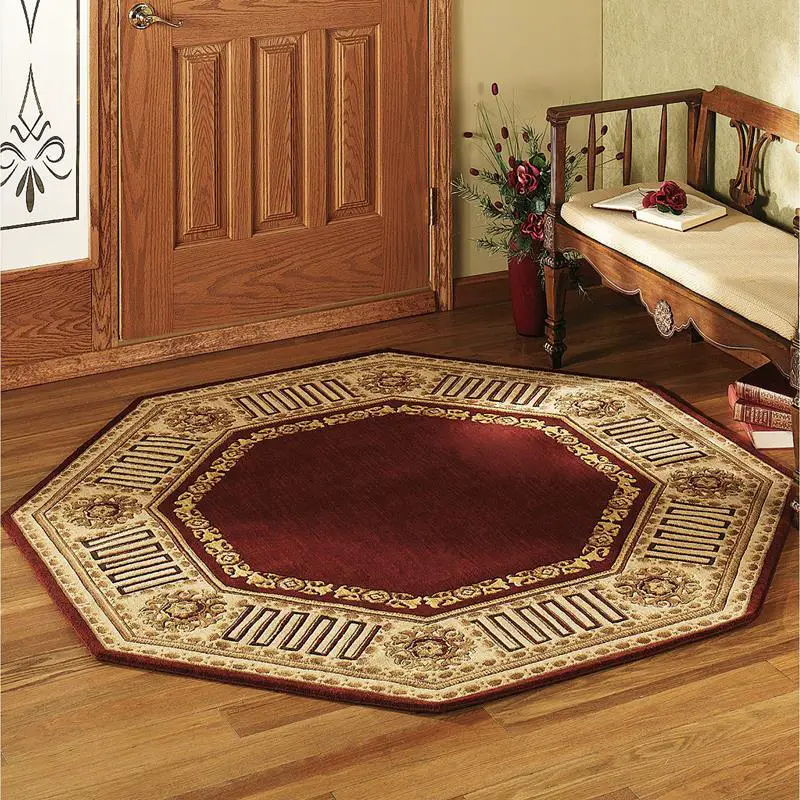 7. Round
Round rugs are great accent pieces and they also work in the same places as rectangular and square rugs.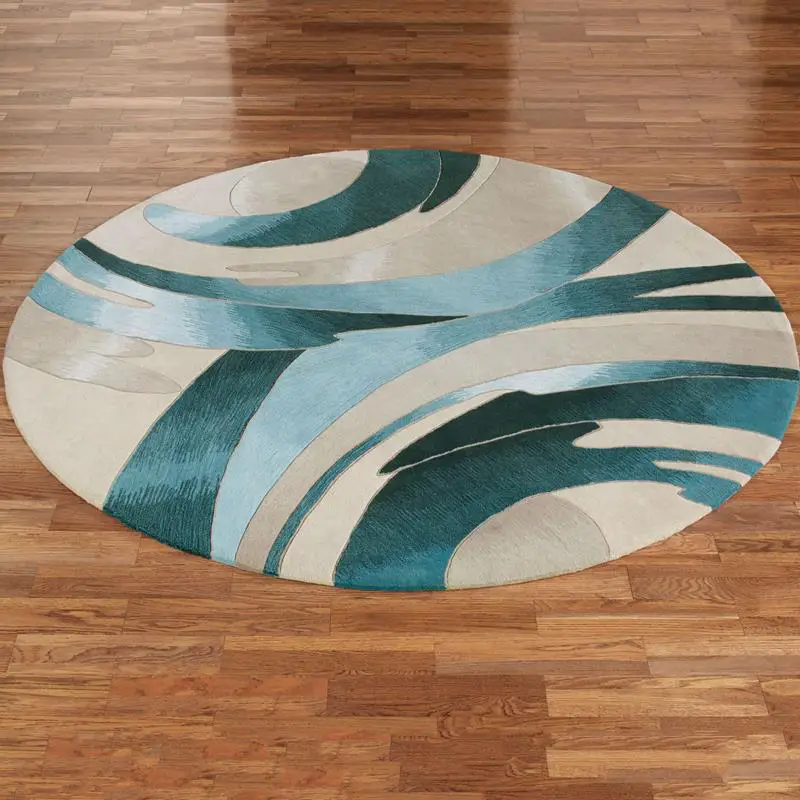 Style
1. Modern
A modern style can be confusing to define, especially since one person's modern may not be the next person's. Typically, when we talk about modern rugs, we are discussing pieces from the late 1800s and buck the trend of the traditional styles. The styling is simple and works well with more contemporary home decor.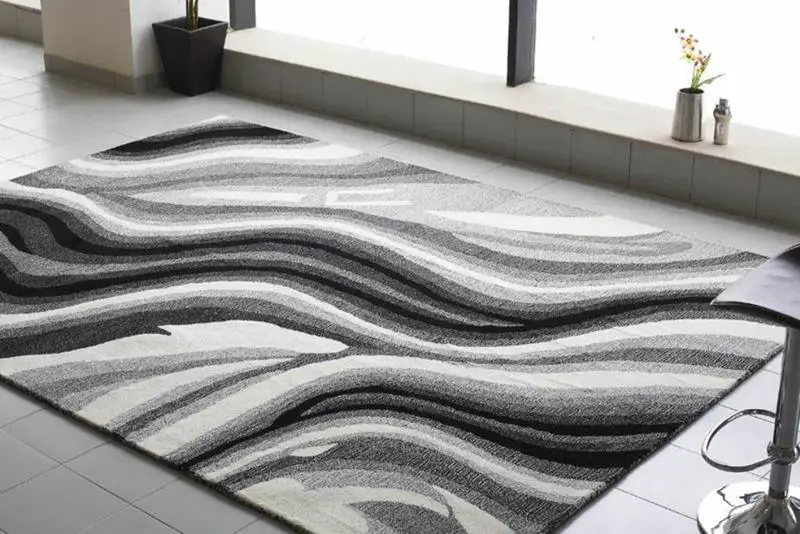 2. Traditional
With designs like flowers, vines, and Victorian era styling, traditional rugs are going to be ornate and have a border that stands out. You will find these in dining rooms or nicer seating areas and they have been around for centuries.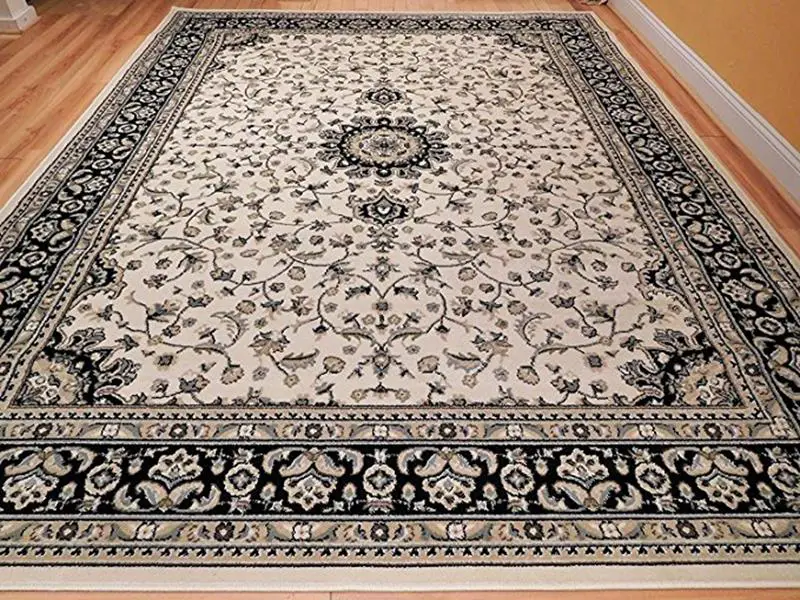 3. Lodge
A lodge style rug is exactly what it sounds like – something that you would find in a ski lodge or other outdoor style lodge. They will feature natural settings and be fairly textured. These styles are meant to bring you a welcoming feeling at your home away from home.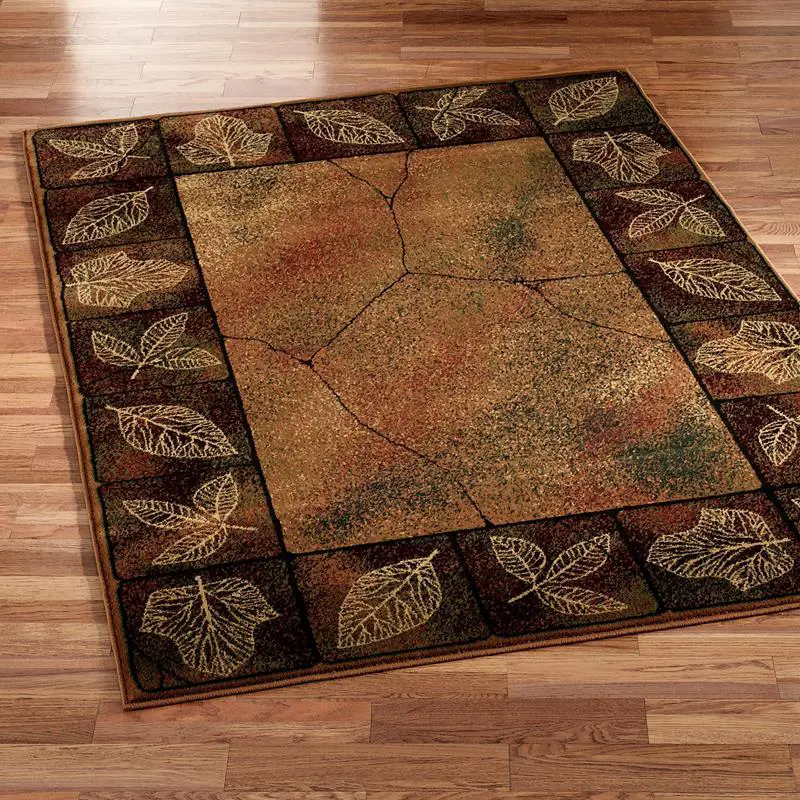 4. Tropical
Tropical rugs will give you a scene that you would associate with a lush type of environment. Leaves, flowers, and vines will adorn then and you will have a variety of tropical colors.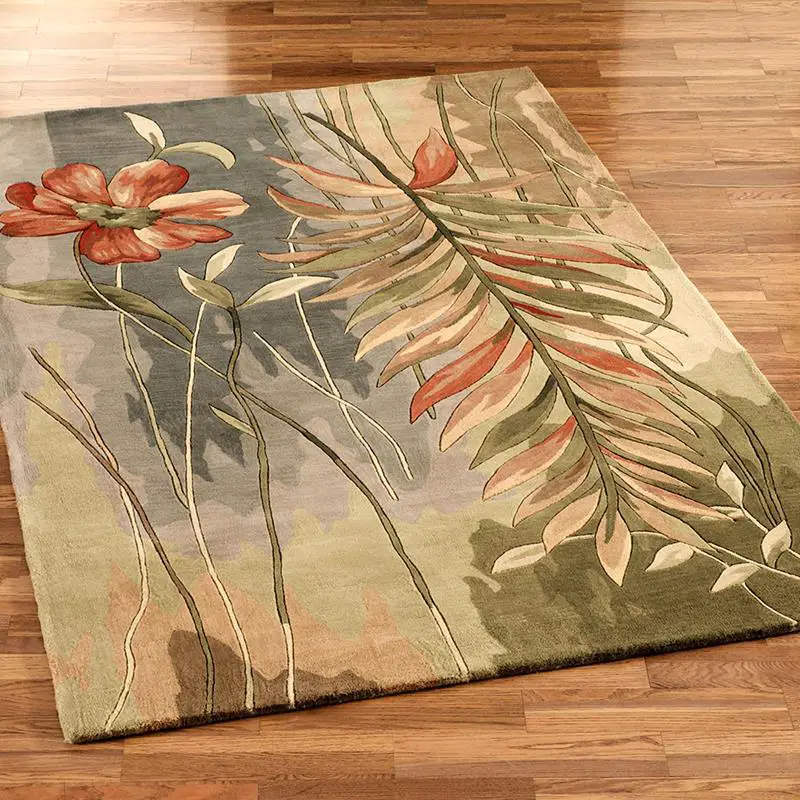 5. Scandinavian
Minimal, functional, and utilitarian. Scandinavian rugs will be light in color and won't call a lot of attention to themselves. They will feature simple patterns and will look wonderful in so many rooms.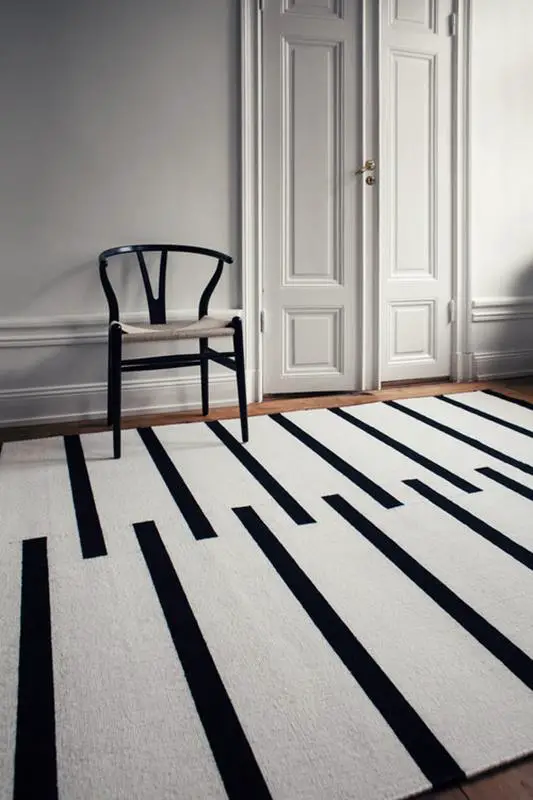 6. Bohemian
Bohemian rugs run with a range of styles, but all have that signature "go against the trend" idea. Ranging from bright to muted colors, Bohemian rugs mix and match colors and patterns.
7. Coastal
Coastal rugs are meant to take your mind to the beach or the sea, and will often feature scenes from your favorite sandy places. Shells, sea knots, or ships may adorn these rugs.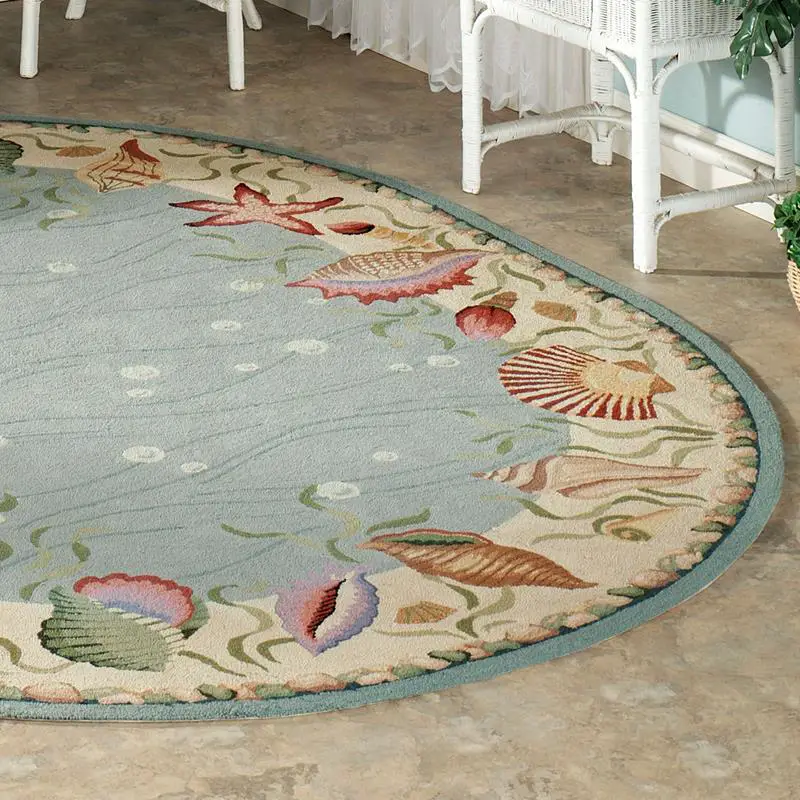 8. Country and Rustic
A country or rustic rug will have a bucolic sense of style meant to have you feel the charm of the simple life. With earth tones and often featuring early American folk art, these rugs bring a classic sense to any room they are in.
9. Industrial
Industrial rugs started out a utilitarian pieces, serving their purpose in a mud room or garage area. They are usually durable and made with one color. With people falling in love with a more simple design style, these rugs have become popular for minimal designs inside the home as well.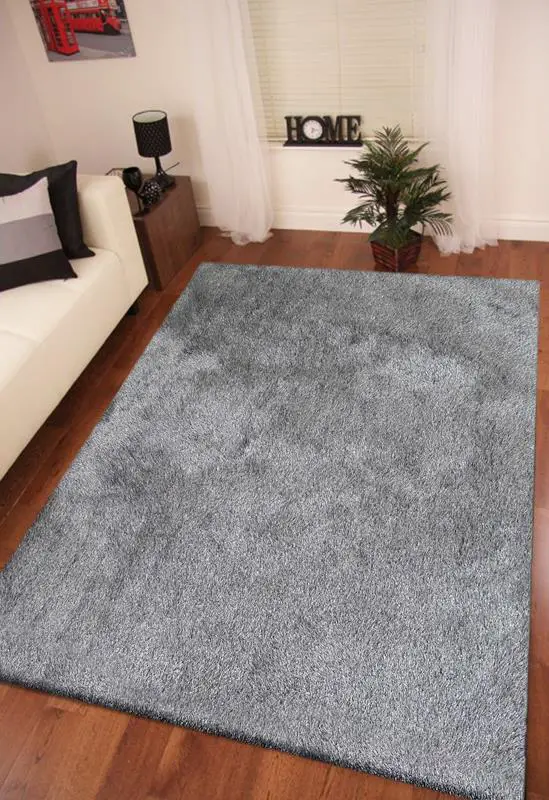 10. Mid-Century
Coming together with a modern and traditional blend, a mid-century rug can almost seem abstract. They are going to feature more neutral colors and simple patterns and they work well in many rooms of the house.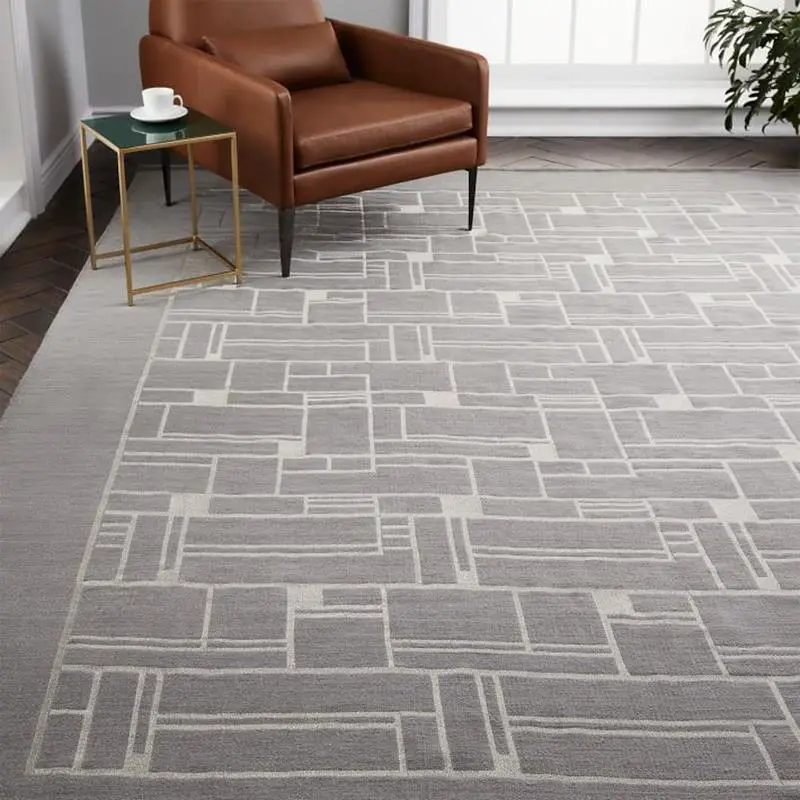 11. French Country
You can't miss the classic European designs of a French country rug. The patterns range from ornate to even more ornate and nod towards a Victorian era meant for the country side.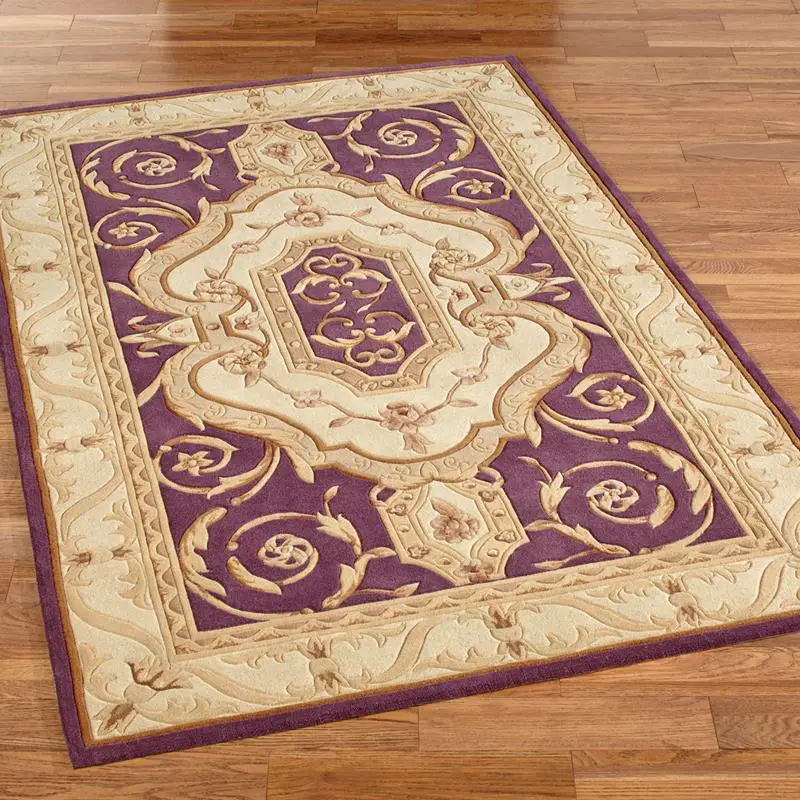 See Also: 13 Best Small Vacuum Cleaner Options
Materials
1. Wool
Wool is a common rug making material that is derived from sheep. It is easy to clean, soft, and durable, so it is easy to see why it is a popular choice. Put this type of rug in a room that gets high traffic, but avoid areas that may get wet or experience humidity, like screened porches.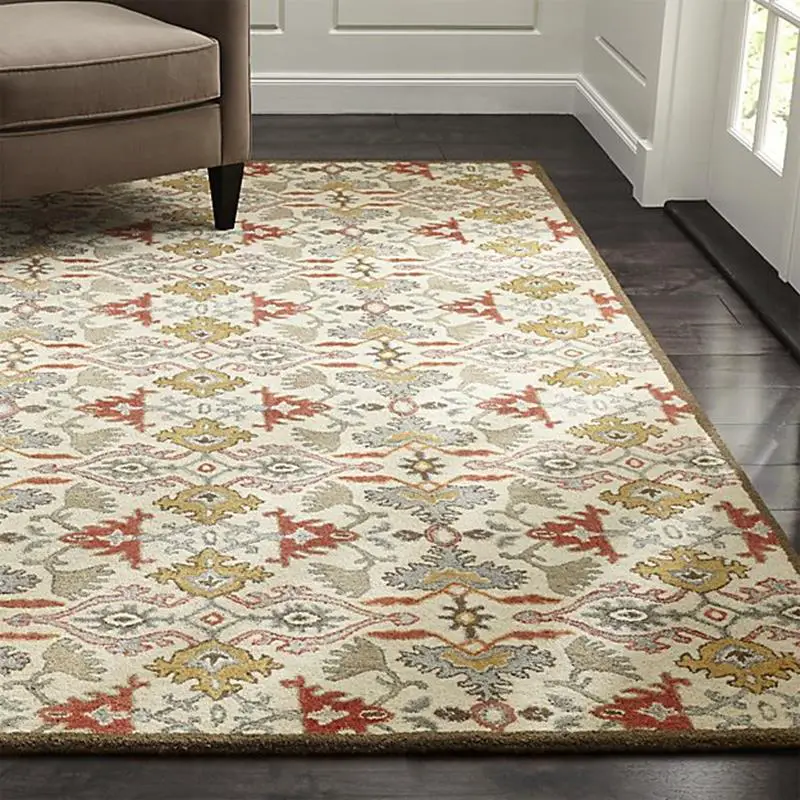 2. Cotton
While cotton is less expensive than wool, it is also less durable. You will find cotton rugs in less heavily trafficked areas such as casual sitting rooms and kitchen dining areas.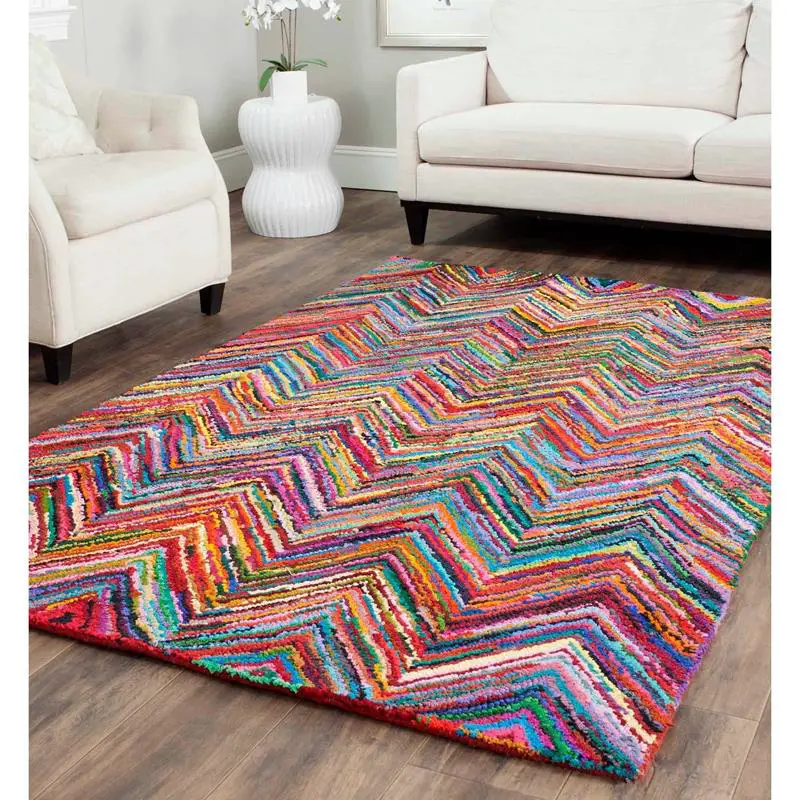 3. Jute, Seagrass, and Sisal
These materials are used because they are naturally tough and will hold up under so many conditions. They are great for outdoor rugs as well and don't fade easily. Of course, they are going to be rougher in texture, so you probably won't find them in a living room, but they work well in heavily trafficked areas.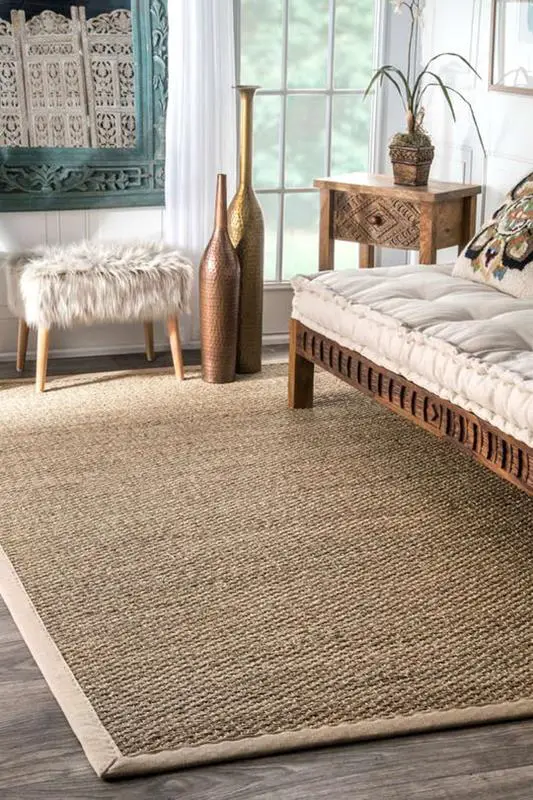 4. Chenille
If you haven't heard of chenille, that's okay. It can actually be made from wool, silk, synthetic, or cotton fibers. It came from France and it is designed to resemble the fur of animals. It is meant to be luxurious and durable, making it great for so many areas of the home.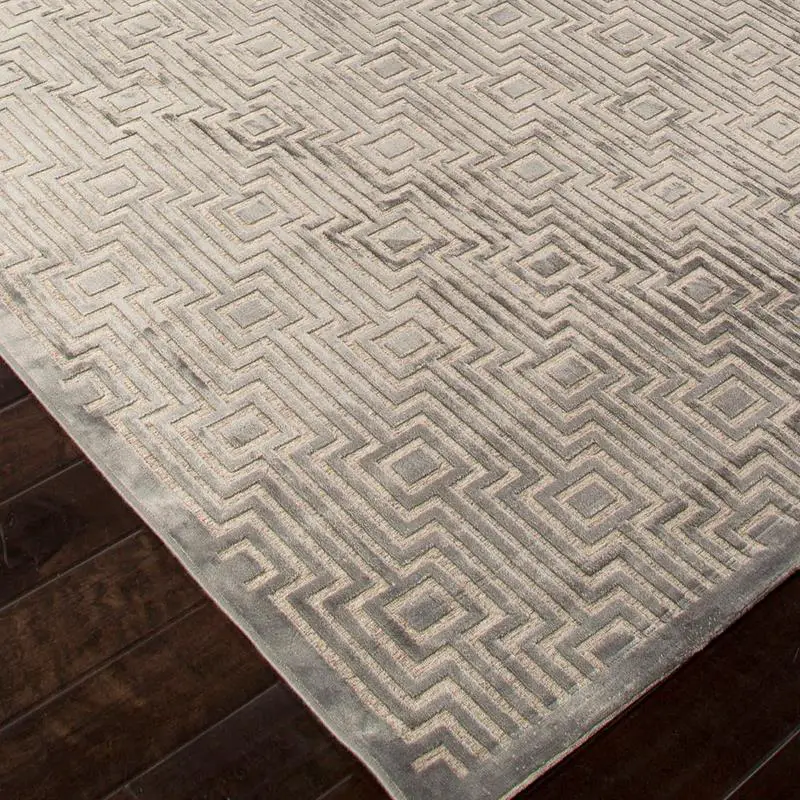 5. Leather and Animal Skin
Animal skin rugs can look amazing. Usually made from the whole hide of an animal, small sections are stitched together, or with leather, strips woven together. These rugs are durable, but keep them away from humid or wet areas as they absorb moisture.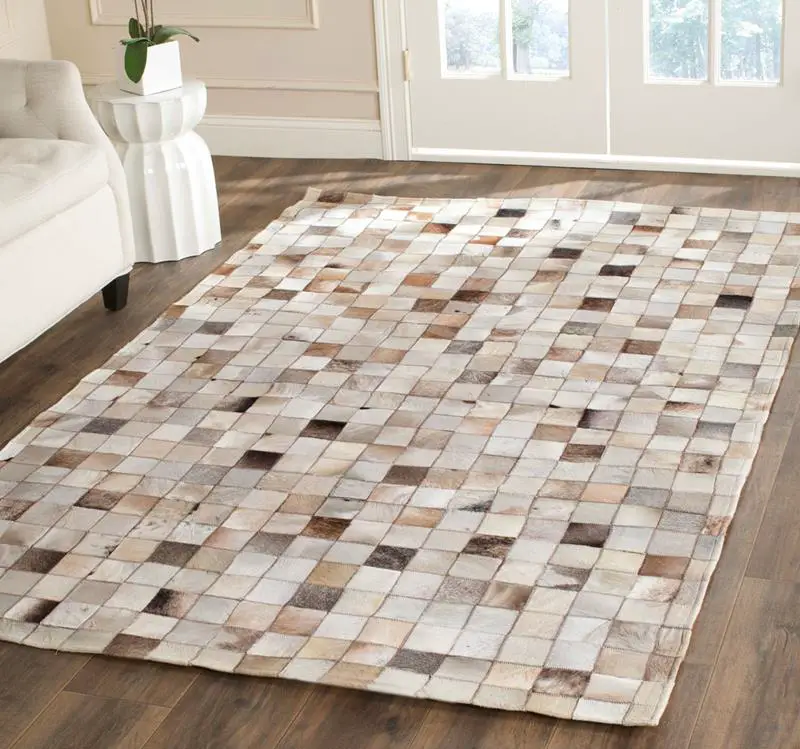 6. Silk
You get a silk rug when you want something luxurious and brilliant looking. We will tell you that silk rugs are not made for areas that experience high traffic, but rather areas that are meant to be elegant. With silk rugs, you can get a level of detail not available in other types.
7. Synthetics
Like the name suggests, the job of synthetic rugs is to mimic natural materials like silk, cotton, or wool. Why use synthetic? Because they cost less than rugs made from natural materials and can be made to be more durable. They hold up well in all types of environments and can be made to stand up to moisture, making them good for all settings.
When we talk about synthetic material, the most popular types are polyester, nylon, polypropylene, and viscose.
Patterns
1. Geometric
These types of rugs will come in a wide range of geometric patterns and are often found in mid-century styles. They look great with minimal areas.
2. Polka Dot
Polka dot rugs are fun in many areas, from kids rooms to more eclectic areas.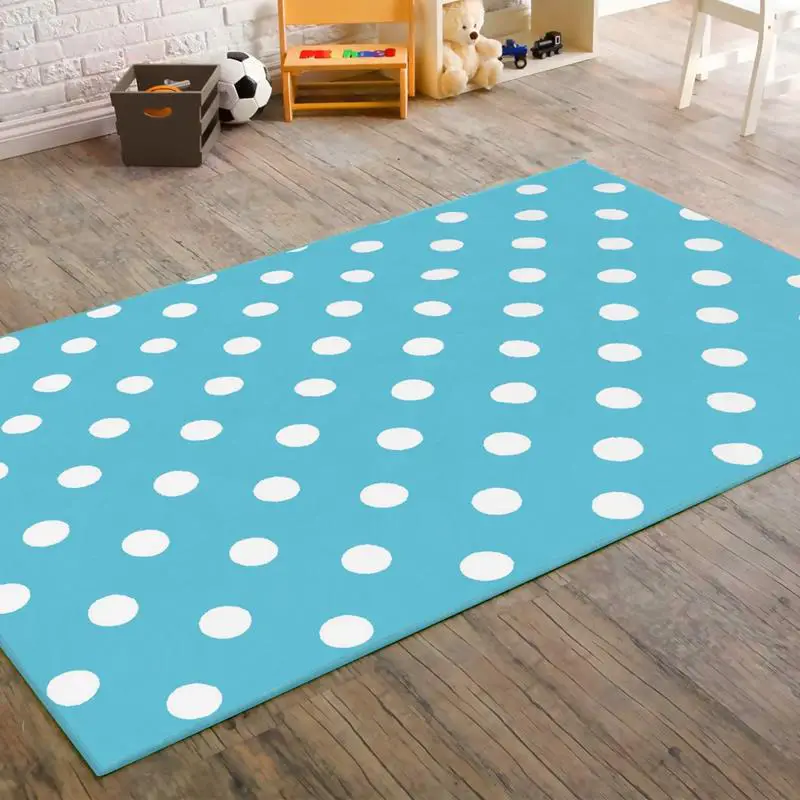 3. Oriental
Known for their intricate patterns, these ornate rugs work well in more traditional settings. They look great in dining rooms and sitting rooms.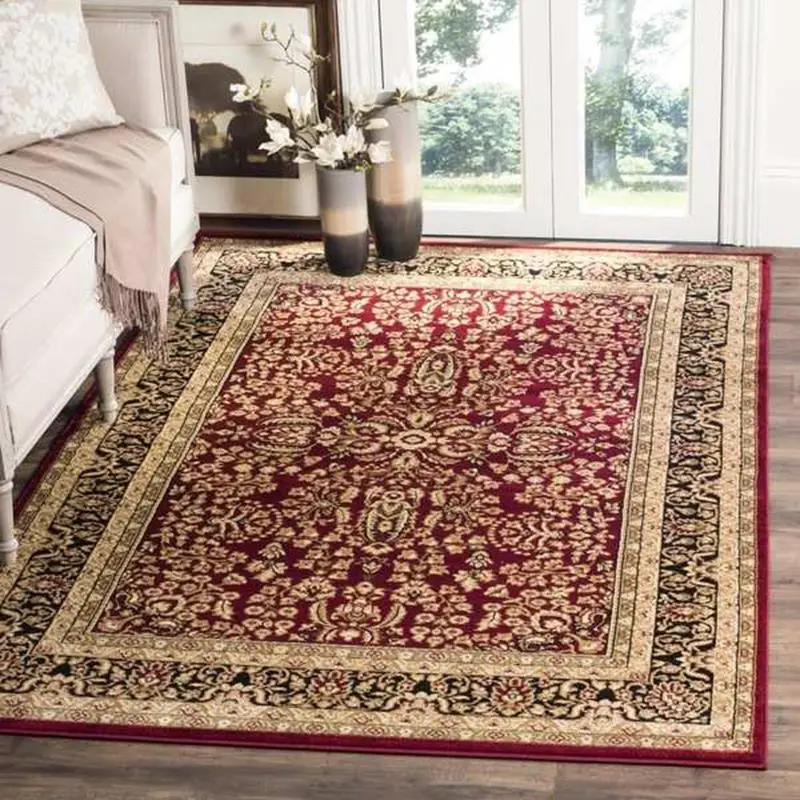 4. Paisley
Paisley rugs take on an almost Bohemian style. With beautiful, drop-like patterns, they can range from neutral colors to bright designs.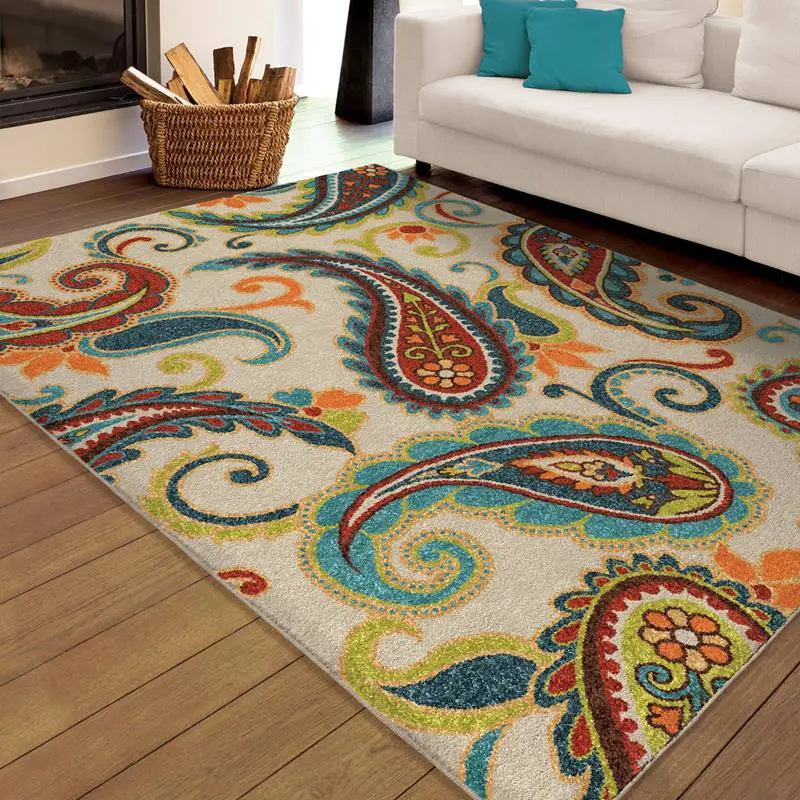 5. Solid
No longer do solid color rugs simply go only in mud rooms or other work areas. They look great when you want that minimal style.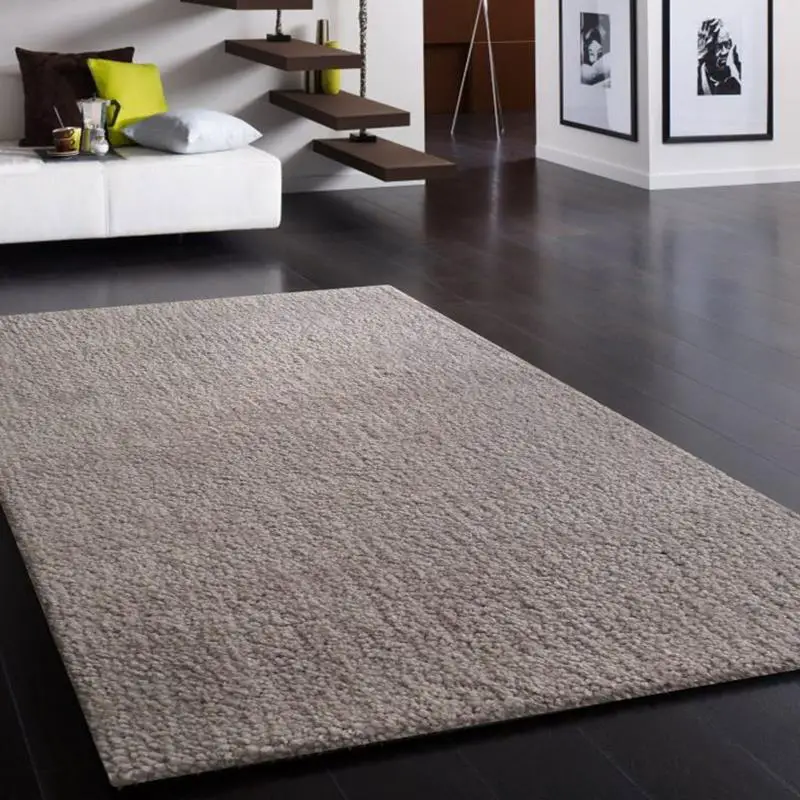 6. Plaid
Plaid rugs are wonderfully versatile and can range from more subdued colors to vibrant choices. They look great and can bring character and texture to a room.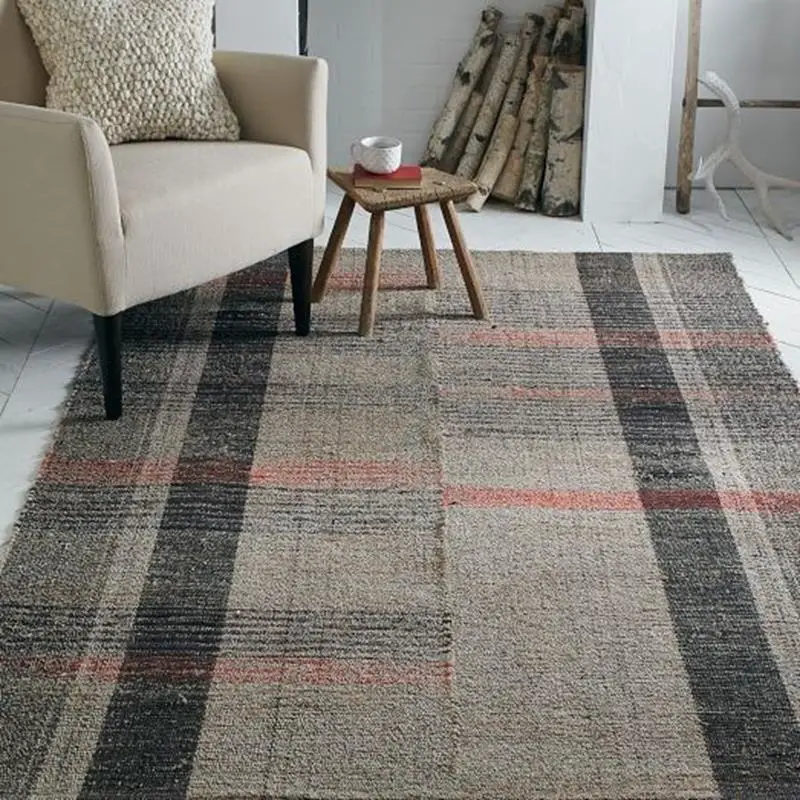 7. Trellis
You may thing of a trellis design when you think of landscaping, but the pattern looks amazing on rugs as well.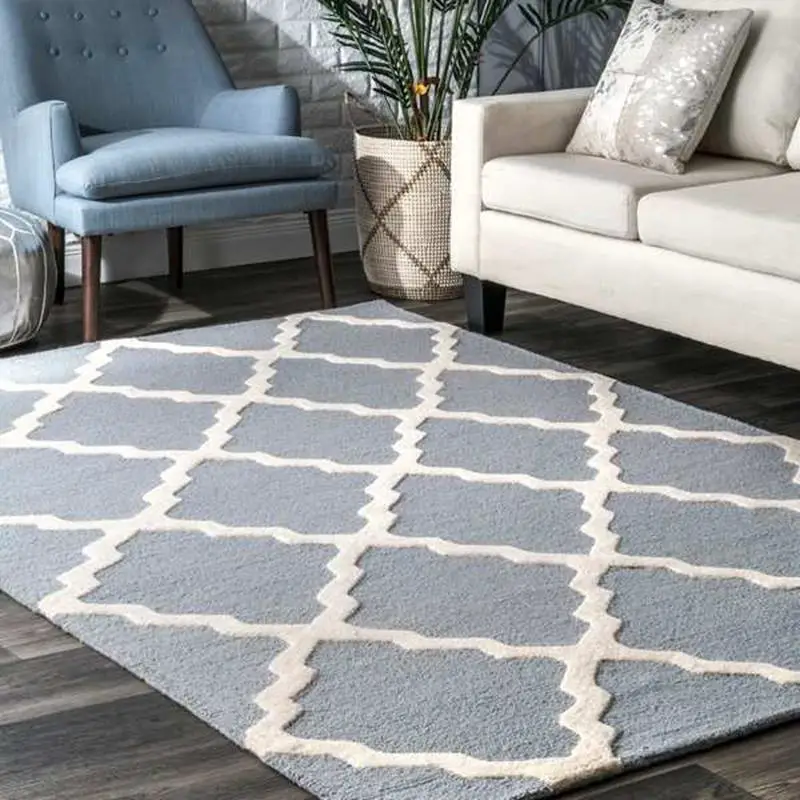 8. Animal Print
Animal print rugs can bring vibrancy to any room. From zebra and giraffe to leopard and cheetah, these styles are meant to liven up your spaces.

9. Striped
Striped rugs are wonderful because they are bring simplicity. They don't over complicate any room.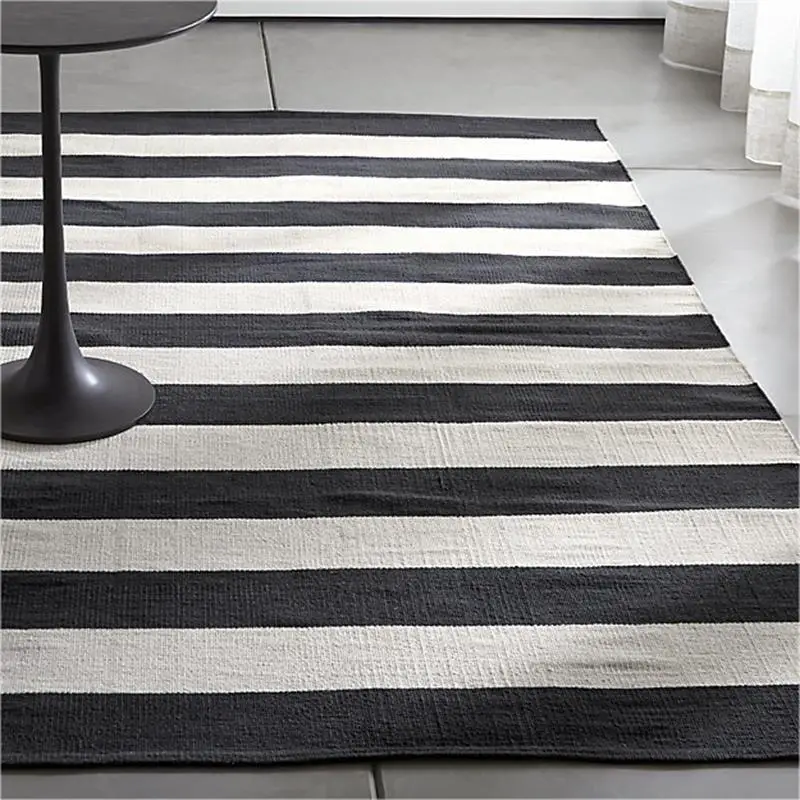 10. Southwestern
A typical Southwestern style will give you a blend of Native American and Hispanic designs. Earth tones are typical, and can be subdued or vibrant.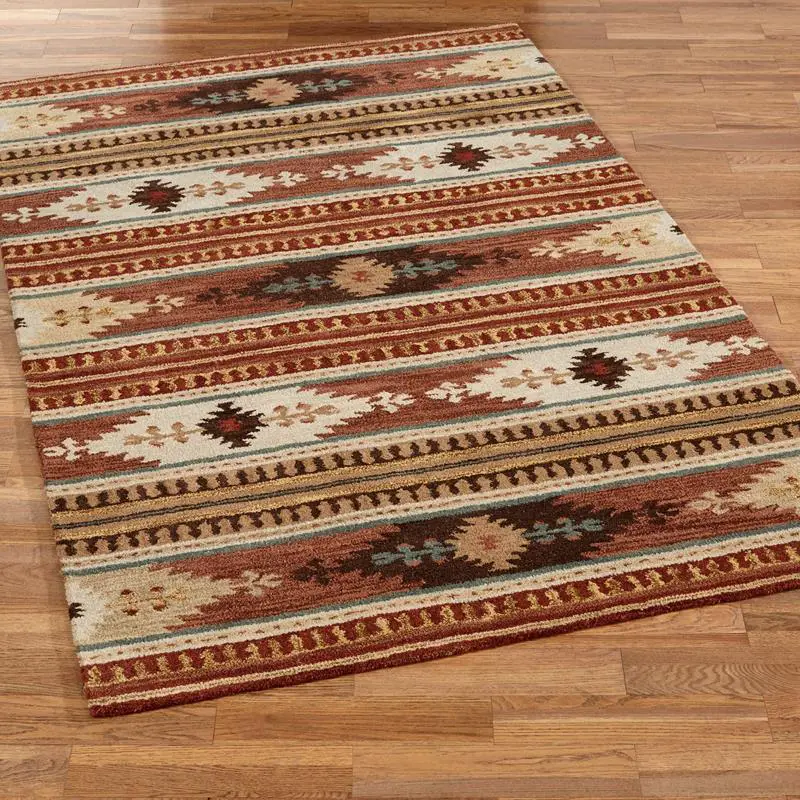 11. Abstract
An abstract design is going to bring a more contemporary approach to design. They are meant for rooms that want a modern feel.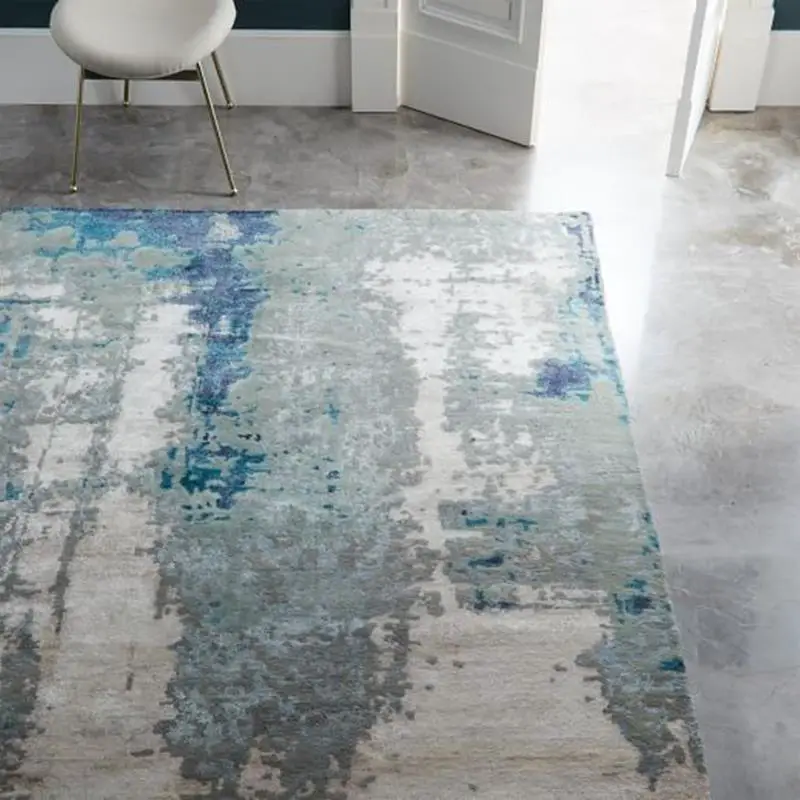 12. Chevron
Chevron designs in a rug are meant to stand out and bring character to a room. They give a flair to a simple stripe design.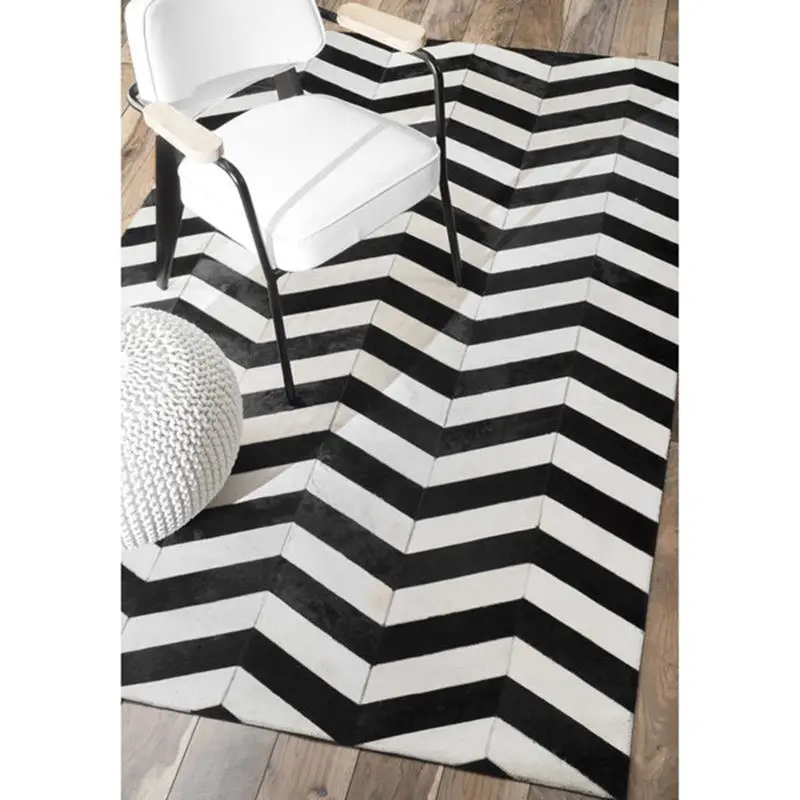 13. Color Border
Many types of rugs can enhance their appeal by having a darker color border around the outside. The inside may or may not have a pattern.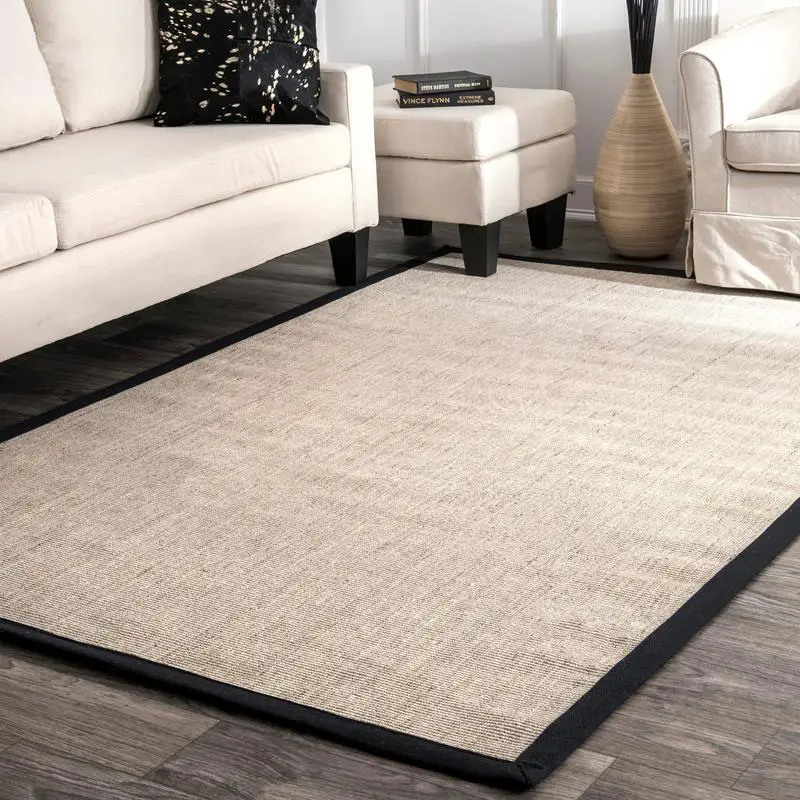 14. Ikat
Ikat rugs employ specific dyeing techniques that give you a brilliant blend of colors that work with differing patterns.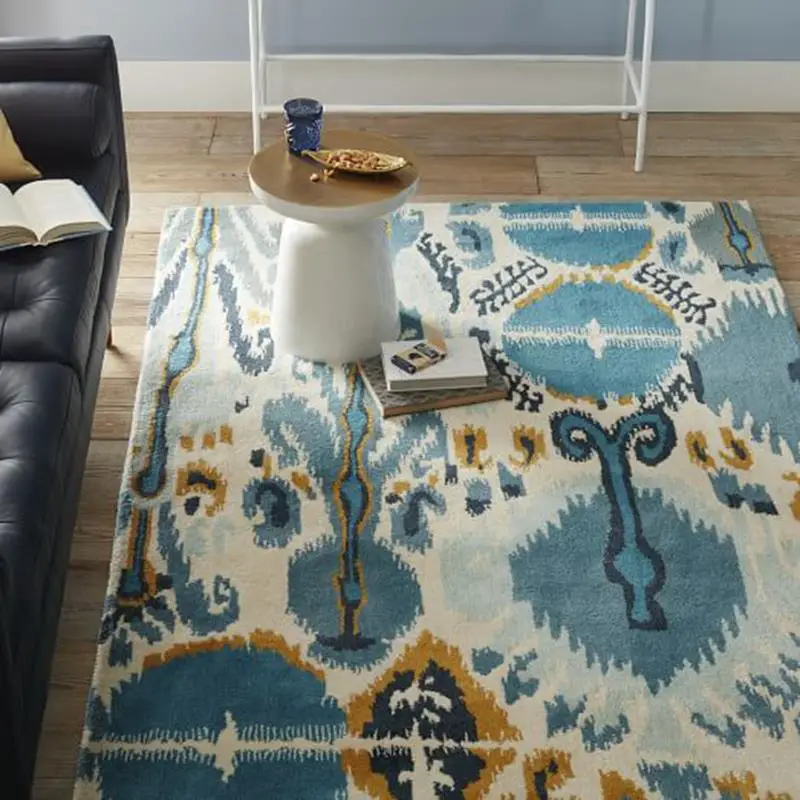 Features To Consider
Depending on what you will be using your rug for and where you will be using it, you may need specific features.
1. Pile Height
Pile height refers to how high the fibers extend from the rug backing.
Flat
Flat rugs have no pile at all and are usually made from synthetic materials. They are easy to clean and work for high traffic areas.
Low
With low pile rugs, the fibers extend a bit off the backing. These are also easy to clean and area great for hallways and stairs.
Medium
Medium pile rugs are still easy to clean but feel a bit more luxurious. They also give more cushioning than low pile rugs.
High
These types of rugs are difficult to clean and maintain. You want to keep high pile rugs in decorative areas and away from high trafficked spaces.
2. Non-Slip Backing
You want to use non-slip backing with rugs that use materials that create friction on the floor surface. You will typically find these used in kitchens and bathrooms.
3. Floor-Heating
If you have radiant floor heating, you need a rug designed to handle that. Make sure you look for rugs that are specifically designed for radiant heat.
4. Reversible
If you want more options and don't like keeping the same look all the time, get a reversible rug to increase your style options.
5. Eco-Friendly
As the world becomes more eco-friendly, so have rug options. You can find rugs specifically designed in ways that are environmentally friendly and even ones that are made from recycled material.
6. Pricing
There are not many more design items that range as widely in pricing as rugs. If you want an elegant, hand woven rug, you can spend several thousands of dollars on a rug. If you just need something that looks great but don't want to spend a ton of money, a machine woven rug can cost under $100.
As you start your rug shopping, you will want to do your homework and figure out what works for your budgetary needs.
Don't Miss: 16 Different Types of Laminate Flooring Explained With Photos