Updated on January 3, 2022
When it comes to flooring types, we know you have options. We'll be honest though, laminate flooring has come so far in design and styles that it will work in any room. With the versatility of laminate style flooring, we are sure you will find something that suites your needs.
We  want to help you through the basics of laminate flooring so you can get started. Below, we will walk you through the main installation styles. Then we will help you understand some of the terminology when it comes to types of finish, imitation styles, and designs.
Once you are finished with this article, we hope you will have a better understanding of the versatility of laminate flooring.
Installation Types
We want to help you figure out which installation type you want to use for your laminate floor before you decide on anything else. Here are the three main types.
1. Glueless Click-Lock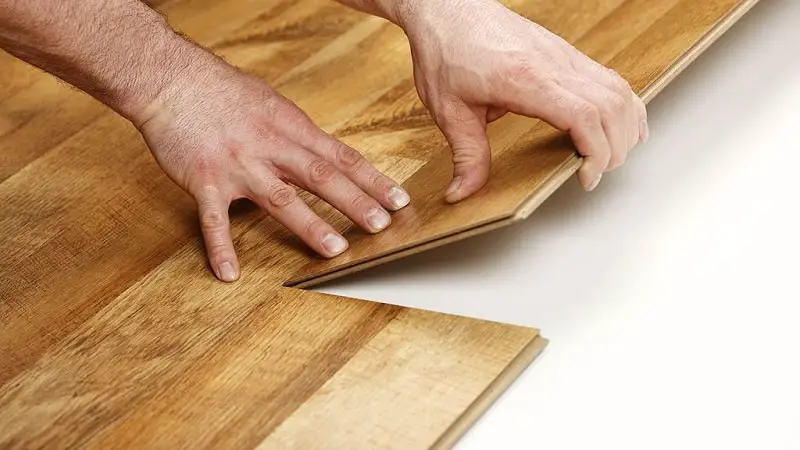 By far the most popular now, the glueless click makes up most of the laminate floor sales. That's because it is so easy to do and, without any glue, the mess is kept to a minimal and it is easy to fix your mistakes.
Most glueless click styles of laminate flooring come ready for a double click method so they lock into place completely.
2. Glued Laminate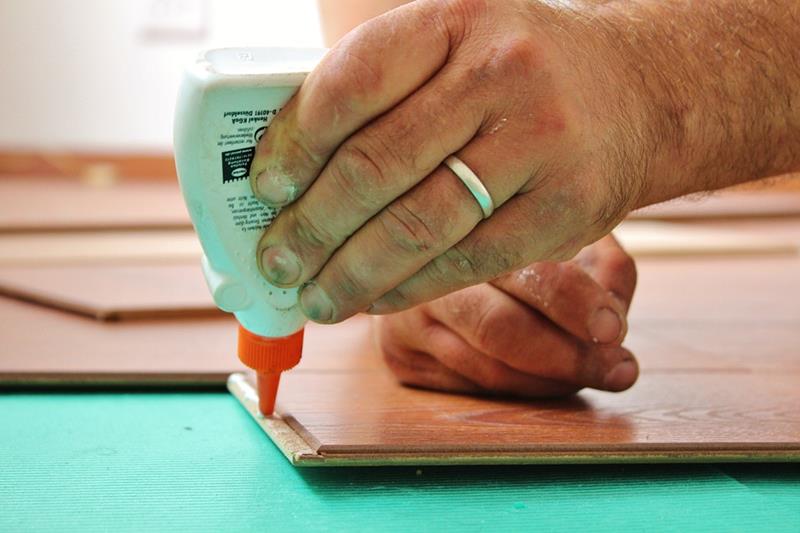 This is the type of laminate flooring you are probably familiar with, as this was the only way to buy laminate flooring for a long time. With this style, you will be gluing the joints together. The good thing about a glued laminate flooring is that you are guaranteeing a strong hold that won't budge. The downside is the potential mess.
3. Pre-Glued
Pre-glued laminate flooring is not hard to install. With this type, you don't have to apply the glue separately. You will simply have to peel off the back part to reveal the glue. Often, the glue needs to be dampened to activate, but that is a simple step.
Surface Types
The goal of a good laminate floor is to imitate real surfaces. To do that, it has to have a texture that you would find naturally with flooring. Does it look real or is it slightly off? With a good laminate floor, you won't be able to tell the difference.
1. Smooth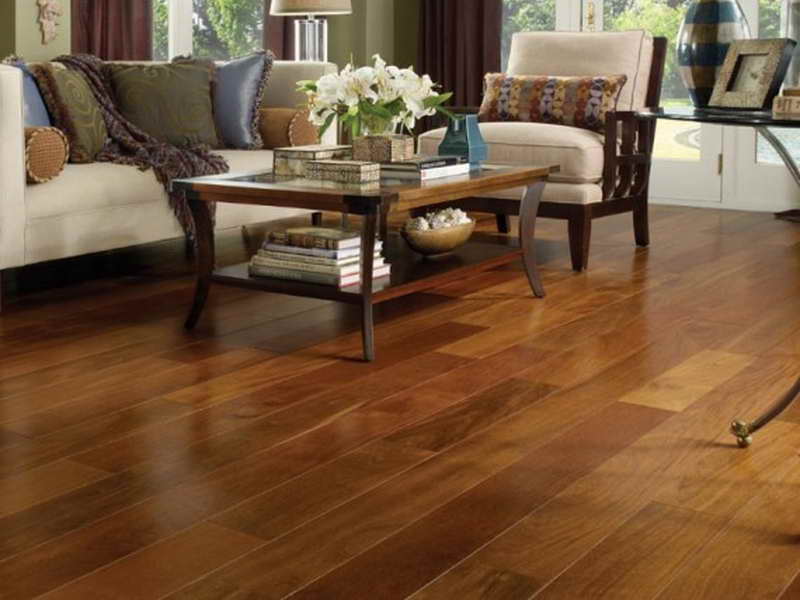 A smooth style can look sleek and modern. It is easy to clean as there won't be any grooves in the way of a broom or mop.
2. Embossed or Textured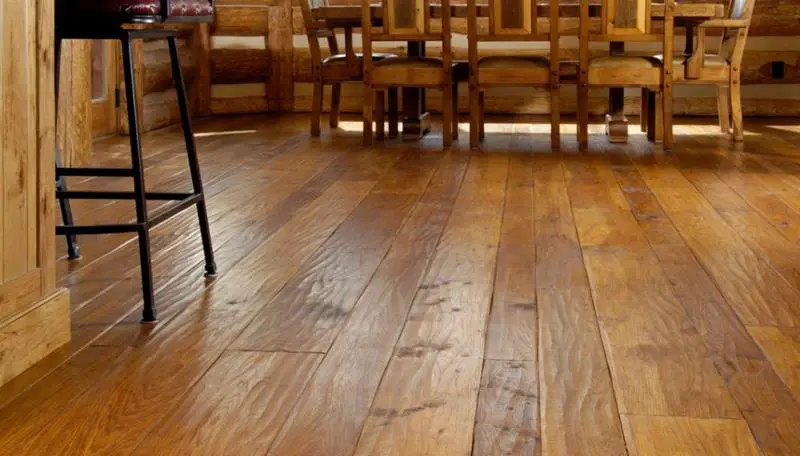 There are a few types of embossed laminate flooring, and the textured style can really look fantastic. With this style, you are looking for a texture or wave pattern that does not necessarily go with the gran of the wood. Polymer materials have been heated to give it s natural rise and pattern.
3. Distressed or Handscraped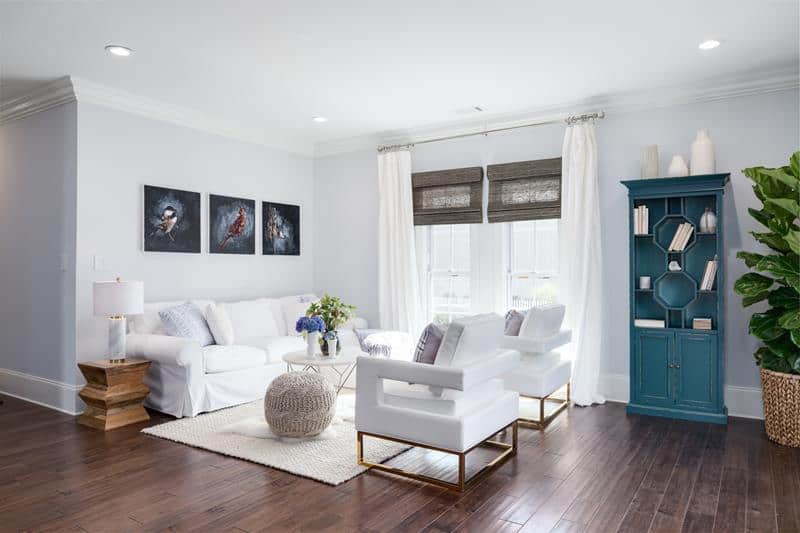 A distressed or handscraped style of laminate floor is used to give it an antique style. This is a new style available to laminate floors and you will really love the look it gives.
4. Embossed in Registration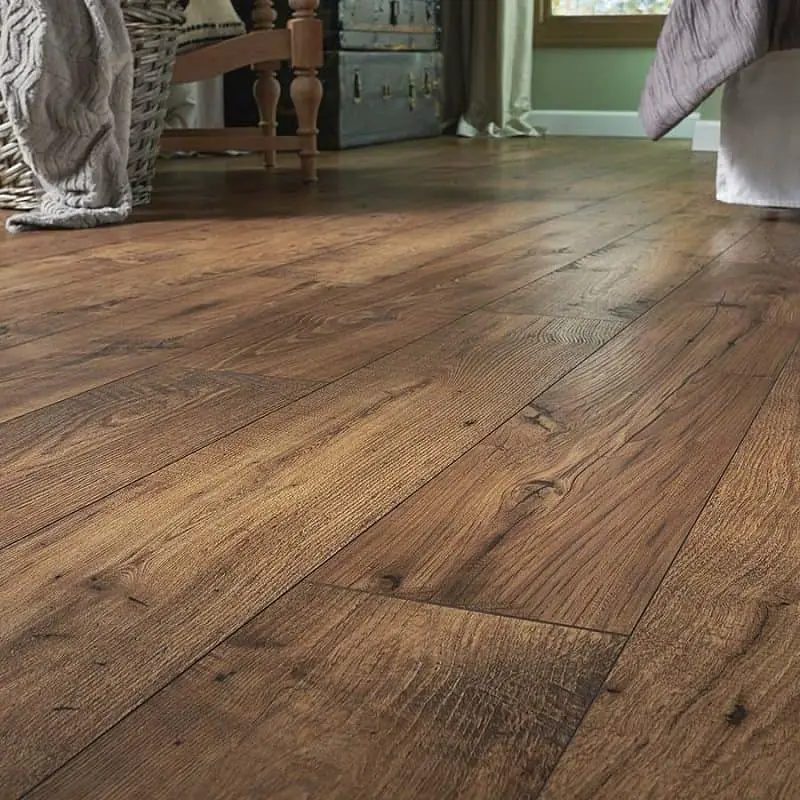 Embossed in registration is a texture style that matches up with the grooves of the printed grain. This gives is a realistic wood texture that will leave you wondering if it's not actual wood.
See Also: 30+ Living Rooms with Hardwood Floors (Photo Gallery)
Pattern Types
How you want your floor to look is entirely up to you. There are four different styles we want to show you. The only thing you have to decide on is which style will work best for the design you are going for.
1. Traditional Plank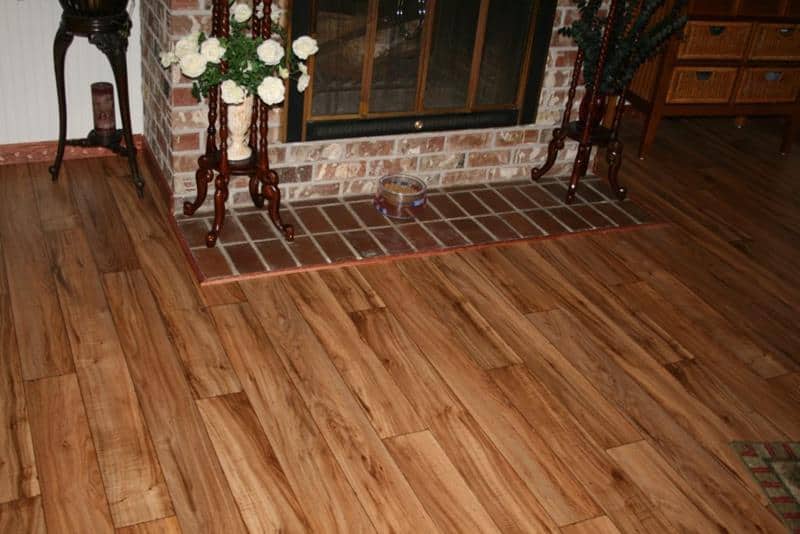 The traditional plank floor is exactly what it sounds like – regular width wooden planks. It is classic and looks great.
2. Thin Strip Plank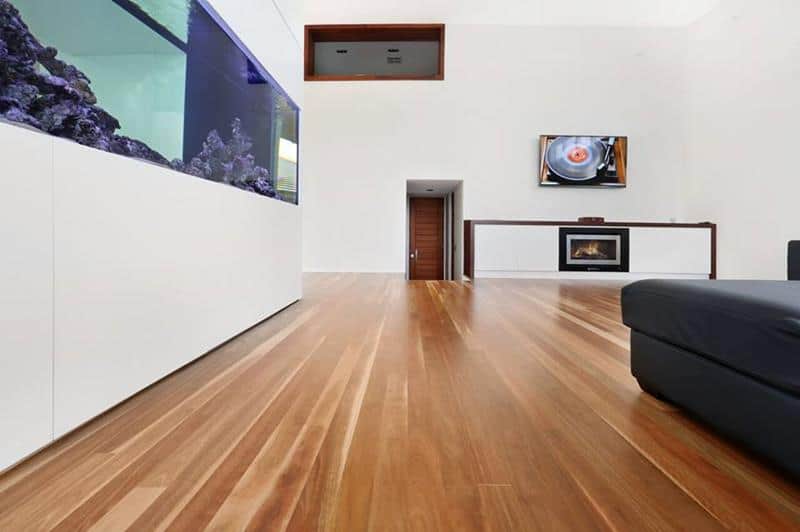 The thin strip plank style can bring you a more contemporary look.
3. Wide Plank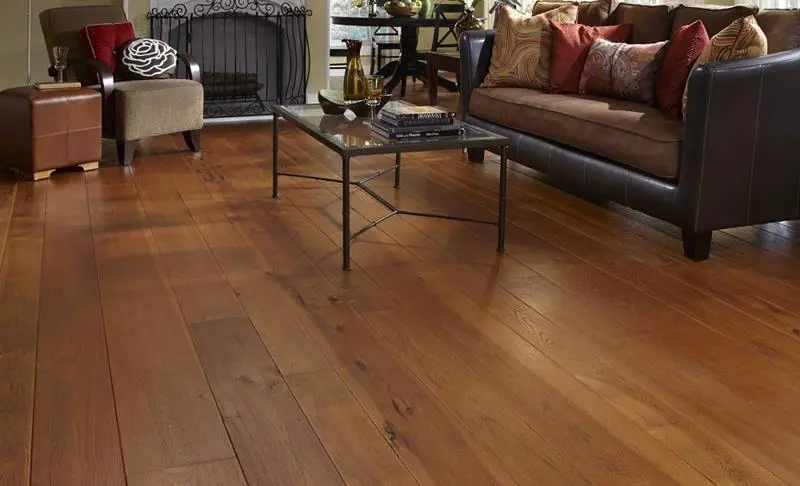 Wide planks give you a durable look that will have you thinking back to earlier building styles.
4. Herringbone or Chevron Pattern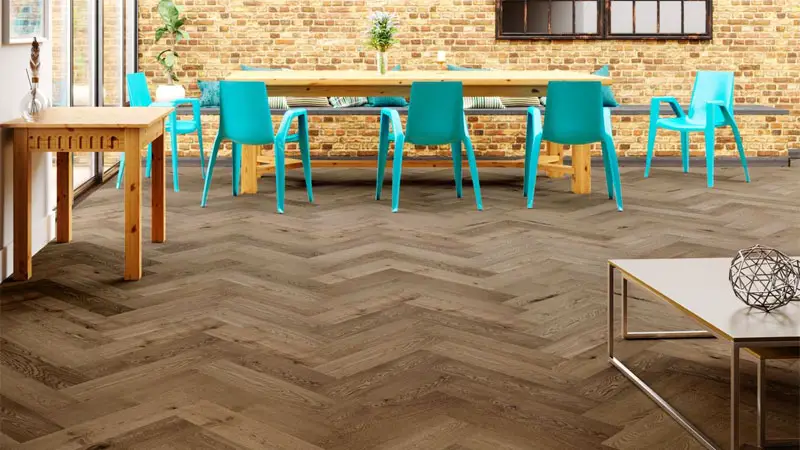 If you want to give the room some added character and style, you can choose to go with a herringbone or chevron design. It loos amazing and goes well with many room design choices.
Finish Style
When you are choosing a finish, you will be going with either a high gloss or low gloss. What you choose ultimately depends on how you want your room to look, as both are equally amazing.
1. High Gloss (Fine Finish)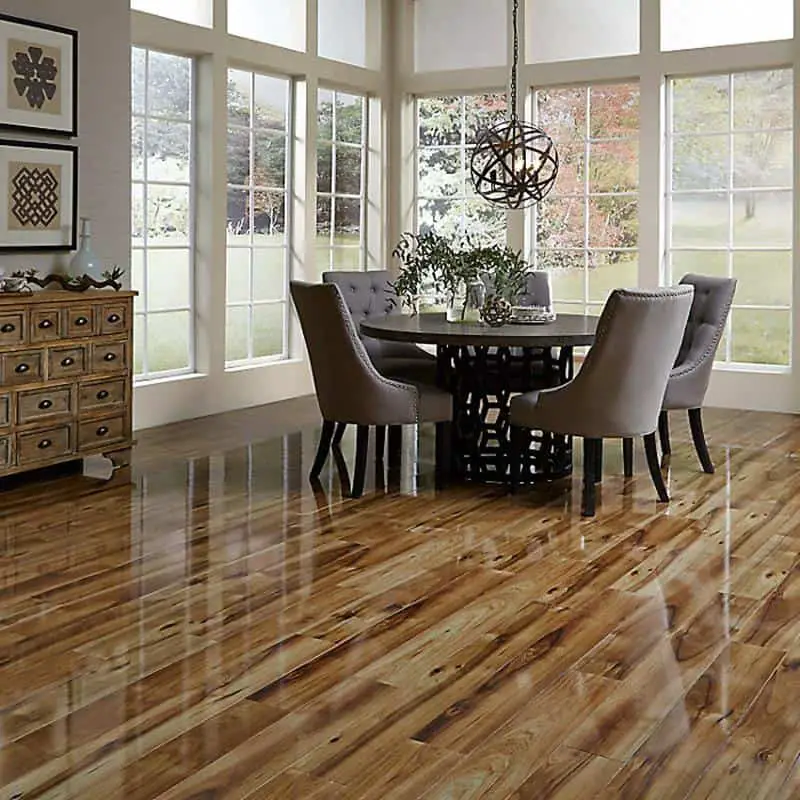 A high gloss floor can really bring a room to life and give it a luxury feeling. It may require you to spend a little more time cleaning it, but it is worth it.
2. Low Gloss (Matte Finish)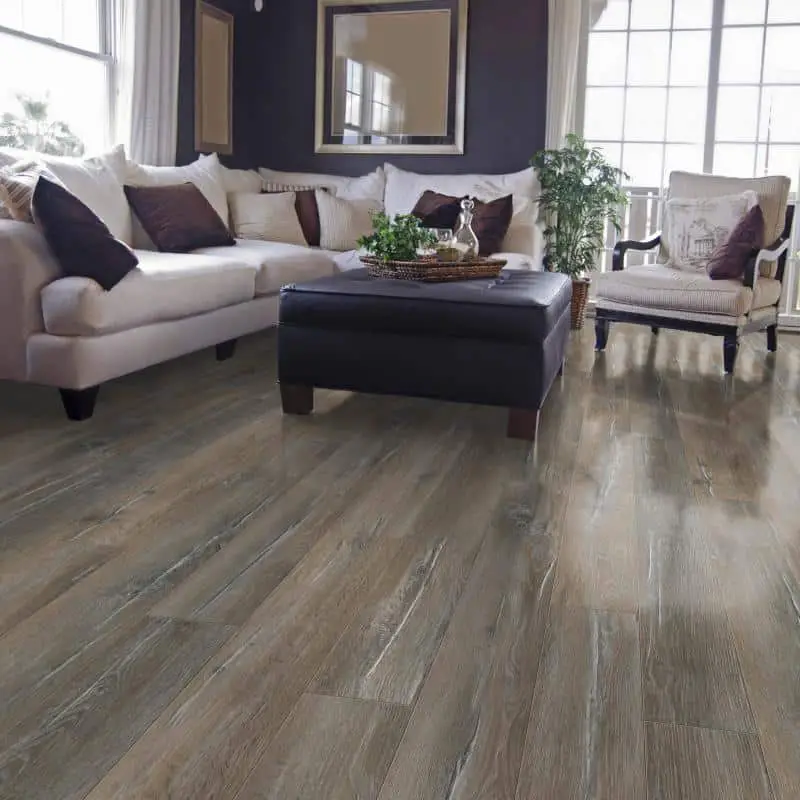 Low gloss laminate flooring will help hide minor dings and scratches better than a high gloss.
Material Imitation Style
Remember, laminate flooring is meant to imitate real materials. Don't settle on anything that looks fake. Here are the three main styles of laminate flooring.
1. Wood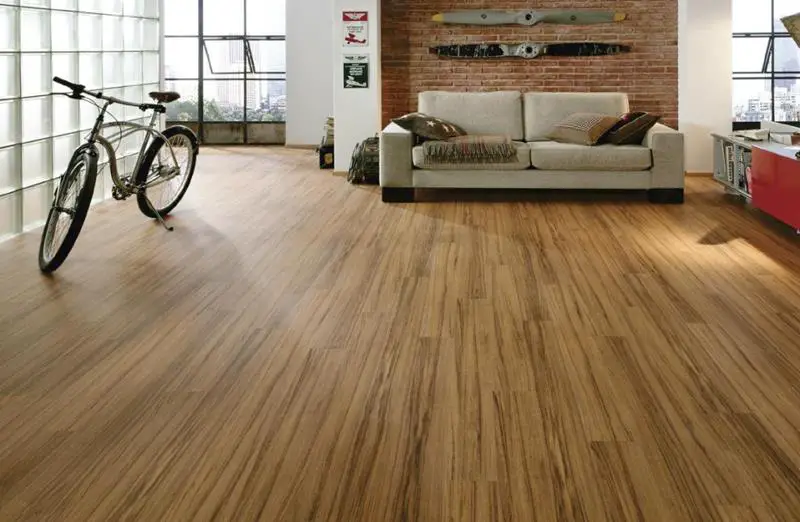 Definitely the most popular style, a wood laminate floor is versatile. You can find it in all different types and shades.
2. Stone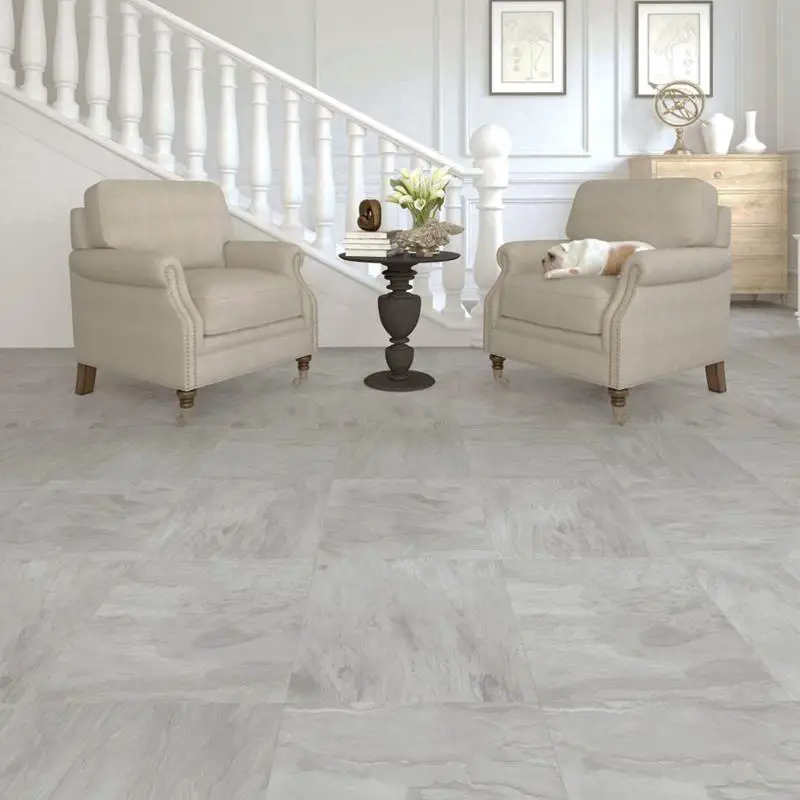 A stone style laminate floor will certainly save you money over buying real stone and it can look just as great. You can find an array of colors and textures that match the richness of real stones.
3. Tile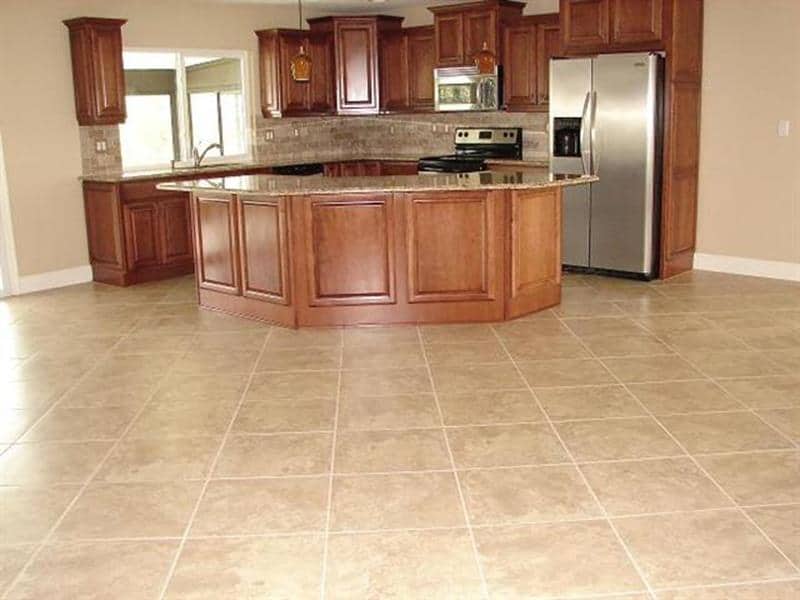 There is nothing wrong with tiles, but they are ore expensive than laminate. So why get them if the laminate looks just as good? You can find laminate flooring that will match all tile designs.
Floor Construction Types
We need to talk to you about the two main types of laminate floor construction types so you know what you are using.
1. DPL Flooring (Direct Pressure Laminate)
This is the most common process for laminate flooring. This assembles all four layers together then presses and heats them. This bonds them together. This is usually a lower cost option because all of the materials are combined in a single step.
2. HPL Flooring (High Pressure Laminate)
This construction fuses the plans together usually with a two-step process and you will find this on more costlier, high-end brands of laminate flooring. Several layers will be glued together and then those layers are then later fused with other materials then glued to the plank. This is more durable than a DPL method.
AC Ratings
An AC rating is a representation of the laminate floor's resistance to wear, which is important depending on where your floor will be located. The scale is 1 to 5. As you move up the scale, the floor becomes more durable.
1. AC1 Moderate Residential
You will find this is great for light foot traffic areas like bedrooms and closets.
2. AC2 General Residential
More moderate foot traffic areas such as a living room or dining room work well with AC2 ratings.
3. AC3 Heavy Residential
This is made for much higher foot traffic areas and works well in offices.
4. AC4 General Commercial
This works in both heavily traffics home areas and also meets many commercial standards.
5. AC5 Heavy Commercial
This type of floor is made for the heaviest commercial traffic.
Don't Miss: 25+ Living Rooms with Dark Wood Floors