Updated on January 3, 2022
Your living room is going to be one of the most used rooms of your home. Whether it is just you and the family using it to relax throughout the day or whether you are having guests, the living room is going to be the center of attention.
A dark hardwood floor can really bring character to your living room. You may not have thought about how versatile dark hardwood is, but we want to show you. Below, we have gathered over 25 living rooms that use darker hardwood for the floor.
From open and spacious rooms to smaller and more cozy spaces, they all work so well.
Living Rooms With Dark Floor Ideas
1. Spacious Floor Plan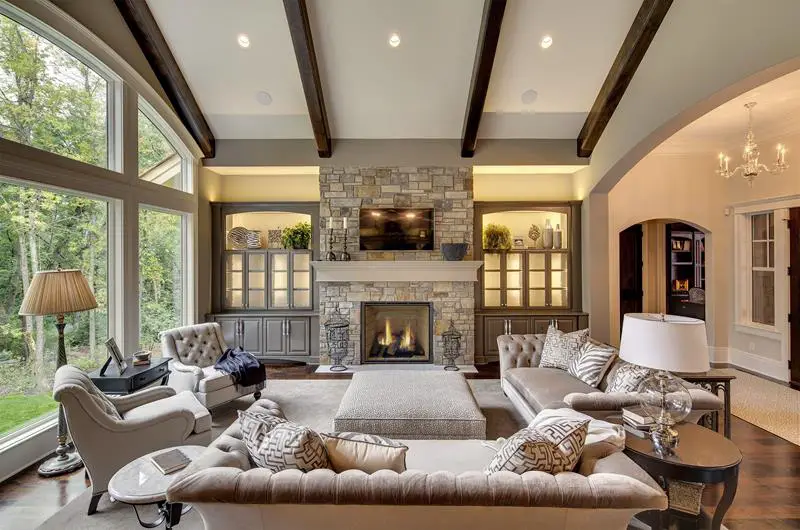 With the large windows on one side letting in plenty of natural light, this living room makes the best use of a darker hardwood floor and matches it with light furniture.
2. Beautifully Connected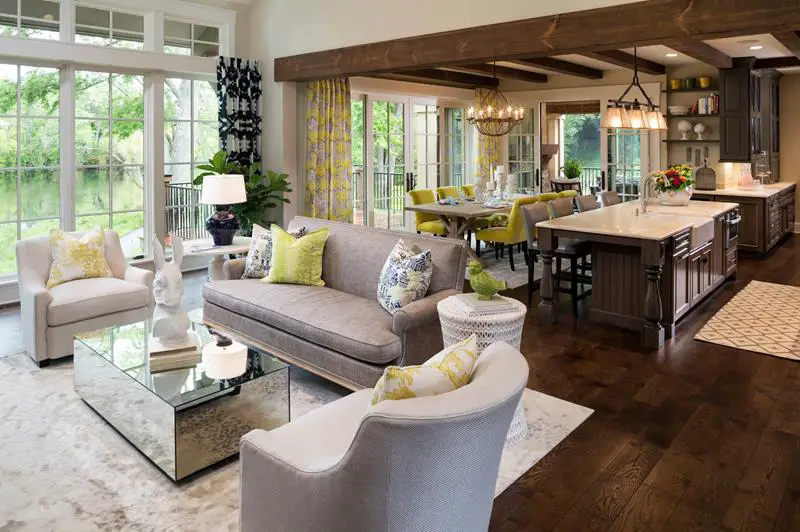 The hardwood floor of this space connects the living room, dining room, and kitchen all together perfectly.
3. Contemporary Tradition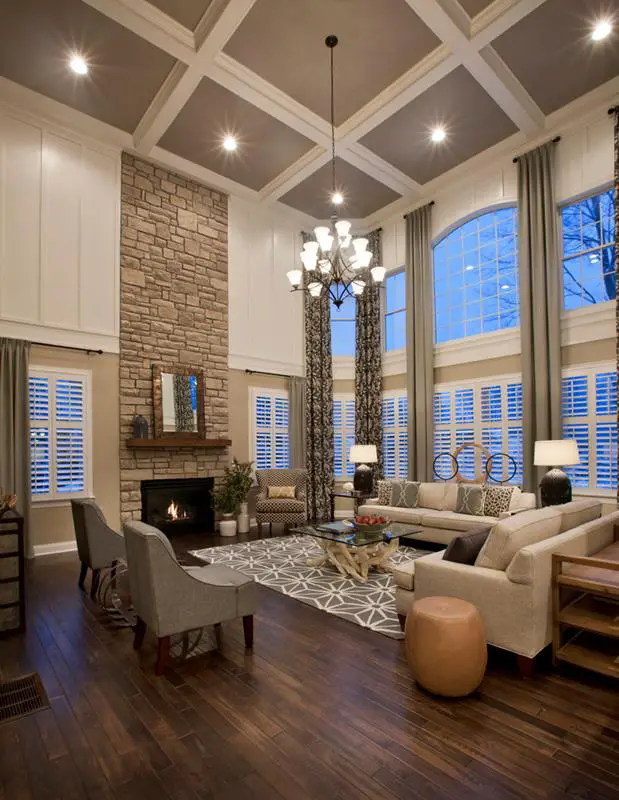 4. Wonderful Color Combinations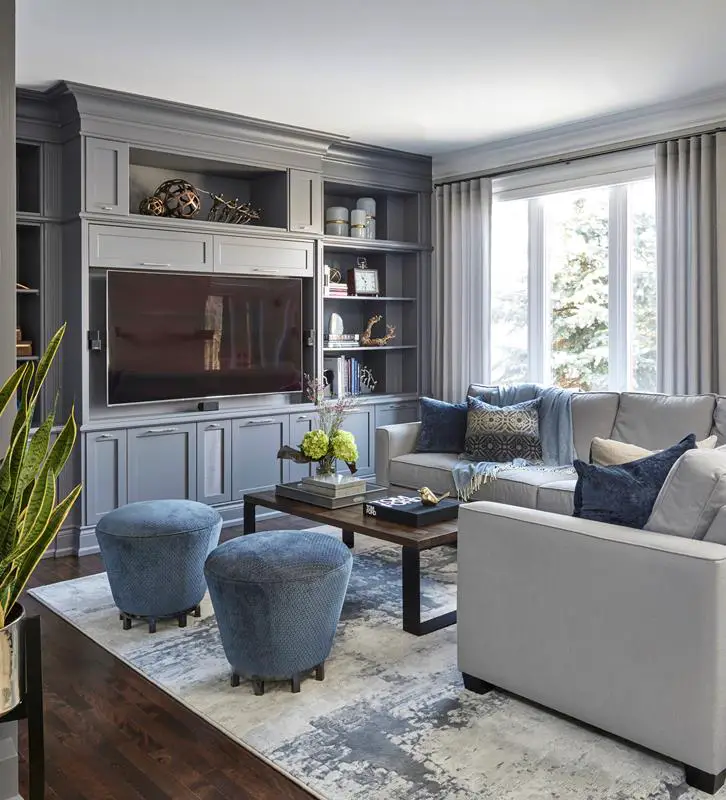 The cool and calming colors used to blend with the dark hardwood floor in this living room really get the job done. You can really relax in this space.
5. Weathered and Beautiful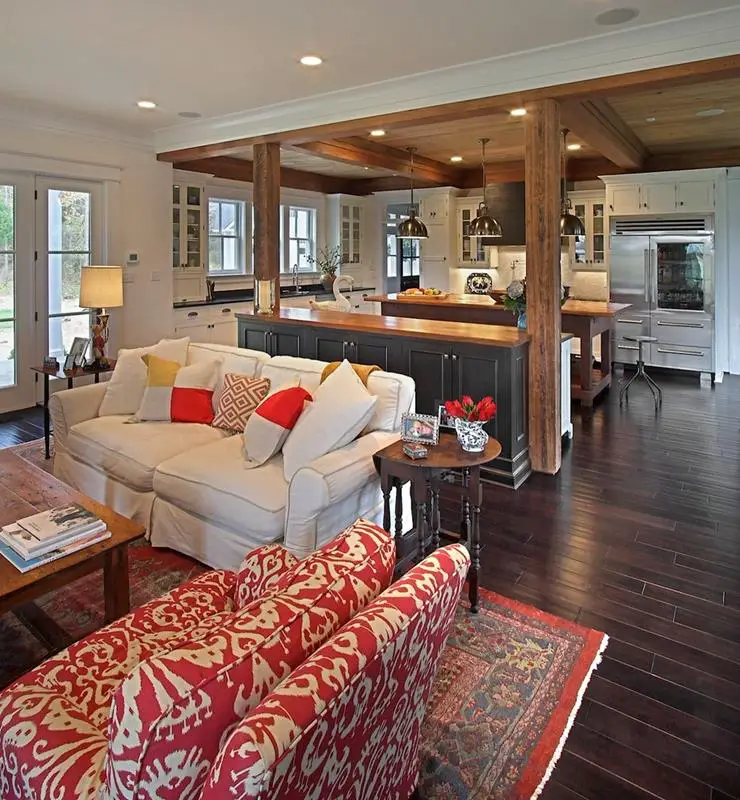 6. Light and Stylish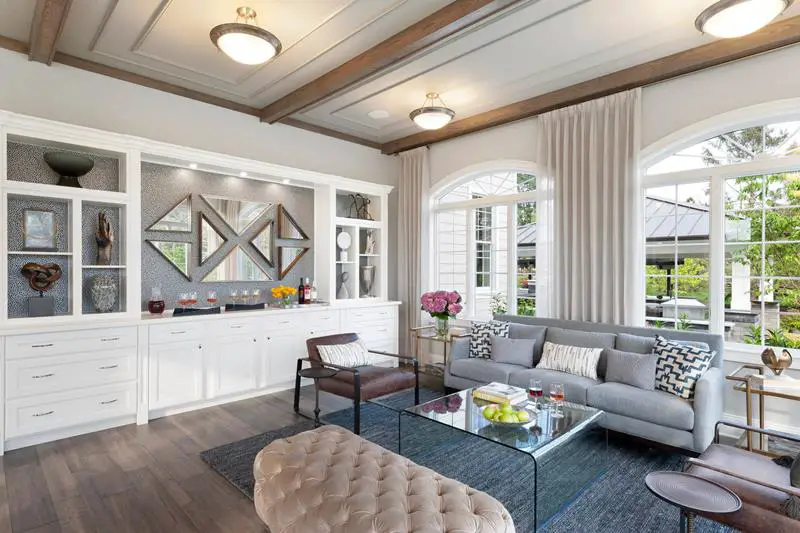 We really love the contemporary designs in this space and the way they blend with the traditional architecture. The darker floor is a great design base here.
7. Classic Furniture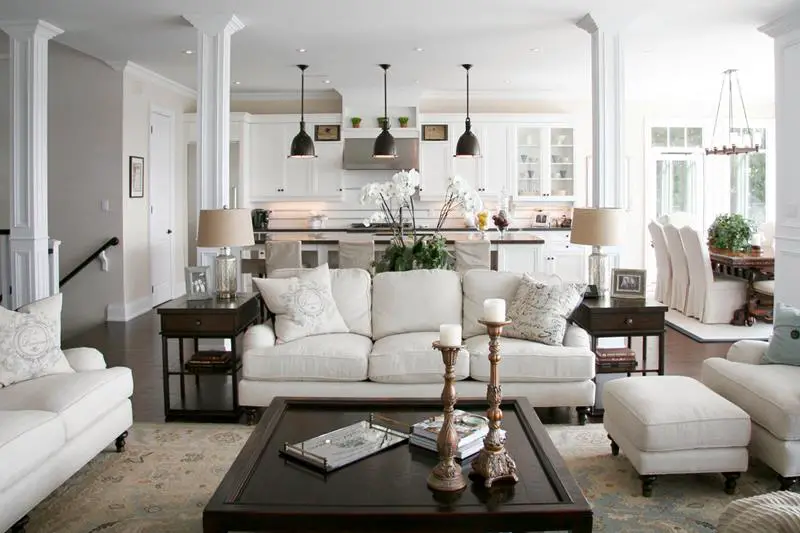 8. Hardwood Up and Down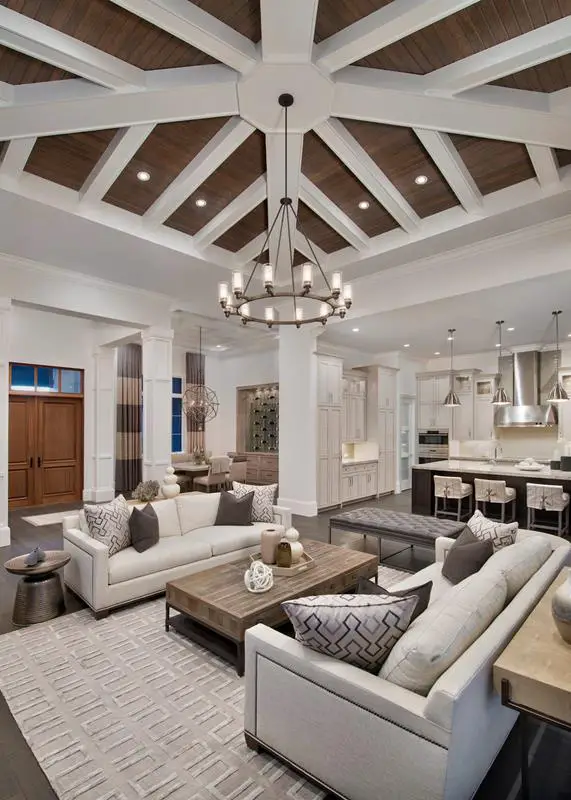 When you have a wonderful match of hardwood in the ceiling to go with the floor, you can continue the contrasts throughout the room.
9. Wonderful Natural Light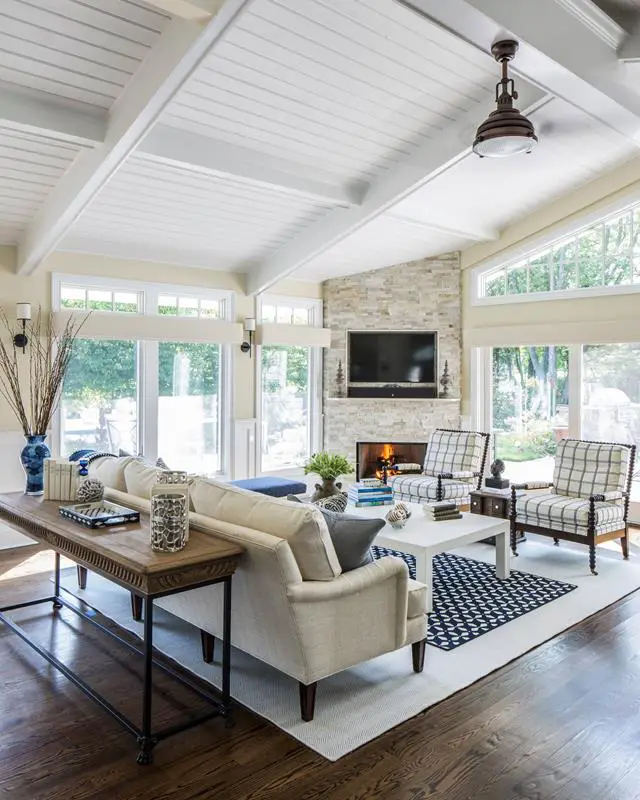 The natural light shines into this space to reveal a more modern design style to go with the dark hardwood floor.
10. Elegant and Beautiful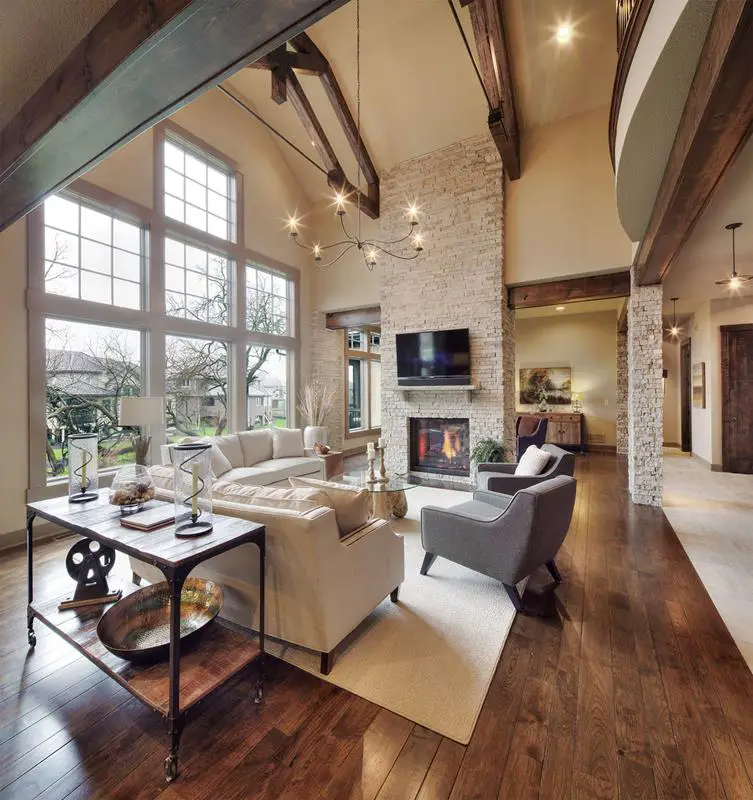 This living room is large and spacious and makes use of elegant design ideas. The hardwood floor blends well with the stacked stone style throughout the room.
11. Great Patterns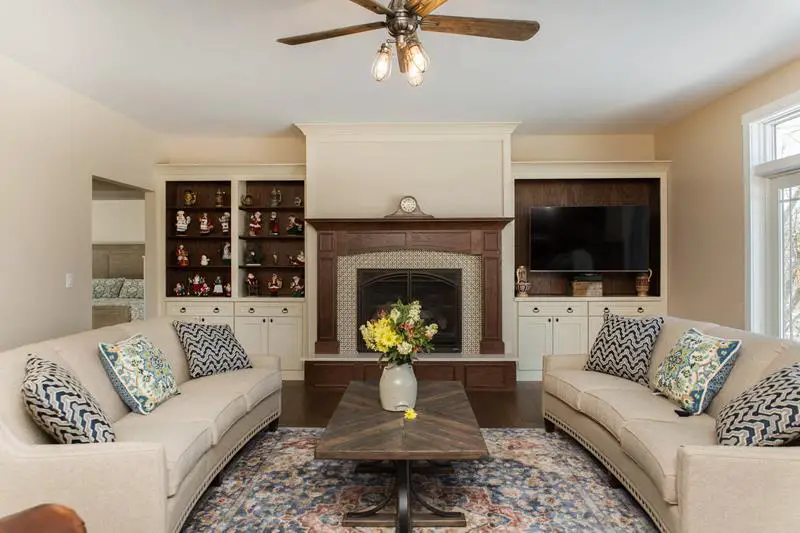 This living room takes on a symmetrical design style and great patterns to create a fantastic environment. The fireplace and shelves match the floor well.
12. Centered Space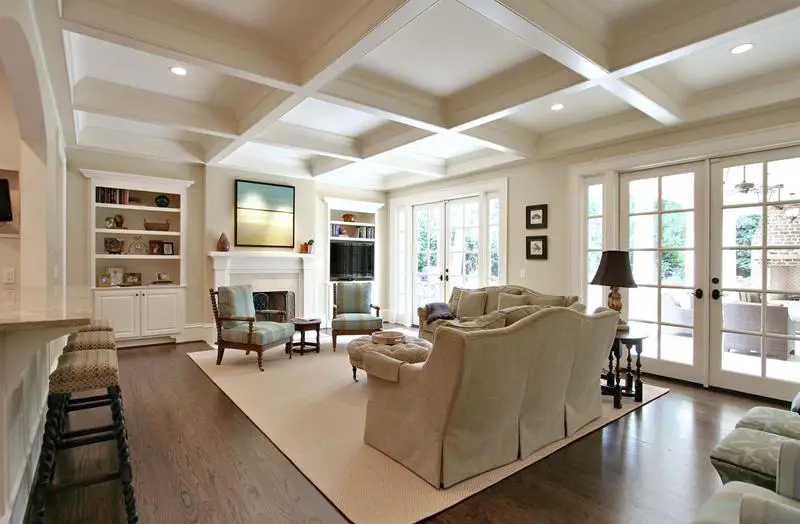 This classically designed space doesn't overwhelm with decor. Instead, it takes a simple approach and matches colors together nicely.
13. Dark and Light Styles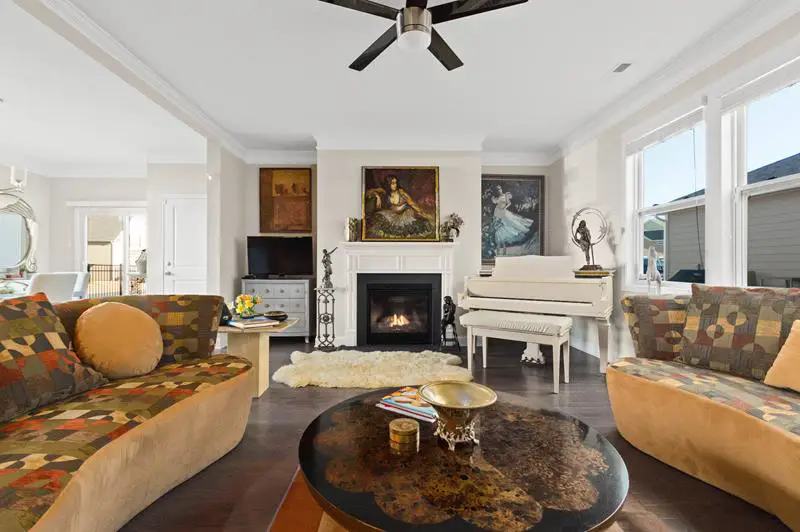 When you have a hardwood floor like this one, the decor options are endless. Here, you can see how well the furniture matches up with the overall color scheme.
14. Darker Hardwood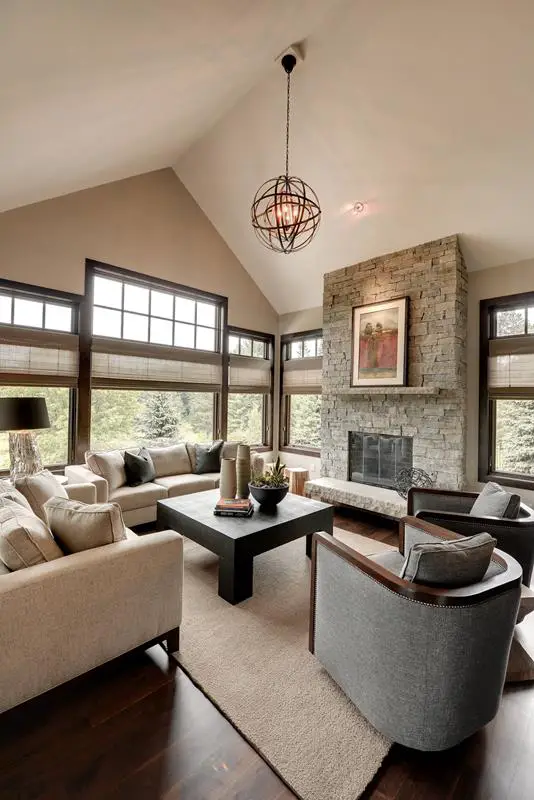 The dark hardwood floor is matched by the furniture, some of it with wood trim. The stacked stone fireplace is a great addition to the space.
15. Light Patterns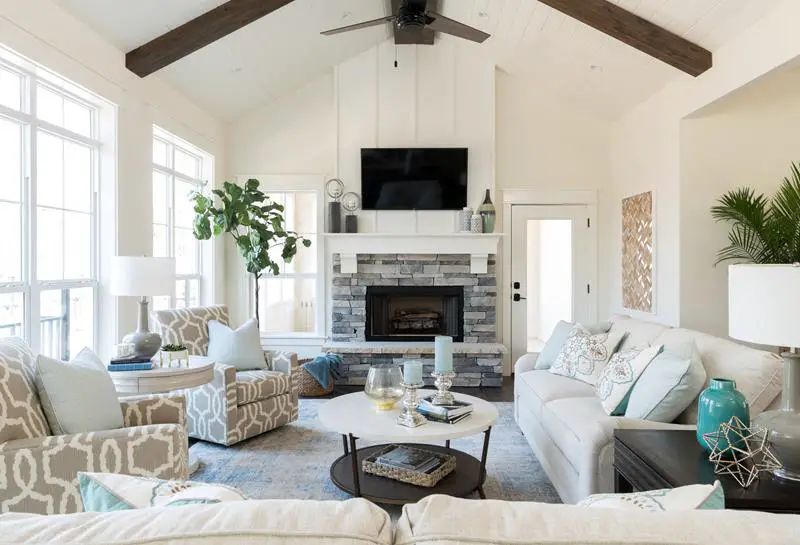 The light styles and patterns throughout this living room work well. The minimal use of dark hardwood is a wonderful complement to the floor.
16. Contemporary Furniture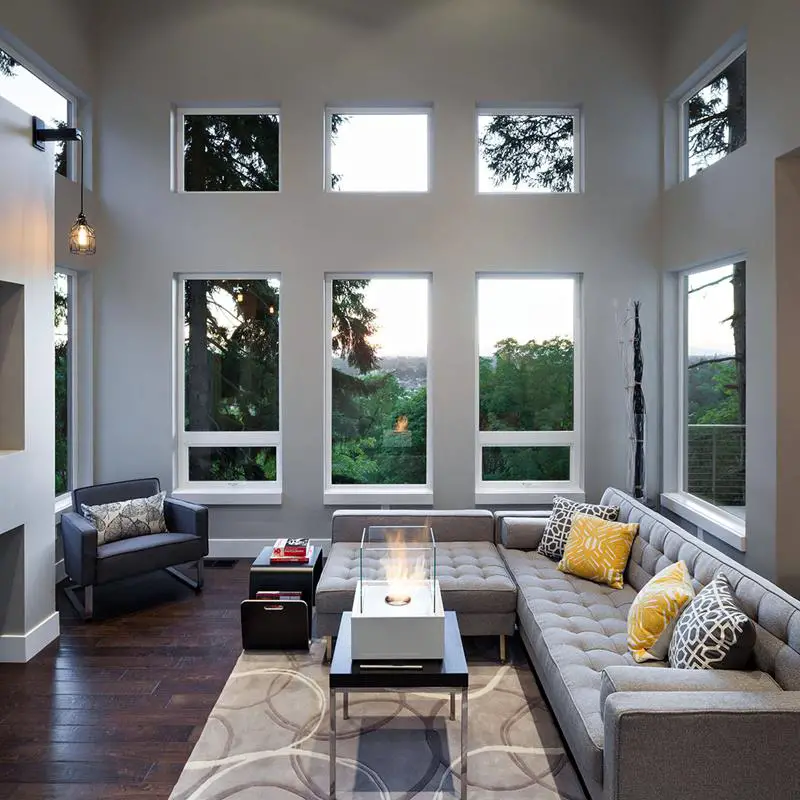 This space is wonderfully contemporary and uses the large windows as part of the style. The dark hardwood floor is matched perfectly by the light furniture.
17. Beautiful Light Styles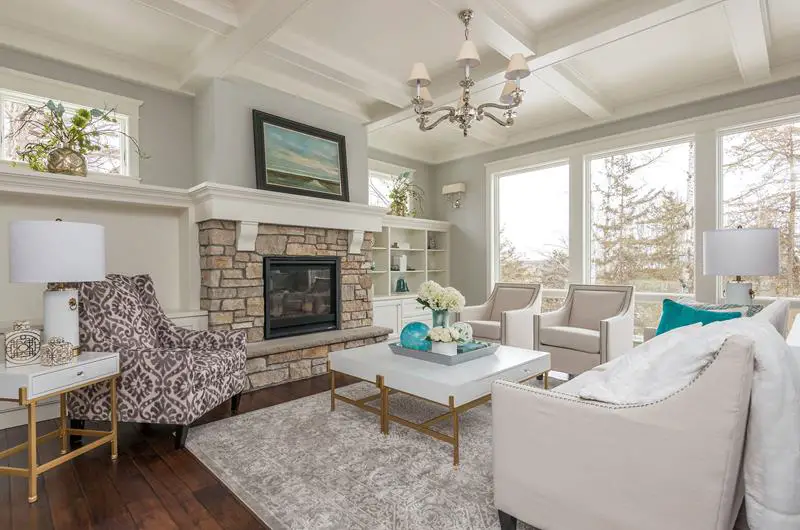 This is such a cozy and elegant space. The light shines in to reveal a beautiful room that designs itself around the darker floor and stone fireplace.
18. Stacked Stone Blend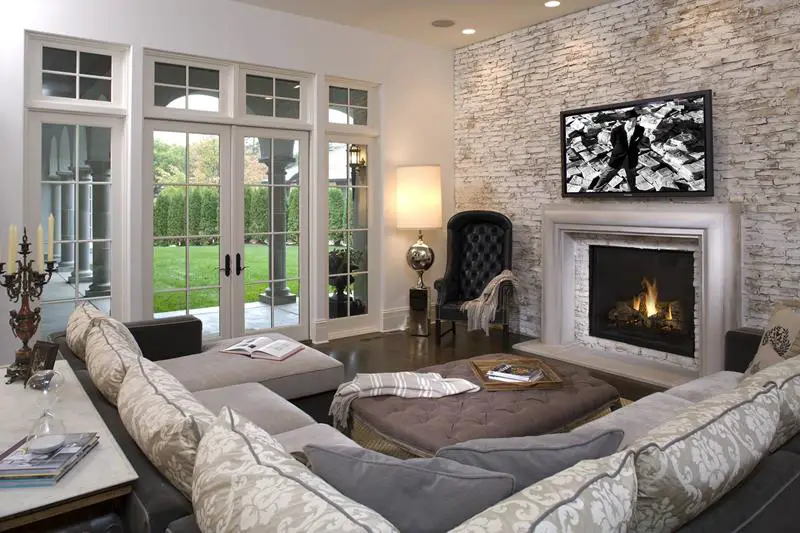 The hardwood floor and stacked stone wall bring great character to this room. The comfortable furniture is a great match.
19. Wonderful Decor Style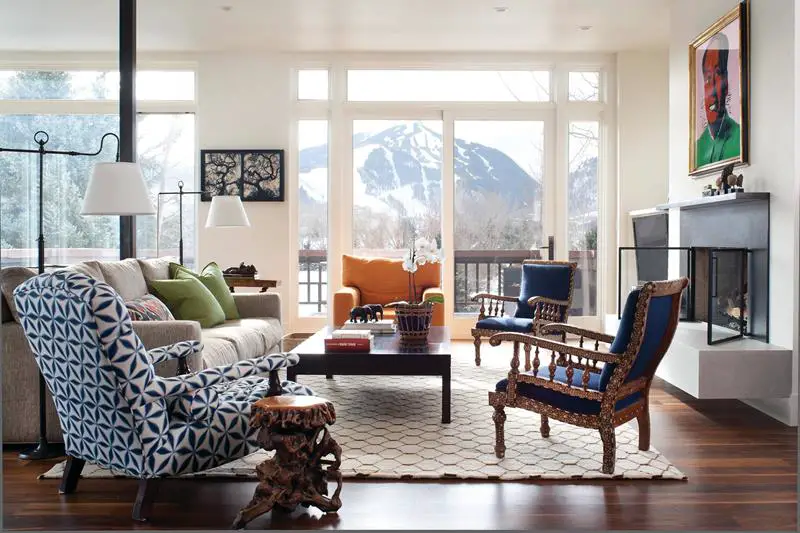 See Also: 30+ Living Rooms with Earth Tones
20. Luxury Cabin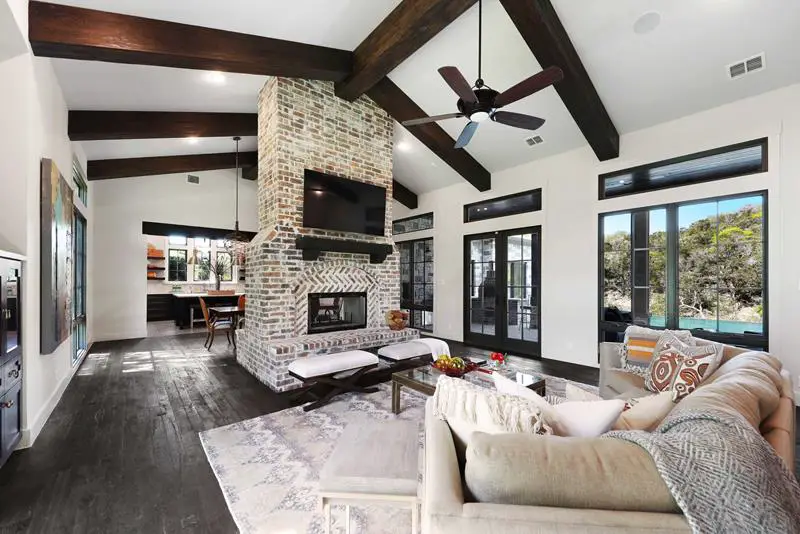 This living room takes its cues from a cabin style and makes it luxurious. The dark hardwood and brick designs blend wonderfully.
21. Cream Colored Designs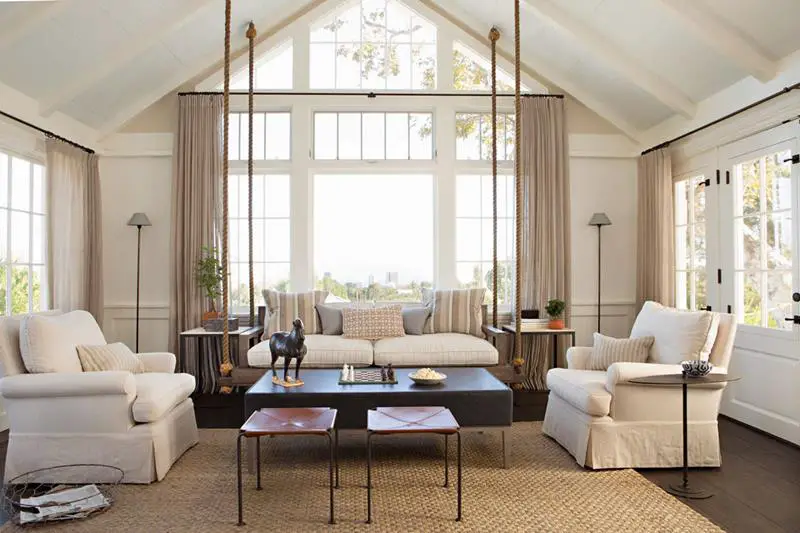 22. Warm and Open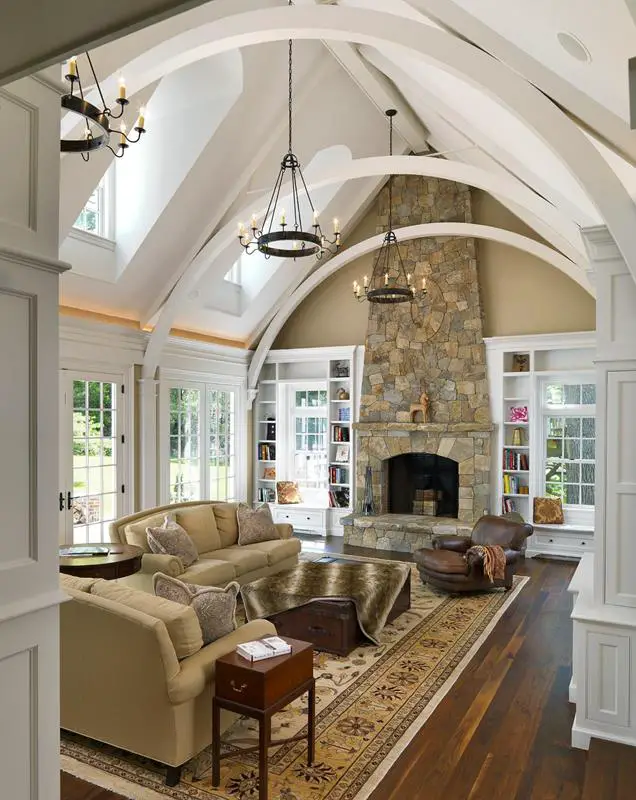 Rounded arches overhead give this room a grand and elegant style and the hardwood floor has a wonderful weathered appeal.
23. Comfortably Designed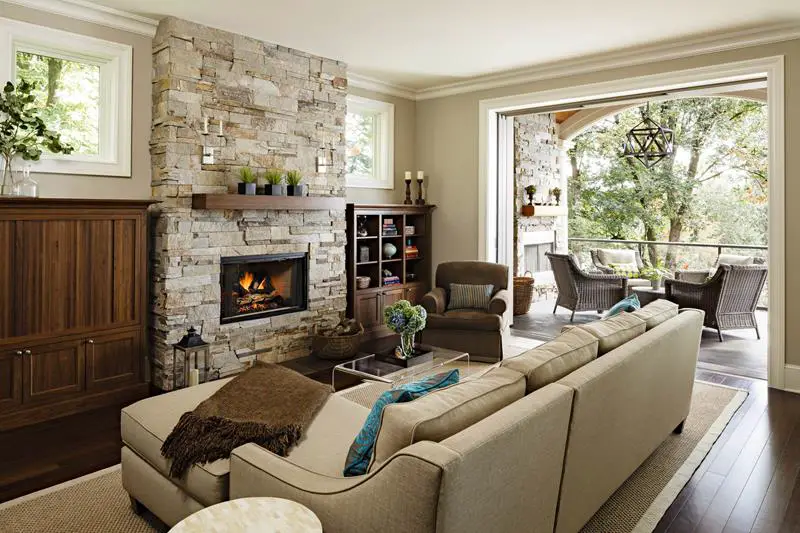 Centered around this stacked stone fireplace, this living room opens to the outdoors and designs itself around a wonderful hardwood style.
24. Modern Patterns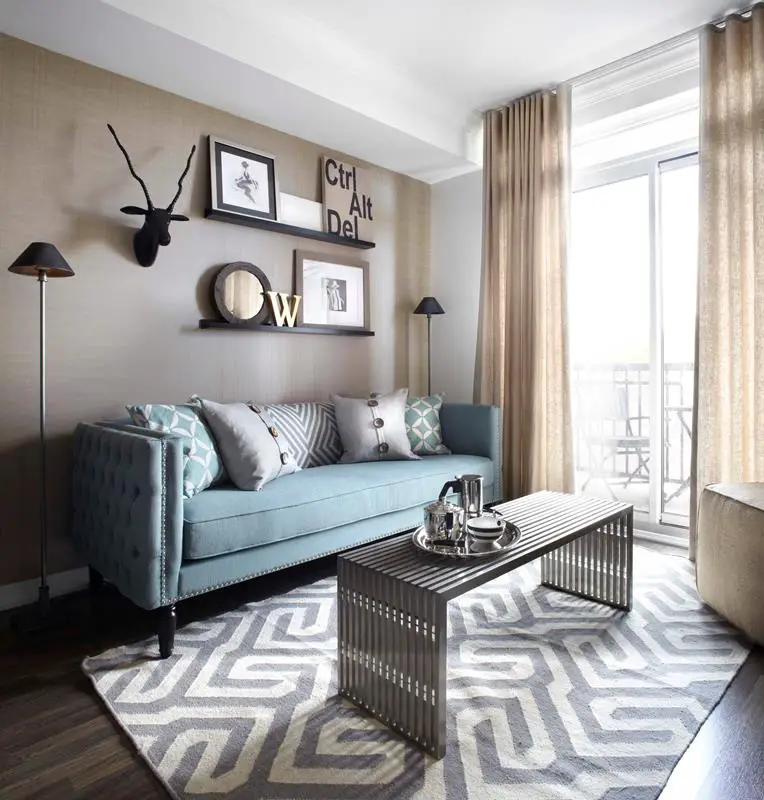 You can match a dark hardwood floor with almost any style. Here, you see great patterns and a contemporary design scheme.
25. Open and Traditional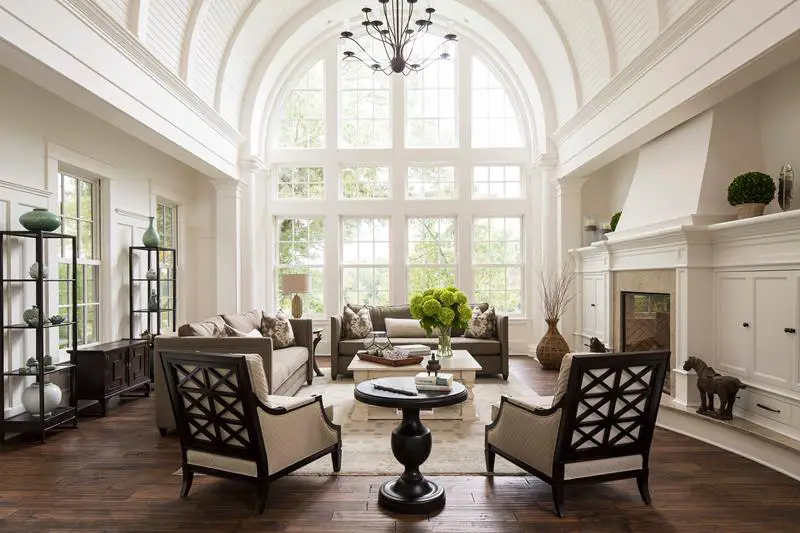 This room is centered around the durable hardwood floor and the large arched windows. Open and spacious, this traditional space is grand and luxurious.
26. Colorful and Fun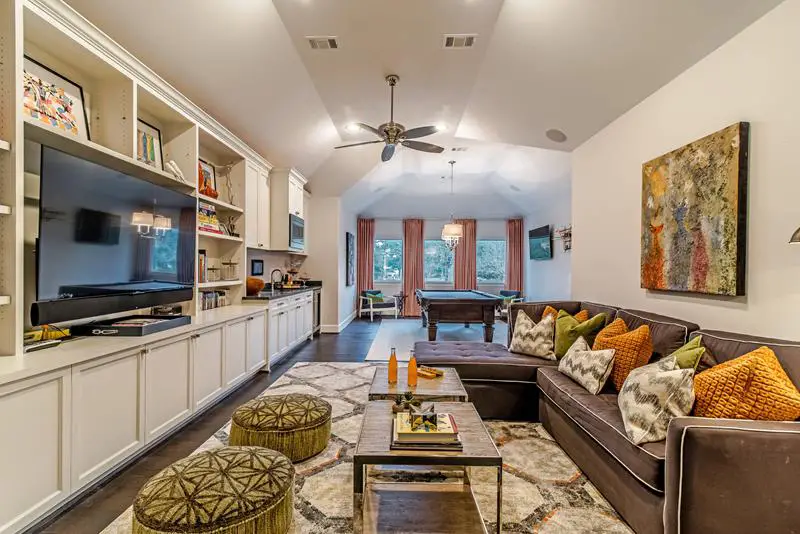 A little color and some wonderful patterns go a long way to give this living room life. The hardwood floor connects this entire space together.
27. Centered Entertainment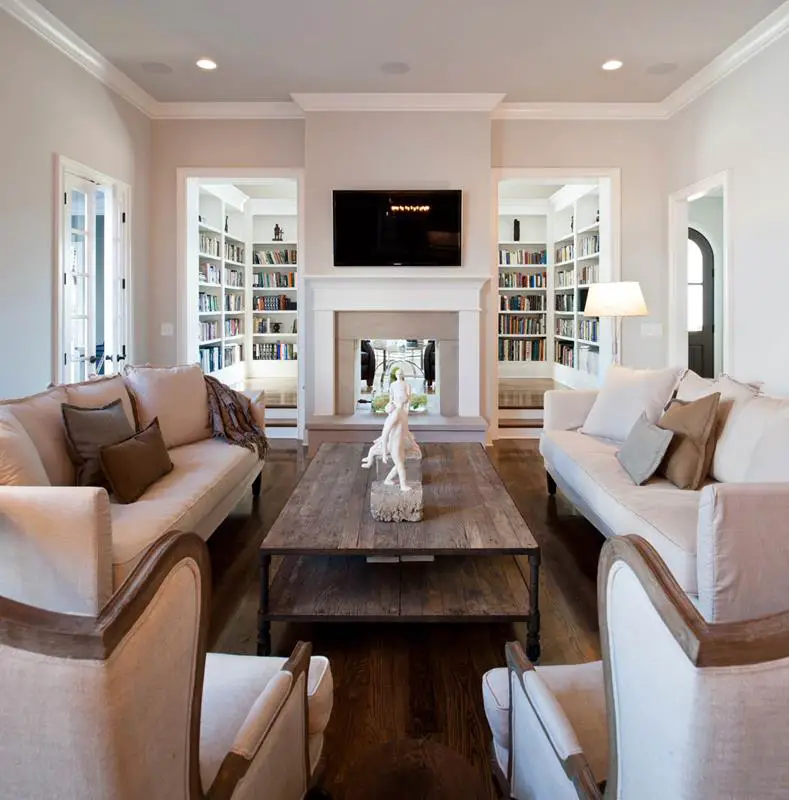 This traditional space is centered around the fireplace and television, giving you a wonderful place to relax. The hardwood floor is matched perfectly with the furniture here.
28. Cozy and Warm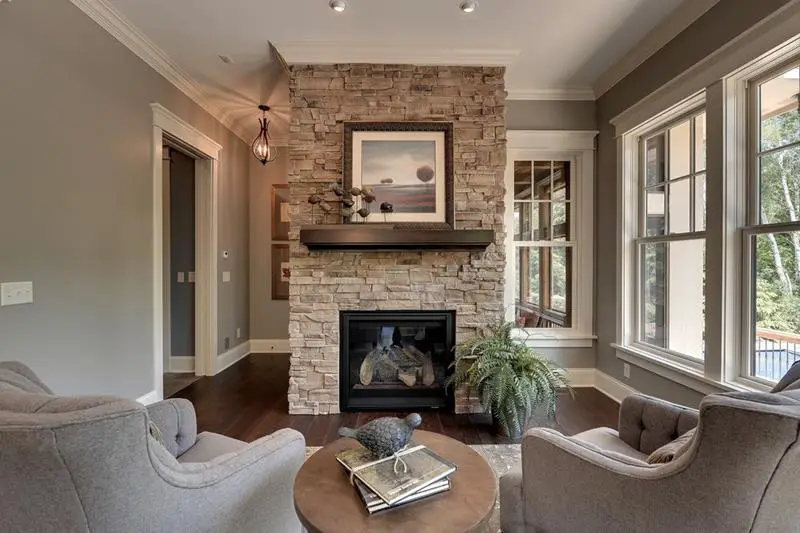 This living room is comfortable and warm thanks to the beautiful fireplace. The stacked stone goes really well with the hardwood floor here.
Don't Miss: 15+ Jaw Dropping Mansion Living Rooms