Updated on January 3, 2022
There is something special about a well designed living room. When the furniture complements the floor style and the walls blend perfectly, you know you are doing something right.
When it comes to a color scheme for the living room, it is hard to go wrong with earth tones. The earth provides us with a perfect palette of colors, so why try to go against nature. From lighter neutral colors to dark and bold. From vibrant fall colors to lush tropical styles, earth tones can work in any living room.
We have gathered 30 of the best living room design ideas so you can see just how versatile earth tones can be. Below, you will find a range of styles, from traditional to contemporary. Take your time and find something that will fit well in your current (or future) home.
Earth Tone Colored Living Room Design Ideas
Don't forget to pin these ideas and follow us on Pinterest @homeawakening
1. Open Floor Plan with Earth Tones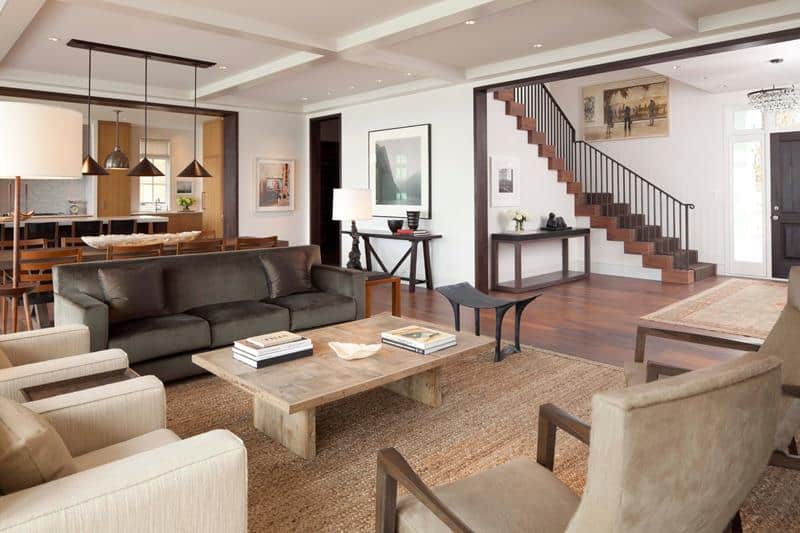 This living room has a wonderful open floor plan. The calm earth tones used in this space ties everything together and work perfectly with the hardwood floor.
2. Vibrant Fall Colors

Lauren Ostrow Interior Design, Inc.
There is nothing wrong with a little vibrancy in the living room. These wonderful fall colors bring the room to life and give it great character.
3. Contemporary Earth Tone Usage
This is a contemporary living room that takes advantage of beautiful and calm earth tones. The room creates a warm sense of style that will leave everyone comfortable.
4. Transitional Living Room with Earth Tones
With a calm color wall blended with darker earth tones for the decor and furniture, this room creates a beautiful balance. With the large window for natural light, this is a great space.
5. Calm and Traditional Earth Tones
Kayron Brewer, CMKBD/Studio K B
Some earth tones are meant to create a warm sense of style. Combined with this beautiful fireplace, this is certainly a relaxing space.
6. Beautiful Clay Earth Tones
Clay colors can be used to bring a space to life. This orange style around the fireplace combines well with the light walls and the darker furniture.
7. Sophisticated Darker Tones
The darker chocolate colored walls and furniture is balanced well by the light fireplace mantle and the wonderful rug. The room creates brilliant contrasts.
8. Open Room with Great Earth Tones
The earth tones in this room, from the furniture to the carpet, blend so well with the hardwood floor and overhead beams. You can relax in the grand space.
9. Light Earth Tone Contrast
The furniture takes a true earth sense of style with the hardwood design. This room is balanced by great light walls and decor.
10. Beautiful Copper Earth Tones
The copper earth tones used in this room are contemporary and stylish. The decor is minimal and balanced with the tone of the room.
11. Handsome Darker Earth Tones
When you use darker earth tones combined with dark hardwood, you end up with a sophisticated look that is stylish and has character.
12. Luxurious Earth Toned Space
The stone style used in this room takes on light earth tones and really makes this a contemporary style. The open floor plan is welcoming and relaxing.
13. Handsome Earth Tones
With a beautiful chevron hardwood floor, this room uses beautiful earth tones to balance the room. This is a warm and luxurious environment.
14. Colors of Autumn
Michael FitzSimmons Decorative Arts
Fall colors are beautiful when used with a lighter hardwood. The autumn style is welcoming and open, with a lively design working here.
15. Natural Wood Blends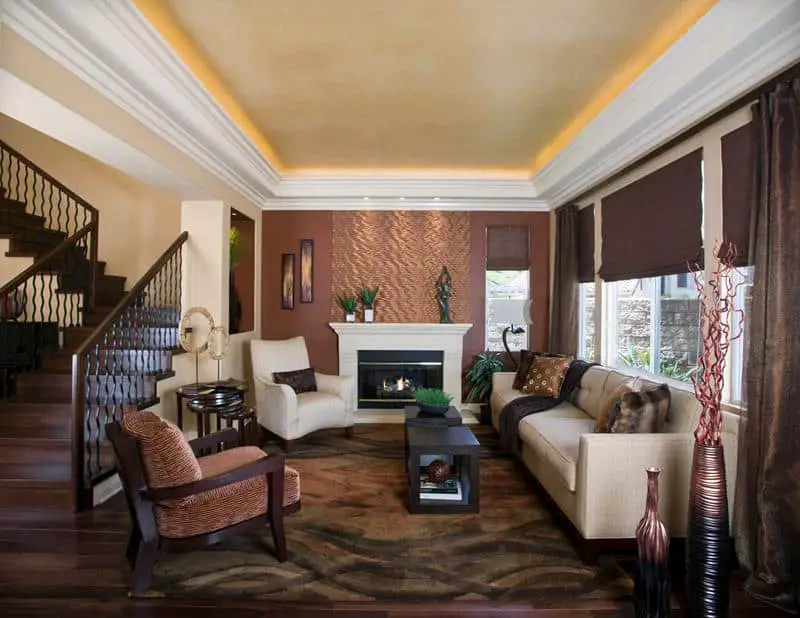 Cynthia Prizant – Prizant Design, LLC.
With two tones of hardwood at work, this room uses beautiful lighter furniture to complement the space. The copper tones around the fireplace are a perfect finishing touch.
See Also: 15+ Jaw Dropping Mansion Living Rooms
16. Neutral Earth Tone Brilliance
Alan Mascord Design Associates, Inc.
Earth tones have a wide array of shades, and here we see lighter tones at work. They work so well with the abundance of natural light that shines in.
17. A Tropical Color Blend
This room takes on a tropical style that is evident in the plant decor blended with the greens and subtle yellows. This room soaks in the natural light for a wonderful look.
18. Southwest Vibrant Colors
This room take those well known Southwest colors. With a blend of desert style and an open room, you can really appreciate how much light is allowed in from the windows.
19. Perfect Earth Tone Blend
This living room takes advantage of many different shades of earth tones. From the darker table and chair to the lighter couch and rug, this room gives you style.
20. Luxurious Tropical Design
When you have luxurious hardwood to balance with the hardwood beams on the ceiling, all you have to do is choose the right color scheme. This room does that will great earth tones.
21. Soft Colors and Natural Wood
This lighter, almost clay colors, bring a wonderful balance to the natural wood styles throughout the room. The minimal approach to decor really works here.
22. Great Earth Toned Decor
This room takes a simple approach to color and decor. The earth tones form a complete design that works well with the minimal style.
23. Perfect Stone Style
This living room ties together with the dining are for an open style. The stone style used is combined with wonderful hardwood to give a natural look.
24. Upscale Cabin Style
When you are looking for a luxurious cabin style, this is a great starting point. With darker hardwood as a great base all around, the earth toned furniture completes the look.
25. Contemporary Calm Color Blend
Kayron Brewer, CMKBD/Studio K B
The blend of dark and light earth tones here works really well to create a calm environment. The tile mosaic fireplace ties the whole space together.
26. Open Hardwood Design
This is a contemporary space that uses lighter earth tones to balance off of the hardwood ceiling and floor. The living room is open and combines well with other spaces of the house.
27. Transitional Dark and Light Contrasts
This is a cozy space that makes brilliant use of decor. The lighter beige and brown earth tones are perfect for balancing with the hardwood floor.
28. Natural Stone and Wood Look
The cobblestone fireplace is a great place to balance the design of this room off of. The darker furniture works so well with the natural hardwood around this room.
29. Trendy Modern with Fall Colors
Bring in the fall colors to balance with the dark hardwood floor. The brown tile mosaic tile around the fireplace is a brilliant design choice for this room.
30. Warm and Varied Earth Tones
The natural light is allowed to pour into this room to show off the wonderful blends of style. The darker shelves are balanced perfectly with the lighter furniture.
Don't Miss: 25+ Living Rooms with Dark Wood Floors