Updated on January 3, 2022
When it comes to colors for your living room, what comes to mind. Maybe earth tones, possibly some blues and lavender. That's the norm.
We're here to show you how versatile orange is.
We know, orange isn't the first color people jump to when planning a living room, but we'll show you why it should be. Below, you will see over 25 example of how orange completely changes a room. Yes, in some cases the orange is bold and daring, bringing the whole space to life. In other cases, the orange is calm and neutral, blending with other colors to bring peace to the space.
By the time you're done in this gallery, we know you'll be going to the home improvement store to check out all the orange blends.
Orange Living Room Design Ideas
1. Stunning Fireplace Area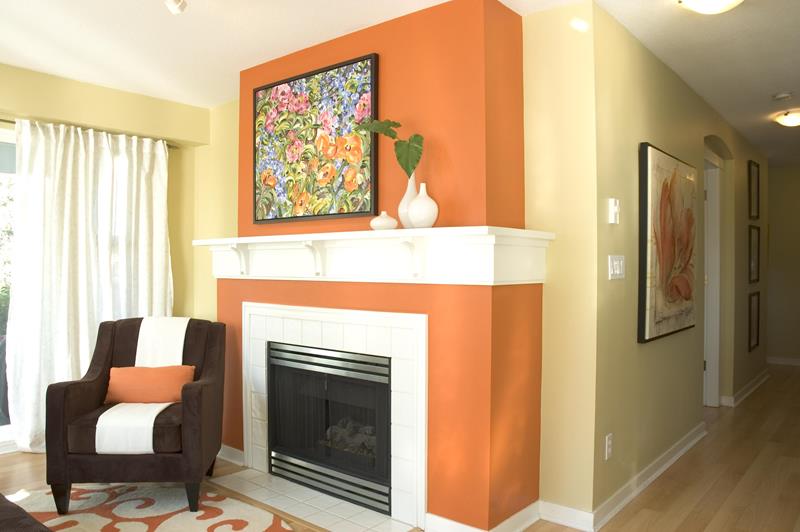 There is nothing better than a calm, wonderfully toned orange. This fireplace area works so well with the surrounding wall color.
2. Calming Orange Tones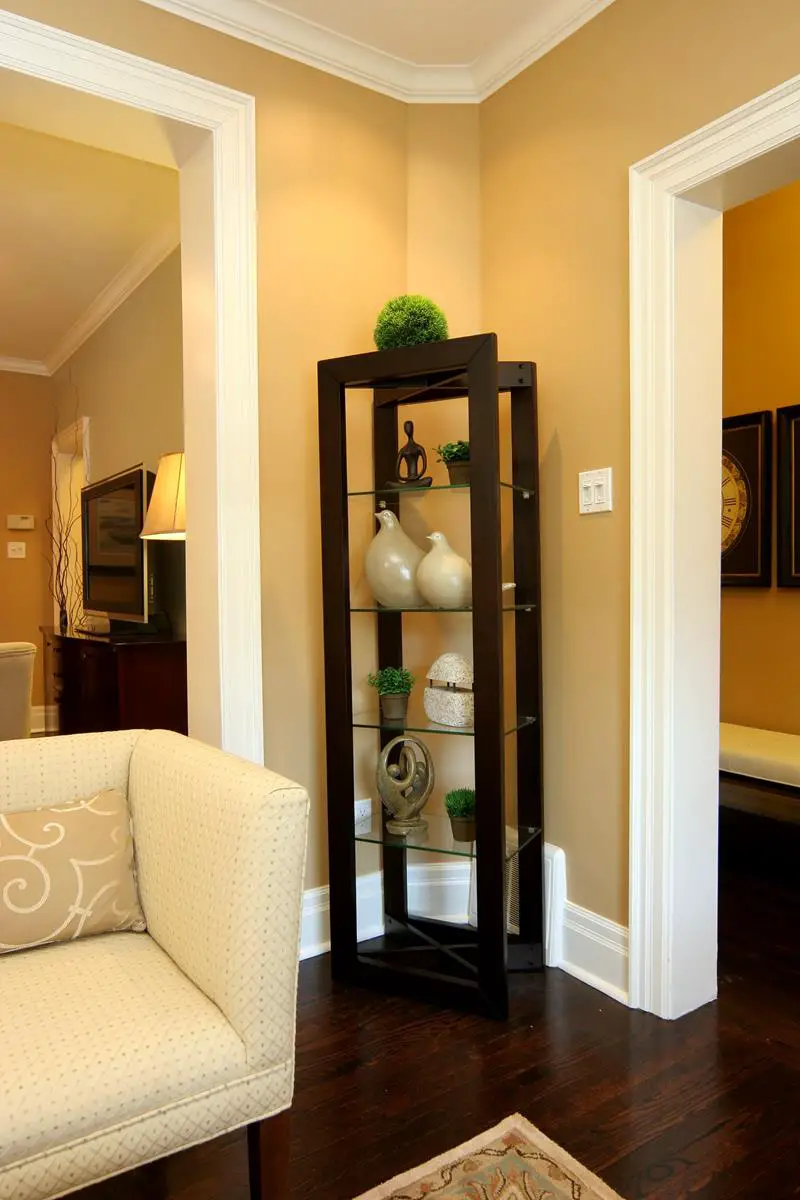 Orange doesn't have to be an overwhelming color, as you can see how toned down it is in this living room space. It is peaceful and works with this contemporary decor style.
3. Perfect Hardwood Match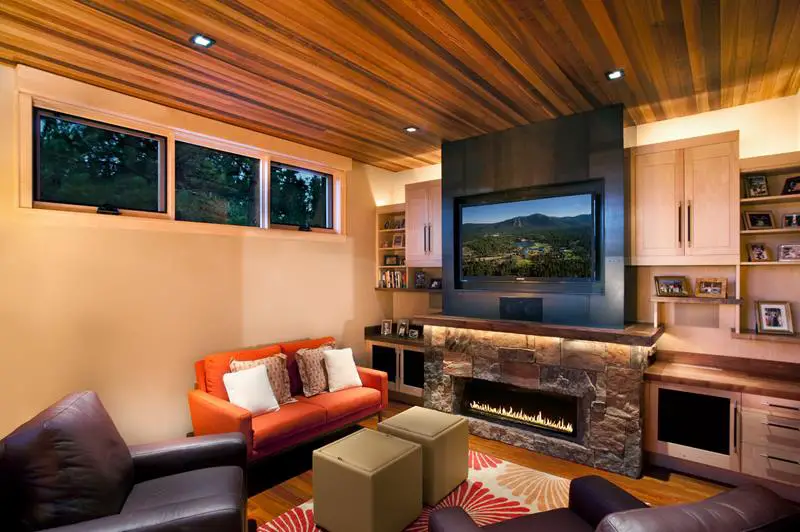 4. Contemporary Color Blends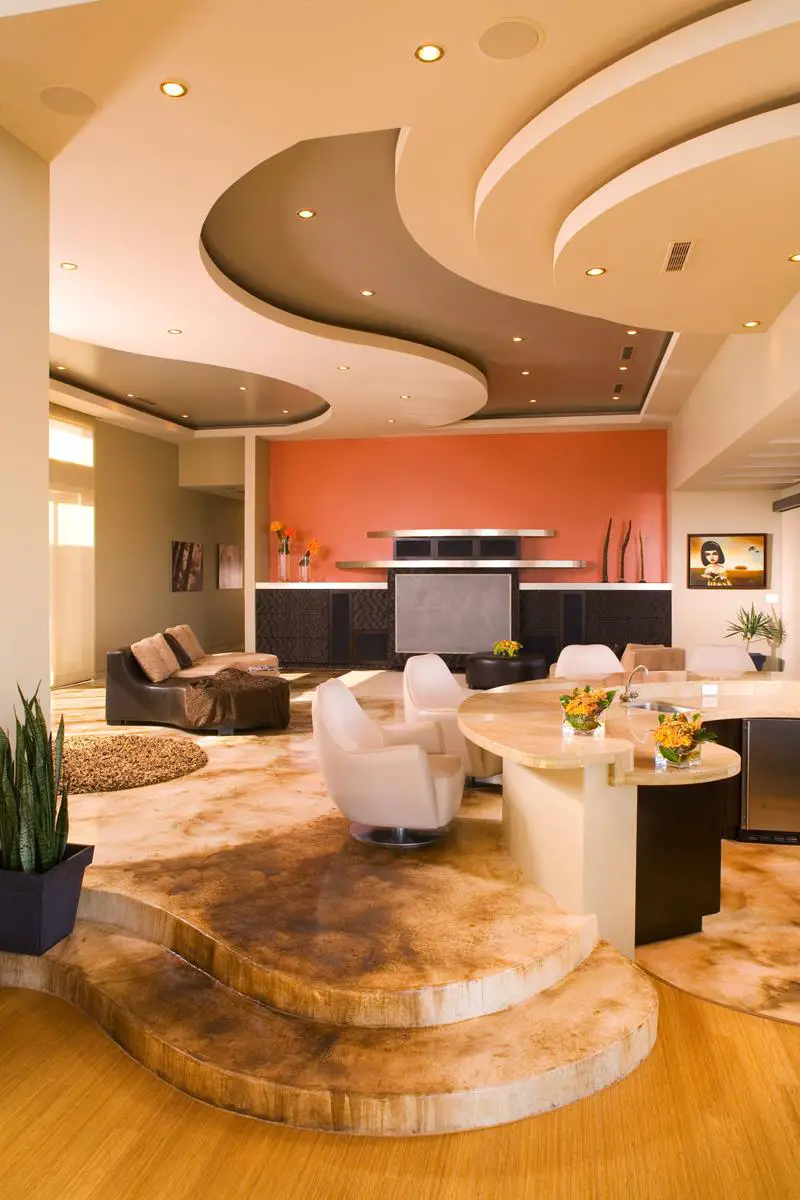 This contemporary living room simply looks amazing. When you go with bold architecture, you can also go bold with colors and you can see how ell the orange works to complement this style.
5. Darker Orange Wonder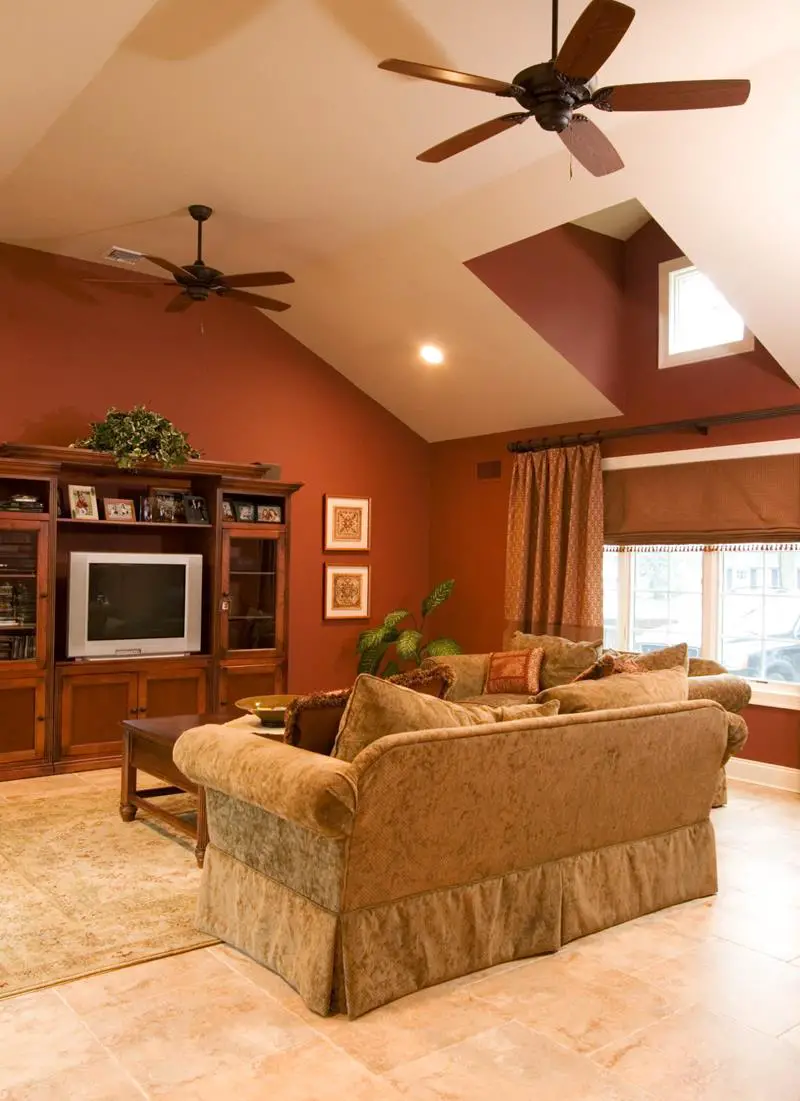 The darker orange used for the walls in this living room is matched so well by the hardwood furniture and calm couch and carpet. We love the overall contrasts.
6. Cream and Orange Blend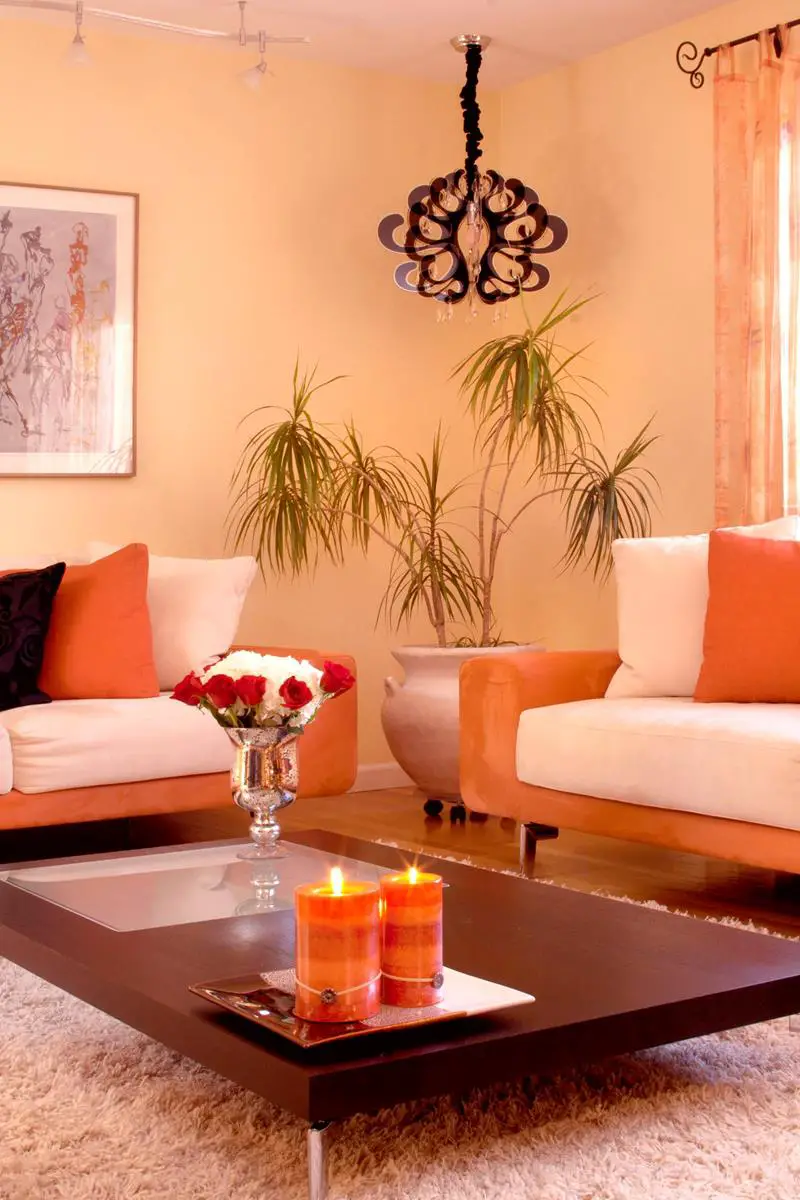 An orange color always works well with a cream color style. This room is a balance between the two, giving you an amazing and light style.
7. Stunning Furniture Match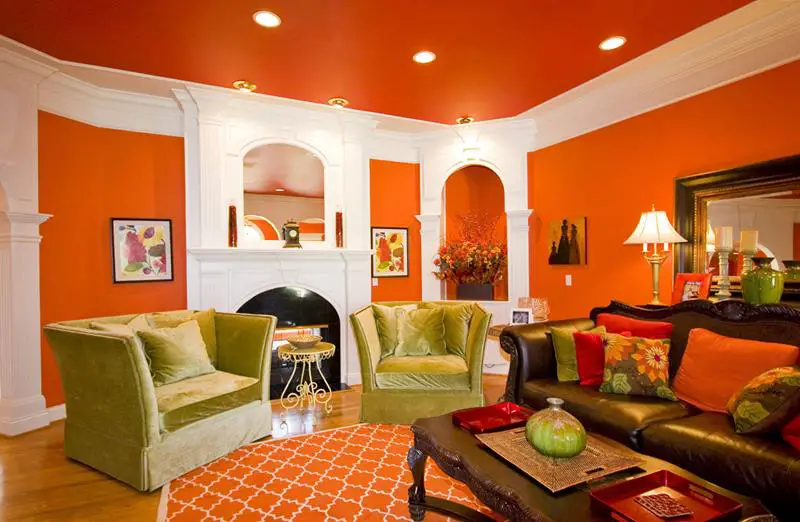 This room makes use of a bold orange and contrasts it with white outlines.  The furniture is such a great match to the whole space, giving an eclectic feeling.
8. A European Style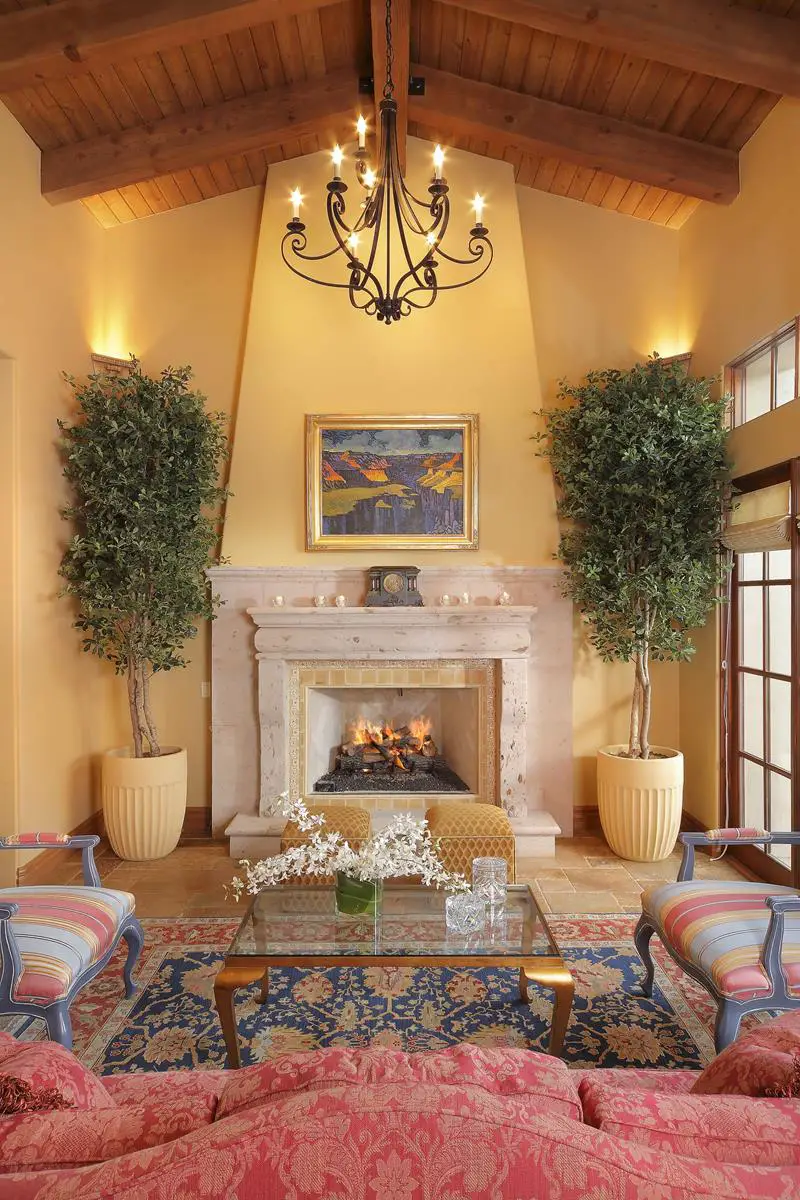 This space takes a beautiful European style and makes it colorful. The calm orange used for the walls gives you a wonderful base for this fantastic furniture.
9. Wonderful Country Style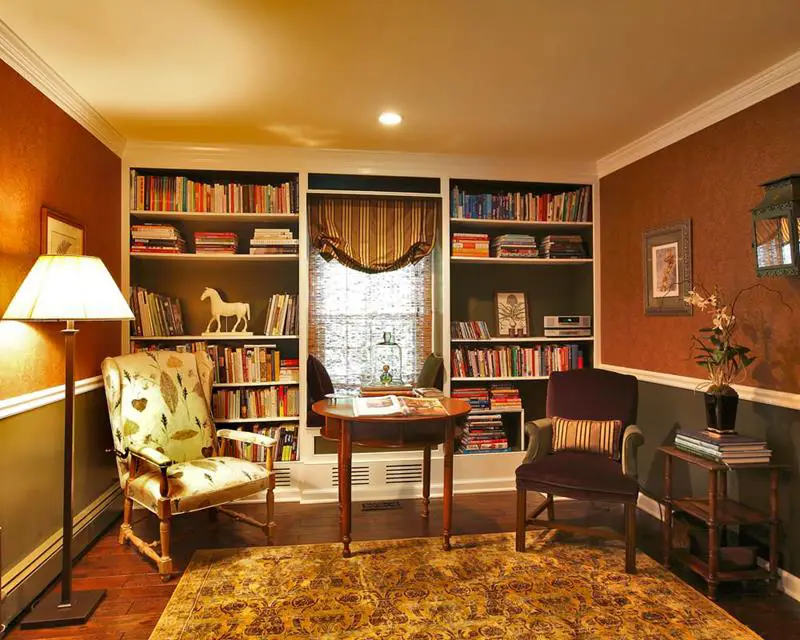 The darker orange in this small reading room really works well to give this space a calming country charm. We love the decor match here.
10. Southwest Completion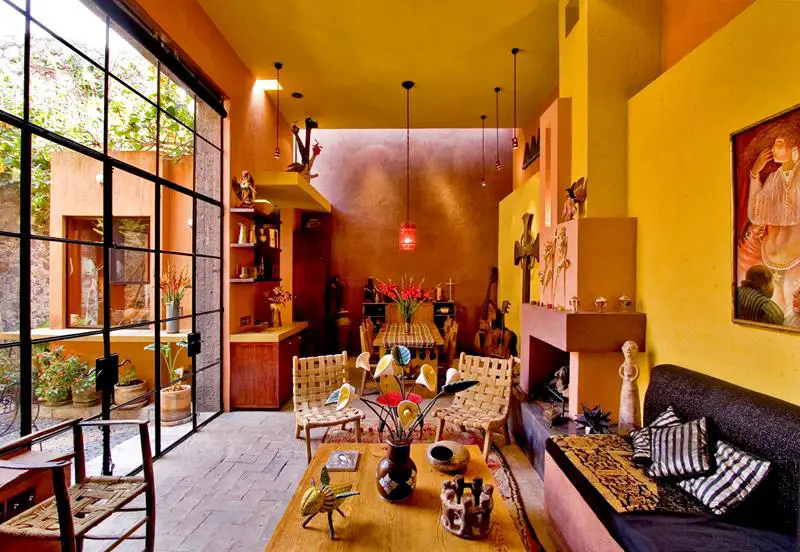 Orange has always been a staple of a Southwest style and you can see it at work here. We love how great it looks in the abundant natural light.
11. Vaulted Ceiling Match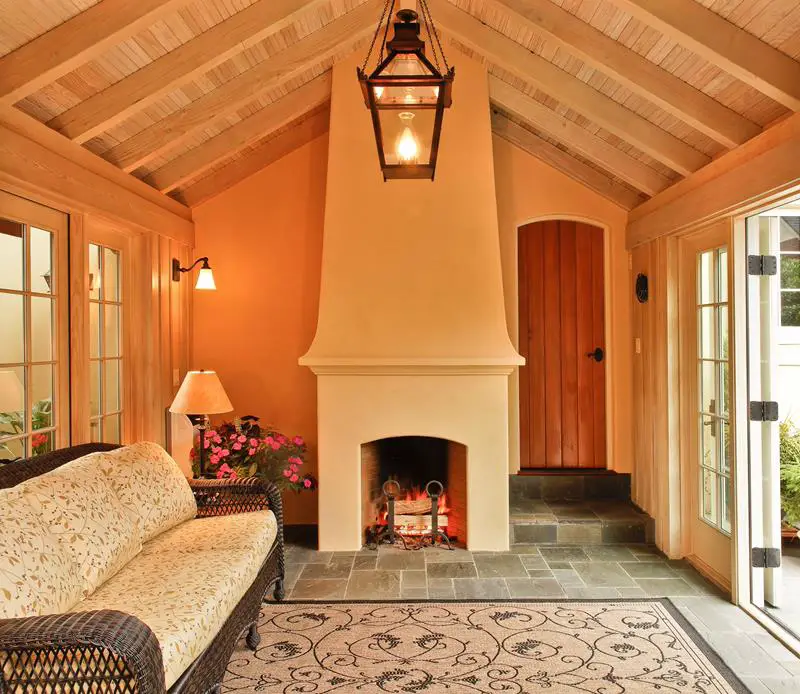 Here is another wonderful example of Southwestern architecture that is wonderfully matched by a calm orange tone. This is wonderfully complemented by the hardwood all around.
12. Orange and Hardwood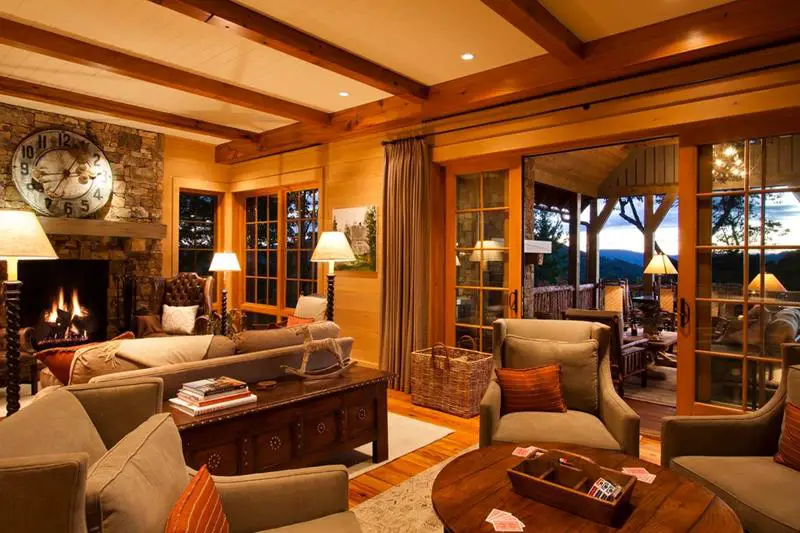 13. Light Orange Hardwood Blend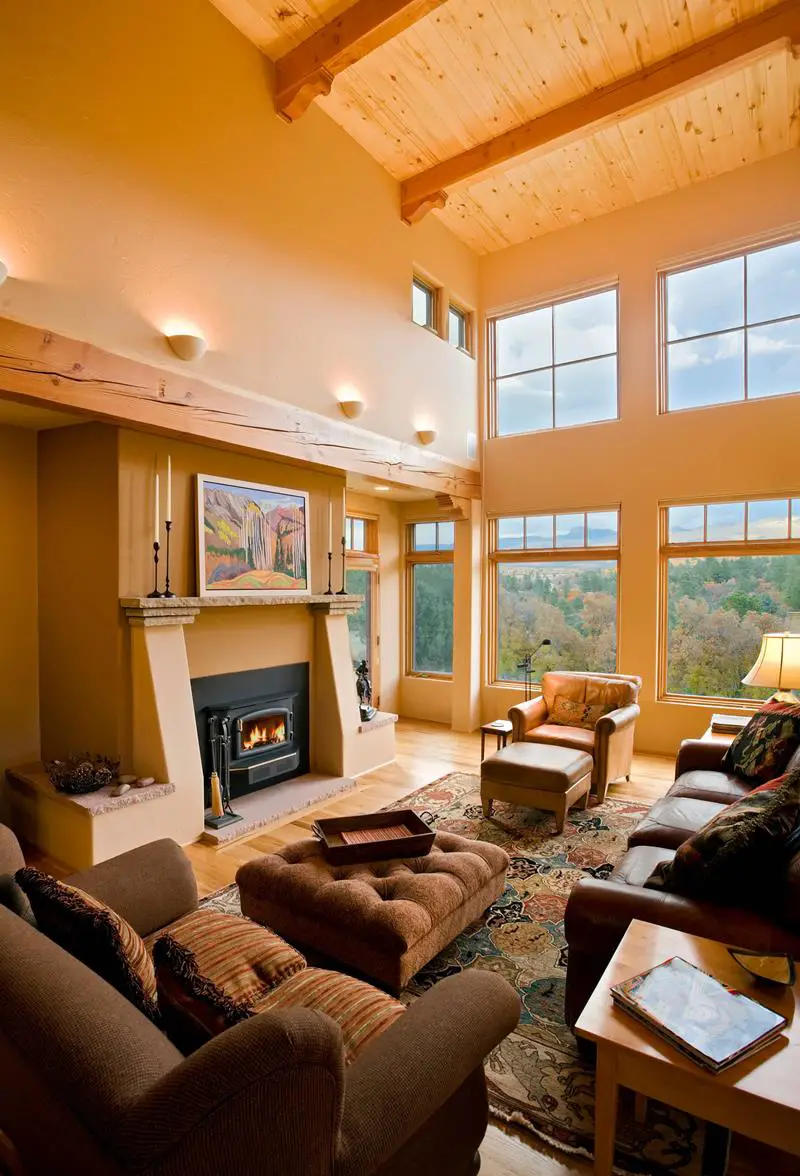 A light orange is used for these walls and is wonderfully blended with the light hardwood. We love how the natural light pours in to show the whole space off.
14. Burnt Orange Walls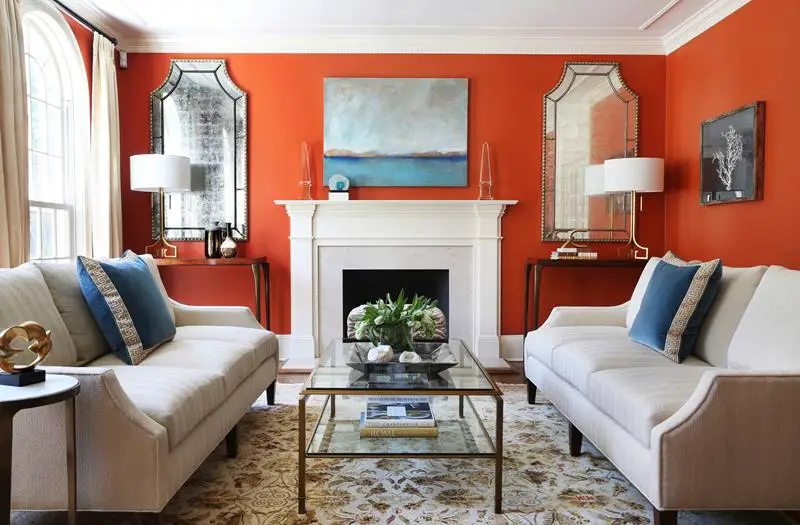 See Also: 20+ Design Ideas for Living Rooms with Sectionals (Photos)
15. Great Furniture Match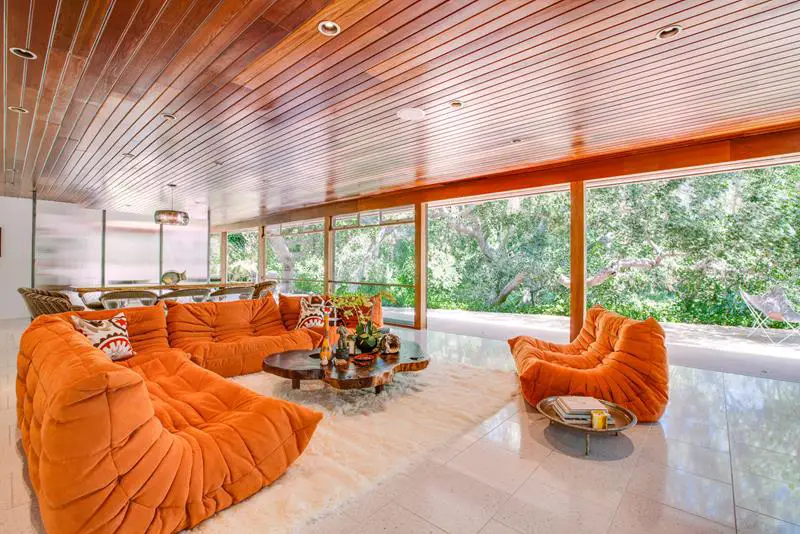 This hardwood ceiling is wonderfully complemented by this orange, modern furniture. This whole space is opened up so you can see how beautiful it really is.
16. Contemporary Styles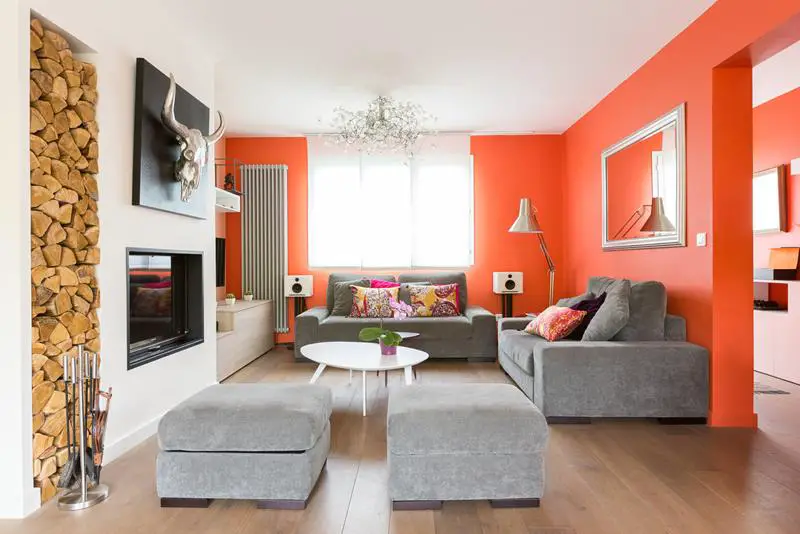 We love that these orange walls are balanced by the white ceiling. This space is bright, lively, and fun, giving you a contemporary style.
17. Calm and Cozy Space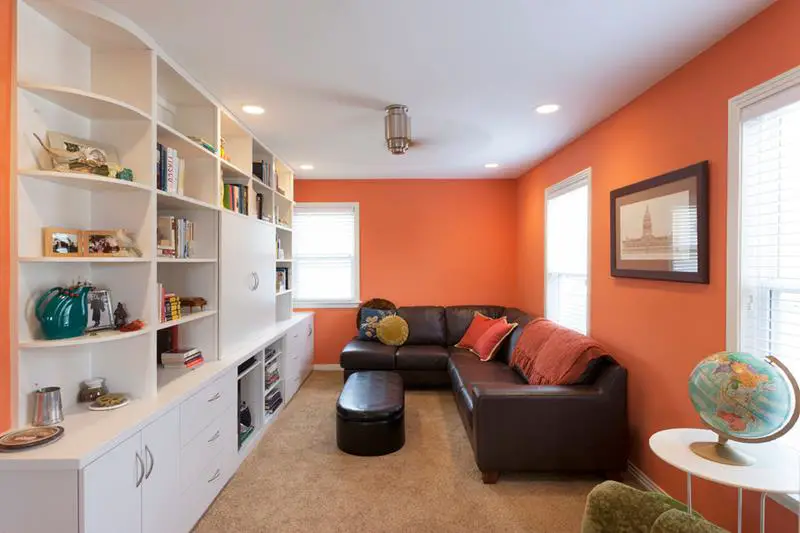 The calm orange used in this room is matched perfectly by the white shelving and television area. This is a calm and open space you can relax in.
18. Slightly Rustic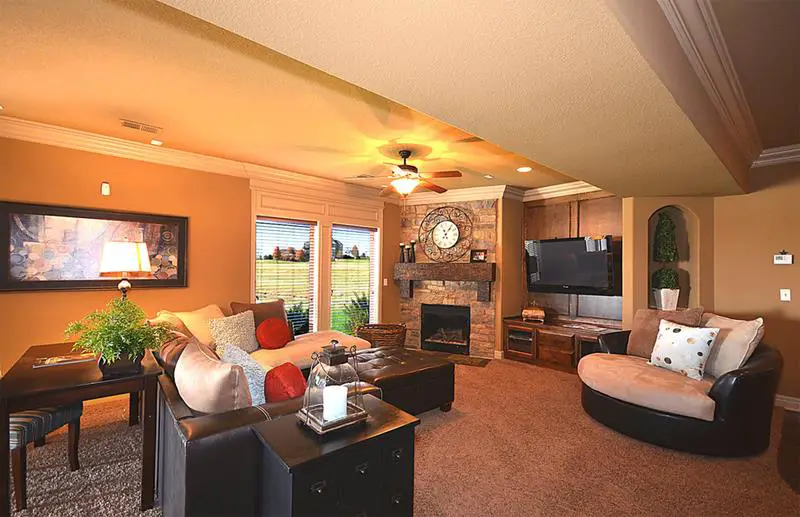 This room takes a slightly rustic style and makes if bright thanks to the calm orange wall. The modern furniture is a great contrast and complement to the whole area.
19. Minimal Rustic Style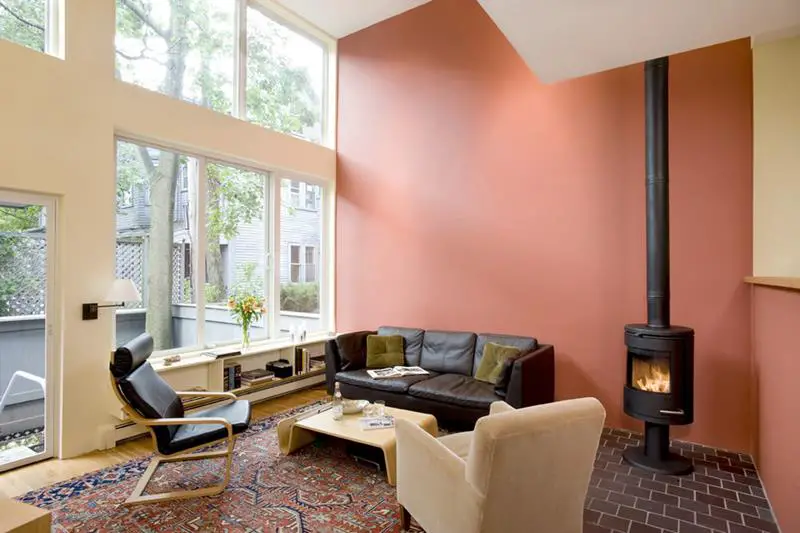 There is nothing complicated about this living room. With the natural light pouring in to show this off-orange wall, you can enjoy the minimal feel of the space.
20. Bright Furniture Wonder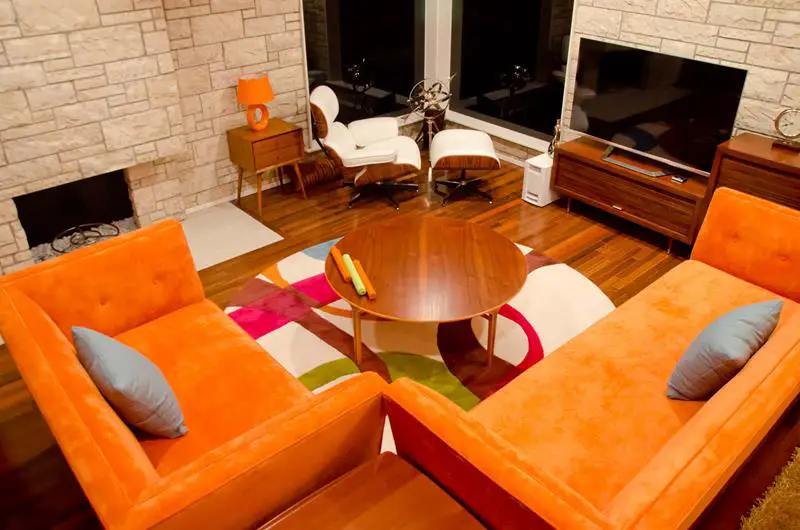 With these wonderful stacked stone style walls, you can appreciate how well this bold furniture works to bring life to this room.
21. Light Cabin Style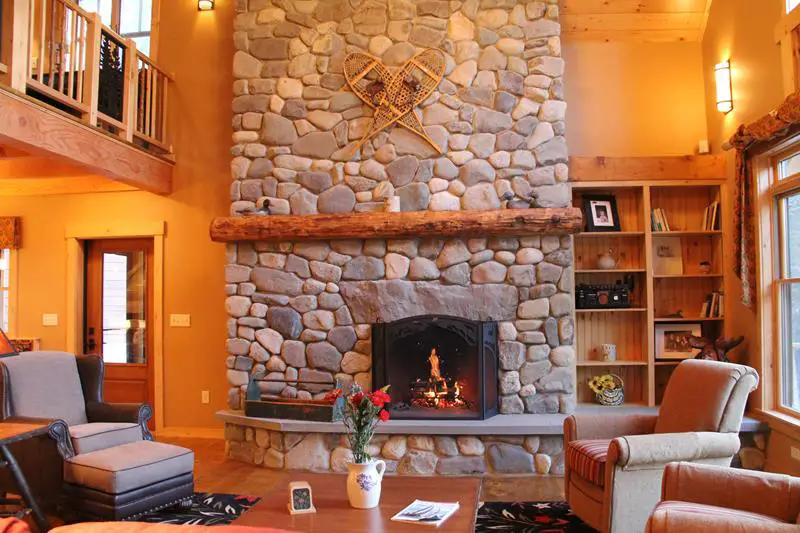 We love the cobblestone style used for this fireplace area. The subtle orange used for the walls is a great complement to the hardwood around the room.
22. Open and Modern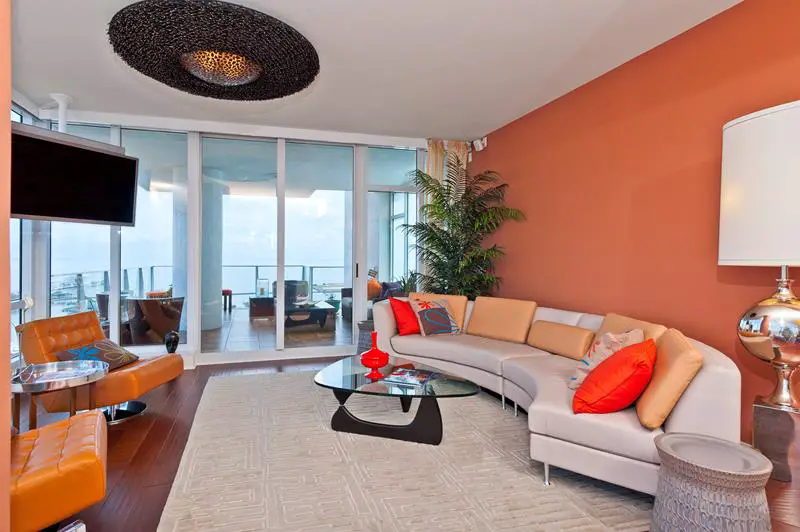 This darker orange is wonderfully complemented by the lighter furniture. Don't underestimate how well the accent pillows and chairs work to balance multiple orange tones.
23. Hardwood Blended Contemporary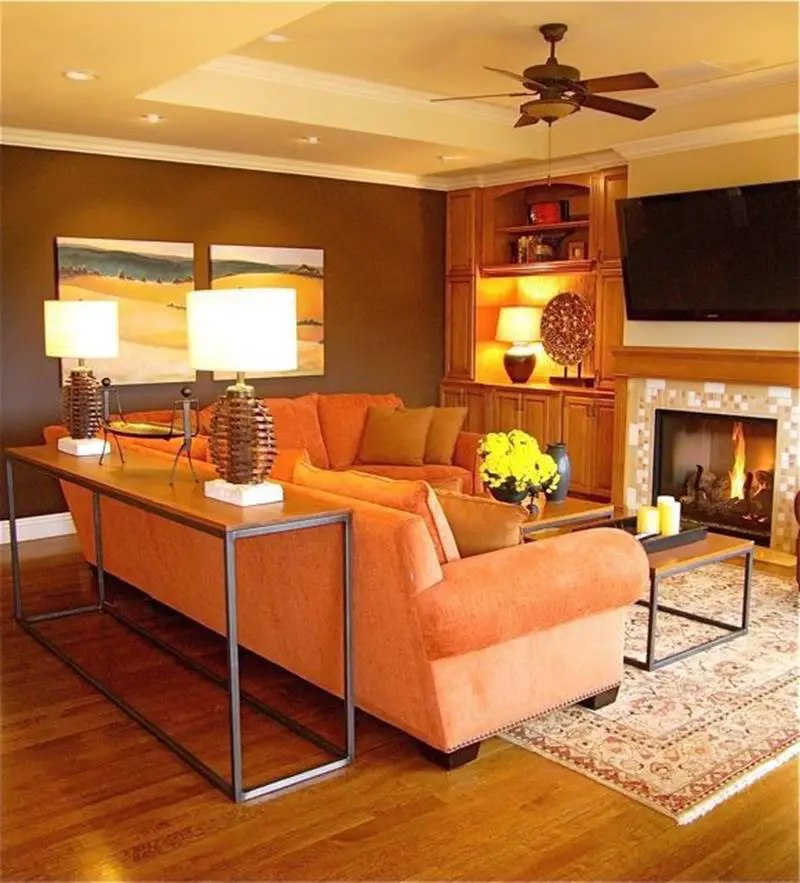 The hardwood in this room, from the floor to the cabinets, work so well with this light orange couch.
24. Wonderful Patterns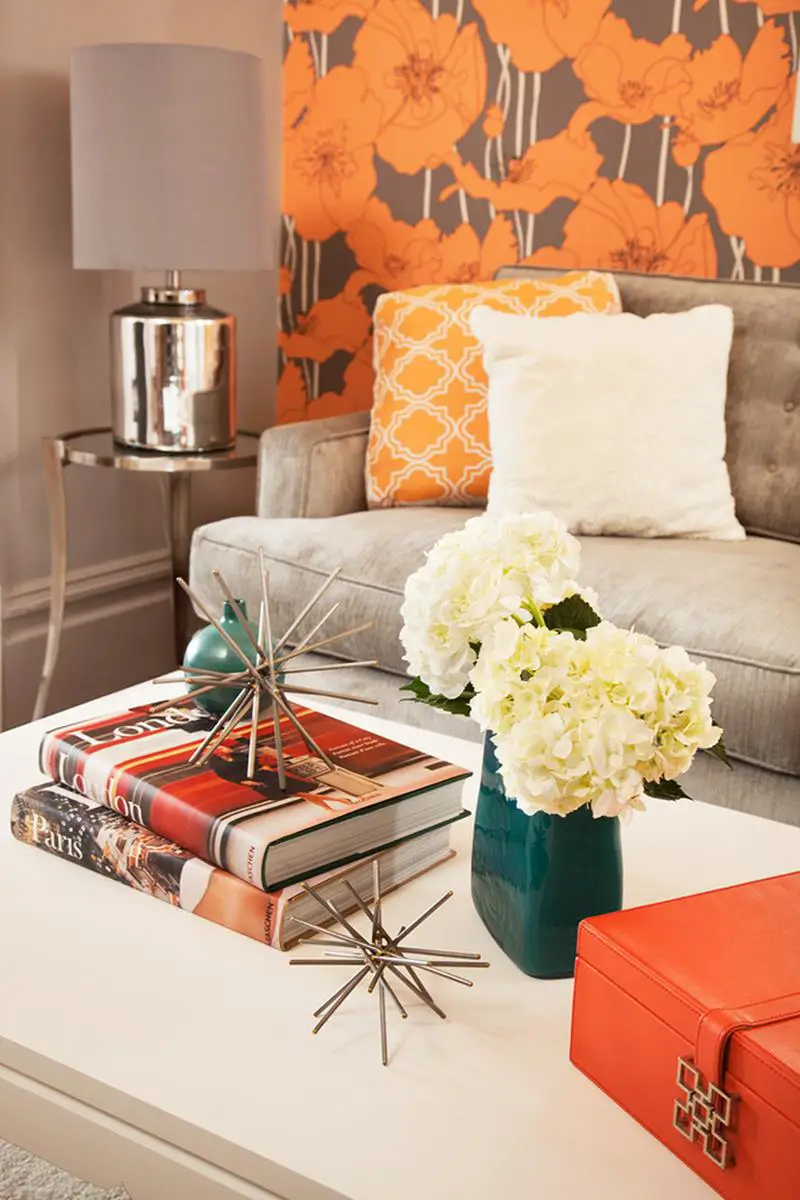 Sometimes orange works best as a complement to the room, as you can see with this patterned wallpaper and matching accent pillow.
25. Grand Styles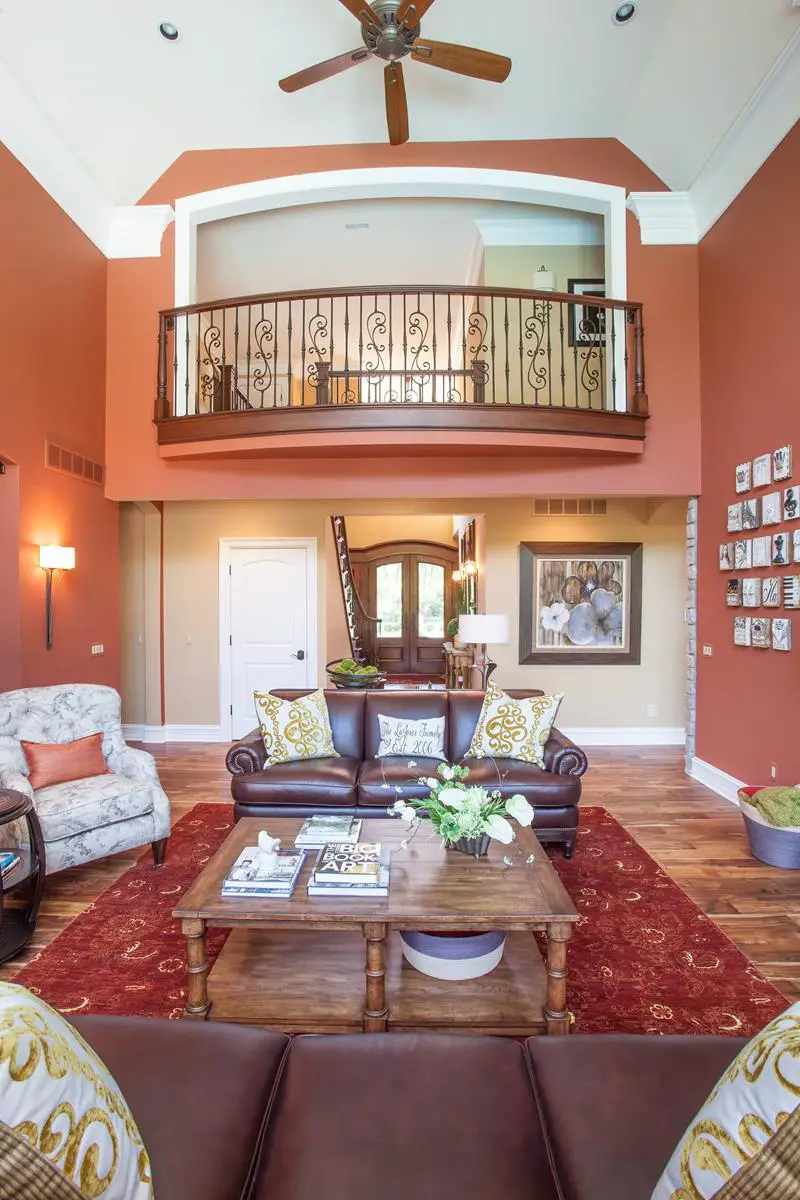 This room is grand and luxurious, making use of a very dark tone of orange. Some would call this a blood orange, coming close to a beautiful pink.
26. Charming Decor and Furniture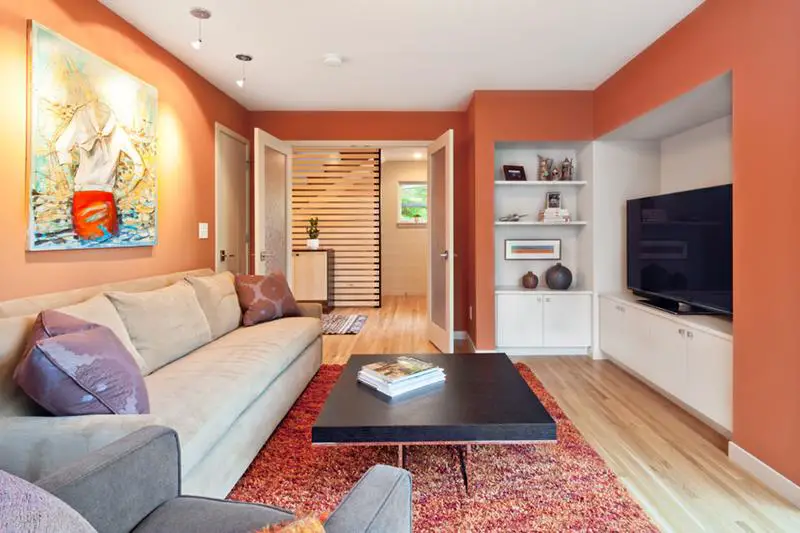 We love how well the wall color works with the decor and furniture in this room to create a wonderful contemporary style.
27. Modern Bohemian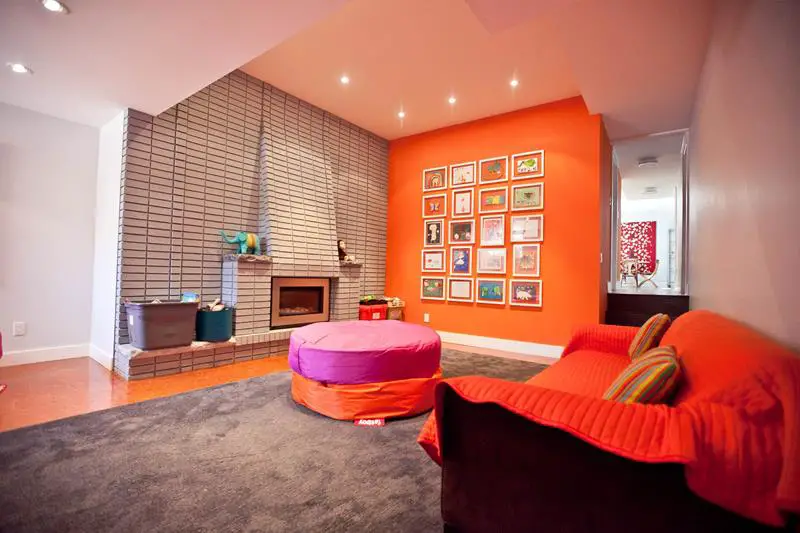 The bold orange in this room is met with a bohemian modern style that brings a fantastic life to this living room.
Don't Miss: 25+ Stunning Luxury Living Room Designs and Ideas (Photos)