Updated on August 19, 2022
When garages were originally created, they were actually meant to store just vehicles. But these days, homeowners will use their garage to store their old trash, Christmas decorations, enough sports gear to field a professional team or they may even place their at home working area inside their garage, namely a spot for a home mechanic.
If you'd like to have a work place inside your garage and also have room to place and store your tools and toolbox for when you're working on car repairs, read on for a few pointers on a good setup.
Garage Setup Tips For DIY Auto Repair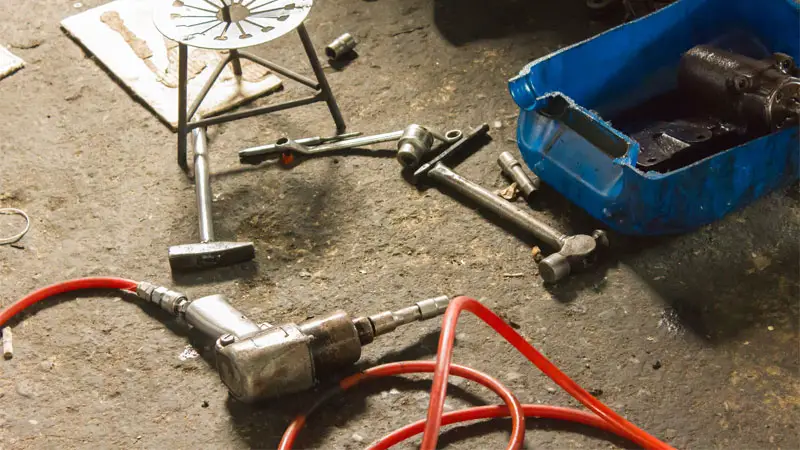 1. Space
You need to clear the space. A lot of clutter seems to accumulate over time on one single person's garage whether it's because they stored old washers and dryers out there or maybe their lawnmower or toys from their children.
You have to clear the space out in your garage to place a dedicated workbench, a toolbox for repairs, and also be able to park a car in there with plenty of room to work around it.
In order to be comfortable in your garage with all these items you want to have enough room so you have about 4 feet of clearance all the way around the vehicle so you can maneuver and be comfortable while wrenching or doing body work.
Since your workbench will be the hub of all your tools, make sure it's very sturdy and has a lot of space to actually lay your different tools out on and be able to view them and keep them organized. This way it will not really be so easy to misplace something you may really need.
Also, if you have a large tool chest or two, consider placing a sturdy top on it to have it function as both your toolbox and workbench. It's a two in one deal. Things you use often should always be within easy reach.
See Also: Best Free Garage Design Software
2. Light
You need to make sure you have top notch lights for both small, tight areas as well as large open ones. LED flashlights and headlamps may even be helpful when having to be in a confined space like under your dash board. If you have a drop light that is even better for small spots to reach.
Bright, efficient LED lights overhead are a huge improvement over the old style fluorescent light tubes or simple light bulbs to light up the entire garage.
3. Cleanliness
Make sure you keep cleaning products where they're easily accessible. If you were to only purchase the cleaning essentials, a push broom, standard broom, and a dust pan should be at the top of your list. After that, make sure you have bought rags and some type of degreaser to clean oil off the garage floor and have it where you can access it quickly in case of a spill.
When you know the job will make a complete mess you should always lay out some cardboard you have laying around so you can easily throw that away and have an easy cleanup once the job is done. If you don't clean after a mess you have made, you'll have a lot of stains that will be a pain to remove and become a safety hazard, so clean up as soon as the job's done.
4. Organization
I could tell you a million ways to be organized but everyone has their own way of doing things. You need to have a toolbox already organized and ready to go, and many methods exist for you to try. Pinterest is actually a great way to find various toolbox organization ideas. If you refuse to get a Pinterest account, just use your wife's. 🙂
You can use various plastic trays to separate your tools such as your wrenches, pliers, etc. or you can buy wall mounts to put each type of tool in and separate them. The latest fad are custom made foam inserts for your toolbox drawers.
You want to be able to grab something as soon as you need it so each tool should have its own spot. If you have to look for it you will eventually just get frustrated and mad. The best OBD2 scanner in the world won't do anything for you if you can't find it.
5. Power
Most people use hand tools if they're doing a job on their own to fix something on their car because those tools are so much more cheaper when first starting out. Investing in power tools would make for a faster job experience though.
Air tools and cordless tools are definitely a good investment when you have a weekend business or obviously if you're a professional mechanic in the field.
One of your first purchases should be a good compressor along with an impact wrench. If your budget is an issue, make a quick stop at Harbor Freight and pick up a Central Pneumatic air compressor and air impact wrench to get you started. The time savings you'll get from this combo is unbelievable.