Updated on January 3, 2022
Pocket doors are an option that many people call on to use space in their homes effectively without having to modify the floor plan on the whole. With a simple sliding motion, they can tuck away into the wall as though they never existed in the first place!
However, increasingly people seek new ways to modify space in their homes for more convenience and style when it comes to maximizing the area they have to work with. Fortunately, there are a few different alternatives to the common pocket door.
Why Choose an Alternative?
There are many reasons why one may wish to move away from using a pocket door. Namely, noise, functionality, and style often play large roles in this choice. However, it can be a difficult commitment to move away if you already have one installed.
However, exploring alternatives is an extraordinary way to deal with space that has already been curated and carved out for your pocket door.
Additionally, if you don't yet have a pocket door installed, the installation of other available options is often no more difficult than installing a pocket door in the first place. Also, many of the alternative options are cheaper and do not require professional installation assistance as pocket doors often do.
Moreover, by choosing an alternative to a pocket door, you have an opportunity to customize your space and use this expansion of space in terms of what specifically works best for your house. As you read on to the list below you will see the nuances of all the unique options and be able to discern which benefits appeal the most to your situation.
See Also: 9 Drywall Alternatives Worth Considering
Pocket Door Alternatives
1. Bi-Folding Door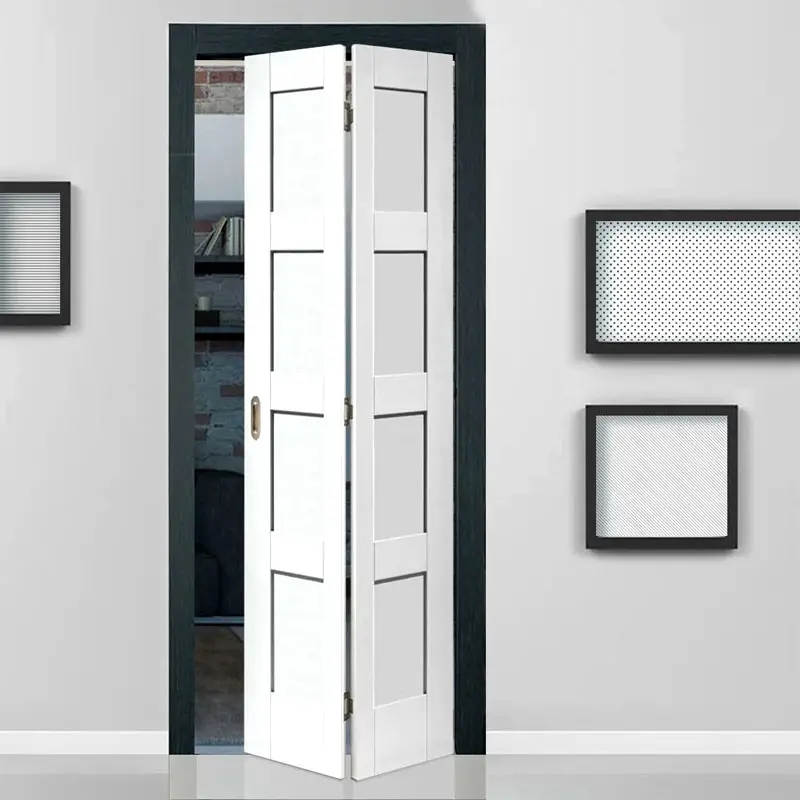 While still collapsible into the appearance of one door with a split down the middle, bi-folding doors are more than capable of opening up a space with minimal intervention necessary. In fact, they can almost open up the entire width of the frame in which they are placed, which is perfect to make it feel as though the room can change from one large room to two, more compact rooms as needed.
On top of that, the door neatly opens off towards the side which allows for minimal extension in the room. The door can be open with no worries, despite the fact that it does not slide into the wall as a pocket door would.
This is a great option for entertaining company and expanding a common space such as a lounge or living room without detracting from the overall style.
Similar to a pocket door, the installation process is relatively straight forward and customizable to fit the needs of your particular house. Additionally, since the process is so quick if you enlist the help of a professional, the cost will not get out of control.
However, one must know that bi-folding doors must be installed correctly in order to work and not take up extensive space.
2. Sliding Door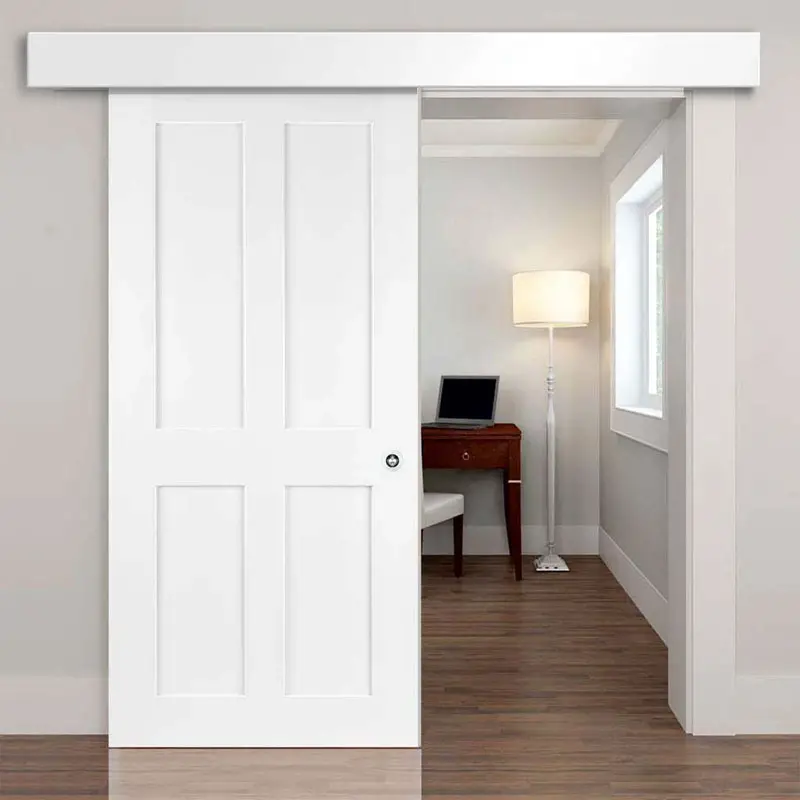 Similar to pocket doors, sliding doors are best-loved for their ability to functionally slide out of sight. This allows them to open a room up without creating a cramped atmosphere like some other forms of alternatives. Sliding doors are a very common and popular addition to create a path from the indoors to the backyard or deck/patio area.
Additionally, sliding doors are great in terms of upkeep. They require minimal lubrication and their installation often requires no additional effort in comparison to any of the other alternatives or traditional pocket doors. In fact, sliding doors can often be installed by homeowners with no intervention from professionals necessary.
The primary downside to sliding doors is that they do not hold the same stylistic contributions as some other doors. Additionally, over time they can be a noisy option and do not have the best durability. However, given their affordability and ease of installation, they are still worth considering if you are against the traditional pocket door option.
3. Barn-Style Door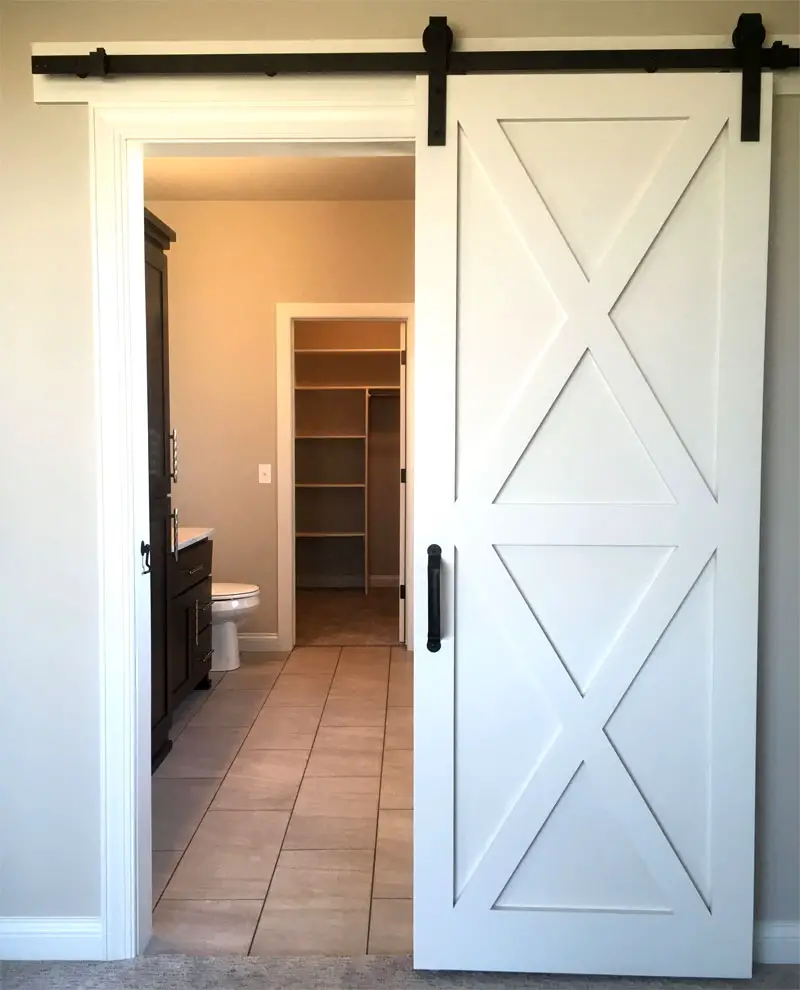 If you are looking for a more stylish option, but want to maintain a down-to-earth or rustic feel, barn-style doors are a great happy medium between pocket doors and something fancier like French doors. In fact, barn-style doors are one of the most popular alternatives overall and are found anywhere from gorgeous kitchens to unique office spaces.
Designed with a sliding mechanism similar to normal sliding doors, this door is perfect for a smaller space since it does not require much room as all for opening in closing. Moreover, this option is surprisingly simple to install right over an opening that already exists.
In terms of creating a whole new feel for your space, this door is not the most dramatic or effective option. They are more so designed for covering existing spaces in the home where previous doors used to be.
Additionally, barn-style doors are slightly more difficult to maintain given their need to be frequently oiled and their heavyweight. However, if this style is right for you and you are willing to put in the maintenance, they are a great unique alternative to pocket doors.
4. French Doors
The next door style is the elegant French Doors that are always viewed as prestigious and quality editions to change the shape and style of a house. These doors are typically equipped with matching double doors that close as one and have the power to enhance and open a room
These doors are praised for their ability to provide a path between adjoining rooms and make a house appear more spacious with a clear flow of traffic. This is especially ideal for when company comes over to a house as it allows a usually smaller room to be expanded into one that can accommodate more of a crowd.
French doors are a solid alternative to pocket doors and they vary due to the fact that they are hinged rather than built with a sliding design. Additionally, these doors can be quite a bit more costly than pocket doors due to their elements of luxury and high-quality materials like glass and incorporated windows.
5. Pivot Doors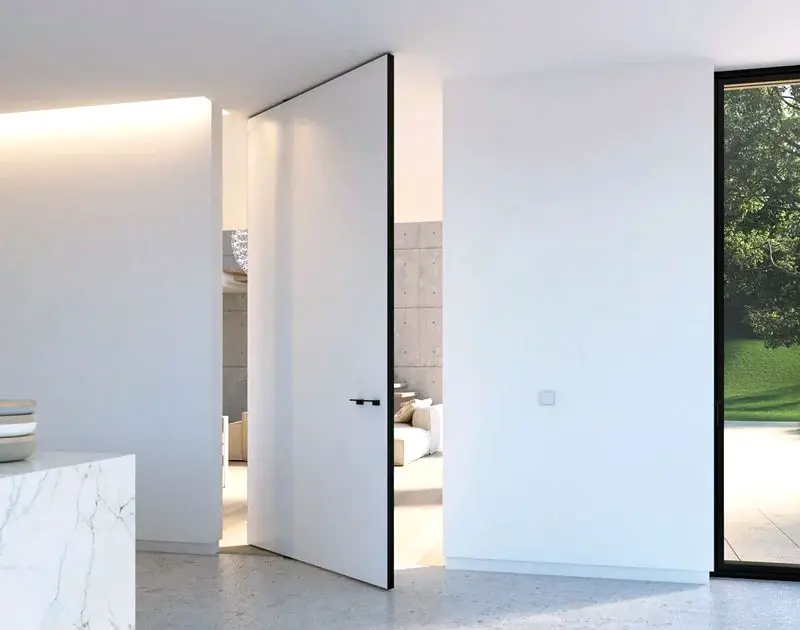 Pivot doors are different than many of the other alternatives due to their functionality. Using a unique pivot box on the floor, these doors rotate as they open and close to transform the space of your choice!
You have the option to choose from either single or double-pivot doors, depending on the size of your space. Both options are easy to use with a smooth swing to open. Additionally, they have a similar openness to them as French doors, with more flexibility and a smoother opening style.
While the installation does require installation of a pivot box which can alter some of the integrity of your home, after this they are easy to maintain. They host a very contemporary feel to them and require minimum upkeep which is another reason they are a great alternative to pocket doors.
6. Shoji Doors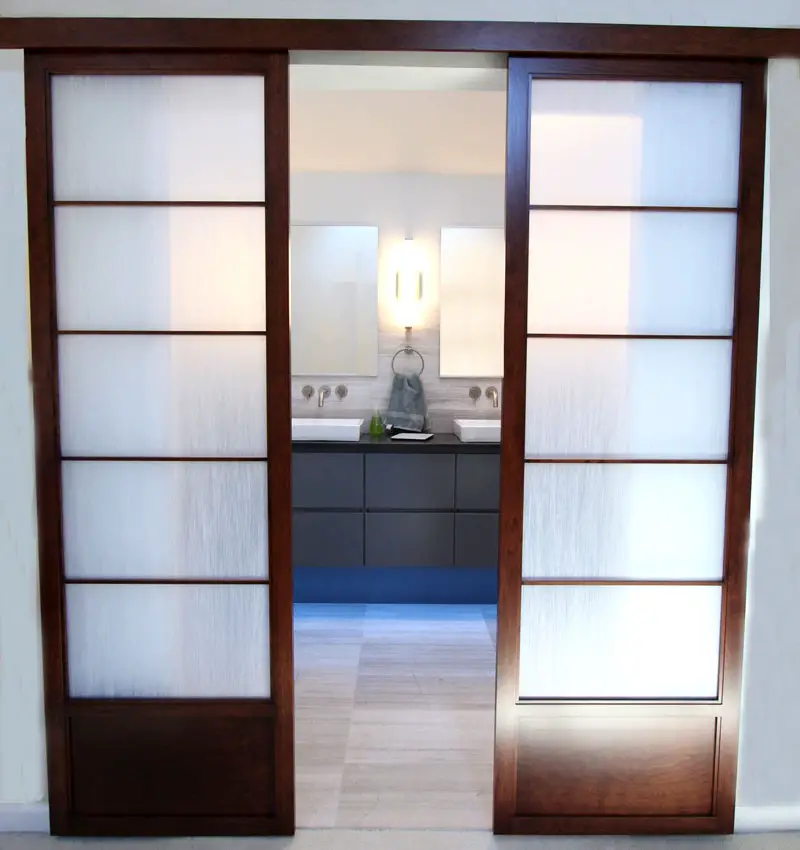 Perhaps you have never heard of a Shoji door, but as they grow in popularity it can be easy to forget how long they have been around. Historically inspired by Japanese design, these doors elevate the interior design of almost any home and will leave guests impressed while enhancing the space and layout of your home.
While many associate these shoji doors with dividers, the Shoji sliding door is actually installed and functions just as any other alternative to a pocket door! Often made from gorgeous materials, such as cherry wood, these doors incorporate stylistic elements such as washi paper that allow some visibility and natural light to seep through and beautifully connect rooms.
Moreover, these doors are shockingly less pricey than some other options such as barn-style and French doors. The only issue is that they are limited in their slide unless you are willing to alter the integrity of your wall and allow them to slide in as a pocket door would.
7. Hidden/Secret Doors
Perhaps the most exciting alternative to pocket doors is the hidden, frameless, or secret door! We have all seen a movie or book with a door that is hidden behind a bookcase or other aspect of a home and remarked how interesting it was!
In addition, this option is not only interesting, it is also functional if you want a space that only rarely needs to be expanded!
While this may be somewhat less of a traditional option, it is more possible than you think to incorporate this into your home as a subtle and unique way of extending your existing space!
However, do note that you will likely need the help of a professional as the installation will involve creating space within the interior of your wall that was not already existing as with some other styles of doors.
However, if you are looking for a unique element that is sure to wow your friends this is a great option. Additionally, this option is ideal for someone looking for minimal space to be consumed by the doors themselves as they fully tuck away more than any other option presented on this list of alternatives.
8. Dutch Style Door
Dutch doors offer a unique but functional alternative to the standard pocket doors. These split doors can offer the ability to open either the upper or lower half while also boasting a unique design that allows natural light to flow through while creating a subtle extension of your space.
Dutch doors are particularly excellent if you seek to connect spaces and create a bridge between the outdoors and indoors. This style of door is ideal for anyone seeking a contemporary flair in their home that still offers practicality.
However, do note that these doors so not slide to the side or out of sight as pocket doors or other alternatives do. They function just as a regular door with more flexibility for natural light to reed in between rooms and the ability to be propped open.
In fact, the fact that these doors are visible actually adds to their appeal because they make a distinct stylistic statement with having part of the door open as somewhat of a window. Their overall nature can be best described as rustic but modern and they truly transform whatever space they occupy.
FAQs
Here are some frequently asked questions about alternatives to pocket doors.
What is the most cost-effective alternative to pocket doors?
While it is difficult to say with a degree of certainty without knowing the material of the door, the most cost-effective options are generally those that do not involve altering the integrity of the house itself. Such options include sliding doors and Shoji doors.
However, do keep in mind that you should not solely frame your search for alternatives around the cost of doors alone. Materials, features, and other elements come into play that determine the overall cost and play a hand in the durability of the doors as well.
What is the point of a pocket door or any of the alternatives?
Pocket doors and their alternatives are designed to expand and condense spaces as necessary for accommodating needs and company. They are the ideal solution when you need a door to enclose an area but have limited space to work with.
Conclusion
Finding an alternative to a pocket door can be difficult and depends heavily on your budget, personal style, and willingness to alter the existing construction of your home.
However, with careful consideration of the options for alternatives, you should have minimal difficulty in making the right choice. Feel free to get creative with ways to expand your space while maintaining the integrity and initial construction plans of your home.