Updated on January 3, 2022
Whether your home comes with an office, or you need to find a place for your newly-needed desk, you can find design solutions that will make the most of your office space. Not only does an office need to be organized, but it needs to be an enjoyable and relaxing area for you to work.
As working from home becomes more common, home office spaces have become more desirable and higher on the priority list.
A beautiful environment can have a positive effect on a person's well-being, so check out the gallery below for ideas on how to make your office space calming, productive, and a place you actually want to spend your day in!
See Also: 51 Impressive Home Office Designs
Hardworking Home Office Spaces
1. Sitting Pretty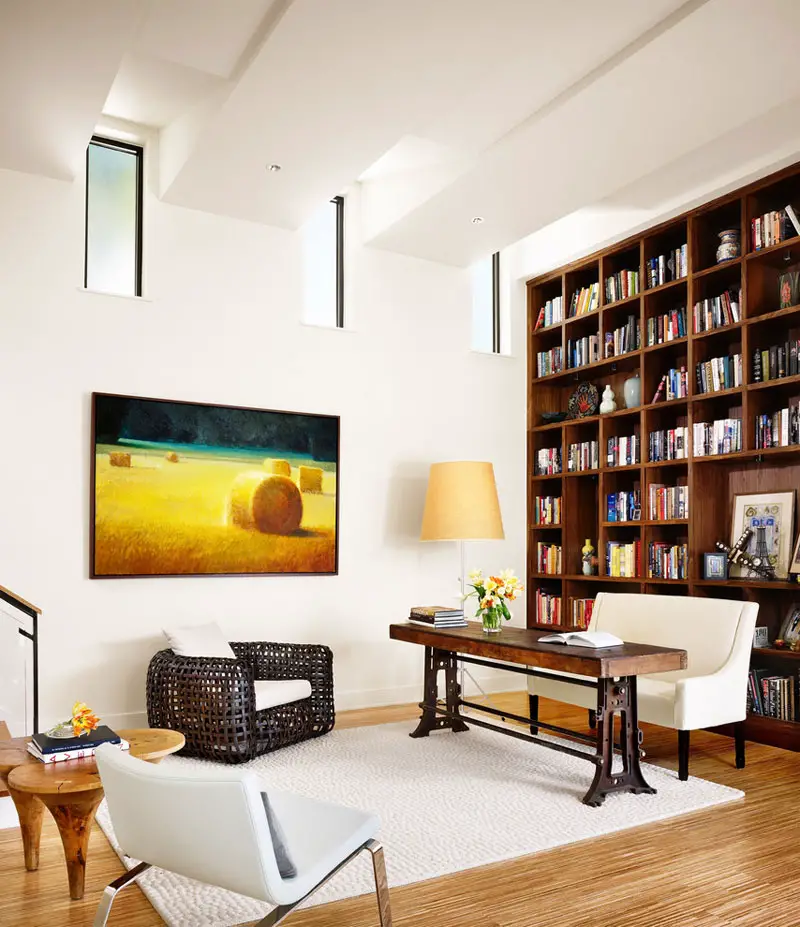 A cream-colored settee accompanies a slim industrial table in this modern office. Bold chair choices are an effective way to add interest and variety.
2. Two In One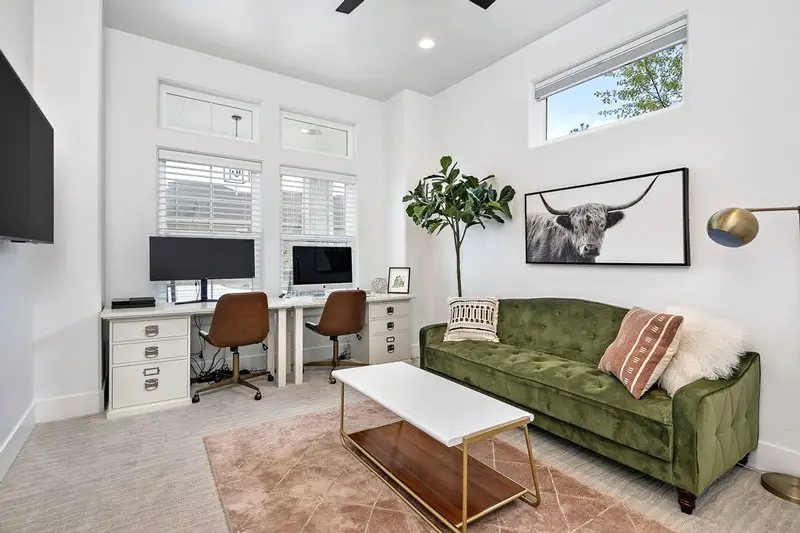 Maximizing space near the light-filled windows, two desks are placed symmetrically to create balance. This fresh space uses natural tones with a pop of green, which is vibrant yet not distracting.
3. Hidden Potential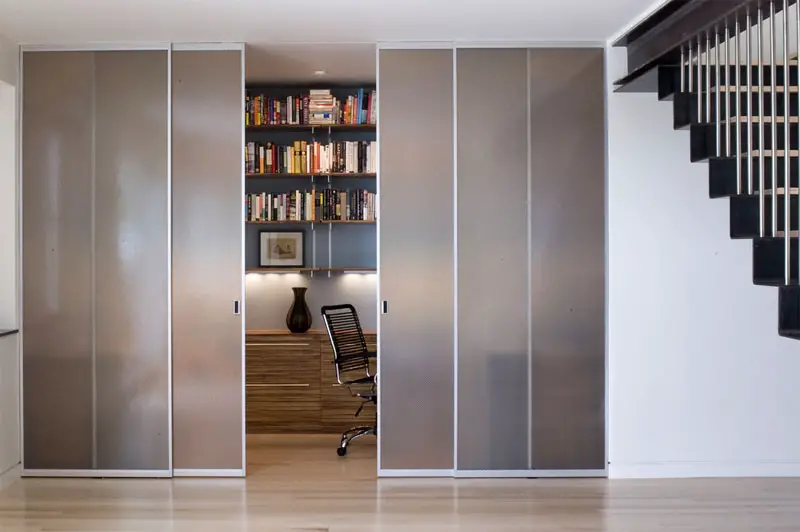 Need a place to hide away and do your work? Consider tucking your office away using sliding doors.
4. Lofty Ideas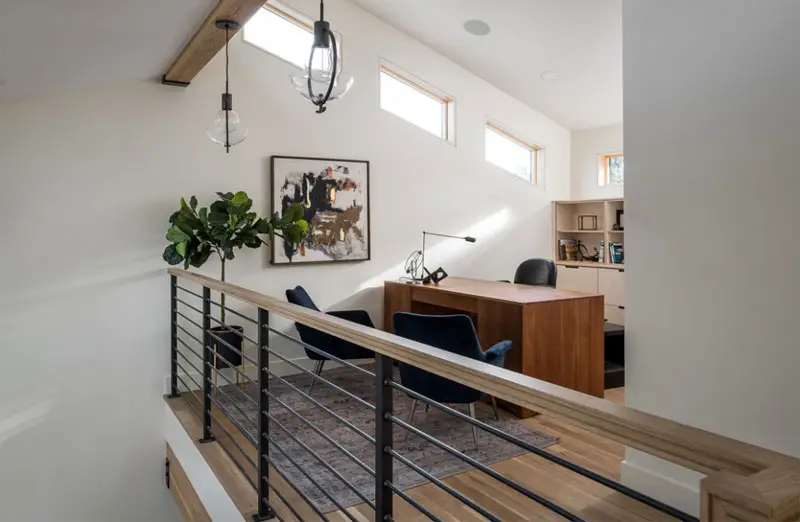 Have a loft in your home and don't know what to do with it? This brilliant design uses the often under-utilized area at the top of the stairs to create an office that is bright and inviting.
5. Smooth as Velvet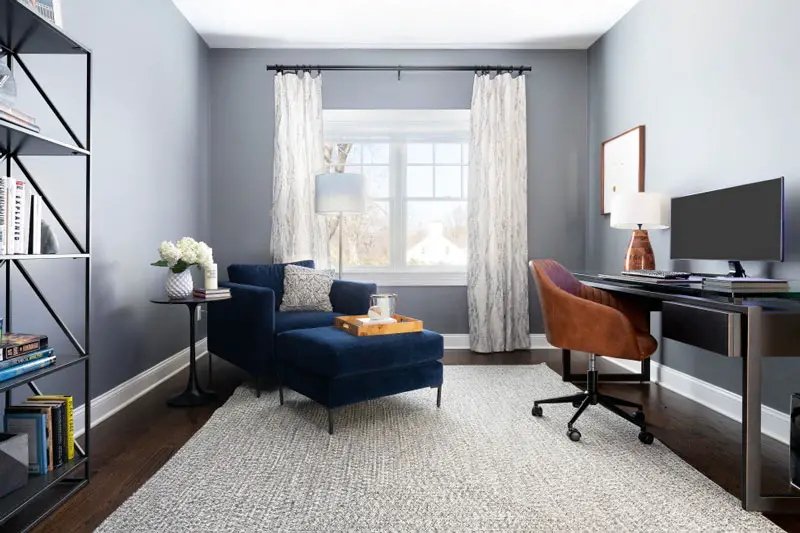 Not everyone likes to work at a desk. Why not have a luxurious chair to cozy up and get your to-do list done in?
6. Trio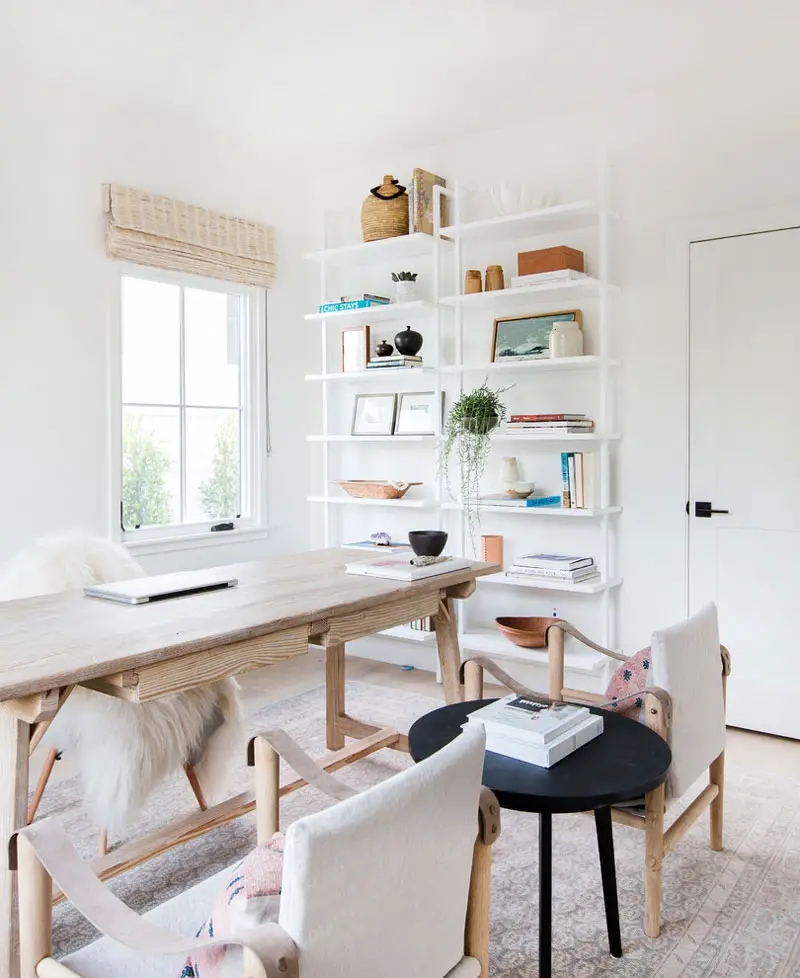 Sometimes a home office needs to fit more than one person. This design uses a trio of chairs to create a place for conversation.
7. Small but Mighty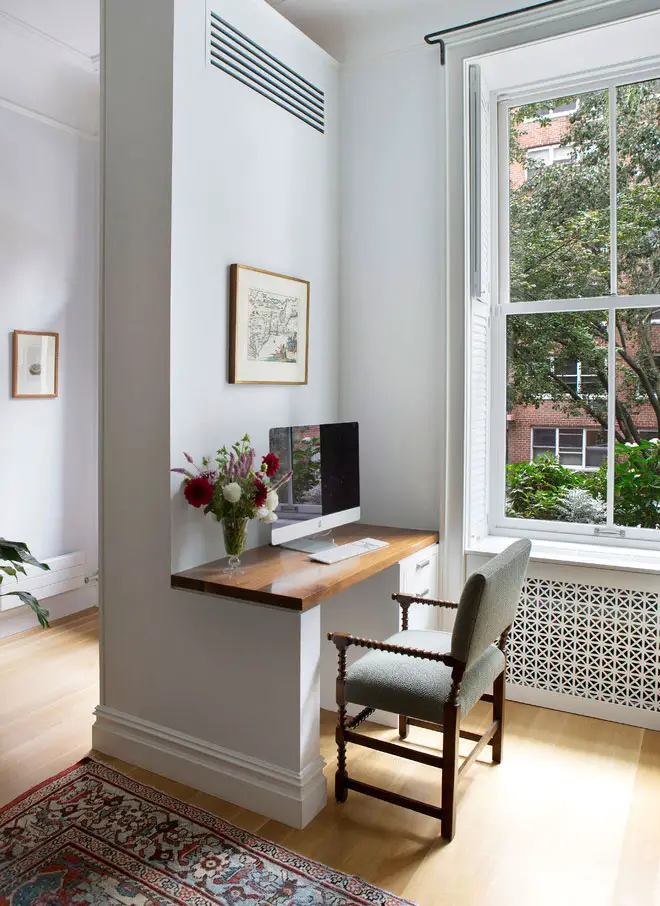 You can do a lot with a little. This design uses a small corner with a built-in desk to create maximum serenity.
8. Living Space Meets Office Space
Sometimes you just have to use what you got. A home office can be placed in a living room by putting your desk near an unused wall. The room does not feel overcrowded because the elements are simple and tidy.
9. Room With a View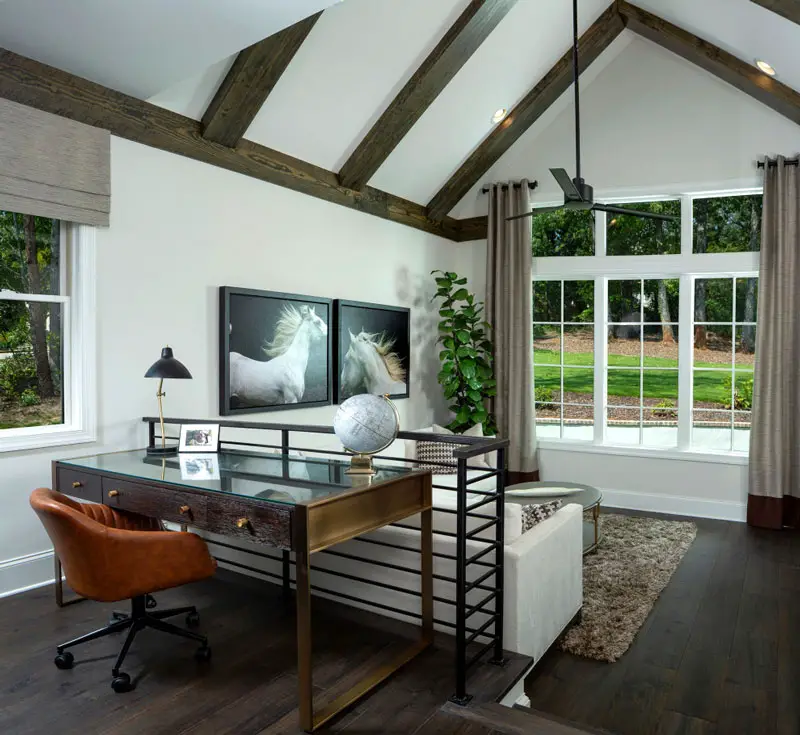 Using a half-wall, this home office design clearly separates the office from the living room, but the beautiful view can be enjoyed by both.
10. Downstairs Den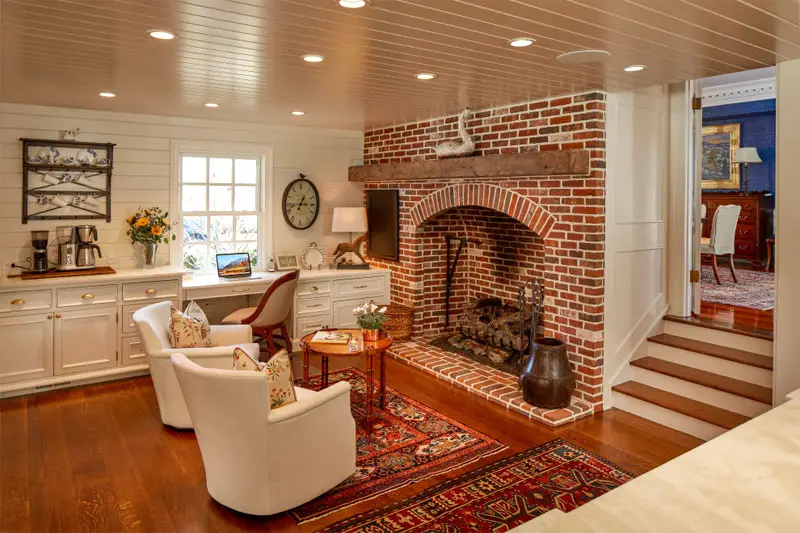 Often out of the way, a downstairs family room can make a quiet and calm place to work. The old-world fireplace and wood floors are charming and inviting.
11. Scandinavian Sunshine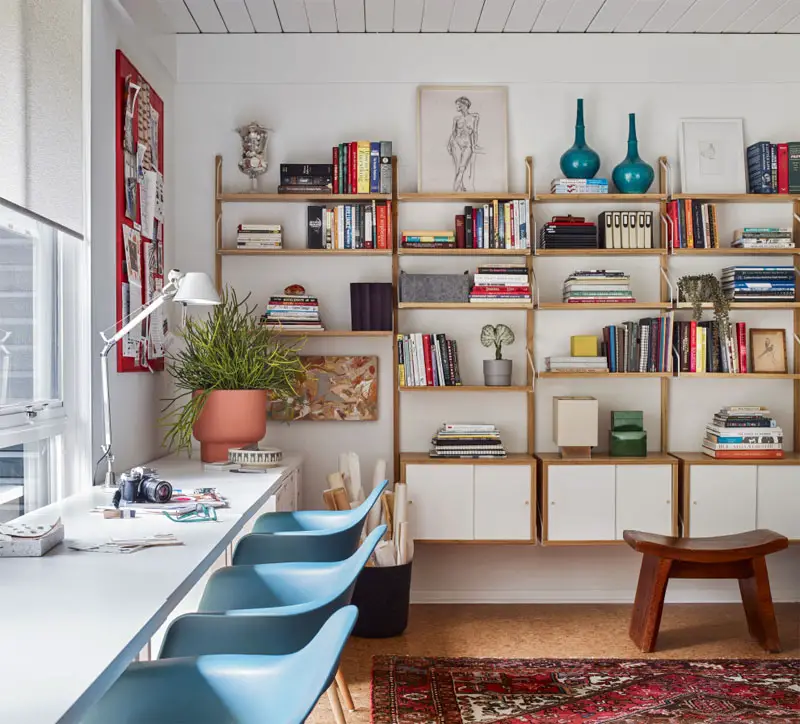 In this bright and colorful space, up to three people can work at the sun-filled desk area with plenty of elbow room. Homeschooling, anyone?
12. Farmhouse Sanctuary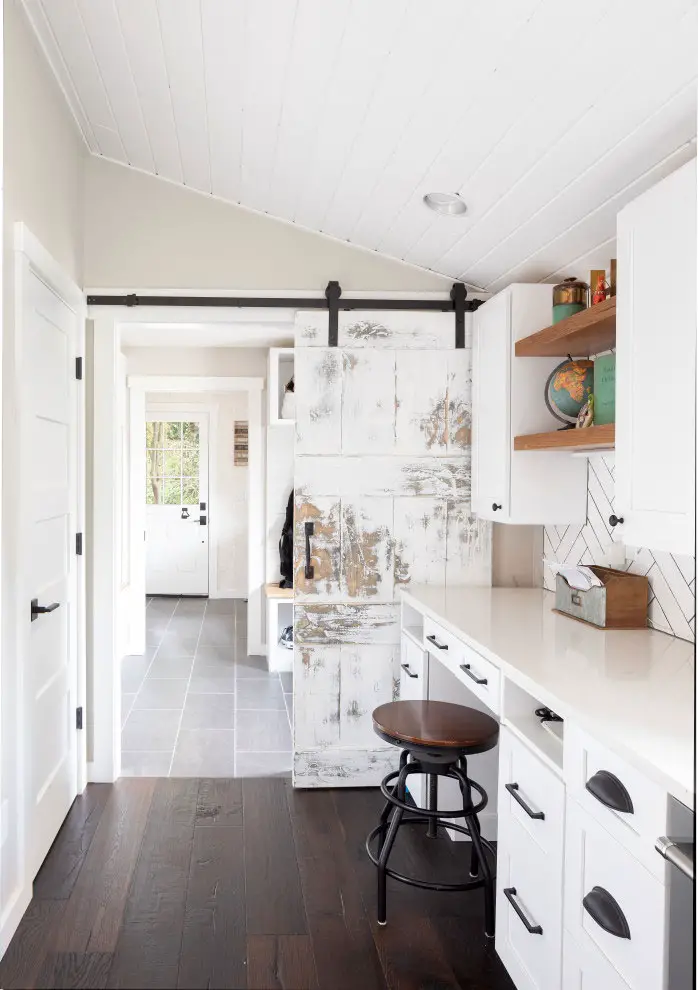 Utilizing a space off the mudroom, this office creates solitude with a perfectly textured barn door. Even while the kids run outside to play, you'll be tucked away in quiet seclusion.
13. Sweet Spot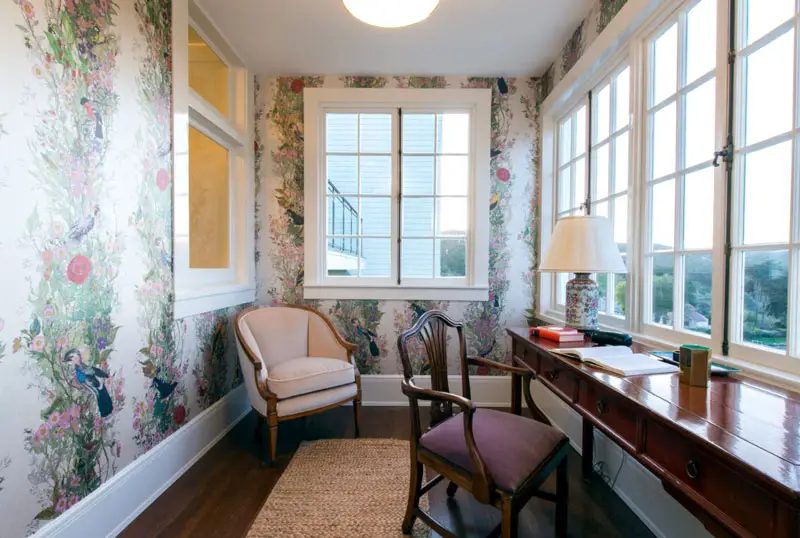 This sweet and dainty office boasts feminine wallpaper and vintage finds. Older homes often have enclosed front porches than can be a design challenge, but don't fret! Use the square footage for a private and personalized office space.
14. Family Room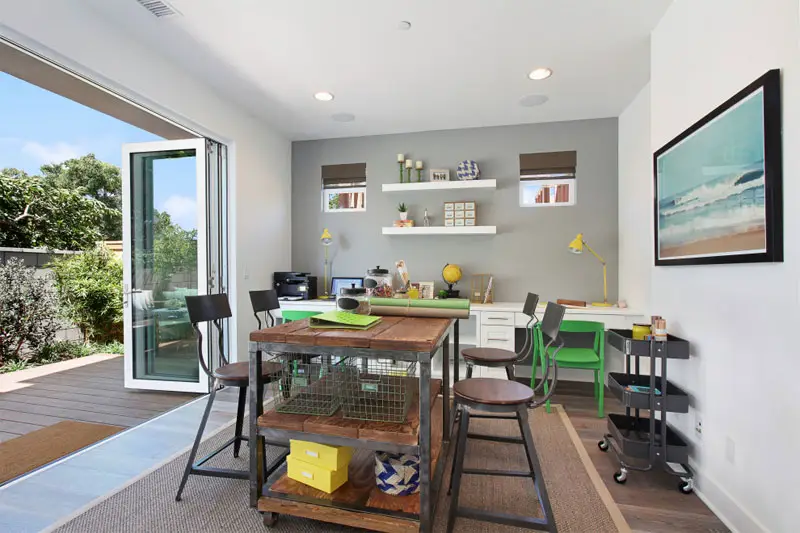 The whole family can work together when the design is done right. This concept makes use of the side walls as well as the center space.
15. Dining Table Done Right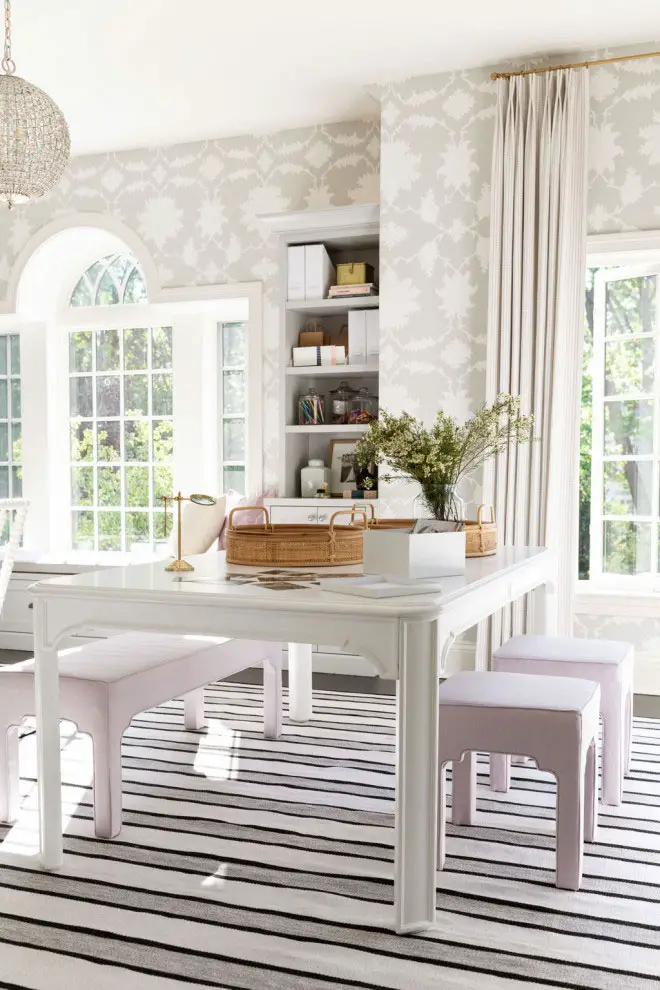 Your work space doesn't have to be a desk. Use a beautiful dining table to meet with clients, complete with comfy and beautiful upholstered benches.
16. Dual Space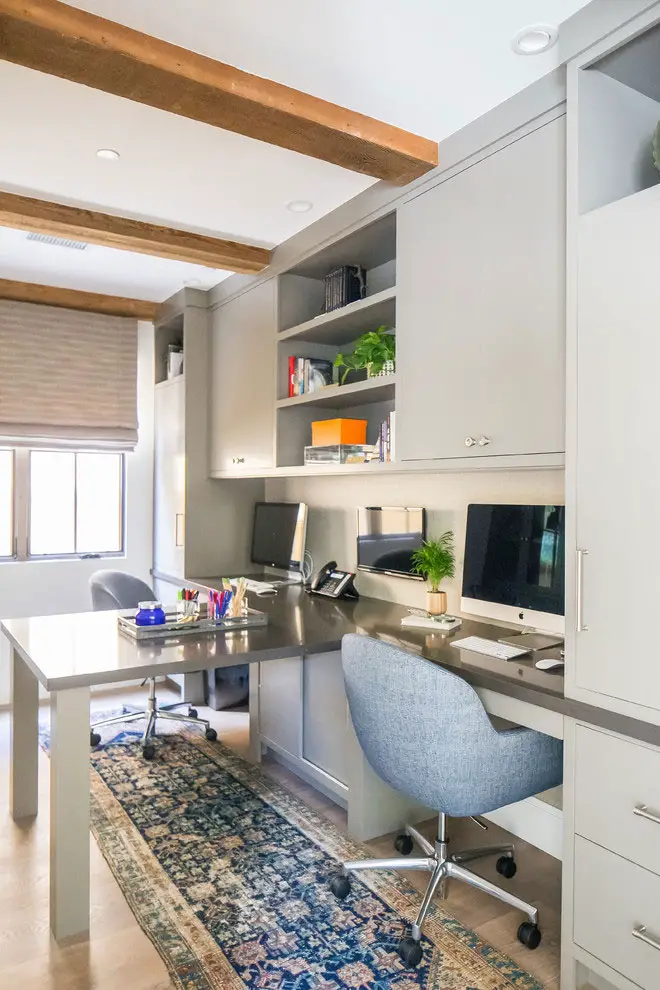 This T-shaped desk allows two people to work in one room, yet have separate stations. Use the center section for collaborating or for more functional surface space.
17. Upstairs Office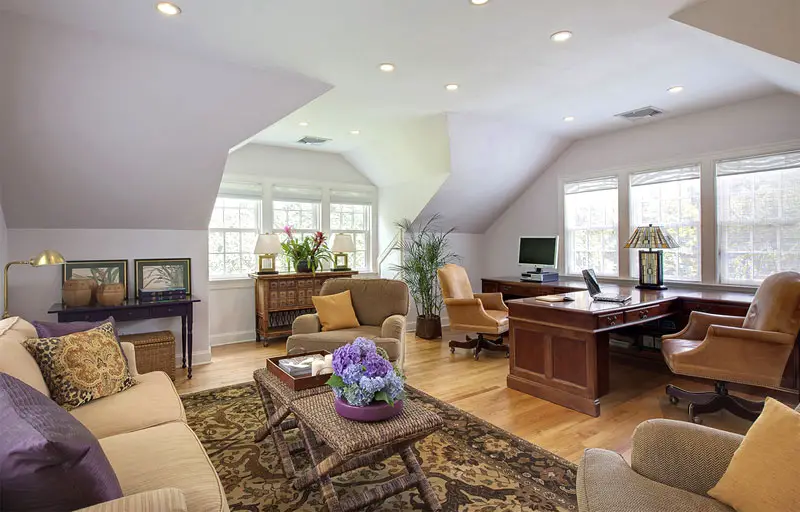 Gorgeous dark wood desks are nestled under the gabled window above a garage. Using this space for both a sitting area and office makes the most of a beautiful bonus room.
18. Artistic License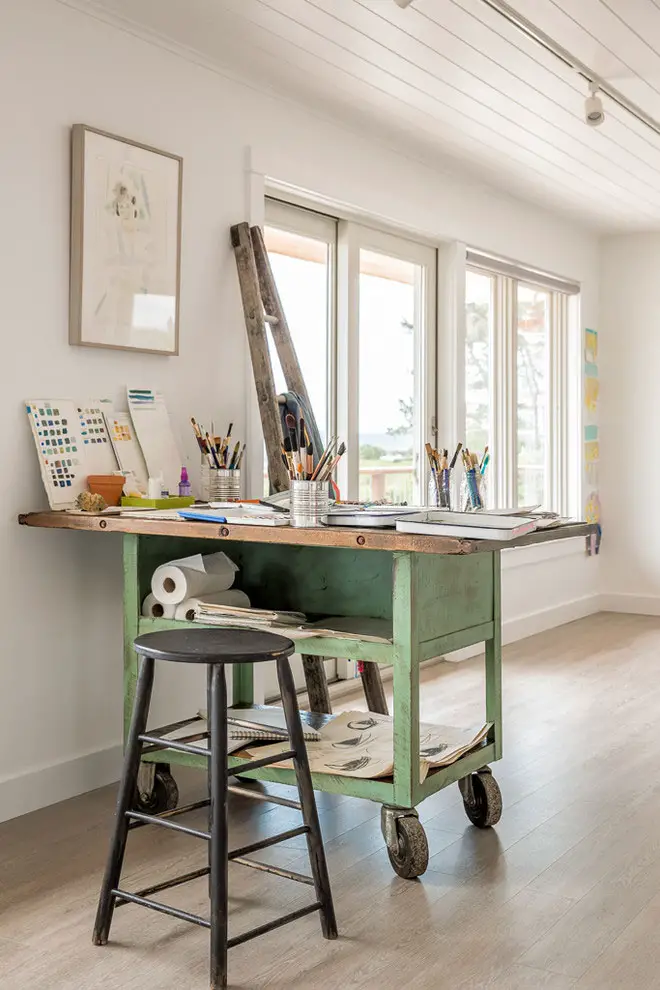 A rolling cart houses the tools of the trade. Whether an artist or entrepreneur, try using unconventional furniture in your office space.
19. Unconventional Cubbies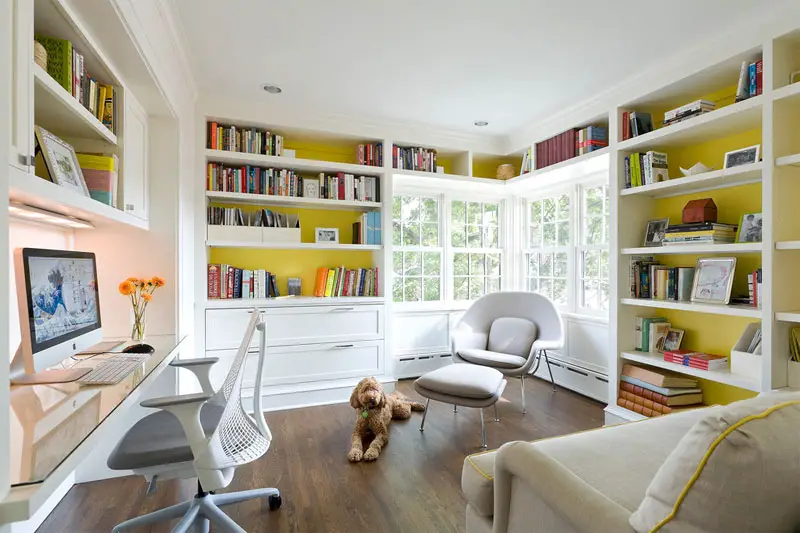 Storage is a problem for most home offices. These bookshelf built-ins use the space above the windows for extra shelving.
20. Moody Blues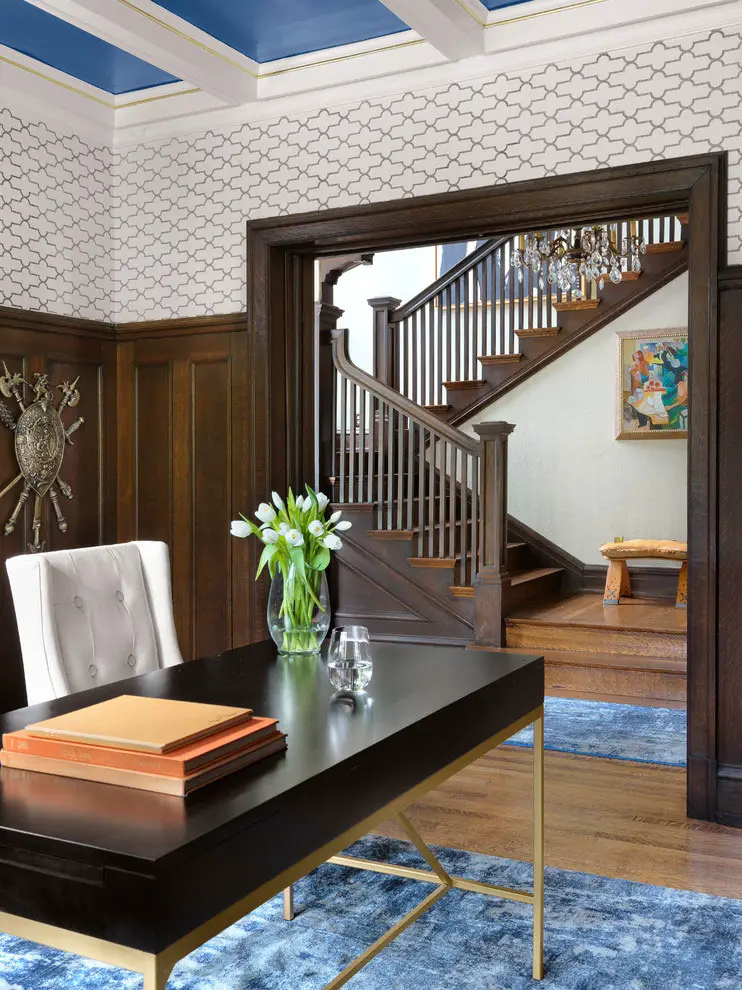 A room off the entry way is prime real estate for a home office. In this room, dark wood tones are freshened up with a calming yet masculine blue.
21. Wide Open Spaces
This bright and airy bonus room makes the most of its square footage with a large butcher block workspace. This set-up is perfect for large projects and collaboration with friends and colleagues.
22. All the Way Up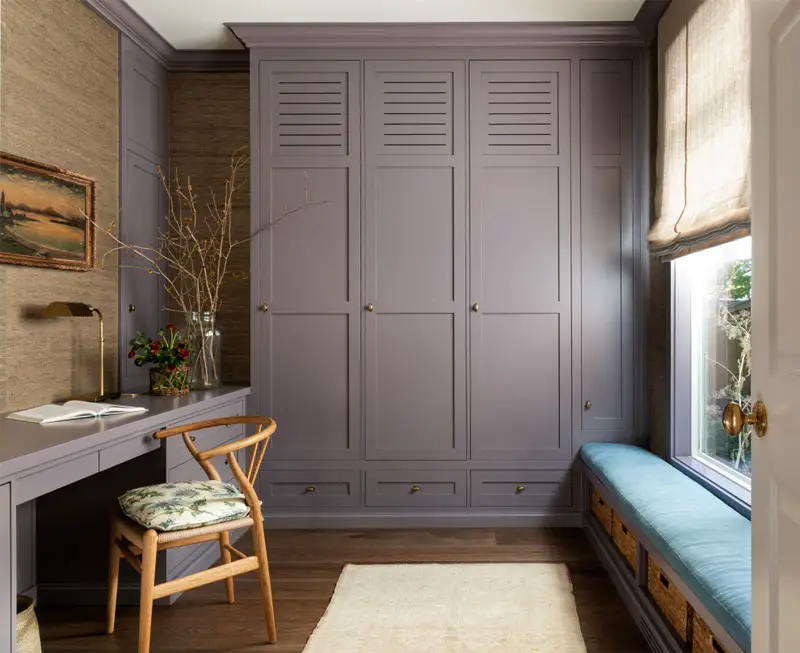 Tend to be a little messy? Hide all your boxes and bins in floor-to-ceiling cabinets painted an unexpected color.
23. Go Bold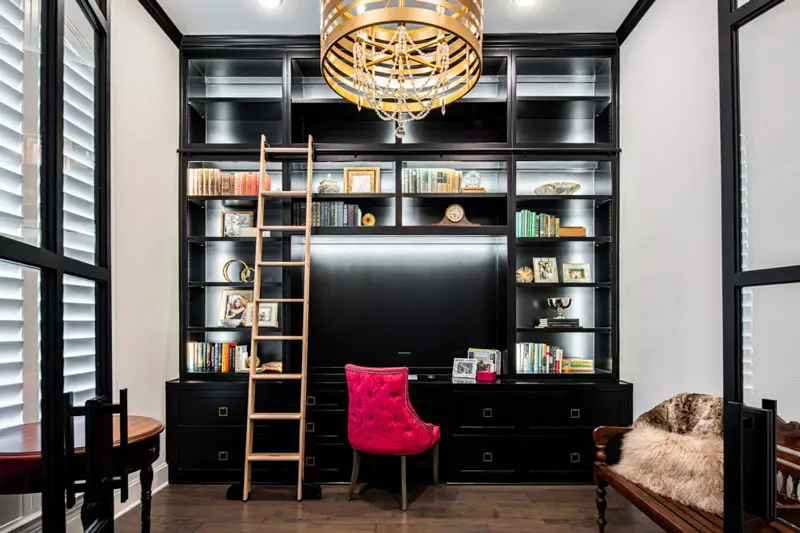 Though using only one wall of the room, this desk makes a bold impact with a black finish and bright pink chair.
24. Common Place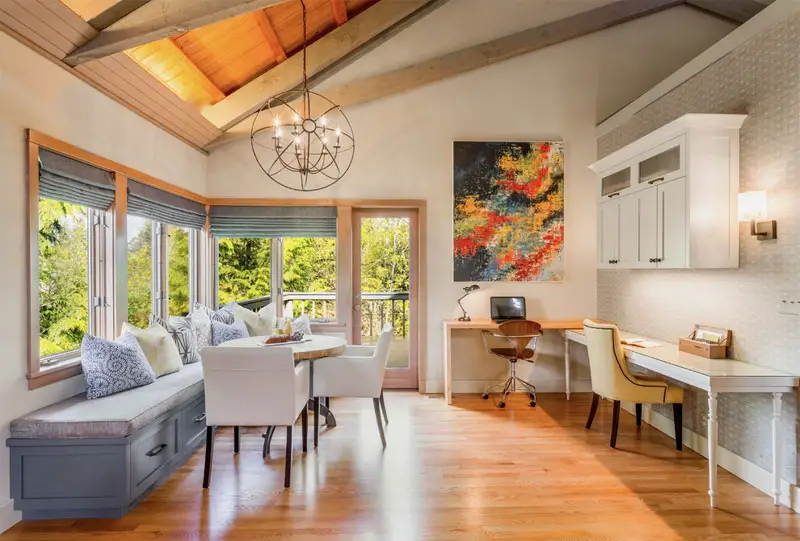 Side-by-side desks share a home with a cozy breakfast nook. The eclectic furnishings in muted tones make this space feel fun yet peaceful.
25. Concretely Cool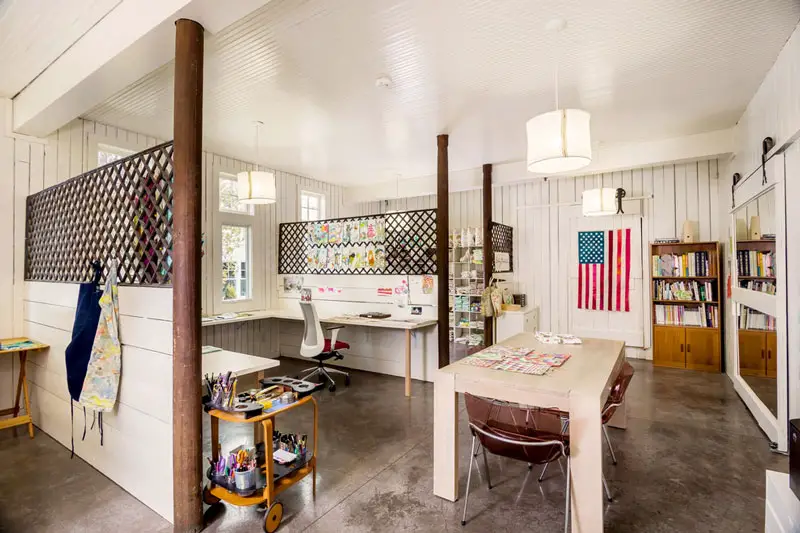 Have an extra barn or garage on your property? Turn your outbuilding into a work-from-home haven or the ultimate homeschooling room.
26. Extra Quarters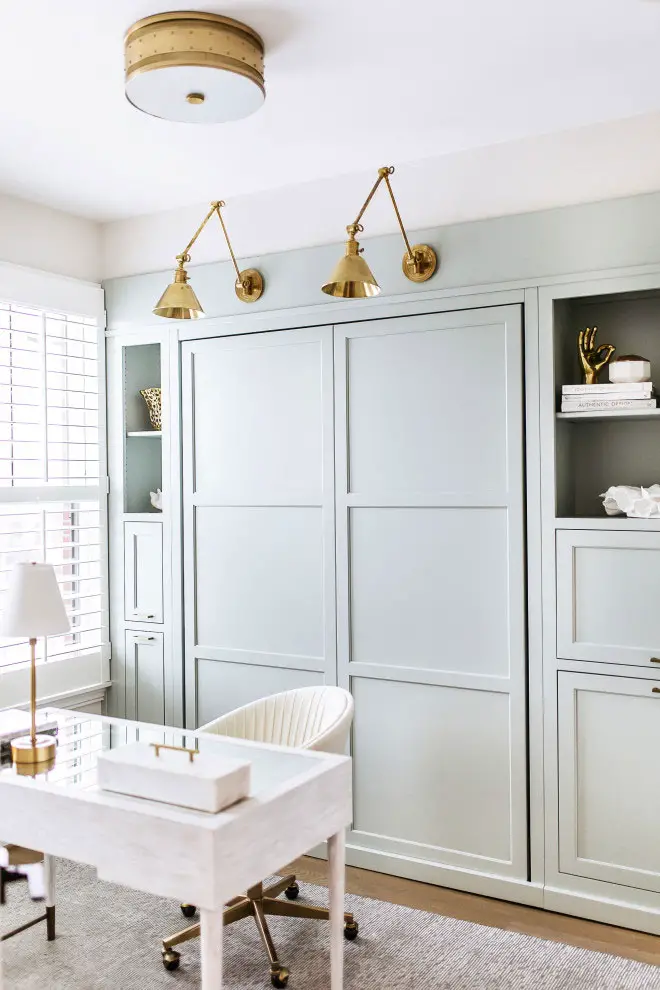 A rarely used spare bedroom is readily turned into a home office using a built-in murphy bed. Your guests will love to take a rest in this serene office space!
27. Luxury + Leather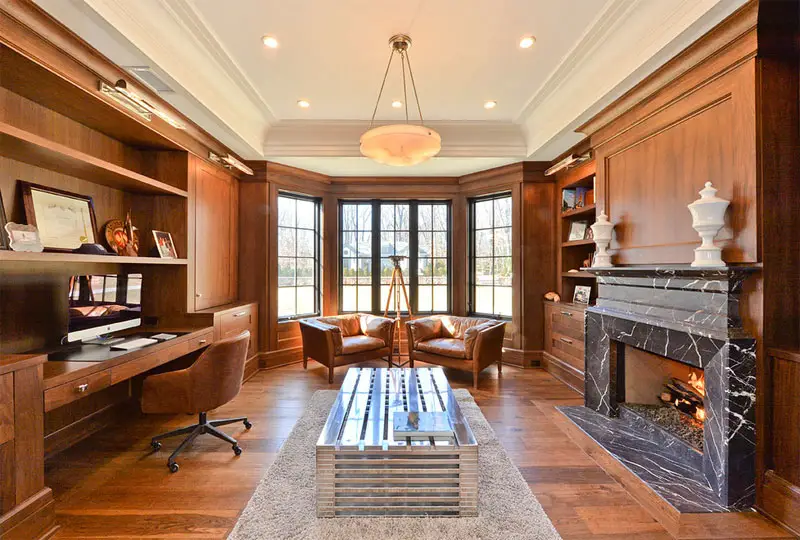 Traditional elements complement the rustic leather in this warm and masculine study room. The fireplace also makes it a prime spot to sit and relax or chat with a good friend.
28. All-In-One Inspiration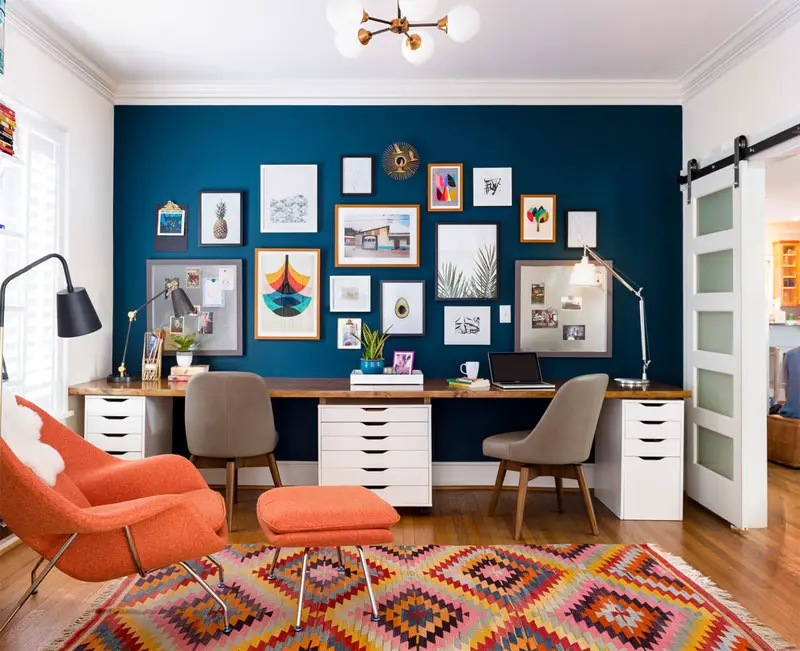 Looking for an office space that has all the things? This room has multiple work stations, sliding glass doors for privacy, and fun details that will make you want to get in and get to work!