Updated on July 29, 2022
The kitchen is a special place, an area that can bring people together so memories can be made. We know how important it is to create just the right space.
A Spanish style kitchen can be a beautiful thing. Spanish architecture and designs can be used to bring life to your kitchen. From those classic vibrant colors, to intricate wood carvings, the range of possibilities is endless. A signature of Spanish design is its welcoming effect.
Below, you will find more than 25 Spanish style kitchens to choose from. You will see how they incorporate the best of the European style, whether it is a traditional design or a more contemporary one. Take your time and see if you find some ideas for your next kitchen design.
Spanish Kitchen Design Ideas
Don't forget to pin these ideas and follow us on Pinterest @homeawakening
1. Beautiful Spanish Backsplash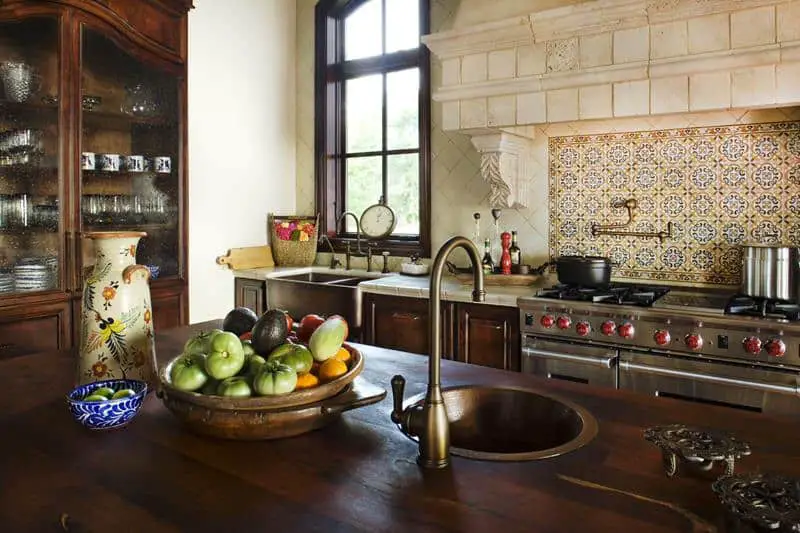 JAUREGUI Architecture Interiors and Construction
Walking into this kitchen, you can immediately sense the Spanish influence in the tile backsplash. It works with the hardwood all around the kitchen to make a lively space.
2. Modern Spanish Style

Having classic Spanish styles in a modern space works really well. The backsplash is blended with the hardwood stove vent to give you a little European splash in this sleek space.
3. Classic Mediterranean
The rounded entryway and the overhead wooden beams scream Mediterranean style, especially when blended with this beautiful floor. This is a traditional European look.
4. Contemporary Mediterranean
The glossy backsplash and the hood vent design bring a modern tough to a Mediterranean style. This is a traditional space upgraded with modern appliances and a fantastic design.
5. Brilliant European Range Area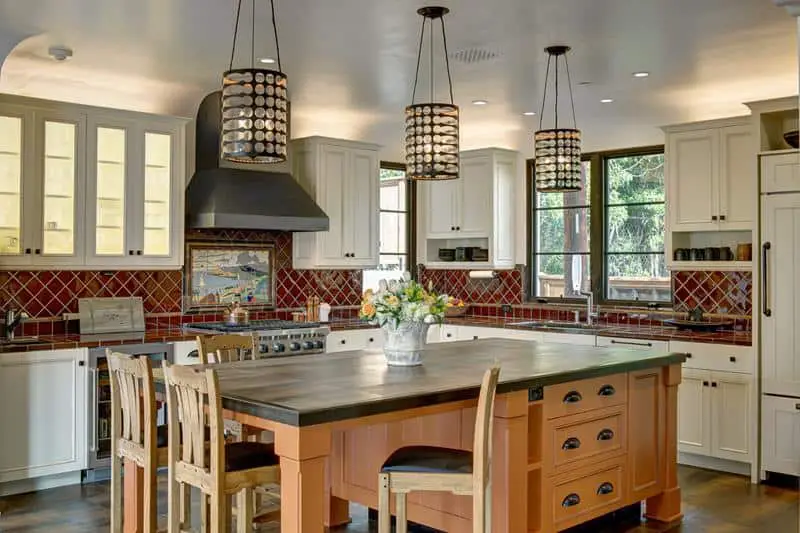 From the beautiful beige floor to the Spanish architecture all around this kitchen, you will truly feel like you are in a Spanish home. The bold hardwood is a great blend for this room.
6. Grand Spanish Style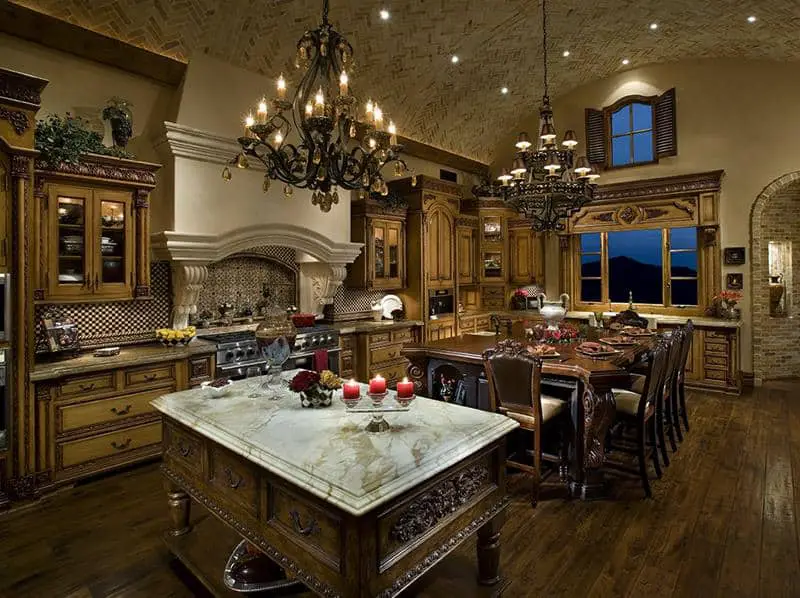 Welcome to a luxurious Spanish room, with intricate carvings in the wood and beautiful chandeliers. This room takes hardwood and designs a timeless space.
7. Hacienda Style Kitchen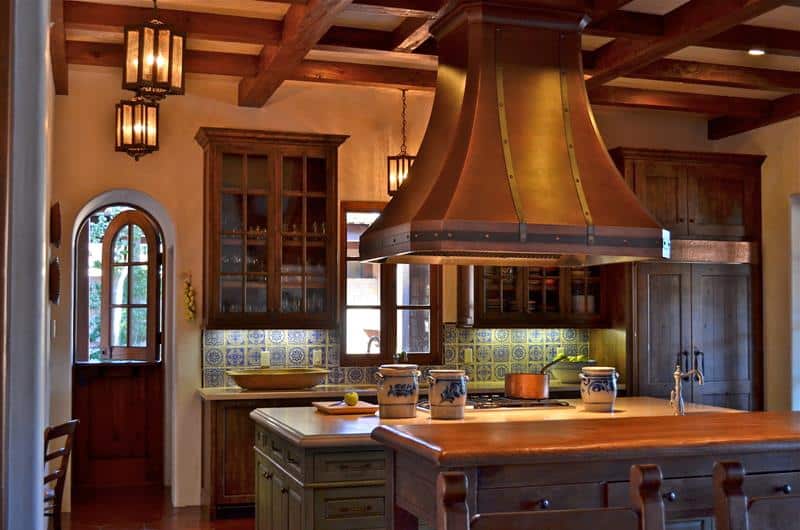 Melanie Giolitti Interior Design
With a beautiful hood vent and a great Spanish style backsplash, you can sense the European influence here. It has a slight European colonial style to it.
8. Wonderful Spanish Color Style
An amazing part of the Spanish culture is their use of colors blended with hardwood. You can see how well that works here, creating an authentic Southwestern style.
9. Beautiful Southwestern Style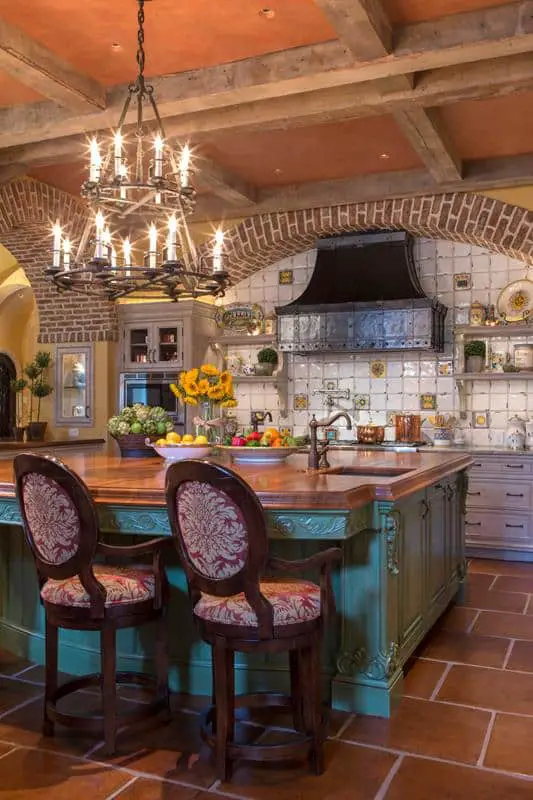 Herscoe Hajjar Architects, LLC
You will truly enjoy this eclectic mix of Spanish influence, from the beautiful designs, to the fantastic colors.
10. Beautiful Spanish Style
This fired stone floor style sets the stage for a beautiful Spanish layout. The blue and yellow tiles are staples of European and Mediterranean designs.
11. Classic Spanish Curves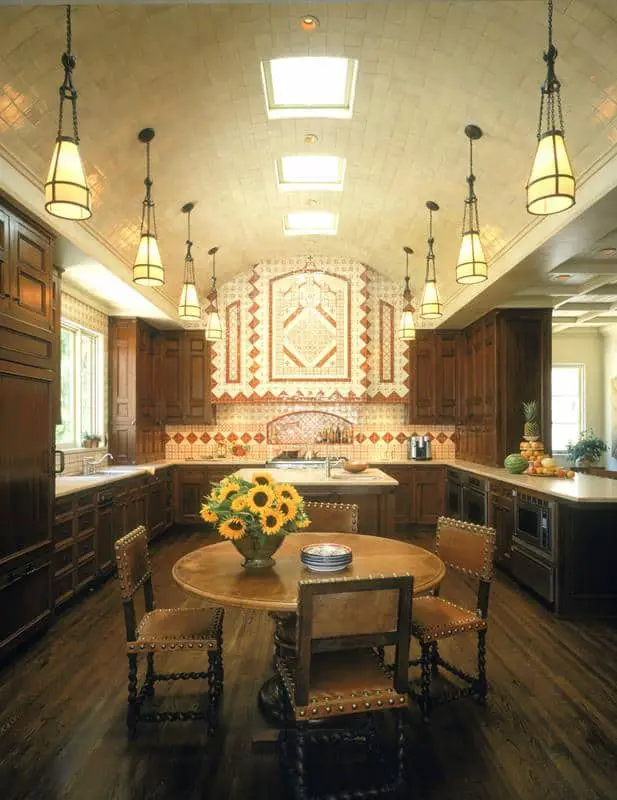 The high ceilings and the intricate tile designs are all signature Spanish styles. Blended with the darker hardwood, this is a beautiful space.
12. Great Color and Hardwood Combination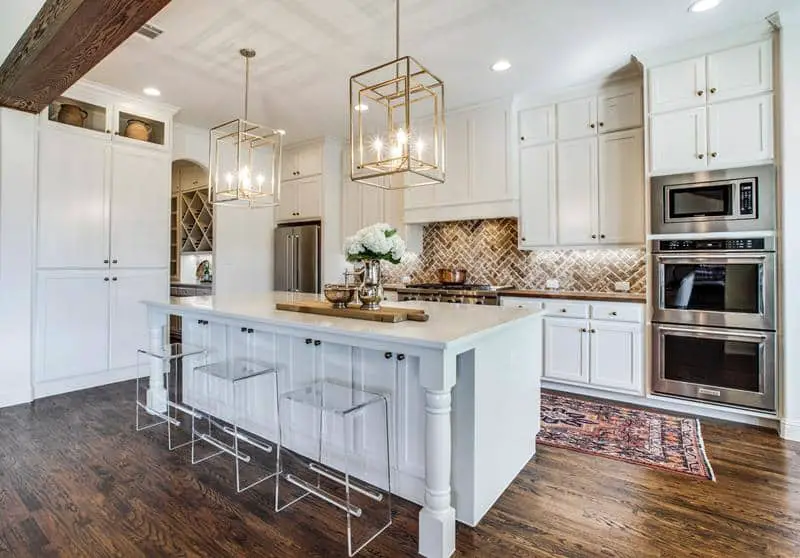 With fantastic tile usage, from the well designed backsplash combined with the light cabinets, this is a wonderful space. The hardwood floor brings a durable style to this room.
See Also: 30+ Kitchens with Peninsulas
13. Classic Spanish Rustic
This is a colorful and rustic style, complete with a large center island to work from. The blues, yellows, and reds are all Spanish influenced, bringing a comfortable warm space.
14. Wonderful Mediterranean Floor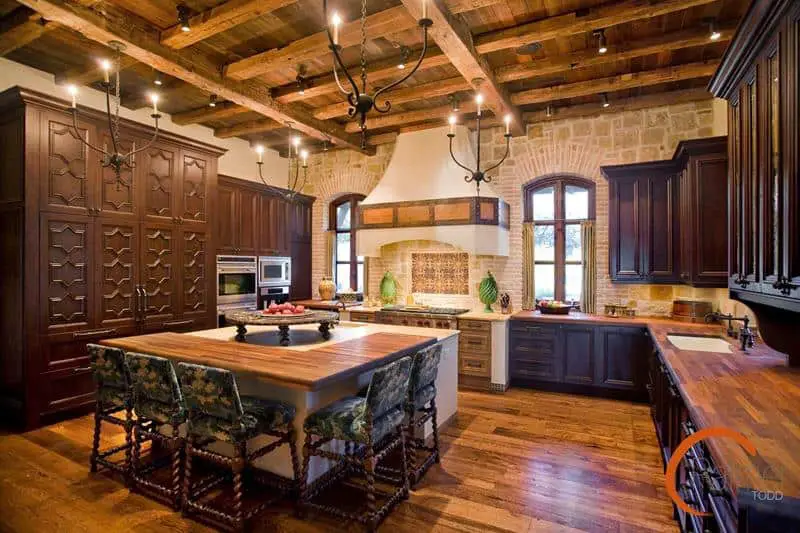 The large and durable darker floor style is the perfect base for this room. When blended with the hardwood and the beautiful tiles on the backsplash, this is a truly European look.
15. Timeless Hardwood Designs
By combining beautiful tiles designs, classic brick, and wonderful hardwood, this is a true blend of Spanish architecture and design.
16. Rustic Spanish Farmouse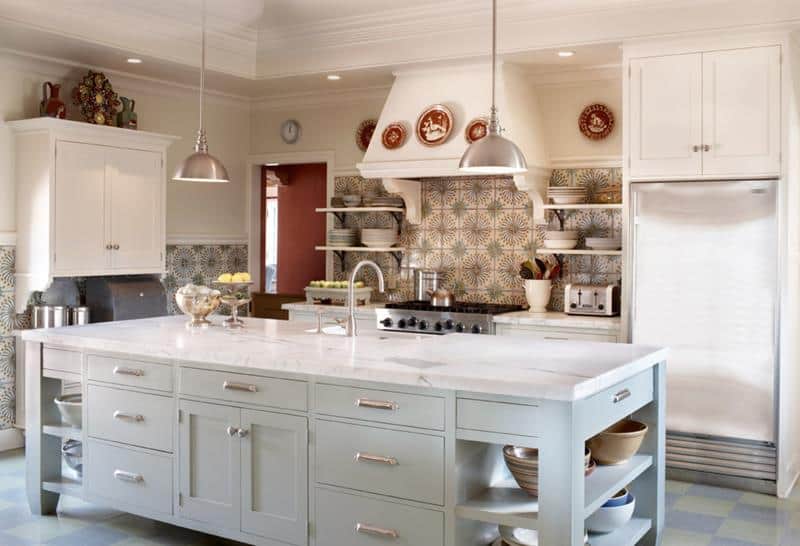 Just look at how wonderfully this modern space works with some Spanish influenced tile. With a slight Spanish accent in the cabinet and stove vent, this area is completely sleek and new.
17. Spanish Antique Style
H O M E + atelier Michael Ranson
Look at how well the natural light shines in from the skylight to show off the intricate designs all around. From the antique style refrigerator doors to the beautiful tiled floor, this is a wonderful room.
18. Light European Designs
If you want a Spanish look, but something more subtle, this is how you can do it. The light hardwood blended with the slight curves around the breakfast nook are nods to Spanish influence.
19. Cozy Spanish Colors and Tiles
Erica Islas / EMI Interior Design, Inc
You don't have to make a complete redesign of a kitchen to get a Spanish style. This space shows you how it can be done with some great colors, tiles, and a new floor.
20. Light Mediterranean Style
The contrasts created by the kitchen are amazing. The light Mediterranean designs around the room are blended with an amazing darker hardwood floor and bold counter top.
21. Vibrant European Style Kitchen
James Glover Residential & Interior Design
Light hardwood, an intricate hood vent design, and a beautifully designed backsplash all bring a vibrant Spanish sense of style to this kitchen.
22. Bold and Classic European Kitchen
Classic curves work together with durable hardwood and stone to give this room a bold European design. The brick backsplash and carved wooden designs complete the look.
23. Spanish Tropics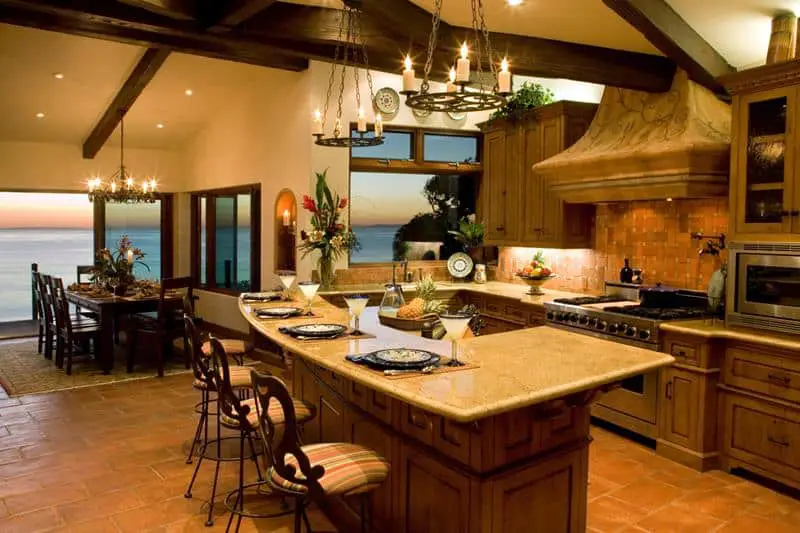 James Glover Residential & Interior Design
There has always been a Spanish influence on islands around the world, and this kitchen shows you how that looks. With a beautiful floor blended with wonderful hardwood, this room is ready for tropical decor.
24. Intricate Spanish Carving Style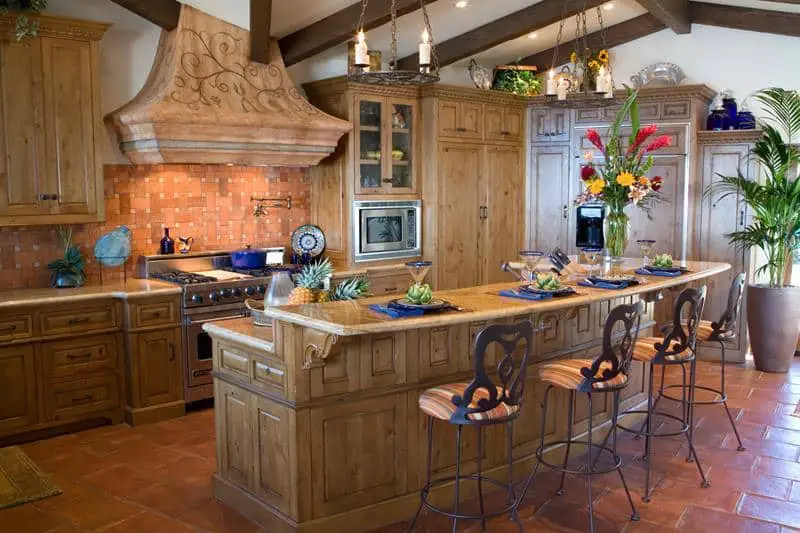 James Glover Residential & Interior Design
When you have hardwood beams in the ceiling, use them to balance the room off of. This wonderfully carved wooden hood vent does so perfectly and is a great complement to the tile backsplash.
25. Historical Spanish Island Style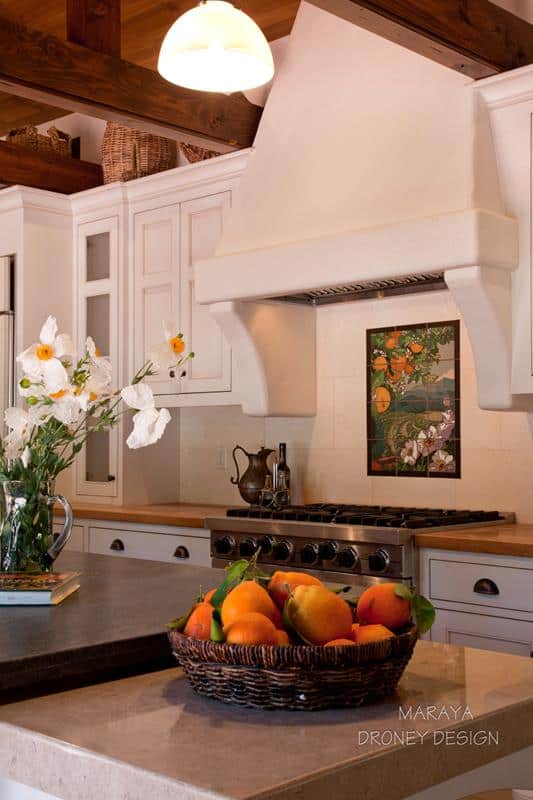 When you have your eye on simplicity, you can create a wonderful kitchen like this one. With easy and light designs and a great decor, you can make a place that will take you back in time to a tropical Spanish era.
Don't Miss: 35+ Kitchens with Light Wood Floor Ideas