Disclosure: This post may contain affiliate links. This means that at no cost to you, we may earn a small commission for qualifying purchases.
Last Updated on April 20, 2021
When it comes to deciding which of the countless types of coffee makers is the right one for you, picking the best one may be a hard choice. When it comes down to it, coffee is one of the most widely enjoyed drinks worldwide. On average, over 825 billion cups of coffee are enjoyed around the world every year.
While you hear people talking about getting their Starbucks or Dunkin' fix, in reality, most of the coffee that is made and consumed is made in homes rather than fancy coffee shops. From a regular drip-style coffee maker to a single-serve machine to a French Press, there are a ton of tools you can purchase to get the feel of being in a coffee shop right in our own home.
Coffee machines can be bought in your local grocery store, Walmart, and even Dollar General. While those are great options for getting a standard coffee maker, if you want to try out something really cool like an Ibrik, a Vietnamese coffee maker, or any of the other cool coffee contraptions you've seen on YouTube, the internet is going to be your best friend when shopping for a unique coffee-making contraption. Let's take a look at some of these out of the ordinary options for making coffee!
Types of Coffee Makers
Since there are more than 2 billion cups of coffee consumed on a daily basis worldwide, it is safe to say that the number of types of coffee makers is vast. There are a handful of styles that have become popular in many places and for many reasons. From the Moka pot to a drip system, there is a huge list of devices that can be used to make coffee in various forms.
Automatic Drip-Style Coffee Makers
The most commonly seen style in the United States, chances are this is the kind of coffee maker you grew up seeing your parents and grandparents use in the mornings and after dinner. Just about every diner, restaurant, and gas station use some variation of a coffee machine that has a filter.
1. The Classic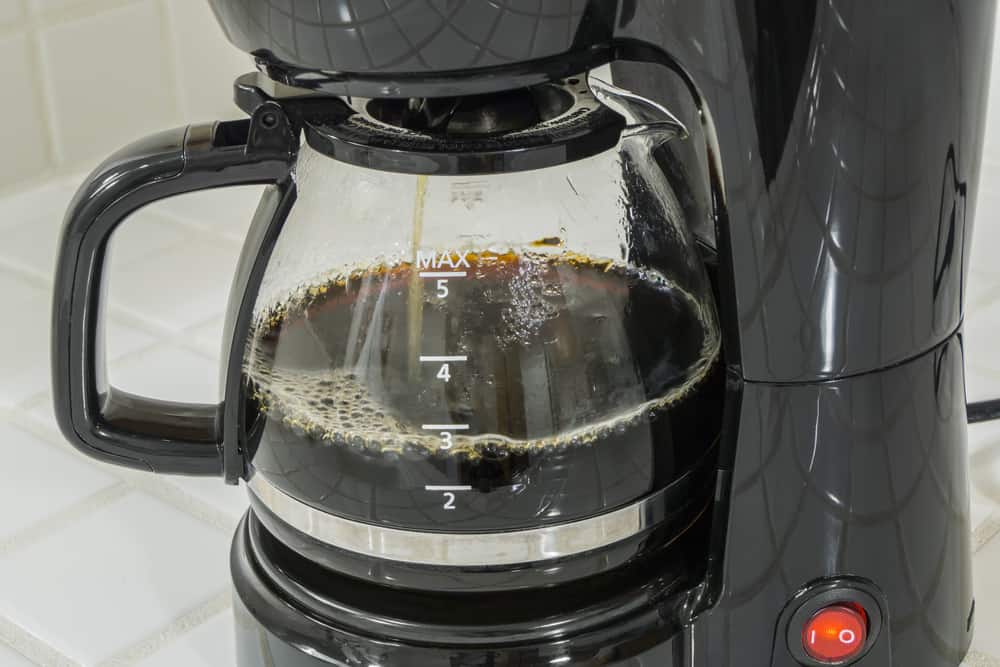 This is the most simple and widely accessible form of the modern drip-style coffee maker. They can be found in dollar stores, big box stores, grocery stores, and even your local thrift shop. If you are on a budget but craving a good cup of coffee, this would be a great choice for starting your day. To get the best cup of coffee possible from this type of machine, use good coffee, and be sure to keep your machine clean.

Mr. Coffee 12-Cup Coffee Maker, Black
On/off indicator light lets you know when your coffee maker is on or off
Grab a cup auto pause stops cycle if you need a cup before brewing is finished
Dual water window allows visibility as you fill no more overflows
Lift and clean filter basket for fast and easy clean up
Easy cord storage eliminates counter clutter. Watts: 900
2. Single Cup Machines (Keurig)
Ideal for people that don't drink a lot of coffee in a day, the single-cup machines are designed to do just what you'd think – make coffee one cup at a time. While these are super convenient, they have been a controversial item due to the fact that each cup of coffee made uses a disposable plastic cup that sits in the landfills. If you drink regular coffee and don't care about buying the fancy flavored single-serve cups, you can get a small reusable mesh filter for your one cup at a time coffee maker. This filter allows you to use your favorite coffee grounds and measure out enough to brew one cup. You can always add cream, sugar, and flavorings afterward if you prefer your coffee made that way.

Keurig K-Classic Coffee Maker, Single Serve K-Cup Pod Coffee Brewer, 6 to 10 Oz. Brew Sizes, Black
Brews multiple k-cup pod sizes: (6, 8, 10 ounce) – the most popular k-cup pod brew sizes. Use the 6 ounce brew size to achieve the strongest brew.
Large 48 ounce water reservoir: Allows you to brew 6+ cups before having to refill, saving you time and simplifying your morning routine. The water...
Descaling: An important part of cleaning your keurig brewer. This process helps to remove calcium deposits, or scale, that can build up inside a...
Auto-off: An auto-off feature is easily programmed to turn off your coffee maker after it has been idle for 2 hours, helping to save energy.
Simple button controls: Just insert a pod, select your desired cup brew size, and brew a great-tasting cup in under a minute.
Manual Drip Options
While an electric auto-drip machine is very convenient for day to day use, there are a couple more really cool ways to make drip coffee.
3. Vietnamese Coffee Maker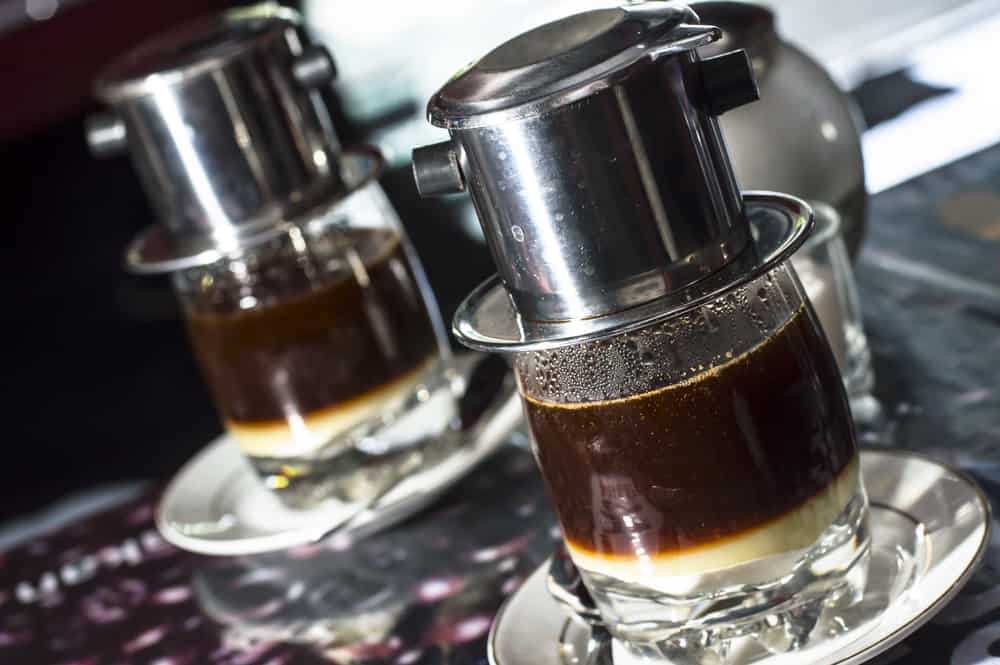 If you want to try out a cool way to make iced coffee, a Vietnamese coffee maker would be a fun way for you to try something new. This style of coffee is nice and strong while being sweet and creamy as well. To make Vietnamese coffee, the process is simple.
Put sweetened condensed milk at the bottom of a glass.
Set the coffee maker on top of our glass and place your coffee grounds in the steel filter.
Slowly pour hot water over the grounds.
Allow the water to drip through the grounds and the filter into the glass.
Once the brewing is complete, stir the coffee and milk together.
Add ice to make one of the best iced coffees you'll ever try.
Sale
4. Pour Over Coffee Maker (Chemex Style)
The manual drip brew is a classic way to make coffee. If you consider yourself to be a self-proclaimed 'coffee snob', this is definitely a method you should try out. This is a more time-consuming way to make a cup of coffee, but if you are of the mindset that a more slowly brewed cup of coffee is superior, then this is the way to go.
With this method, you use a special funnel with a filter and grounds in it and place it over your coffee pot. Once that is stable and ready, you slowly pour hot water into the funnel until you have the amount of coffee in your pot that you are going for. While this does take a longer time than a lot of other methods, you can't beat the amazing flavor that is released from the grounds when brewed in this fashion.

Chemex Pour-Over Glass Coffeemaker - Classic Series - 8-Cup - Exclusive Packaging
All CHEMEX Coffeemakers are measured using 5 oz. as 1 cup
All CHEMEX Coffeemakers are made of the highest quality, non-porous Borosilicate glass which will not absorb odors or chemical residues
The patented CHEMEX pour-over design allows coffee to be covered and refrigerated for reheating without losing flavor
CHEMEX - simple, easy to use with timeless, elegant design
Use CHEMEX Bonded Filters FP-1, FC-100, FS-100, FSU-100
5. Cold Drip Coffee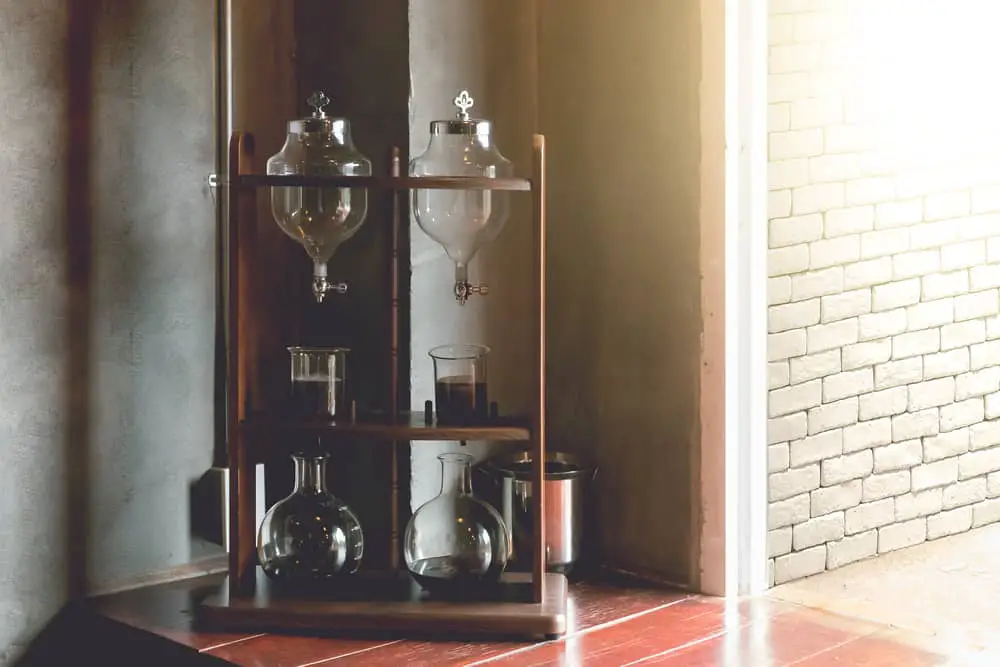 To make a superior cup of iced coffee, cold brew is the way to go. If you have ever made sun tea in the summer, you've already got the basic idea of cold drip and cold brew down. If you order an iced coffee from McDonald's, Starbucks, and most other places that sell it, they usually make extra strong coffee and cool it off with ice. This is an effective method, but it waters down your coffee, diluting the flavor.
Your regular cup of coffee or glass of iced coffee uses hot water to get all the good stuff out of the coffee grounds quickly. To make cold brew, you let the coffee grounds sit in cold water, and over a period of 6-24 hours, coffee is made. While it is a great way to make a yummy drink, it is also time-consuming so be sure to plan ahead so you don't cut yourself short.

Sale
Takeya Patented Deluxe Cold Brew Coffee Maker, One Quart, Black
The Deluxe Cold Brew Coffee Maker is a durable BPA-Free Tritan pitcher with an airtight lid and non-slip silicone handle. It produces 4 servings of...
THE FINE-MESH COFFEE FILTER in this cold brew coffee maker keeps grounds out of your freshly brewed pot - differing from other coffee machines. Tritan...
PREMIUM BOTTLES AND LIDS: Our innovative line of insulated hydration solutions come in a range of sizes. We offer water bottles in 18, 24, 32, 40, and...
BPA FREE HYDRATION SOLUTIONS: From insulated stainless steel water bottles to beverage makers and pitchers, as well as a variety of product...
INNOVATIVE HYDRATION SOLUTIONS: Takeya brings over 55 years of Japanese design heritage to our line of insulated, BPA-free water bottles & our...
6. Steeped Coffee (French Press)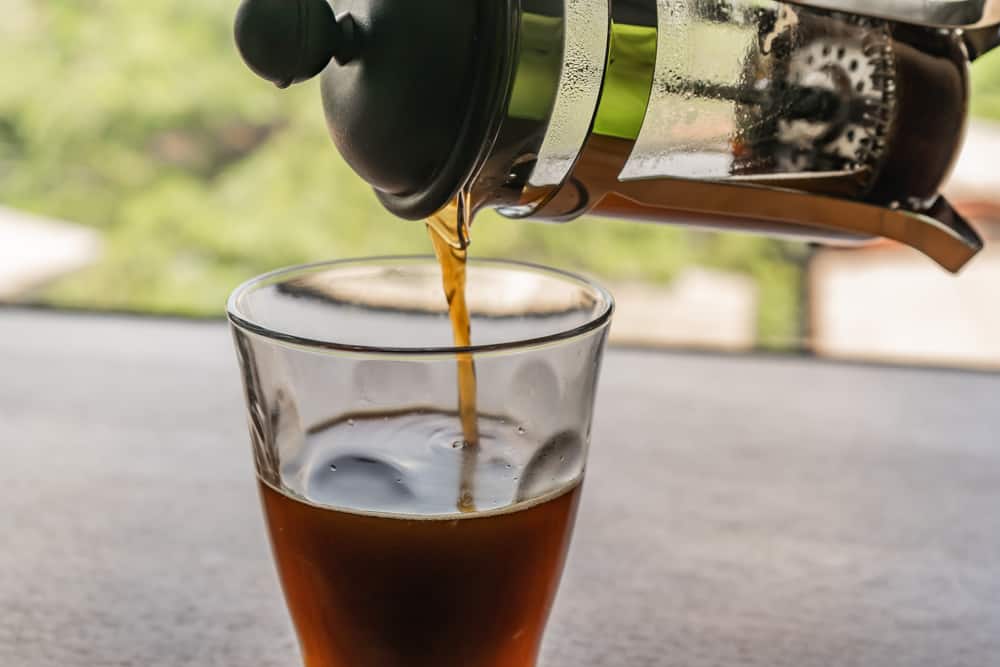 If you have ever made a cup of hot tea, you already get the gist of the French Press. The grounds are soaked and steeped in hot water for a certain amount of time before separating the solids from the liquid. While the process is simple, French Presses are often used incorrectly. In the time it takes to toast a waffle, you've got coffee.
To make a delicious cup of coffee in a French Press:
Heat up your water on the stove until it is almost boiling. If you end up boiling the water, it's not a huge deal, just be sure to let it cool a bit before proceeding.
Place your coffee grounds in the bottom of your French Press. You can use however much you want based on how you prefer your coffee.
Pour the hot water over the grounds and stir.
Let your coffee steep for 4 minutes. You can let it go longer if you prefer your coffee on the stronger side.
Once your coffee has steeped for your preferred timeframe, push the plunger of the press down. This uses the screen to separate the coffee from the ground beans.
Pour into your favorite mug and add any cream or sugar you prefer.
Sale
Cafe Du Chateau French Press Coffee Maker - Large 34 Oz Glass Carafe - Stainless Steel Coffee Presses with 4 Level Filter
☕ 4 Level Filtration System: Our coffee press features a 4 level filter system that keeps grounds out of your delicious brew. It consists of two...
☕ Stainless Steel French Press: One of the cornerstones of our our coffee french press is the 304 grade stainless steel. The rust and corrosion...
☕ Heat Resistant Glass Carafe: The carafe in our coffee and tea press is made from borosilicate glass. It's a high quality glass that's able to...
☕ BPA Free, Brewing Manual Included: The materials we use in our coffee and tea maker surpass U.S.F.D.A. and European Commission food safety...
☕ Lifetime Replacement Policy: At Cafe Du Chateau, we take your experience with our products seriously. That's why we pledge to replace your french...
7. AeroPress
The AeroPress is a new twist on the traditional french press. It's extremely lightweight and portable. It allows for total immersion and temperature control. It works in less than a minute. Coffee made with an AeroPress is known to have lower acidity and less bitterness.

Sale
AeroPress Coffee and Espresso Maker - Quickly Makes Delicious Coffee Without Bitterness - 1 to 3 Cups Per Pressing
Popular with coffee enthusiasts worldwide, the patented AeroPress is a new kind of coffee press that uses a rapid, total immersion brewing process to...
Good-bye French Press! The rapid brewing AeroPress avoids the bitterness and high acidity created by the long steep time required by the French press....
Makes 1 to 3 cups of American coffee per pressing in about a minute, and unlike a French press, it can also brew espresso style coffee for use in...
Perfect for home kitchen use, the AeroPress is lightweight, compact, portable and durable, making it also ideal for traveling, camping, backpacking,...
Includes the AeroPress press, funnel, scoop, stirrer, 350 microfilters and a filter holder. Shipped in frustration-free packaging (no retail box...
8. Espresso Maker (Pressurized Coffee)
Espresso is made by forcing hot water through tightly packed super-fine coffee grounds. After espresso is made, the grounds that are left in the machine often resemble a small hockey puck due to them being pressed and compacted.
There are three types of espresso makers: manual, partially automated, and automated. Each style will give you the delicious and strong espresso you're looking for, although an automated machine will do the hard work for you.

Breville BES870XL Barista Express Espresso Machine, Brushed Stainless Steel, Large
The Breville Barista Express delivers third wave specialty coffee at home using the 4 keys formula and is part of the Barista Series that offers all...
DOSE CONTROL GRINDING: Integrated precision conical burr grinder grinds on demand to deliver the right amount of freshly ground coffee directly into...
OPTIMAL WATER PRESSURE: Low pressure pre-infusion gradually increases pressure at the start and helps ensure all the flavors are drawn out evenly...
PRECISE ESPRESSO EXTRACTION: Digital temperature control (PID) delivers water at precisely the right temperature, ensuring optimal espresso extraction
MANUAL MICROFOAM MILK TEXTURING: The powerful steam wand performance allows you to hand texture microfoam milk that enhances flavor and enables...
9. Moka Pot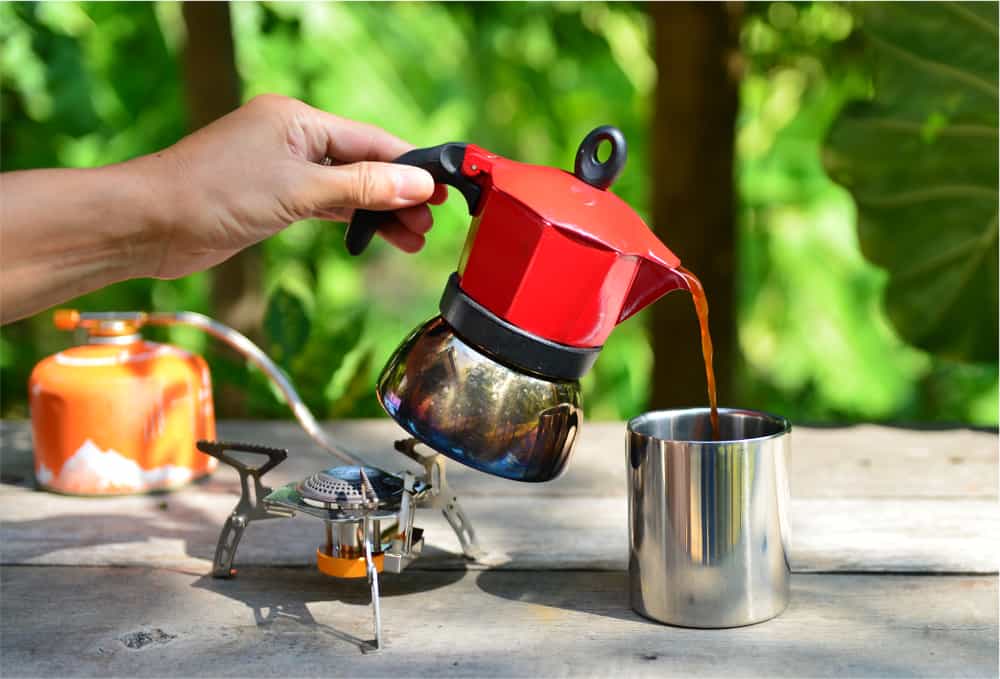 Another form of espresso maker, the Moka Pot is a cool way to make coffee shop coffees at home. This machine creates steam pressure which is used to make espresso.
You put your coffee grounds into the filtered compartment, then add water to the bottom chamber. Set your Moka pot on the campfire or on your stove and heat the water. That does all of the work. As the water is boiled, steam is created. The moist steam saturates the grounds and the water boils, pushing the espresso up through the metal filter above the grounds. Just like with a tea kettle, as the water is finished boiling, the top part will sputter and tell you that it is ready. Pour your espresso and enjoy it!

Sale
10. Siphon Coffee Maker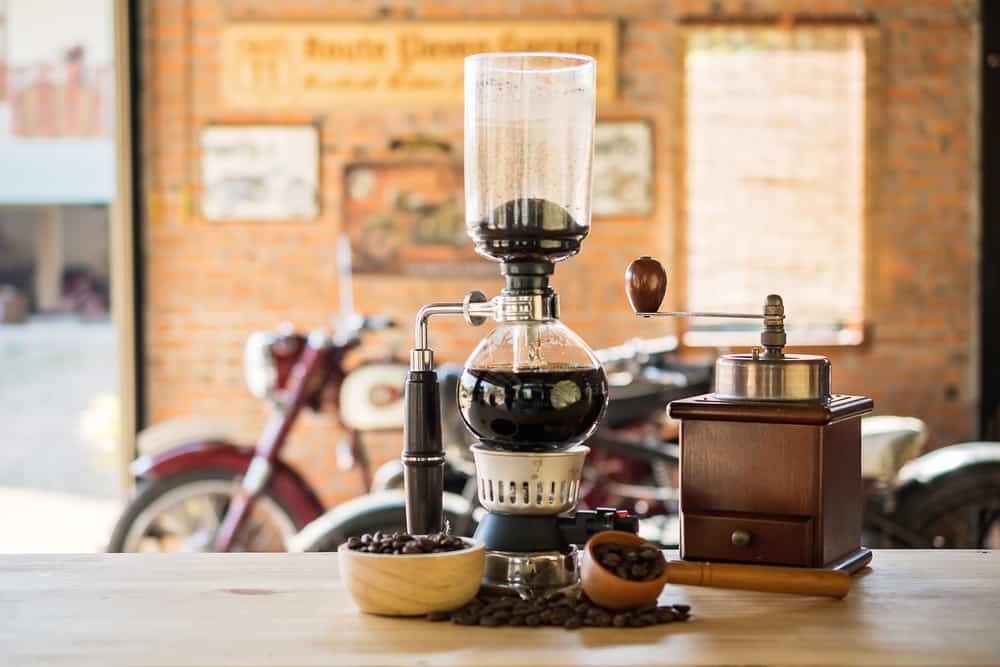 If you want to feel like a mad scientist when you make your next pot of coffee, try out one of these really cool coffee makers. The siphon coffee works by creating a vacuum with the pressure that is created with the heat of the hot water to make coffee.
Using a siphon coffee maker is much easier than you'd think upon first glance at the contraption.
First, place your water in the bottom chamber and grinds into the top.
Start heating the water over the heat source. As the water warms up, the vacuum is created and the pressure pushes the water into the top container where the grinds are.
As the coffee brews, the grounds are filtered out while the coffee drips down into the bottom chamber.
Once your coffee is finished brewing, you can add anything you like in your coffee or simply drink it black for the full experience.

Sale
Hario Glass Technica Syphon Coffee Maker, 5-Cup
Upper bowl, lower bowl and burner are made of the best heat resistant borosilicate glass from Hario
Stand, burner cover, and filter are made of stainless steel
Imported from Japan
Item dimmensions are: 14"H x 6.2"W x 4.3"L; 5 Cup Capacity
Fasteners are made of brass; windbreak is made of aluminum
How to Pick a Coffee Maker
With so many options available it may be hard to decide which one you want to try next. There are some things you can take into account to help you choose which one would be good for you.
Time
This is a big one. If you want something that is going to be quick and easy, a regular drip coffee maker or a single cup machine would be a good choice for you. If you are tired of your drip machine and want to try out something different, a French Press is a great way to change up your coffee routine in the mornings. It only takes a few minutes to prepare, then you simply let the grounds steep.
If time doesn't matter as much, then you can try out a cold drip maker to make a delicious pot of iced coffee. You could also try the siphon-style coffee maker. Both of these would be a fun new way to make coffee. You can even involve your family and turn it into a family activity.
Style of Coffee
If you want espresso, there are several great choices. You can use the Moka Pot if you are camping or want to be able to make espresso on the stovetop. If you want something automated, you can get an automatic espresso machine, which does all of the work for you.
If you want regular coffee, you can use a siphon coffee maker, a drip machine, or steep your coffee with a French Press.
Experience
When you're shopping for a new coffee maker, you should also consider the experience you'll have using the machine. If you want to try something totally new, try out one of the styles that you've never experienced, like Turkish iced coffee. If you just want a tasty cup of coffee and don't care how it's made stick to a method that's in your budget and within your skillset.
A Brief History of Coffee
Coffee is one of the most popular drinks in the world. While it is possible that coffee has been around longer, but the earliest confirmed reports of coffee as we know it can be dated back to the early 15th century in Yemen. Beyond Yemen, it spread to Cairo and Mecca during the same century. The rest of the Middle East, South India, northern Africa, Turkey, and several other locations had coffee by the 16th century.
Nowadays, coffee can be found on every continent, as it enjoyed by most adults worldwide. Since it is such a widely loved drink, there are coffee makers and methods of brewing from many countries, some of the most notable being Italy, Turkey, Vietnam, and France. No matter where you travel, a great cup of coffee can be found in every corner of the world.
Conclusion
All in all, there are several awesome ways to make a delicious cup of coffee right in your own home. Skip the lines at the local coffee shop and make your own iced coffee and espresso in the comfort of your own kitchen. Whether you want to use something unique and that you haven't tried before or you want something you know and trust, with so many types of coffee makers available, a delicious cup of coffee is easily within reach.