Updated on January 3, 2022
What is it about wrought iron fences that have become so iconic in culture? Not just American culture, but globally.
They are stately, strong, and secure. They have an appearance that both welcomes you, but reminds you not to cross the boundary unless you're supposed to.
Many people think of wrought iron fences as only being part of large mansion driveways, but that not the only place they look great. True, those swinging double gates still mark the entrance to many large estates, but they also look great around smaller homes as well.
Below, you will see more than 25 examples of wrought iron fences. Some are part of the driveway entrance and others are part of simple walk ways. Take your time and fall in love with wrought iron fences…again.
See Also: 9 Types of Gate Latches
Wrought Iron Fence Ideas
1. A Grand Double Entrance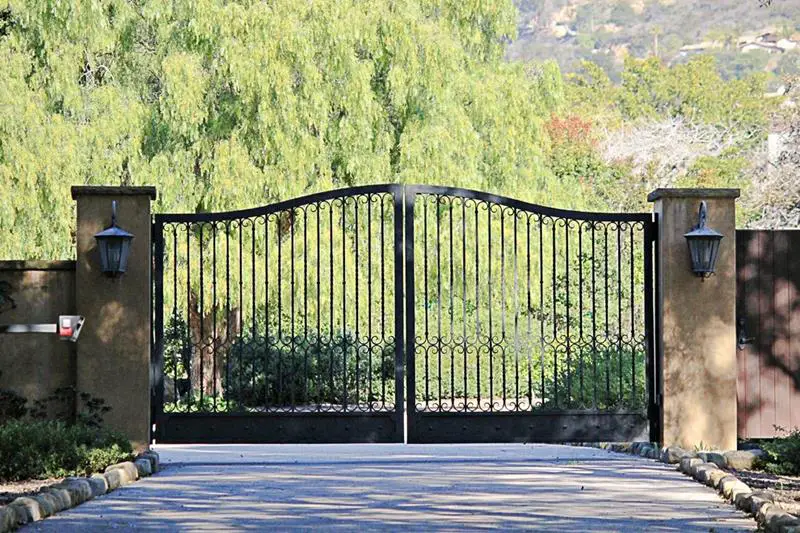 We love this classic and amazing look to an entrance. There is something to be said about the durability and grand style of a wrought iron fence.
2. A Luxurious Style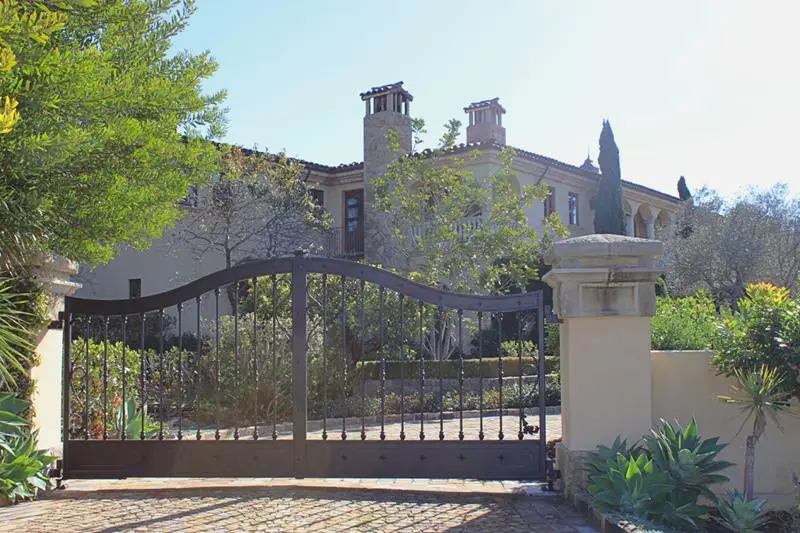 3. Simple Double Opening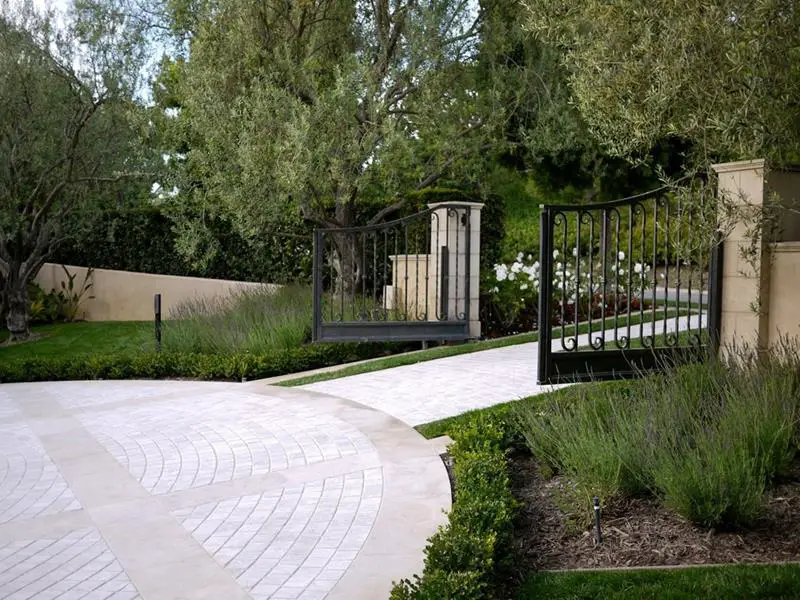 4. Beautiful Iron Designs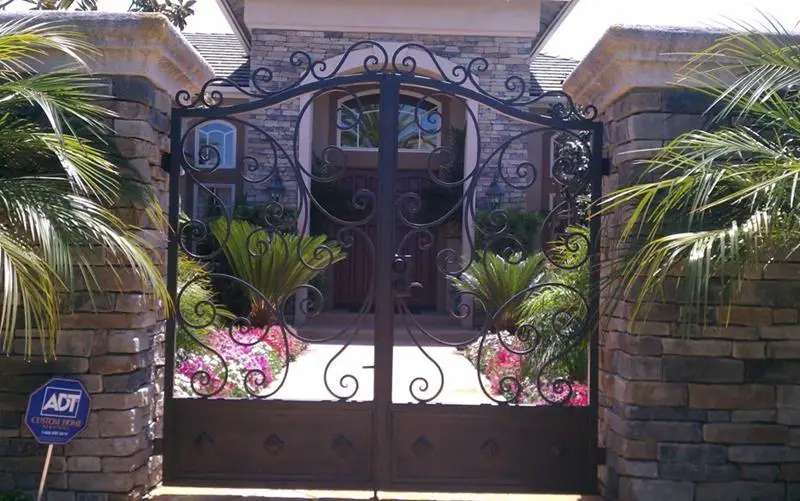 We love wrought iron fences that go in areas other than driveways. This one gives access to the walkway to the front of the home and has a wonderful design incorporated.
5. Surrounded By Green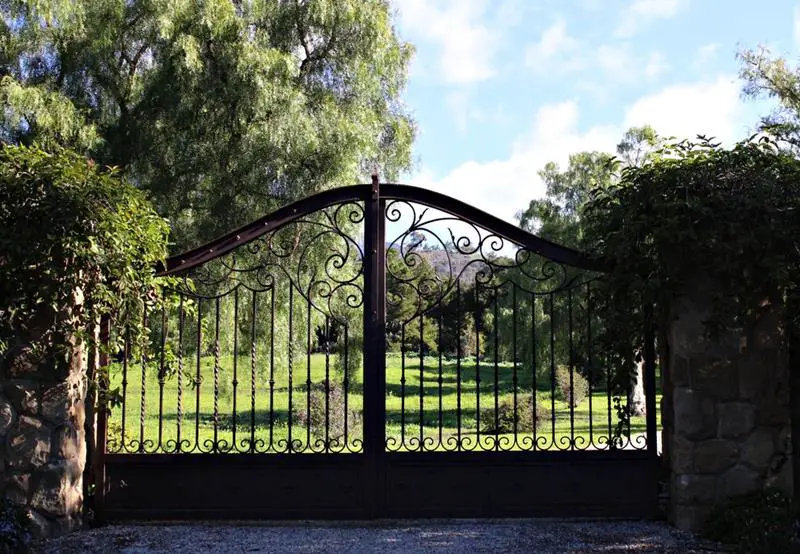 6. Arched Beauty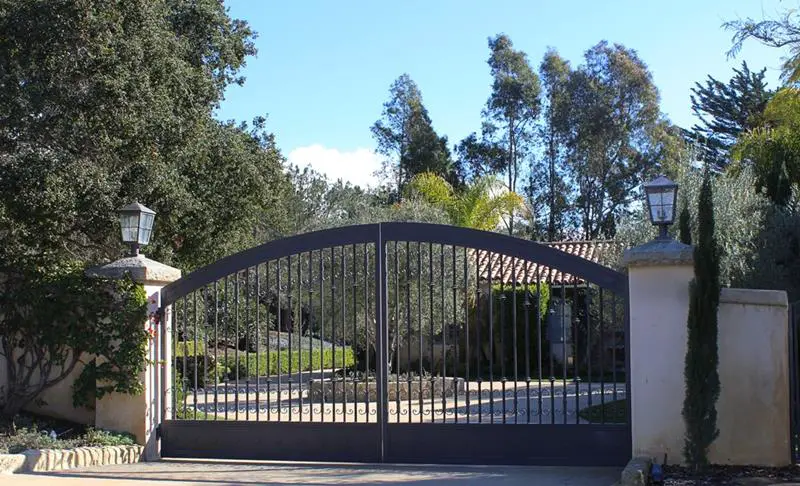 This wrought iron fence has a simple, yet grand, arched design that gives this entrance an extra flair. We love the minimal design and how well it works for this space.
7. A Durable Look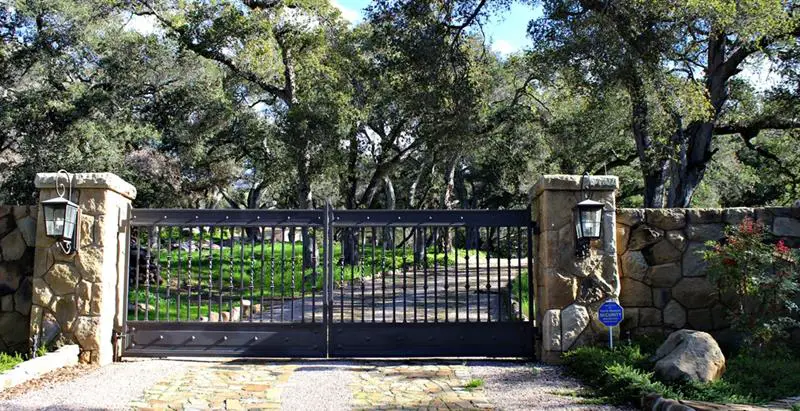 This whole scene works well. The bold and durable style of this fence matches the stone wall and beautiful driveway.
8. Iron and Brick Match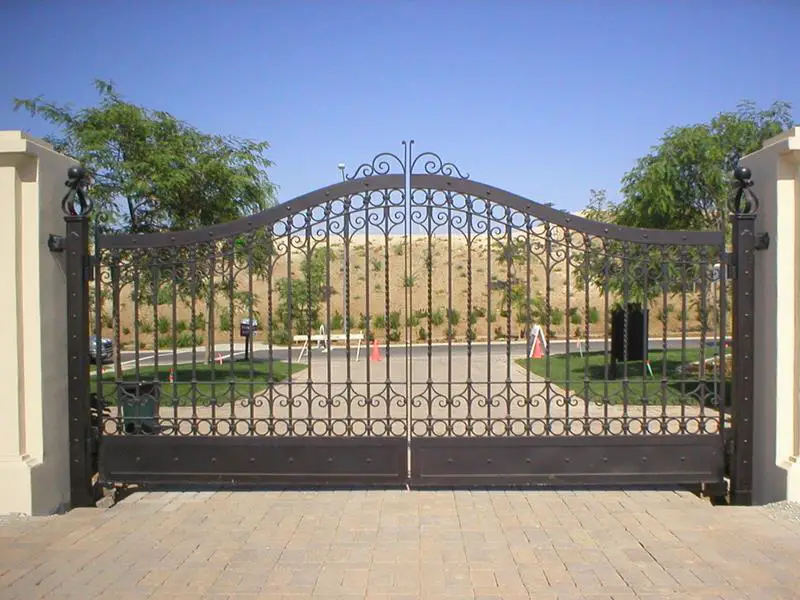 This wrought iron fence blends well with the brick driveway it guards. With a classic design, it is simple and approachable.
9. European Surroundings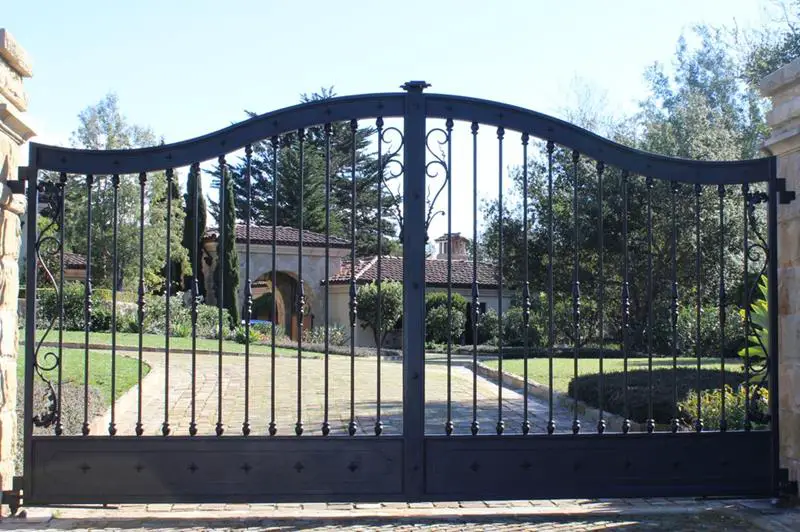 This fence perfectly matches the European style it guards, working with a minimal design with beautiful curves.
10. A Classic Design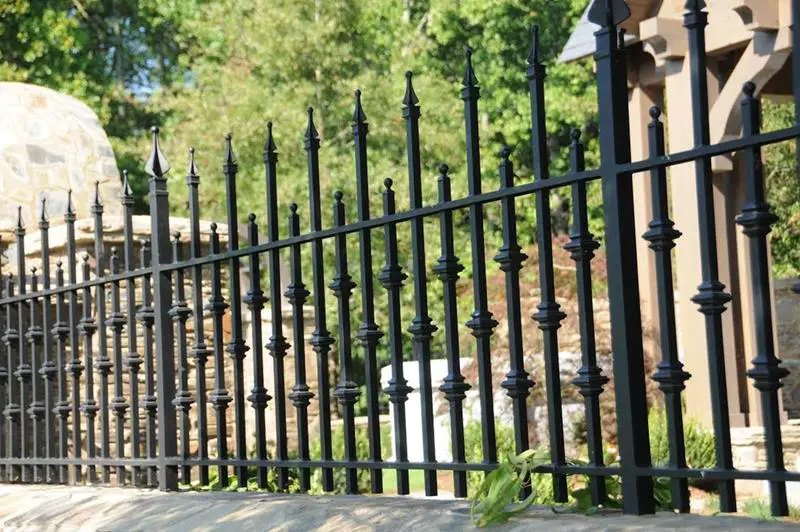 We love that this wrought iron fence surrounds the property. For a fence like this to work, it must be both stylish and functional, and this one is both.
11. Met With Patterns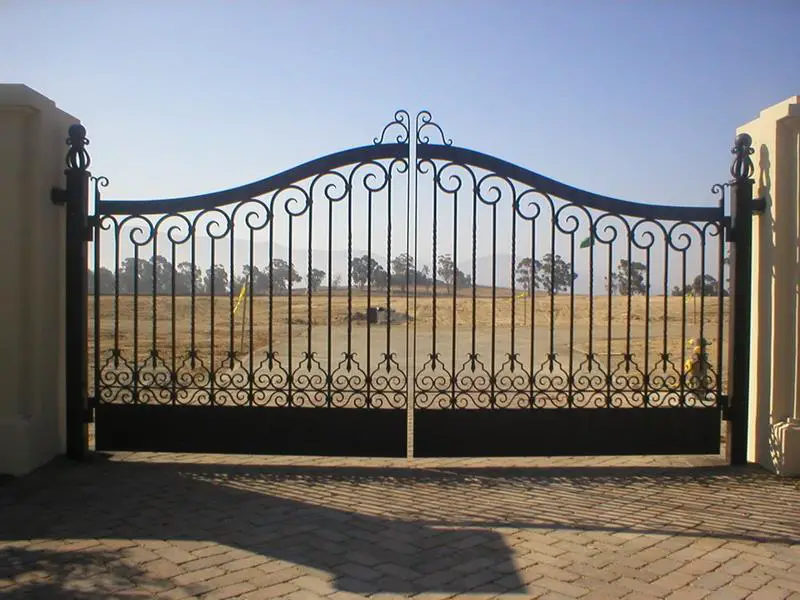 Driving up to this wrought iron fence, you will be pleasantly surprised by the wonderful and calming pattern it incorporates.
12. Dip in the Middle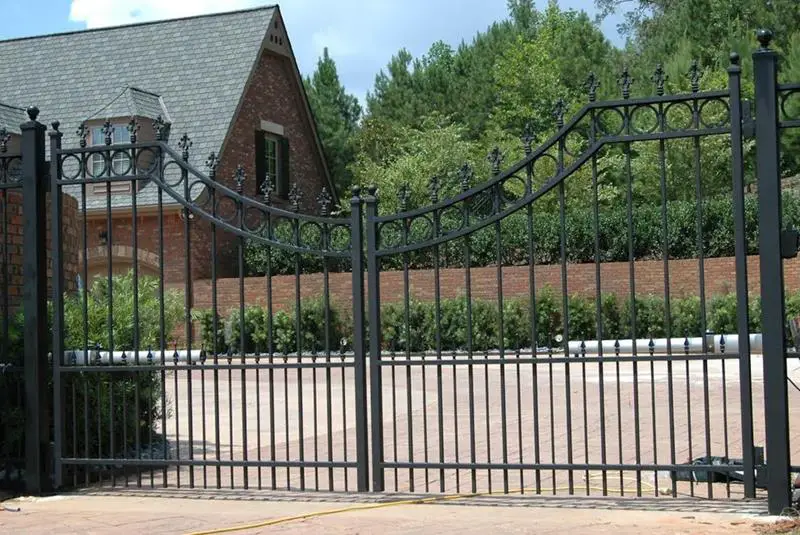 While most wrought iron fences with arches have them rise up, this one features a dip and we love the look it brings.
13. A Beautiful Archway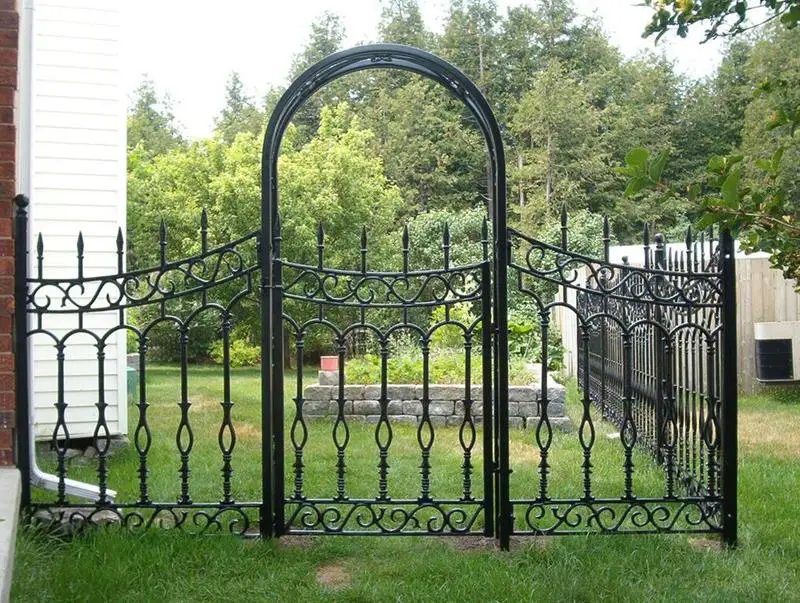 This wrought iron fence has a wonderful arches entryway and follows the perimeter of the yard. We love the design of the fence and how well it blends with the surroundings.
14. Flat Bar Style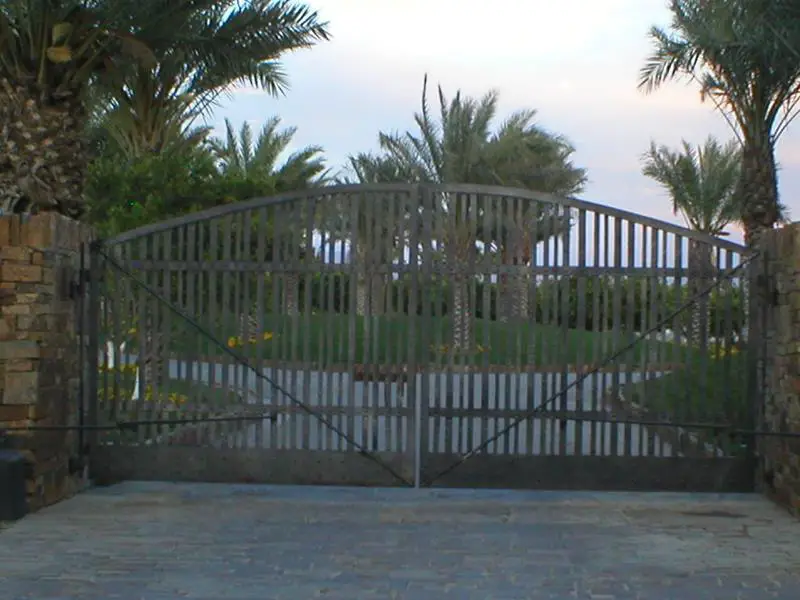 This wrought iron fence takes a different approach and has a flat bar design. We live the look it gives and how well it works in this tropical setting.
See Also: 20+ Beautiful Rustic Fence Designs, Styles and Ideas
15. Great Iron Tips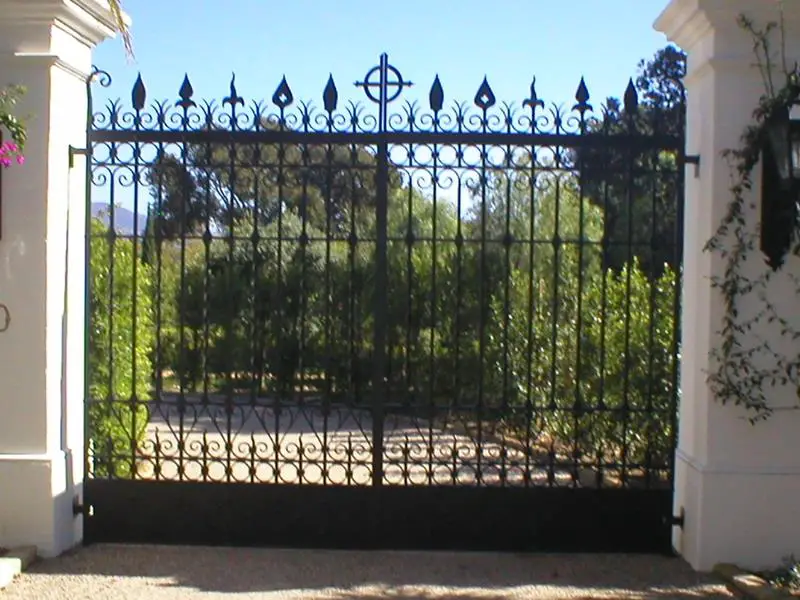 Like a medieval scene, we live the eclectic tops to these iron bars. It gives off a great vibe and makes for a perfect entrance.
16. Stone Column Style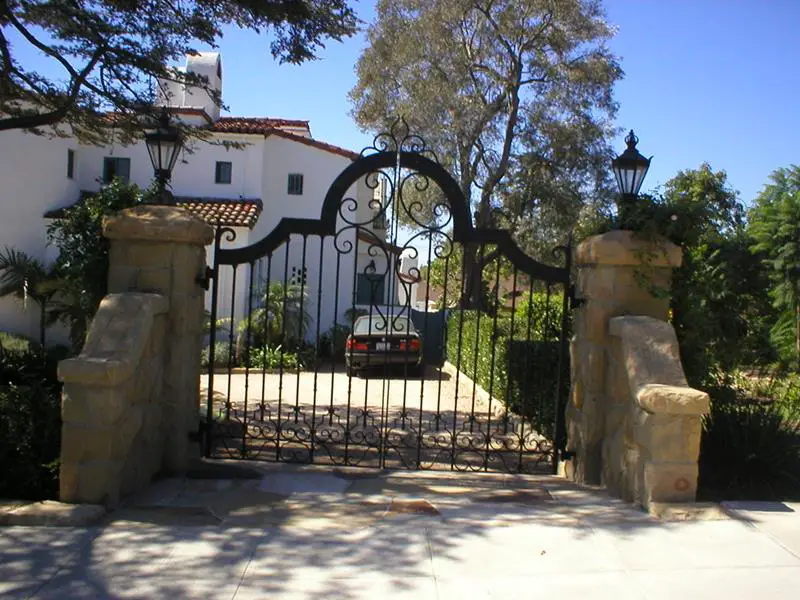 This wrought iron fence has a wonderful design and is surrounded by great stone columns. We love the simplicity of the whole scene.
17. Easy European Design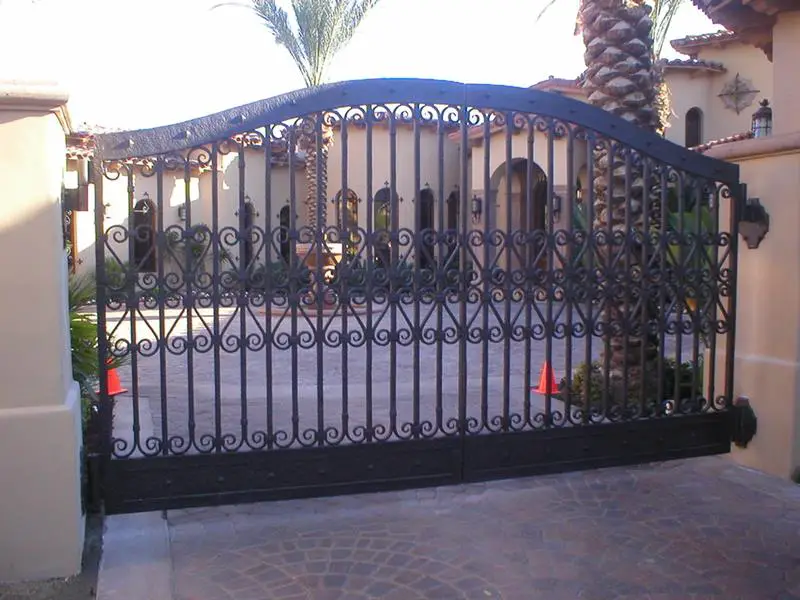 This wrought iron fence is surrounded by great European architecture and it has a design that blends right in.
18. Light and Stylish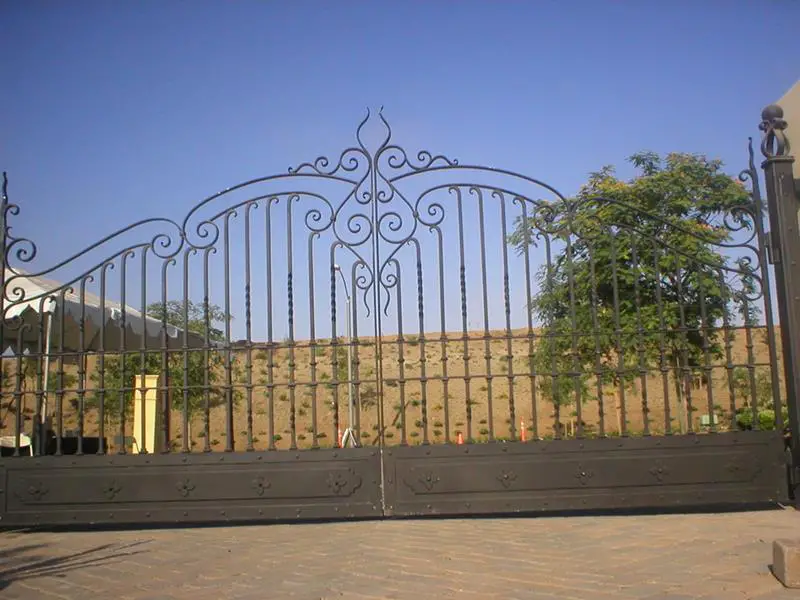 We love the thin bar approach to this wrought iron fence. It gives a minimal sense while also incorporating a great design.
19. Iron Bar Entrance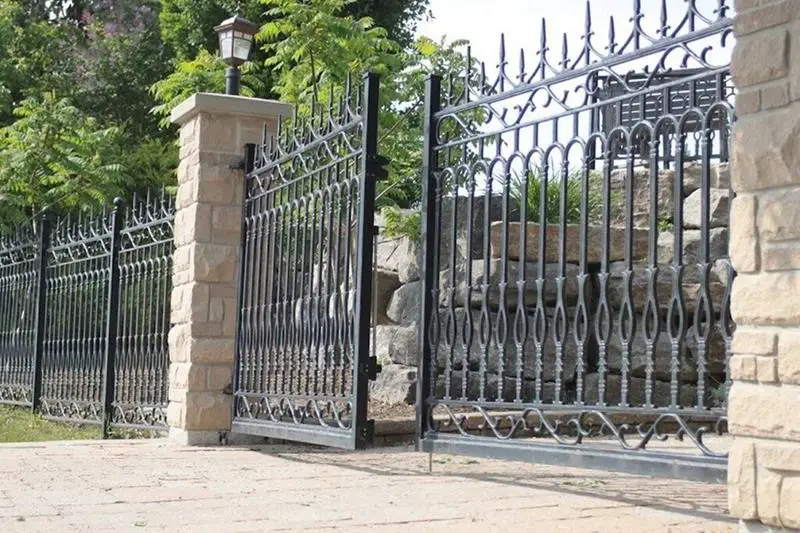 This wrought iron fence has a durable look,with its thick bars arranged in a great pattern. We love the look and that it extends around the property.
20. Southwestern Style
The smaller wrought iron bars and beautiful design here are perfect for this surrounding landscape. We love how everything here blends so well.
21. Simple Iron Style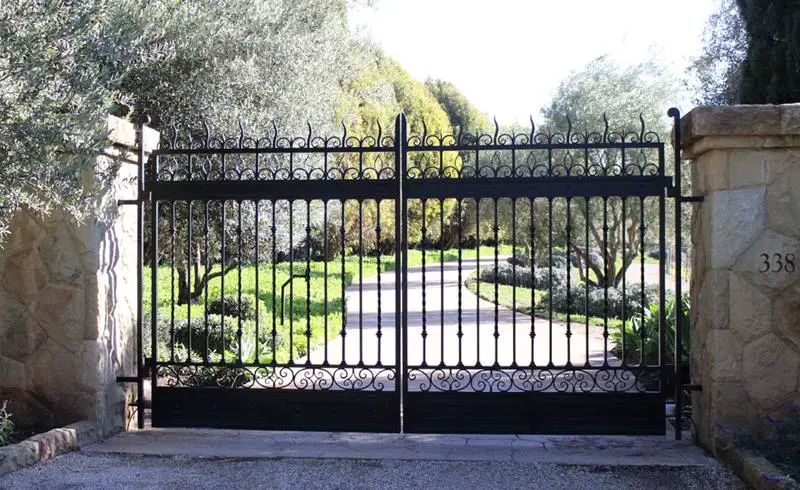 There is nothing complex about this wrought iron fence, yet it stand bold and wonderful, ready to let you enter.
22. Minimal Yet Functional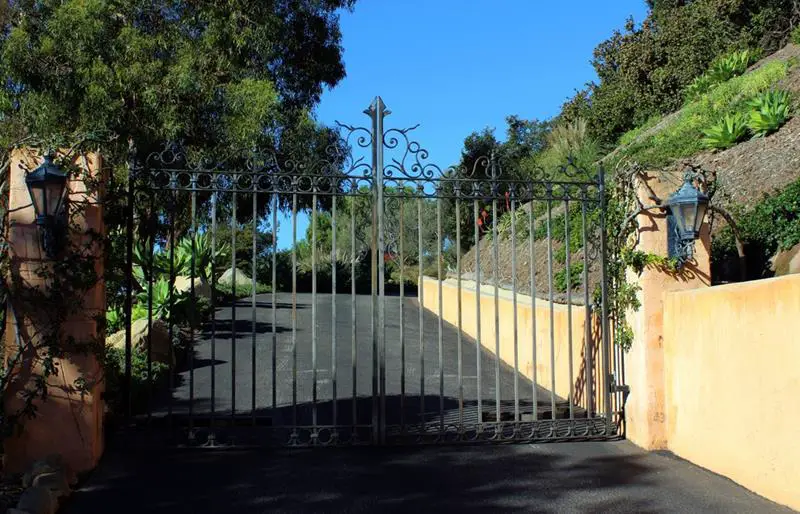 The minimal approach of this wrought iron fence is great. It is not complicated and works with the simple columns and wall.
23. Design On Top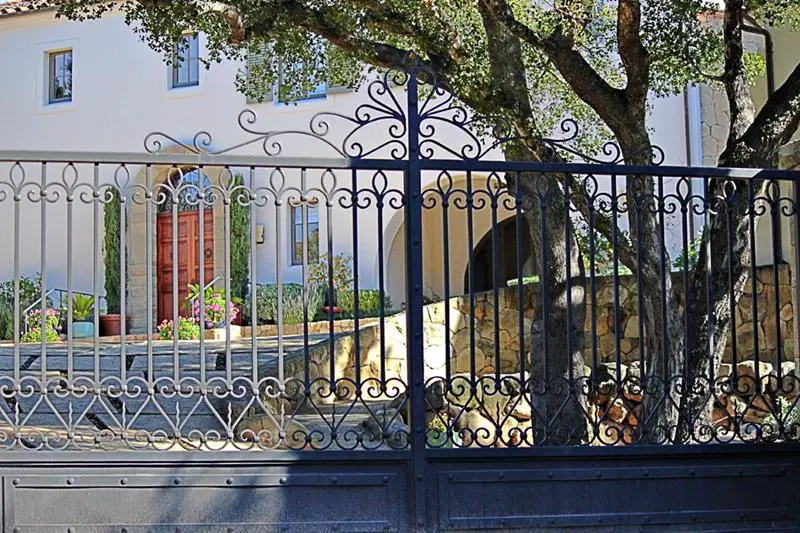 The simple design, the minimal approach, and the way this fence blends with its surroundings all make it a perfect fit.
24. Orderly Look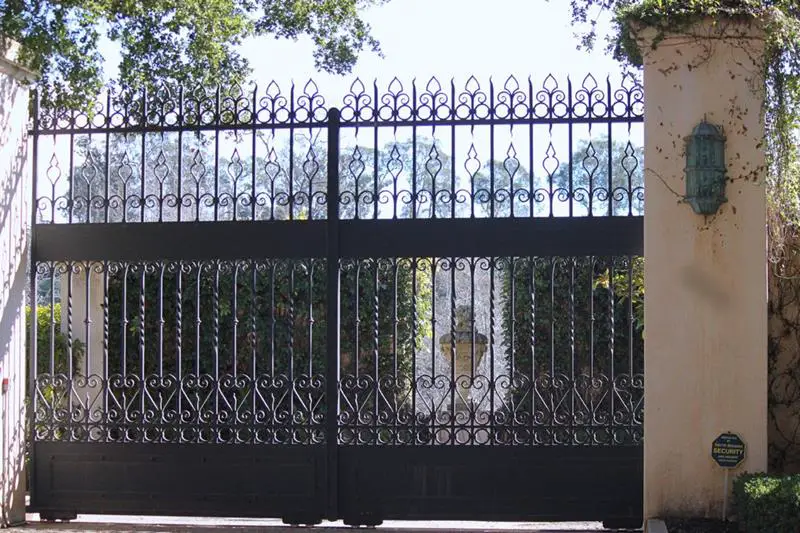 We live that this wrought iron fence is tall and commanding, yet features a wonderful design that is easy to look at.
25. Beautiful Arched Entrance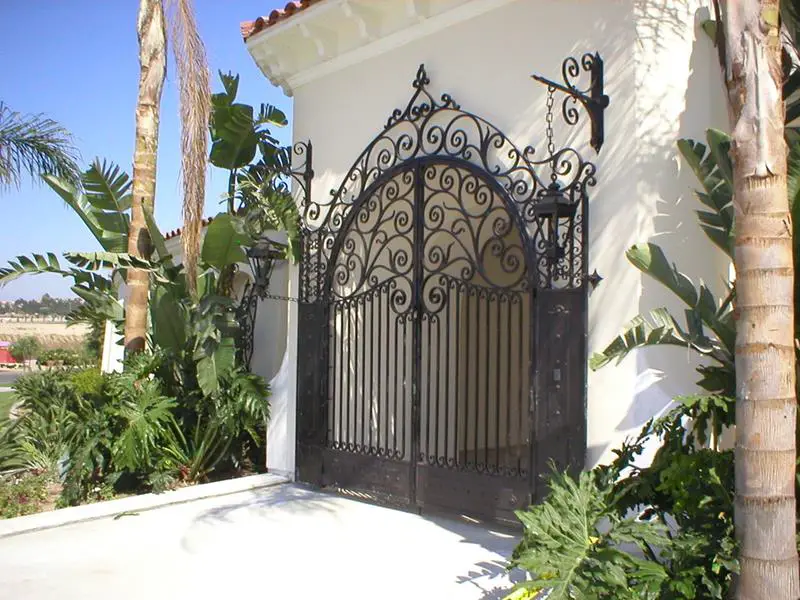 This beautiful wrought iron fence keep the entrance to this space safe and looking great. The arched pattern rises up and matches the beautiful architecture wonderfully.
26. Simple Walkway Iron Fence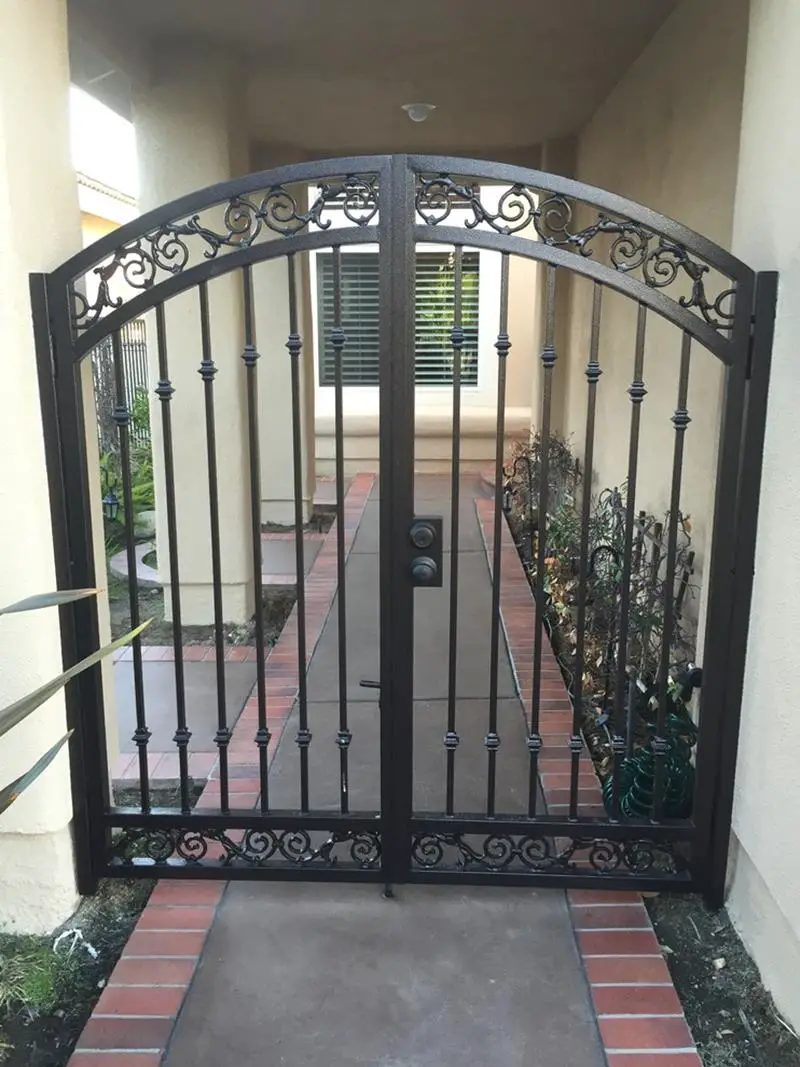 We love simple wrought iron fences that keep a guard over walkways. This one is simple and features a great minimal design.
27. Low Profile Design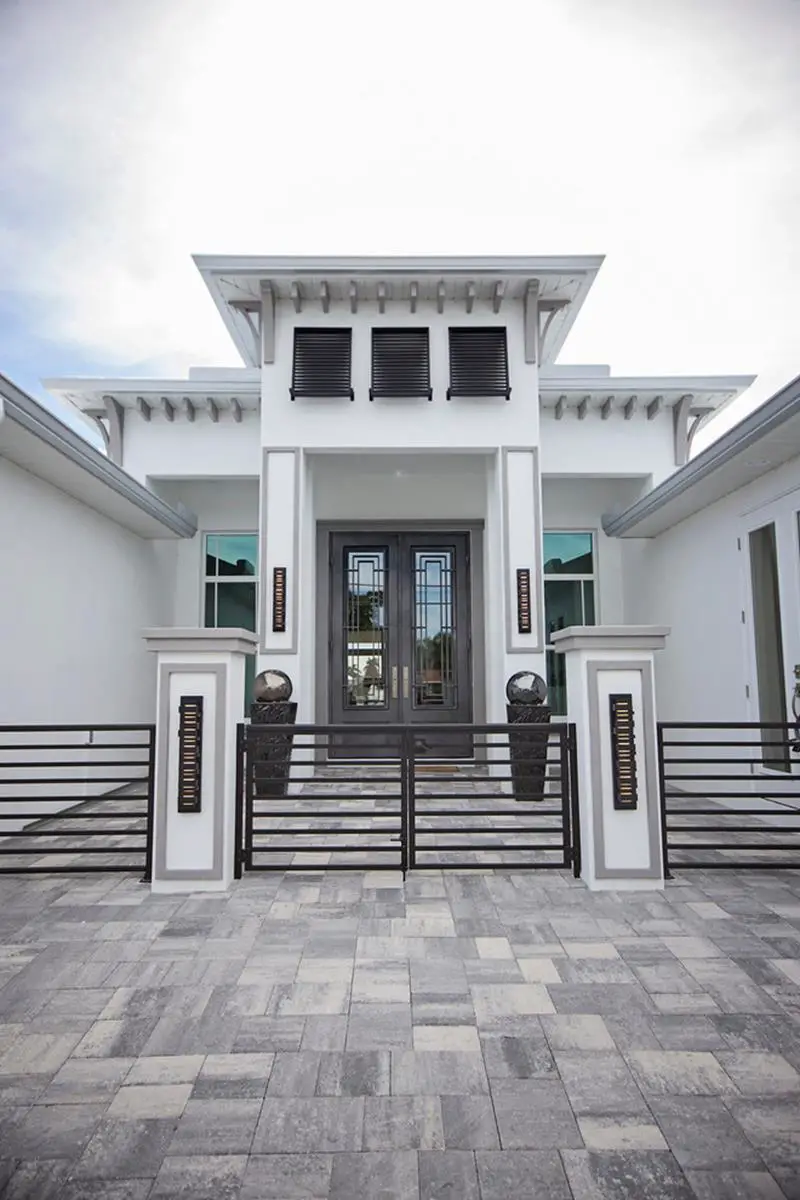 This modern, low profile, wrought iron fence perfectly matches the design of the outside of this home.
Don't Miss: 10 Best Fence Design Software Options (Free and Paid)