Disclosure: This post may contain affiliate links. This means that at no cost to you, we may earn a small commission for qualifying purchases.
Updated on October 1, 2022
If you are thinking about buying a futon for your home or rental then you should weigh all of the options. No two futons are the same, and there is a big difference between sleeping or sitting on a low-quality futon versus one of the comfortable luxury futons that are available on the market.
Keep reading to find out which futons make the most comfortable beds, which futons make the most comfortable sofas, and what features you should consider when shopping for futons.
Do Futons Make a Comfortable Bed?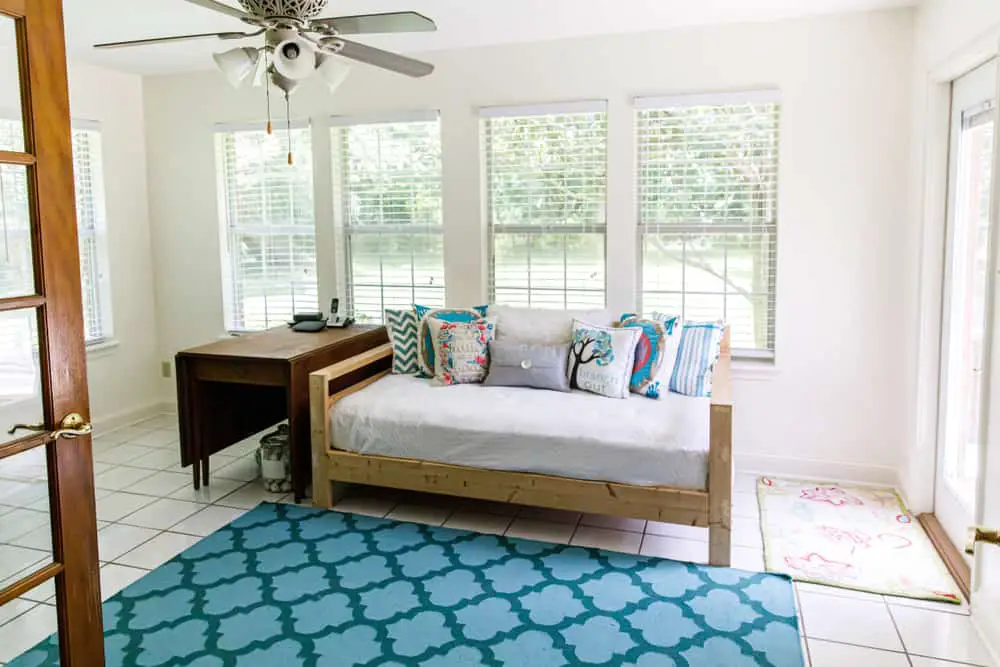 If you have ever slept on a futon then you may have a positive or negative impression based on your experience. Some people will attest that futons are just as comfortable as a regular bed, and other people complain that sleeping on a futon is a recipe for back pain and stiffness the next day.
So who is telling the truth? In fact, both groups of people are correct, but it all depends on the futon.
Some futons make more comfortable beds than others. Among the features that will have an effect on the comfort of the futon are the materials it is made out of as well as the design and whether any of the hard metal or wooden parts are easily felt through the mattress pad or are exposed in such a way that you could accidentally bang into them while you sleep.
One way that futon owners make their futons more comfortable as a bed is by adding a separate mattress topper. You can purchase a mattress topper separately and add it to the futon, allowing you to easily convert what was once an uncomfortable sleeping surface into a soft, plush, even memory-foam bed that you can get a good night's sleep on.
Do Futons Make a Comfortable Sofa?
A futon can make a very comfortable sofa, but just like a regular couch it all depends on the design and the cushions. Metal futons with thin cushions make a lot less comfortable of a futon than one with a sturdy base and thick, padded cushions.
One aspect of futons that varies is the armrests. Some futons have padded armrests, but it is more common for futons to have metal or wooden armrests as part of the hardware that converts it into a bed. This is one reason that regular sofas are more comfortable than some futons is because they have more comfortable armrests.
A Great Mattress Topper For Futons:
How to Find the Best Futon
When shopping for the best futon on the market we suggest by starting with shopping with reputable furniture brands. The benefit of shopping with top-selling brands is that they usually offer better warranties and return policies, as well as better customer service in general.
Because the comfort of the futon is dependent on multiple factors, we delved deeper into the features offered by the best-selling futons on the market to see which features were most important to consider when shopping. Keep reading to find out more about how to find the most comfortable futon for the price.
Features to Consider When Shopping For Futons
Here are the features most important to consider when shopping for a comfortable futon:
Brand
One of the reasons why we suggest shopping with best-selling brands with a good reputation for high-quality products is that buying cheap knock-offs of the best-selling products will often leave you with a futon made of lesser quality materials that can easily rip, tear, break, malfunction, and even potentially hurt people if not tested for proper safety and quality assurance.
Price
Perhaps the most important thing to consider when shopping for futons is the price. Cheap futons are uncomfortable, and the comfortable ones are usually a lot more expensive than the cheap, low-quality ones.
You can make an uncomfortable futon more comfortable by adding pillows and mattress toppers, but these will cost additional dollars that may be better spent investing in a better futon in the first place.
Design
The design of the futon is very important when it comes to how comfortable it is. The metal and wooden components that make up the hardware for converting into a bed can make the futon feel less comfortable for sitting and sleeping.
Best-selling futons are made to be just as comfortable as a regular sofa or bed. The way that the futon converts or folds out is one of the design features that will have an effect on how comfortable it is for sitting or laying.  
Material
In addition to the other important features to consider when shopping for a new futon, the materials used are just as important. For the highest quality materials you can expect to pay top-dollar, but it is worth it for the comfort and longevity they provide.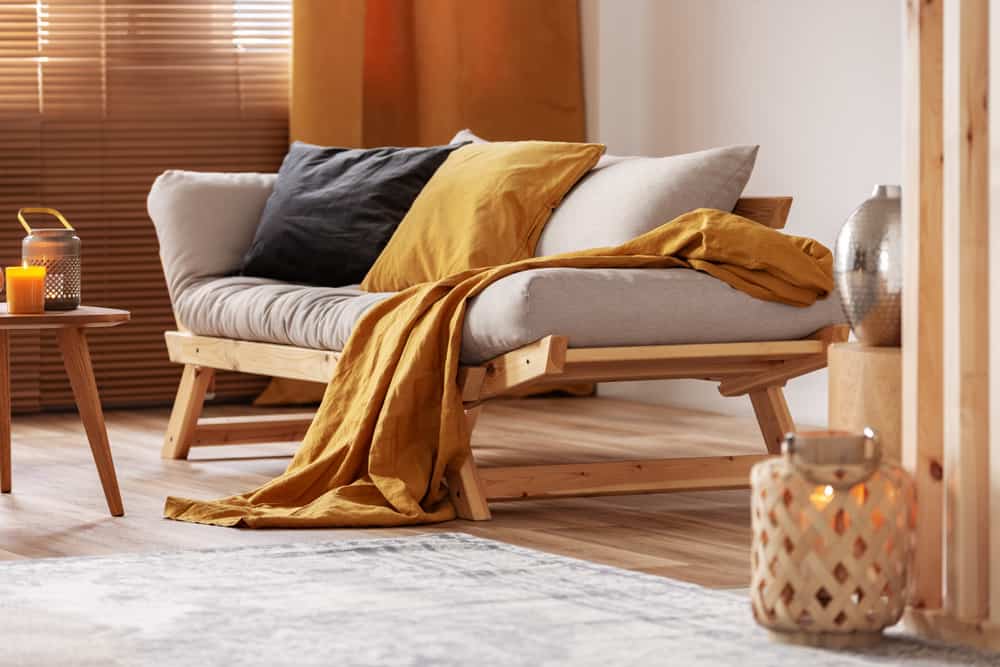 Frequently Asked Questions About Futons
Here are some answers to the most frequently asked questions about futons.
Why Should You Buy a Futon Instead of a Sofa?
If you already have a sleeping arrangement, then what are the benefits of having a futon instead of a sofa? The main benefit to buying a futon instead of a sofa is that you can have an extra bed in case of unexpected guests.
Some people may also simply enjoy the option to convert their couch into a comfortable bed to accommodate more people for sitting as well as for lounging while watching a movie, reading, and relaxing.
Why Should You Buy a Futon Instead of a Bed?
The benefits of buying a futon instead of a bed is mostly that it saves space. For dorm rooms and studio apartments a futon can be a convenient way to make the most out of a room with limited space.
Likewise, if you own rental properties or you are furnishing a guest bedroom, there are benefits to buying a futon instead of a bed. You can accommodate extra sleepers without sacrificing space in your favorite rooms of the house.
Second bedrooms can be used as family rooms, offices, longues, nurseries, or playrooms if you replace the bed with a futon, and you do not lose the ability to accommodate extra guests.
Do Futons Look Like Regular Sofas?
Some futons look like they belong in a dorm room, while other futons can easily be integrated into the interior design of the room and blend in like a regular sofa. There are futons that look very similar to regular sofas to the point that you would not know it is a futon until you convert it into a bed for sleeping.
A Great Futon That Look Like a Regular Sofa:
Sale
Serta Rane Convertible Sofa Bed, Charcoal
Note : To ensure proper assembly, please follow all steps provided in the...
COMFORT: Serta, the first name in comfort, makes Serta-comfortable, sensibly...
BEAUTY: This futuristic, convertible sofa has a sleek silhouette with...
Conclusion
In conclusion, expensive futons are more comfortable than cheap futons. It comes down to price in most cases. The design of the futon and the materials it is fashioned out of also will have an effect on how comfortable it is as a bed or a sofa.
There are ways to make a futon more comfortable such as adding a mattress topper for sleeping or adding decorative pillows for when it is used as a sofa, but the best way to get a comfortable futon is to invest the same amount of money into it as you would spend on any other sofa or bed.