Updated on January 3, 2022
One of the best things about owning your own home is that you are free to do what you want with your yard, including thinking about backyard water features. With that kind of freedom, it can be hard to narrow it down to what you really want in your space. From pools to ponds to your own personal stream, the possibilities are nearly endless.
Whether you are interested in constructing a water feature yourself or you plan to hire a professional, there are several ways you can go about getting a beautiful pool or pond in your yard. If you're looking for some inspiration, take a look at these 10 fantastic backyard water features!
Types of Backyard Water Features
1. Pond With a Bridge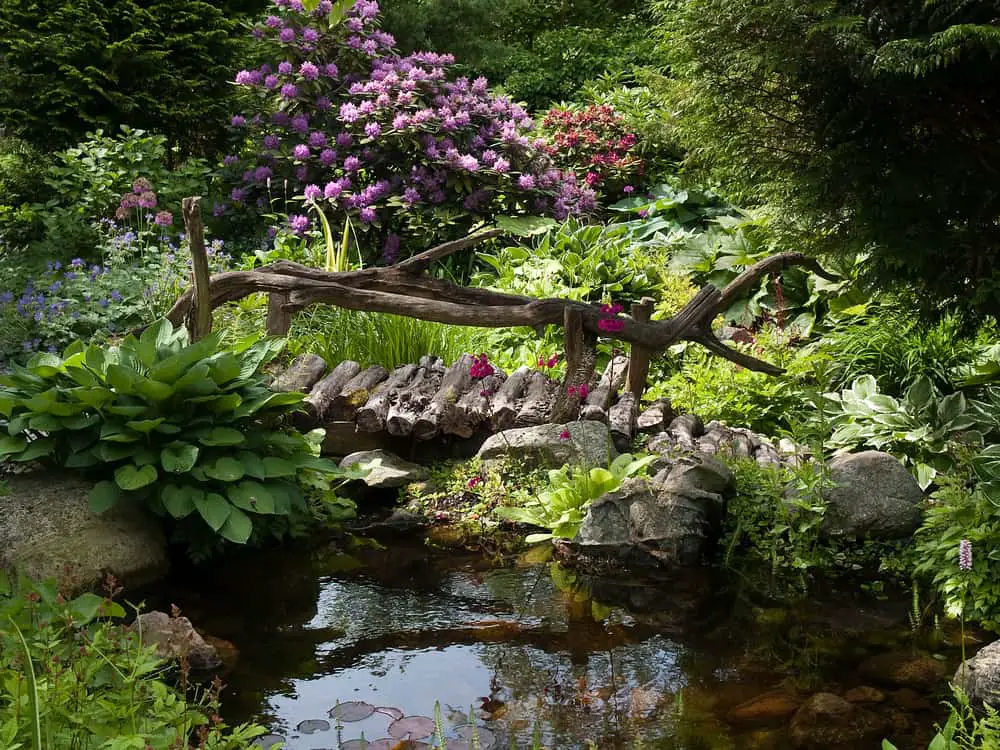 If you have a smaller backyard but you're dying to put in a pond, a pond that has a simple bridge going across it would be a beautiful addition to your property.
This style is especially great for a smaller yard because the pathway that crosses the water is both aesthetically pleasing and it is functional since you can walk across it or you can sit on it and dangle your feet in the water to cool off in the summer.
To take your pond to the next level, you can add your favorite pond-safe fish to help with the ecosystem of your pond.
2. Pool with a Waterfall and Waterslide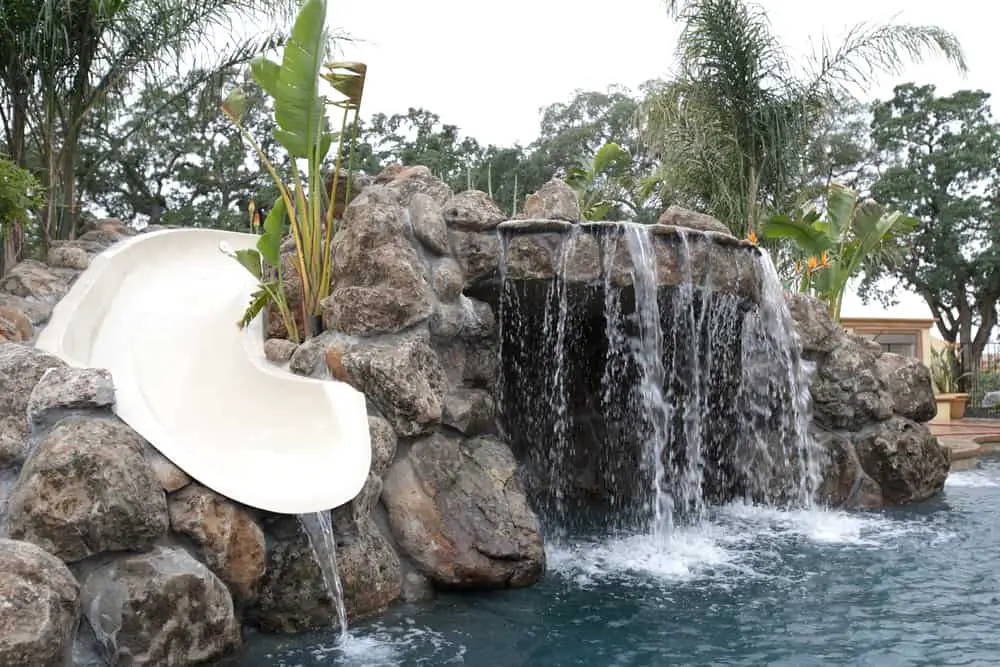 To really take your backyard up a notch or two, building a pool with waterfall would make your yard the coolest in the neighborhood. If you want to truly impress your friends, family, and neighbors, a waterslide added to the pool would be a fun addition.
To make your water feature look more natural, you can use rocks and concrete to construct the waterfall. Once your pool, waterfall, and slide are constructed, adding various plants would be a beautiful finishing touch, especially if you live in a climate where tropical plants can thrive.
3. Outdoor Shower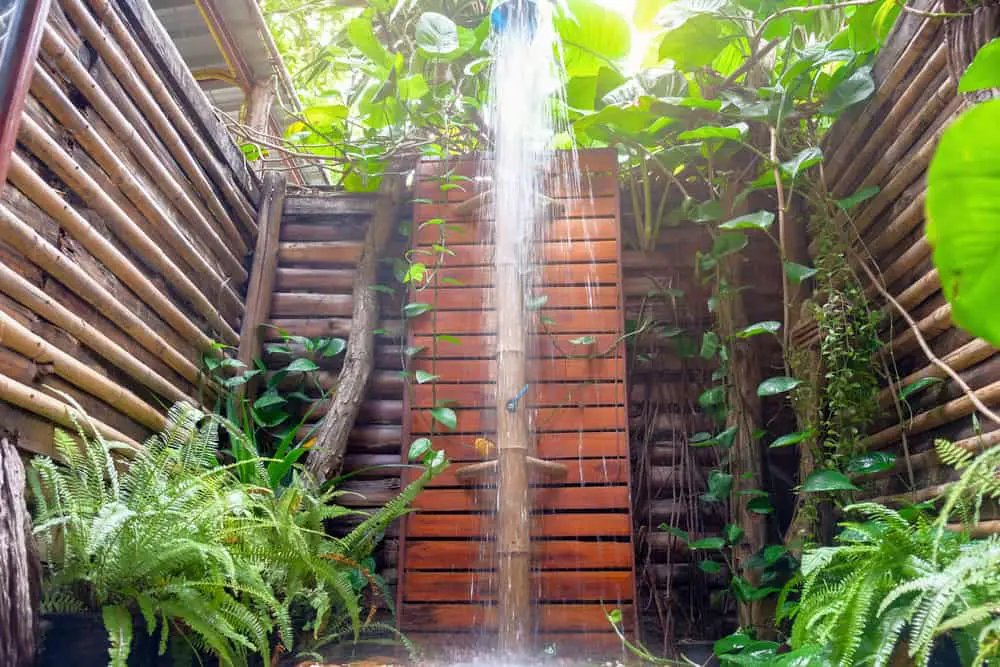 Bathing outside is one of the most relaxing things you can do on a hot day. If you love spending time outside and the idea of an outdoor spa in your own backyard is appealing, an outdoor shower would be a fantastic addition to your space.
If you live in a neighborhood, you can set up walls to enclose it, allowing you to have a private little oasis where you can relax and get away from the stresses of the city. If you live in an area where your neighbors aren't in view, a more open shower would work well for you.
You can make your outdoor shower more eco friendly if you are able to collect rainwater and use that for bathing when it is available. Not only will you cut down on your water consumption by using a free natural resource, but you are also saving money by not running the water from your plumbing.
If you want a nice, relaxing spa-like getaway in your own backyard, an outdoor shower is a neat, underrated idea.
4. Splash Pad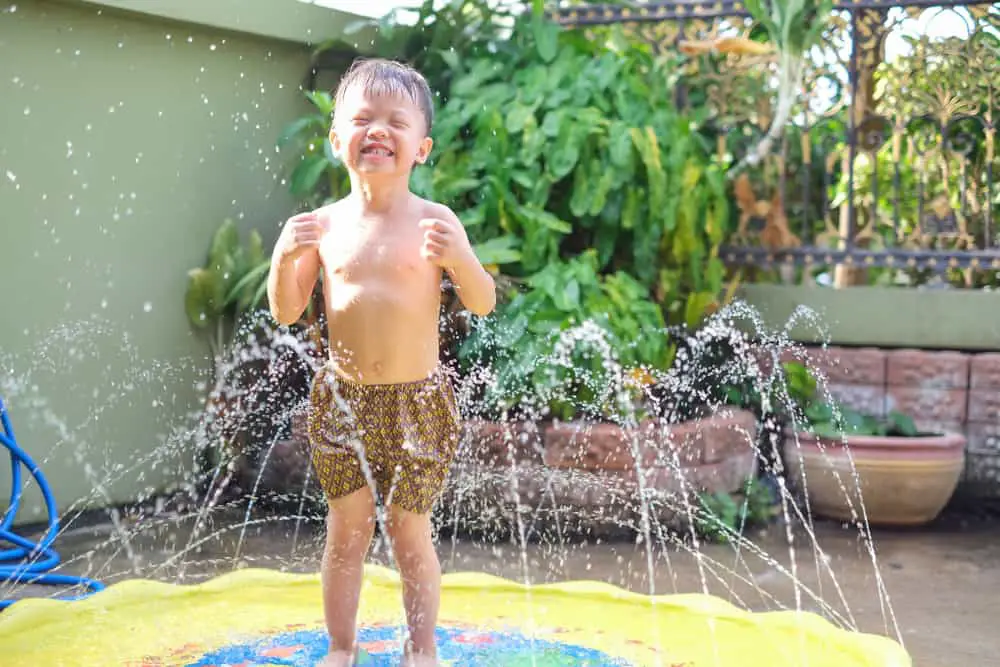 If you have kids or grandkids, you know how much they love to play in the water in the summer. The splash pad at your local public park is fun but on really hot days it can get crowded, plus who wants to pack up all the kids and leave the house every time they want to play in the water?
To really increase the amount of fun your favorite little ones have in the backyard, setting up a splash pad is a great way to ensure they'll have lots of fond summer memories their whole childhood.
You can purchase temporary pads that you can set up and put away when they aren't in use, but if your kids tend to wear out the plastic ones quickly, setting up a more permanent solution would save you a bunch of money in the long run since you won't have to keep replacing the ones from the store.
5. Fountain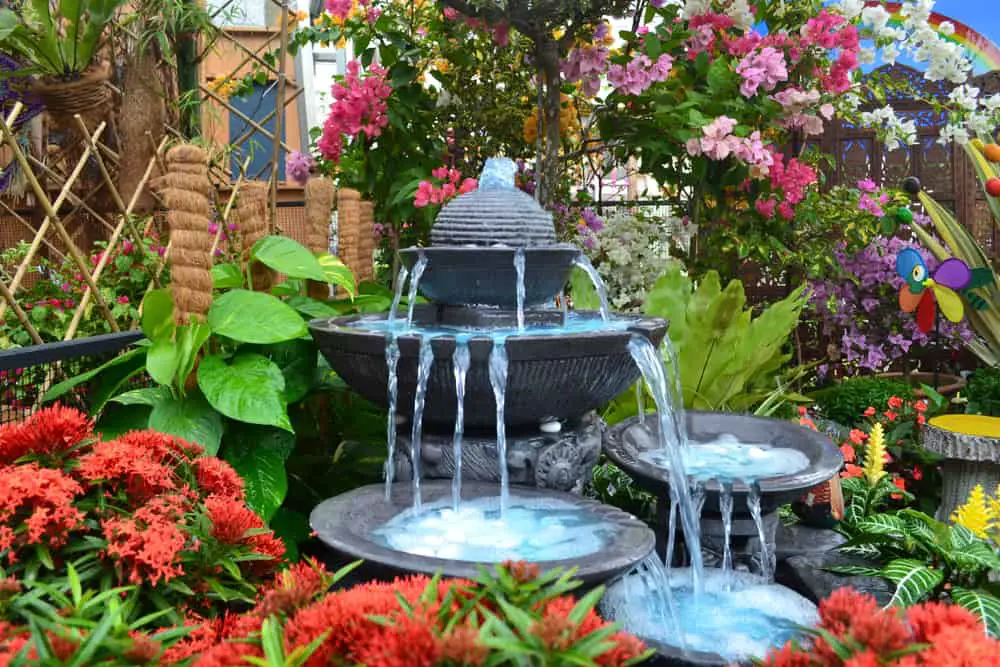 For those that want a water feature that is simply decorative or for the relaxing sound of falling water, a fountain is a beautiful addition to most backyard spaces.
Whether you want to tuck it into a corner or you want it loudly and proudly displayed as a main focal point of your outdoor entertainment space, fountains are a great way to improve the look of your yard without needing a large amount of space to execute it properly.
One of the best things about fountains is that they can be built to any size specifications you want so they can easily be added to the smallest of yards to a home that has acres of space.
6. Stream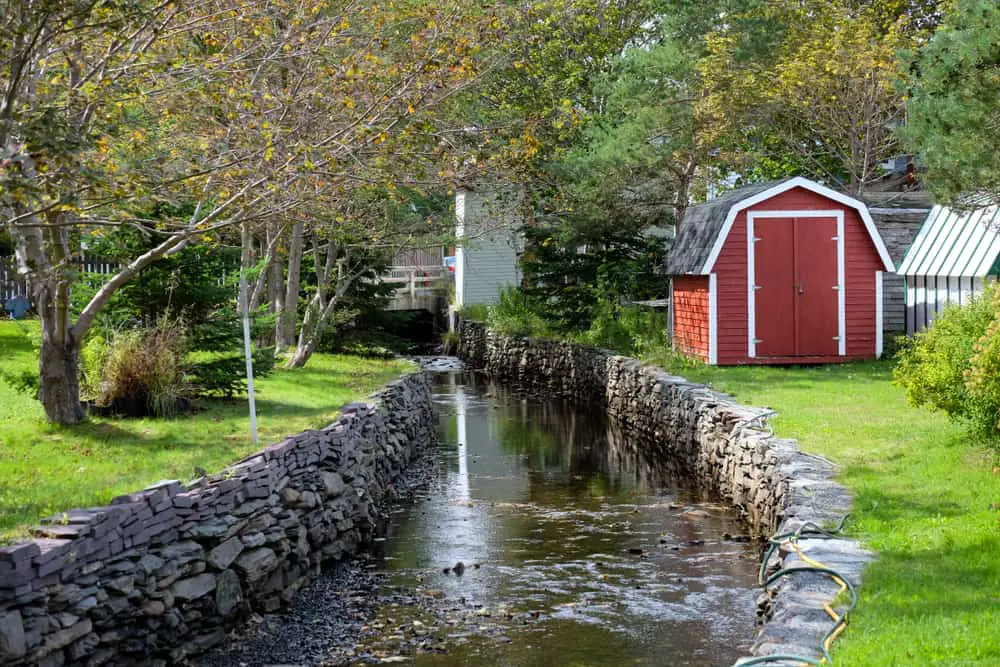 Whether you have a naturally-occurring stream in your yard or you want to build an artificial one (yes, it can be done), streams are a beautiful landscaping feature. They look especially nice if you live in an area that has more trees and a natural rocky landscape, although they can be added to any yard.
If you have a natural stream that already flows through your yard, you can make it pop by cleaning up any litter that is carried downstream as well as rearranging and adding rocks to change the look of it a bit.
7. Swimming Pool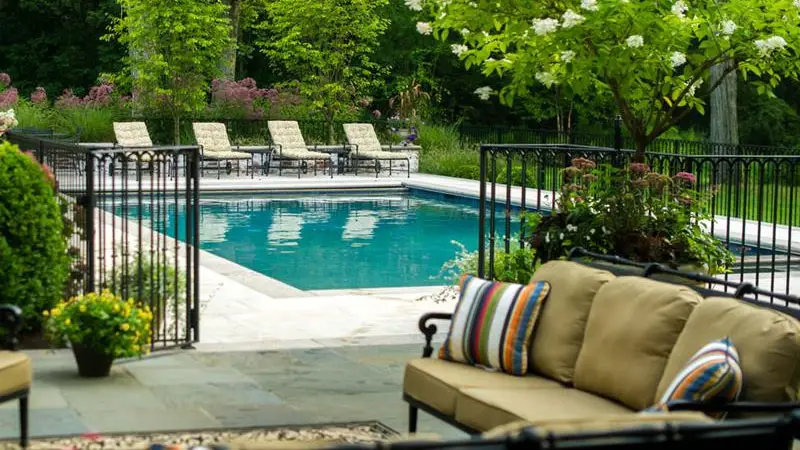 One of the easiest ways to add to the value of your home and backyard is by adding a pool. Even the smallest yards can benefit from a pool. They are super versatile and you can find an option to fit into any budget.
From simple inflatable above-ground pools that you can blow up with a pump and fill with a hose for your kids to splash around, to professionally constructed inground pools, there are choices for every family and budget.
8. Pond With a Waterfall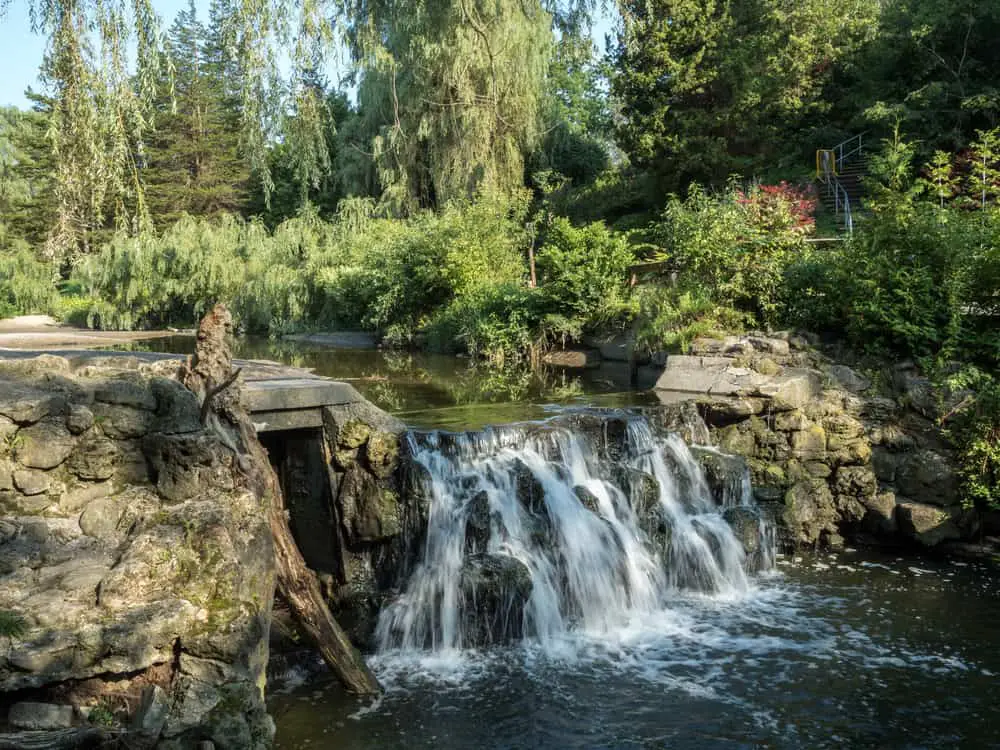 Do you dream of living in the woods with your own little stream that flows into a waterfall and ends with a beautiful natural pond, but you're stuck in the city? Building a pond with a waterfall in your own backyard is a great way to have a little slice of that wilderness you desire without having to leave behind the conveniences of living in town.
There are several ways you can go about getting an awesome feature in your backyard. The easy way is to hire a contractor and have a professional team build and install it. Otherwise, you can build it yourself.
Luckily with online videos and tutorials, finding a few styles you like and mixing them together should be a fairly easy project that you can get done in a weekend or two.
9. Orb Fountain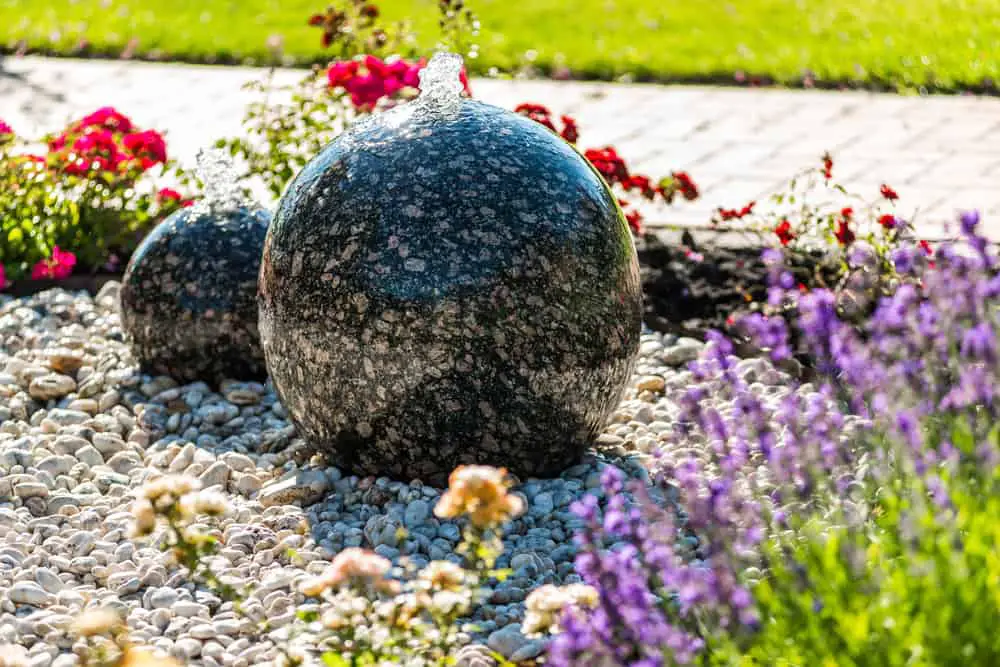 If you're looking for a unique water feature that you don't see in many backyards, an orb fountain would be an awesome choice for your home. These fountains are super cool because they look like an ordinary sphere shaped stone yard ornament but water flows over them via a hole at the top.
The water comes up as you would expect from a fountain and then lands back on the stone and creates the illusion of a really glossy orb sitting in your garden bed or near your pool. These water features are impressive on their own but they can also be used as an accent piece if you have a pond, pool, or larger fountain in your yard.
No matter where you place it, it'll be a great conversation starter and a wonderful addition to your yard.
10. Simple Pond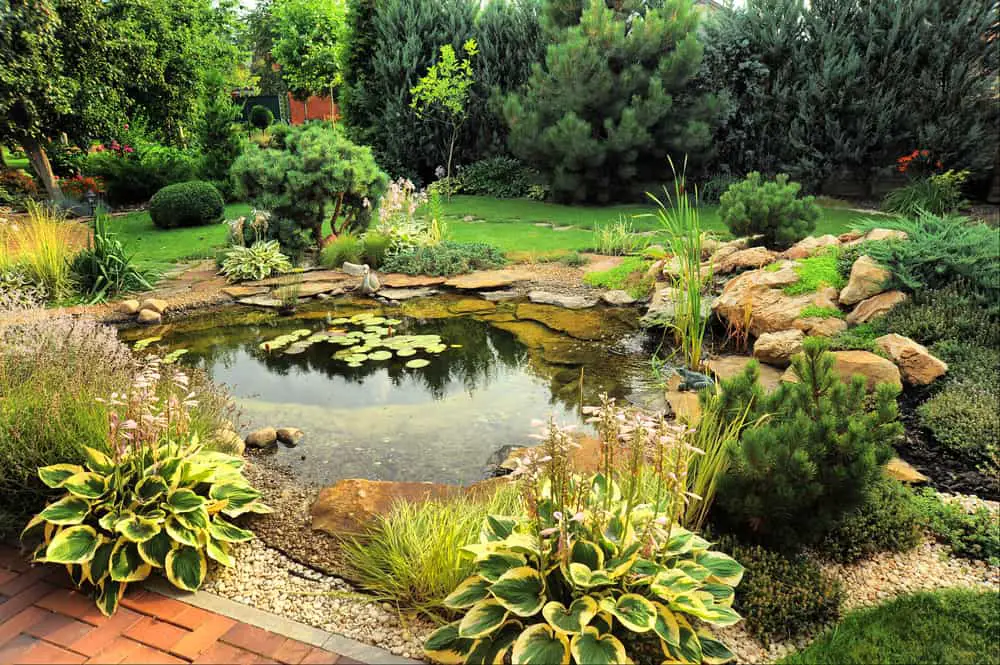 For people that love the idea of a pond but don't want to deal with the maintenance that comes from extras such as waterfalls or bubblers and fountains, a simple pond is also an option.
Featuring natural rocks and beautiful local water plants, having a pond with a nearby seating area is a beautiful addition to your yard. Whether you want company or not, you could relax and have a drink with your friends or you can lounge with a good book and have some alone time.
Conclusion
From pools with waterslides to a pond and everything in between, a backyard water feature is a great way to transform your space and give your family an area where they can get away from the stresses of day to day life and unwind.
Having any of these fantastic water features is a fantastic way to make it feel like your family is on a vacation every single day.
Whether you want to tackle a DIY project or you prefer to go with a professional, we hope our list of 10 amazing backyard water features will inspire you to makeover your space!