Updated on January 3, 2022
We love pools and we know you do, too. There is nothing more comforting than knowing you have somewhere cool to relax on a hot summer day (or a warm place for a heated winter pool).
We also know that sometimes an in ground pool is not feasible. Whether you aren't able to dig down where you live or the cost is prohibitive, we want to show you some great alternatives.
Above ground pools have come a long way in the last decade. No longer are they just relegated to temporary kids' pools to put up in the summer time. Now, you can have beautiful and permanent structures for your above ground pools.
Below, we have gathered over 25 above ground pool examples for you to browse through. You will see some with walls of stone and some with hardwood. You will see pools of all different sizes, giving you plenty of ideas for your outdoor space.
Above Ground Pool Ideas
1. Beautiful Stone Walls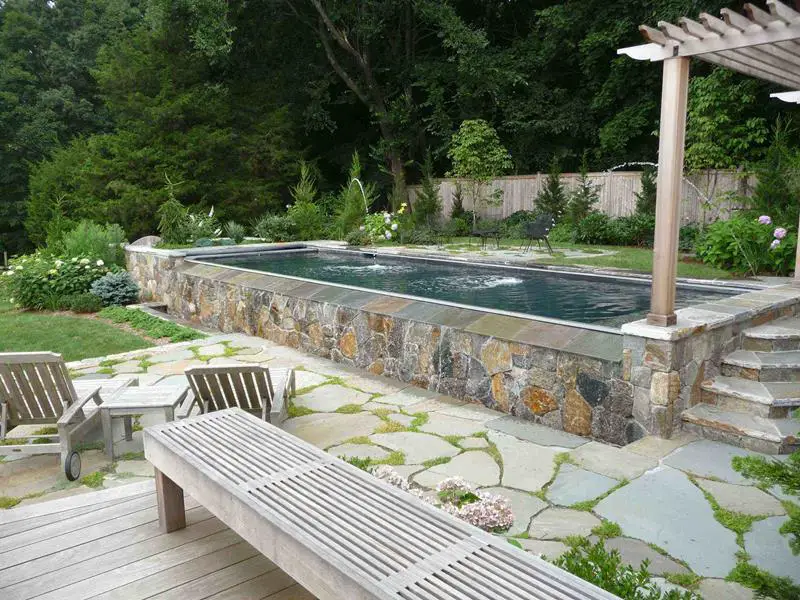 We love how this above ground pool area takes a natural look. Thanks to the stone on the pool walls and the surrounding patio, this is a great space.
2. Surrounded By a Deck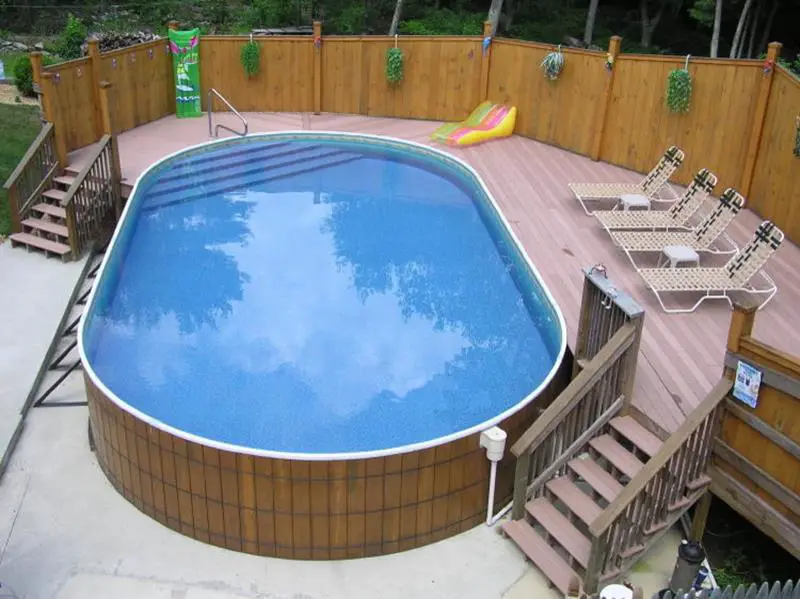 With this pool, not only do you have a great raised deck to relax on, but you also have some privacy thanks to the tall fence.
3. Round and Simply Relaxing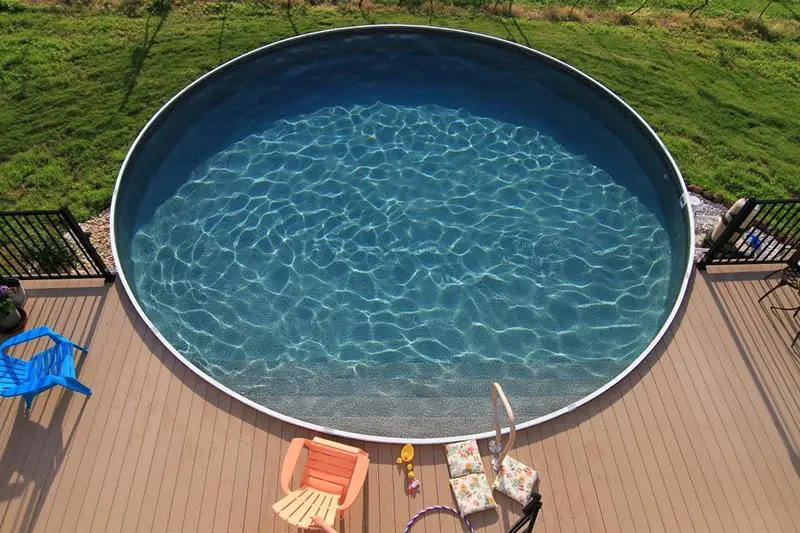 4. Great Pool and Hot Tub Duo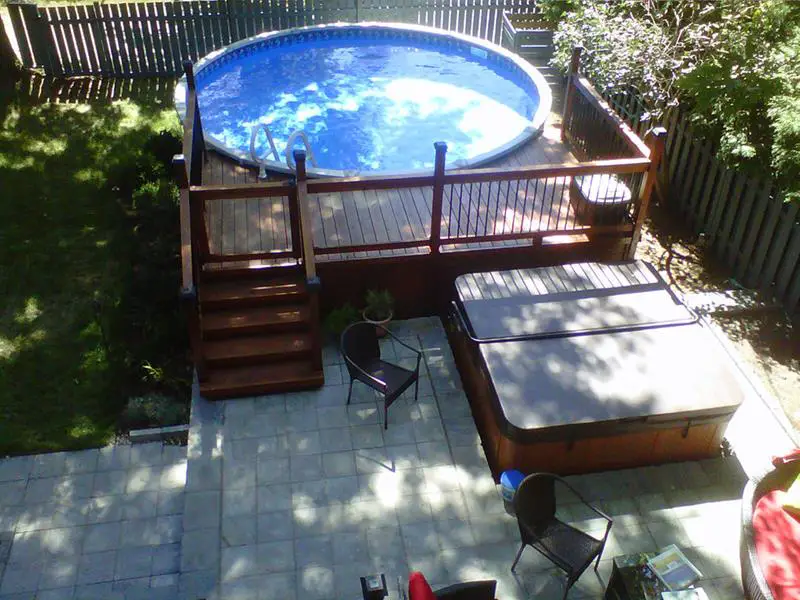 5. Luxurious and Relaxing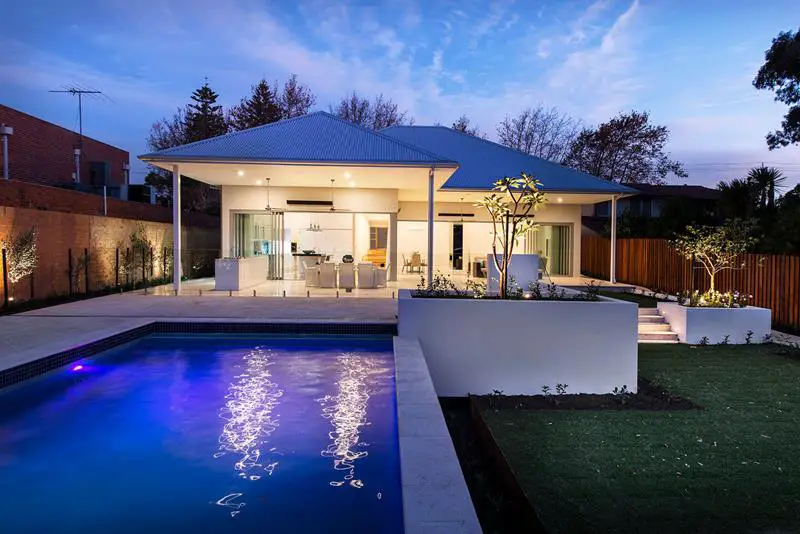 This is a luxurious pool area, with wonderful lighting to show off the great patio area. We love the modern design of the whole space.
6. Step Up Deck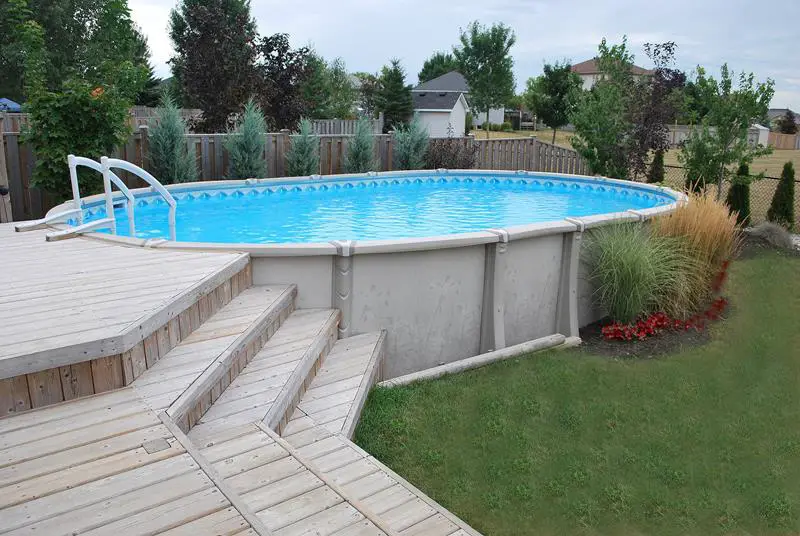 7. Hardwood Like a Barrel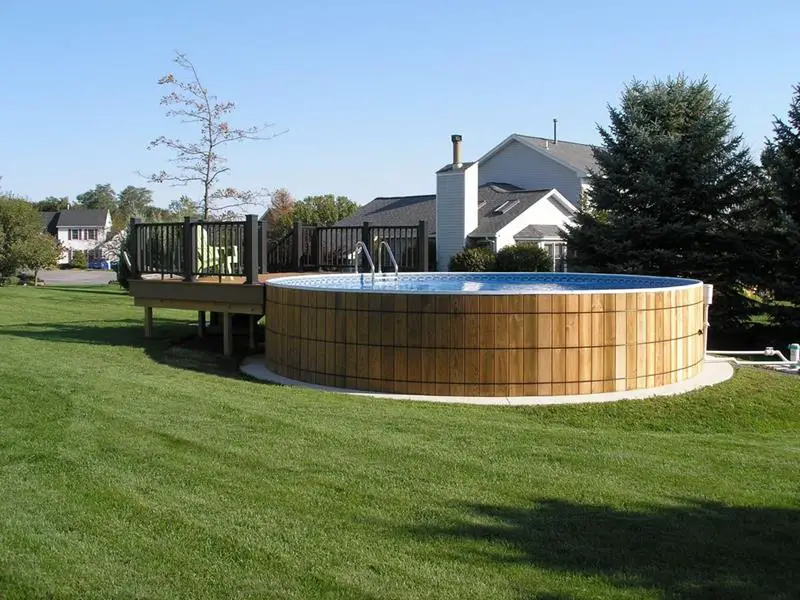 We can't help but think of a barrel when we look at this pool. The great hardwood design of the outside of this pool gives it a fun and lively look.
8. Surrounded By Privacy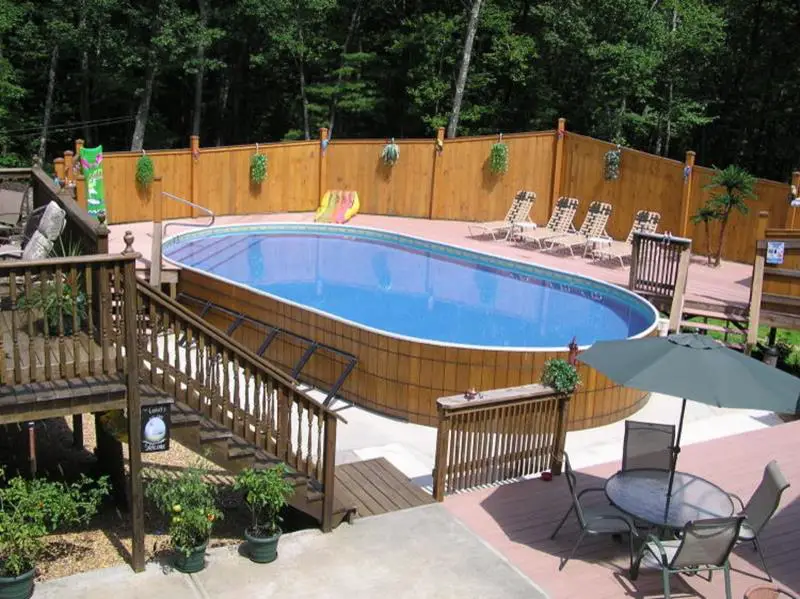 We love above ground pools that blend with the environment, and this one does. This whole space affords you privacy thanks to the surrounding fence.
9. Wonderful Hardwood Surrounding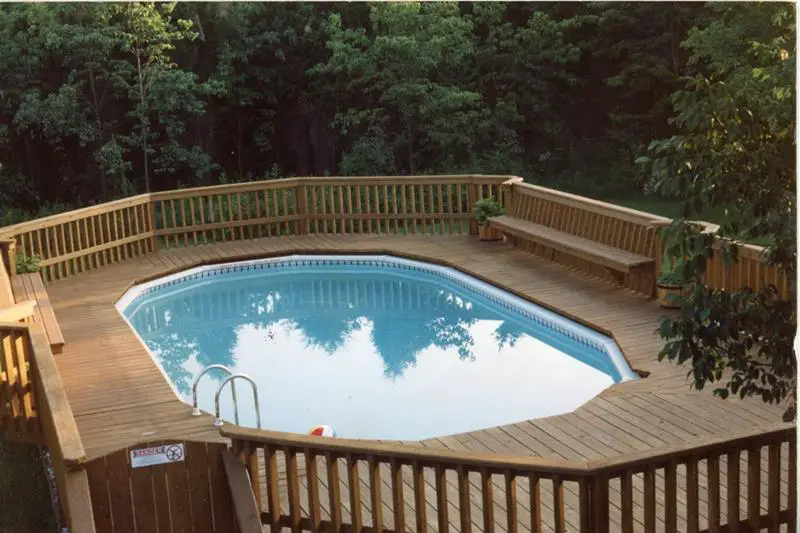 This above ground pool looks like an in ground pool thanks to the wonderful hardwood deck that surrounds it. You will have plenty of space to relax pool side.
10. Hardwood Stone Style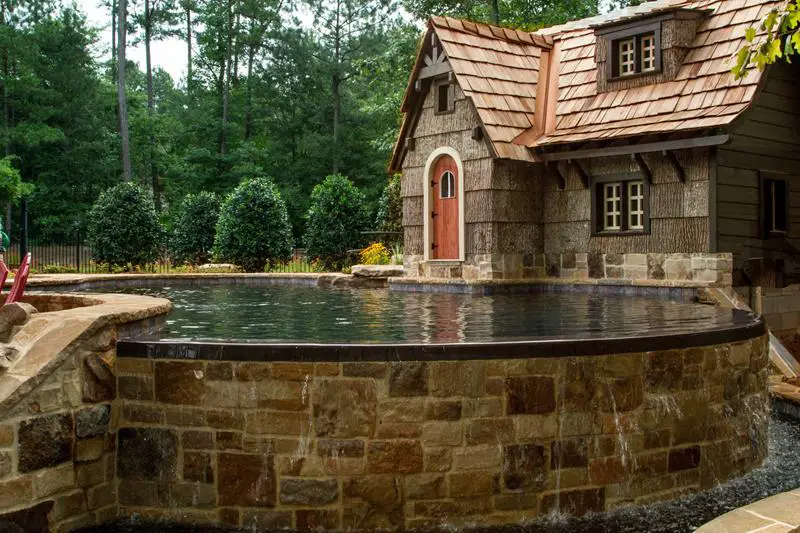 Like a natural mountain pond, this pool spills over the side to give you a relaxing type of setting. We love the natural look of the stones used for this pool wall.
11. Natural Stone Look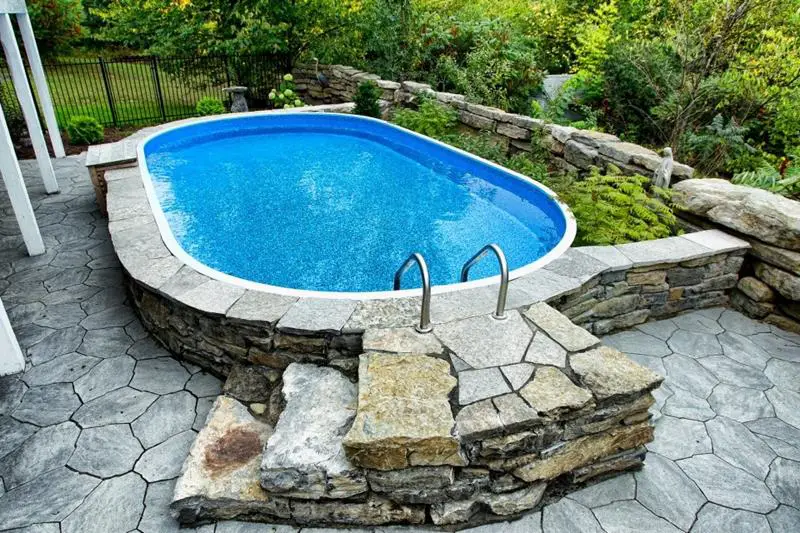 This pool blends right into the landscape and patio with a wonderful stacked stone design. We love how the plant life is right around the pool, offering a peaceful setting.
12. Wide Wooden Deck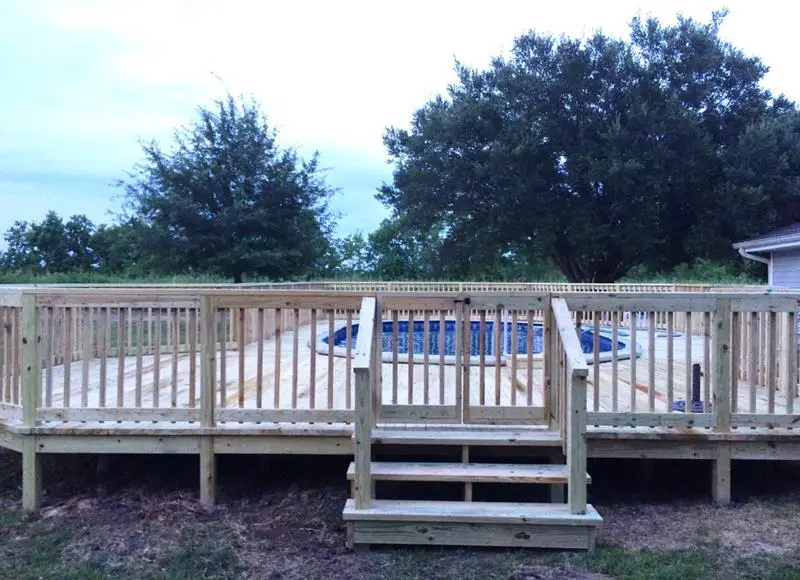 This above ground pool is surrounded by a large deck that affords you and your guests plenty of room to relax or party.
13. Wonderful Landscaping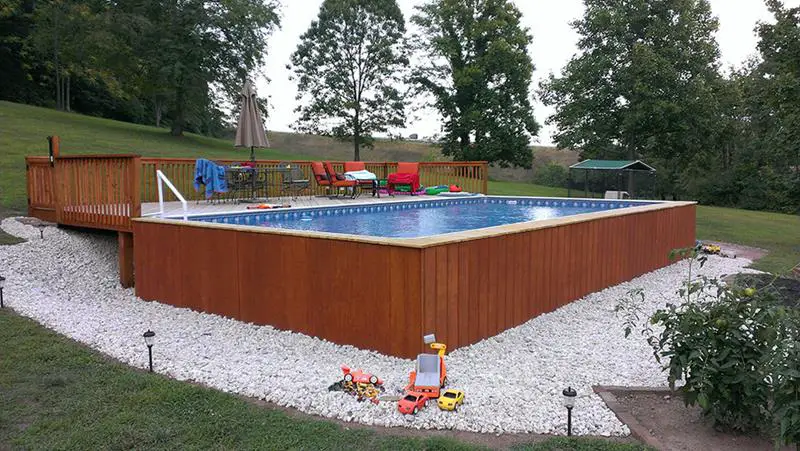 14. A Perfect Fit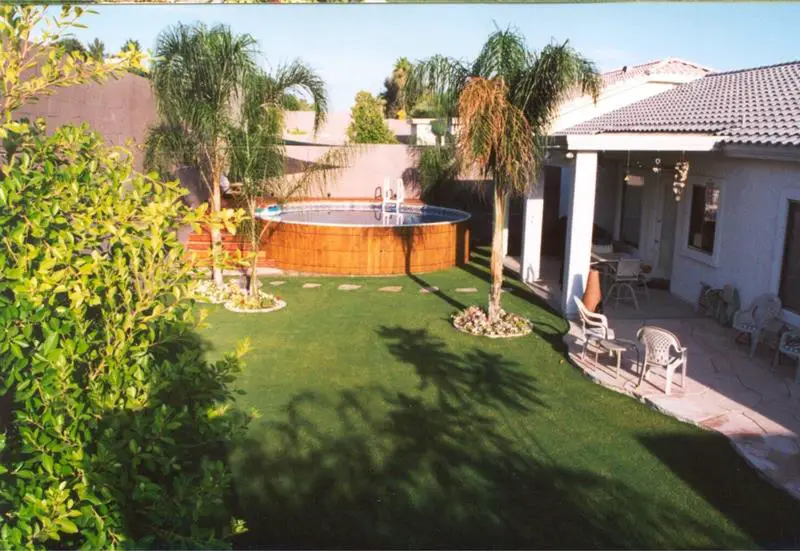 This above ground pool is unobtrusive, blending right into this beach style yard. The hardwood sides work perfectly for this space.
See Also: 20+ Small Inground Pools (Photo Gallery)
15. Professional Patterned Deck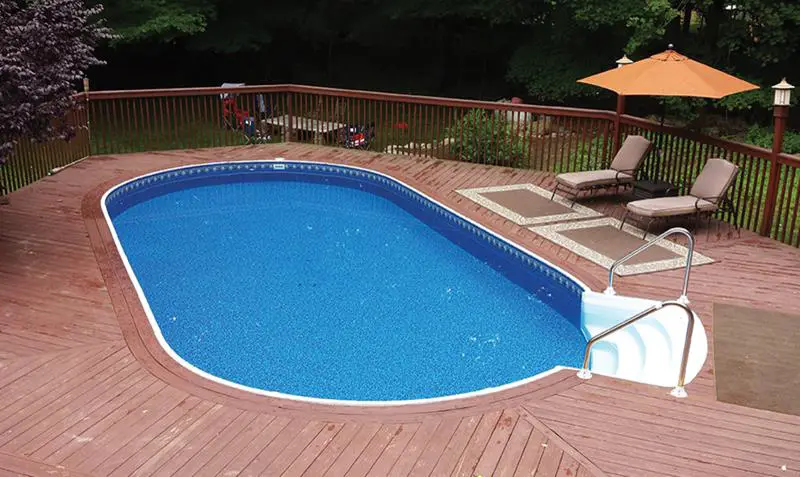 We love the multi-directional wood planks that make up this pool deck. This area is professional and relaxing, letting you enjoy a cool dip after a long day.
16. Wonderful Round Simplicity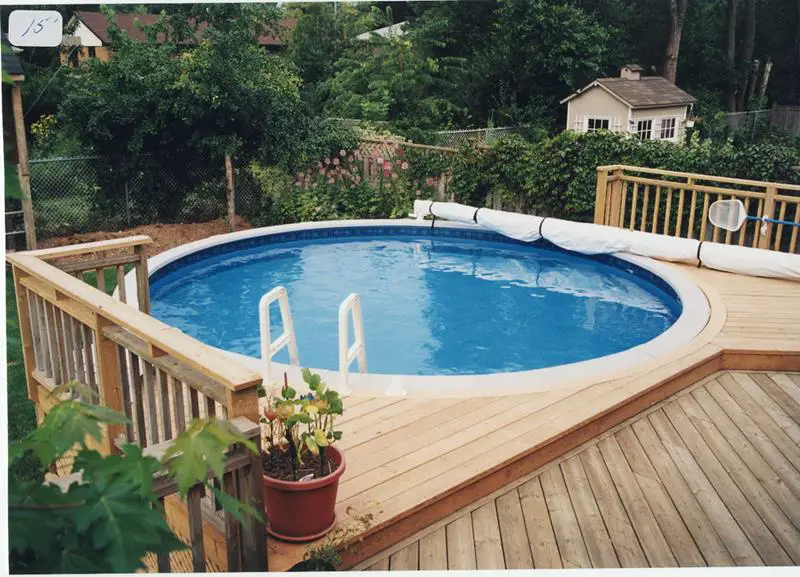 This above ground pool is surrounded by a great and minimal hardwood deck that rises right up to the pool.
17. A Great Landscape Design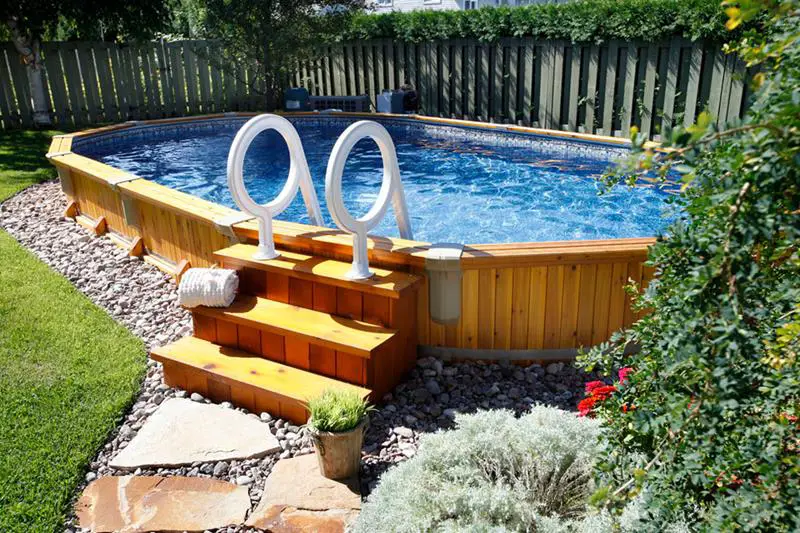 The lighter hardwood used here brings some life to this space and is surrounded by wonderful landscaping. This is a great pool area and you have privacy all around.
18. A Pool and a Pond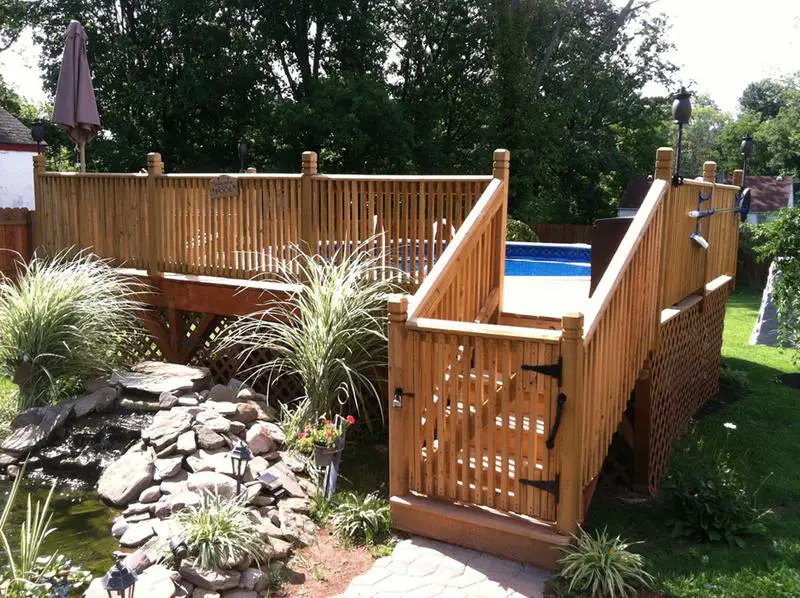 This above ground pool is wonderful because it has a a deck and entrance that will keep the kids out until you are ready to swim with them. Safety first when there are kids around.
19. Cool Down Area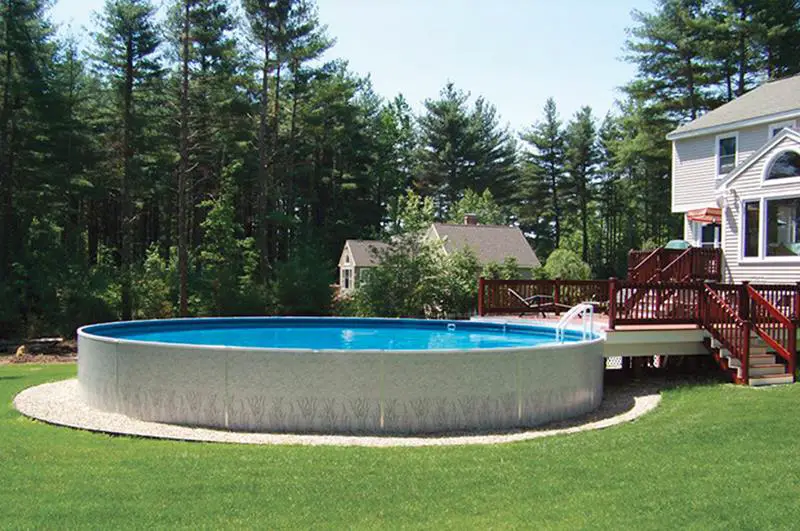 This above ground pool is large, giving you plenty of room to swim and play. We love that the outside of this pool uses a neutral color that works for any environment.
20. Multi-Level Deck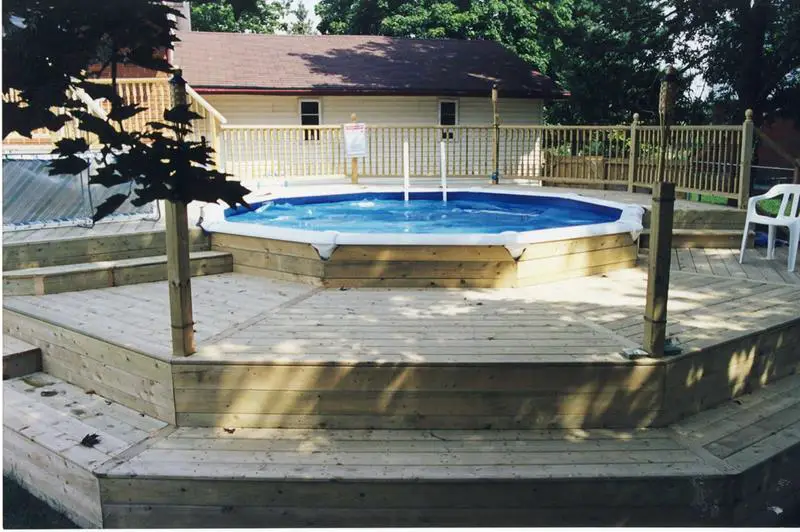 The deck area here is multi-level and leads you right up to a perfectly sized pool for when you need to relax after a long day.
21. Wonderful Curves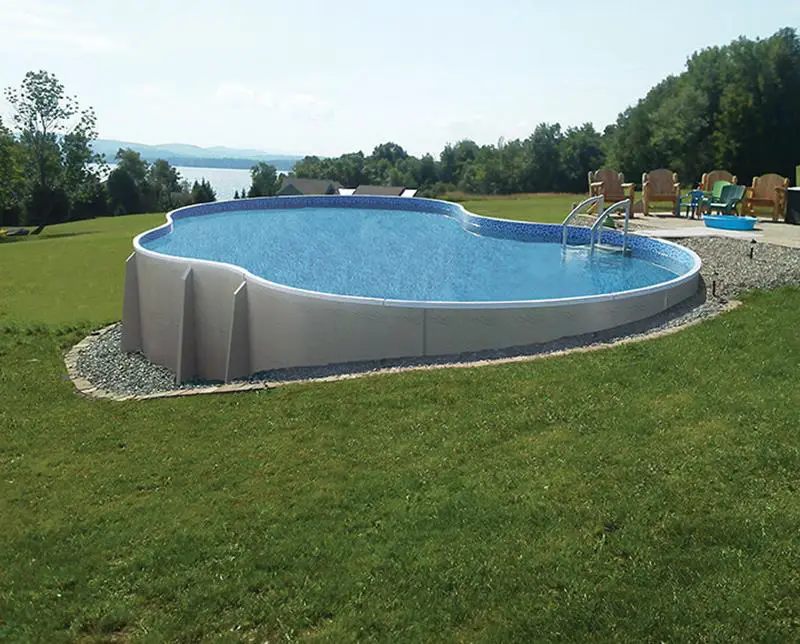 We love it when pools aren't symmetrical. This one curves around and give a great contemporary look to the yards.
22. Calm Hardwood Design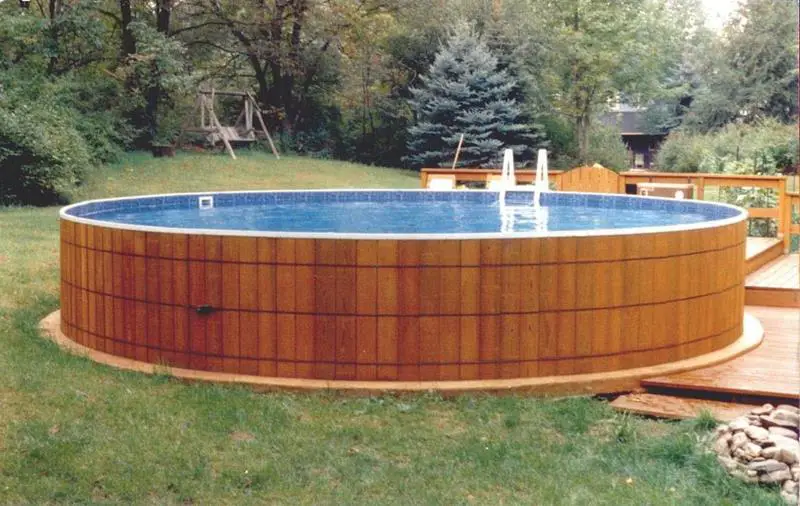 This barrel style above ground pool uses a nice hardwood that looks great anywhere. It perfectly matches the deck that is around the pool.
23. Oval Perfection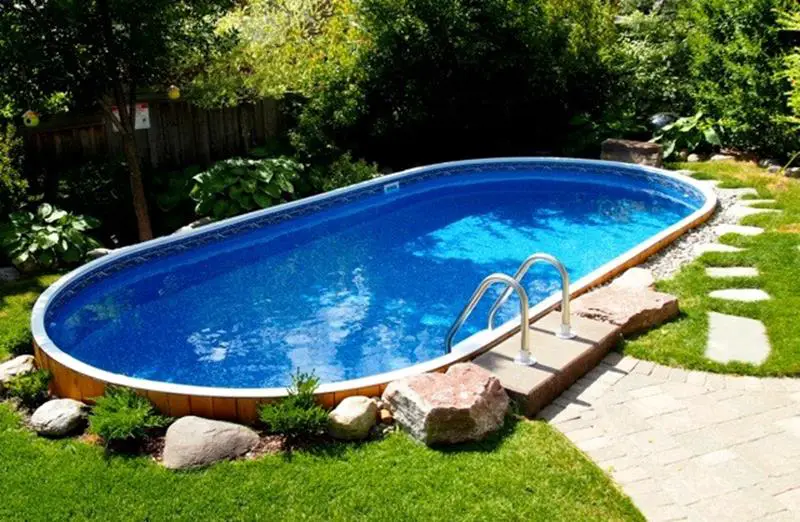 For slimmer yards, this longer oval shape will work really well to give you plenty of swimming space. We love the landscaping around this pool.
24. An Easy Relaxation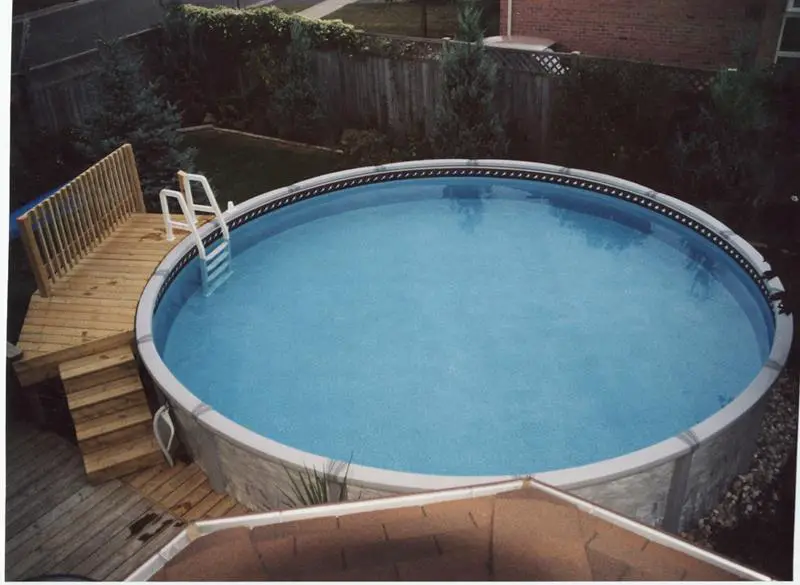 25. A Beautiful Spot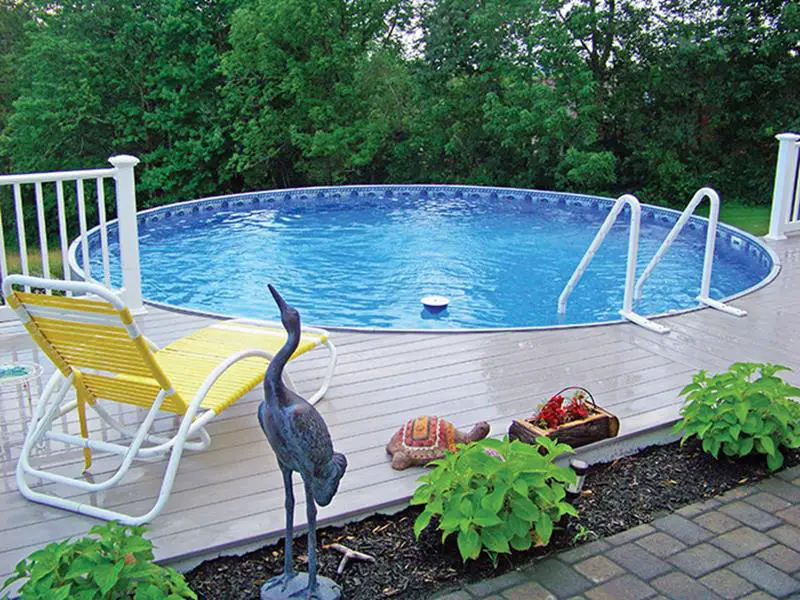 Cool and blue with a beautiful surrounding deck. We love this whole space and how calming it is.
26. Perfect, Blue, and Calm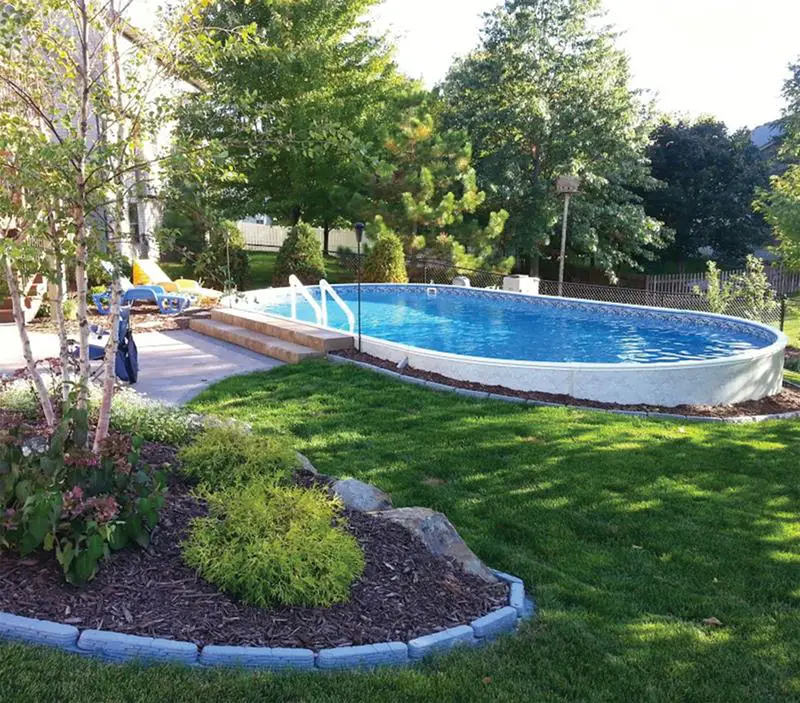 This above ground pool almost isn't an above ground pool. It rises with the yard and you can get in from ground patio level.
27. An Easy Design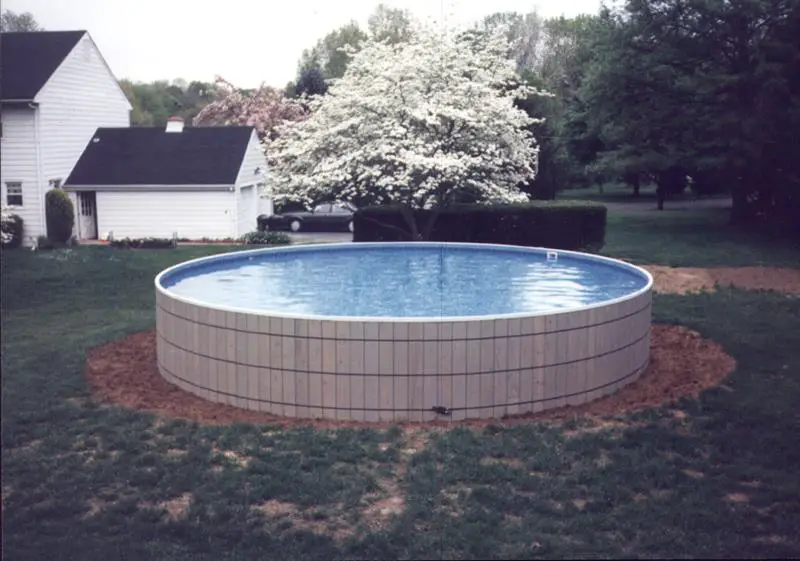 Nothing beats having a pool ready for you on a hot day, and you can have that with a simple yet tasteful pool like this one.
Don't Miss: 20+ Pool Fence Ideas, Styles and Designs