Updated on March 16, 2022
Whether you are gutting and remodeling a small bathroom or you need a standalone option for bathing, there are several great space-saving bathtub alternatives on the market that are excellent for a variety of situations. If you prefer a shower but have a baby or toddler that prefers baths or you want the option to soak but don't have the budget for a remodel, there are several great products you can choose from.
We are going to take a look at 5 great products that were designed to allow people to take a bath even if they don't have the space to install a tub. There are also options for people that want to take their bathtub on the go, as well. No matter what your situation is, there are a lot of wonderful ways you can still enjoy soaking in the tub.
Portable vs. Permanent
Before you decide which small tub is the right choice for you, you need to take a few things into consideration. Your options for a bathtub alternative fall into two categories: permanent and portable. Which style is best for you comes down to a few deciding factors: budget, skill level, and permission to remodel.
If you are allowed to make major changes to your home and have a budget that will allow a remodel, you can certainly go with a permanently installed tub. If you can't make changes to your home, whether it's for financial reasons or otherwise, a portable stand-alone tub would be a wise choice.
Permanent Bathtub Options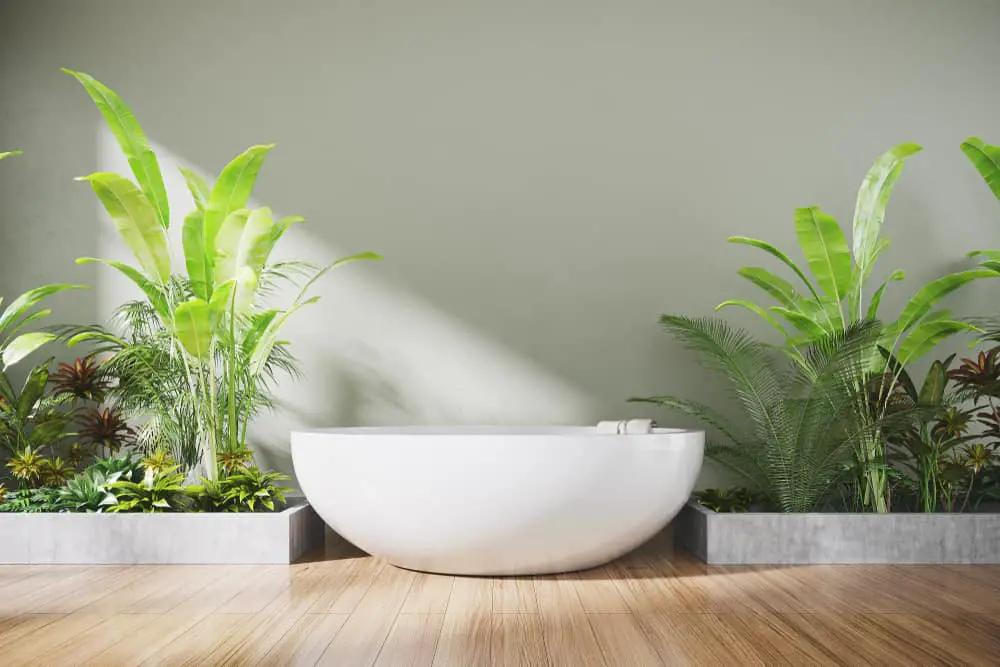 If you recently bought a home that has a small bathroom and you aren't able to knock out any walls to expand, you should decide if you want to use the existing space to install a nice roomy shower or if you want to install a modestly sized tub.
There are a few compact tubs on the market that are meant to be installed in your home. They can be installed by you if you have the proper knowledge of plumbing, otherwise contacting a plumber for installation would be a good idea. Small tubs come in several styles including the classic clawfoot style.
1. Fine Fixtures Drop In White Soaking Bathtub
Do you live in a small space but don't want to sacrifice the luxury of a soaking tub? The Fine Fixtures Drop In White Soaking Bathtub would be an excellent addition to your space. This tub is made from high-quality materials and is small enough to fit in tiny bathrooms.
One thing a lot of people grow to miss when living in a smaller home is the luxury of having a relaxing soak in a tub. If you've been dreaming of taking a candle-lit bath complete with bath bombs, your favorite music, and a glass of wine, you'll certainly want to give this tub a shot. It's deep enough that you can get under the water and soak your whole body.
Beyond the quality soak you'll be able to enjoy, this is an excellently made tub. The acrylic fiberglass is extremely durable and it has a glossy porcelain finish for added shine and aesthetics. Because of the finish, this tub can be used with your favorite bath products. Whether you prefer oils, bombs, or salts, you'll be able to take the most relaxing bath you've ever had in your tiny bathroom.
Pros:
Ideal for small bathrooms as it is 48" x 32" x 19"
Can be installed with either a left or right side drain
Drain placement is on the side
Cons:
Tub surround is wide so you may need a longer faucet
2. VEBA 39 inch Mini Freestanding Tub
When it comes to taking a bath, most tubs will allow you to wash up but not all of them are ideal for relaxing and unwinding after a long day. Whether you want to chill in the tub after a long day at work or you just want to have a place to escape once in a while, a deep soaking tub is a great addition to your home.
If you live in a small house or apartment and thing the possibility of taking a great bath is pretty much non-existent, you will be pleasantly surprised!
If you are able to finally remodel your tiny bathroom and one of the items on your must-have list is a bathtub you can soak in, the VEBA 39 inch Mini Freestanding Tub would be an excellent investment in your home and yourself since you'll be able to have plenty of self-care and me-time in your tub.
This is a much roomier tub than you'd expect. At 39" long. 28" wide, and 23" deep, you'll wonder why you didn't upgrade your space sooner. It is made of acrylic which means it's super durable, easy to clean, and non-toxic. It even has double walls, making it great at keeping the heat in.
Pros:
Certified non-toxic by the US and Canada UPC & CSA
Freestanding tub is easy to install in most bathrooms
Attractive style can go with most decor
Cons:
Portable Bathtub Options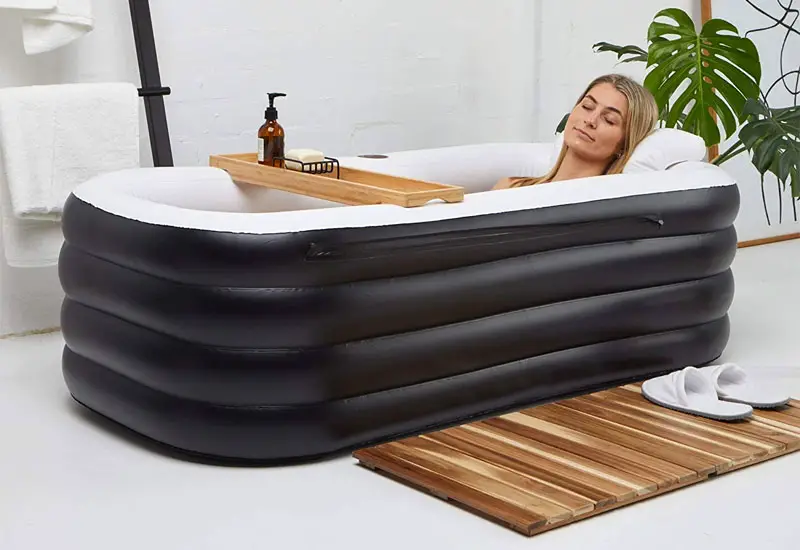 If you grew up in a home with a decently sized tub and were shocked when you took a bath in the tub in your first apartment, you probably never thought you'd be shopping for a portable bathtub.
When it comes to various bathtubs, in reality, most homes don't have a large tub you can soak in. If you are looking for a way to take a bath without having to visit your parents or remodel your bathroom, there are some great choices for portable tubs.
Let's take a closer look at some of the options that are available.
3. CO-Z Inflatable Adult Bath Tub
When you live in a small house or apartment there is a good chance that your bathroom only has a shower or you have a small shower/tub combo. In either situation, you probably find yourself missing being able to take a good bath in a deep tub.
While remodeling a rental is almost never an option, that doesn't mean you have to sacrifice all of the comforts of a large home. There are several inflatable bathtubs on the market that were designed for those who live in small homes. They are also a great thing to pack on a camping trip or on a long road trip.
The CO-Z Inflatable Bath Tub is a great choice for a variety of situations. Since you just have to blow it up and set it up wherever there is space, you can set this tub up outside if you have a private area that you can soak in.
If setting it up outside is not an option, you can take a bath in your living room, bedroom, or any other area of your home that has space. Be careful if you set it up outside of your bathroom so you don't end up with water damage on your floor in case of splashing or leaking.
This tub is a great size at 63 x 33 x 29 inches. It is big enough that you can soak and relax. It has an added pillow, backrest, and armrest you can blow up to add to the comfort. There is even a cupholder that you can use for a drink or to store your phone and other items you may want to have within reach.
This is the perfect product if you want to be able to soak after a long hectic day at work.
Pros:
Made from non-toxic PVC and won't cause allergic reactions
Comes with a foot pump
Can be used inside or outside
Cons:
Due to being inflatable, it could pop
4. Wey&Fly Portable Foldable Bathtub
Perfect for truly tiny spaces, the Wey&Fly Portable Foldable Bathtub is the best choice if you want a tub that is super compact but deep enough for you to soak in. Featuring a foldable frame with soft water-resistant sides, this bathtub is great for a variety of small spaces.
If you live in a really small apartment or you have started living in a tiny home, you probably wish you had a larger bathtub. Well, the days of dealing with a shower and not being able to soak are over. This budget-friendly option is ideal for a variety of homes. No matter how little your bathroom is, this tub would work out perfectly.
The walls of the tub are insulated and the bottom of the tub is cushioned for comfort and to help retain the temperature of the water. This tub may look really small but it's surprisingly roomy. At 29.7 inches, the circumference is ideal for an adult to be able to stretch out and really enjoy the bath.
Since this tub is roomy enough, it could be used as a small pool for a couple of kids to splash around in on days that they're missing being able to go to the local pool.
Pros:
Can be used in tiny bathrooms
Big enough to relax in
Can be used as a small pool
Cons:
Water gets cool quicker than with a normal tub
5. Munchkin Sit and Soak Baby Bath Tub
When it comes to babies, it makes like a lot easier if you have a small tub you can bathe them in. If you've ever lived in a home that only had a shower then you know how much of a hassle it can be to bathe a baby in a sink or in a shower without a tub. The Munchkin Sit and Soak Baby Bath Tub is an excellent alternative if you don't have adequate space for bathing your infant.
While many baby tubs are only good for a few months since they have a more pronounced recline, this one is even better because it is more similar to the shape of a regular bathtub.
The high back on one side has a non-slip rubberized coating which makes it easier to keep your baby upright until they're able to sit up on their own better. This tub can be used at the bottom of your shower or regular bathtub or you can use in on the countertop so you can stand up while you give your little one a bath.
One of the best things about this bath is that it has a drain on the bottom of the tub. All you have to do is release the pull tab and you're able to drain the Munchkin Sit and Soak Baby Bath Tub right in your sink, tub, or shower.
The drain cover fits nice and securely so you don't have to worry that your baby will knock it out of the hole and cause the water to go all over the place.
Adding to the safety of this tub, the bottom has a built-in support bump which helps to keep your baby safe and prevent them from slipping and falling under the surface of the water. The rubberized and padded back helps keep them upright as well.
Pros:
Non-latex bathtub is hypoallergenic
Has a plug on the bottom for easy draining
Handle can be used to hang the tub up from a storage hook
Cons:
Not ideal for newborns and really small babies
Conclusion
Overall, even if you live in a tiny home, you don't have to sacrifice the luxury of having a nice soaking tub. Check out these awesome bathtub alternatives if you live in a small space and miss being able to soak in a deep tub!